Smashed Brussels sprouts are a delightful twist on this underrated veggie. The outside layers are crispy, offering a satisfying crunch that pairs well with their tender, flavorful interiors.
Why You'll Love This Smashed Brussels Sprouts Recipe
Easy To Make- This smashed Brussels sprouts recipe is easy to make and only requires a few simple ingredients. It's a great way to dress up your dinner plate for special occasions or enjoy the vegetable's flavor in its raw form.
Delicious- The combination of olive oil, garlic, and mozzarella gives these smashed Brussels sprouts a fantastic flavor. It's a perfect side dish for any meal or can stand alone as a delicious treat.
Customizable- If you're not a fan of parmesan cheese, feel free to swap it out for another cheese. Add other veggies like roasted bell peppers or red onions for extra flavor and texture.
What Are Crispy Smashed Brussels Sprouts?
Smashed sprouts are a great way to get creative with vegetables. Instead of roasting or steaming them, smashed Brussels sprouts are cooked slightly, then mashed with a fork or potato masher to break them down into smaller pieces. This technique creates a crispy texture on the outside and a wonderfully tender inside, perfect for side dishes, salads, and even vegan entrees.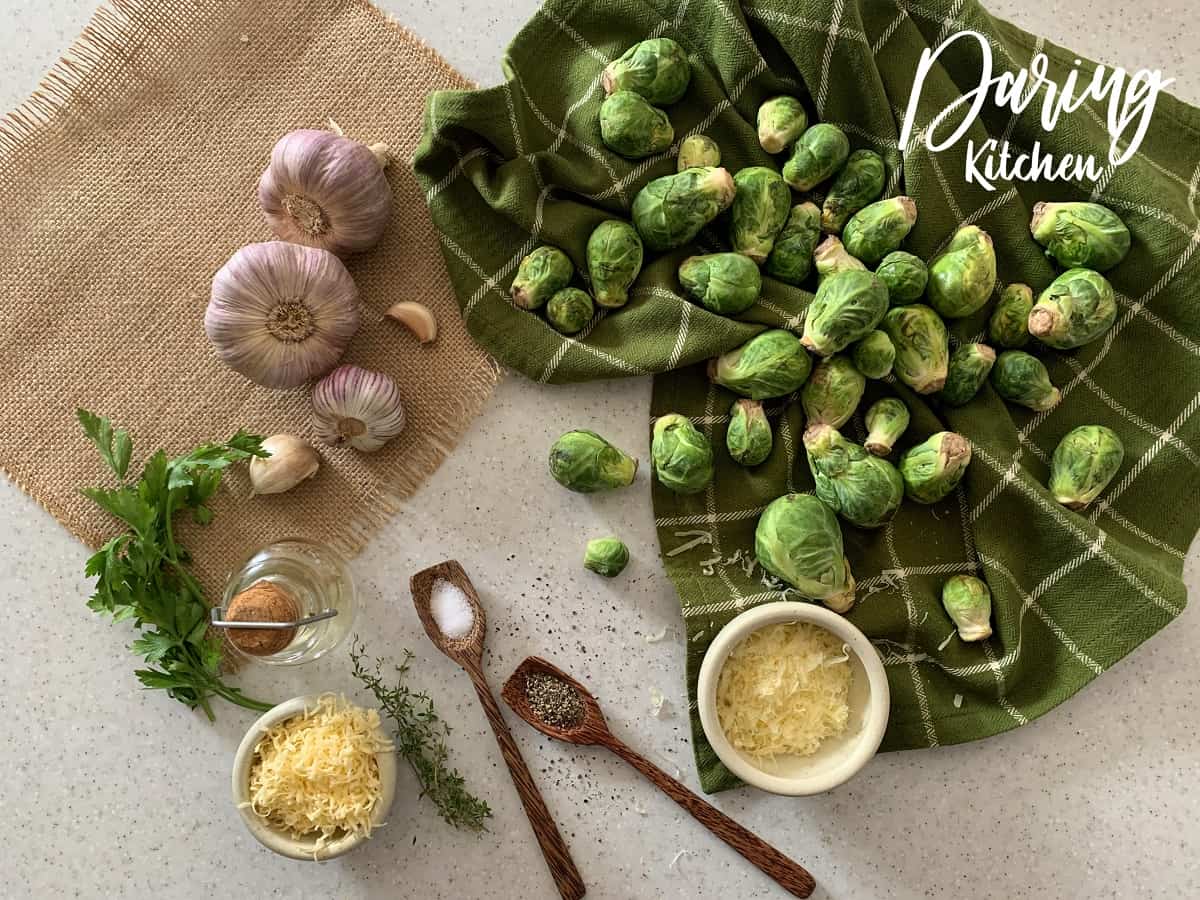 Equipment
Oven
Large Pot
Rimmed Baking Sheet
Parchment Paper
Strainer
Fork
Chefs Knife
Cutting Board
Mixing Bowl
Stirring Spoon
Measuring Cups and Spoons
Ingredients
Brussels Sprouts - The normal-sized Brussels sprouts are the best for this recipe. In my opinion, baby Brussels sprouts are way too small.
Olive Oil- Good quality extra virgin olive oil in this recipe is essential to roast smashed Brussels sprouts perfectly. Avocado oil also works great.
Garlic- Fresh garlic is key to making smashed Brussels sprouts, as it releases all of its oils and aromas in the oven, giving a nice zesty edge to these sprouts.
Thyme- I adore fresh thyme. It adds a nice earthy element to these sprouts and pairs excellently with garlic and olive oil!
Mozzarella Cheese- Gives the sprouts the natural cheesy effect. Mozzarella is one of the best melting cheeses, melting very evenly.
Grated Parmesan Cheese- Who can live without parm? This gives a bold, cheesy flavor to the Brussels sprouts recipe.
Salt and Black Pepper- Always to taste, as everyone has their preference.
Parsley- Finishes off the sprouts wonderfully, giving a little freshness and making them look prettier.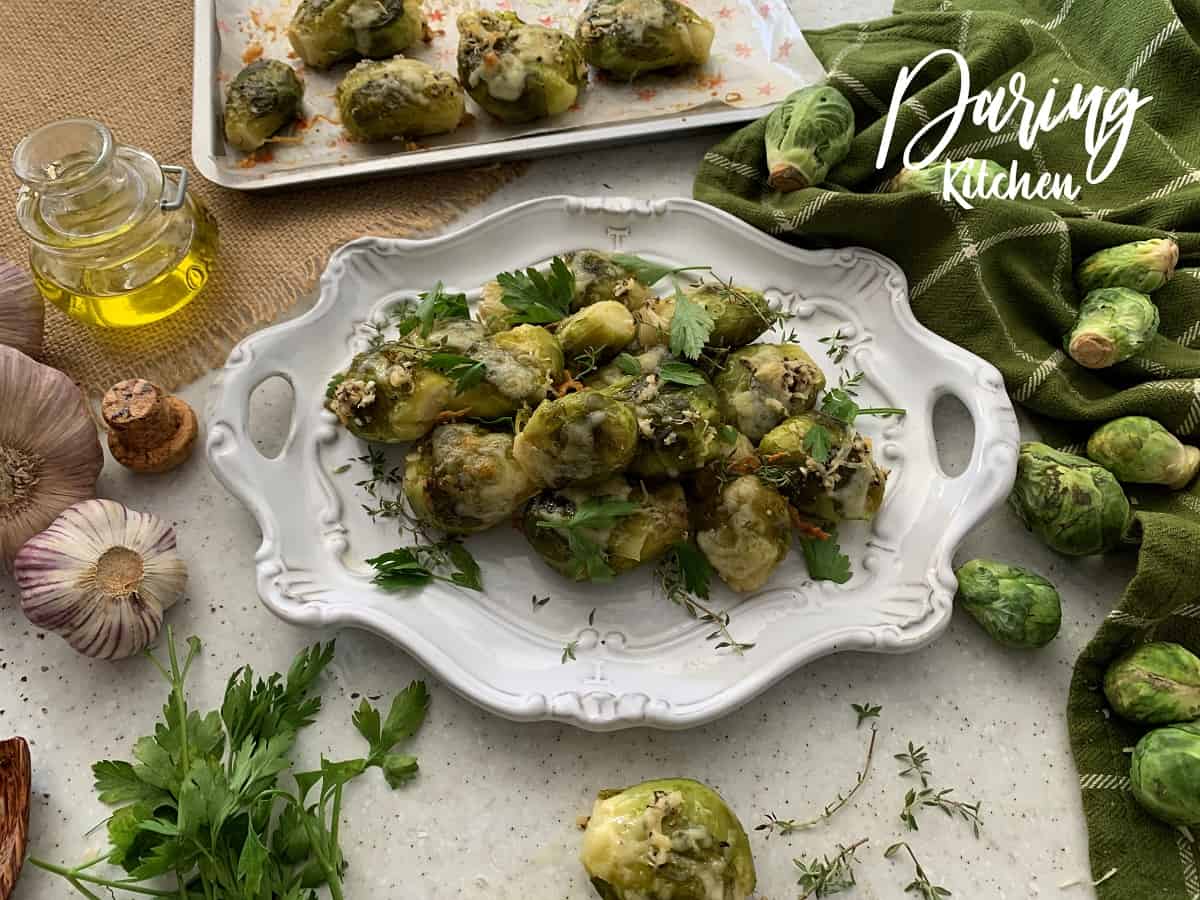 Preheat your oven to 425 degrees Fahrenheit.
The next step is to cook Brussels sprouts. In boiling water, gently add Brussels sprouts and cook them until tender. This should take around 5 minutes. Line your sheet pan with parchment paper as you wait for those to cook.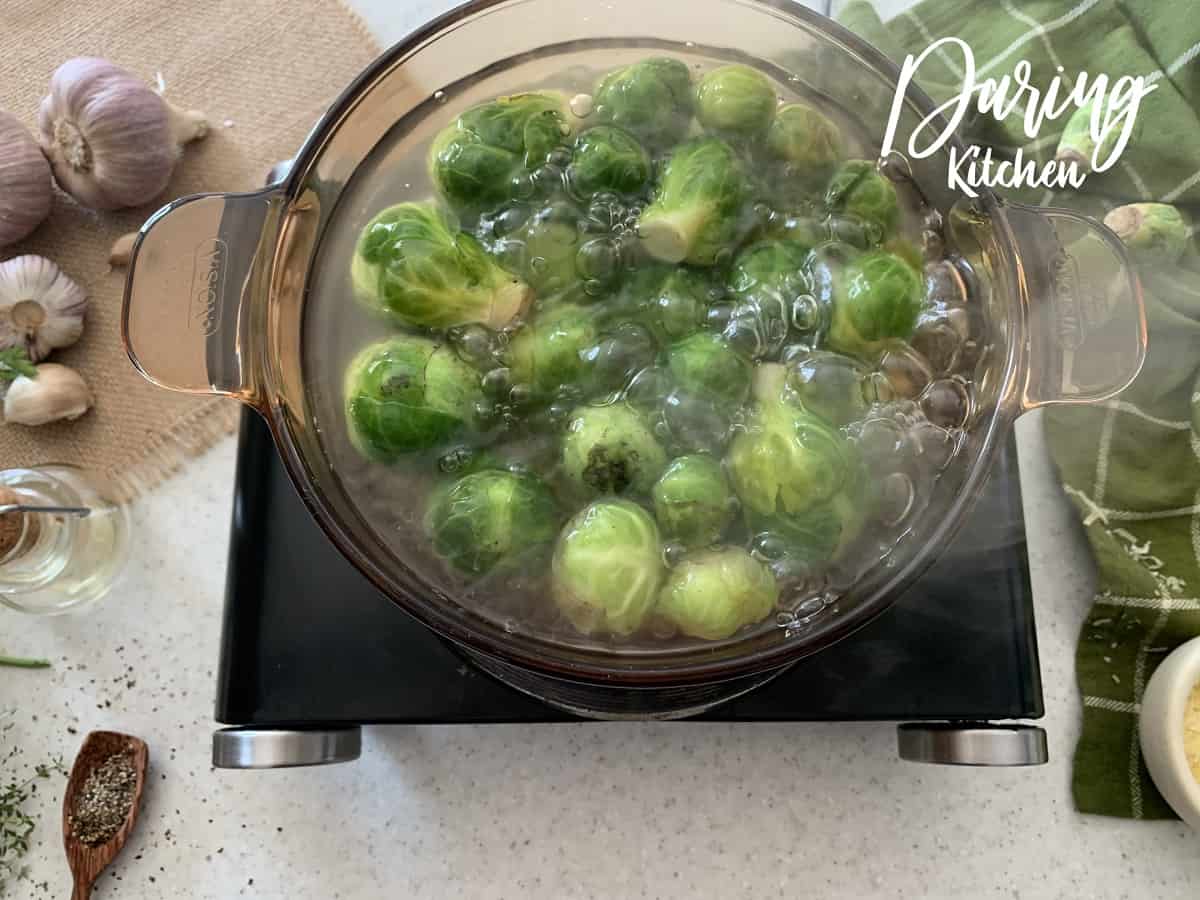 When your Brussels sprouts are cooked, strain them and place brussels sprouts on your baking sheet, leaving some room between them. Then, smash each one with a fork.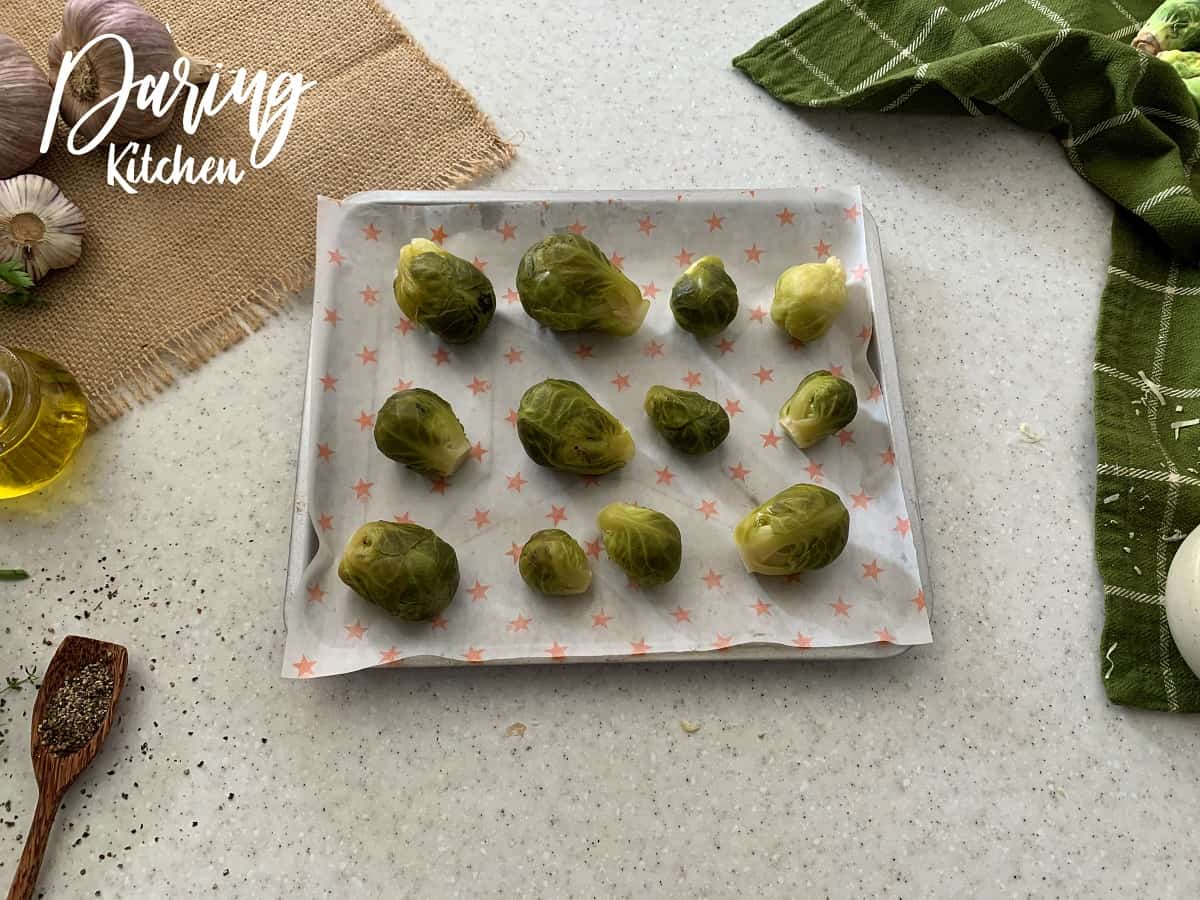 Chop your garlic. Then, combine it with thyme, olive oil, salt, and pepper. Mix until even.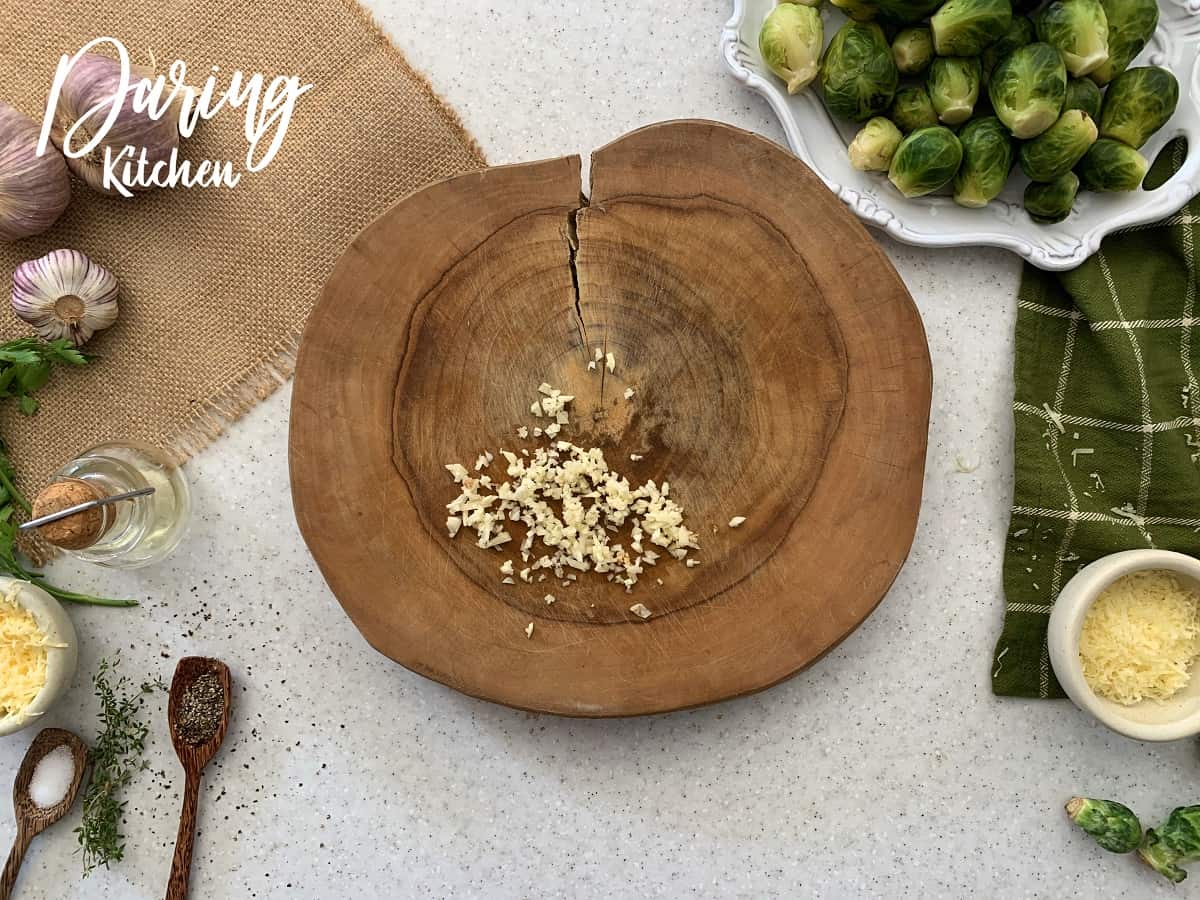 Season your Brussels sprouts with your seasoning mixture.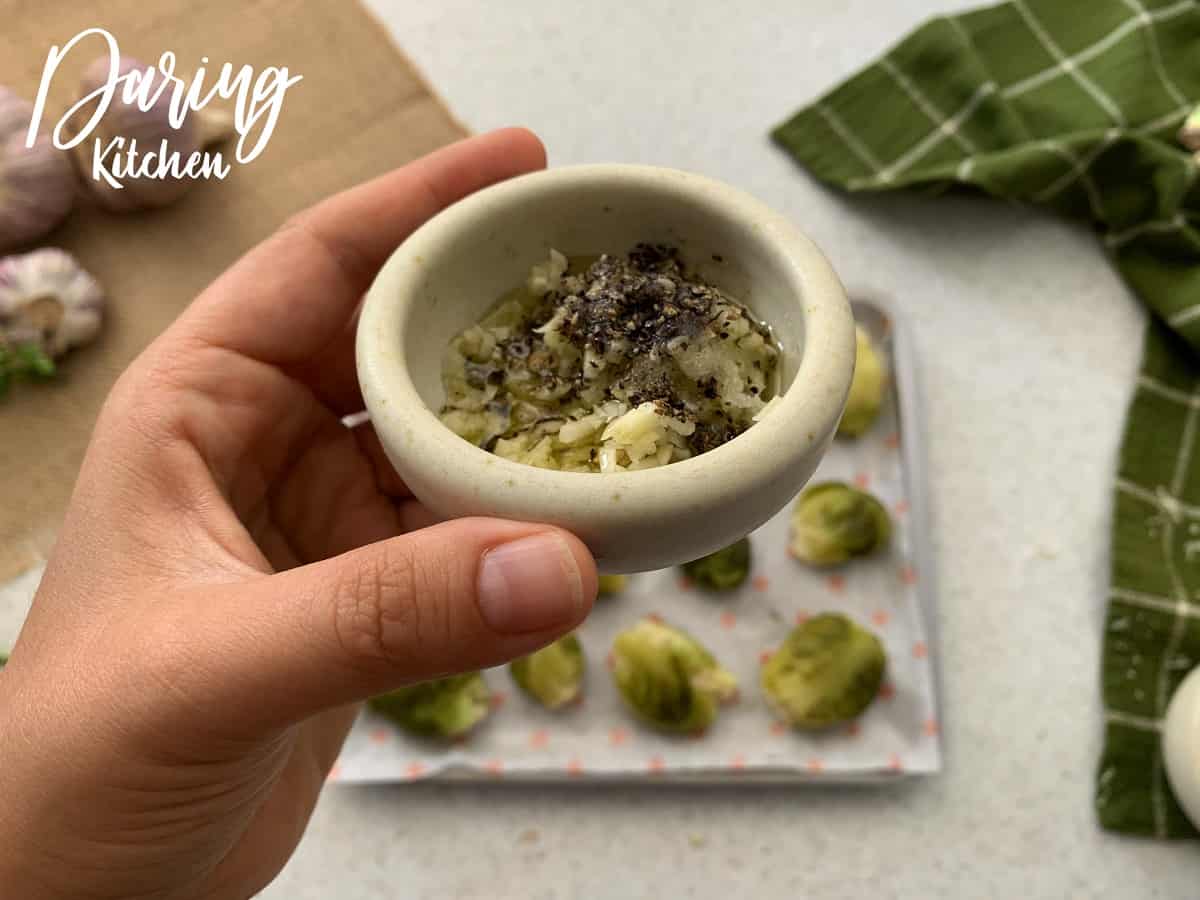 Now, sprinkle your mozzarella and parmesan cheese evenly, ensuring all your sprouts are evenly coated.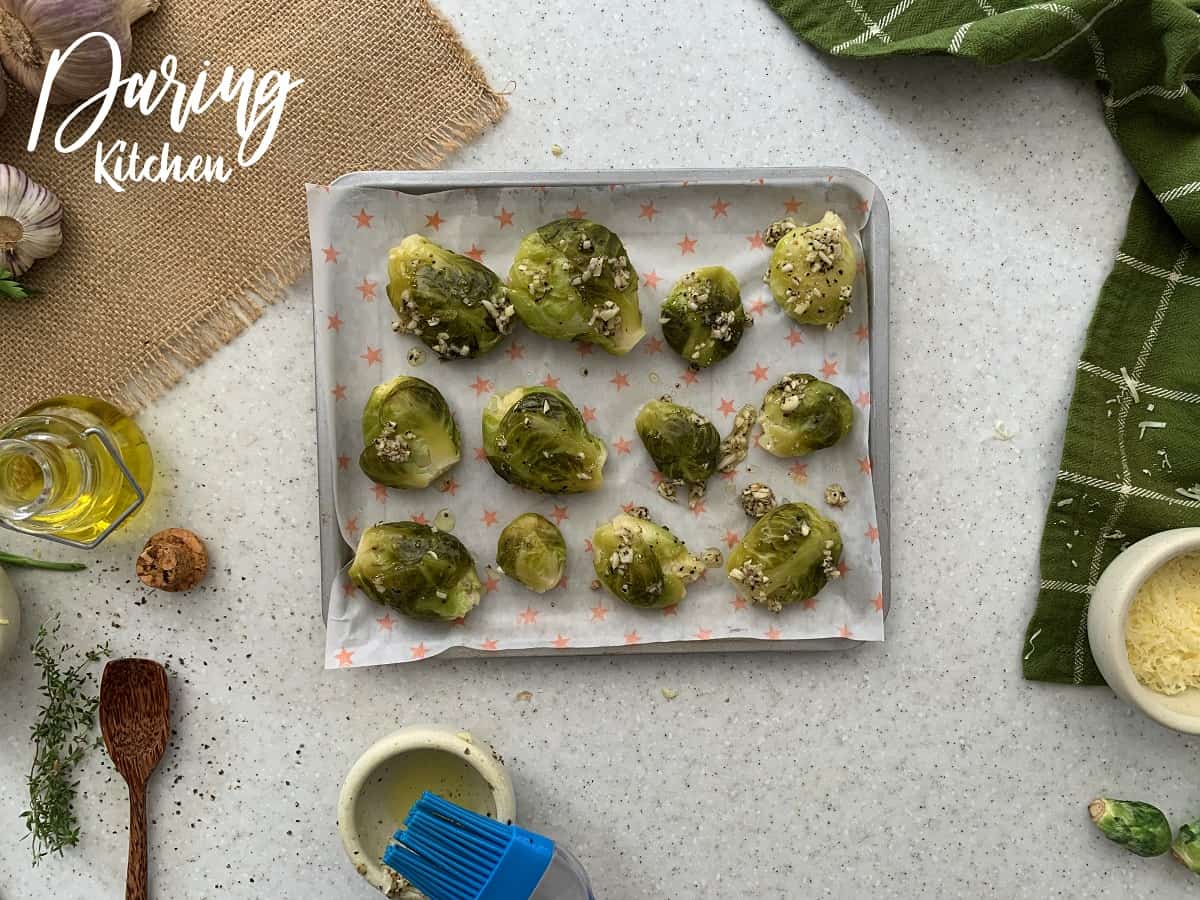 Place your smashed Brussels sprouts in the oven for 20 to 25 minutes or until the cheesy is melted and the crispy edges are golden.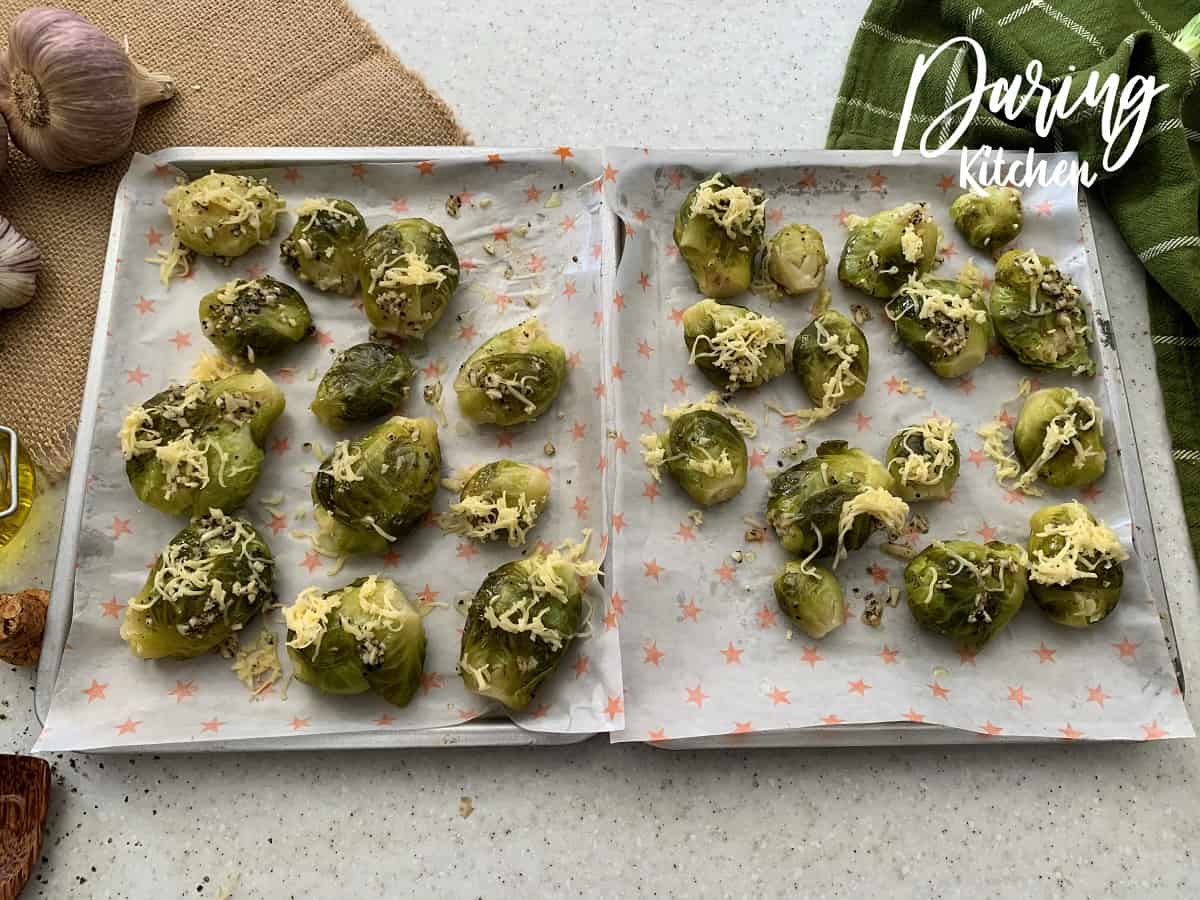 Garnish your smashed Brussels sprouts generously with parsley. Serve the roasted Brussels sprouts immediately as an appetizer or an accompaniment to your favorite main course topped with parmesan cheese.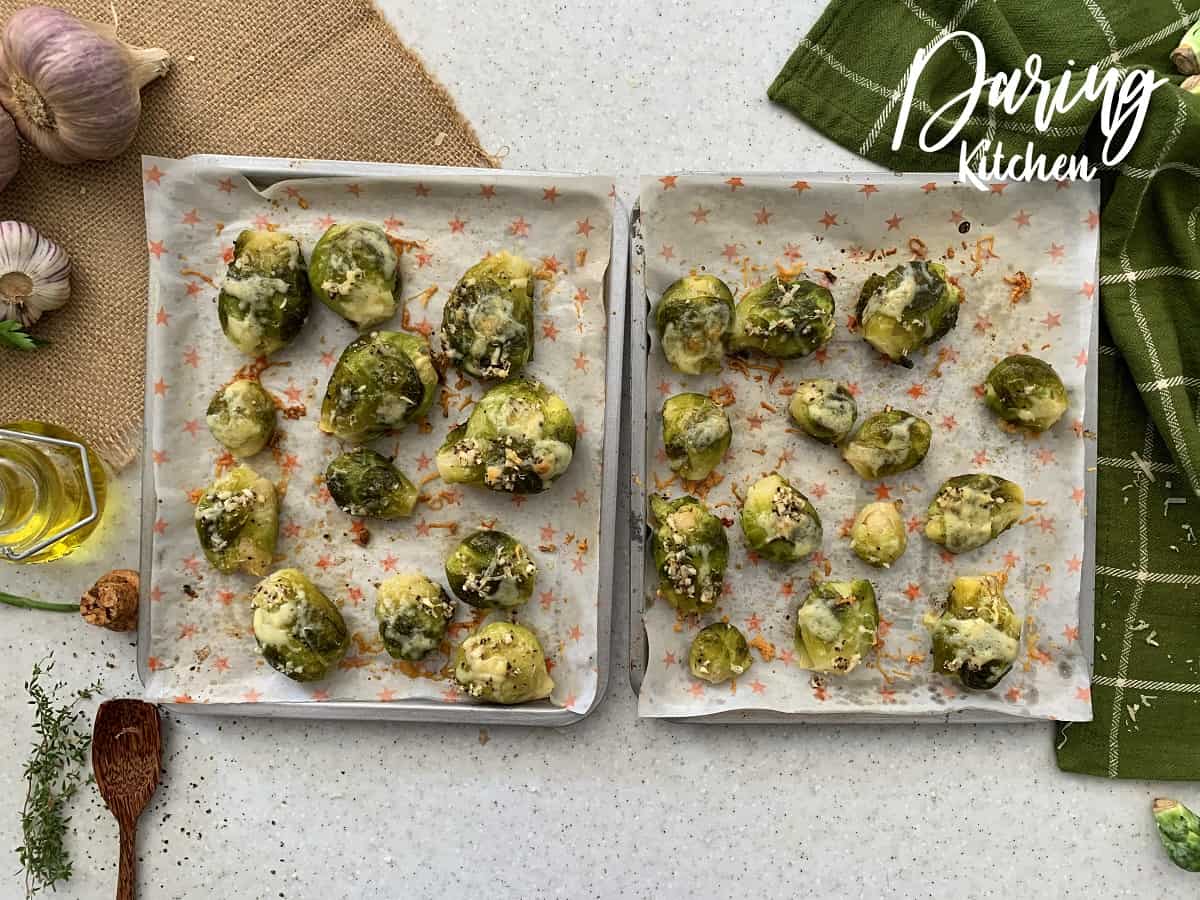 Popular Substitutions & Additions
If you want to add a little heat, add some red pepper flakes or cayenne pepper for an extra kick.
Add some bacon or pancetta to give your smashed Brussel sprouts a smoky flavor.
Try adding different herbs and spices, like garlic powder, rosemary, and oregano, for a new twist on this smashed Brussels sprouts recipe.
To make it vegan, omit the cheese and replace the butter with a vegan-friendly substitute.
Drizzle the sprouts with a little balsamic glaze for sweetness and tanginess.
Can I Freeze Crispy Smashed Brussels Sprouts?
Yes, you can freeze smashed Brussels sprouts. This is a great way to prepare them ahead of time and have an easy side dish or snack ready to go. To freeze, you only need to place the smashed Brussels sprouts on a paper-lined baking sheet, ensuring they are not touching each other. Once frozen, transfer the sprouts to an airtight container or freezer bag and store them for up to 3 months. When ready to serve, thaw them in the fridge overnight before reheating in the oven at 375 degrees Fahrenheit until warmed.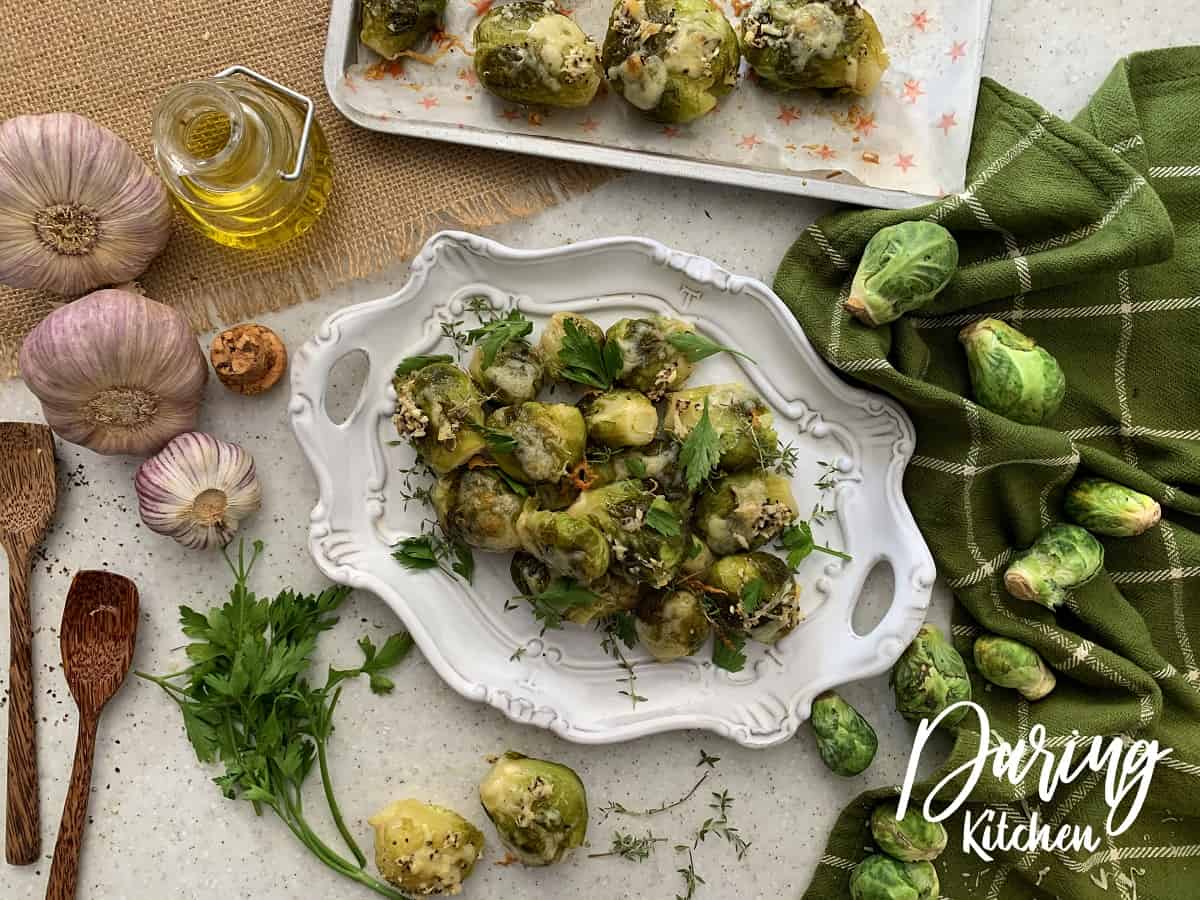 Crispy Smashed Brussels Sprouts Recipe FAQs
Can I make smashed Brussels sprouts without cheese?
Absolutely! This smashed Brussels sprouts recipe is just as delicious without any cheese. You can omit the cheese and proceed with the recipe from there. It's a great vegan-friendly option.
How do I know when my roasted Brussels sprouts are cooked?
You will know that Brussels sprouts are cooked when they are fork-tender.
What is the best way to store leftover Brussels sprouts?
Any leftover Brussels sprouts should be stored in an airtight container and kept in the refrigerator for up to three days. To reheat, place them on a baking sheet lined with parchment paper and bake them at 375 degrees Fahrenheit until heated.
Can I use frozen Brussels sprouts instead of fresh ones?
Yes, you can use frozen Brussels sprouts instead of fresh. Just make sure to thaw the Brussels sprouts out completely before cooking and smashing them. They may need a few extra minutes to cook if using frozen. Also, reduce the moisture released from the Brussels sprouts by patting them dry with a paper towel before proceeding with the recipe.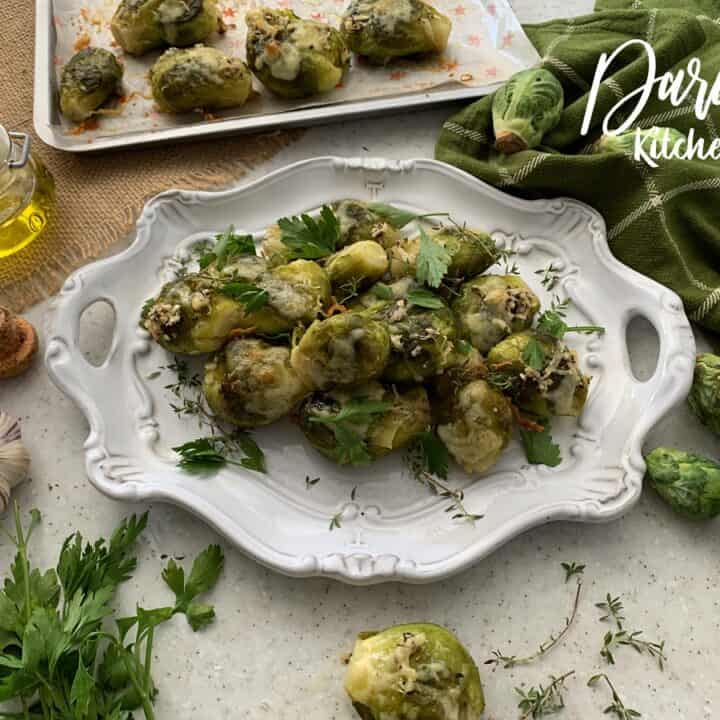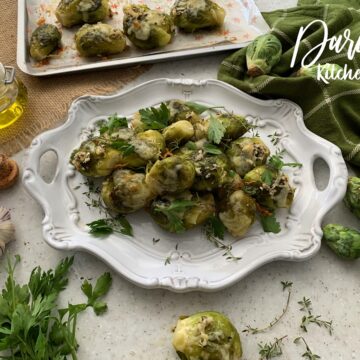 Smashed Brussels Sprouts
Who said Brussels sprouts had to be boring? With melted mozzarella and parmesan cheese, the whole family will be asking for more of these delicious sprouts.
Print
Pin
Rate
Ingredients
2

lb

Fresh brussel sprouts

2

tbsp

Olive oil

2

Minced garlic cloves

1

tsp

Thyme

Salt to Taste

Pepper to Taste

1

cup

Mozzarella

¼

cup

Parmesan

Parsley to Garnish
Instructions
Boil the Brussel Sprouts in salted water until they are tender.

Mix the Garlic, Salt, Pepper and Olive oil and add it to the smashed Brussel Sprouts.

Add the Cheeses on top and oven bake for 20 to 25 min at 425F.
Nutrition
Calories:
85
kcal
|
Carbohydrates:
1
g
|
Protein:
4
g
|
Fat:
7
g
|
Saturated Fat:
3
g
|
Polyunsaturated Fat:
1
g
|
Monounsaturated Fat:
4
g
|
Cholesterol:
13
mg
|
Sodium:
138
mg
|
Potassium:
15
mg
|
Fiber:
1
g
|
Sugar:
1
g
|
Vitamin A:
131
IU
|
Vitamin C:
1
mg
|
Calcium:
109
mg
|
Iron:
1
mg