Look out smashed potatoes - smashed brussel sprouts are in town. With delicious mozzarella, parmesan, and herbs, you've never tasted a brussel sprout like this before!
The Easiest Smashed Brussels Sprouts Recipe
Growing up, I avoided brussel sprouts like the plague. Didn't we all? It's sad because brussels sprouts are actually a pretty awesome vegetable, especially when they're roasted to perfection.
I've made smashed potatoes for years. I love how crispy the potato skins get on the outside and how creamy the potatoes are on the inside. I started to get curious about how I could use a similar method with a vegetable.
Brussel sprouts were the first to come to mind! I love roasted brussel sprouts. The way their leaves get all flaky and crispy makes this veggie the perfect side dish. That made me think - wait, I can make smashed brussel sprouts!
After a couple of trial runs, I mastered the perfect smashed brussel sprouts recipe. I made sure that there weren't a ton of steps, appliances, or ingredients in this recipe. I wanted to keep it simple! And, that is exactly what this recipe is - quality ingredients and a super simple method. The best part is that this recipe features all my favorite cheeses and herbs. I can seriously eat these sprouts every day!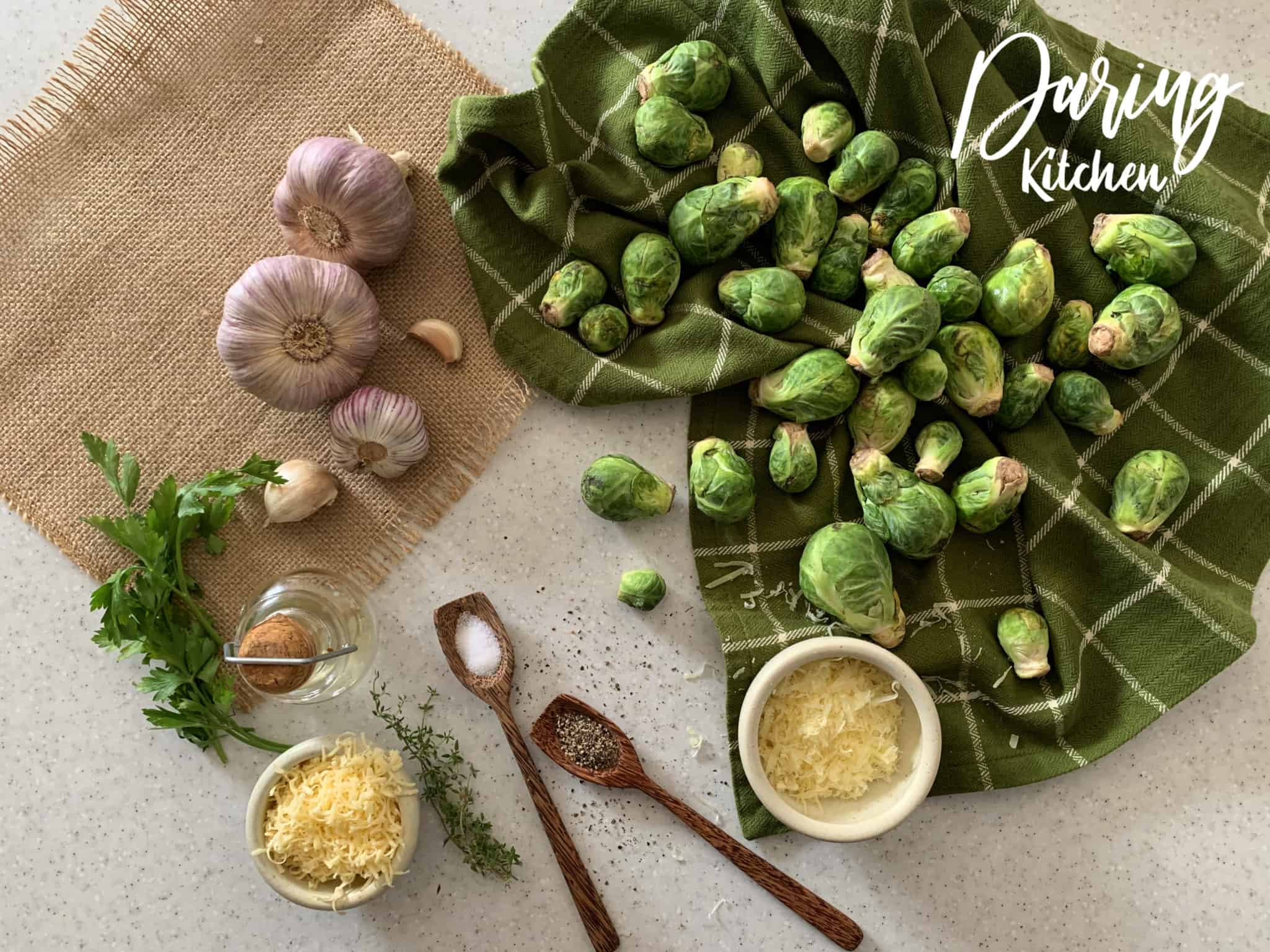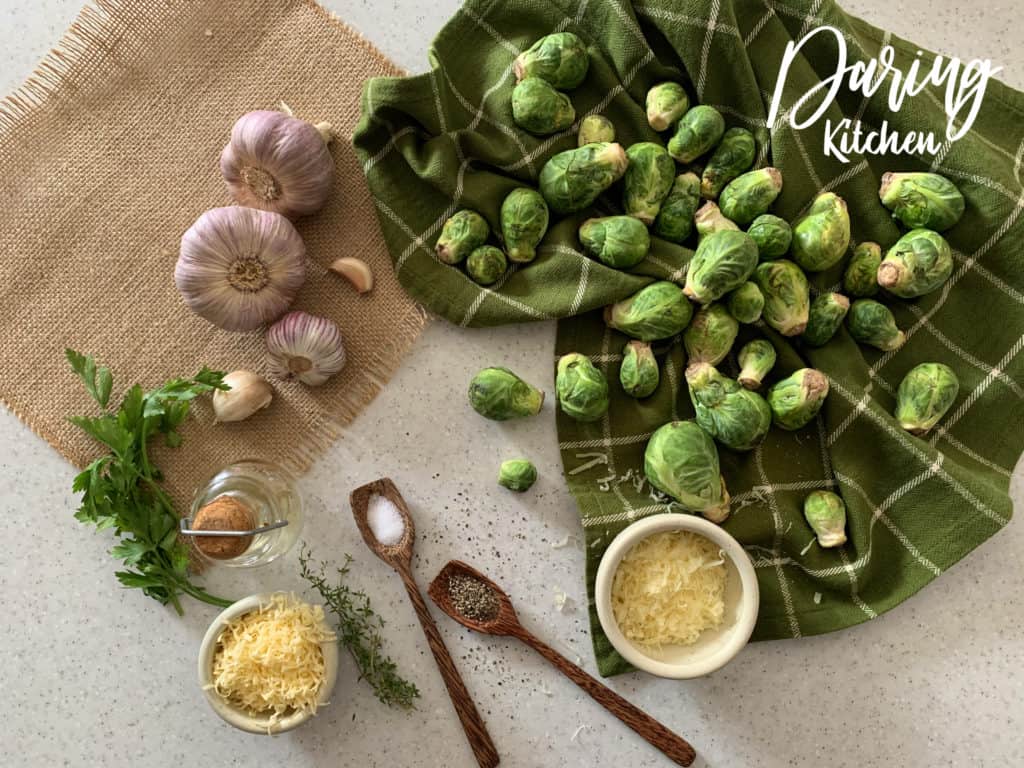 Ingredients in Smashed Brussels Sprouts
Let's get down to business - what's in this recipe? Well, just a few simple ingredients. I'll break it down for you!
Brussel sprouts - The normal-sized sprouts are the best for this recipe. In my opinion, baby brussels are way too small.
Olive oil - Using a good quality olive oil in this recipe is essential to roast smashed brussels sprouts to perfection.
Garlic - Fresh garlic is key in this recipe as it releases all of its oils and aromas in the oven, giving a nice zesty edge to these sprouts.
Thyme - I adore fresh thyme. It adds a nice earthy element to these sprouts and pairs excellently with garlic and olive oil!
Mozzarella cheese - This gives the sprouts the real cheesy effect. Mozzarella is one of the best melting cheeses, as it melts very evenly.
Parmesan cheese - Who can live without parm? This gives a more bold cheesy flavor to the sprouts.
Salt and pepper - This is always to taste in my recipes, as everyone has their own preference.
Parsley - This finishes off the sprouts wonderfully, giving a little freshness to the sprouts and also making them look a little prettier too.
So, how many of these ingredients do you have already in your kitchen? I bet at least half! That means you're halfway to making this delicious brussels sprouts recipe.
With regards to kitchen appliances, you really only need a pan, a baking sheet, and a reliable oven. There isn't a need for any fancy tools whatsoever.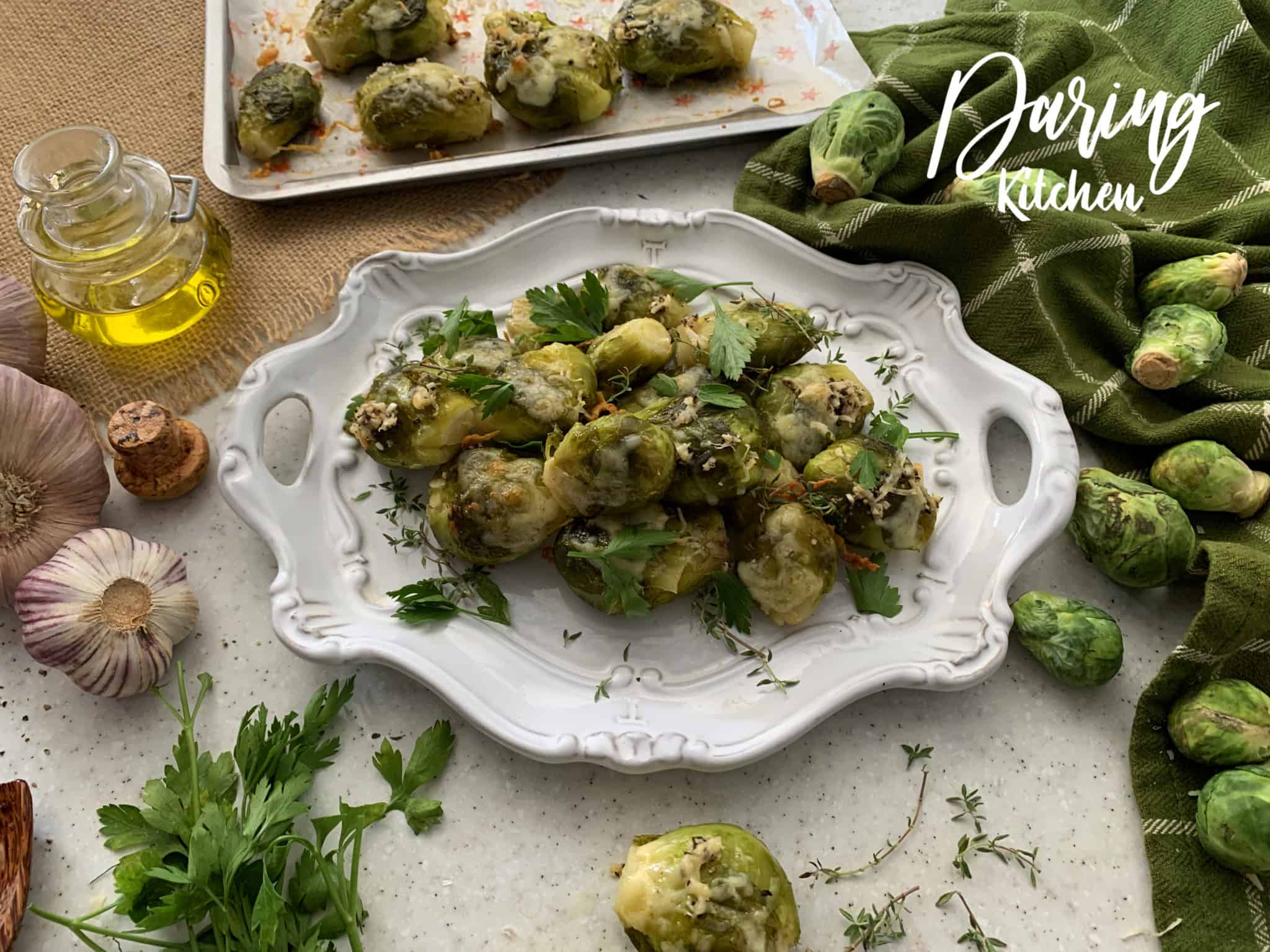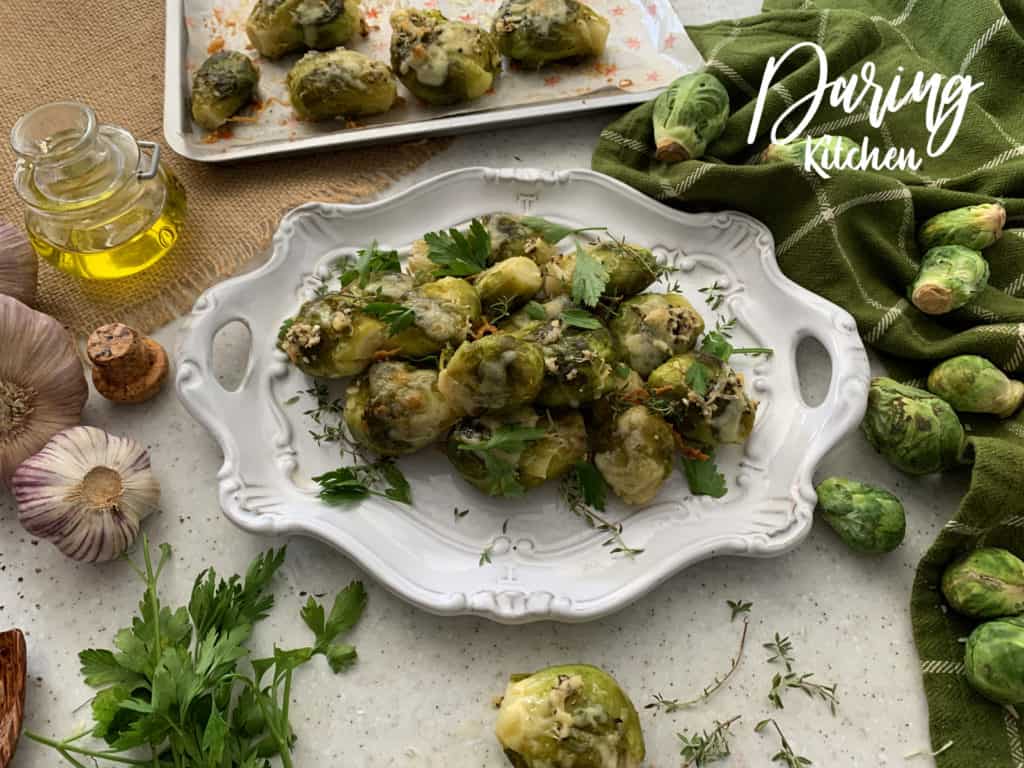 How to Pair Smashed Brussels Sprouts
I've probably made it clear I could eat these sprouts all the time. They are delicious on their own, making them an excellent appetizer. These smash brussels sprouts are also great as a side dish too. Below, I listed a few ideas for pairing these smashed brussels sprouts!
With Burgers - Hold the cheese fries, how about cheesy brussels sprouts instead? I love these brussel sprouts with veggie burgers! The cheesiness of these smashed brussel sprouts will make you forget about the greasy fries.
With Chicken - These brussel sprouts taste great with a simple chicken recipe, like honey balsamic chicken.
With a steak - I have to say, I am not much of a red meat eater, but these brussels sprouts taste fantastic with a steak. Even a cauliflower steak tastes great with this recipe!
How to Make Smashed Brussels Sprouts
Time to get cooking! Once you have all your ingredients and appliances ready, it's time to smash some brussels sprouts!
The first step is always to preheat your oven. It will need to be set to 425 degrees Fahrenheit.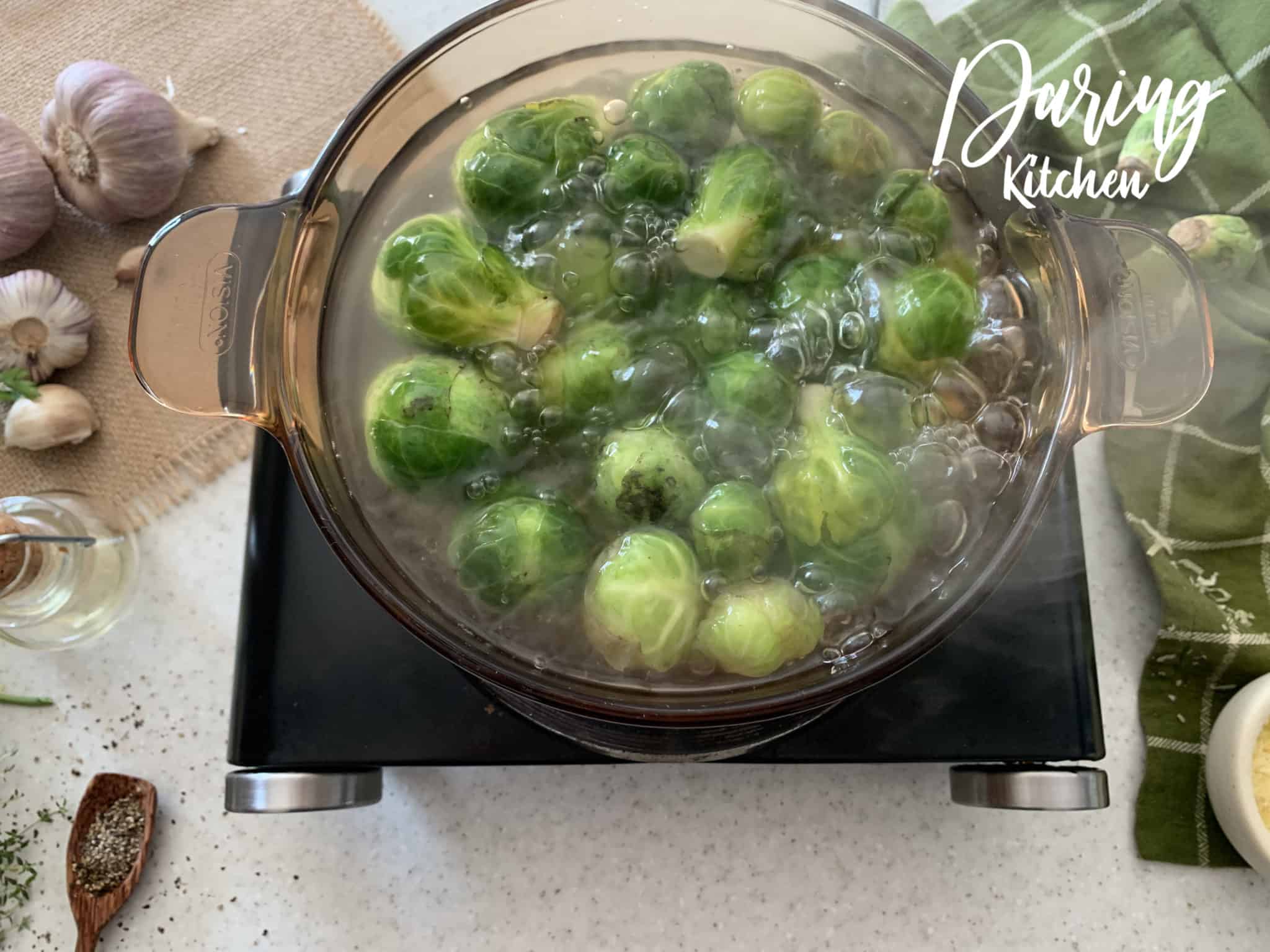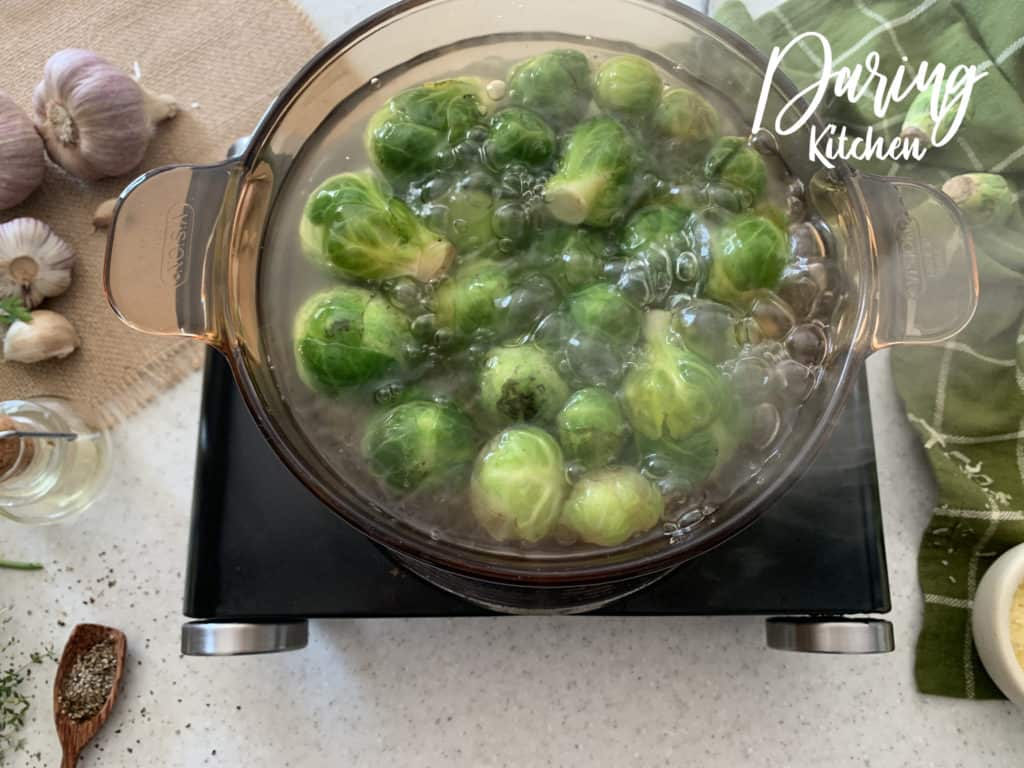 The next step is to boil your brussels sprouts. In boiling water, gently add brussels sprouts and cook them until tender. This should take around 5 minutes. As you wait for those to cook, line your baking sheet with parchment paper.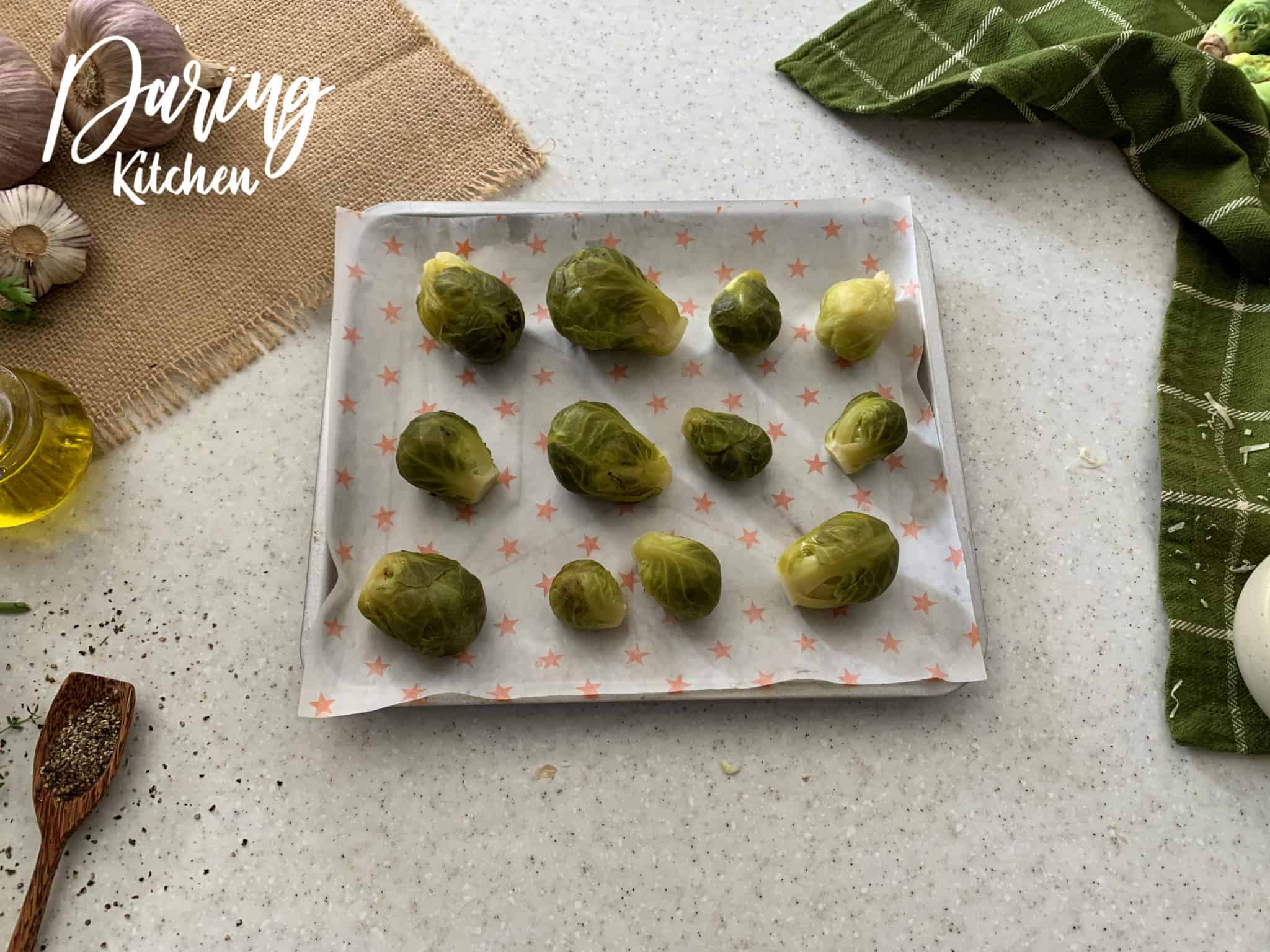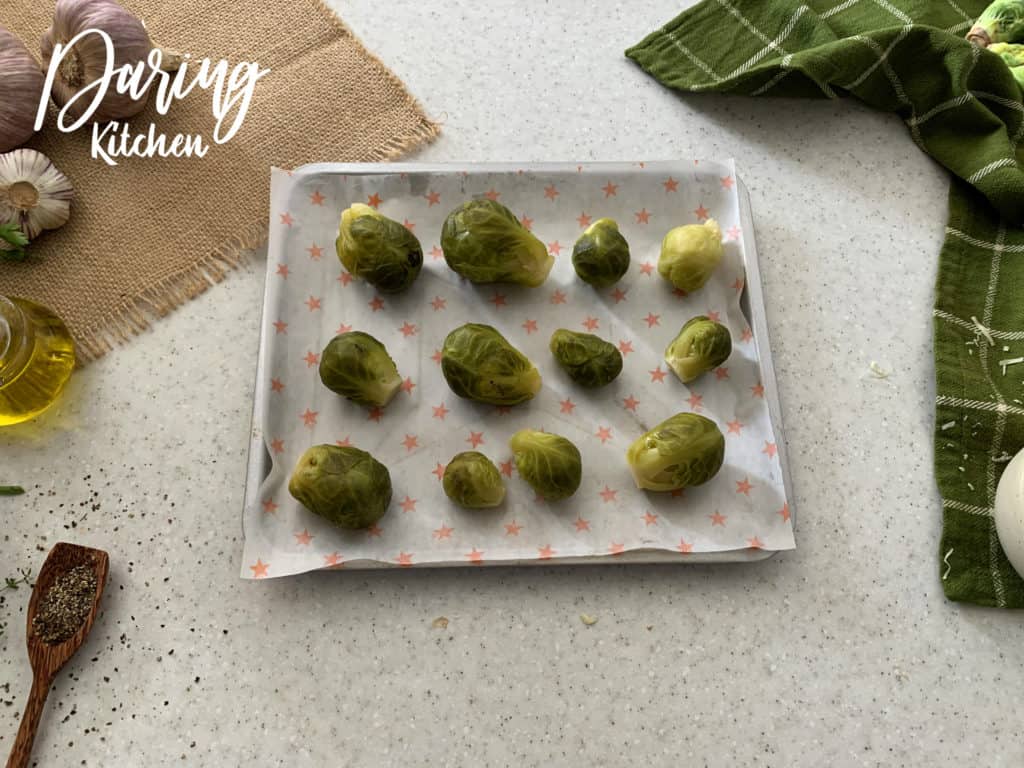 When your brussels sprouts are cooked, strain them and place brussels sprouts on your baking sheet, leaving some room in between them. Then, smash each one with a fork.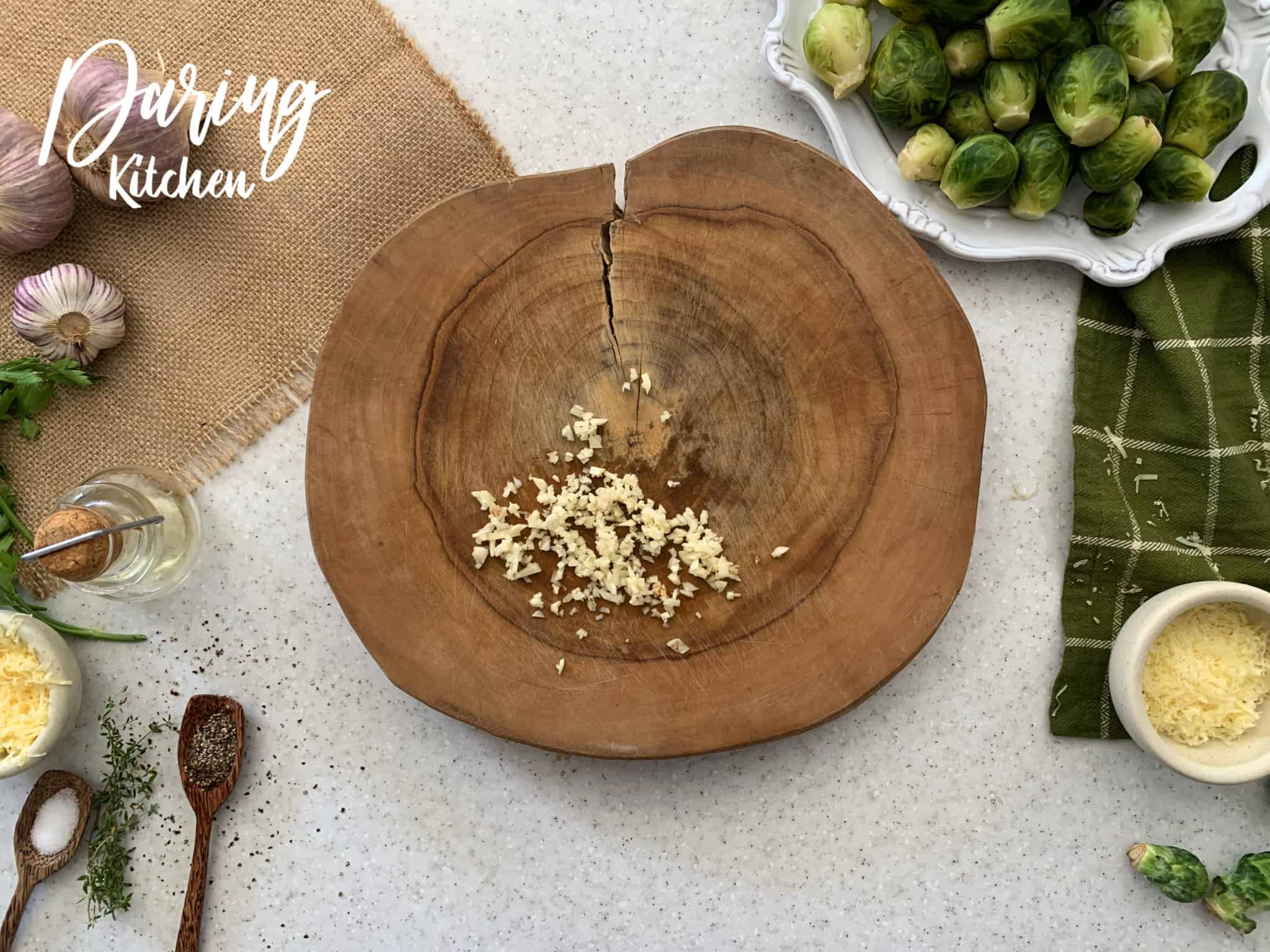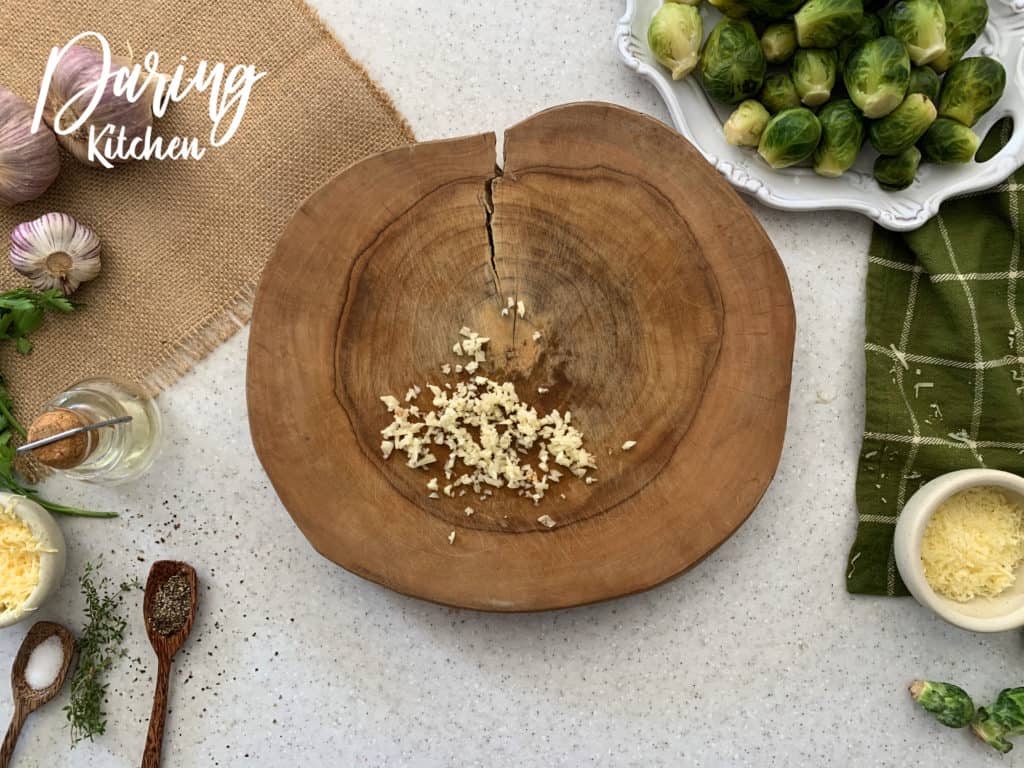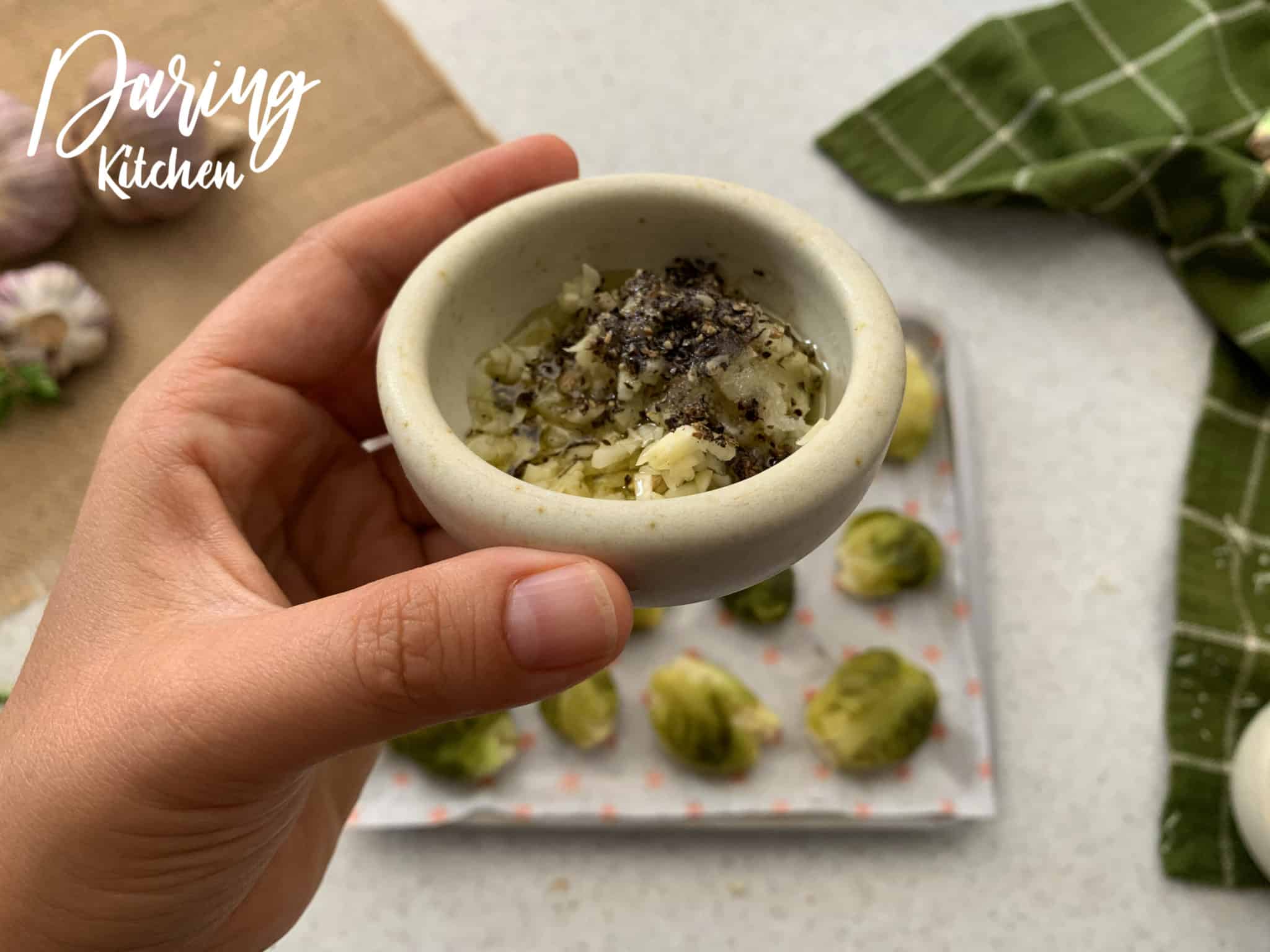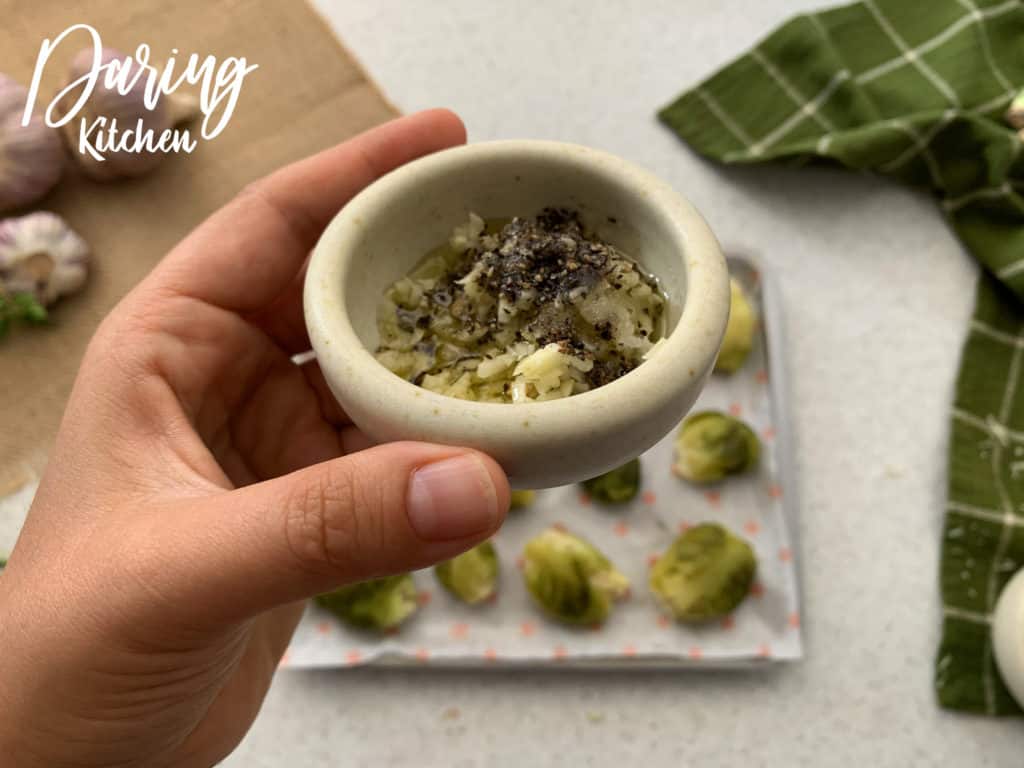 Chop your garlic. Then, combine it with your thyme, olive oil, salt and pepper. Mix until even.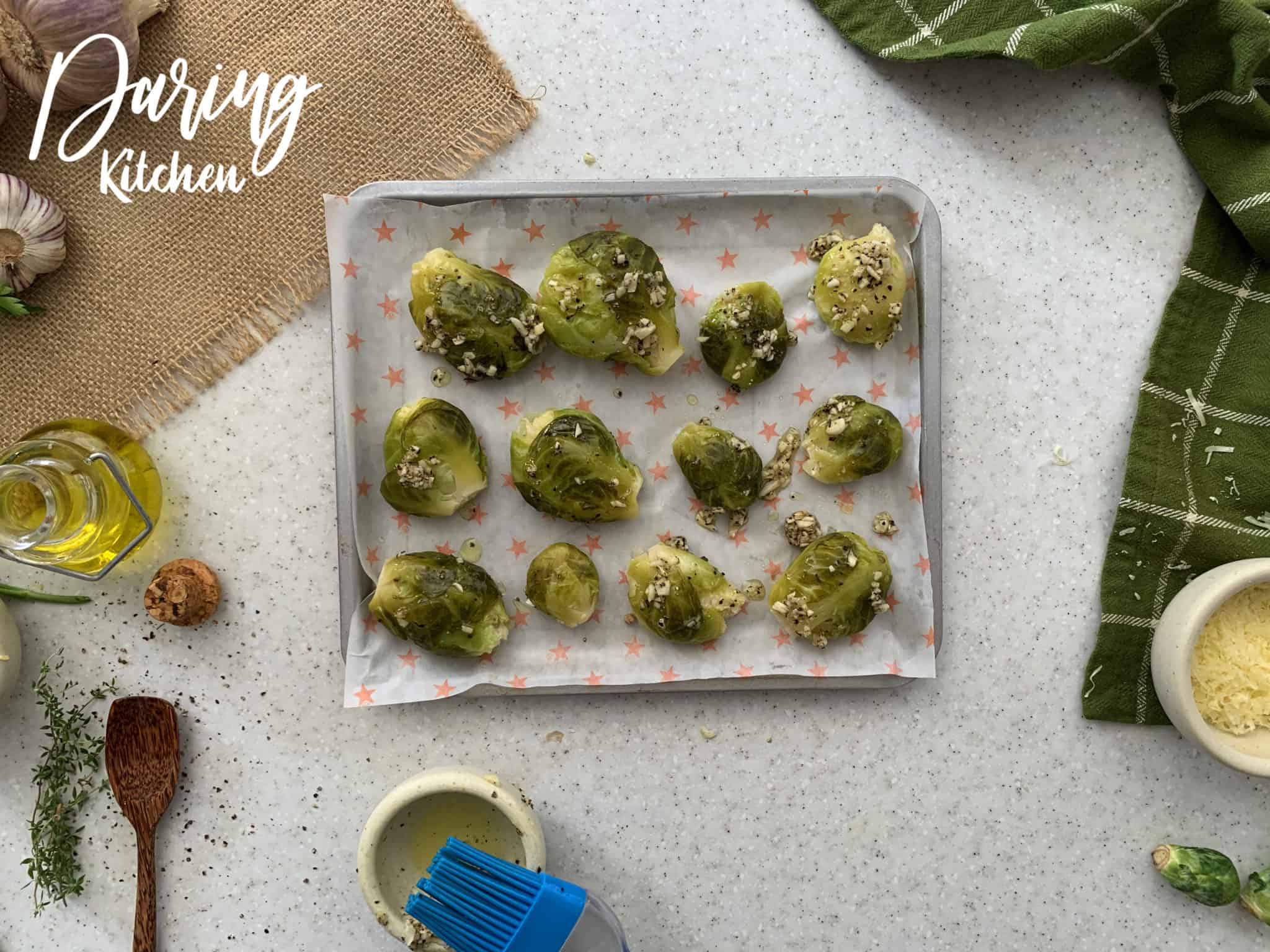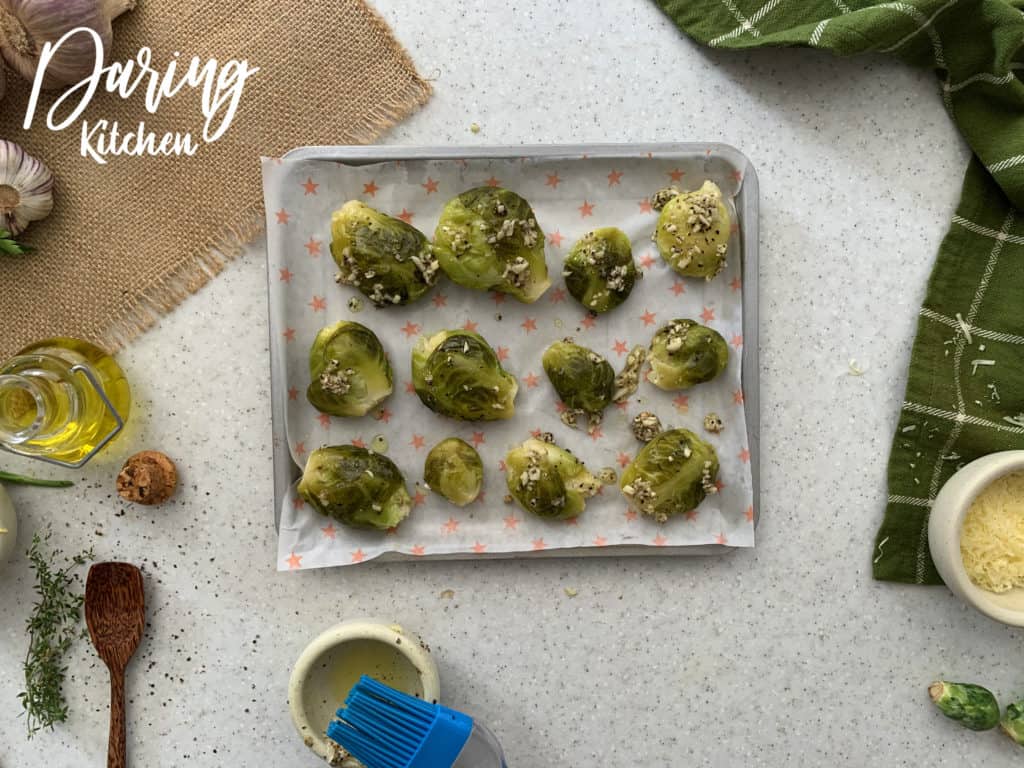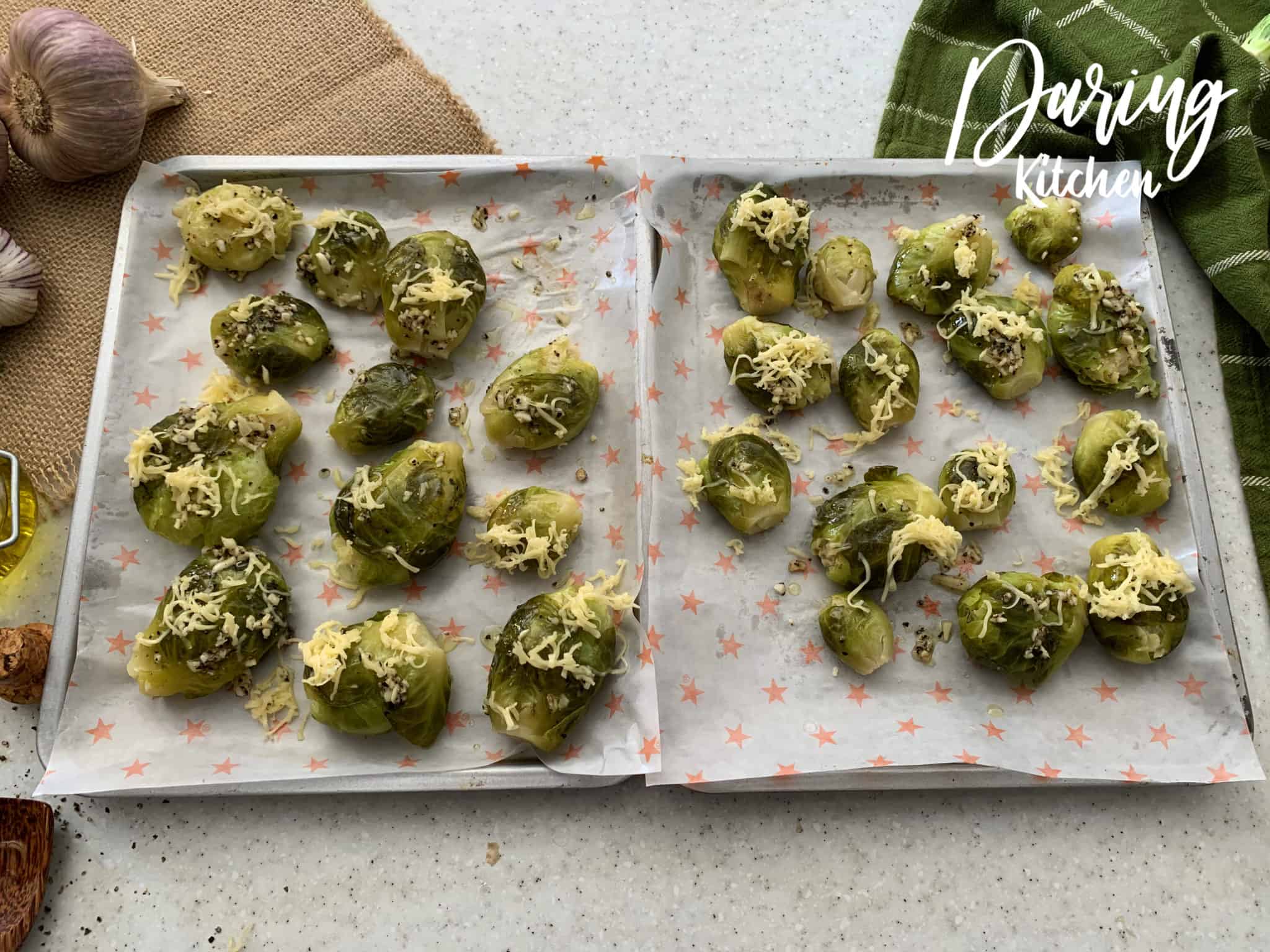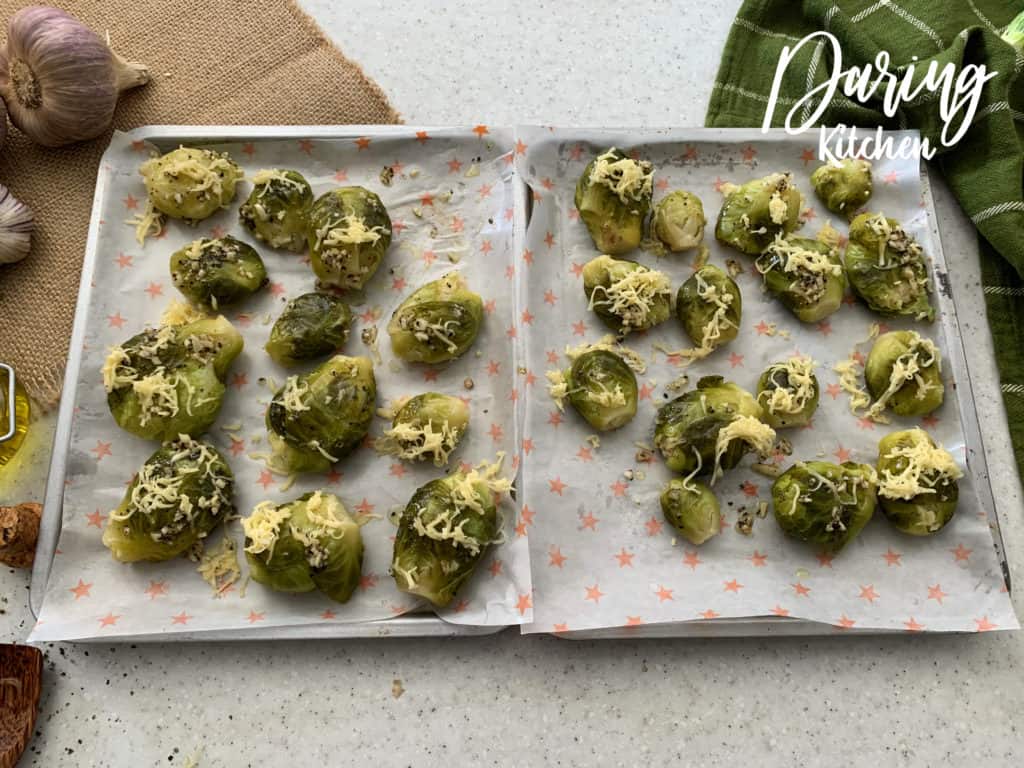 Season your brussel sprouts with your seasoning mixture. Now, sprinkle your cheeses evenly on top, ensuring all your sprouts are evenly coated.
Place your smashed brussels sprouts in the oven for 2o to 25 minutes, or until the cheesy is melted and golden.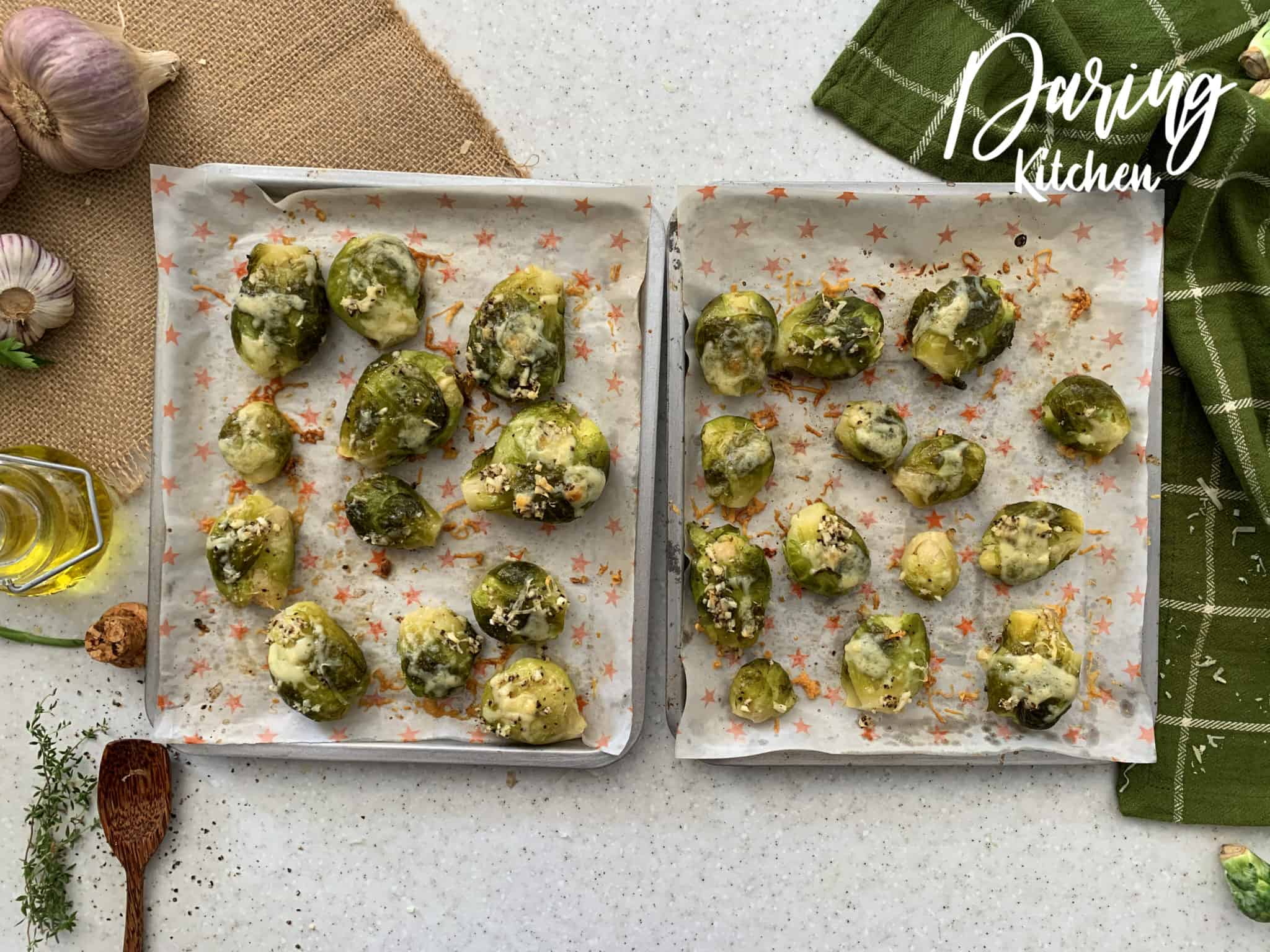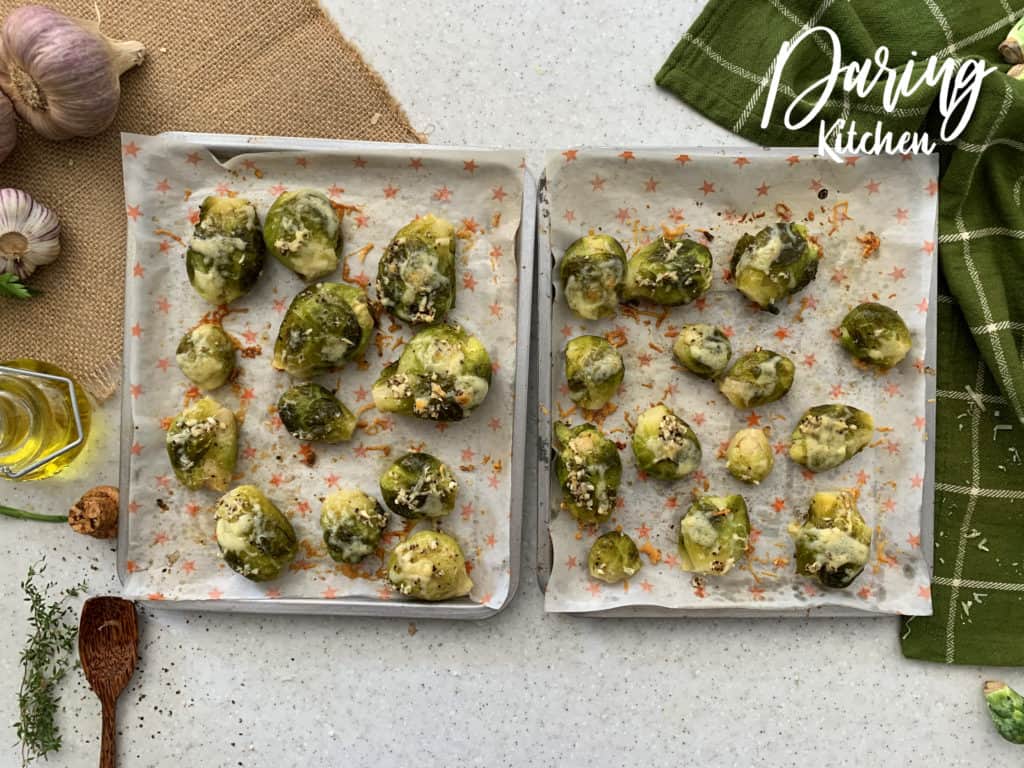 Garnish your smashed brussels sprouts generously with parsley. Serve the sprouts immediately, as an appetizer or as an accompaniment to your favorite main course.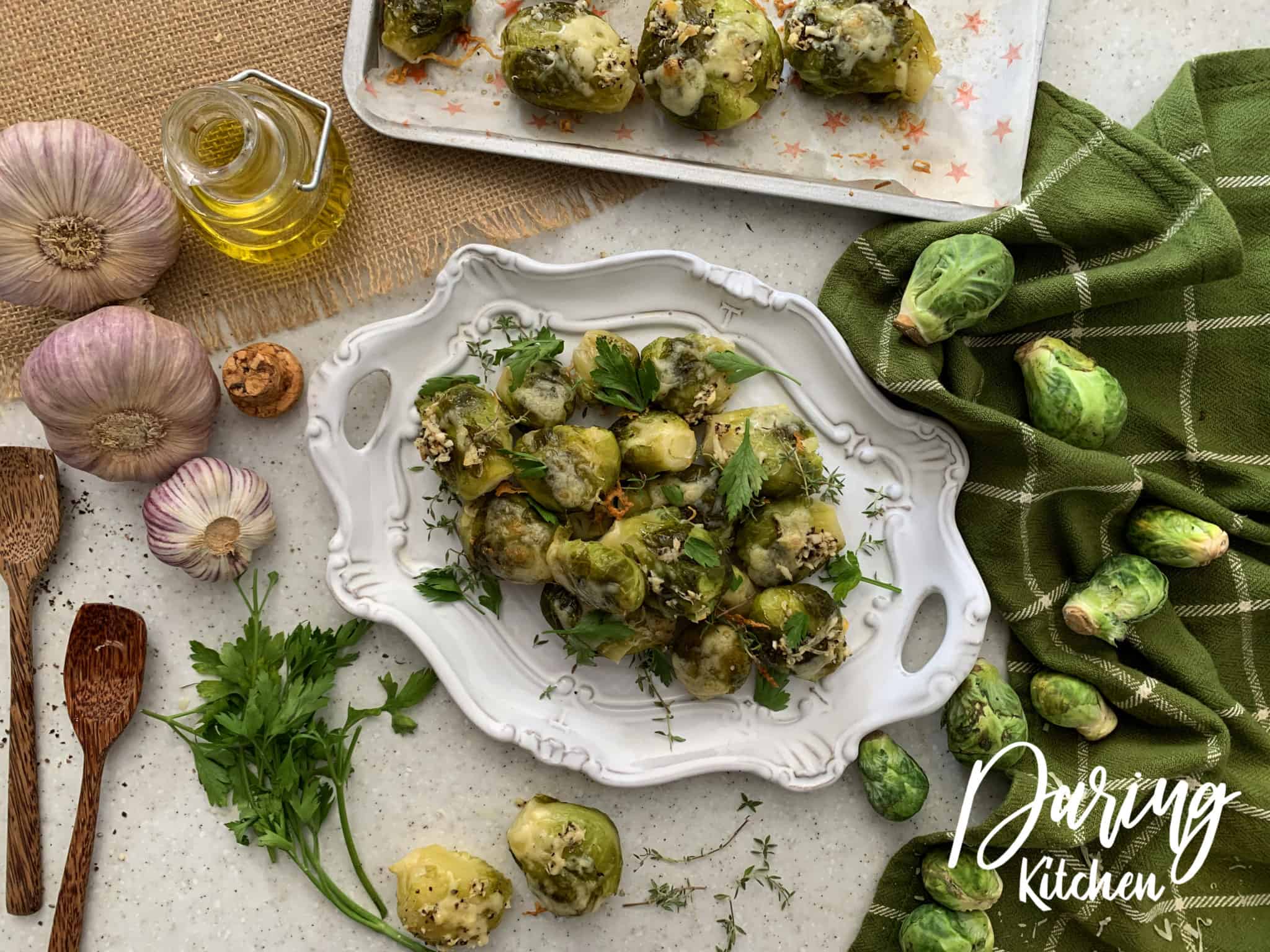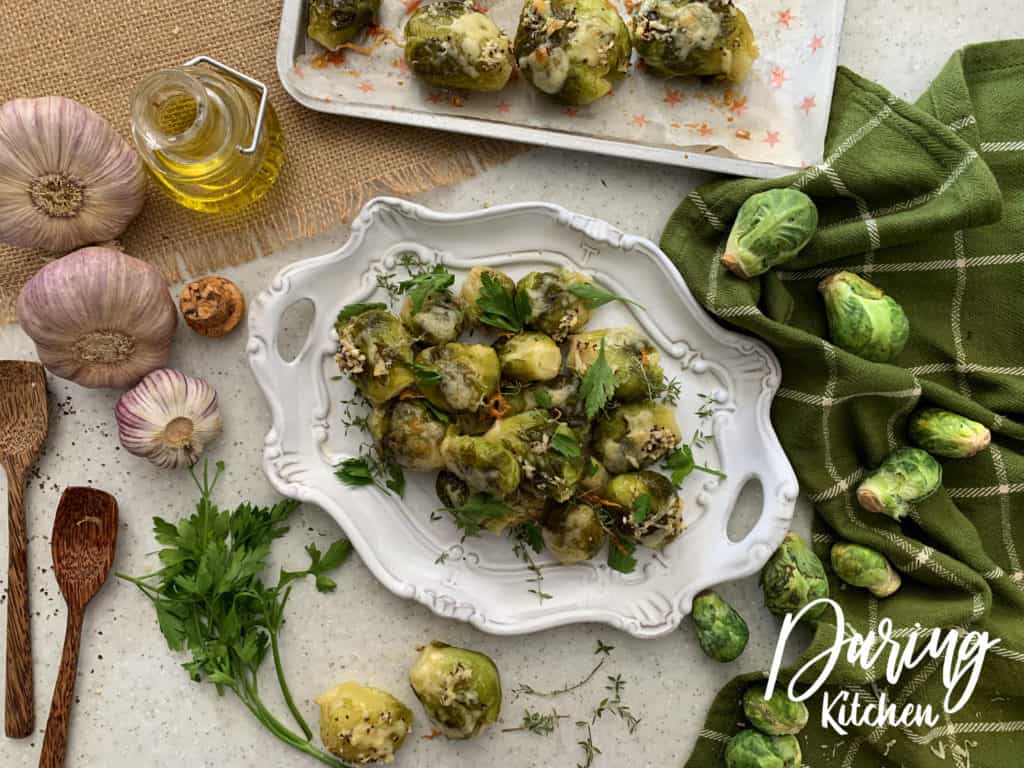 Do you or someone you know love brussels sprouts? I hope that you adored this recipe enough to share it with them. It is a vegetarian recipe I simply can't live without.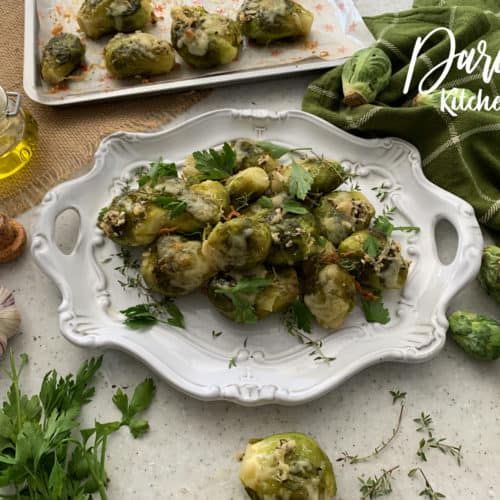 Smashed Brussel Sprouts
Who said brussel sprouts were boring? With melted mozzarella and parmesan cheese, even kids will be asking for more of these delicious sprouts.
Print
Pin
Rate
Ingredients
2

lb

Fresh brussel sprouts

2

tbsp

Olive oil

2

Minced garlic cloves

1

tsp

Thyme

Salt to Taste

Pepper to Taste

1

cup

Mozzarella

¼

cup

Parmesan

Parsley to Garnish
Instructions
Boil the Brussel Sprouts in salted water until they are tender.

Mix the Garlic, Salt, Pepper and Olive oil and add it to the smashed Brussel Sprouts.

Add the Cheeses on top and oven bake for 20 to 25 min at 425F.
Nutrition
Calories:
85
kcal
|
Carbohydrates:
1
g
|
Protein:
4
g
|
Fat:
7
g
|
Saturated Fat:
3
g
|
Polyunsaturated Fat:
1
g
|
Monounsaturated Fat:
4
g
|
Cholesterol:
13
mg
|
Sodium:
138
mg
|
Potassium:
15
mg
|
Fiber:
1
g
|
Sugar:
1
g
|
Vitamin A:
131
IU
|
Vitamin C:
1
mg
|
Calcium:
109
mg
|
Iron:
1
mg