The perfect snack or side dish, these smashed sweet potatoes are delicious any meal of the day. It's gluten free, all this recipe needs is a half-hour of your time and 4 easy to source ingredients - that's it! That's what makes this one of my all-time favorite sweet potato recipes.
The Best Smashed Sweet Potato Recipe
When it comes to quick and easy recipes, this smashed sweet potato recipe is it. It takes texture to a whole new level (sorry mashed potatoes, we love you too!)
Smashed sweet potatoes are one word: delicious. They're crispy on the outside and creamy on the inside. With rich and nutritious sweet potatoes, you're adding a vitamin boost to any dish too!
You can eat these sweet potatoes alone as a side dish or pair them with some of your favorite main courses. They are the perfect size for snacking too. You don't even need a fork or a knife necessarily, which makes kids love them too!
Also, smashed sweet potatoes pair with a ton of different flavors. In this recipe, I kept it simple. I coated the potato slices with ghee. A little garlic powder, thyme, and parmesan cheese go a long way. You can even add black pepper or fresh garlic too!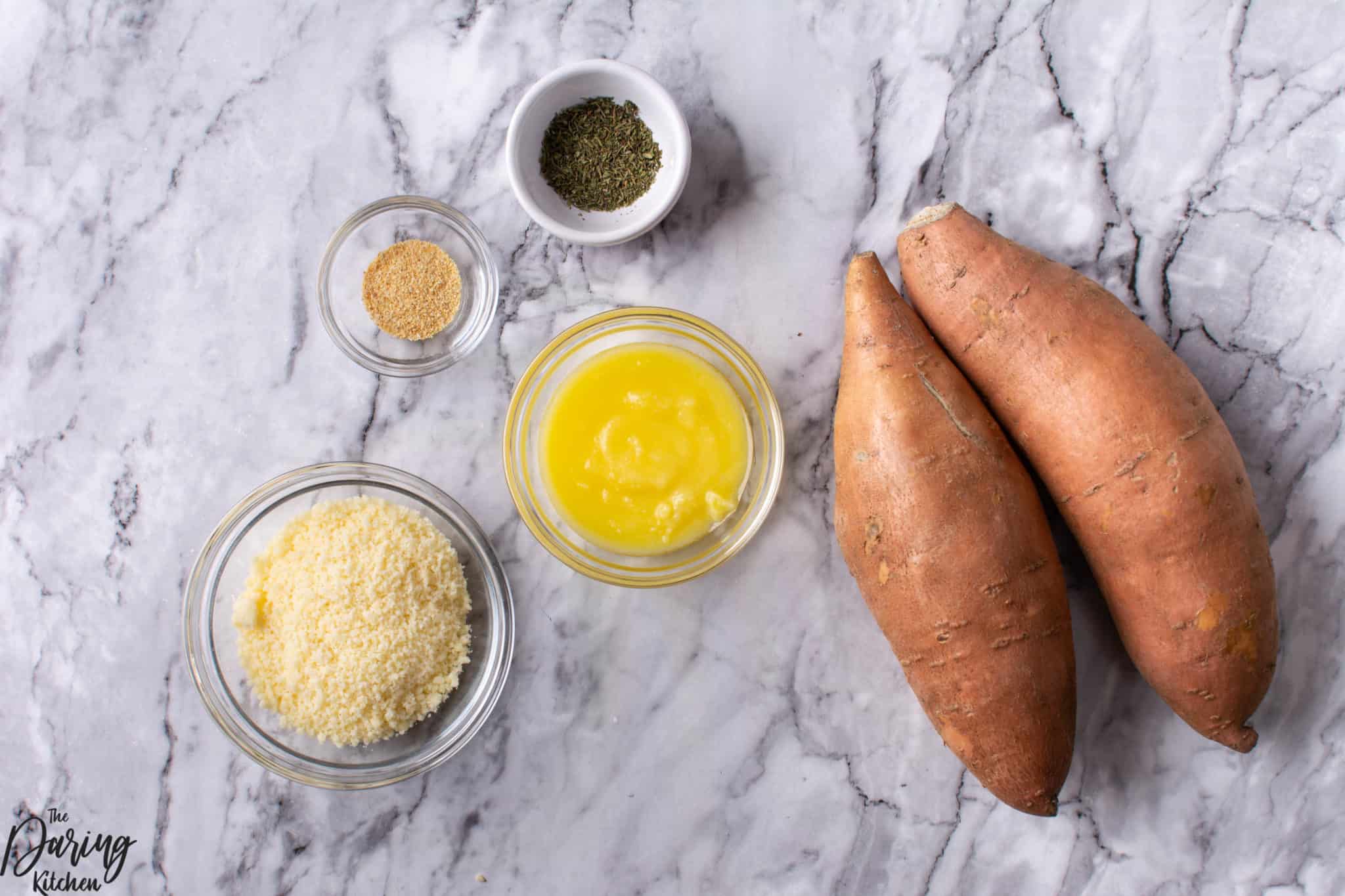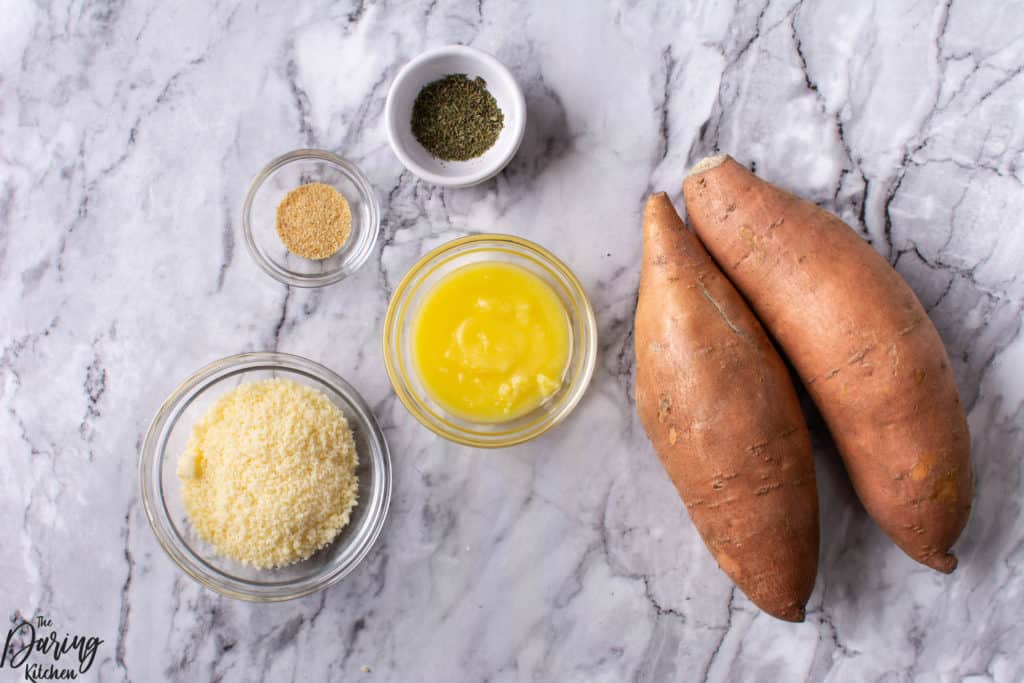 What are Smashed Sweet Potatoes?
Smashed sweet potatoes are potatoes that have been twice cooked. First, they are cooked until fork tender them so that they can be smashed. Once smashed, they are baked or broiled to give them extra crispiness.
In this recipe, I baked my sweet potato slices first with a good amount of ghee. Other people opt to use boiled potatoes. Personally, I don't prefer boiling, as it extracts nutrients from the sweet potatoes. Baking the potatoes gives them all the roast-y flavor and preserves most of the nutrients.
I choose to use ghee or clarified butter because it lends a lot more nutritional value to this dish. Ghee has been used for centuries in Indian culture. Since ghee does not contain whey, it is much more stomach-friendly than traditional unsalted butter.
Once the potatoes are baked and fork tender, I smash them with the bottom of a glass jar (I know - super fun!) You could also use a fork or potato masher. Using my mighty broiler, I allow the smashed sweet potatoes to get all golden and crispy. You want to make sure the skins barely burn so that you avoid any of that bitter flavor.
This whole process literally takes a half-hour - that's it! This makes these smashed sweet potatoes great to make for lunch or dinner. While they cook in the oven, you focus on making your main course. This recipe is also awesome for meal prep. As someone who works out often, I love having smashed sweet potatoes on hand for the perfect pre or post-workout snack!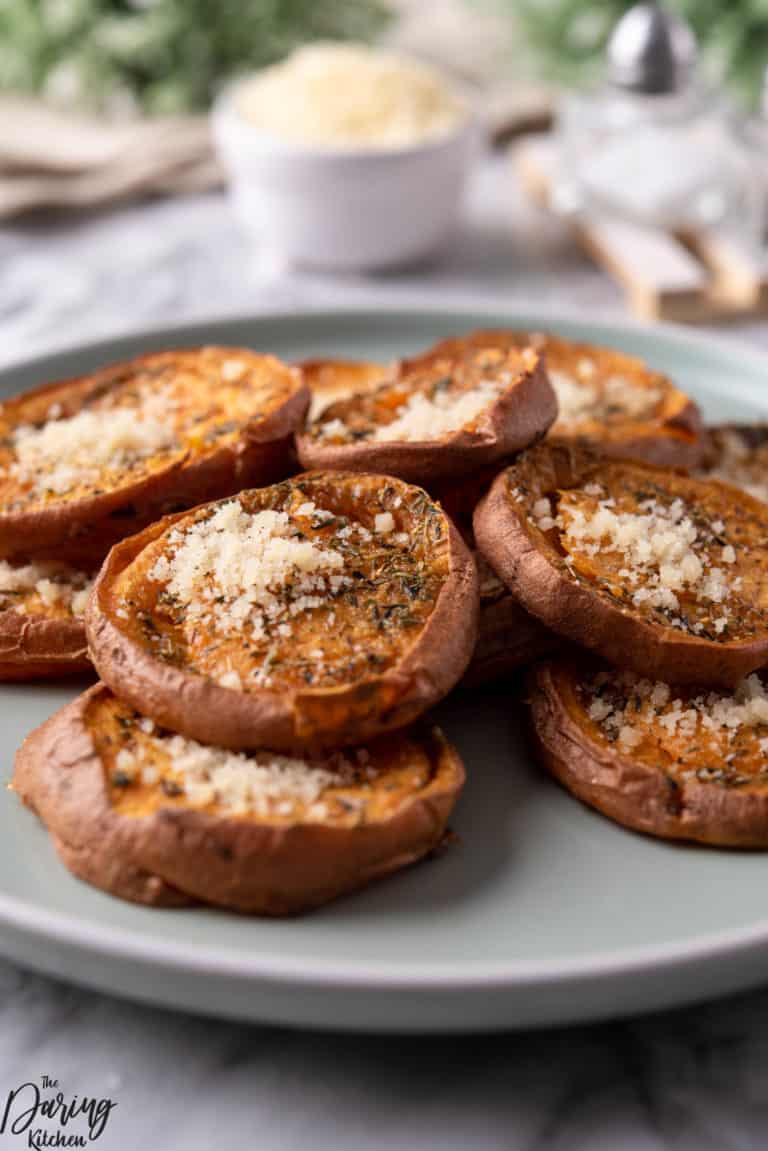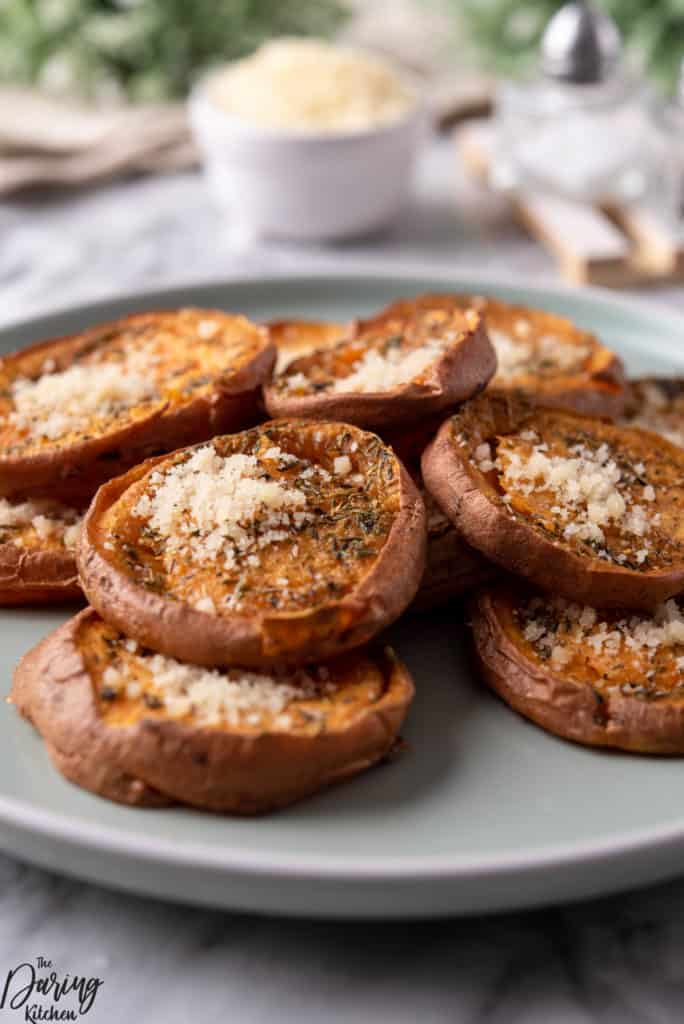 Smashed Potatoes Pairing Ideas
What's great about smashed sweet potatoes are all the ways to enjoy them. This recipe keeps it pretty simple with garlic and thyme butter mixture, along with delicious parmesan cheese. From there, you can add on other toppings that you like. Whether it's a little sour cream, goat cheese, or a drizzle of olive oil, the choice is yours!
Here are a few variations that I love for these smashed sweet potatoes:
Vegan smashed sweet potatoes: swap out the ghee for coconut oil (or vegan butter!) and sprinkle these with delicious vegan pesto, coconut cream, or just olive oil!
Mediterranean smashed sweet potatoes: finish these sweet potatoes with olive oil, oregano, and greek yogurt
Fall smashed sweet potatoes: Sprinkle brown sugar (or maple syrup,) cinnamon, and melted butter on the sweet potato slices before broiling. This gives them a perfect caramelization no one can resist! I even love adding a sprinkle of salt for that awesome sweet-salty flavor.
Mexican smashed sweet potatoes: garnish the sweet potatoes with cotija cheese, black pepper, sour cream, sliced avocado, and green onions on top of each slice.
No matter if you keep it ultra-simple or try a variation, you will fall in love with this sweet potato recipe. It is one of my favorite recipes, as it can be a side dish, appetizer, or snack.
How to Make Smashed Sweet Potatoes?
Making these smashed potatoes is too easy - that's what really makes this a great recipe. Whether you are making these for meal prep or delicious family dinner, you won't be disappointed.
Let's dive into the recipe!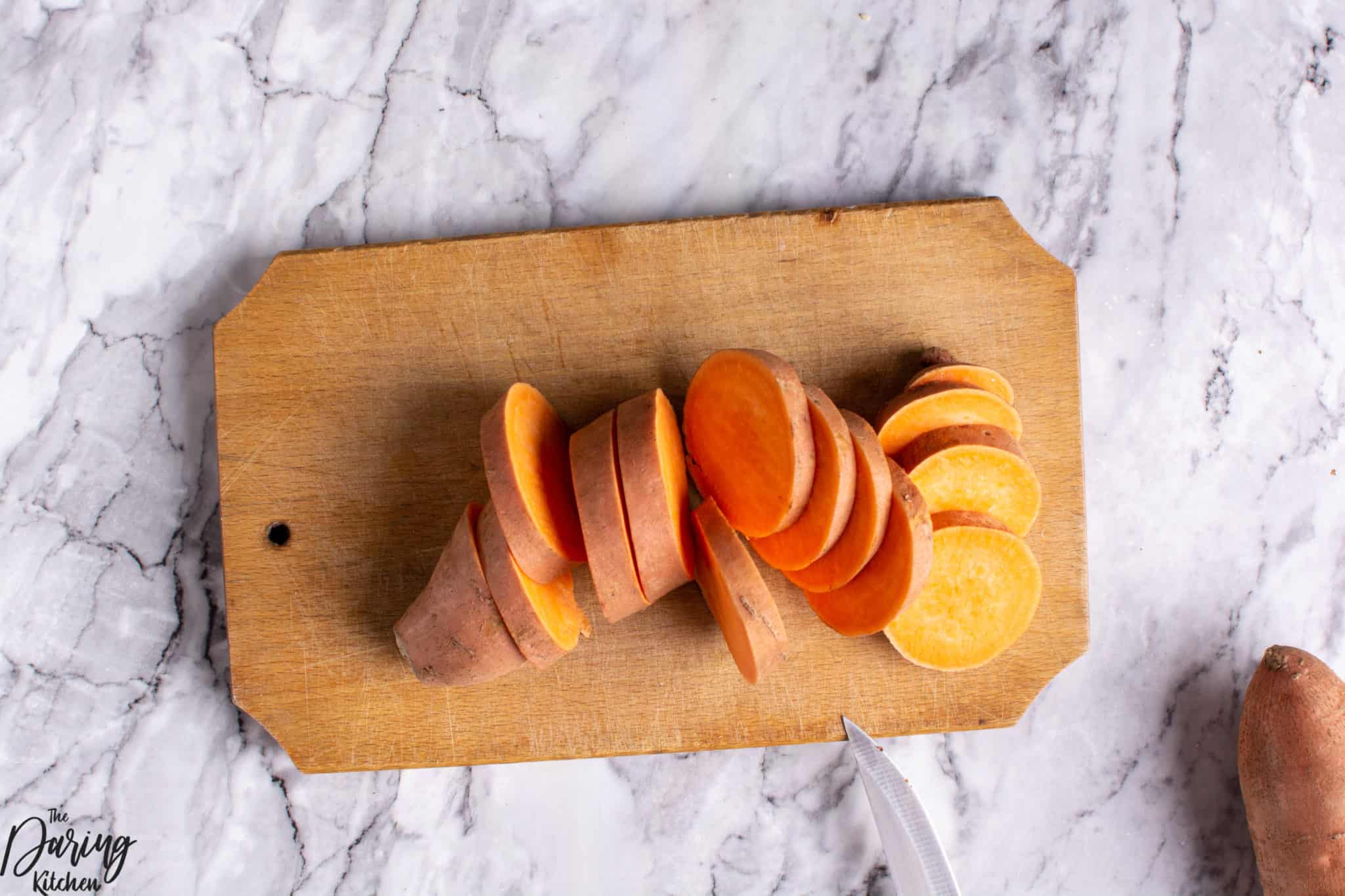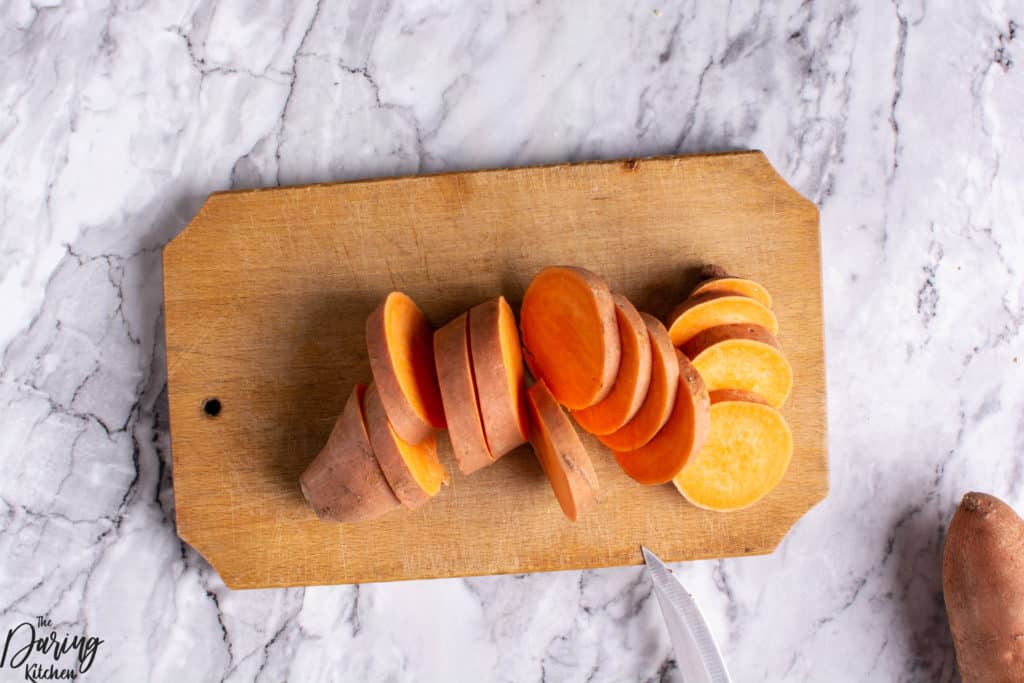 First, preheat your oven to 375 degrees Fahrenheit. As your oven preheats, prep your sweet potatoes. Wash them to remove excess dirt. Then, slice each sweet potato into thick 1-inch coin slices.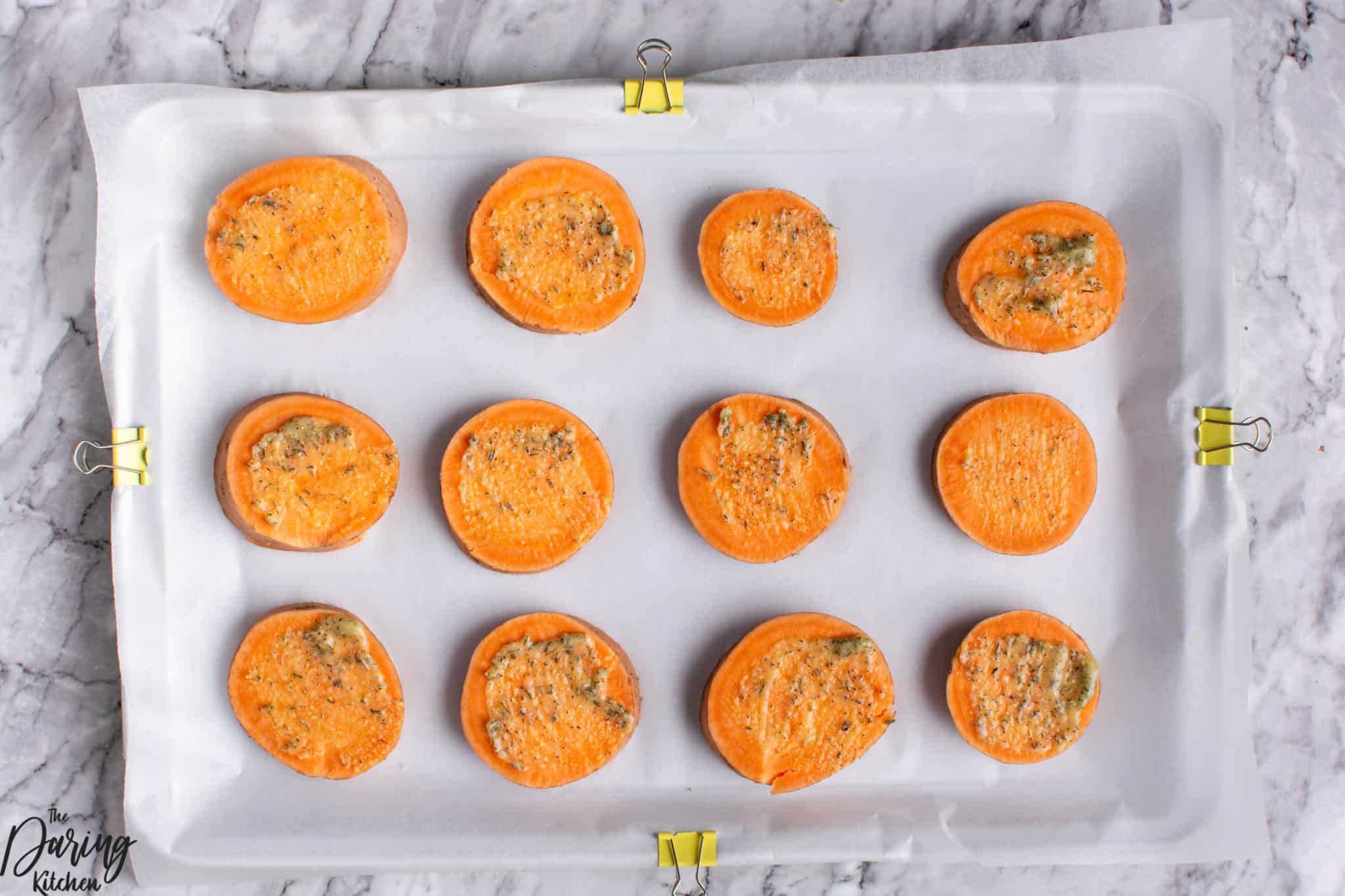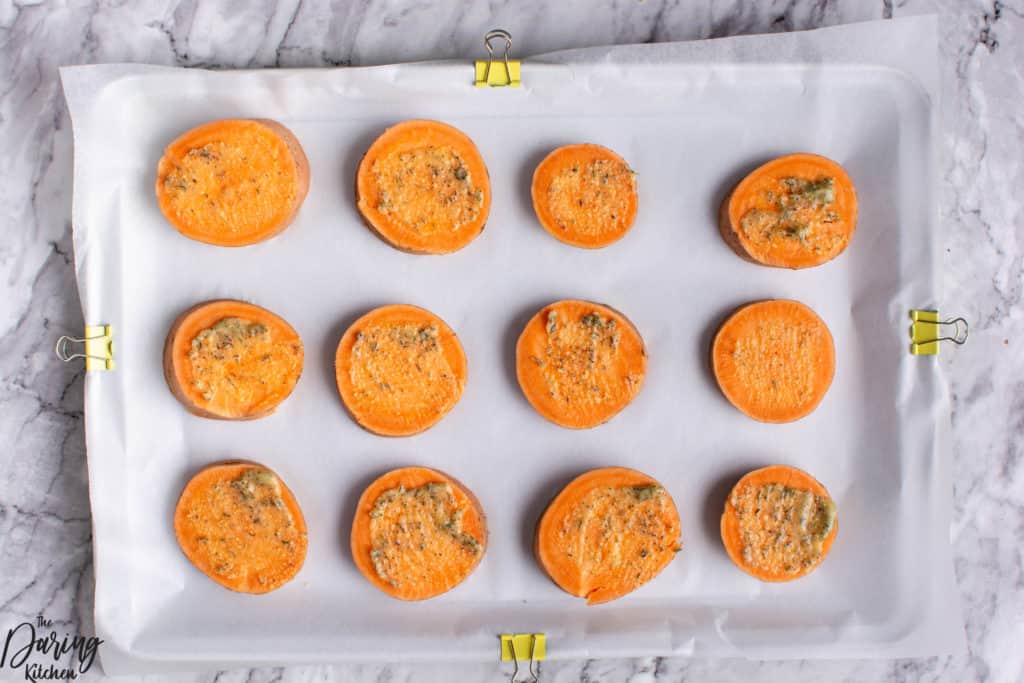 For this recipe, you will need 2 regular baking sheets or one large baking sheet. You want to make sure you can place sweet potatoes with space between each of the slices. If you are not using a non-stick pan, you can use olive oil spray so that the potatoes do not stick.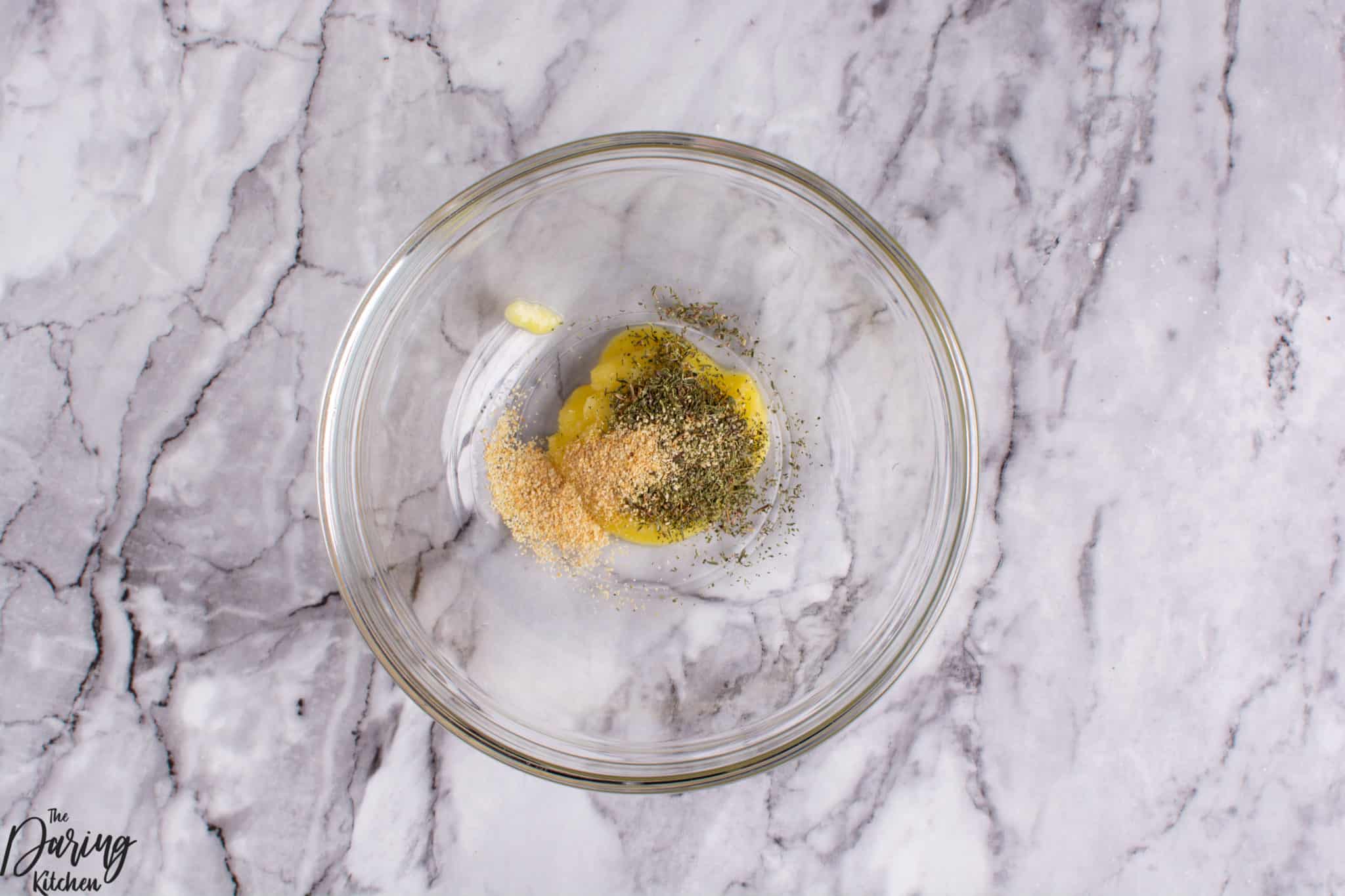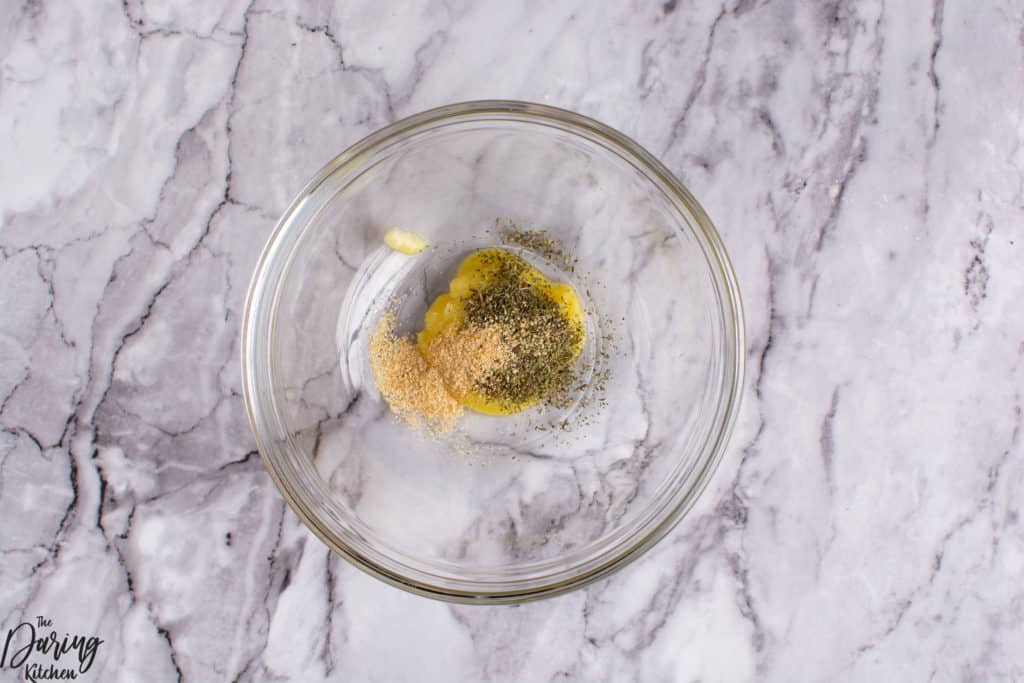 Using a small bowl, mix together the ghee (unsalted butter or vegan butter work as well) garlic powder, and thyme. Then, brush the butter mixture evenly over your sweet potatoes on the baking sheet. Place the sheet in the oven and allow the potatoes to bake for 20 minutes.
When the sweet potato rounds are fork tender, remove them from the oven. Smash each potato on the baking sheet with the bottom of the glass jar (or potato masher.) Try not to break the potatoes - you just want them to be flattened.
Now, turn your broiler on your oven. Place the potatoes back in the oven and allow them to boil for 3 minutes. Do not walk away from the oven! Just a couple of minutes could overcook your sweet potatoes.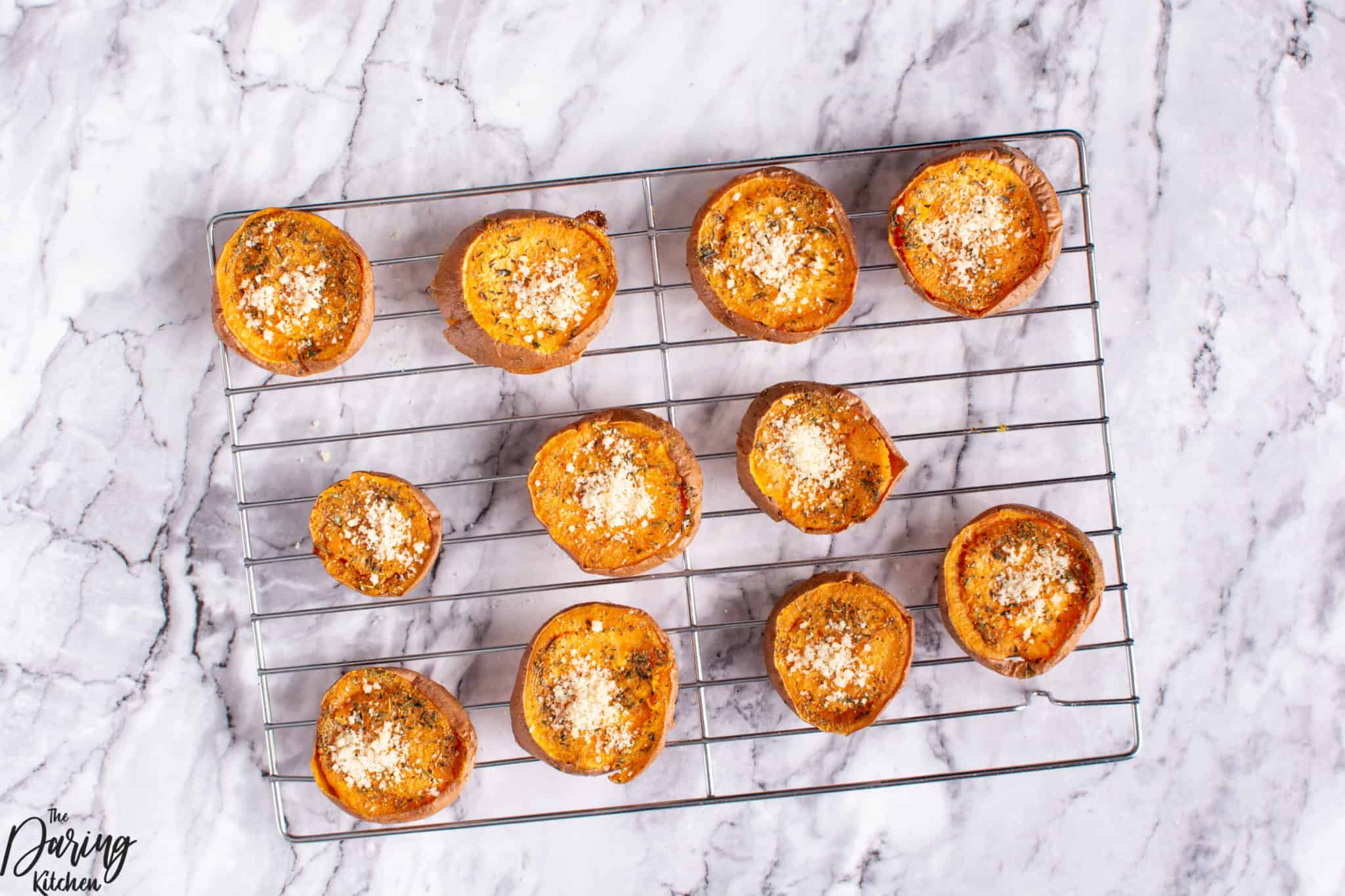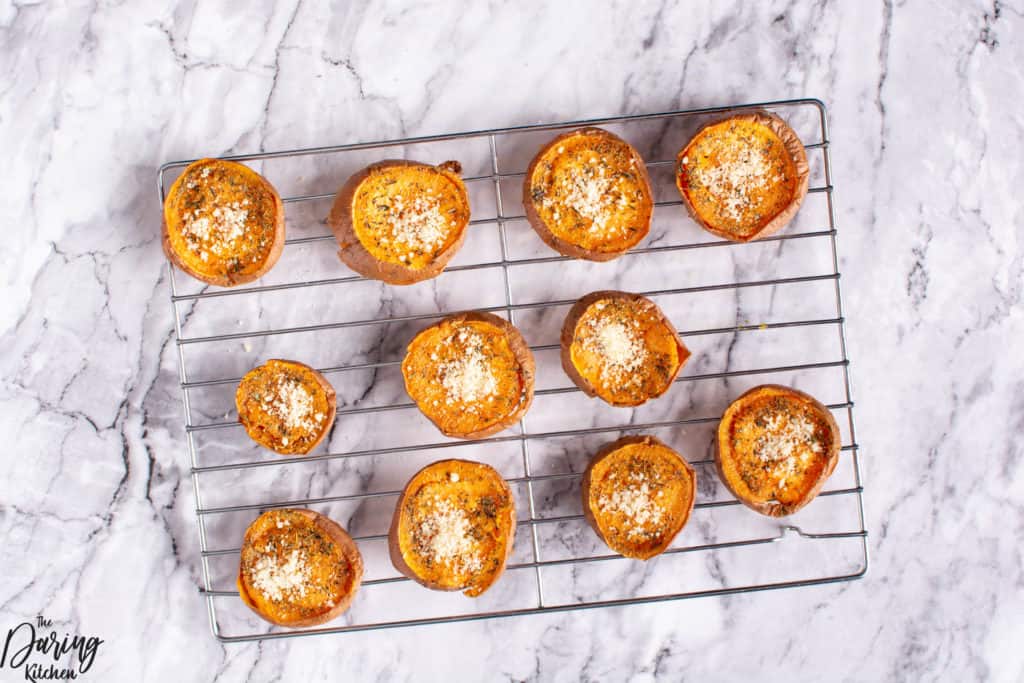 Remove your sweet potatoes from the oven. Serve immediately with a generous sprinkle of parmesan cheese or whatever garnish you choose. If you are making these for meal prep, I'd advise doing the toppings later on, unless the toppings keep well in the fridge!
If you are curious about more sweet potato recipes, there are plenty of them to discover on my blog. I am quite obsessed with sweet potatoes and always load up new recipes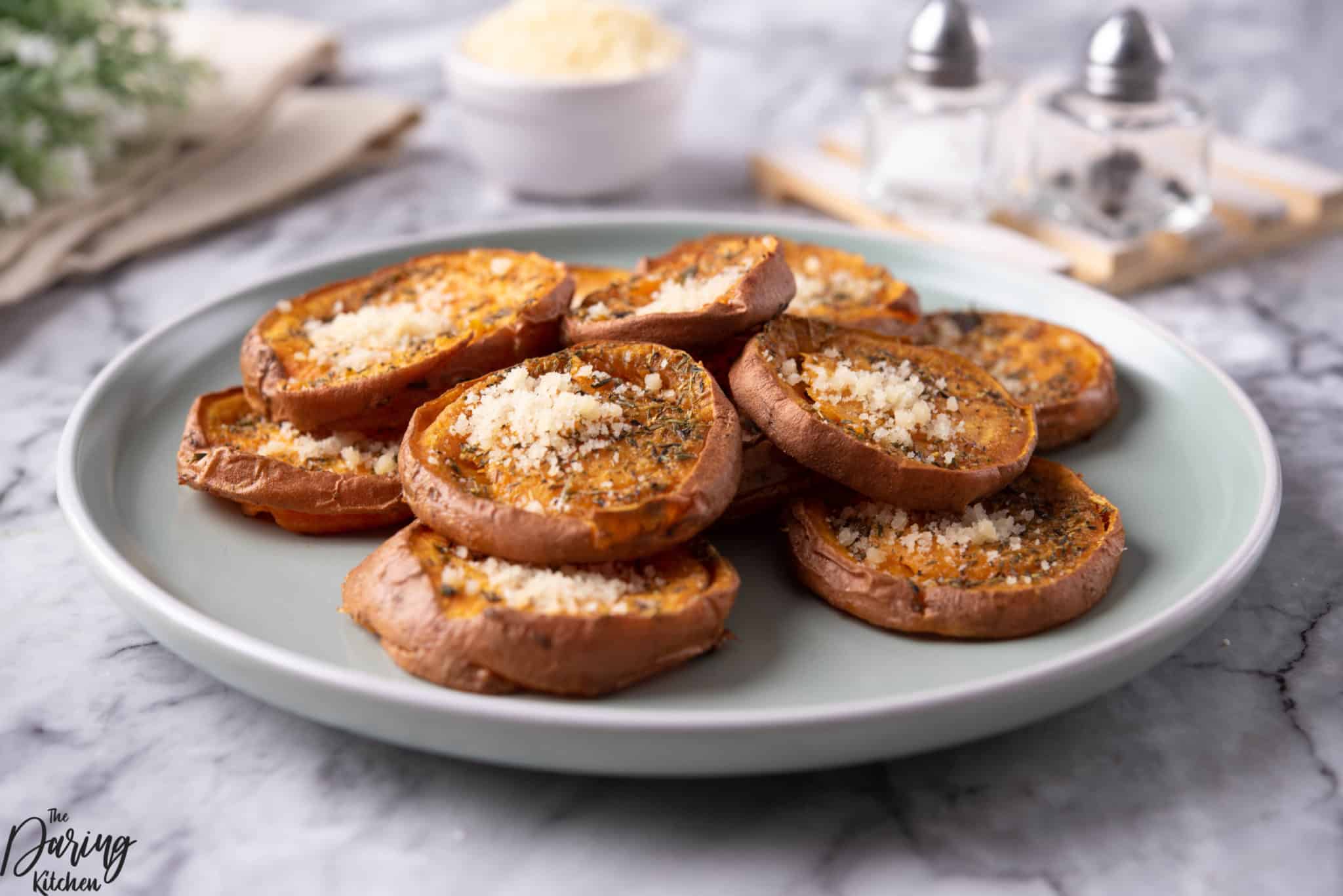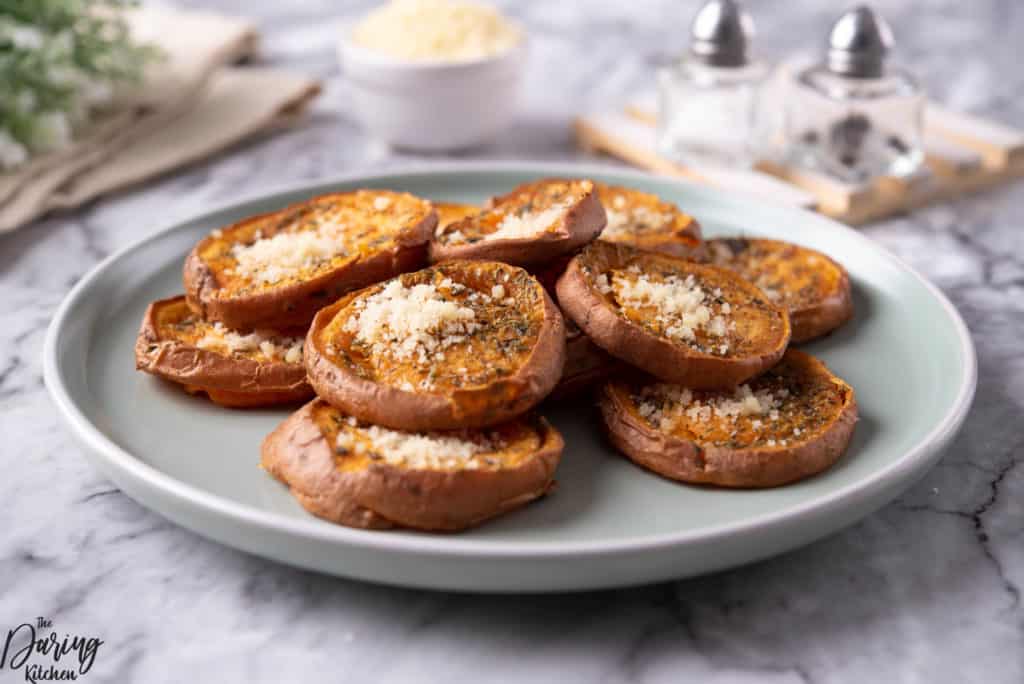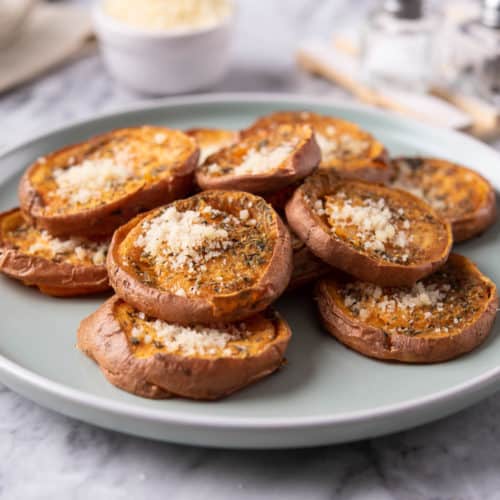 Smashed Sweet Potatoes
Quick and easy, these smashed sweet potatoes are your next favorite healthy snack, appetizer, or side!
Print
Pin
Rate
Ingredients
2

sweet potatoes

¼

cup

softened ghee

1

tbsp

dried thyme

1

tsp

garlic powder
Instructions
Wash the potatoes thoroughly. Cut the potatoes into 1-inch thick slices.

Arrange the potato slices on two baking trays, leaving some space between the potato slices.

In a mixing bowl, combine ghee, thyme and garlic powder.

Brush the potatoes with prepared mixture.

Bake the potatoes for 20 minutes.

Remove the potatoes from the oven and smash with a glass, or small jar.

Set your oven to broiler.

Broil the potatoes for 3 minutes.

Remove from the oven and sprinkle with parmesan.
Nutrition
Calories:
102
kcal
|
Carbohydrates:
24
g
|
Protein:
2
g
|
Fat:
1
g
|
Saturated Fat:
1
g
|
Sodium:
63
mg
|
Potassium:
398
mg
|
Fiber:
4
g
|
Sugar:
5
g
|
Vitamin A:
16069
IU
|
Vitamin C:
3
mg
|
Calcium:
53
mg
|
Iron:
2
mg