Smashed sweet potatoes are delightful! Crispy outside, tender inside - a perfect snack or side dish. Top with parmesan cheese, garlic, and thyme for a fantastic addition to your dinner table.
Why You'll Love This Smashed Sweet Potatoes Recipe
Great For Meal Prep- This smashed sweet potato recipe is delicious, quick, and easy to prepare. It's perfect for meal prepping or making beforehand and can be easily reheated throughout the week.
30-Minute Recipe- This smashed sweet potato recipe is quick and easy to make. It only requires a few simple ingredients and takes about 30 minutes to prepare. It's great for busy weeknights or last-minute snack ideas!
Customizable- Smashed sweet potatoes are an excellent base for sweet or savory flavors. You can customize this recipe by adding herbs, spices, or other toppings. Get creative and make it your own.
What Are Smashed Sweet Potatoes?
Smashed sweet potatoes are potatoes that have been cooked twice. First, they are cooked until fork tender so you can smash them. Once smashed, they are baked or broiled to give them extra crispiness. This savory-sweet side dish is perfect for any occasion.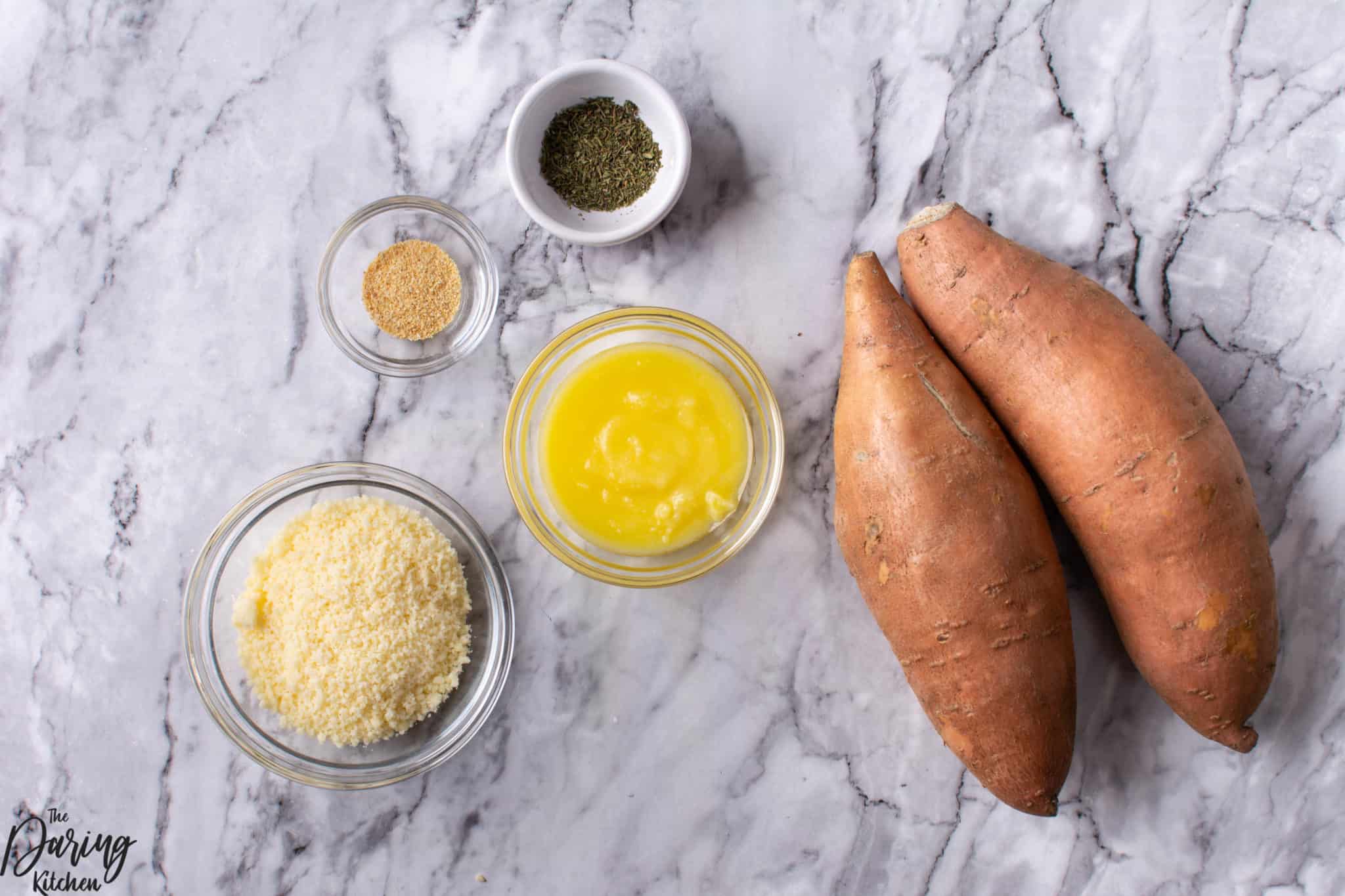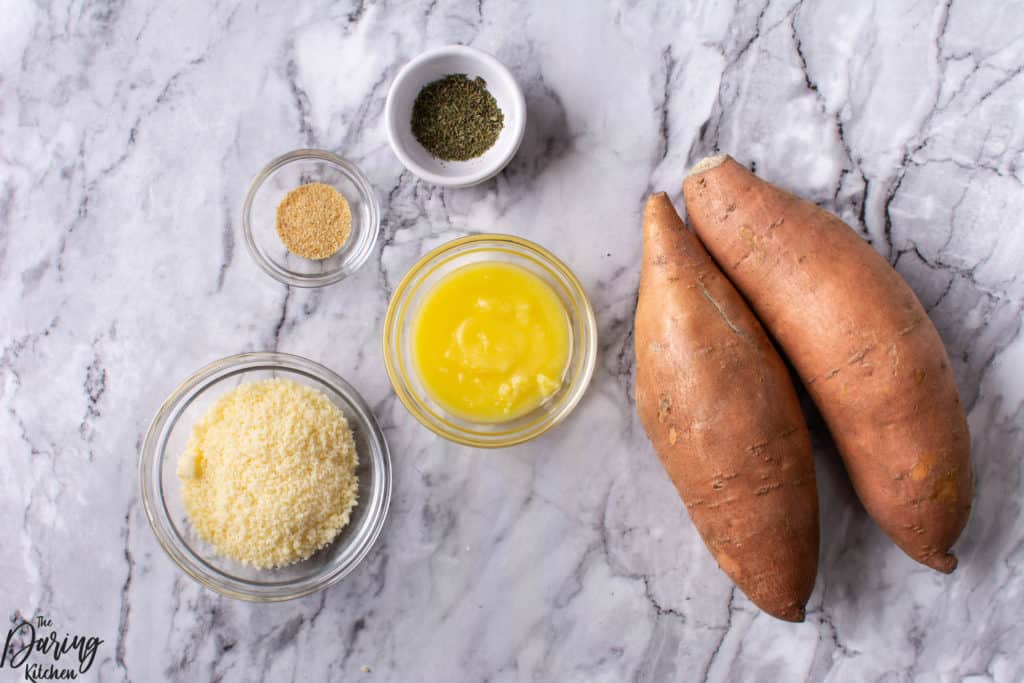 Equipment
Oven
Mixing Bowl
Sharp Knife
Cutting Board
Basting Brush
2 Baking Trays
Glass or Small Jar
Measuring Cups and Spoons
Ingredients
Sweet Potatoes- The main ingredient in this dish, sweet potatoes, are a great source of healthy carbohydrates packed with vitamins and minerals.
Ghee- Used as fat and for flavor, ghee is a type of clarified butter that has been slowly cooked until the milk solids are caramelized.
Dried Thyme- Aromatic and flavorful, this herb adds a nice savory touch to the potatoes.
Garlic Powder- Adds a depth of flavor to the finished potatoes that can't be beaten.
Parmesan- A sharp, salty cheese that adds perfect richness to sweet potatoes.
Oil- Olive oil, avocado oil, or non-stick spray to keep the potatoes from sticking to the baking pan.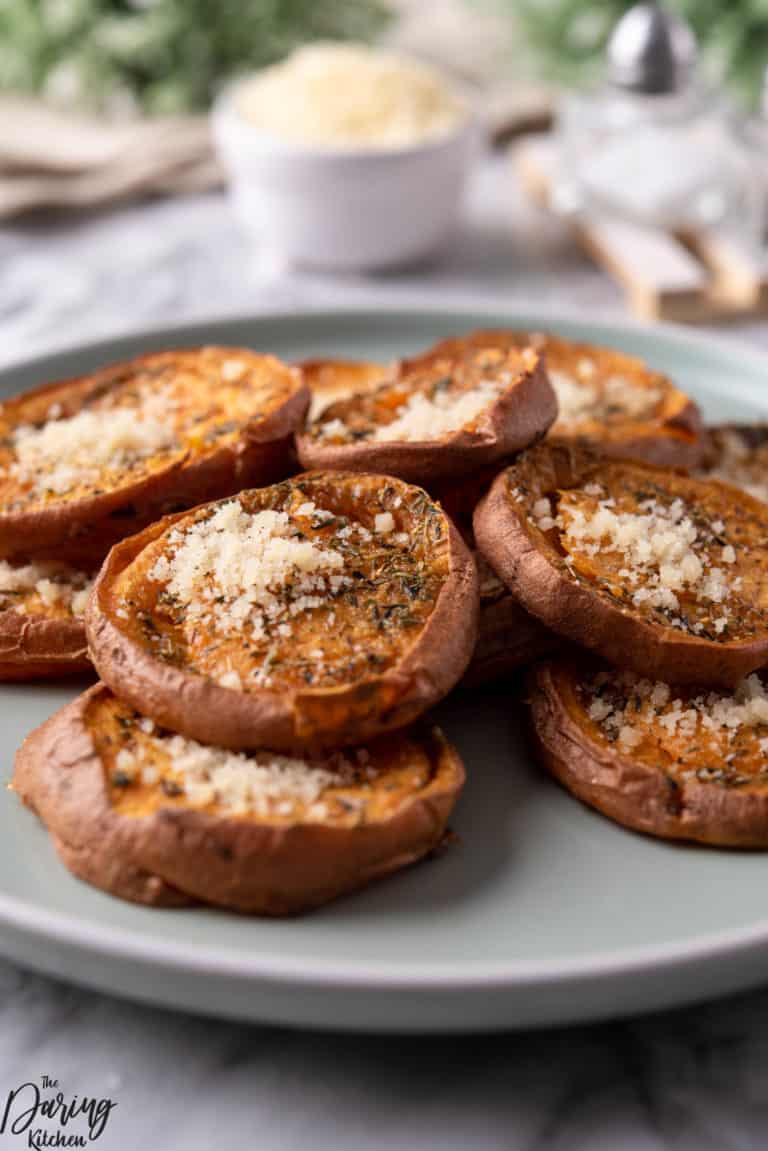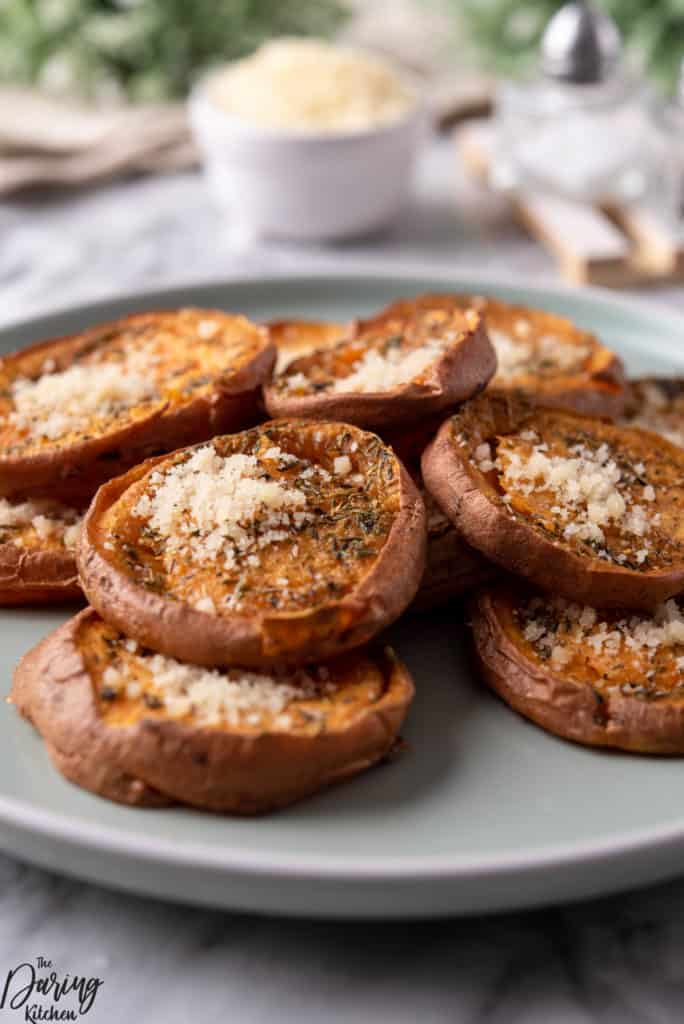 How To Make Smashed Sweet Potatoes
First, preheat your oven to 375 degrees Fahrenheit. As your oven preheats, prep your sweet potatoes. Wash them to remove excess dirt. Then, slice the sweet potatoes carefully into thick, 1-inch round slices.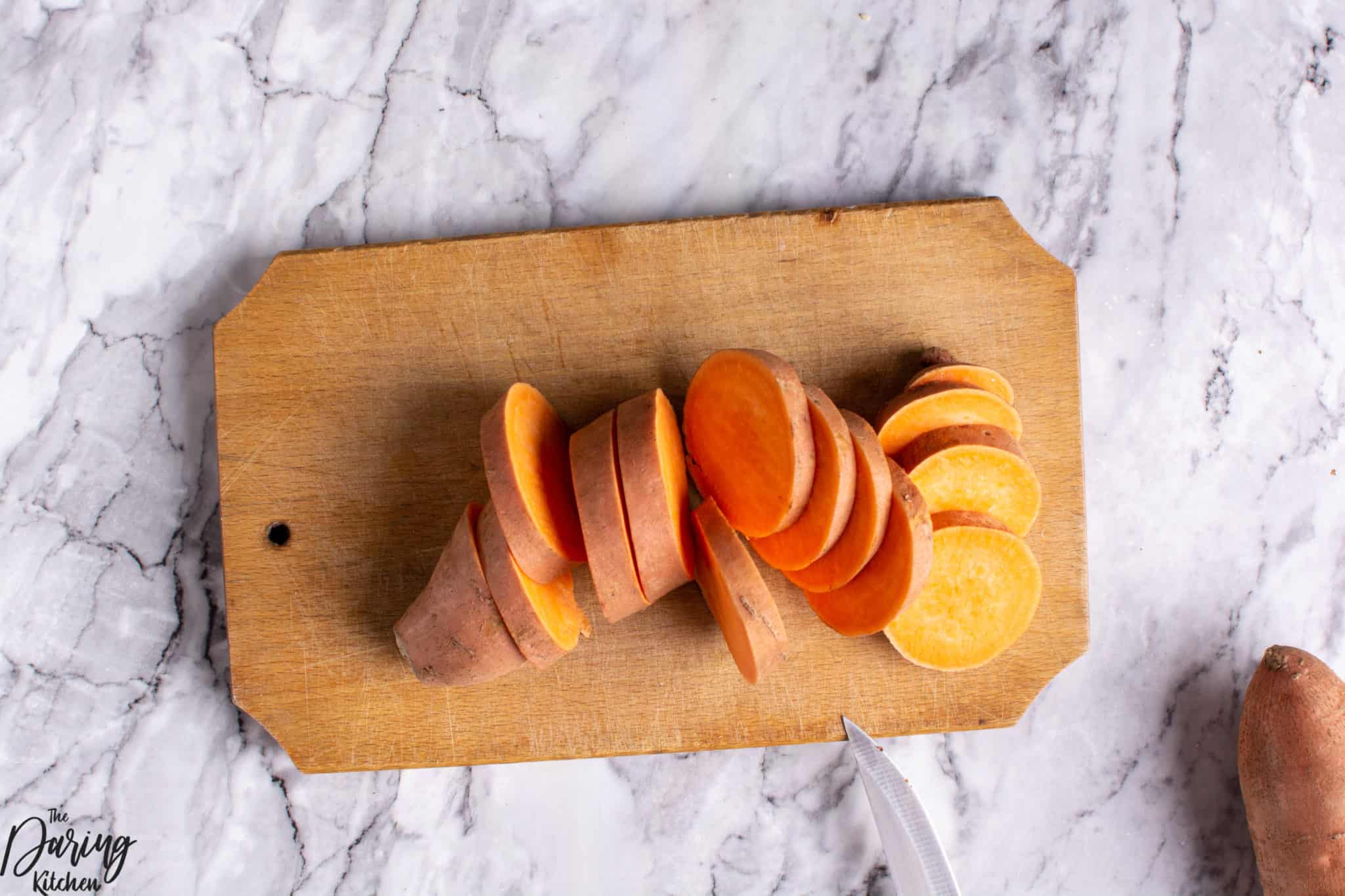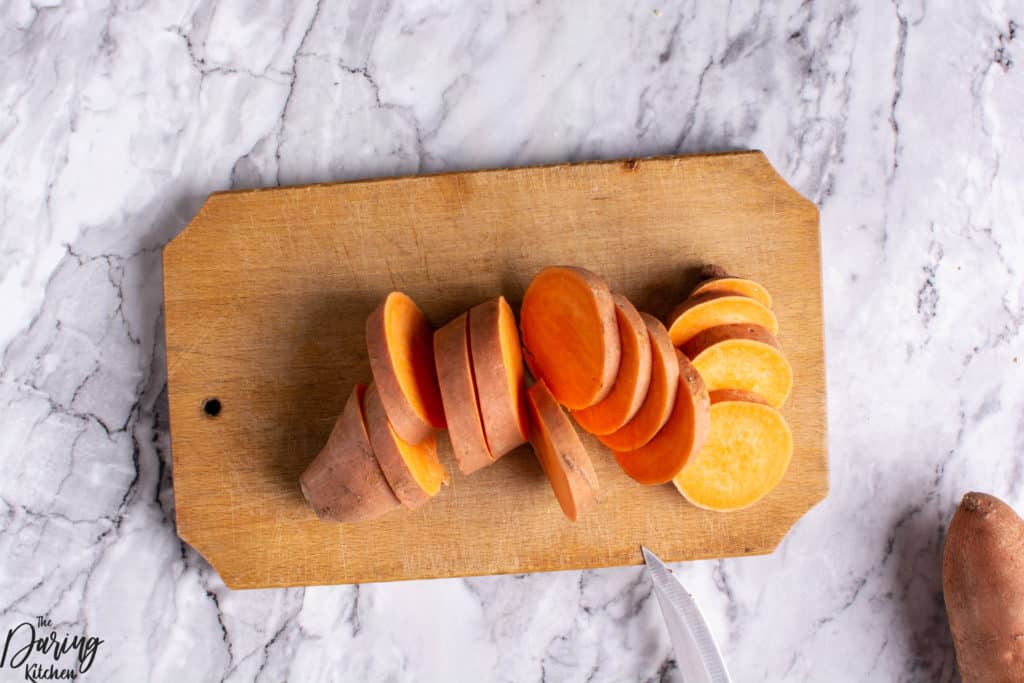 You will need 2 regular baking sheets or one large baking sheet for this recipe. You want to ensure you can place sweet potatoes with space between each slice. If you are not using a non-stick pan, spray olive oil so the potatoes do not stick.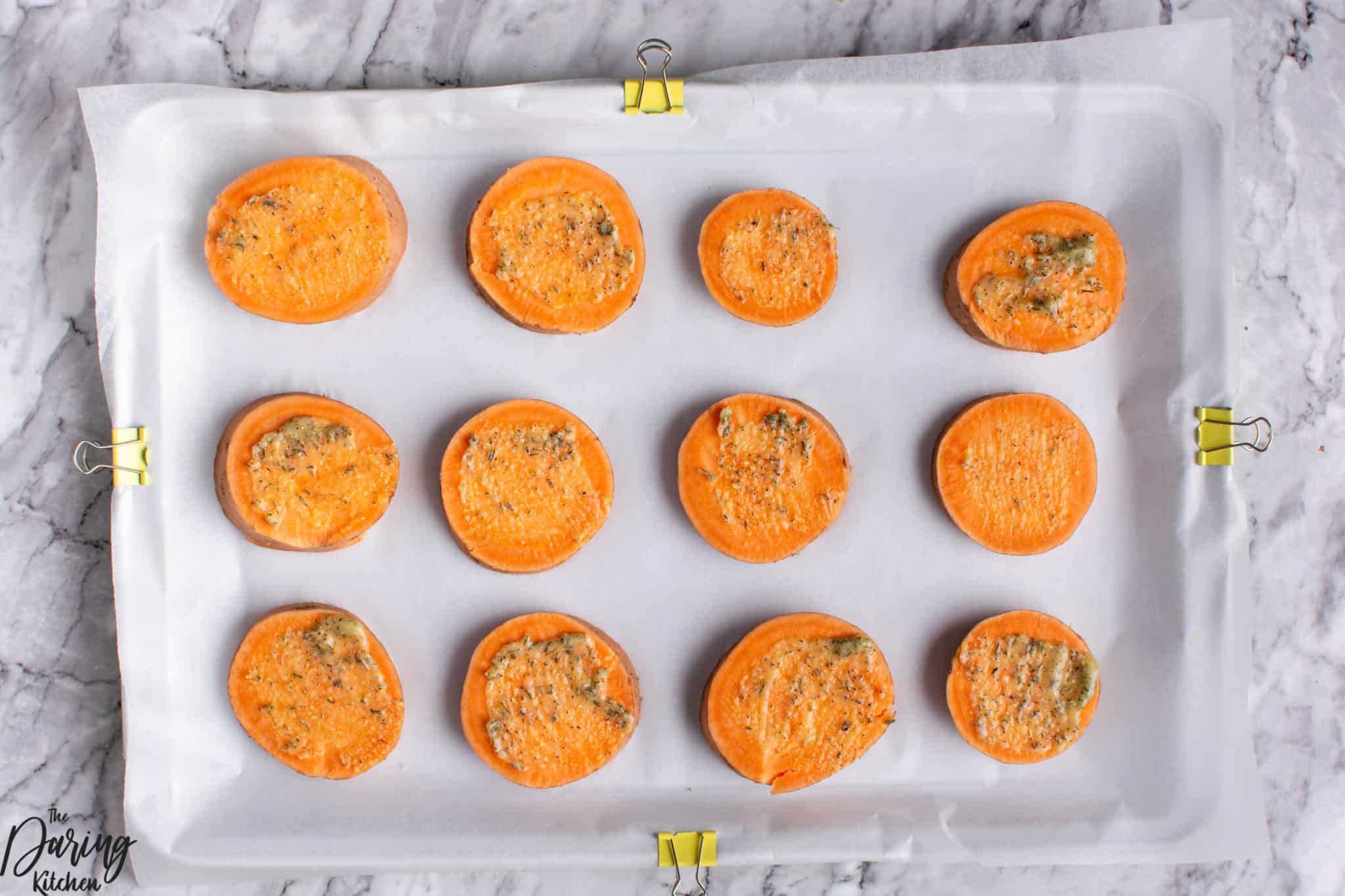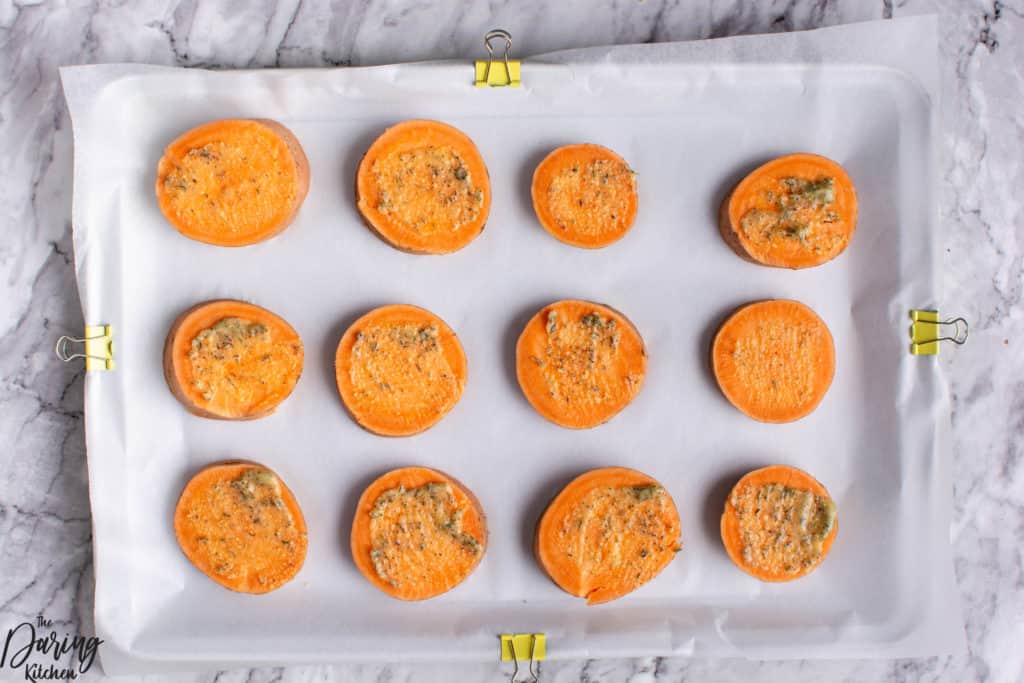 Mix the ghee or unsalted butter, garlic powder, and thyme in a small bowl. Then, evenly coat the sweet potatoes with the butter mixture on the prepared baking sheet. Place the sheet pan in the oven and cook sweet potatoes for 20 minutes.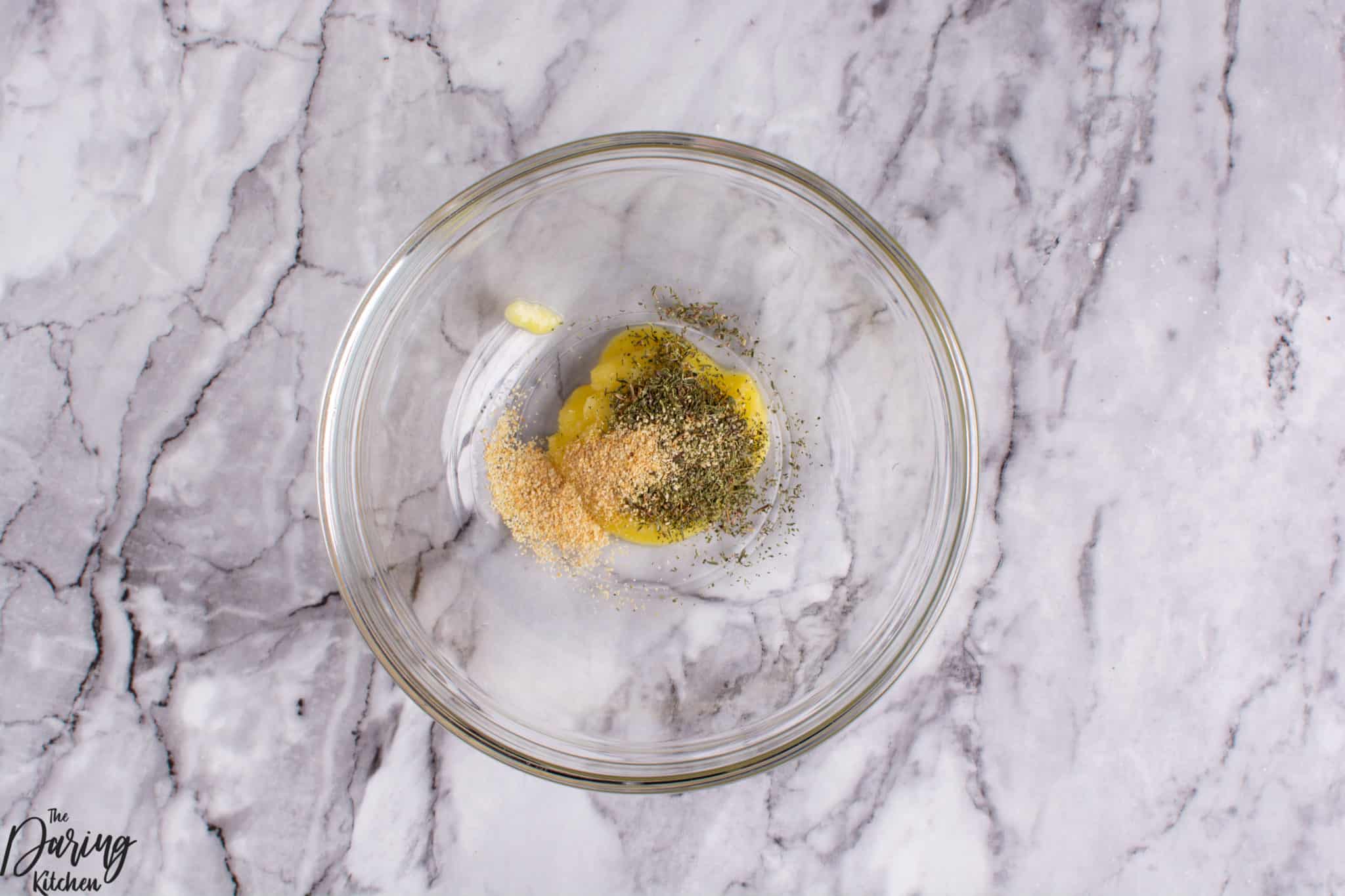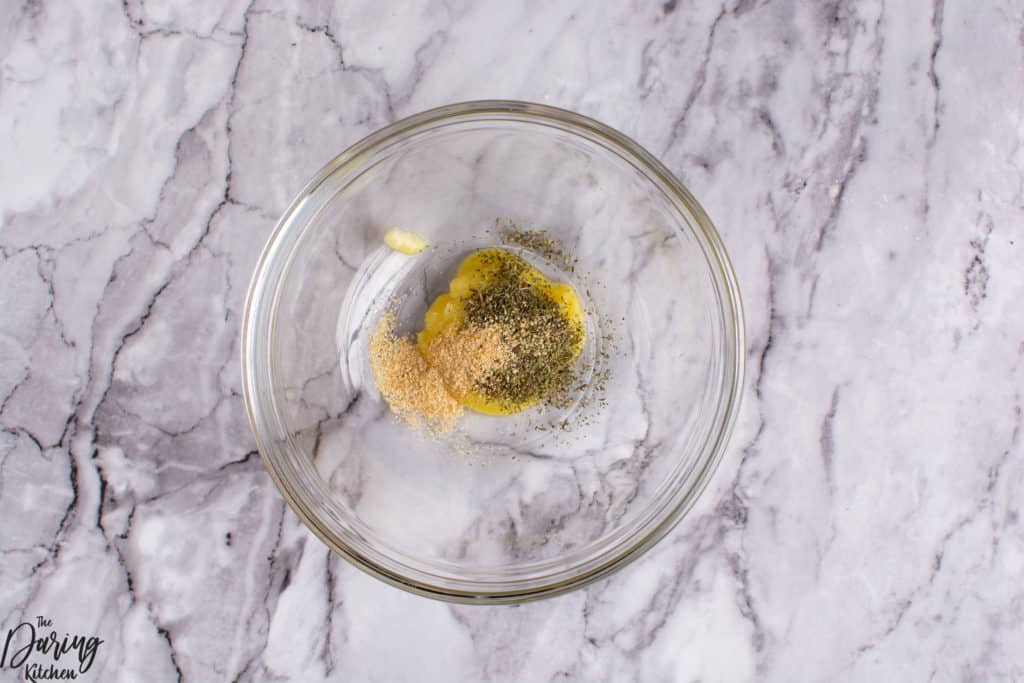 When the sweet potato rounds are fork-tender, remove them from the oven. Smash each potato on the baking sheet with the bottom of the glass jar (or potato masher.) Try not to break the potatoes - you want them to be flattened.
Now, turn your broiler on your oven. Add sweet potatoes back into the oven and cook for 3 minutes. Do not walk away from the oven! Just a couple of minutes could overcook your sweet potatoes.
Remove your crispy sweet potato rounds from the oven. Serve immediately with a generous sprinkle of grated parmesan cheese or whatever garnish you choose. If you are making these for meal prep, I suggest doing the toppings later unless the toppings keep well in the fridge!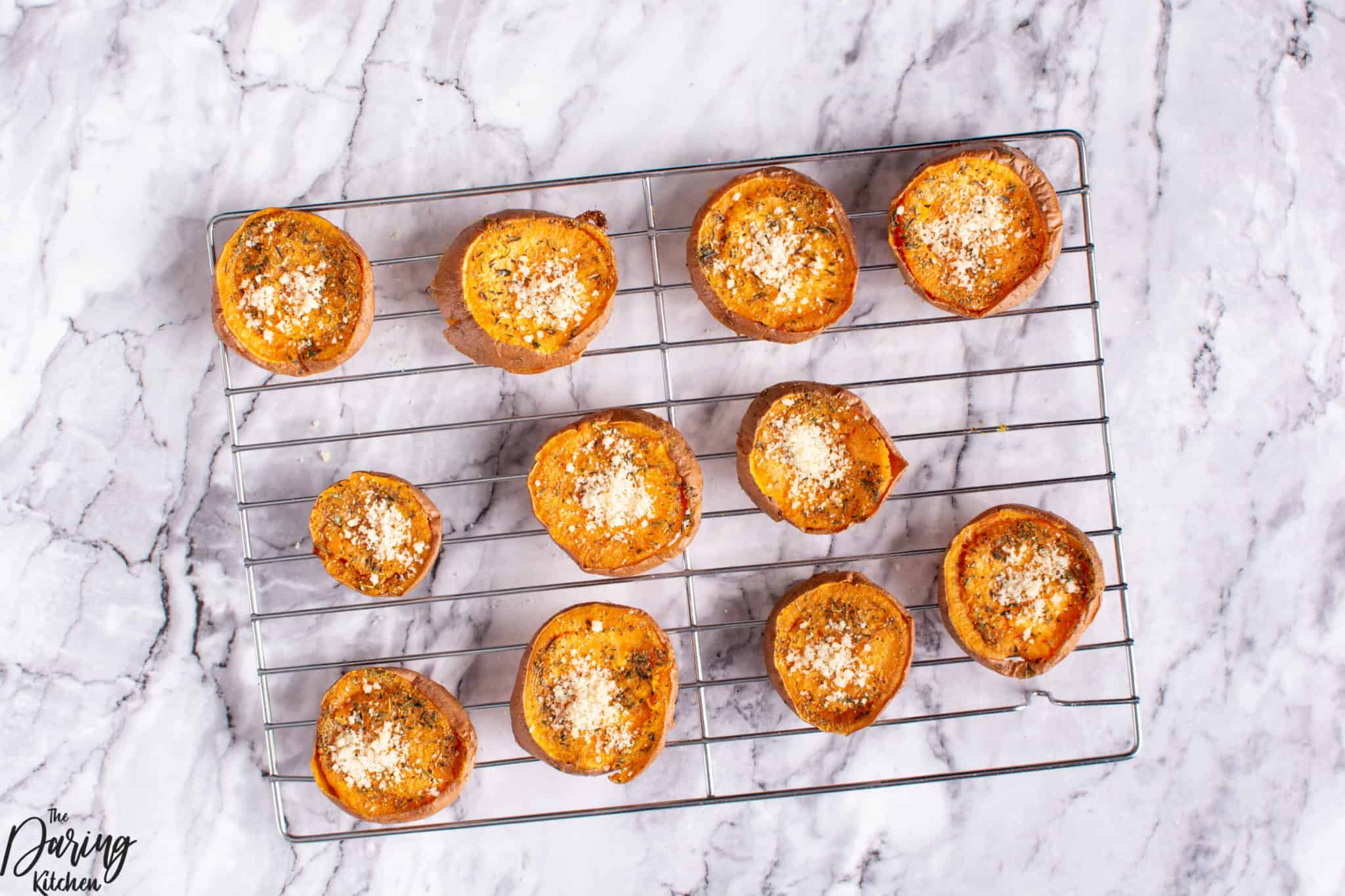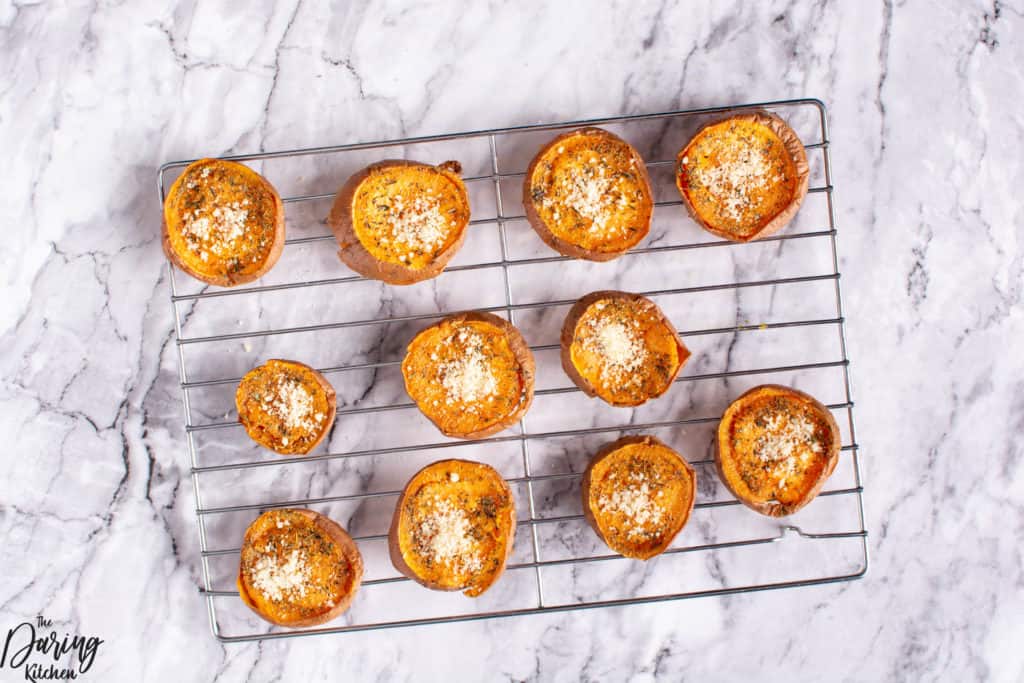 Popular Substitutions & Additions
Potatoes- You can use any potato - russet, Yukon gold, or red potatoes all taste delicious in this recipe.
Ghee- If you don't have ghee handy, dairy-free butter and unsalted melted butter will also work.
Herbs and Spices- To add some additional flavor to your crispy smashed sweet potatoes, make your spice mixture with savory spices like flaky sea salt, black pepper, fresh garlic, chili powder, red pepper flakes, fresh thyme, onion powder, and Italian seasonings.
Sweetness- If you want something sweet, substitute the savory spices for cinnamon, nutmeg, or brown sugar in the butter mixture before baking. Then, top with mini marshmallows, pure maple syrup, and chocolate chips.
Cheese- Feel free to experiment with cheeses like grated parmesan cheese, pecorino, asiago, or feta.
Can I Freeze Smashed Potatoes?
Yes! After prepping and baking the sweet potatoes, you can freeze them for up to 3 months. Allow them to cool completely before transferring them to a freezer-safe airtight container or a zip-top bag. When you're ready to enjoy, thaw in the refrigerator overnight and reheat in the oven or microwave. You can add a few minutes in the broiler to re-crisp them up for added crispness.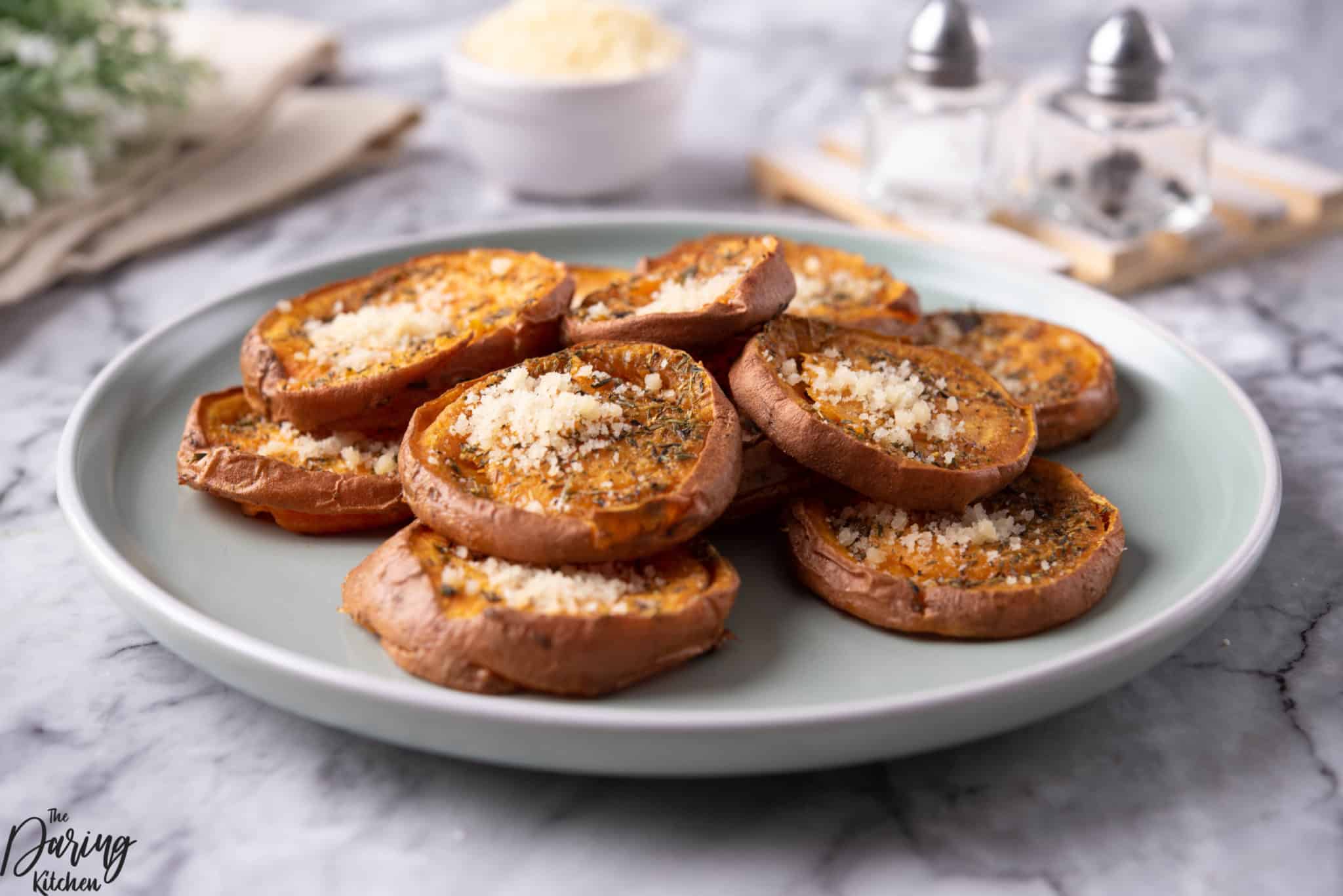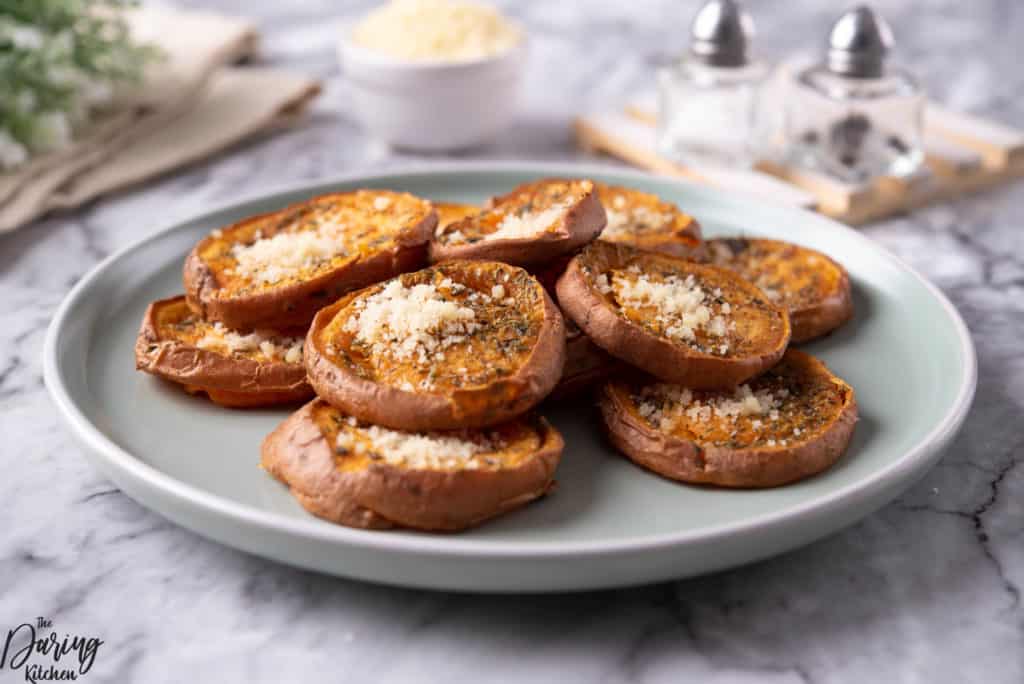 Crispy Smashed Sweet Potato FAQs
How do I store leftover smashed sweet potatoes?
You should refrigerate leftover smashed sweet potatoes in an airtight container. They will last 3-4 days in the refrigerator.
Can I use a different type of potato?
Of course! Any potato - russet, Yukon gold, or red potatoes- works great in this dish.
What toppings can I add to my smashed sweet potatoes?
The possibilities are endless! Parmesan cheese, crumbled bacon, diced green onions, brown sugar, a drizzle of honey, or pure maple syrup are all great options. You can also get creative and add other herbs or spices to flavor your potatoes.
Can I substitute the ghee with butter or vegan butter?
Yes, absolutely! If you are vegan or dairy-free, you can use vegan butter. For those who do not have access to ghee, you can easily replace it with salted butter.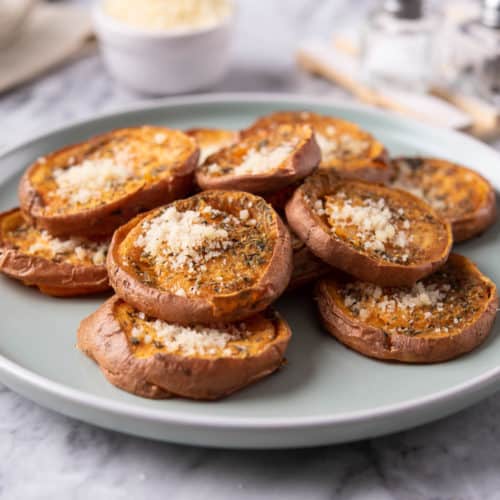 Smashed Sweet Potatoes
Enjoy crispy and tender smashed sweet potatoes, perfect as a snack or side. Top them with parmesan, garlic, and thyme for an irresistible addition to any meal.
Print
Pin
Rate
Ingredients
2

sweet potatoes

¼

cup

softened ghee

1

tbsp

dried thyme

1

tsp

garlic powder
Instructions
Wash the potatoes thoroughly. Cut the potatoes into 1-inch thick slices.

Arrange the potato slices on two baking trays, leaving some space between the potato slices.

In a mixing bowl, combine ghee, thyme and garlic powder.

Brush the potatoes with prepared mixture.

Bake the potatoes for 20 minutes.

Remove the potatoes from the oven and smash with a glass, or small jar.

Set your oven to broiler.

Broil the potatoes for 3 minutes.

Remove from the oven and sprinkle with parmesan.
Nutrition
Calories:
102
kcal
|
Carbohydrates:
24
g
|
Protein:
2
g
|
Fat:
1
g
|
Saturated Fat:
1
g
|
Sodium:
63
mg
|
Potassium:
398
mg
|
Fiber:
4
g
|
Sugar:
5
g
|
Vitamin A:
16069
IU
|
Vitamin C:
3
mg
|
Calcium:
53
mg
|
Iron:
2
mg