When looking for a smoothie blender, you don't just want any ole blender; you want the best smoothie blender you can find. Upon finding the perfect product for you, your blender should be able to meet your needs aesthetically, physically, and financially. In terms of physically meeting your needs, this means blending to your liking as well as having favorable clean-up and maintenance.
The top smoothie blender for you won't just be adequate for blending smoothies, with or without ice, but also be able to help you whip up a plethora of recipes including salsas and sauces, dips, salad dressings, oatmeal, pancakes and waffles, nut milks, batters, soups, ice cream, and more.
So, where do you start when finding the best appliance? Fortunately for you, I've put together a list of the top 10 best smoothie blenders to guide you. That said, let's get started, shall we?
1. Magic Bullet Nutribullet Pro 900 Series
Starting off with the best smoothie blender the company currently offers, the Nutribullet Pro 900 Series is one of the best blender for smoothies under $150 as well as the best blender for individual smoothies. While discontinued, this smoothie blender can still be found for sale online. This maker is incredibly slender and can easily be stored if you aren't fond of leaving your blender on your kitchen counter.
The Nutribullet Pro 900 Series blender, apart from being easy to store, is convenient in that the blender jar can also be used as a drinking cup. The product includes a flip-top lid perfect if you want to quickly blend a smoothie in the morning and take it work. For those wanting to use smoothie-making as a way to improve their health, this Magic Bullet blender also include a hard-cover recipe book and a pocket nutritionist.
While overall the Nutribullet Pro 900 Series is a great blender, there are a few disadvantages to address. For instance, the product is made in China and is composed of several plastic components. For its moderate price, you would at least expect less plastic. Secondly, multiple reviewers brought up that the blade in this blender wears down within approximately a year of use. Fortunately, the replacement blades aren't incredibly expensive.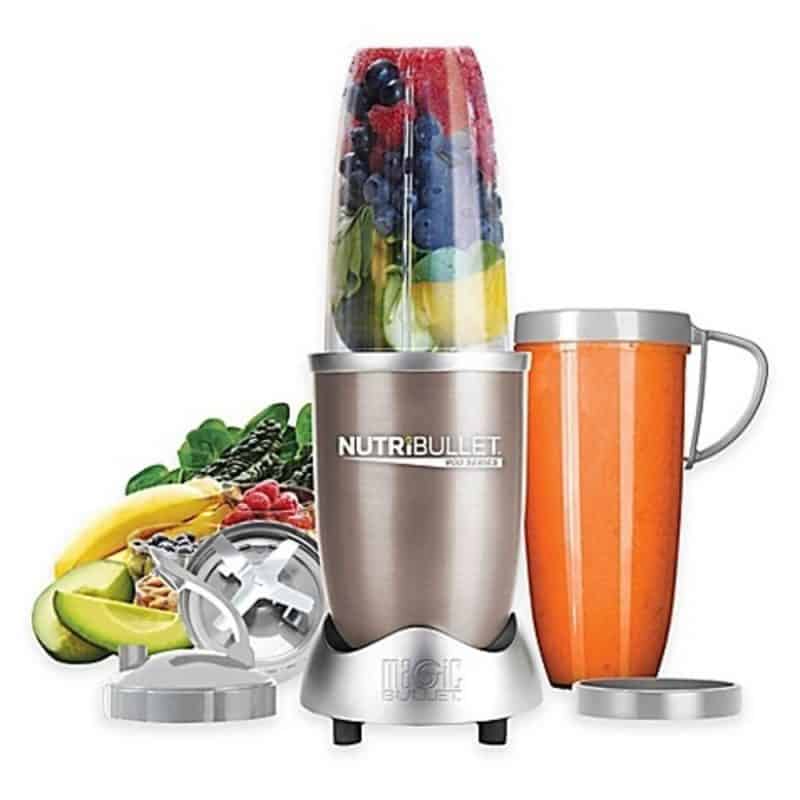 Top Features:
4 cup capacity
UL listed
Blender jar doubles up as a drinking cup
Twist-and-push operation
Includes 32-ounce colossal cup, 24-ounce tall cup, flip-top to-go lid, hard-cover recipe book, and pocket nutritionist
2. Oster Versa Performance Blender, BLSTVB-RB0
For something a little more family serving size-friendly, let's take a look at a top smoothie blender Oster offers. First things first: the aesthetics. You'll either love or cringe at the appearance of the Oster Versa Performance Blender. I say this because the base of this blender is bulkier than most smoothie blender machines, topped with a narrow blending jar. The black-and-red design may also appear cheap to some, or in others' eyes, more masculine.
Either way, this smoothie maker Oster offers is one of its top. It offers an adjustable speed dial and three programmable settings to ensure you have the perfect blend type and speed for whatever you plan to make: smoothies, dips, spreads, or soups. To give you ideas on what to make with your Versa Performance Blender, Oster throws in two color cookbooks.
To give you the best deal for your buck, you'll not only get a great quality machine but also a seven-year warranty. But there are still some cons important to address. Because the base of this blender machine is on the large side, one could imagine that it would be awkward to store. It may be a little bulkier than one may want for their kitchen counter. Secondly, this machine is loud when in use. Using this blender earlier in the morning or late at night, probably not a good idea. Regardless, there's a lot this machine offers, and it looks unique. Win-win.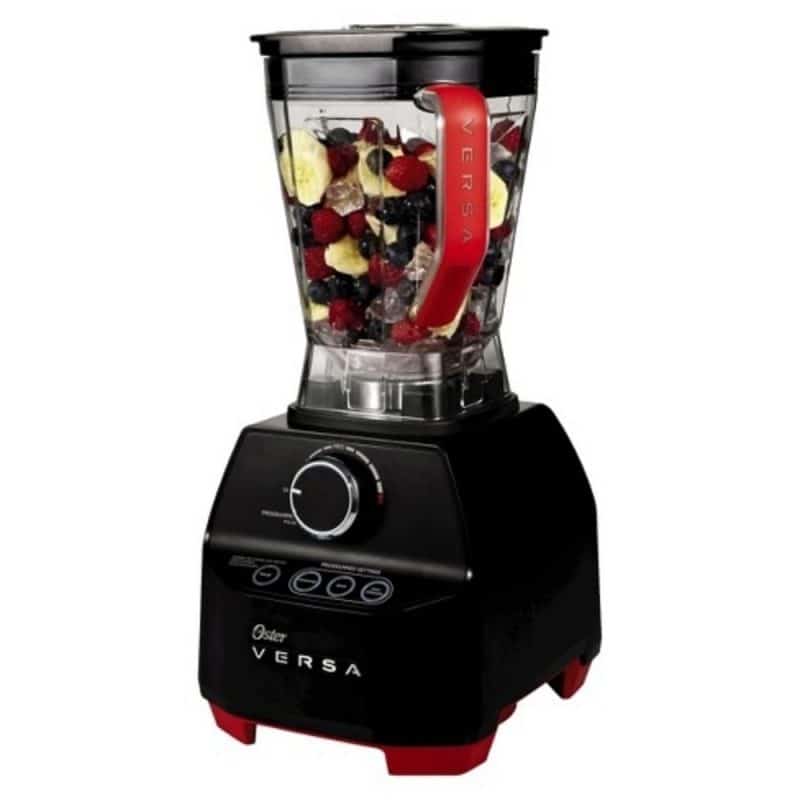 Top Features:
64-ounce, Bpa free Tritan jar
Stainless-steel blades that spin over 250 MPH
3 programmable settings: Smoothies, Dips/Spreads, and Soup
Adjustable speed dial
Includes 2 color cookbooks
3. KitchenAid 5 Speed Diamond Blender – Aqua Sky Blue
Next up, we have the 5 Speed Diamond Smoothie Blender KitchenAid has created in a whopping 21 different colors including Aqua Sky Blue (pictured below), Green Apple, Metallic Chrome, Espresso, Gloss Cinnamon, and more. The general design of this machine is more classic in style, making the wide range of color options even funner to pick between.
With its special Diamond blending system, this machine ensures ingredients are well-blended the first time around. It takes the frustration out of blending, that's for sure. With five blade speeds, plus the addition of modes that can crush ice crushing and pulsing, there's a lot of potential with this machine in terms of what you can make. Additionally, it offers a Bpa free pitcher that KitchenAid claims is stain-, shatter-, and scratch-resistant. The entire machine, including the pitcher, is easy to clean, pleasing customers.
This smoothie maker KitchenAid offers, however, falls short when it comes to how loud it is. (And it is LOUD.) The plastic parts of this blender are also on the cheaper side, which is a disappointment for a machine that is $159.99. But if you can set these cons aside, you shouldn't have many issues with this smoothie blender.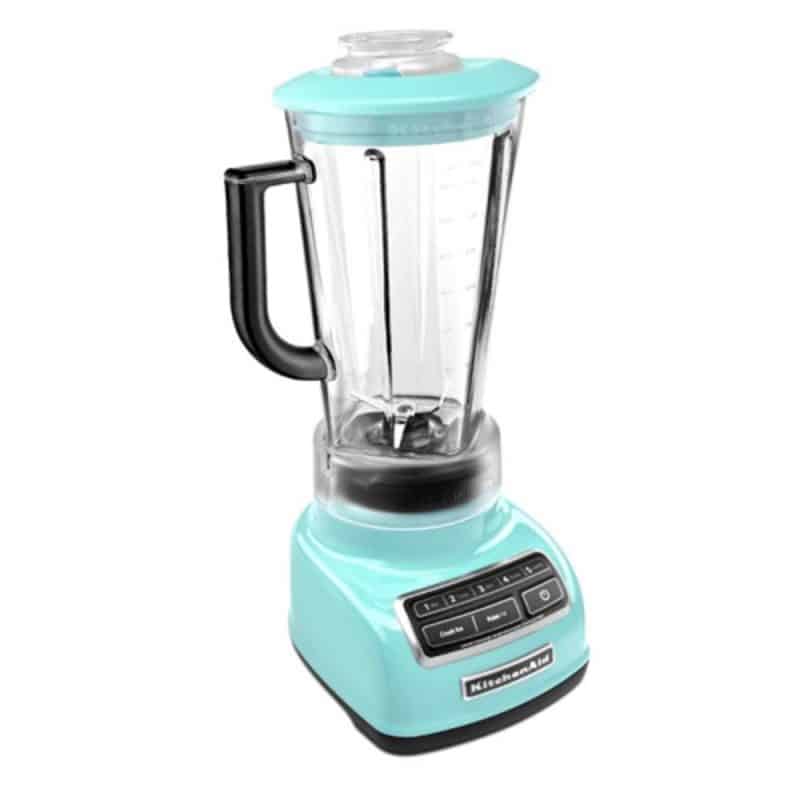 Top Features:
60-ounce, Bpa free pitcher
Stainless-steel blades
5 blade speeds
Ice crushing and pulsing modes
60-ounce pitcher
Made in the U.S.
4. Blendtec Total Classic Original Blender
By far, this next product is the best Blendtec blender for smoothies on the market. But do keep in mind that this smoothie blender is a little more on the pricey side from other blenders we've looked, being priced at $288. However, it has an average 4.1-star rating on Amazon and has earned Amazon's Choice. That said, let's take a look.
According to Blendtec, their blenders' blades are ten times stronger than other blender blades. Finding a blender with a strong blade is important as many blenders are known for being easily clogged or having poor blending capabilities. With six preprogrammed blending cycles and 10 speeds, this is pretty impressive. After all, some blenders only have one or a few speeds.
Although heavier in price, you'll receive an eight-year warranty and recipe book featuring over 230 recipes. In general, this smoothie maker offers commercial quality. But let's listen to what some reviewers are saying. One reviewer complains that the Blendtec Total Classic Original Blender is on the louder side when in operation. As well as this, the blade on this blender isn't removable, making cleaning less convenient. However, there are still more pros than cons with this product.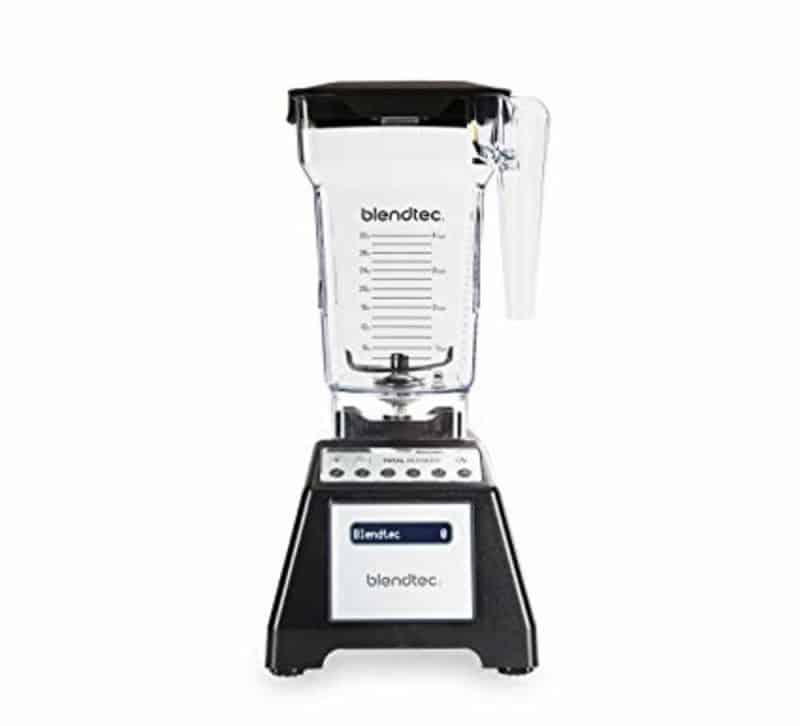 Top Features:
64-ounce, Bpa free jar
6 preprogrammed blending cycles: Batters, Smoothie, Ice Cream, Crush Ice, Whole Juice, and Hot Soup
10 speeds
Includes Bpa free FourSide blending jar with vented gripper lid and recipe book with 230+ blender recipes
5. Nutribullet 12-Piece High-Speed Blender/Mixer System, Gray
The Nutribullet 12-Piece High-Speed Blender/Mixer System is considered to be a best smoothie blender under 100 dollars. In fact, it's priced at just $59.99. Great deal! Although, it's designed to be more for individuals wanting a single serve size; keep this in mind before considering purchasing it. But including two resealable lids and blending jars that double up as cups, you can say that this machine is definitely convenient and great for those always on the go.
With its patented blade design, this Nutribullet machine is said to provide thorough blending. According to smoothie blender reviews, blending with this ensures vegetables and fruits are properly extracted, completely breaking down the cell walls of fibrous plant-based foods to give you the smoother blend you desire. To aid with your smoothie enthusiasm, this machine comes with a pocket nutritionist as well as a recipe book. Great bang for your buck.
What would make this smoothie mixer even better, though, would be if it were a bit quieter when in use. Something to look out for if you decide to opt for this smoothie maker is to not tighten the jar/cup to the machine too tightly or incorrectly. If you do, it can be difficult to remove, that is, until you run it under warm water. But in general, let's put back into perspective the fact that this smoothie maker is very affordable. It's hard to beat that for great quality.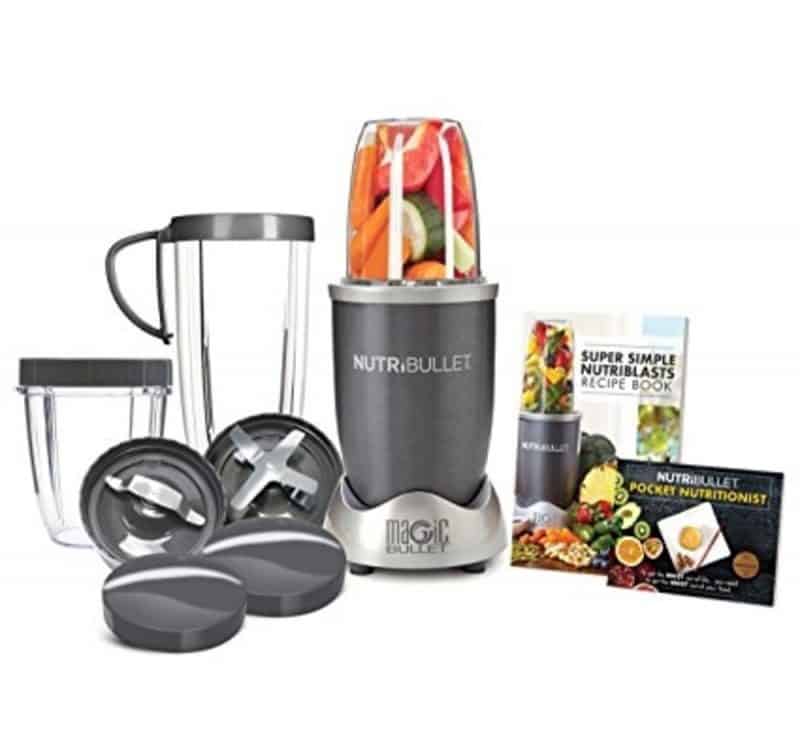 Top Features:
Patented blade design
S. and Canadian electrical standards-compliant
Blender jar doubles up as a drinking cup
Includes 1 tall cup, 2 short cups, 1 flat and 1 emulsifying blade, 2 resealable lids, recipe book, and pocket nutritionist
6. Ninja Pro Table Top Blender – 900 W – Black
Next up, we have another blender priced at $59.99 best for individual use. In fact, the Ninja Pro Table Top Blender is the best Ninja blender for smoothies to date. It comes with two different-sized jars with two reusable lids for convenient smoothie-making as you can blend your ingredients in the same cup you drink out of.
With BPA free parts, this smoothie blender has the quality and ease of cleaning that most blender owners would want. But design-wise, some may not like its bulkier base. Although, for such a small smoothie machine, the fact that it has an ice crush feature is phenomenal. Who knew something so tiny could be so powerful? That's really one of the best parts.
But if there's any common complaint with this Ninja machine, it's that it's noisy. Additionally, if the blade isn't screwed on tightly enough, you'll experience leakage. In the end, these aren't deal-breakers for most people. The Ninja Pro Table Top Blender is still a good blender for smoothies. The Nutri Ninja is another favorite personal blender from this brand, but the Pro model is a cut above the rest. Consider the Nutri Ninja if you're looking for something else from this brand though!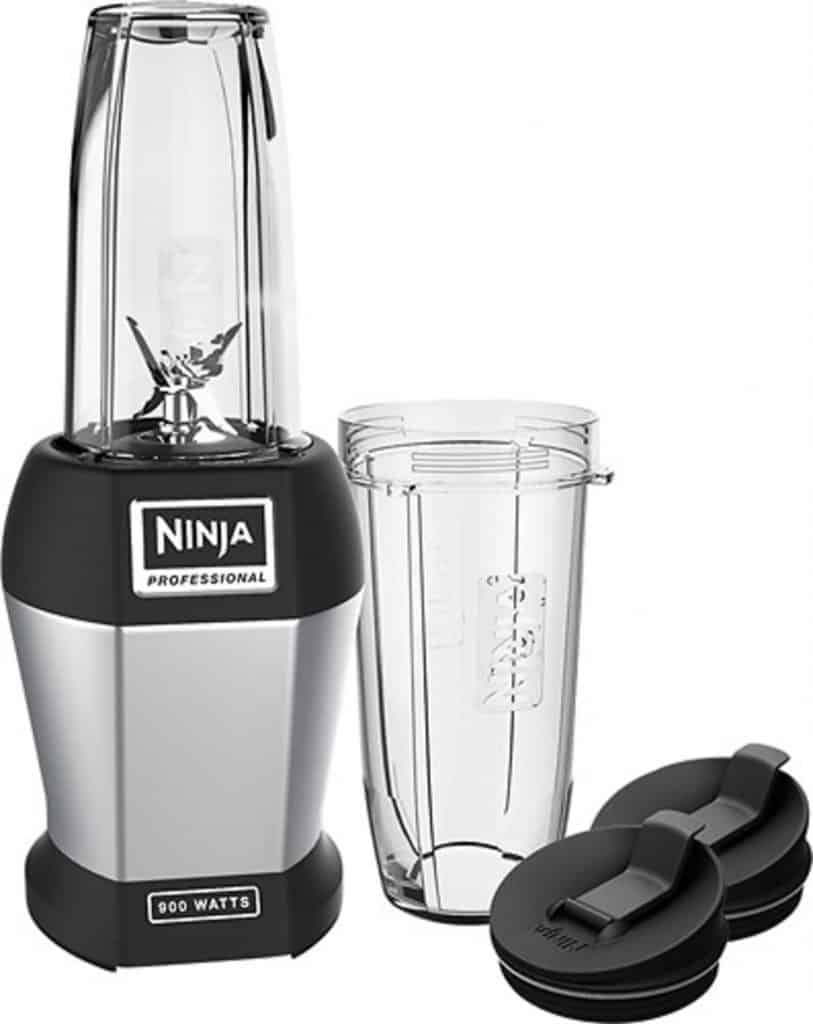 Top Features:
BPA free materials
Dishwasher safe components
Ice crushing function
Includes 30-page recipe book along with 18- and 24-ounce to-go jars with 2 reusable lids
7. Vitamix 7500 Low Profile Blender in Black
This next product is an American-made Vitamix that you'll absolutely love. However, it doesn't just come at a cost, it comes at a heavy cost at $529.99, the most expensive smoothie blender on our list. Although, Vitamix is incredibly popular and well-loved for its longevity and high quality. If you want to save money, purchase this model in the color Red; this one is $50 cheaper.
Most notable about the Vitamix 7500 Low Profile Blender is that it blends well without making smoothies, soups, and other foods lumpy or inconsistent. It even has the capability of breaking down seeds, which many blenders are not able to do. Overall, the Vitamix has the quality most people desire. It also offers an ice crushing function if you want to whip up icy recipes like ice cream or cold smoothies.
With your Vitamix 7500 purchase, you'll receive a seven-year warranty, cookbook, and instructional DVD. But apart from the high price, here are a few cons important to mention: the blades (considering that there are four) can be a little difficult to clean, the pitcher is not dishwasher safe, and some even claim that there are black Teflon flakes that come off their Vitamix machine (others say otherwise). These cons are a bit unfortunate considering how expensive this machine is. But in the end, the Vitamix is reliable and capable of a lot.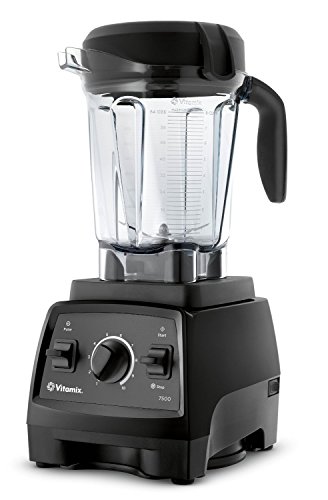 Top Features:
64-ounce capacity
Ice crushing function
Includes cookbook and instructional DVD
Made in the U.S.
8. Ninja Professional Blender, NJ600
While this next model is discontinued, you can still buy this smoothie blender at WalMart online, Amazon, and other sources. It's a shame because this was and still is one of the best smoothie blenders hands down. It offers top-notch ice crushing to make it the best blender for smoothies and frozen drinks we've seen thus far. It's also composed of Ninja's very sharp 6-blade technology to make your blended ingredients smooth and chunk-free each and every time.
Apart from the technology and function of this smoothie blender, the Ninja Professional Blender NJ600 is attractive and unique in appearance with its clean design and convenient cord storage. It also offers a 72-ounce pitcher, which for a blender, is quite generous. That said, this is a great blender for those who want to create larger recipes or make smoothies for multiple people at a time.
Con-wise, this Ninja blender can sometimes make things too frothy as it tends to whip up a lot of air. Additionally, being very sharp, the blade needs to be handled carefully. But nevertheless, there aren't many cons, and this machine is powerful, durable, and easy to use and clean.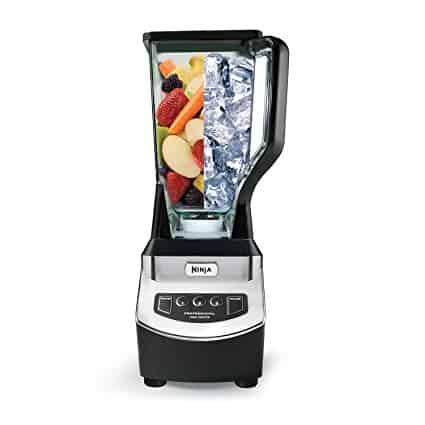 Top Features:
72-ounce pitcher with lid and pouring spout
BPA free materials
Ninja 6-blade technology
Dishwasher safe components
9. Magic Bullet Nutribullet Rx 1700-Watt Blender N17-1001
We have another Nutribullet smoothie maker to feature. Nutribullet is definitely taking some of the lead when it comes to the top smoothie makers. This blender is ideal for both family- and individual-sized portions. Its design is also very attractive and up-to-date. It even had a 4.1-star review average and has been named as Amazon's Choice.
With its hands-free smart technology, this smoothie maker does all the guess working. To give you prime nutrition in every bite (or sip) of your blended ingredients, this machine takes the time to properly extract the nutrients of even the most fibrous of fruits and vegetables. To top it off, this product also offers a heating cycle if you're making warm recipes such as soups or sauces.
We can't forget the cons. For one, be sure not to connect your blender's lid too tightly on your machine or else it will get stuck. Additionally, this is a louder machine, but it's not that big of a deal as it's quick to blend. Some reviewers have even noted that this machine leaks at the base if the cup is not properly attached. This can make clean-up a pinch more difficult. But the bottom line is, Magic Bullet smoothie makers are still favorable overall, and they make great smoothies.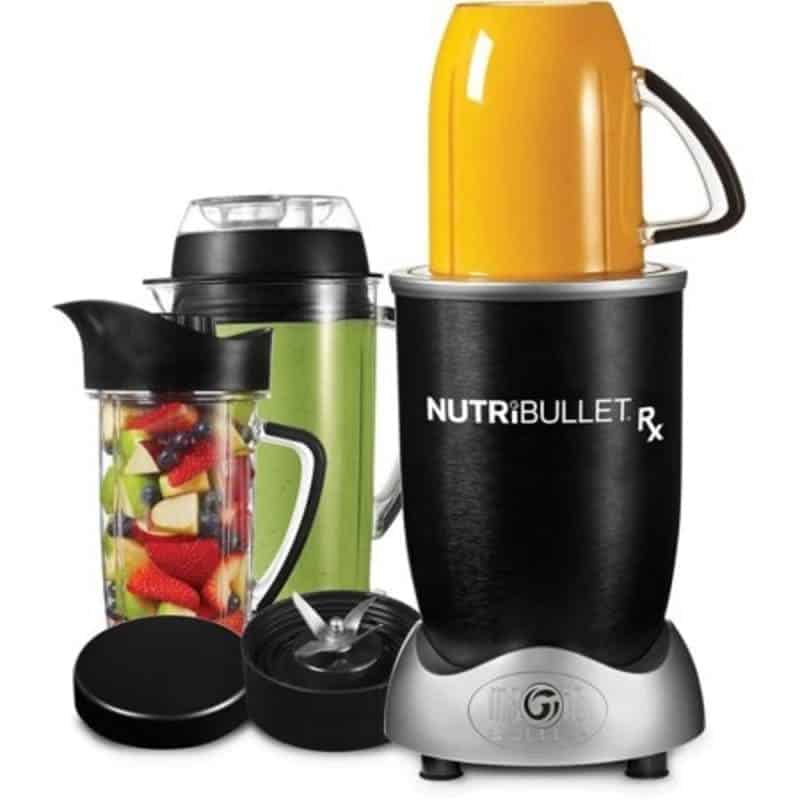 Top Features:
Hands-free smart technology
Single serve and family-sized portions
Best small blender for smoothies
Heating cycle for warm recipes
USA & Canadian Electrical Standards compliant
10. Cuisinart SmartPower Blender – White (CPB-300W)
Blend, mince, or chop with the Cuisinart SmartPower Blender (CPB-300W). It can be said that this model right here is the best blender for smoothies Cuisinart has ever created just by looking at the reviews. Even its design is fun in that it has a slim, cylinder design unlike many of the bulkier, curvy models we have seen earlier. This machine is offered in black, a pale pink, and white – all very beautiful colors.
Even for under $70, there's a lot this Cuisinart smoothie maker provides. It has an electronic touchpad and indicator light, two blade speeds, and a pulse feature. It's also constructed of materials that are dishwasher safe and free of BPA materials. Containing two cups with reusable lids, you can blend a drink or something for lunch, pop the lid on, and conveniently take it to work or school. Very simple. This product, fortunately, is also very easy to clean.
To back up your purchase to be on the safe side, you'll get a three-year warranty with your Cuisinart SmartPower Blender purchase. For a blender, three years is not a long time, but it is decent. Another downside is that this blender is a little noisy, but this is pretty much expected with most blenders. Some also complained that this cheap smoothie blender's plastic components feel a bit shoddy. However, the aesthetics actual appear quite classy, clean, and expensive. To conclude, the Cuisinart SmartPower Blender is incredible in appearance and in function for its price range. The best cheap blender for smoothies for the price.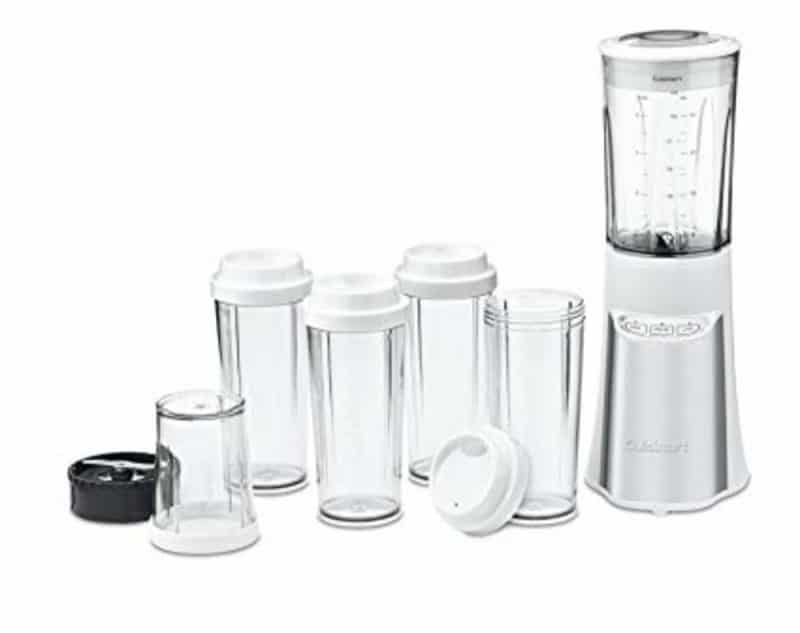 Top Features:
Electronic touchpad
LED indicator light
2 blade speeds
Pulse feature
BPA free materials
Dishwasher safe components
Includes two 16-ounce cups with lids
FAQ:
Are you set with all of the knowledge you need to know before buying the best smoothie blender for your wants and needs? If you're still a little weary, here are some frequently asked questions to help make your decision simpler.
What's the best smoothie blender?
From our top 10 list, the best models based on customer ratings include the Vitamix 7500 Low Profile Blender (average 4.8 review with 480+ reviews total) and the Ninja Pro Table Top Blender (average 4.7 review with 1,5000+ reviews total).
But instead of assuming the latter blenders will also be the best smoothie makers for you, it's important to look at the pros, cons, and features of these machines as well as other machines. Be sure to look at reviews too, to see if there is anything you should be looking out for before purchasing the blender. For example, Hamilton Beach make some great blenders, but their products aren't the best fit for those looking exclusively for a smoothie maker. However, a versatile Hamilton Beach personal blender might pack more features that are of more use to you personally.
How to use smoothie blender?
While most kitchen appliances are easy to use, the smoothie blender is perhaps one of the simplest and safest devices, next to the microwave, when used correctly.
After plugging in your appliance (without the blender on just yet), begin by adding some of your ingredients. Start by adding liquids (e.g., milk, juice) along with other ingredients such as fruits, veggies, or yogurt. Never pack your blender's jar or fill it up to the top. This may clog it or cause poor blending.
Next, place the lid on top of your blender's jar, and place your hand on top of the lid to keep it secure in place. Press the 'on' button, or flip the switch to the appropriate blade speed (some machines may only have one or may also have a 'pulse' setting). If your products don't seem to be getting properly blended, turn off the blender, and wait for the blade to completely stop. Then, take off the lid to add more liquid or to use a spoon to help mix things around a little. Replace the lid, and try blending again.
After properly blended, this is when you can add ice or other frozen components as you wish. When finished, turn off the device and then unplug. Take off the lid, and pour your smoothie out to enjoy. You can store any leftovers in another cup or container if you wish. Clean both the smoothie maker jar and the lid according to your blender's manual when completed.
Is smoothie maker and blender the same?
While often used interchangeably, a smoothie maker and a smoothie blender aren't exactly the same. Both devices do, however, blend. But a smoothie blender varies in that it doesn't blend as finely as a smoothie maker. This is because a smoothie blender is generally just a blender, and thus, is multi-functional. A smoothie maker is more efficient in crushing ice as these devices are more specifically designed to make smoothies. Can you make a smoothie without blender? If you use a smoothie maker, then yes.
They also tend to be a lot more affordable in cost, averaging at a price point of approximately $40 to $80, but can definitely cost more than $100. Smoothie makers, on the other hand, can be sold for well over $1,000 in some cases.
When searching for a smoothie blender, using either of the words 'smoothie blender' and 'smoothie maker' is fine because, as mentioned, these are typically used interchangeably.
Where to buy smoothie blender?
You can buy smoothie blenders at Target, Costco, Walmart, Kmart, Best Buy, Kohl's, Home Depot, Bed Bath & Beyond, and so on. You can also find hundreds of blenders online, especially on Amazon.
Many blender companies even sell their products on their websites. However, sometimes buying a blender indirectly is best as the pros and cons of the product may be more transparent, and not to mention, there tend to be more reviews on common online stores than on manufacturer websites. But with some manufacturers, you may get a better price or extra bonus gifts if you purchase it from them directly.
What is the best blender to make smoothies under $150?
Based on our top 10 list, the following blenders (from highest rated to least rated) are the best blenders for smoothies under $150:
Ninja Pro Table Top Blender – $59.99 – 4.7 stars (1,500+ reviews)
Ninja Professional Blender, NJ600 – $79.00 – 4.3 stars (1,800+ reviews)
Magic Bullet Nutribullet Rx Blender – $149.99 – 4.1 stars (1,000+ reviews)
Nutribullet 12-Piece High Speed Blender/Mixer System – $59.99 – 4 stars (7,400+ reviews)
Cuisinart CPB-300W SmartPower Blender – $69.95 – 4 stars (1,900+ reviews)
Magic Bullet Nutribullet Pro 900 Blender/Mixer – $119.99 – 3.9 stars (2900+ reviews)
Where can I find  blender smoothie recipes?
Some of the top blender smoothie recipes (books) are currently:
Superfood Smoothies: 100 Delicious, Energizing & Nutrient-dense Recipes (Julie Morris's Superfoods) by Julie Morris
Simple Green Smoothies: 100+ Smoothie Recipes to Lose Weight, Gain Energy, and Feel Great in Your Body by Jen Hansard
The Healthy Smoothie Bible: Lose Weight, Detoxify, Fight Disease, and Live Long by Farnoosh Black
Nutribullet Recipe Book: Smoothie Recipes for Weight Loss, Detox, Anti-Aging & So Much More! by Stephanie Shaw
Green Kitchen Smoothies: Healthy and Colorful Smoothies for Every Day by David Frenkiel
The Blender Girl: Super-Easy, Super-Healthy Meals, Snacks, Desserts, and Drinks – 100 Gluten-free, Vegan Recipes! By Tess Masters
365 Vegan Smoothies: Boost Your Health with a Rainbow of Fruits and Veggies by Kathy Patalsky