There's nothing better than a sip of ice-cold soda water. It's refreshing, it's zingy, it's bubbly—it's a delicious alternative to boring still water. Plus, it makes tasty cocktails, perfect for a night of entertaining! Our love for these fizzy drinks isn't new. What is new is the competition between brands for the title of "best soda maker."
These appliances are a great addition to your kitchen and especially great for the summertime. We'd go so far as to say they're just as essential as electric kettles!
Today, we're looking at five of the best soda makers on the market today. We're reviewing and ranking them. We have also put together a buying guide to help you find the perfect sparkler appliance for your kitchen.
Ditch your unhealthy sugary soft drinks and try this healthy and delicious alternative instead. And remember—homemade is always tastier than store-bought.
1) Top Pick: Classic SodaStream Fizzi Sparkling Water Maker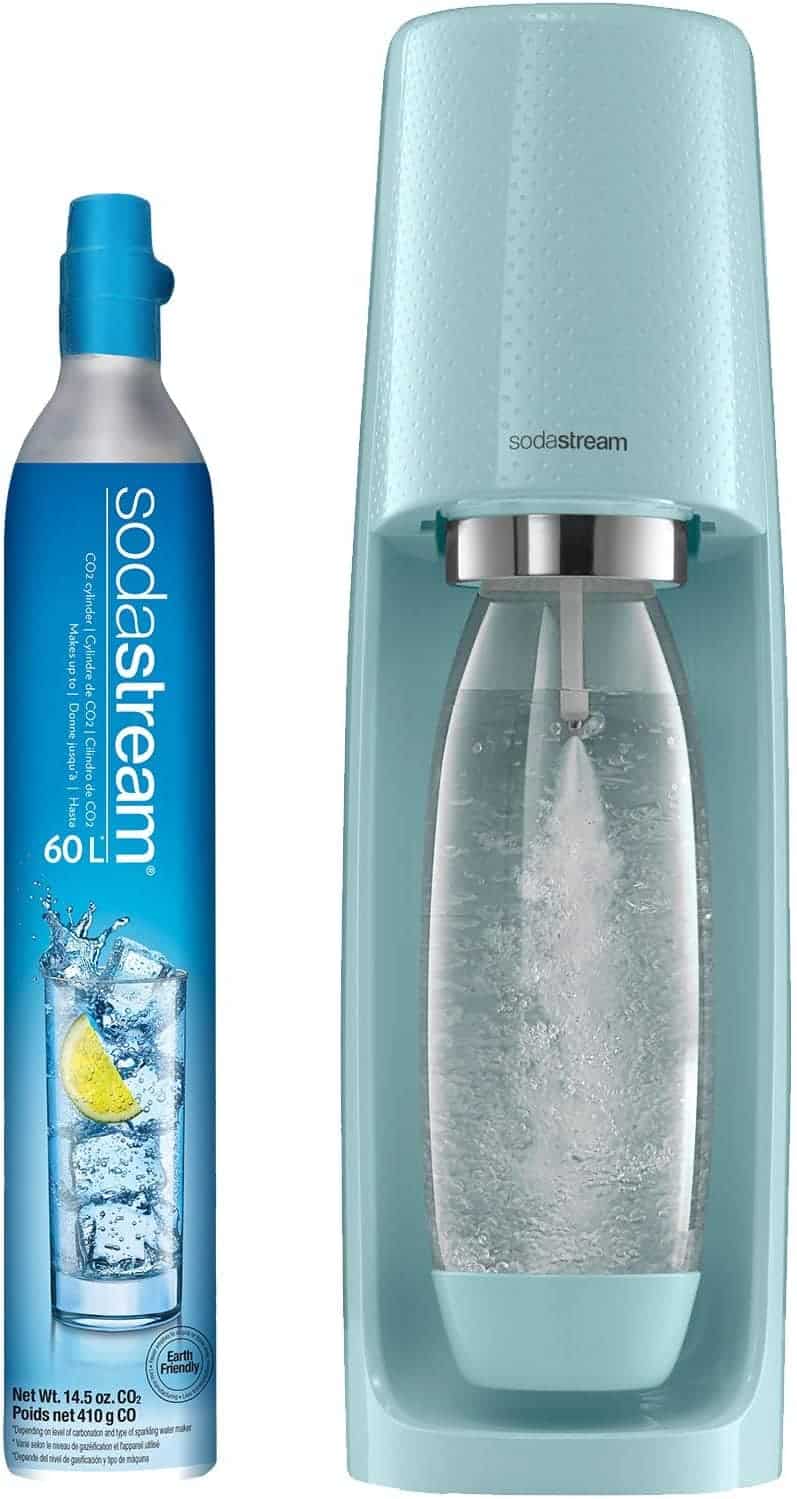 SodaStream is probably the most well-known and most-talked-about sparkling beverage maker manufacturer. And for good reason! Their products are high-quality and super reliable. The SodaStream Fizzi is no exception.
Our favorite thing about this appliance is how easy it is to use. Screw the CO2 cylinder in, lock in the bottle, press the carbonating button, and that's it!
Since there is a manual pump handle, you can choose how fizzy your water gets. If you like a sharper taste, press the button for two seconds up to seven times. However, if you want a more subtle taste, press it for two seconds only a couple of times!
You can't put the BPA-free plastic bottle in the dishwasher, but you can easily and quickly clean it with warm water and gentle soap. To clean the fizz infuser, wipe it down with a damp rag.
Despite being a countertop model, it's easily portable. Since it's not very bulky and isn't powered by electricity, you can take it on the go.
2) Runner Up: DrinkMate Beverage Maker in Black Matte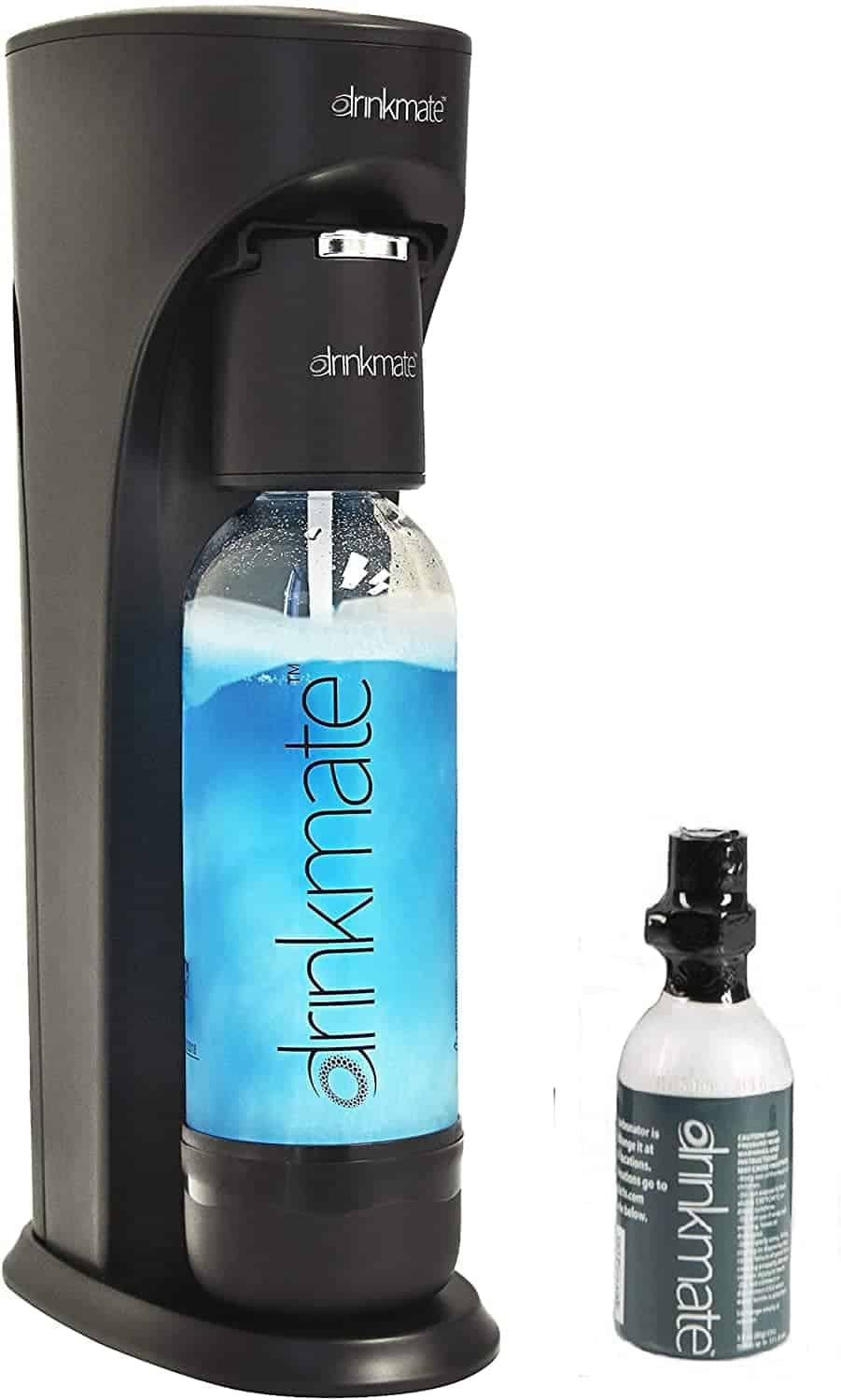 Another awesome sparkling water machine is this DrinkMate countertop model. It's just as easy to operate but gives you even more flexibility to take your drinks to the next level.
This model works similarly to the one we just reviewed. The BPA-free plastic bottle locks into place for added security and to avoid making a mess all over your kitchen.
The sleek design also makes it stand out. It complements most kitchens and, because it isn't bulky, can be easily stored away when you don't need it anymore.
Interestingly enough, you can carbonate lots of different beverages with this spritzer. It doesn't just have to be water. Try fizzing up iced tea, iced coffee, wine, orange juice—you name it.
When you buy this appliance, you'll get two 10-liter CO2 canisters. As you can imagine, they will make up to twenty liters of carbonated beverages. Once those are empty, you can purchase the much larger and much more convenient 60-liter ones.
3) Best Premium Pick: Aarke Carbonator II in Stainless Steel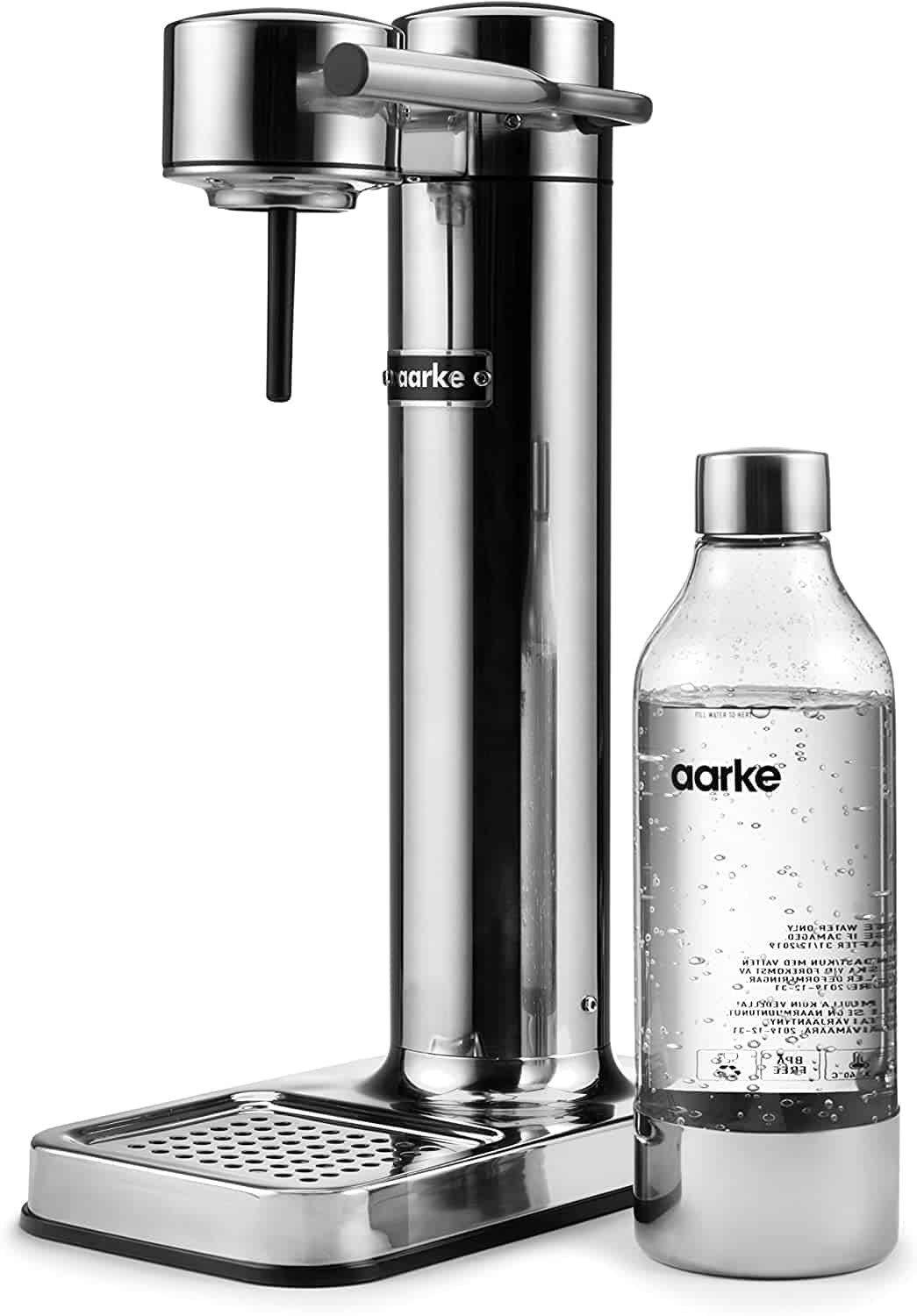 If you're looking to spend a bit more money for extra quality and even better design, look no further than the Aarke Carbonator II. Even the name sounds cool.
Using this unit couldn't be easier. Fill the Aarke water up to the fill line and screw it on the stainless steel soda siphon. Then, pull down the handle for up to 6 seconds. The longer you hold it, the fizzier your drink will be! Simple, right?
It's also great to see that the Aarke sparkling water maker doesn't require any batteries or electricity. You can make your favorite beverages pretty much anywhere!
Although you can't carbonate any other beverages, you can play around with water flavoring fruit drops. It will give your water a fruitier taste and make it all the more delicious.
You can use large cylinders with this unit. The 60-liter ones are best, as you won't need to replace them for a long time, even if you're using your sparkler every day.
Lastly, if anything goes wrong with your soda maker, you can always get it fixed. Thanks to the included two-year warranty, it won't cost you a fortune.
4) Best Compact Pick: iSi Stainless Steel Siphon Bottle for Carbonated Water

The best small soda maker has to be the iSi Siphon Bottle. It's the only handheld soda machine on our list and also one of the cheapest. But don't be fooled: it makes deliciously fizzy club soda to add to your cocktails.
You'll see that this unit looks like a regular stainless steel water carafe. The only difference, really, is the fact that it has a siphon at the top that streams CO2 into the water. Thus, it's easy to store and easy to carry with you.
For best results, you should chill the siphon and use cold tap water to fill the carafe. Then, get shaking! Shake it for about twenty times vigorously. Your club soda should turn out perfectly bubbly.
It does need a bit of time and effort getting the sparkler ready to fizz. But once you do, you'll have a whole quart of club soda to enjoy. It's an upgrade from other models, even the electric countertop ones!
5) Best Electric Spritzer: SodaStream Fizzi One Touch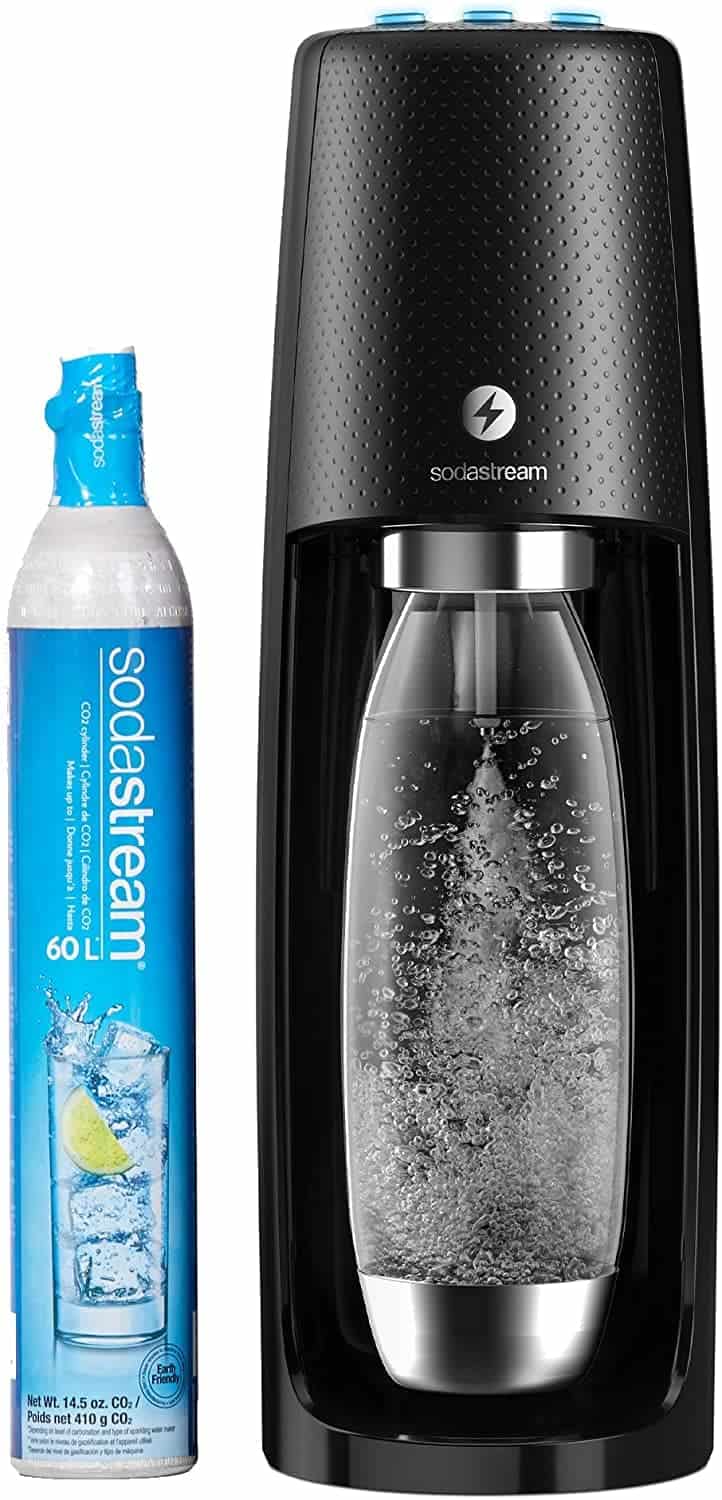 The last item on our list is also the only electric soda maker. It's an interesting twist on the other units we've reviewed and is a little more expensive. But it's a great investment due to how reliable and trusty it is!
You can make up to one liter (or one quart) of club soda in one go with the large BPA-free plastic bottle you get when you purchase the unit. More to go around!
Above all, the One Touch beverage maker is a breeze to use. The CO2 cylinder screws to the back of the appliance, behind a back panel. The reusable bottles snap-lock in place. Then, you plug it in and wait for the LED lights to turn on.
You will notice that there are three buttons at the top of the unit. Choose the fizz level you want and press that button. No second-guessing—the sparkler will do everything for you. It's convenience at its finest.
Why Use a Soda Maker?
If you've been getting your sparkling water from the store for years, why stop now? Why buy a soda maker? It sure doesn't sound like a necessity.
Sparkling beverage drinkers will know just how expensive getting your favorite beverages from the store can get. Not to mention how wasteful it is to keep buying new cans and plastic bottles and never reusing them.
With a soda maker, you bypass those two problems.
Firstly, having a sparkling water maker at home means having cheaper drinks always at hand. You only need to invest in the appliance and every once in awhile get your CO2 bottle refilled. In the end, you'll save hundreds of dollars in just one summer. It's a machine that pays for itself.
Secondly, you will only need your reusable bottle. No more buying cans and plastic bottles that will eventually end up in a landfill. Plus, you can keep your carbon footprint down by not having your drinks shipped from a processing plant to your local grocery store. All in all, it's the perfect eco-friendly addition to your home.
On top of all that, you'll have full control of your sparkling drinks. How fizzy do you want it? Do you like flavored fizzy water? What flavors are your favorites? This is where customizable fizz level comes in.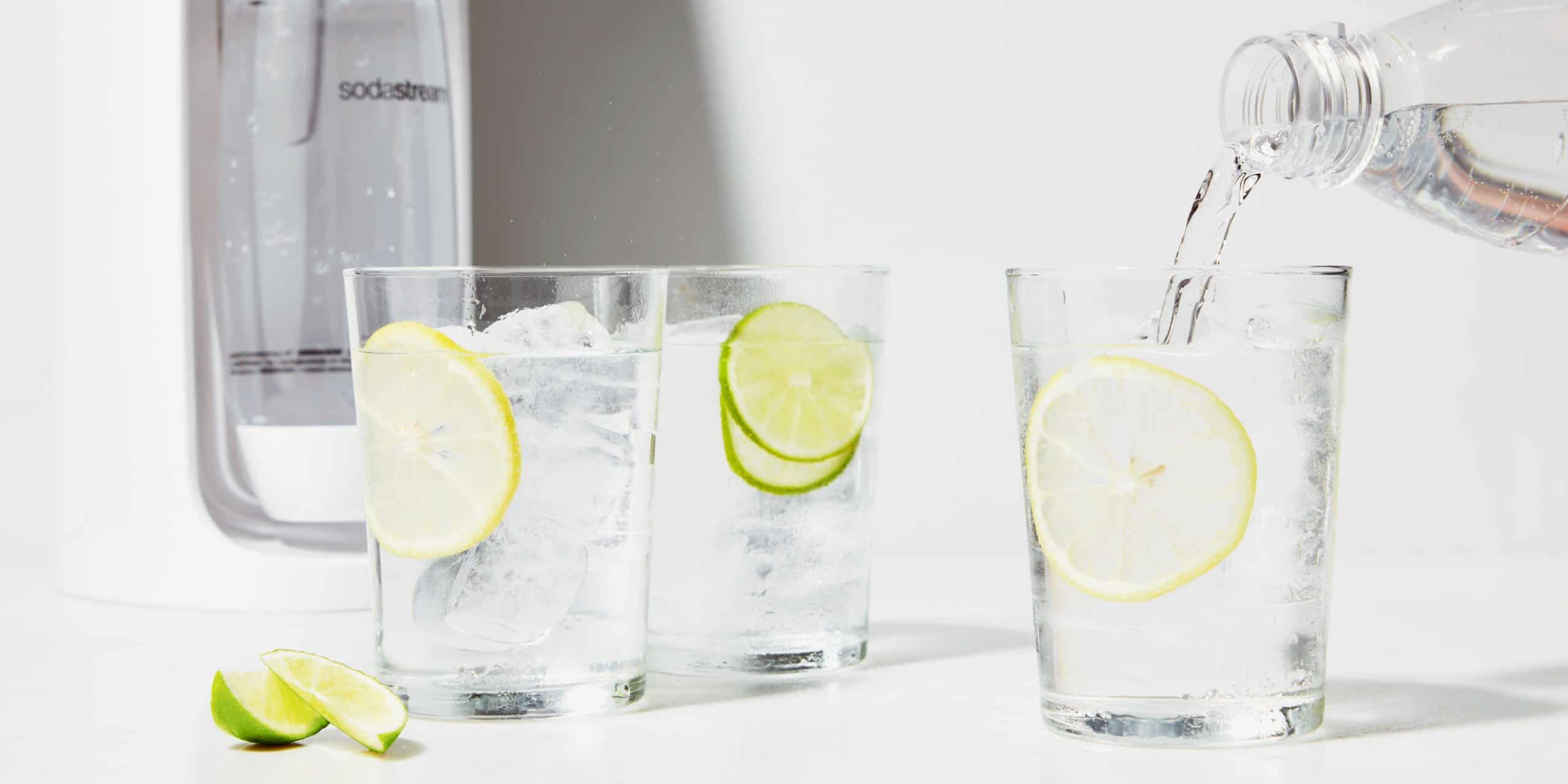 Types of Soda Makers
There are two types of soda water makers: handheld and countertop models. They each have their pros and cons. Which one is right for you?
Handheld Models
These are the smallest and cheapest soda makers you'll find on the market. Their best feature is how portable they are. You can fit them in a small backpack and take with you on a weekend getaway without needing to lug extra bags, for instance.
They're also convenient since they're ready to pour a bubbly drink just about anywhere. There's no need for a sink or electricity—just squeeze the handle and your carbonated beverage will flow out.
On top of that, they pour the fizzy water straight onto your cup. This is perfect for pouring cocktails for your friends with minimal mess.
Their main downside is that they're slower and not as reliable as countertop models. You'll need to pour ice-cold water into the bottle and wait some minutes before your drink is ready.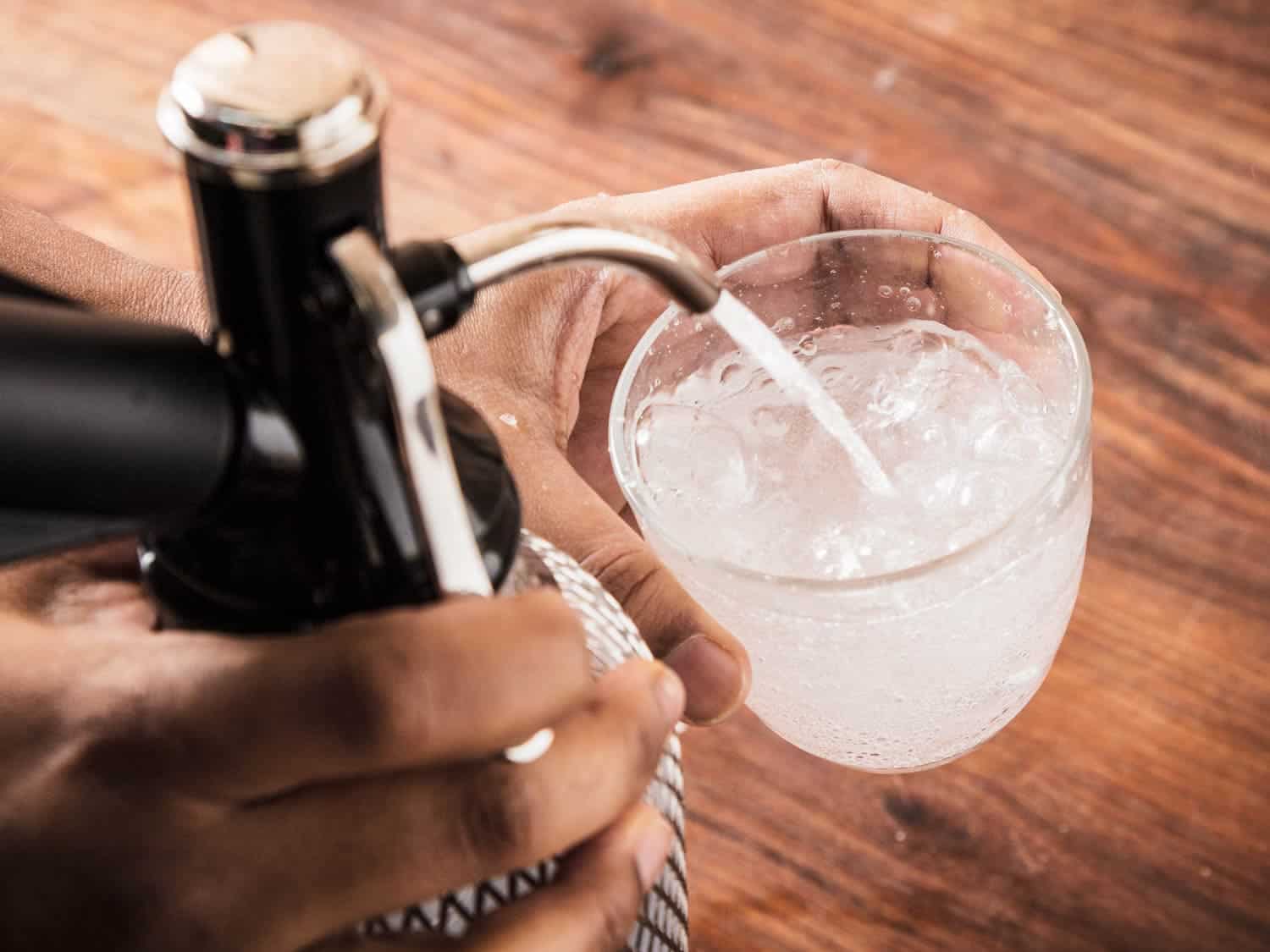 Countertop Models
Countertop soda makers are the most popular, by a long shot. That's because they're super reliable and deliver high-quality results every single time.
And the best part? They're incredibly easy to use. Press and hold the carbonating button at the top of these soda makers and watch as your drink gets deliciously fizzy. Since they sit on your countertop, you and your guests can effortlessly get a second round. 
Of course, these models aren't as portable as the handheld ones. They're pretty bulky, meaning you can't conveniently pack them on the go.
Ultimate Sparkling Water Maker Buying Guide
There are dozens of models claiming to be the best home soda maker out there. Don't get lost in your search. Look for these features. The best sparkling water maker will check off most of these boxes.
CO2 Tank Capacity
To make a fizzy drink you need carbon dioxide (CO2). Soda makers come with CO2 cylinders full of this gas, ready to fizz up your drink. Without one, you can't have your club soda.
When you go looking for the perfect model for your kitchen, think of how often you'll want to change the CO2 cylinder. As you can imagine, small canisters need replacing often if you use your new appliance regularly. On the other hand, large canisters require less upkeep and last longer.
Keep in mind that larger canisters are also more expensive, but may be worth the investment for the added convenience. It's all up to you.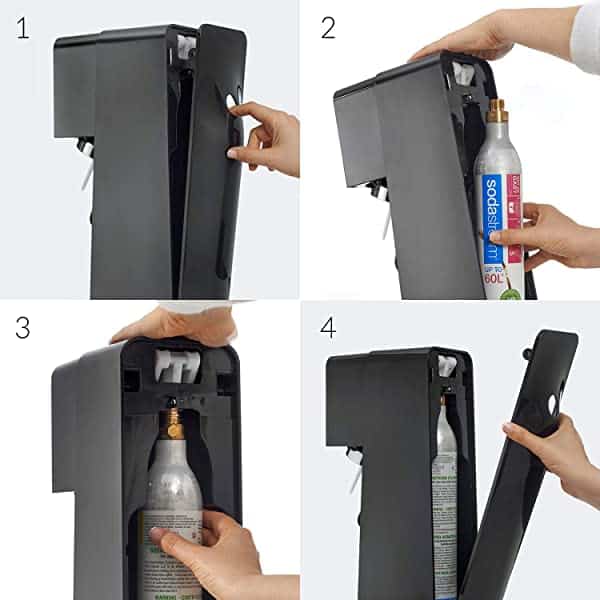 Soda Maker Size
Similarly, consider how much club soda you and your guests will be drinking. Some models come with larger reusable glass water bottles to make greater quantities of fizzy water at once. Others are better for personal use because they're much smaller.
Once again, large soda makers are much more expensive than their compact counterparts. But they're also more convenient since you don't need to make as many batches of sparkling water.
Materials
Another important thing to consider is the materials that make up your soda water fountain.
You can't go wrong with a glass bottle. It's the best choice for your health, since it poses absolutely no risks. It also has a sleek design and looks great on all kitchens and tables.
Plastic can be a more affordable alternative, but only if it is BPA-free. Most models are, but it's always good to check. Better safe than sorry.
The siphon should be made of stainless steel or aluminum. The cheaper models will have plastic syphons, but those may leave a plastic taste in your water.
Level of Carbonation
The best soda makers boast two levels of carbonation. In other words, they let you choose how fizzy you want your drinks. Although it is not a make-or-break feature, it is great to have if you plan on sharing the appliance with multiple people. Everyone can be pleased.
Design
If looks are a priority for you, it may be best to invest in a model that complements your kitchen with its sleek design. Especially if it's a countertop model that will be out for display all summer.
But there are other design aspects to consider besides aesthetics. Your bottle should come with a "fill to here" line. Otherwise, you risk overfilling your bottle and having water spill all over your counters and floor.
Additionally, you'll want an appliance that can lock your bottle to the siphon firmly. Not only will your bottle be safe from falling and shattering, but it will also prevent water from splashing everywhere and making a mess.
Easy to Use
Practicality is one of the most important features. No one wants a wonky sparkler that is a pain to use. Look for a unit with a simple design and a convenient carbonating button.
In the end, customer reviews are the best indicator of whether a model is easy to use or not. Don't forget to read those!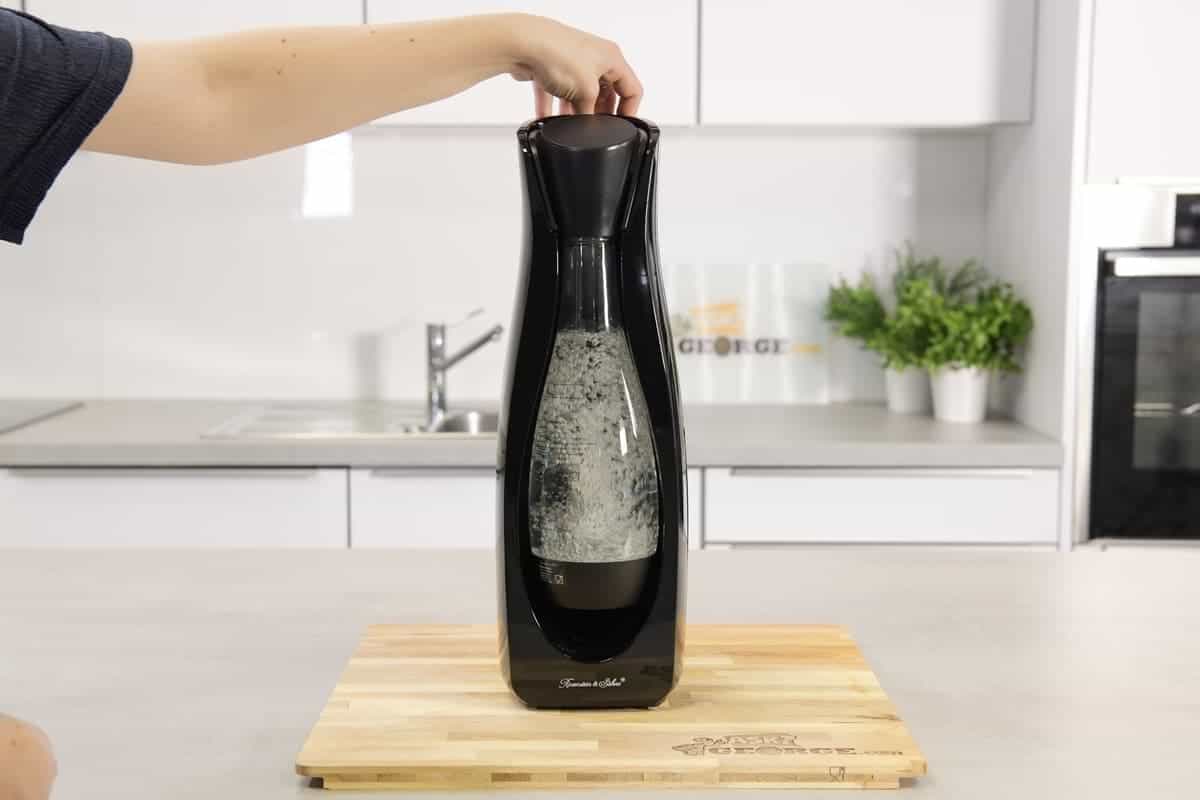 Easy to Clean
Lastly, pick a sparkler that is easy to clean. For most ease of cleanup, you'll want dishwasher-safe parts or bottlenecks wide enough to allow you to clean the insides with a brush or sponge.
Final Words: What Is the Best Soda Maker?
If you want versatility above all else, we recommend the DrinkMate Beverage Maker. It's reliable, durable, and lets you make a bunch of different drinks.
Frequently Asked Questions
Q: Is soda maker healthy?
Soda (or pop) isn't healthy for you. Even the low-sugar ones can harm your teeth and cause other health problems. But is soda water the same?
Some people believe that the fizz in carbonated water damages the teeth and bones. However, this couldn't be farther from the truth. Sparkling water is no worse for you than still water. You can drink it to your heart's content.
If there are still any doubts, popular soft drinks (like Coca-Cola, Pepsi, Doctor Pepper, Mountain Dew, Fanta, and so on) are bad for you because of their high sugar content and added chemicals. Not because they're fizzy.
Q: Where to refill a soda maker cylinder? 
Your home soda maker manufacturer most likely sells brand new CO2 cylinders for your appliance you can purchase once yours run out. Some brands even have replacement programs in place where you ship your empty canisters and receive them full in the mail, at a lower price than usual.
However, if you would like to save money, you could technically refill your canisters at home. But keep in mind this isn't an easy process suited. Give it a shot only if you're confident in your home improvement abilities.
Q: What does soda water taste like?
Simply put, soda water tastes a bit more acidic than still, tap water. Some sparkling water brands add salt to their beverages to improve the flavor. However, the good news is you can make flavored fizzy water at home with these kitchen appliances. All you need is some high-quality liquid flavoring fruit drops. You can easily find them online.
Q: Can you carbonate other drinks besides water?
We only recommend that you carbonate water unless your appliance specifically says it is fit to fizz up other drinks. The best soda makers out there are versatile enough to let you carbonate wine, fruit juice, tea, and much more.