Hello! I'm Begoña from the blog "Las recetas de Marichu y las mías" I've been a member of the Daring Kitchen since September 2009 and I've tried to make all the challenges. I love cooking and I love to learn something new each day and this forum is a great way to do it.
I am from Spain and although I come from the North, I live in the South, that is Andalucía, on the Sun Coast. When the opportunity came to do a challenge I thought it was a good occasion to introduce you to Spanish food that was something more than "paella" or "gazpacho"………
My chosen recipe is very popular all around Spain, it is Sopa Castellana or bread soup. The first challenge recipe Castilian Soup is the basic one, there are a lot of variations on the same theme all over Spain. I added some of these variations to the challenge as alternate recipes . I hope you enjoy this challenge.
Recipe Source: I used a traditional Castilian recipe; which I have made at home for ages. It's a recipe that I learnt from my mother, and she from her mother.
The second option is a "Sopa de espárragos verdes" that I copied from Su's blog: "Webos fritos", her blog is a reference source for recipes in Spain. She makes very traditional Spanish dishes.
And the third one is "Sopa de Tomate de Extremadura" from a small recipe book Extremadura which I bought on a trip and loved the soup when I tried it.
Blog-checking lines: Our November Daring Cooks' hostess was Begoña, who writes the beautiful blog, Las recetas de Marichu y las mías. Begoña is from Spain and didn't want to go with the more common challenges of paella or gazpacho, she wanted to share with us another very popular recipe from Spain that we don't see as often called Sopa Castellana which is a delicious bread soup!
Posting Date: November 14, 2013
Download printable file HERE
Note: The soup from Castilla, basically is a strongly flavoured stock with fried garlic and bread. This base is used for variations of this soup. These variations add all kinds of vegetables, ham, spices or herbs, dry fruits….. and for me, always an egg poached.
The stock can also be changed if you wish. I started with a vegetables stock, but veal, meat, chicken, ham, or even chickpeas with dry peppers can be used, start with a flavoured stock of your preference.
Mandatory Items: Prepare a Castilian Soup or any of its variants, it is essential that you make a stock from scratch and that you use bread (if you wish you can make your own bread as an extra challenge)
Variations allowed: Perhaps some of the ingredients will be not easy to find outside Spain, above all dry peppers and Serrano ham. Dry peppers are sweet ones and have a special taste, if you cannot find them, paprika can be substituted. Serrano ham is a typical Spanish ham but you can change it for another kind of ham, like Parma or bacon (not smoked).
Preparation time: Stock preparation: 3 hours
Soup preparation: 1 hour
Equipment required:
•A big pot
•A smaller pot
•A spatula
•A ladle
•Knives
Castilian Soup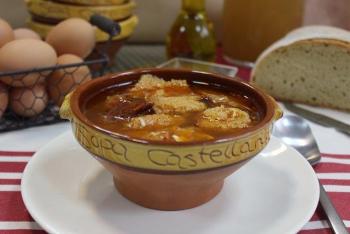 Servings: 6
Ingredients:
1 kg (2½ lbs) of veal meat
1 chicken drumstick
1 small piece (5 cm cube) (2 inch cube) of Serrano ham
1 veal bone
3 leeks
2 carrots
1 bunch celery
1 onion
handful of chickpeas (1/2 cup)
2 whole cloves
1 sweet dry red pepper
Salt to taste
10 garlic cloves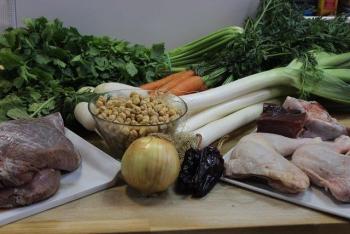 150 gm (5½ oz) Serrano ham
2 sweet dry red peppers
12 slices of day-old bread
2 tablespoons (30 ml) (15 gms) (½ oz) sweet paprika
Water
50 ml (3 tablespoons plus 1 teaspoon) of extra virgin olive oil
2.5 liters (10 cups) vegetable, meat or chicken stock
6 large eggs
Directions: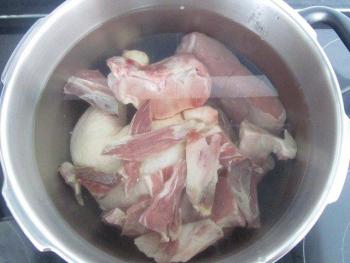 Soak the chickpeas in water, the night before making the soup. Fill a big stew pot with water add the meat, chicken, ham and bone. Gentle simmer for one hour and a half skimming occasionally.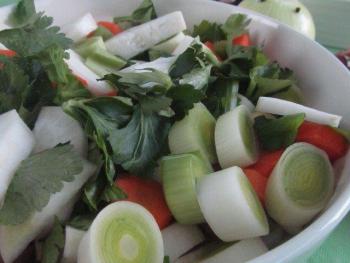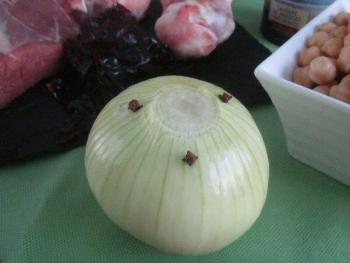 Clean and cut all the vegetables and the dry pepper, except the onion. Stud the onion with the two cloves add to the pot with the drained chickpeas and the cut vegetables and dry pepper. Add salt to taste.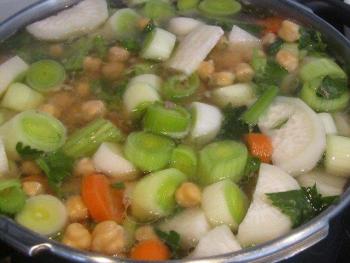 Simmer for another one and a half to two hours, if needed add water.
After this time, take out the veal, chicken and ham, which can be reserved for another recipe. Strain the stock. Discard the bones.
If you wish you can use the cooked vegetables to make a great soup by adding cream with some potatoes and more water.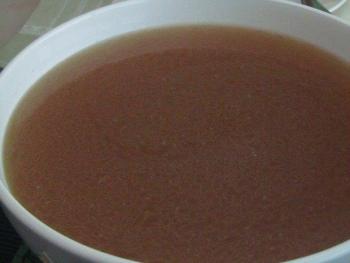 The stock that will be used to make our soup.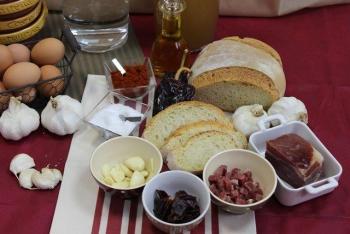 Peel the garlic cloves and slice them. Cut the Serrano ham into small cubes. Clean the dry peppers by removing the ribs and membranes and cutting into small pieces. Cut the bread into fine slices.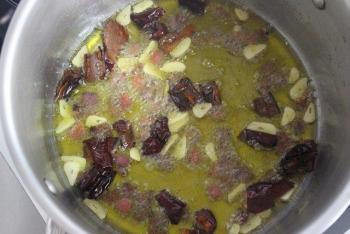 In a stew pot warm the olive oil. Add the garlic and fry gently. Make sure that garlic doesn't burn; it should be brown but not burned. Add the ham cubes and the cut and cleaned peppers and stir all the ingredients.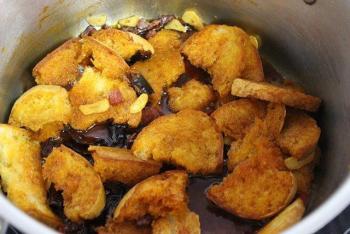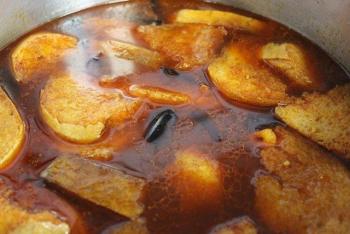 Add half the bread and continue stirring. Take pan off the heat and add the paprika. Stir till everything is well integrated and return the pan onto a low heat. Add the stock and let it cook about 20 minutes, it must not boil, or otherwise bread will fall apart.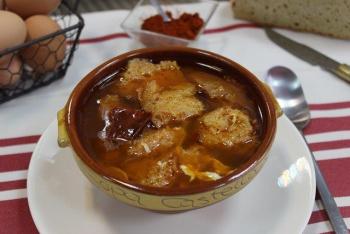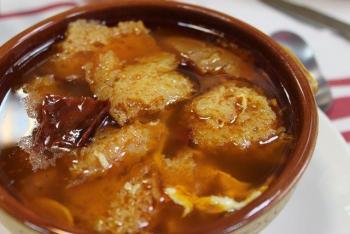 After this, add the rest of bread, taste for salt (remember that the stock is already salted) and wait until the bread softens. Then add the eggs, one for each person, poach the eggs about 3-4 minutes.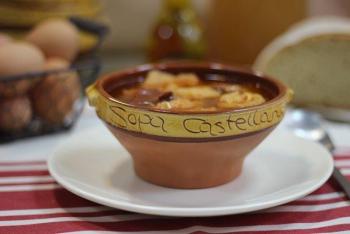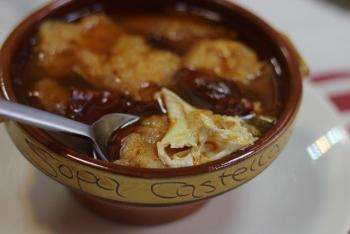 For another option, add only the white of eggs to the soup, stir till they make fine threads. Place the yolks into individual serving bowls and ladle the hot soup into the bowls.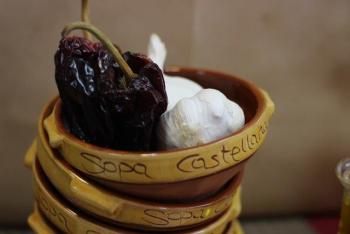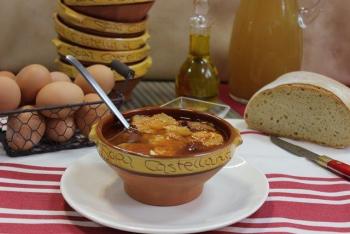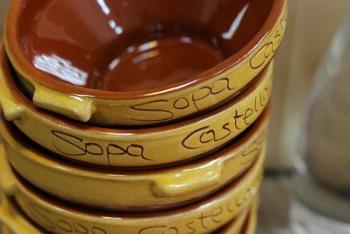 Soup must be served really warm and if possible, in a clay bowl.
Green Asparagus Soup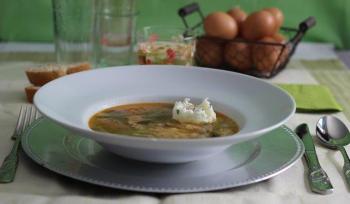 Servings: 6
Ingredients:
2 bunches green asparagus
2 garlic cloves
1 teaspoon of sweet paprika
Extra virgin olive oil
12 bread slices
6 large eggs
2 liters (8 cups) vegetables, meat or chicken stock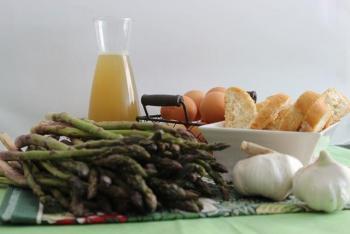 A few saffron threads
Salt
Directions:
Clean and cut the asparagus discarding the tough end. Toast bread.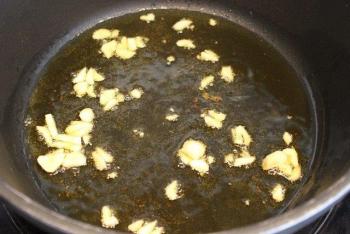 Cover the bottom of a stew pan with oil and heat it. Chop garlic cloves and add to warm oil. Stir and before they have colour, add the asparagus. Continue stirring until the garlic softens, add toasted bread continue stirring.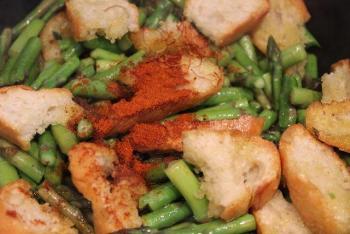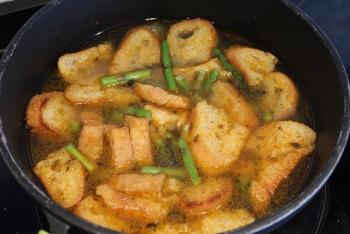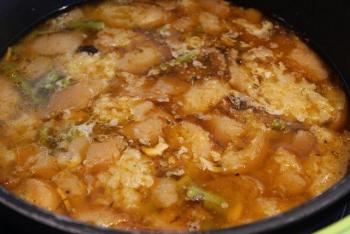 Add paprika, stirring quickly with a spatula, toast paprika making sure that it doesn't burn. Add the stock. Add the saffron and salt to taste, stir well and let it gently boil on a medium heat until asparagus is tender. This will take around ½ hour.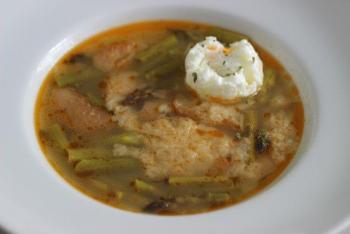 Eggs can be added at last minute to poach (3-4 minutes) or the eggs can be poached separately and added into the serving bowl with the finished soup.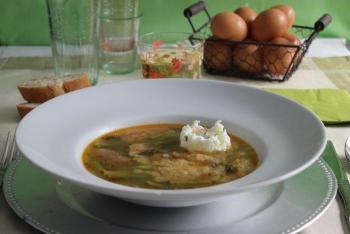 You can use this method to poach the eggs. Cut a piece of plastic film place in a cup. Crack egg into the cup with some salt and tie the film like a small parcel. Boil the parcels for 4-5 minutes remove from water and remove film when cool enough to handle. These poached eggs can then be added to your soup. (See video link below)
Tomato Soup from Extremadura
Servings: 6
Ingredients:
1.5 kg (3-1/3 lbs) mature tomatoes
1 baguette (French bread)
1 red pepper (capsicum)
1 large green pepper (capsicum)
1 onion
3 garlic cloves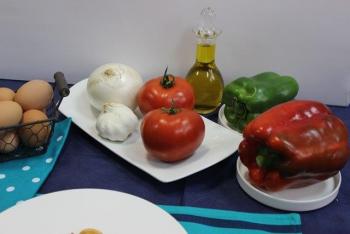 1 teaspoon (5 ml) of cumin
2 liters (8 cups) of meat/chicken/vegetables stock
6 large eggs (optional)
Extra virgin olive oil
Salt
Directions:
Peel and seed the tomatoes, cut them in small cubes. Reserve.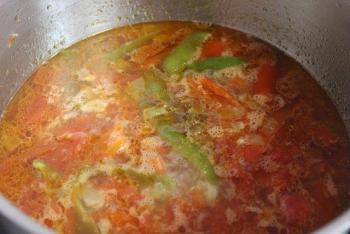 Cut onion and peppers (capsicums) in small pieces. Warm oil in a stew pan, add onion. Fry until soft about 10 to 15 minutes till they are soft and coloured. Add chopped peppers (capsicums), stir and cook for 10 minutes more. Add tomatoes and stir again and cook for 10 minutes more or until the tomato's water has evaporated.
In a mortar crush garlic cloves, cumin then add them to the pot. Ten minutes later, add stock, salt to taste and let boil for 15 minutes.
Poach optional eggs using the film method (see link below), 5 minutes. Toast sliced bread, 3 slices for each person and reserve.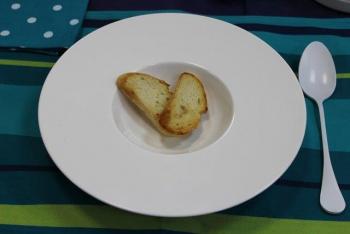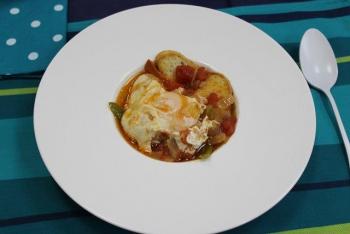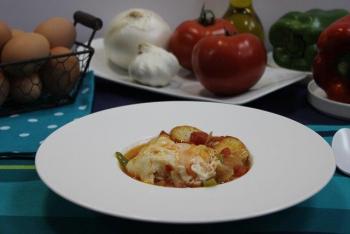 Place 3 slices of bread for each person into the bottom of a serving bowl, ladle very warm soup into the bowl then add the egg if using.
Storage & Freezing Instructions/Tips:

These soups are best served freshly cooked, they are not suitable to be frozen because the bread, once wet deteriorates. The stock can be done days before, it can be frozen and then used on the day when you want to cook the soup.
Additional Information:
http://www.hogarutil.com/cocina/recetas/sopas-cremas/201211/sopa-castell…
http://www.youtube.com/watch?v=PVsDwbgsnLc
http://es.wikipedia.org/wiki/Sopa_de_ajo
In this video you can see the method to poach the eggs:
http://www.hogarutil.com/cocina/recetas/huevos/201201/huevo-flor-torta-p…
or here on my blog:
http://lasrecetasdemarichuylasmias.blogspot.com.es/2010/12/tartas-de-set…