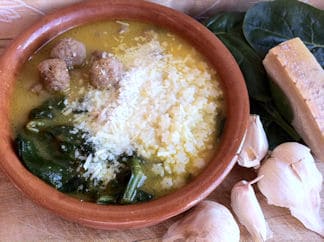 As a child I remember how much I used to hate soups. As much as I love them as a grown up. A nice bowl of soup can warm your body and comfort your soul in a cold winter's night, and in the middle of a hot, cruel summer, a fresh soup can bring you back to life when you feel like burning in hell, with your brains being deep fried and your skin aching all over (I live in Madrid, Spain, I know what I'm talking about).
That's why I want to share with you my favourite soups, the "soups of my soul" if such thing does exist. I hope you try and enjoy them.
WINTER
Italian wedding soup – Pictured above
Not that this is a typical wedding dish, the name evokes how well the ingredients (meat, vegetables, cheese) get along together to give us a totally delightful moment at the table.
Ingredients:
3 carrots
1 onion
2 garlic cloves
4 pints chicken stock (or to taste)
1 pound ground meat (I usually make pork and veal, half and half)
A bunch os spinach leaves
1 pound of small pasta
1 egg
Bread crumbs
Black pepper
Salt
Extra virgen olive oil
Parmesan cheese
Directions:
Sautée in the olive oil carrots, onions and garlic with a pinch of salt until tender and golden. Then add the stock with a bouquet garni (rosemary, thyme, sage and bay) Cook for 45 minutes (or 10 if using a pressure cooker) Set aside one cup of stock (in case the cream gets too thick) and blend the vegetables. Cream must be almost translucent, if not, use the stock you kept.
Combine the ground meat, bread crumbs, egg, salt and pepper in a bowl. Mix thoroughly, then form the mixture into 3/4-inch to 1 1/2-inch balls. You should have 20 to 30 meatballs, depending on how large you form them.
In large skillet, heat 2 tablespoons oil over medium high heat. Add the meatballs in batches, and cook, turning, until browned all over, 3 to 5 minutes. Set them aside on paper towels to absorb excess oil.
Sauté the spinach leaves in a large skillet with some olive oil. Set aside.
Bring the cream to a soft boil. Stir the meatballs and spinach leaves and let everything cook together for 15 minutes.
Boil the pasta until it is "al dente"
Serve in every bowl the soup adding the pasta and grated parmesan.
French onion soup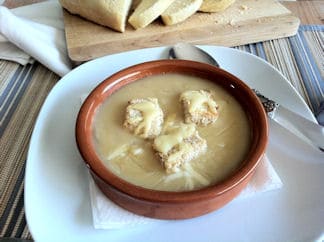 Ingredients:
1/4 cup butter
3 onions, thinly sliced
1 tablespoon all-purpose flour
4 pints beef stock
Bread slices
Grated Swiss cheese
Directions:
Melt butter or margarine in a saucepan. Cook onions over medium heat for 10 minutes, or until golden brown.
Stir in flour until well blended with the onions and pan juices. Add beef stock; heat to boiling. Reduce heat to low. Cover soup, and simmer for 10 minutes.
Cut four 1 inch thick slices of bread from the loaf. Toast the bread slices just until browned, about 10 minutes. Reserve the remaining bread to serve with the soup.
Place 1 slice or some pieces of toasted bread on top of the soup in each bowl. Put Swiss cheese onto. Place soup bowls on a cookie sheet for easier handling.
Bake until cheese is melted.
SUMMER
I would like to share with you the 3 favourite summer soups in Spain, starting with the famous
Gazpacho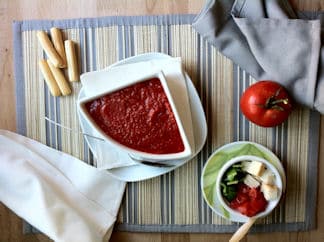 Ingredients:
2 pounds very ripe red tomatoes
1 cucumber
1 onion
1 red pepper (a sweet one, not a red hot one!)
1 green pepper (same advice)
2 garlic cloves
Extra virgin olive oil
Vinegar
½ pound bread, cut in slices and soaked with cold water
Parsley
Salt
3 pints very cold water
Directions:
Mash everything with the blender and keep it in the fridge until served. You can make it thicker or runnier, add cumin seeds instead of parsley… all variations are allowed. We usually drink it in a glass directly from the fridge for a quick snack, or serve it in bowls with a garnish of tomato, green pepper, onion and bread, everything nicely diced.
Ajoblanco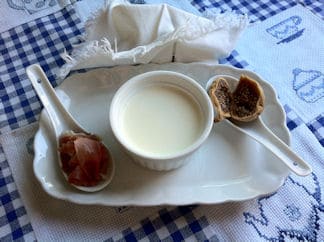 A white version of gazpacho, is believed to have originated with the moors.
I adore it, it's like silk in your mouth.
Ingredients
1 cup (6 oz) blanched almonds
4 slices crustless white bread, soaked in cold water for 5 minutes
3 garlic cloves, sliced
5 tablespoons olive oil
2 1/2 cups (20 fl. oz) cold water
2 tablespoons sherry vinegar
Salt
To garnish:
Toasted slivered almonds, or
Chopped fresh parsley/mint, or
Figs and Spanish ham ("jamón Serrano") as in the pic
Directions:
Combine the almonds, bread, and garlic in a food processor and blend until smooth. With the motor still running, slowly pour in the olive oil until a smooth paste is formed.
Add in the cold water and the vinegar. Process until the mixture is thin and smooth. Season with salt to taste.
Pour the mixture into a large bowl. Cover and allow to chill in the refrigerator.
To serve, pour the soup into individual soup bowls with the garnish of your choice.
And last but not least, my absolute favourite summer soup:
Salmorejo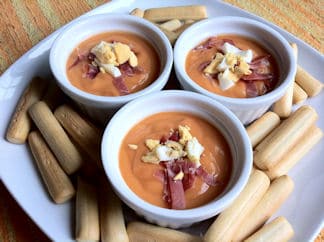 It's a typical dish of Cordoba, Andalucia, in the south of Spain. Some people say "it's like the gazpacho, just thicker" I could kill that people. He he. No offence but, ingredients are not the same, basically you won't find cucumber or red pepper here, and it fills my stomach with joy. Besides, the typical garnish of boiled eggs and serrano makes the dish simply delicious.
Ingredients:
500 g very ripe red tomatoes
1 clove of garlic
1 tablespoon vinegar
4 tablespoons of extra virgin olive oil
Salt
2 hard boiled eggs and some chopped up jamón serrano to put on top
1 stale stick bread (very dry)
Directions:
Take the crust off the bread and dice it.
The tomatoes must be peeled , wich is easy if you mark a cross into each tomato and put them for a minute in a bowl with boiling water (put them quickly in a bowl with ice and water after that to prevent them from cooking)
Chop the tomatoes up and put them in the food blender with the oil, vinegar, garlic and a little salt. Blend this all together and then start to add the stale bread bit by bit until it gets too thick to admit more bread.
Garnish with boiled eggs and jamón serrano. A few grissini or extra bread wont' hurt either.
What's your favorite soup(s)? Leave it in comments and if you have a link to the recipe, please share!