If there's one thing you literally could not survive without, it's unquestionably food. So, whether you are out camping or glamping, beaching, or boating, half of your stuff is probably provisions. Packing canned goods is so 20th century. Today you can get restaurant-quality food even when you are on the go. And by restaurant-quality, we mean a nice gourmet meal, steak and the like. All you need is the best sous vide cookers, and you're good to go.
Sous vide may sound like some fancy equipment in a high-end French restaurant. In reality, they are just a handy cooking device that you need for your kitchen. They used to be bulky and heavy until geniuses made them portable. They are also called immersion circulators.
Sous vide (pronounced soo-veed) is another French word for "under vacuum." It's more like a slow cooker. But instead of directly boiling the food, you put it in a vacuum container to retain its flavor and volume. That's the secret of precise cooking that some chefs have never told you before.
So, the secret's out! We are now giving you the best sous immersion circulator to unleash your inner chef.
The Best Sous Vide to Buy
As fancy as it may sound, sous vide is actually very easy to use. All you have to do is put the pre-seasoned food in a vacuum container. Then you drop it into pre-heated water, submerge the sous vide immersion device, and wait for the bell.
The best thing about sous vide today is that it can connect to your phone via an app. This helps reduce the guesswork in preparation and increases the precision in cooking.
We know you're excited, so here is our list of top-rated sous vides that you can add to your kitchen arsenal.
1. Inkbird WIFI Sous Vide Cookers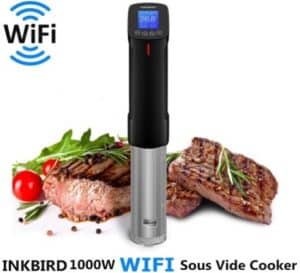 Leave the cooking alone in the kitchen and go about your day with this sous vide from Inkbird. It will fit on any pots and provide a heating power of up to 1000 watts. You can use this to tenderize meat, fish, vegetables, and many others. It has a readable LCD screen to monitor your settings. The monitor also includes temperature settings and a timer. Furthermore, it allows you to choose the recipe, type of meat, and how done it'll be.
This gadget also has an alarm that does not only notifies you of its cooking status but also serves as a temperature and water alarm. If the water goes below the minimum, or the temperature goes higher than necessary, it will go off.
The Wi-Fi connectivity makes this one of the best sous vide cookers you could have. There is no limit as to the number of people who can connect. So,  you can share it with others who have the app.
Key Features:
Digital LCD Interface
1000 watts
Works with up to 4-gallon capacity
47.2 inches cord
With protection alarm
Quiet
Easy to use
2. OSTBA Sous Vide Cooker
Sous vide does not only slow cook food; it also helps the food retain nutrients and vitamins better than other methods of cooking. This easy to use and easy to store immersion circulator is one of the best sous vide devices for your home. You will no longer need a stove or thermometer, especially when cooking meat. It is less messy and more convenient, even for outdoor use, as long as you have a power source.
OSTBA is made of stainless steel. It makes it easy to clean, dry out, and store. It is also waterproof for added safety. There will be no risk of steam entering its internal parts because of its compact design making it durable and long-lasting. Moreover, it will last for approximately 10,000 hours of cooking!
This device has a digital control panel for temperature and time monitoring. Plus, if you are not comfortable with the metric system, it has an option to shift from °C or °F. This way, you can follow recipes without the hassle of conversion or estimation in some cases. It does not have a water level alarm. Instead, it will automatically stop working once the water level drops below the normal.
Key Features:
LED panel
1000 watts
Low water level protection
Precise temperature and timer
Ultra-quiet
Waterproof
3. Anova Sous Vide Immersion Cooker Nano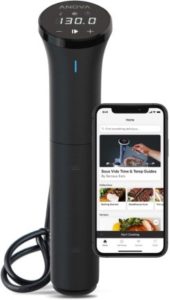 Anova is one of the best sous vide and top-rated brands among users. This Nano cooker is more than just its description. It may be small for easy storage, but it is also impressive when it comes to sous vide cooking. It operates at 750 watts, slightly lower than other cookers, but it delivers precise and perfect results for limitless types of food. It locks in moisture to retain the food's texture and taste. So, your home-cooked meal will always taste like a celebration.
This simple device also uses a Bluetooth connection so you can monitor your cooking through the Anova App. The intuitive app has thousands of recipes you can browse from so that you will never run out of ideas for your next meal. Connected cooking lets you do other jobs without constantly checking in your kitchen. It is the best device to have if you don't fancy spending much time by the stove.
The Anova Nano sous vide is good for a small family. It can provide food for a pot that's already good for up to four servings. So if you want to simplify your cooking chores without sacrificing quality, get yourself this handy little helper.
To get the best result, vacuum-seal your food pouch with the help of Anova Precision Vacuum Sealer. Getting the air out of the package helps retain the food's flavor. It will also help keep your food bag from floating during the cooking process. Additionally, you can use the Anova sealer bags for BPA-safe and tough packages.
Key Features:
750 watts
110-120V
5 gallons capacity
Bluetooth connectivity
Anova app
With free e-recipes
Good for 2-4 people
4. Breville Joule Sous Vide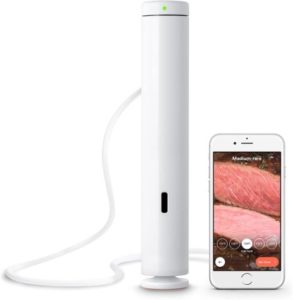 The Breville Joule is the best sous vide precision cooker if you want a powerful cooker, but you are a little tight on space. It is one of the smallest sous vide weighing only 1.1 pounds and no more than 11 inches tall. Thus, you can easily stash this anywhere without occupying much space.
Regardless of how small it may seem, Breville Joule is powerful. It heats up fast and runs at 1100 watts of power. That's quite more powerful than its double-size counterpart. It has a magnetic base that will latch firmly on your cast iron pot. It also has a versatile clip for clipping to any size of the cooking container.
The Joule is also Wi-Fi ready. It works with Amazon Alexa for a more hi-tech and hands-off cooking experience. The Joule app is one of the most comprehensive sous vide apps. It has a Visual Doneness feature that lets you see exactly how your food is cooking. Further, you can choose the doneness of the food, and it will automatically set the right temperature for you. So, you are always sure that the food will come out perfectly and how you want it to be.
Key Features:
1100 watts
120 V
Space-saver
Wi-Fi and Bluetooth connectivity
Joule App
Can work with Amazon Alexa
5. Imersa Elite Sous Vide Cooker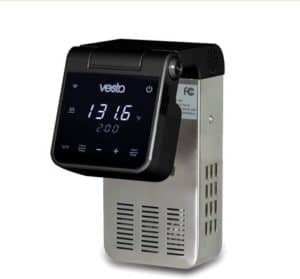 If you need something powerful that can heat 20-30 liters of water, then the Imersa Elite is the best sous vide for you. It has a unique motor that can heat and keep a stable temperature of a large volume of water. Vesta Precision distributes this product.
This device has a large readable display that you can easily view from a distance. This readable display is also touch-enabled. You can set the time and temperature with ease. If you need to get out of your kitchen, then you can still monitor the cooker through the Vesta App. This way, you can still do other chores while controlling the machine through a smartphone or other wireless device.
This sous vide has a wide foldable flip design that works best with a shallow container. The flip design makes it a bit safer. It positions the electronic parts away from the surface of the water to prevent the steam from damaging it. Like other cookers, the Imersa Elite has a water level protection system. To further add to your security, it has passed the European standard submersible safety requirement.
Key Features:
900 watts
110-120 V
Large readable touch display
Easy to store
Wi-Fi connectivity
Vesta App
IP68 and IPX7 safety standard
6. Instant Accu Slim Sous Vide

The Instant Accu immersion circulator has an active pump system. It heats and circulates water evenly for a more consistent temperature within the pot. You will always get that restaurant-quality dish wherever and whenever you want it with this sous vide. This extremely quiet cooker works on a 12V DC. This type of power source makes the product more durable than the AC system. The intuitive motor of this device also stops working once you remove it from the water.
This sous vide has a cooking time ranging from 10 minutes up to 72 hours. You will have no trouble slow cooking the food overnight. Its temperature ranges from 104F to 195F. This is equivalent to 40 up to 90 degrees in Centigrade. You can adjust the temperature at 1° increment for more precision. These features are included in its touch-screen control panel with a clear and easy to read design.
There are also thousands of recipes available in the Instant Pot app. The Instant Pot app is available for both iOS and Android mobile devices. So, if you have the lesser talent in cooking, you can still prep something out in a breeze. And no, you do not need an instant pot to use this. It will work pretty well on any 6 or 8-quart stockpot in your kitchen. This makes it the best sous vide for a small family.
Key Features:
12 V DC
Easy-to-read adjustable touch display
Good for 6 or 8-quart pot
Instant Pot App
Easy to store
7. Chefman Sous Vide Immersion Circulator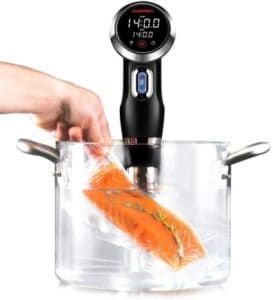 Enhance your culinary experience with the best sous vide immersion circulator from Chefman. This easy to use cooker has a unique 360 directional pump. Together with high-quality heating technology, it keeps a constant water temperature for more precise cooking. It also has a built-in smart sensor to monitor the water level. A flexible clamp allows you to securely attach it to the side of any heat-safe pot or container.
To enhance your cooking experience, it also features the mobile app Chefman Sous Vide. It not only keeps watch of your food in progress but also provides you with tips and tutorials aside from its hundreds of e-recipes. You can also view the sous vide cooking chart for the accurate temperature of various foods that you want to cook. You will notice that when the food gets to the proper temperature, it will retain its color and flavor. That explains why restaurant greens are vibrant and not undercooked.
This device also has a cETL safety standard. So, you can be sure of its durability and safety. From now on, you can update your everyday dishes into impressive meals with a little cheat and minimum effort.
Key Features:
1100 watts
120 V
43-inch cord
Digital Touch Screen Interface
Bluetooth and Wi-Fi connectivity
Chefman Sous Vide App
cETL approved
8. Sous Vide Art Store Starter Kit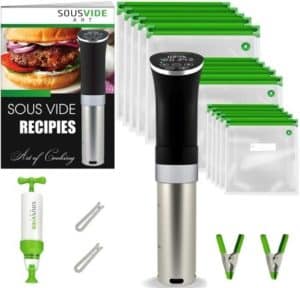 You don't have to look anywhere else with this complete sous vide set from the Sous Vide Art Store. This all-in-one sous vide package comes with an immersion circulator, vacuum bags, pump, and clips. It also includes a cookbook with hundreds of sous vide recipes. You can choose your meal from beginner to more advanced cooking. All these recipes are made easier and effortless with the sous vide cooker.
The immersion cooker has a 1000 watt fast heating capability. It features an ergonomic rubber grip for easy handling. Furthermore, the simple and intuitive digital interface allows convenient setup and monitoring. The sous vide cooker can also attach to any pot without trouble. You can also get the Rubbermaid Storage Container for a break-resistant Sous Vide pot if you want.
The starter kit includes reusable sous vide bags in various sizes. The inclusive clips secure the bag to the pot during the cooking process. It also has vacuum sealing clips and a hand pump. This vacuum hand pump ensures that the bag is free of air before cooking. Thus, you will achieve the desired tenderness, juiciness, and flavor of food in any cuisine.
Key Features:
1000 watts
120 V
All-in-one starter kit
Simple and intuitive control panel
With free cookbook
9. SAKI Sous Vide Cooker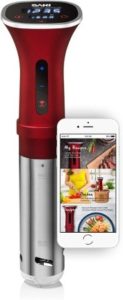 The SAKI Sous Vide Cooker stands out from the kitchen cupboard with its daring red color. However, aside from its contemporary and chic look, this is also one best sous vide cookers to consider. Like other immersion cookers, it also features a touch screen digital control. The crisp display allows you to control the time and temperature with ease.
You can also escape the kitchen for other chores while remotely monitoring your meal as it cooks. Just download the SAKI App and embrace remote cooking. Sift through the recipes in the app, and you will find thousands of sous vide recipes around the world.
This sleek immersion circulator has a stainless steel housing. Thus, it can withstand the heat and other elements without breaking. Additionally, it makes it easier to clean and dry. At 1100 watts, you will get your food ready in no time because of its fast heating time.
Key Features:
1100 watts
Contemporary design
Wi-Fi connectivity
Touch screen digital control
SAKI App
10. Dash Chef Series Sous Vide Bath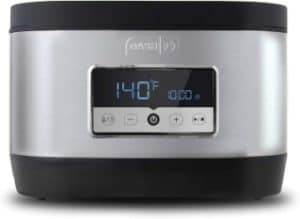 If you don't like the idea of the immersion stick cooker, then this Dash Chef Sous Vide is a better option. The container has a built-in motor for that Sous Vide advantage. Like your rice cooker, you simply plug it in, configure the settings, and leave your vacuum-packed food to cook by itself.
The LED digital control panel at the side of the pot has a touch sensor for easy operation. Dash Chef's cooking times range from 10 minutes up to 72 hours. Meanwhile, the temperature starts from 104-degrees and up to 194 F settings. The company also offers free vacuum bags and a hand pump.
The bottom of this sous vide pot has a magnetic drive agitator. It produces even heat and circulation as it cooks any food to perfection. In addition, a rack divider can accommodate several items to cook at the same time. With an 8 quart capacity, this is good enough for a small family. The device will surely make a good conversation starter. Thus, it deserves a space in your countertop for the foolproof gourmet or anything-else cooking every time!
Key Features: 
- Sous Vide Bath
- 700 watts
- 120 V
- Touch sensor control panel
- With rack divider
Why Do You Need the Best Sous Vide?
Do you really need a sous vide in your kitchen? Is it worth buying, or is it just another unnecessary luxury?
If you are living with a hectic schedule, we bet you need one. If you have a limited time for the kitchen, then you need a little hand. And, if you want perfection in your dishes, you should get one already. Here are a few practical reasons why sous vide is an essential kitchen tool for your home or boat-living.
It reduces the guesswork in cooking
It retains flavor, texture, and volume of meat and other produce
No-mess meal preparation
Cooking precision
Turn any food into a high-quality dish
Saves time and effort
Portable and handy
What to Look for in the Best Sous Vide
Before cashing in for a sous vide cooker, what exactly are the things you should look out for? Here, we have included some considerations to pick the best sous vide for you.
Power and Speed
The power of a sous vide, like any other equipment, is measured in its wattage. It determines how fast the water boils. The higher the sous vide wattage, the faster the heating performance is. Sous vide wattages usually range from 750w to 1100w. Pick up the highest wattage if you want to cut on cooking time.
Water Capacity
Water capacity is the amount at which your sous vide will work efficiently. In a sous vide bath, this is often fixed. The immersion circulator, however, is more versatile. Some work for an 8-quart container, while some sous vide will still work fine for up to 20 liquid quarts. So, if you need to cook something bigger, you may need to find only a large container. Hence, sous vide is more flexible when it comes to water capacity.
Size
Size doesn't really matter and does not affect performance. However, if you are tight on space, you may want to pick up the smallest tube rather than the bath-type sous vide. The bath type will occupy more space in your counter. The former makes for the best sous vide in terms of portability and easy storage.
Temperature
The cooking temperature is an important factor for any food preparation, making it a primary factor for precision cooking. Most sous vides have temperatures that range from 104 to 195 F or higher. Deciding on the right temperature is the hardest thing in sous vides cooking. However, most of them have the temperature chart included in their respective apps. It reduces the guesswork and promotes precision in cooking.
Connectivity Features
Remotely controlling your device is convenient, rather than just an exciting feature. The good thing is, most of the sous vide cookers today incorporate this handy element into their devices. It not only helps you monitor your meal from a distance, but it also contains tons of recipes, tips, and ideas to make your meal prep a whole lot easier.