Hello this is Audax Artifex. I have been a member of the Daring Kitchen since 2008. I enjoy the excitement each month of discovering the new challenge. Recently I have changed careers (I'm now an exercise therapist for people with depression and the super-obese), so I haven't had much time to do the challenges of late but I hope this will change once the new business is running smoothly. Also I love to write books about science and I'm working on a book about the "flow of time".
I'm excited about this challenge. I was given a new "authentic" recipe for spanakopita (spinach pie); my old spanakopita recipe was great, it was very popular (see this link) but this month's Greek recipe is fabulous and my friends agree after tasting it.
I have to thank my neighbour (she is called Mrs Maria) for the recipe. The combination of four kinds of onions with dill and the simple preparation process makes for a wonderful spinach pie. A number of different onions are used to counter the acidity of the spinach, the four types of onions add sweetness and a fresh taste to the filling. The filling ingredients are not cooked just massaged well with your hands, this is the traditional method unlike nearly all modern recipes which cook the spinach and the onions first and then add these to the filling. Only a small amount of feta is used unlike modern recipes which use a large amount of cheeses (usually feta, ricotta and sometimes parmesan cheese). This recipe uses breadcrumbs (or cous cous or cracked wheat) to absorb the excess moisture that is given off during the cooking process.
I hope you enjoy this recipe it was a lot of fun researching Greek sites and cooking with Mrs Maria.
Recipe Source(s):
The recipe is a very old family recipe from a friend of mine Mrs Maria.
Blog-checking lines: The February Daring Cooks' Challenge was hosted by Audax of Audax Artifex. The challenge brought us to Greece with a delicious, flaky spanakopita – a spinach pie in a phyllo pastry shell.
Posting Date: February 14, 2014
DOWNLOAD THE PRINTABLE FILE HERE
Notes:
1.spanakopita is all about the spinach, traditionally wild spinach is used, but baby spinach can be substituted, I used frozen spinach which seemed to work out fine. Frozen spinach gives out more liquid than fresh spinach. Swiss chard, silverbeet or beet(root) leaves or any other soft green leaves can be used. Watercress gives a very peppery taste while kale (which needs to be wilted by steaming first since the leaves are so tough) can be slightly tart.
2.only a small amount of feta is used to cut the slightly acid flavour of the spinach.
the phyllo (philo) pastry can be store-bought or you can make your own. I like the "thicker" style of phyllo it seems to suit the robust flavours of this spanakopita, also the thicker style sheets are much easier to handle
3.remember to cover your phyllo sheets with a damp tea towel to stop the sheets from drying out. Work quickly when working with phyllo pastry sheets. Use chilled phyllo if possible I find the frozen versions are usually of lower quality than the chilled varieties.
4.only butter/oil every second sheet of pastry this will encourage a light airy baked pastry shell in the final pie
5.Since the various forms of onions are called different names all over the world I have photos so you can identify each form for this recipe
6.leeks are used to bring some sweetness, the white and pale green parts of spring (green) onion (scallions) are used to give some mild sweet heat, red onions and shallots are added for their fresh sweet onion flavour
7.dill is essential for its herby, grassy flavour you can substitute with parsley or similar if you wish
8.butter gives a good colour and flavour to the pastry shell, I use pure butter for the final top sheets and a mixture of olive oil and softened butter for the sides and bottom of the pastry shell
9.also slice the spanakopita into serving-sized pieces before baking this will give clean edges to the pastry and the slices.
10.good extra virgin olive oil needs to be used in the filling
Mandatory Items: Prepare spanakopita in the traditional method that is use uncooked chopped spinach, chopped fresh onions (at least two types), fresh herbs, a small amount of feta cheese with breadcrumbs (or similar) to keep the phyllo pastry shell dry during baking.
Variations allowed: Any traditional recipe can be used so long as the filling is not cooked before baking the spanakopita and an ingredient (breadcrumbs or similar) is used to absorb the excess moisture given out by the filling during baking. It goes without saying that people with dietary requirements may substitute the "traditional" ingredients in favour of ingredients that are appropriate for them. Similarly, substitutions may be made where suggested ingredients are not readily available, or are cost prohibitive.
Preparation time:
Preparing spinach 15 mins
Preparing onions 15 mins
Preparing phyllo pastry shell 15 mins
Baking spanakopita 30mins-1 hour depending on depth of baking dish
Equipment required:
One pair of clean hands, ready to work!
Large mixing bowl
Two or three median mixing bowls
Knives for chopping spinach, onions and herbs
Scissors to cut phyllo sheets (if baking dish is an odd shape)
pastry brush to butter/oil the phyllo sheets
Baking dish (about 8 cups (2 quarts) in volume)
Recipe: Spanakopita
6- 8 Servings
Ingredients
2-3 very large bunches (1 kg) (about 2 pounds) fresh (or thawed frozen) spinach
1 packet (375 gm) (13 oz) chilled phyllo (phillo) pastry sheets, (or thawed frozen phyllo sheets), I used half the packet for this recipe, about 12 "thicker-style" sheets or about 20 "thin-style" sheets
2 cups (300 gm) (about 10 oz) good quality feta cheese, crumbled
1 bunch (30 gm) (1 oz) dill, soft stems and fronds finely chopped
1 red (Spanish) onion, chopped
2-3 shallot onions, chopped
1 bunch spring (green) (eshallots) onions, white and pale green parts chopped
1 large leek, well washed, white part chopped
Optional crushed garlic clove (only use one)
One half nutmeg, freshly grated (optional but highly recommended)
1 to 2 large eggs
4 tablespoons of good quality extra virgin olive oil
large handful breadcrumbs (or cous cous, cracked wheat) to absorb excess liquid
½ cup (120 ml) softened butter or olive oil (or a combination) for the phyllo sheets
Salt and pepper

Some ingredients: Spring onions, parsley (not used), leek, red (Spanish) onion, shallot, eggs, dill, butter and feta

Ingredients: Frozen spinach & phyllo pastry

Spring (green) (shallots) onions, red (Spanish) onion, shallots, garlic and leek
Directions:
1. Preheat oven to moderately hot 375°F/190°C/gas mark 5
2. Wash the spinach and dry thoroughly, discard the tough stems, chop or tear the leaves into pieces, place into a large bowl. (If using thawed chopped frozen spinach just place into a large bowl).

3. Add the chopped onions, chopped leek, finely chopped dill, four tablespoons of extra virgin olive oil, the crumbled feta cheese and the optional garlic and nutmeg.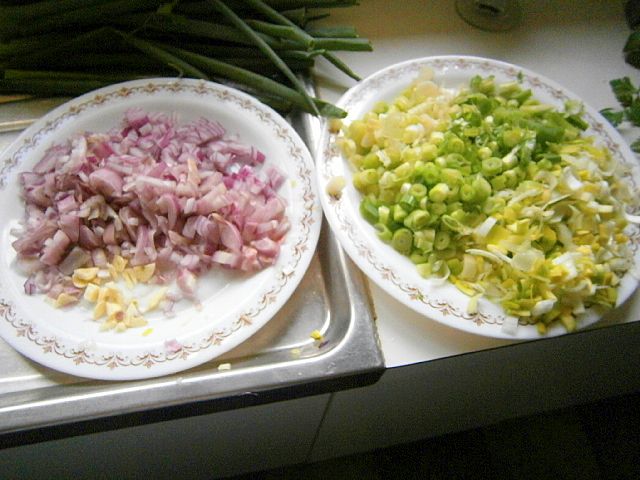 4. Using your hands vigorously massage the filling ingredients until the mixture loses about half to three-quarters its original volume.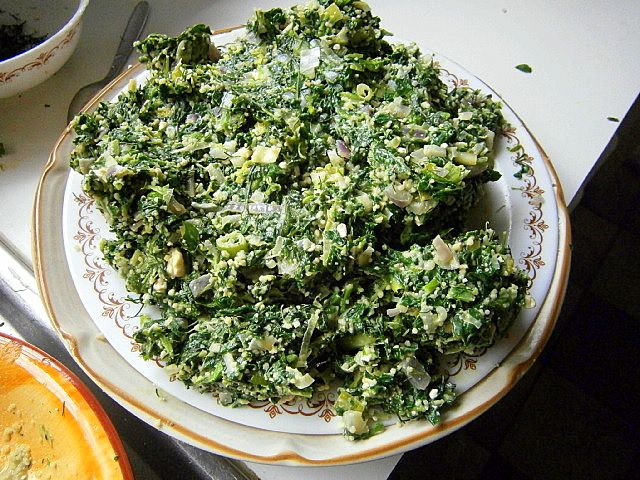 5. Over a bowl or a large plate squeeze large handfuls of the mixture till they feel dry, continue until you have done all of the filling mixture, and you have collected all the excess liquid.
6. Cover the excess liquid with enough breadcrumbs, cous cous or cracked wheat (or similar) to absorb the liquid. The breadcrumbs should be moist. I used ¾ cup of cous cous and it took about 5 mins to absorb nearly all of the liquid.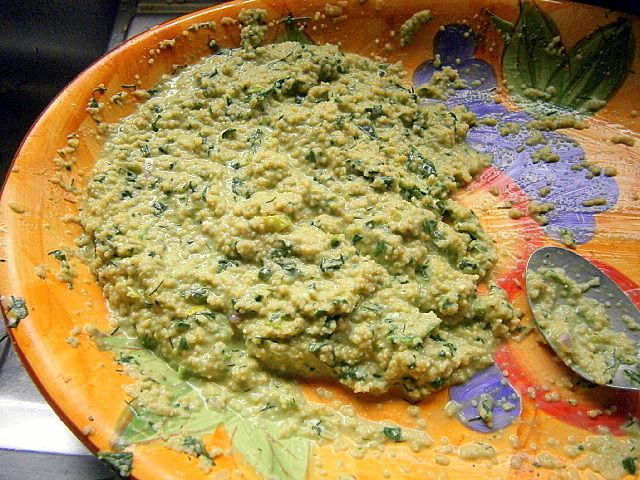 7. Return the moisture-laden breadcrumbs back into the filling mixture.
8. Add an egg (or two depending on how dry the mixture is) and mix well using your hands. Taste, season with some salt (careful feta contains lots of salt) and plenty of pepper. Set aside. The filling can be stored in the fridge for a day or two if well covered.
9. Butter (or oil spray) the baking dish.
10. Cover the phyllo sheets with a damp tea towel.
11. Cut (with a knife or with scissors) the phyllo sheets to the correct shape for your baking dish. Cover the cut sheets with the damp tea towel until needed.
12. Butter (or oil) every second sheet, cover the base and sides of your baking dish making sure that the sheets overhang the edges of the baking dish. Use about ten "thin-style" phyllo sheets or about six "thicker-stye" phyllo sheets for the base and sides

13. Spoon the filling into the phyllo pastry case.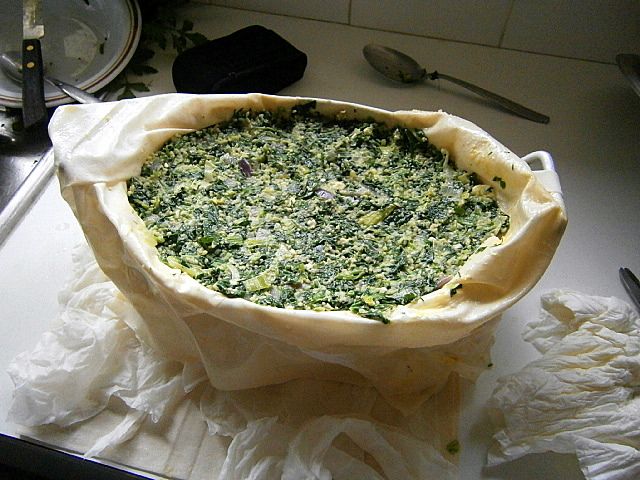 14. Fold the overhanging sheets over the filling.

15. Use four to six more "thicker-style" phyllo sheets or about eight "thin-style" phyllo sheets to cover the top, butter each layer. Use a spoon or similar to neaten the edges of the pastry case.

16. Cut into slices before baking. (At this stage you can freeze the unbaked spanakopita to be baked for later, add 30 mins extra to baking time.)

17. Bake in a preheated moderately hot oven for 30 mins up to one hour (depending on the depth of your baking dish). Cover with foil if over-browning. Mine took one hour and my dish was almost 6-inch (15 cm) high. Check for doneness by using a thin knife, insert it into the spanakopita for 30 secs, the filling should feel set and the knife should feel hot to the touch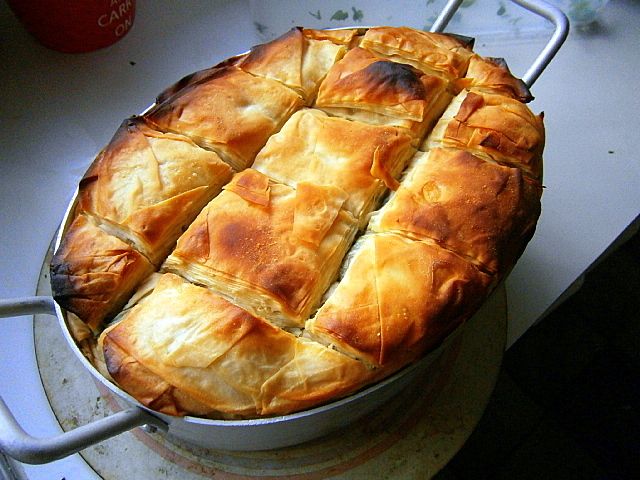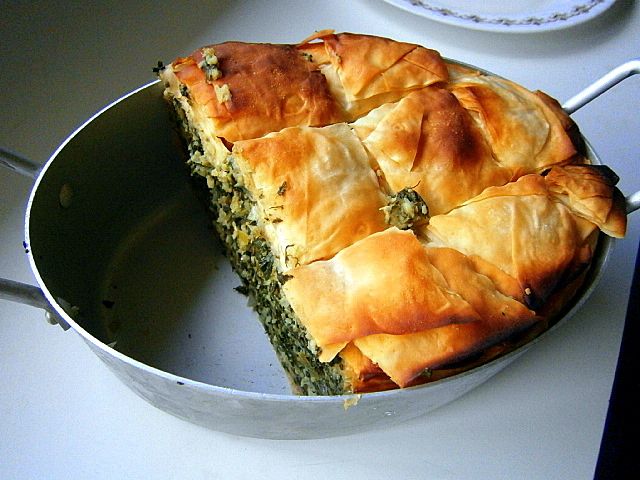 18. Cool for 30 minutes. Can be eaten hot or cold.

Kale and Watercress Greek Pie
I made a version using one large bunch of kale and watercress with ricotta cheese. It has a wonderful peppery/tart taste best for adults, if serving for children I would add some honey or maple syrup to the filling. Use the challenge recipe, replace the spinach with kale and watercress and the feta cheese with ricotta cheese.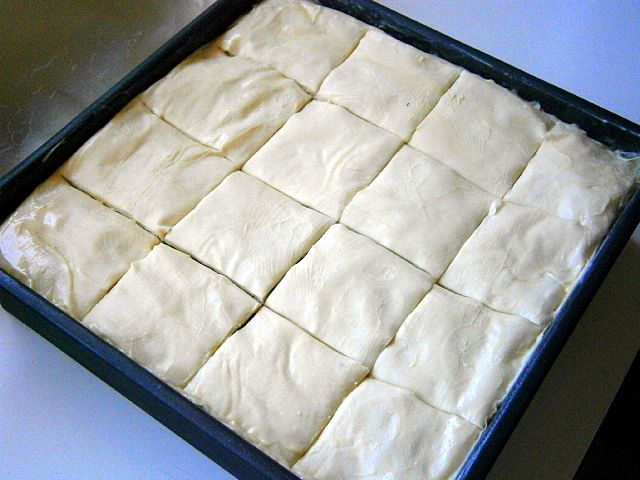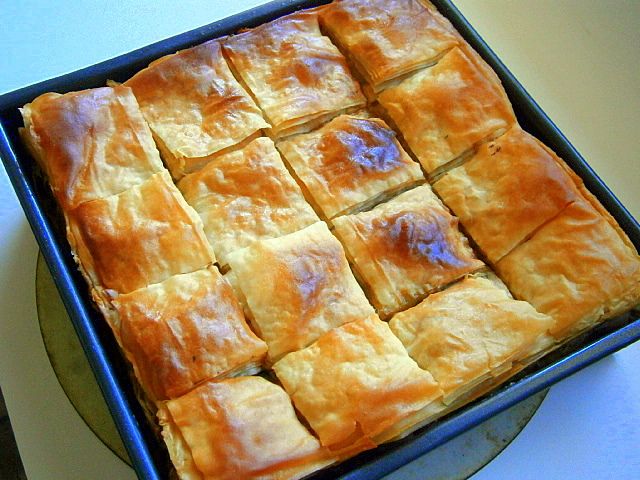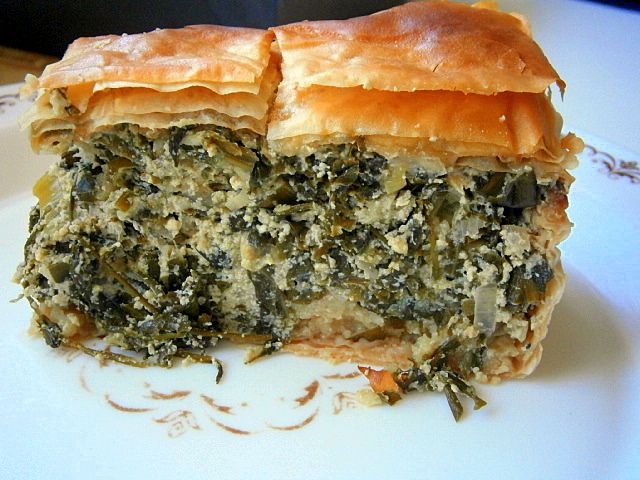 Notice how golden the base is on the kale/watercress Greek pie
Storage and freezing:
The unbaked sliced spanakopita can be frozen and then baked when needed add 30 mins to baking time. The spanakopita can be stored for 3 days in the refrigerator it can be reheated in a moderate oven or can be eaten cold.
Additional Information:
Include links to videos or information that can be of assistance to members.
Youtube video on "how to make phyllo pastry" http://www.youtube.com/watch?v=Zo1n3wJGW0Q
June 2011 Daring Bakers challenge "Phyllo to Baklava" http://devops.img.waybackdownloads.com/sites/default/files/u11/56_Phyllo_to_Baklava…
Disclaimer:
*Note: The Daring Kitchen and its members in no way suggest we are medical professionals and therefore are NOT responsible for any error in reporting of gluten-free ingredients. If you have issues with digesting gluten, then it is YOUR responsibility to research the ingredient before using it. If you have allergies, it is YOUR responsibility to make sure any ingredient in a recipe will not adversely affect you. If you are lactose intolerant, it is YOUR responsibility to make sure any ingredient in a recipe will not adversely affect you. If you are vegetarian or vegan, it is YOUR responsibility to make sure any ingredient in a recipe will not adversely affect you. Please consult your physician with any questions before using a product you are not familiar with. Thank you!