Spinach Fritters- Freshly steamed spinach seasoned with salt combined with buttermilk, flour, and rich feta cheese are pan-fried in a skillet until perfectly golden brown to make a savory, crispy, crunchy cake that can be enjoyed for any occasion.
Have you ever had a fritter? Have you ever had a fritter? If not, you're really missing out because they are delicious! Fritters are basically a savory or sweet cake that is fried in oil. They can be made with all sorts of different ingredients, typically potatoes or other starchy vegetables, but my personal favorite is spinach fritters. They're equally delicious, and believe it or not; these savory little patties are a great way to get your daily dose of leafy greens.
Sometimes you just need a little something to take the edge off. You know, something that's not too heavy but is still satisfying. That's where spinach fritters come in. They're perfect for when you're feeling a little snacky but don't want to resort to unhealthy junk food. Plus, they're really easy to make! All you need is some fresh spinach, an egg, some flour and salt, and some oil for frying. So why not give them a try? You might be surprised at how good they are!
Why You'll Love This Spinach Fritter Recipe
Quick- In less than 30 minutes, these spinach fritters can be prepped, cooked, and ready to enjoy!
Adaptable- Whether served as an appetizer, a snack, or a meal, You can customize these tasty spinach cakes for any occasion.
Family-Friendly- These light and airy cakes are so delicious that the entire family will enjoy them. They won't even realize they're full of vegetables!
A Great Snack- Crisp and crunchy fritters make the perfect healthy afternoon snack.
Easy- Made with simple ingredients and equipment, even a beginner cook can make these crispy cakes.
Equipment Needed To Make Spinach Fritters
Steaming Basket

Colander

Spatula

Cutting Board

Whisk

Mixing Bowl

Stirring Spoon

Skillet

Measuring Cups and Spoons

Ingredients For Your Fritters With Spinach
Buttermilk

Olive Oil

Egg

Spinach

Salt

Flour

Baking Powder

Crumbled Feta

Basil Pesto

Tomatoes
How To Make Spinach Fritters
To begin, use a steaming basket to steam the spinach until wilted. Transfer the spinach to a colander and press with a spatula to remove any excess liquid. Use a cutting board to chop the spinach and set it aside.
Add egg with the liquid ingredients in a mixing bowl and whisk until smooth. Add spinach, season with salt, and stir until well combined. Lastly, fold in feta cheese.
Heat oil in a skillet and drop approximately 2 tablespoons of mixture into the skillet, and cook until golden brown on each side.
Serve crispy fritters warm, topped with basil pesto and cherry tomatoes.
What to Serve/Pair with Skillet Spinach Fritters
Dipping sauces- Try a yogurt dill sauce, tzatziki, or ranch dressing.
Salad- Serve your patties with a side salad for a light meal.
Vegetables- These make a great side dish with roasted or grilled vegetables.
Bread- Pairs well with crusty bread, Flatbread, or pita.

Popular Substitutions & Additions
Vegetables- Use any combination of vegetables that you like. Try grated carrots, diced sweet potatoes, or shredded cabbage.
Cheese- Swap out the feta for goat cheese, cheddar, parmesan, or mozzarella.
Binding Agent- If you don't have buttermilk on hand, you can use milk, cream, or plant-based milk instead.
Herbs- Add in some chopped fresh herbs for extra flavor. Basil, oregano, and thyme would be good choices.
How To Reheat & Store Fritters Made With Spinach
What Is The Best Way To Store Spinach Fritters?
These crispy spinach cakes are best stored in an airtight container in the refrigerator.
How Long Will Fritters In the Fridge?
Spinach fritters stored correctly in an airtight container will last up to 5 days in the refrigerator.
Can I Freeze Spinach Fritters?
Yes. Fritters made with spinach may be frozen for up to 2 months. Before freezing, place them in a freezer-safe container and cover them with plastic wrap or aluminum foil. Remove the patties from the freezer and let them thaw overnight in the refrigerator before reheating them.
How To Reheat Skillet Spinach Fritters?
There are a few different methods to choose from when it comes to reheating spinach fritters. Heating them in the same way you cooked them is your first choice. Second, fritters may be microwaved for approximately 30 seconds or until warmed through. Finally, if you have an air fryer, you can cook them for about 4 minutes at 350 degrees Fahrenheit.

Skillet Spinach Fritter FAQs
Do I have to use fresh spinach for this fritter recipe?
No, you can use frozen spinach. Just be sure to thaw it first and squeeze out any excess water before adding it to the batter.
What is the best way to keep these fritters crispy?
Once cooked, transfer the patties to a wire rack and let them cool completely; this will help them to stay crisp. Before serving, you can also reheat them in an air fryer or in a hot skillet.
Can I add herbs to this recipe?
Yes. Chopped fresh herbs are a great way to add extra flavor. Try adding basil, oregano, or thyme.
Why are my fritters soggy?
If your fritters are soggy, it is most likely because you didn't squeeze the moisture out of the spinach well enough. Be sure to really squeeze the vegetables to remove as much water as possible before frying.
Can I make these skillet spinach fritters ahead of time?
Yes! You may prepare the fritter mixture ahead of time and keep it in the refrigerator for up to 24 hours. Simply pan-fry them until golden brown and crispy when you're ready to eat them.
Do I need to add olive oil to the skillet between each batch of fritters?
No. You do not need to add olive oil between each fritter batch. If the skillet becomes dry while cooking the fritter patties, you can add a tiny bit of oil to prevent them from sticking.

Don't Forget To Come Back And Let Me Know How Your Spinach Fritters Turned Out!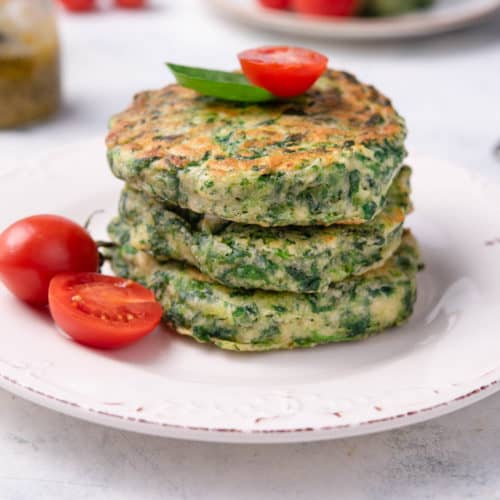 Skillet Spinach Fritters
Steamed spinach seasoned with salt mixed with buttermilk, flour, and feta are pan-fried until golden to make a crispy cake that can be enjoyed for any occasion.
Print
Pin
Rate
Ingredients
¾

cup

buttermilk

2

tbsp

olive oil

1

egg

1

cup

steamed spinach

½

tsp

salt

1

cup

flour

½

tsp

baking powder

½

cup

crumbled feta

Basil pesto

to serve with

Fresh tomatoes

to serve with
Instructions
Prepare Spinach
Steam spinach in a steaming basket until wilted.

Transfer the spinach to a colander and press with a spatula to remove excess liquid.

Chop the spinach on a cutting board.
Make the Fritters
Whisk buttermilk, olive oil, and egg in a mixing bowl.

Add spinach and season with salt.

Stir until combined. Whisk in flour and baking powder.

Heat some oil in a skillet, over medium-high heat.

Drop around 2 tbsp of mixture into the skillet.

Cook the fritters for 2 minutes per side, or until golden.

Serve fritters warm, topped with basil pesto, and cherry tomatoes.
Nutrition
Calories:
208
kcal
|
Carbohydrates:
24
g
|
Protein:
7
g
|
Fat:
10
g
|
Saturated Fat:
2
g
|
Polyunsaturated Fat:
1
g
|
Monounsaturated Fat:
6
g
|
Trans Fat:
1
g
|
Cholesterol:
46
mg
|
Sodium:
407
mg
|
Potassium:
185
mg
|
Fiber:
3
g
|
Sugar:
2
g
|
Vitamin A:
136
IU
|
Calcium:
98
mg
|
Iron:
1
mg