Spinach Gnocchi- A vibrant green dough made with baked mashed potatoes, freshly sauteed spinach, and flour. The dough is rolled out and sliced into small pieces, which are then cooked in boiling water until they float. Spinach gnocchi is then tossed with delicious parmesan and served warm.
Gnocchi, pronounced NEE-okee, is a delicious Italian pasta that is made from starchy baked potatoes. It's a little bit like dumplings in texture, and they are often served with a tomato-based sauce but can also be dressed up with your favorite herbs and spices.
While you can buy frozen gnocchi at the store, it's really easy to make them at home, and they only require a few simple ingredients. Give this recipe a try – you won't be disappointed! The green color of the dough will add a fun pop of color to your meal, and the spinach will give them some extra nutrients.
Why You'll Love This Spinach Gnocchi With Parmesan Recipe 
Flavorful- This spinach gnocchi is full of flavor! The parmesan cheese gives them a delicious, cheesy taste, while the spinach adds a pop of color and extra nutrients.
Simple- This recipe is easy to make with just a few ingredients. You can even make the gnocchi ahead of time and freeze them for later.
Hearty- Serve this gnocchi with your favorite sauce for a comforting, filling meal.
Perfect for Any Occasion- Whether you're looking for a fun dish to serve at your next dinner party or a cozy meal to make on a weeknight, this recipe is perfect.
Better Than Store-Bought- This homemade spinach gnocchi is so much better than the store-bought variety. You'll be surprised at how easy they are to make!
Equipment Needed To Make This Spinach Gnocchi
Baking Sheet 

Parchment Paper

Fork

Spoon

Mixing Bowl

Potato Masher

Skillet

Sieve

Blender or Food Processor

Knife

Slotted Spoon or Colander

Spatula

Ingredients For Gnocchi With Fresh Spinach
Starchy Potatoes

Olive Oil

Fresh Spinach

Flour

Salt

Parmesan Cheese
How To Make Spinach Gnocchi
Preheat the oven to 400 degrees Fahrenheit. Place potatoes on a parchment paper-lined baking sheet. Use a fork to create holes all over the potatoes before placing them in the oven for about 45 minutes or until they are tender.
Cut them open when the potatoes are soft and let the steam escape. Using a potato masher, mash up the insides of the potatoes in a bowl.
In a skillet, heat olive oil and sauté the spinach until soft. Puree the spinach until almost smooth in either a blender or food processor. Remove any extra liquid from the cooked spinach by pressing it through a sieve.
In a mixing bowl, combine the flour with the potato. Mix until thoroughly combined and clumps disappear. Add the spinach and salt and stir until uniform and a dough has formed.
Divide the dough into 4 equal parts. Roll out each portion on a flour-dusted countertop. Cut the dough into your preferred size gnocchi.
You may leave the gnocchi as they are, indent the center with a finger, or roll them over the back of a fork for a more authentic gnocchi appearance.
Cook the gnocchi in a pot of lightly salted boiling water until they rise to the top. Remove the gnocchi with a slotted spoon or a colander and drain them.
Serve warm, sprinkled with parmesan. Enjoy!
What to Serve/Pair with Your Spinach Gnocchi
It can be hard to decide what to serve with your fresh spinach gnocchi with so many delicious options. Luckily, we've got a few ideas to help you out!
A simple green salad

Roasted vegetables

Sautéed shrimp

Chicken breasts

Crispy bacon

Sausage
We're sure it'll be a hit no matter what you choose!

Popular Substitutions & Additions
If you don't have any spinach on hand, feel free to substitute another green vegetable. Kale or Swiss chard would work well in this recipe.

For a bit of extra flavor, try adding some garlic to the gnocchi dough.

If you want a cheesy spin on this dish, try adding some mozzarella or cheddar cheese to the gnocchi.

If you're not a fan of Parmesan cheese, you could substitute another type of grated cheese in its place.

Try adding some red pepper flakes to the dish for a bit of spice.
How To Reheat & Store Fresh Spinach Gnocchi
What Is The Best Way To Store Gnocchi With Fresh Spinach?
Spinach gnocchi is best stored in an airtight container in the refrigerator.
How Long Will Spinach Gnocchi Last In the Fridge?
This gnocchi with fresh spinach will keep for up to 3 days if kept in an airtight container in the refrigerator.
Can I Freeze This Spinach Gnocchi With Parmesan?
Yes. Spinach gnocchi is a great make-ahead and freeze dish! Simply cook them according to the recipe when you're ready to eat. You can freeze the uncooked gnocchi for up to 3 months in an airtight container. 
How To Reheat Spinach Gnocchi?
To reheat, cook the gnocchi in a skillet over medium heat until warmed through. You could also reheat spinach gnocchi in the microwave if desired.

Spinach Gnocchi With Parmesan FAQs
What's the best type of potato to use for gnocchi?
While there are many different types of potatoes you could use for this recipe, I'd recommend using starchy potatoes like russet or Idaho potatoes.
I don't have a potato masher. Can I use something else?
If you don't have a potato masher, you could use a fork or even your hands to mash the potatoes.
Do I have to use a fork to poke holes in the potatoes?
No, you don't have to poke holes in the potatoes. However, it does help them to cook faster and evenly.
Do I need to use a food processor or blender to make this recipe?
While we think the spinach puree adds a great deal of flavor to the dish and a more satisfying texture, you could skip this step if you don't have a food processor or blender. Simply chop the spinach as finely as possible by hand and add it to the dough.
Can I make this recipe without the Parmesan cheese?
Yes. If you're looking for a dairy-free option, simply omit the Parmesan cheese or use any dairy-free cheese that you like.
How do I know when the spinach gnocchi is done cooking?
The gnocchi is cooked through when it floats to the surface. You could also insert a toothpick into the center of one of the gnocchi. If it comes out clean, the gnocchi is done.

Don't Forget To Come Back And Let Me Know How Your Spinach Gnocchi Turned Out!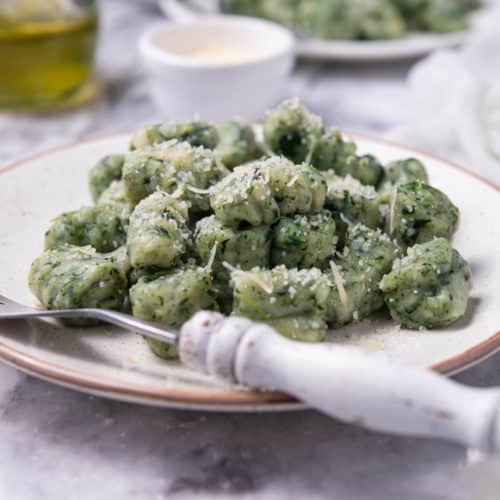 Spinach Gnocchi with Parmesan
Vibrant dough made with mashed, baked potatoes and sauteed green spinach is cut into bits and boiled, then tossed with freshly grated parmesan and served warm.
Print
Pin
Rate
Ingredients
1

lb

starchy potatoes

1

tbsp

olive oil

10

oz.

spinach

fresh

¾

cup

flour

Salt

to taste

Freshly grated parmesan

to serve with
Instructions
To Prepare Potatoes
Preheat the oven to 400F.

Place potatoes on a baking sheet, lined with parchment paper.

Prick each potato with a fork, all over the surface.

Bake the potatoes for 45-50 minutes or until tender. Once baked, open them immediately to let the steam escape. Be careful, as they are extremely hot.

Scoop out the potatoes and place them in a bowl. Mash them using a potato mash.
To Prepare Spinach
Heat olive oil in a skillet.

Add spinach and cook until wilted. Transfer the spinach into a sieve and press firmly to remove excess liquid. Blend or process the spinach in a food blender or processor until you have almost a puree.
To Prepare Gnocchi Dough
Add flour to the mashed potatoes and stir until just combined.

Add spinach and some salt to taste.

Stir the potato dough until it comes together. Do not overmix or your gnocchi will be too chewy.

Divide the potato dough into four equal parts. Roll each part on a dusted kitchen counter to a 1-inch-thick long log.

Cut the potato dough into gnocchi. The size depends on your taste.
To Shape the Gnocchi
You can leave them as they are or you can make an indent in the center by poking the dough with a finger or roll the gnocchi over the back of a fork for a genuine gnocchi appearance.
To Cook the Gnocchi
Cook the gnocchi in salted simmering water until they float on the top.

Remove the gnocchi with a slotted spoon or drain in a colander.

Serve warm, sprinkled with parmesan.
Nutrition
Calories:
213
kcal
|
Carbohydrates:
39
g
|
Protein:
7
g
|
Fat:
4
g
|
Saturated Fat:
1
g
|
Polyunsaturated Fat:
1
g
|
Monounsaturated Fat:
3
g
|
Sodium:
62
mg
|
Potassium:
950
mg
|
Fiber:
5
g
|
Sugar:
1
g
|
Vitamin A:
6649
IU
|
Vitamin C:
26
mg
|
Calcium:
93
mg
|
Iron:
4
mg