Is spinach good for you? Let us put it this way. In a world where so many good things are associated with the color green--we're talking growth, prosperity, wealth, safety, and luck to name just a few--spinach is no exception to the rule. Therefore, it's no real surprise that one of the greenest vegetables out there also doubles as one of the world's healthiest foods!
If you're looking to know more about the health benefits of eating spinach, you've come to the right place. We're going into detail on the nutritional content of this leafy green vegetable, explaining why verdant veggies like spinach have such a positive effect on the human body, and answering the question "why is spinach good for you?" once and for all!
How Much Spinach is a Serving?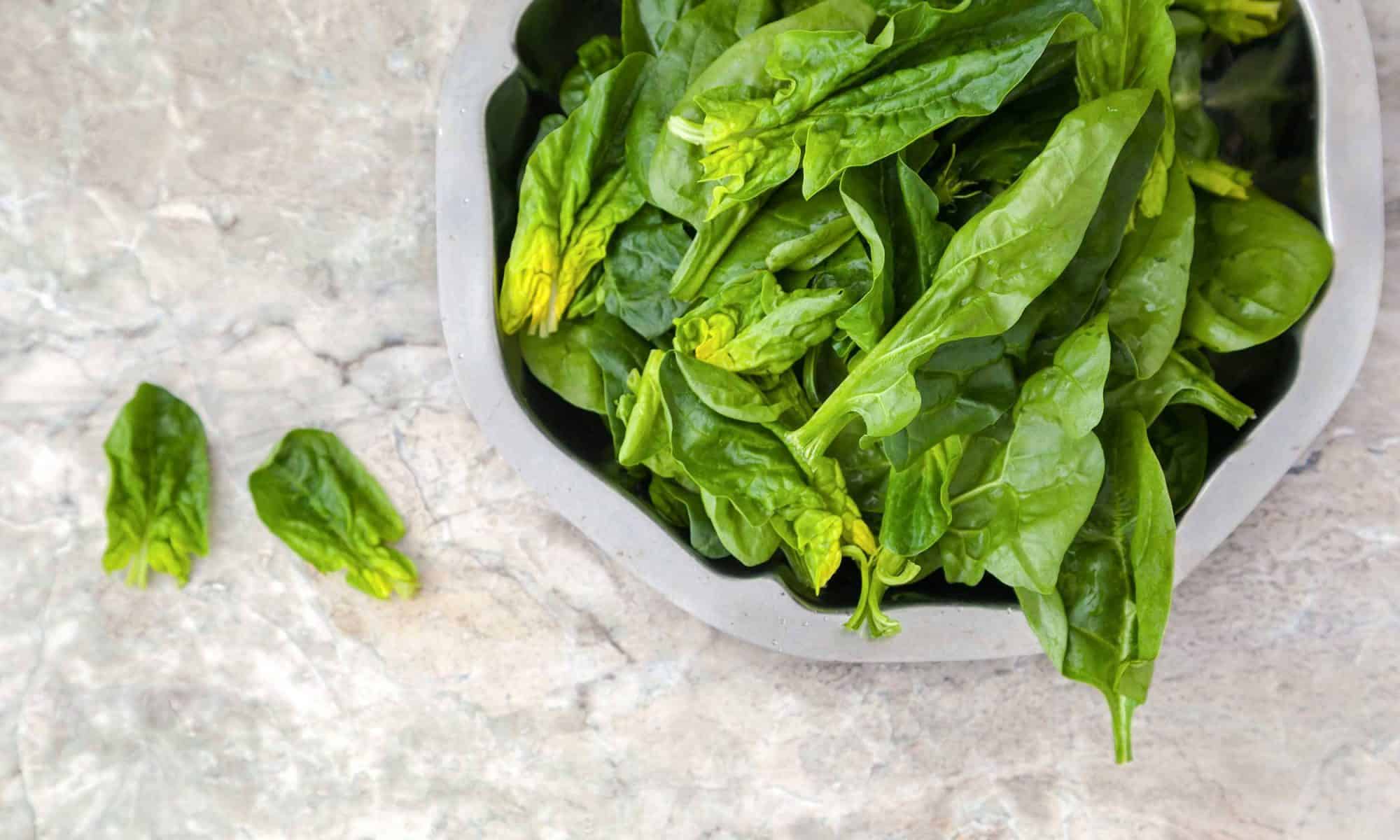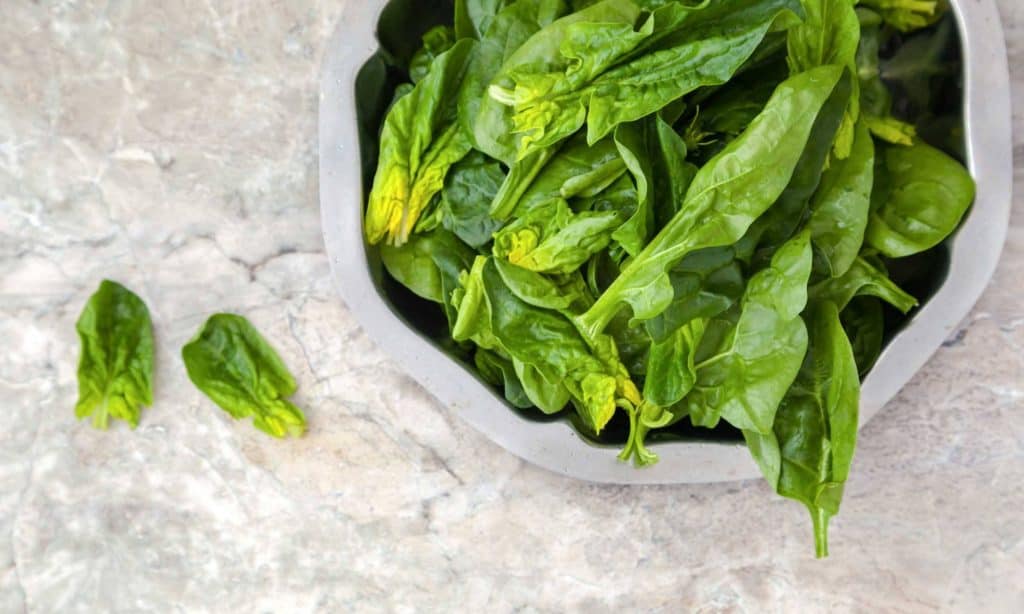 Before we can discuss details on how much of which nutrients are in those pretty green spinach leaves, we first have to establish a standard of measure. Enter: the serving size!
Spinach and other leafy greens can actually be a bit tough to accurately measure by volume (i.e. your standard measuring cups) due to the fact that there will always be a decent amount of air volume caught between and around the leaves you are attempting to quantify. In addition, the different types of spinach will measure differently as well, as flat-leaf baby spinach is much more compact than crinkly, large-leaved savoy spinach.
The best and most accurate way to measure a raw, leafy green like spinach, therefore, is by weight. For this article, we've opted to use 100 grams as the serving size, which also equates to about 3.5 ounces by weight. Using this method, you can easily determine the nutrition content of your spinach, no matter what type of spinach it is, or whether it is cooked or raw.
As you might expect, the volume of cooked spinach will be dramatically different than that of fresh spinach. As a rule of thumb, 1 pound of fresh spinach leaves (about 450 grams) will yield just one cup cooked!
Spinach Nutrition Facts
Here we go! A full breakdown on the nutritional value of spinach, from macronutrients to vitamins, minerals, and other health benefits.
How Many Calories in Spinach?
About 23 calories per 100 gram serving. 
Spinach is an amazingly low-calorie food, delivering just 23 calories per 100 gram serving. The best part? Spinach is also surprisingly filling! It's true that some of this "full" feeling can be attributed to the high water content in each spinach leaf, but also, spinach has a ton of fiber (more on that in a moment), thereby filling you up at a low-calorie price.
How Much Protein in Spinach?
About 2.9 grams per 100 gram serving.
We know what you're thinking. Protein is found in foods like meats, eggs, beans, and whole grains. How much protein can a green leaf like spinach possibly offer you? As it turns out, a surprising amount!
Delivering almost 3 grams of protein per serving, spinach is no weakling when it comes to protein content. The recommended daily intake for protein as per the FDA is 50 grams for a healthy adult, so it's true you'd have to eat a LOT of spinach to get there. We definitely don't recommend this method, but as part of a diet filled with other protein sources, spinach is definitely a quality step along the way.
On top of this, when it comes to protein, there are 9 specific amino acids which we consider to be "essential" due to the fact that the human body is incapable of generating them on its own. The protein found in spinach contains all 9 of these essential amino acids, making it a complete protein to boot!
How Much Fat in Spinach?
About .4 grams per 100 gram serving.
As you might expect from a green leafy food such as spinach, it is certainly a lean food as well. There is a very small amount of fat contained in this vegetable, less than half a gram per 100 gram serving in fact!
Now, we don't blame you if you'd like a bit of fat to help all of these fibrous greens go down a bit easier, but it is best to be mindful of which fats you are choosing to pair with your spinach. Rather than sautéing your spinach in a ton of refined oils or drowning your salad in processed dressing, opt for heart healthy coconut and olive oils for cooking and dressing.
How Many Carbs in Spinach?
About 3.6 grams per 100 gram serving.
Spinach gets most of its calories from carbohydrates, therefore, this macronutrient is the highest of all. While it's good to know the total carb content of a food, arguably the more important number is the net carbs. This figure is calculated by subtracting the amount of fiber from the amount of carbs.
Why are net carbs calculated? Because this gives you the number of carbohydrates which will actually be digested by your body and thereby impact your blood sugar, and factors out any indigestible carbs which will merely pass through your system.
We'll talk more about fiber in the next section, but for carbohydrate purposes, you can consider the net carb count of 100 grams of spinach to be 1.4 grams.
How Much Fiber in Spinach?
About 2.2 grams per 100 gram serving. 
In today's world of highly processed foods and convenience items, dietary fiber is one nutrient which is not always easy to get an adequate intake of! Depending on body size, a healthy adult should aim for anywhere between 21-38 grams of fiber per day. This means that one 100 gram serving of spinach can provide anywhere between 5 to 10% of your daily value of this important nutrient!
It's worth noting, there's two types of fiber to be aware of. Soluble fiber is a type of fiber which dissolves in water (i.e. the pectin found in fruits and grains) while insoluble fiber does not dissolve in water--think the tough parts of fruits and veggies. Both types of fiber are important for your health, especially your digestive system, and while spinach contains some of each, it does offer a higher proportion of the insoluble stuff.
What Minerals are in Spinach?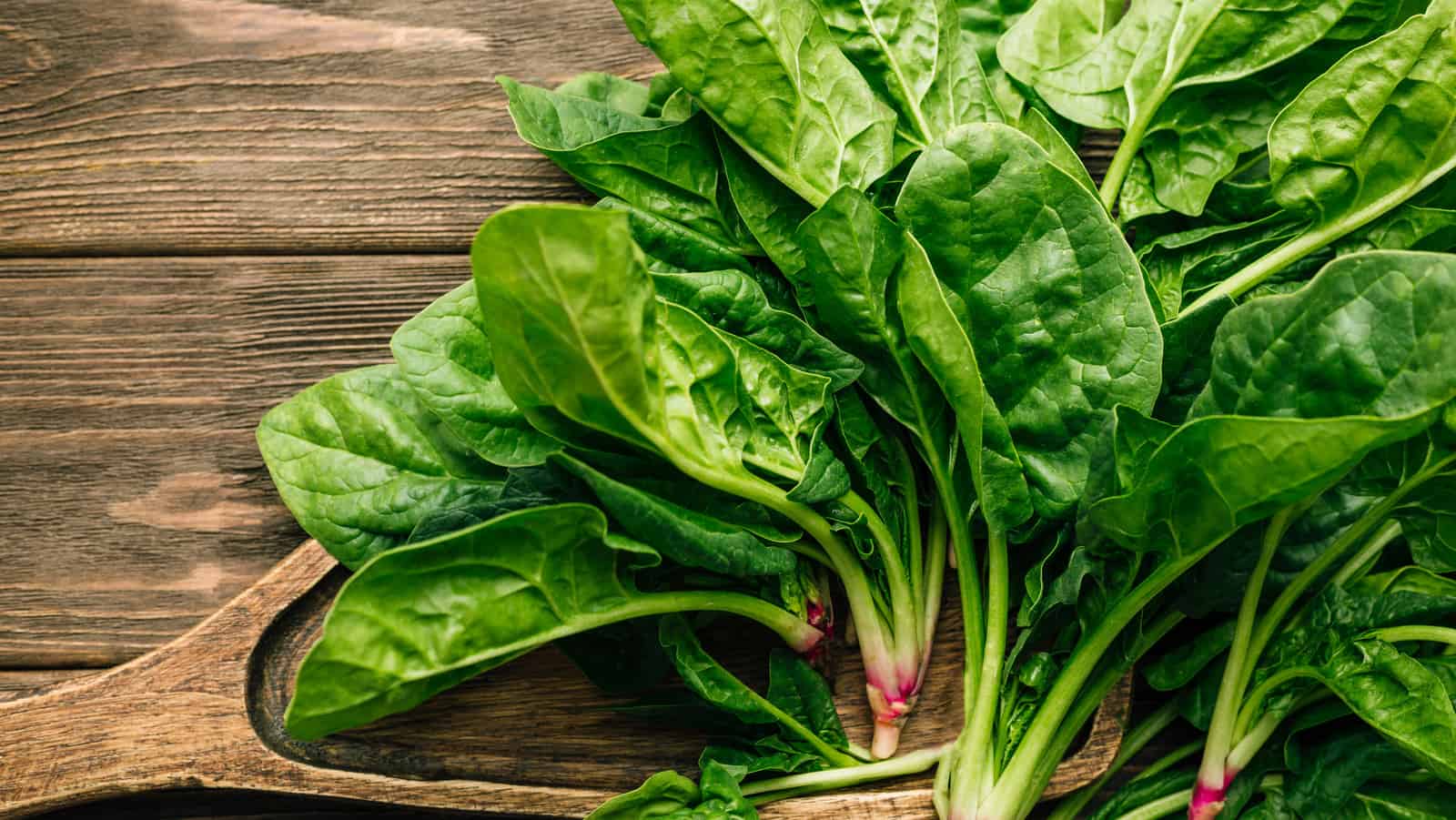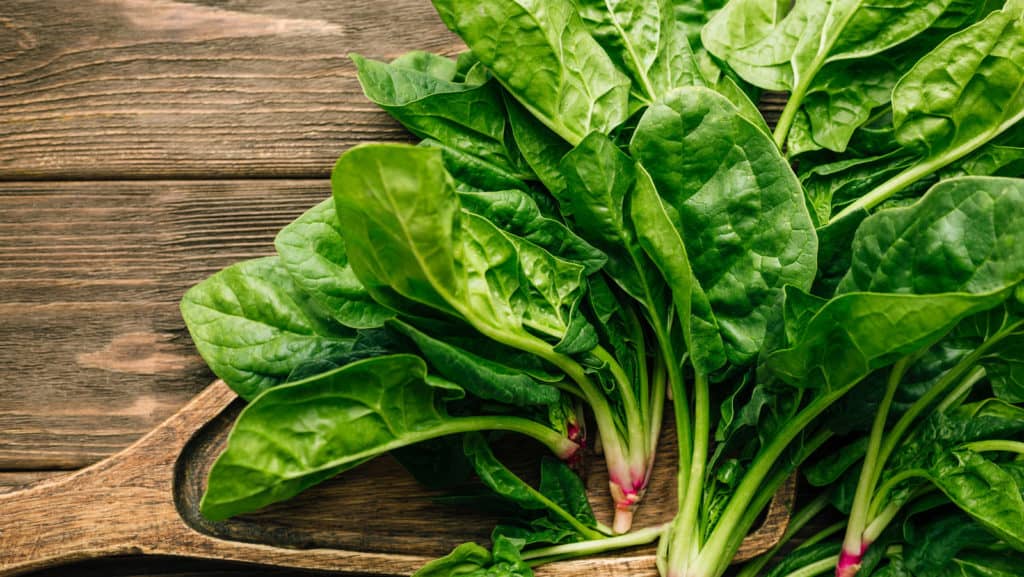 Spinach is chock full of healthy minerals, each of which provides several health benefits.
How Much Iron in Spinach?
About 2.7 milligrams per 100 gram serving.
At long last, we have arrived at the nutrient which spinach is perhaps most well-known for: iron!
This may not sound like very much, but the truth is, you don't need all that much. The National Institute of Health recommends a daily intake of just 8 milligrams for adult men and women over 50, while younger women require more iron, about 18 milligrams per day.
Just why is this element so important for the human body? Iron is vital to the production of hemoglobin, which are the blood cells that transport oxygen from the lungs, through the blood vessels, to all other bodily tissues--including your brain and muscles! Iron deficiency can therefore cause weakness, fatigue, and issues with blood clotting among other problems.
How Much Calcium in Spinach?
About 99 milligrams per 100 gram serving.
With a recommended daily intake of 1000-1200mg per day, spinach is a major player in helping you get to your daily dose of calcium! This mineral is widely associated with bone health, but plays important roles in other areas of your body as well. Calcium is necessary for muscle movement, nerve function, and hormone regulation to name a few.
How Much Potassium in Spinach?
About 558 milligrams per 100 gram serving.
Step aside bananas, spinach has gone unappreciated in the potassium department for far too long! As it turns out, spinach is an excellent source of potassium, delivering almost 560 milligrams per serving!
A healthy adult should aim for between 2600 to 3400 milligrams of this stuff per day--so do the math and you can see that one serving of spinach gets you pretty far, about 25% more than the same amount of a banana in fact.
How Much Magnesium in Spinach?
About 79 milligrams per 100 gram serving.
Magnesium is an essential mineral which can be tough to find good sources of in your day to day diet. The average adult needs about 420 milligrams of magnesium per day! Spinach has a decent quantity, as does nuts and nut butters, other leafy greens, beans, whole grains, and meats and poultry.
Magnesium is vital to many bodily systems, including cardiovascular and heart health. Low magnesium levels are thought to be associated with high blood pressure, migraine headaches, mood disturbances, and heart disease.
What Vitamins are in Spinach?
Spinach has a great many vitamins to offer, all you have to do is eat it! Let's examine a few of the most important vitamins that spinach contains.
Vitamin C
Spinach contains about 28 milligrams of vitamin C per serving. With a recommended daily intake of 75 to 90 milligrams for men and women respectively, spinach provides a decent chunk of this nutrient! Vitamin C is important for growing and repairing cells as well as healthy immune function.
Folate
Also known as folic acid when in synthetic form, such as that which is found in supplements, folate is a member of the B vitamin family. There are 194 micrograms of the stuff in every 100 gram serving of spinach, getting you about halfway to your daily allowance of this nutrient!
Vitamin K
Spinach is rich in vitamin K, providing about 483 micrograms per serving! This vitamin is important for healthy blood clotting function and some studies indicate that adequate intake of vitamin K may help maintain healthy bones and also result in a lower risk of bone-related disease such as osteoporosis.
Vitamin E
At just 2 milligrams per serving, the amount of vitamin E per serving of spinach might sound small, but just 15 milligrams per day is all you need to help maintain good vision, promote healthy skin, and reduce free radical damage to cells.
Other Health Benefits of Spinach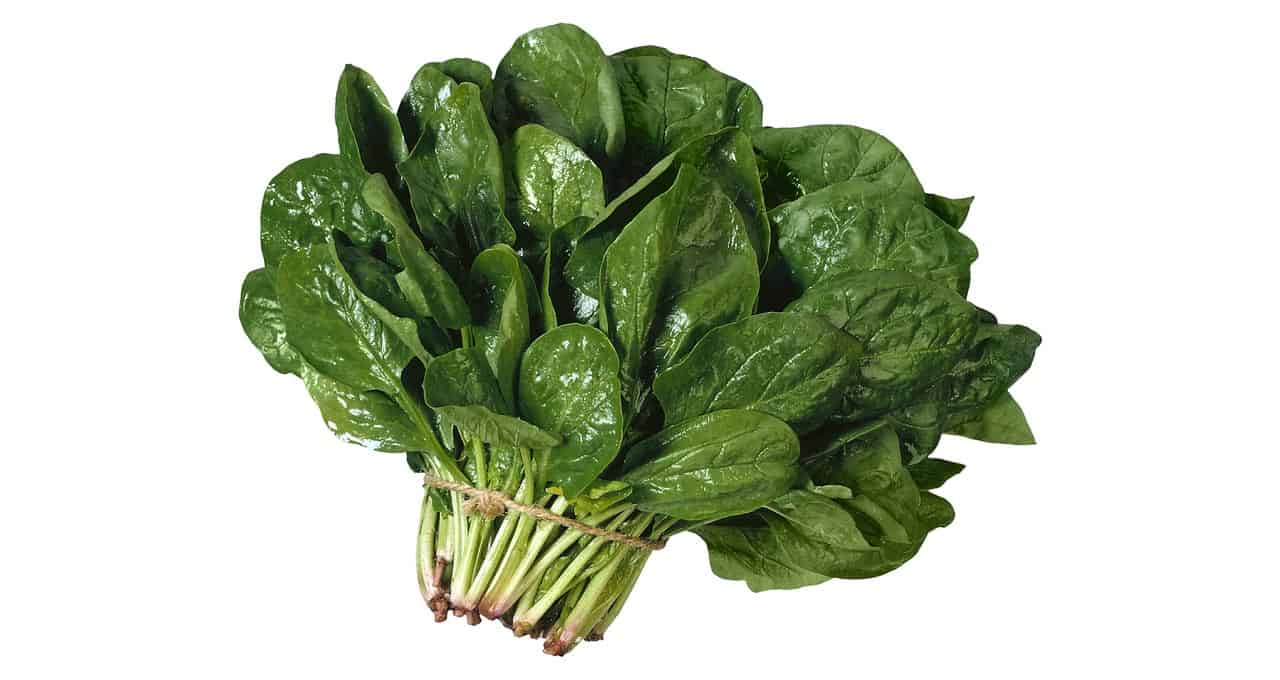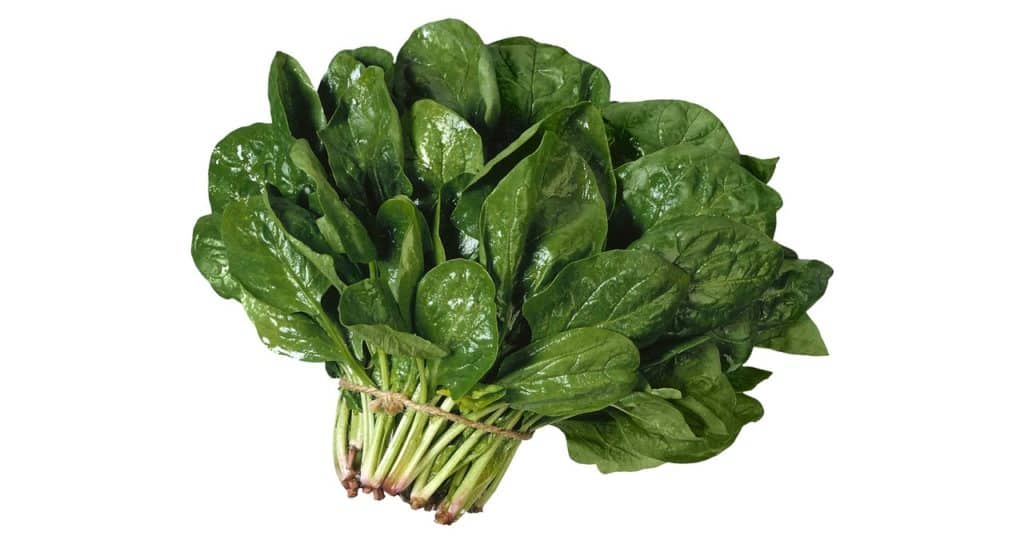 On top of the favorable nutritive breakdown found in spinach, there are several other health benefits provided by this green veggie.
Antioxidants: these are cancer and disease fighting compounds which are found in spinach aplenty! Some antioxidants that spinach contains are beta carotene, alpha lipoic acid, lutein, and zeaxanthin. These important plant compounds, in addition to contributing towards a reduced risk of many types of cancers, have many other health benefits--from warding off age-related macular degeneration to maintaining skin health and improving insulin sensitivity.
Chlorophyll: the brilliant green coloring of spinach gives away the fact that this leafy green is super rich in chlorophyll! Chlorophyll is a type of antioxidant, but it deserves its own section as it has one unique characteristic. Chlorophyll has the ability to bind with heterocyclic amines, the carcinogenic compounds produced by grilling and charring foods, thereby blocking the harmful effects they pose to the human body. Therefore, it only makes perfect sense to serve up a big bowl of spinach on grill night!
Nitrates: these compounds get a bad rap, but they actually have some benefits throughout the body! Nitrates are helpful for lowering blood pressure and removing harmful bacteria from the digestive system. Luckily, spinach is nitrate rich!
Fat-Soluble Vitamins: it's worth noting that many of the nutrients found in spinach are fat-soluble, meaning they can only be dissolved and made accessible in the presence of fats. Vitamins E and K are prime examples, and to reap the maximum nutritional benefits, it's beneficial to consume spinach with some healthy fat--think spinach sautéed in olive oil or a fresh spinach salad with diced avocados!
Other Spinach Nutrition Questions? We've Got Answers!
Does Spinach Lose Nutrients When Cooked?
This is an interesting conundrum, as there are pros and cons to consuming spinach in both raw and cooked forms. When cooked, the nutrients in spinach do lose some of their efficacy and some of its most powerful antioxidants are inevitably destroyed.
However! Cooking the spinach also serves to make the nutrients easier for the human body to absorb. Therefore, it's good to have a mix of both raw spinach and cooked spinach in your diet.
Are There Any Health Concerns with Eating Spinach?
You know that saying "you can't have too much of a good thing"? Well, surprisingly enough, when it comes to spinach, this is not the case. Fresh spinach contains a compound called oxalic acid, which when filtered through your body, can end up binding with calcium particles, forming tiny crystals of calcium oxalate. The problem here is that these crystals collect in the kidneys, where they can increase the risk of developing kidney stones.
Another issue posed by spinach is of special interest to those taking blood thinners. As spinach is rich in vitamin K, which helps blood to clot effectively, it may actively work against the desired effects of blood thinning medication.
So, how much spinach is too much? It depends on your individual health profile and whether or not you are at risk of health conditions related to those above, but you should limit your spinach consumption to an amount recommended by your healthcare professional. Likewise, be sure to seek medical advice before opting to add more spinach or other leafy greens into your diet.
Is Spinach Good for Dogs?
Now that we know just how good spinach is for us humans, what about human's best friend? Can dogs eat spinach too? The good news is yes! Spinach is non-toxic to pets and will provide many of the same health benefits that humans gain from noshing on it.
However, the same oxalic acid which can cause kidney stones in humans can have harmful effects for animals as well. Therefore it's probably okay to offer your pet some of this leafy green once in a while, but avoid feeding your dog spinach too frequently. Also, if you are sharing canned spinach with your pooch be sure it is a variety that does not have added sodium or other ingredients!
Nutritional Benefits of Eating Spinach: The Bottom Line
As you can see, eating spinach provides a nearly countless number of health benefits. In addition to being low calorie and high fiber, spinach is absolutely packed with vitamins and minerals.
These nutrients are advantageous in many ways, from maintaining healthy tissues all around the body and even preventing certain cancers! In addition to cancer prevention, spinach may help to reduce the risk of other debilitating diseases such as cardiovascular diseases and osteoporosis.
Are you admiring all of the benefits of spinach but aren't sure how to work this veggie into your diet in a tasty way? Try one of our favorite spinach recipes such as Vegan Spinach Pesto Pasta or super simple Steamed Spinach!