A sponge mop provides you with a quick and easy way to clean your floors without you having to touch the dirty or wet mop head. Plus, you don't need to get a special bucket to wring out the sponge's excess water. Every sponge mop model is different, but they all have the same mechanism to squeeze out excess water after dipping the sponge head into the bucket of water.
1. Casabella Original Mop

This is the best sponge mop on the market today. It's an imported Italian workhorse that comes in two colors: blue and painted steel. It's a sturdy mop that features a heavy-duty lever that's designed to be rust-resistant.
The Casabella Original Mop proves that your cleaning products don't have to be functional and dull. Instead, this mop boasts a beautiful design that's sturdy and sleek. Plus, you can easily adjust the pole's height, so you don't have to hurt your back bending over the mop.
You don't need to worry about excess water landing on your floors either, because this sponge is exceptionally absorbent. You can easily wring out excess water from the head using the lever located on the handle's base. With this mop, it doesn't matter how dirty your floors were because you'll be assured that your floors are left perfectly clean.
This mop's rough texture provides you with the scrubbing action that you need for tough stains without leaving marks on your floor. It can also pick up all kinds of debris and dust with ease; this includes crumbs and pet hair.
The Casabella Original Mop has a lifetime warranty, so it's the only sponge mop you'll ever need. If you're dedicated and loyal to your cleaning products, this is the best sponge mop for you.
Pros: 
Easy to assemble
Lightweight
Wrings out most of the excess water in the sponge
The sponge is super effective at scrubbing your floors
The wringing mechanism is easy for anyone to use
Cons: 
The sponge can break apart after only a few uses
2. Libman Nitty Gritty Roller Mop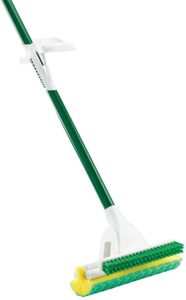 Do you have a tile floor? If so, then grime and dirt are likely to get trapped in the crevices. The best sponge mop is typically designed to clean tiled floors flawlessly. However, they're usually unable to clean out the dirt that's caught between the tiles.
This mop combines two amazing cleaning solutions in a single mop. The first is the traditional sponge mop made with absorbent materials, and the opposite side is equipped with a thick bristled brush that's great for scrubbing out tough stains.
This means you'll be able to get your entire floor clean with one specialized mop, which ultimately helps you get your floors clean quickly. After you've scrubbed away all the grime and grit from your floors, you're able to mop it out utilizing the sponge.
Changing the side that you're using on the mop is simple, due to its patented roller mechanism. A lever located on the handle controllers its roller, and it also enables you to squeeze out surplus water and cleaning solution from the sponge.
The design of this mop is made to be extremely durable and sturdy. The bristles are made from recycled materials to make this sponge mop environmentally friendly. After you're done using this mop, you can hang it up via the loop that's built into the handle.
Pros:
Has a built-in hanging loop
Made from recycled materials
Durable sponge
Easy-pull wring handle
Built-in scrub brush
Cons: 
The foam can detach from the mop head
3. Superio Sponge & Go Mop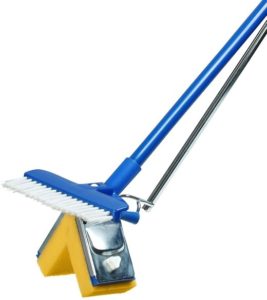 This sponge mop is an easy to squeeze mop that comes with a detachable scrub brush that comes in handy when you have any stuck-on messes. It has an extremely long handle that keeps you standing upright to prevent back pain caused by having to bend over a sponge mop.
This is the best sponge mop if you're on a budget because it's really affordable. It's also small enough to fit into most mop buckets and is handy to have for quick cleanups.
Pros:
Lightweight
Easy to use
Easy to wring out the excess water
Cons: 
The detachable scrubbing brush is hard to get off the mop
Feels cheap
4. Mr. Clean Magic Eraser Power Squeeze Mop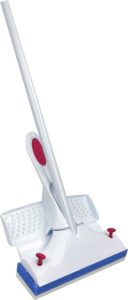 Do you often find that you have blistered hands from mopping your floors? This is a serious issue, especially if you have sensitive skin. It can make mopping your floors a painful and uncomfortable experience.
This is no longer an issue when you get the Mr. Clean Magic Eraser Power Squeeze Mop. The mop's handle is designed with a rubber grip that provides extreme comfort, so you can apply as much pressure as you need, free from the worry of injuring your hands.
What this means is that you can apply enough pressure to get all of the embedded grime and dirt from your floor. You can rest easy, knowing that the thick sponge will accomplish the majority of the work. It's been proven extremely powerful and can take on dirt and scuff marks with ease.
Even if you have a textured floor, this mop will get into all of the grooves, leaving your floors looking brand new and sparkly. This Mr. Clean mop will leave your floors perfectly clean regardless of how dirty your floors are before you start mopping.
It has a white plastic body, so it's not going to win any beauty contests anytime soon. In fact, the design of this mop makes it look basic and cheap. But you can be assured that this mop only delivers amazing results.
Pros: 
Works great on embedded dirt and grime
Compatible with other brands of sponges
Padded grip
Cleans pet hair with ease
Compatible for all floor types
Cons: 
Not attractive
Can require a lot of pressure to get stains off your floors
5. Rubbermaid Commercial Products PVA Sponge Mop

Even if you've gone with the best sponge mop around, the sponge pads can disintegrate over time because they're usually dissolved by the chemicals you use on cleaning your floors. However, this isn't a problem with the Rubbermaid Commercial Products PVA Sponge Mop.
This sponge mop is exceptionally durable and highly recommended for commercial use. Its handle measures out to be an impressive 37 inches long, making it perfect for taking on difficult to reach messes.
If you need to get rid of excess water, all you need to do is pull the lever located on the handle's front to remove the water from the sponge. The lever's spring is incredibly durable and gives you complete control to decide how much water is left in the sponge.
The PVA sponge is extremely absorbent and is great for picking up all different kinds of dirt from your floors. Plus, it can easily clean crumbs and pet hair, which leaves all of your floors looking clean in no time.
If you have hard floor types, you'll find this mop tackles every single type with no issue. Even though the sponge might be too stiff for your personal liking, it works wonders on a hardwood floor and doesn't leave any streaks. You do need to take particular care for the screws on the bottom of this mop because they typically build rust over time.
Pros: 
The sponge is resistant to chemicals
Great for commercial use
Takes on crumbs and pet hair effortlessly
Leaves little to no water on your floors
Compatible with a vast range of cleaning products
Cons: 
The sponge can be a little too stiff for some users
The metal screws will rust over time
6. Super Standard 11-inch Double Roller PVA Sponge Mop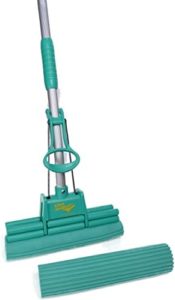 This sponge mop makes cleaning your floors easy to do with its non-slip head and textured grip. It's built to be incredibly durable and comes with a one-year warranty, which means that this mop will go the distance.
The Super Standard Double Roller Sponge Mop boasts a green design that makes it stand out from its competitors. However, this makes finding matching sponges difficult. Fortunately, you're given an extra replacement sponge to solve this issue, at least for a bit.
This model has a sturdy and thick pole that comes with a telescopic handle, which allows you to adjust the pole to your desired height. It doesn't matter how tall you are; you're sure to find that mopping the floor is a comfortable experience.
It's also suitable for all flooring types, which makes it the best sponge mop for commercial cleaning. The sponge picks up all the debris, dirt, and dust with ease and is really absorbent. This means that the floor will always be left dry and clean.
Removing the excess water from the sponge has never been easier thanks to the large handle at this mop's base. All you have to do is squeeze out the water in one motion. You'll also love that you can use this mop continuously, and not once will you see the green dye leak from the PVA sponge.
Pros:
Patented non-slip grip
Robust handle
Doesn't drip
Comes with a replacement sponge
Has a telescopic handle
Cons:
7. Casabella 86002 Ratchet Roller Mop

If you're tall, then finding a mop that's the right height for you can be challenging. If you find that the average mop handle is typically too short for you and that you're typically hunched over mops, this is the best sponge mop for you.
This mop is designed to be easily adjusted, so you're bound to find the right height for you regardless if you're 4'5" or 6'5". Changing the size of the handle is extremely easy and quick to do. All you have to do is unlock the grip, slide the handle to your desired height, and lock the grip back in place.
The Casabella 86002 helps make cleaning your floors an easy and quick chore because the coarse scrubber attached to this sponge can get rid of tough stains in no time without damaging your floors.
A bonus is that this mop comes in a retro design that's highly attractive. This mop will take out all of the difficult work from cleaning your floors. Plus, it has a built-in loop that you can hang this mop up with to save room.
Pros:
Fully adjustable handle
Has a built-in, durable hanging loop
Made from durable steel
Great for getting into hard-to-reach areas
Suitable for all flooring types
Cons:
8. OXO Good Grips Microfiber Butterfly Mop

While your floor may appear to be clean, it still might be covered in unwanted bacteria. Most mops will leave your floor wet and just move the dirt around and leave behind minute traces of bacteria and dirt.
The OXO Good Grips Microfiber Butterfly Mop sponge head is constructed from special antimicrobial material. It can be extended with ease to your desired length because it is mounted on a durable, extensible head. Additionally, this sponge is 11 inches wide, which lets you clean your floors quickly.
The best thing about this mop is that it has an innovative pivoting head that helps you get into tight corners. With this pivoting head, you're bound to find that cleaning your floors is a quicker task than ever possible before.
You can even clean your bathtub with this sponge head, making it the best sponge mop around for taking on contoured surfaces. This is because the mop head clings to the cleaning surface to get rid of tough dirt and grime.
The only drawback with this sponge mop is that it can be hard to thoroughly wring out the sponge. This means that you might have to allow for some more time before your floors are completely dry. But this is a small issue to accept for your floors to be clean and disinfected.
Pros:
Non-slip handle
Great for all flooring types
Extendable steel handle
Pivoting head
Antimicrobial sponge for improved disinfecting
Cons:
Sponge head replacement can be difficult
Can be hard to completely wring out the sponge
9. Quickie 051TRI Sponge Super Squeeze Mop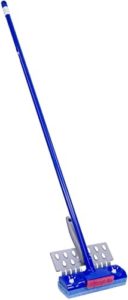 It can be challenging trying to find the best sponge mop for hardwood floors because you need to make sure that the sponge head is rough enough to pick up the dirt, without the fear that excess water is going to ruin your floors.
The Quickie 051TRI has one of the most absorbent cellulose sponges that you'll find on a mop. It's tough enough to pick up spills and take on the grimiest of floors while being extremely gentle with your floor.
The soft scrubber that's found on the back of this mop is designed to be effective at cleaning up tough messes. Even if you have dirt caked onto your floor, it will be removed with ease with this sponge mop. The durable scrubber can also be used to clean the walls in your house.
The patented dual layered cellulose sponge also maximizes absorbency, which makes cleaning your floors a fast task. With this sponge mop, you can feel assured that all of the excess water is being removed. This particular mop also comes with a dustpan that has a duster, broom, and more.
It needs to be noted that the sponge head can become detached from the handle if you apply too much pressure to the mop. This can be really inconvenient if it happens during your cleaning session. This shouldn't be too much of a problem because this sponge mop is designed to be extremely efficient at cleaning your floors without much pressure.
Pros:
Has a durable hanging loop built into the handle
Doesn't scratch a wood floor
Features an extremely absorbent cellulose sponge
Can be used on a wide range of surfaces
Built-in spot scrubber
Cons:
The sponge head can detach when too much pressure is applied
Can be hard to find replacement sponge heads
Sponge Mop Use: The Basics
To get started using the best sponge mop, you want to fill a mop bucket with hot water and add a small amount of floor cleaner. Then dip the sponge head into the water, lift the mop straight out of the bucket and press down on the slider bar or lever on or near the handle above the sponge head.
As you push down on the lever, a mechanism located on the sponge head presses against the sponge and rolls over it or folds it. This action squeezes out excess water from the sponge and puts it back into the bucket.
Now that your sponge mop is damp, it's time to mop your floor back and forth. When the sponge feels or looks like it's drying out, dip it back into the water bucket and then continue mopping. If you notice that the water in the bucket becomes too dirty, you should empty it and refill it as you continue mopping.
Best Sponge Mop Buying Guide
If you're buying a sponge mop for the first time, finding the best sponge mop can be a difficult process because most models look similar but vary in terms of ease of use and performance. Below you'll find some key features to keep an eye out for so you can pick out the best sponge mop for you.
The Handle
You should find a sponge mop that has an adjustable handle for the most convenient so you can make the handle as tall as you want. This is made incredibly easy if the handle is telescopic.
Ease of Use
You probably want to choose a mop that has a wide sponge head so that you can get your floors cleaned quickly and easily. So, try to go with a sponge mop that has a wide sponge head, so you spend less time cleaning. A sponge mop head that swivels is also extremely convenient to have because it makes getting into tight corners easy.
How heavy the mop is will also affect the mobility of it. Generally, it's a great idea to go with a sponge mop that has a small footprint, and you should also find a mop that's lightweight for the best mobility.
Materials
For durability purposes, you should find a sponge head that's made from tear-resistant microfiber material. Cellulose material can be another great option because it's resistant to breakage due to harsh cleaning chemicals. If you want a mop handle that's going to last for years, then go with a metal handle. Otherwise, if you don't mind, plastic handles will work too, and they're more comfortable to use.
Wringing Mechanism
A sponge mop that has a built-in wringing mechanism is a huge plus because it makes it easy to get rid of excess water that might be lingering in the sponge head. This not only makes it so that most of the water is absorbed off your floors but also makes it so that your floors will dry faster. It's also extremely convenient if you can find a sponge mop that has the wringing mechanism located near the handle's grip and not on the bottom of the mop.
Replacement Heads
It doesn't matter if you're extremely careful with your sponge mop heads; they're going to have to be replaced at some point. So, you need to make sure that there are replacement sponge heads that you can easily find and purchase. It's also convenient if you find a sponge mop that comes with a couple of replacement sponge heads.
You also need to look into how difficult it is to replace a sponge head for when you have to replace the sponge head. If your research is showing you that it's a nightmare to replace a sponge head, you should reconsider getting that mop. The best sponge mop for you comes with a quick-release mechanism that makes replacing sponge heads extremely easy to do.