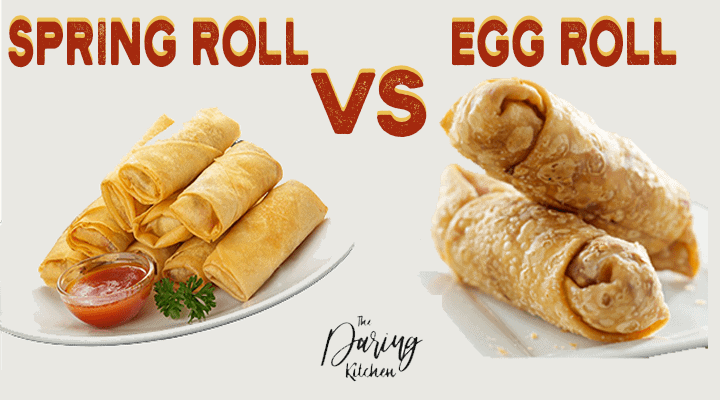 Craving for Chinese style roll appetizers but you're having difficulty telling the difference between an egg roll and a spring roll? After all, they are both rolls and they look very similar, right? Some people even call them cousins, which makes it even more confusing.
However, there are clear differences between the two in terms of their wrappers, fillings, texture, method of cooking, dipping sauces to go with and origins - just to name a few. Ready to find out more? Let's roll!
Origins
Spring rolls are believed to originate from China. They started as pancakes filled with spring vegetables and they were consumed during springtime to welcome the arrival of the new season. With the passing of years, these cakes evolved into the rolls we all know today.
However, even spring rolls can vary considerably from one area of Asia to another in terms of the fillings used, wrappers, and cooking techniques.
When it comes to egg rolls, their origins are not as clear and remain questionable. Some say that this dish was originated in Asia while others claim that it was first created in New York by a Chinese immigrant chef in the early 30´s.
Method of cooking
There are fried and non-fried spring rolls and while in some areas of China, the non-fried rolls are much more popular, American Chinese restaurants may only sell the deep-fried version.
Nevertheless, don't be surprised if you find those uncooked or fresh spring rolls in the sushi section of your grocery store. They are typically bigger than the fried ones and filled with pre-cooked ingredients or cold fresh veggies. Spring rolls can also be steamed or baked.
On the other hand, egg rolls are only deep-fried.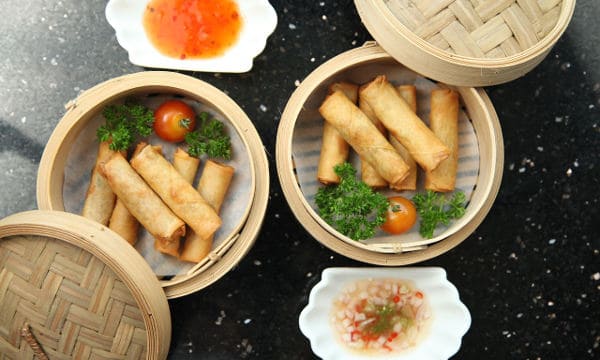 Appearance and size
Although both of these appetizers are cylindrical, their wrappings have a different texture. Egg rolls have a thicker bubbly or bumpy skin that is crunchy and chewy whereas the wrapping of a fried spring roll is perfectly smooth. It is also more translucent, lighter in texture, and feels crispy and flaky at first bite!
When it comes to their size, egg rolls typically have a larger diameter than spring rolls due to the thicker wrapper and the variety of the ingredients they are filled with.
Wrapper Ingredients
One of the main differences between spring rolls and egg rolls is the ingredients of their dough wrappers. Spring roll wrappers are made of wheat flour or rice flour and water whereas egg roll wrappers consist of wheat flour, water, and eggs.
The presence of the egg gives the egg roll a sturdier and fatter texture whereas spring rolls have a thinner texture and they feel lighter and crispier when fried. You can buy ready-made wheat flour or rice wrappers from Asian grocery stores or make your homemade version quick and easy!
Fillings
While in some areas of Asia, spring rolls typically contain cabbage, vegetable fillings, noodles, and shrimps, meat varieties such as pork are also very popular. Depending on the area you are visiting, the fillings of these savory rolls vary.
From shredded carrots, bamboo shoots, bean sprouts, and oyster mushrooms to seafood, chicken, tofu and fresh herbs such as cilantro or basil, the choices are endless. However, in American Chinese restaurants, you are more likely to find spring rolls that are filled with meat (ground or minced).
Besides, egg rolls are mostly filled with cabbage, carrots, and small pieces of roast pork - this is the typical American-Chinese version. In any case, there is no definitive rule that determines what fillings to use, so feel free to experiment.
Dipping sauces
Although some people would argue this, spring rolls and egg rolls taste better when dipped in sauces.
Spring rolls are usually served with different kinds of sweet, sour, savory, and spicy sauces. Some examples include Worcestershire sauce, soy sauce or Hoisin sauce – a thick aromatic sauce that is used in Chinese gastronomy to glaze meat or as a dipping sauce. In Vietnam, these rolls are typically accompanied by a kind of mashed bean paste.
On the other hand, egg rolls are usually dipped in duck sauce, plum sauce, sweet and sour sauce or hot mustard.
All in all, what's better: Spring Roll Or Egg Roll?
There is no definite answer to this, but it's rather a matter of personal preference. Both of these snacks or appetizers are a joy to eat but if you are on a diet, you may find that the fresh or steamed spring roll is a healthier and less fatty option as compared to the fried spring roll or egg roll.
Also, making spring rolls in the air fryer or oven may be easier than trying to fry them to crispy perfection.