Seriously, if someone is wondering why am I talking today about some old fashioned and very special German cookies (they date back to 14th century) the truth is I found them on the internet while I was searching for something else a couple of years ago.
I can't actually remember what was I searching for, but when I discovered these amazing cookies it was one of those "Oh My God" kind of revelations. I knew I had to learn how to make them, so I got some molds and started my own personal training.
My first attempts were a disaster. Believe me, don't try to make Springerle in summer. They will not dry properly and/or they will keep not the shape or the beauty and the details of the picture on top of them. And don't try to make them if you're in a hurry. These cookies need their time. But if you have a little patience you will get a beautiful reward.
But before we got our hands and aprons covered with flour, let's talk about Springerle history (from Ken Hamilton, the "Springerle baker")
The general consensus from what I have found is that Springerle were first made in German speaking Europe, mainly Southern Germany, the Alsace region of France and parts of Switzerland.
Springerle molds were made from clay, wood and metal. Many of the ancient molds that have survived can be found in European museums and in private collections. There are a few collections in America as well...
…The origin of the Springerle name seems to be attributed to the fact that many of the first molds were of horses and their riders. Also, that some Springerle cookies seems to "spring up", when baked. There are dimensions formed as the cookie bakes, with the top "springing up" from the base.
Biblical scenes were some of the earliest images portrayed in Springerle. Other scenes soon followed that reflected daily life, such as holidays, births, weddings, engagements, country living, gardening, etc.
Springerle impressions have been used for centuries as tellers of tales, educational media, betrothal tokens between lovers and also just the pure enjoyment of everyday living…"
And now the recipe. I tried several versions and this is my favourite one.
Springerle
Ingredients:
3 eggs (Room temperature)
400 grs powdered sugar
65 grs butter, softened
1/ teaspoon salt
½ teaspoon hartshorn* or baking powder
520g fine white flour (plus extra flour for dusting working surface and our hands)
1 teaspoon essential oil (These cookies are usually anise flavoured but I don't like anise so I use other extracts, such as almond, lemon, vanilla or, as I did for this batch, orange)
*Hartshorn, also called bakers' ammonia (ammonium carbonate) It is an ammonia compound and not harmful after baking. However, don't eat the raw dough. Your kitchen will stink of ammonia while the cookies bake, but once baked, the cookies will not taste of it.
Can be substituted for equal amount of baking powder in any cookies recipe. It is an old-time leavening favored for cookies, such as German Springerle. It is said to give a "fluffiness" of texture baking powder can't. Its leavening is only activated by heat, not moisture (such as baking powder)
Directions:
Sift dry ingredients. Set aside.
In the bowl of your electric mixer, beat the eggs and sugar well until you get an airy and pale cream, at least 15 minutes. This is very important to get really white cookies. Add the butter (in little pieces, one piece at a time) and keep on beating until the dough is smooth, then stir in the essential oil of your choice. Add the dry ingredients little by little on low speed, until dough absorbs all the flour. Let the dough rest for 10 minutes.
Spread some flour on the work surface. Divide the dough, which is still a bit sticky, into four parts and roll out each piece on flour so that it is 8-10 mm thick. Once again lightly dust with flour so that the dough feels like silk. Now press the very finely dusted mold evenly into the dough. Cut out the picture with a suitable pastry cutter or a knife and place on a baking tray that has been lined with baking paper. If the rest of the dough becomes dry, always moisten your hands to work on it.
Let the cookies dry for about 24 hours (depending on the size) before baking in a cold place with no humidity or draft. This allows images on top of Springerle become firm. Springerle rise while baking. The images on top will not puff up; instead, cookies will have little feet, more or less like french macarons.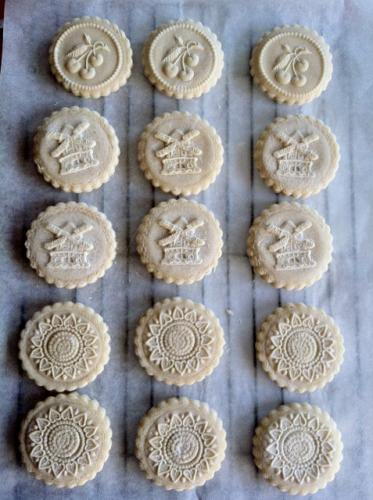 After 24 hours, bake the Springerle at approx. 150-160ºC at the very bottom of the oven for about 12-15 minutes. It's a good idea to wedge a wooden ladle in the door of the oven.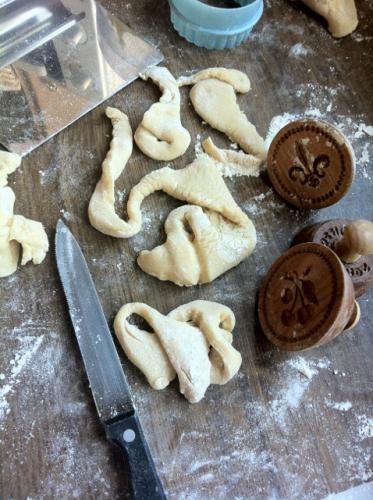 Springerle can be kept for weeks or months in airtight containers and they improve during this time.
And what to do when the dough becomes too dry and it is no longer suitable for molding? In Switzerland they use the rest of the dough to bake the traditional
«Chräbeli.»
Directions
Roll the rest of the dough by hand until it is about 1 metre long and as thick as your finger.
Cut the rolled dough into pieces of about 5 cm each.
Cut into the top in two or three places with a knife and slightly bend.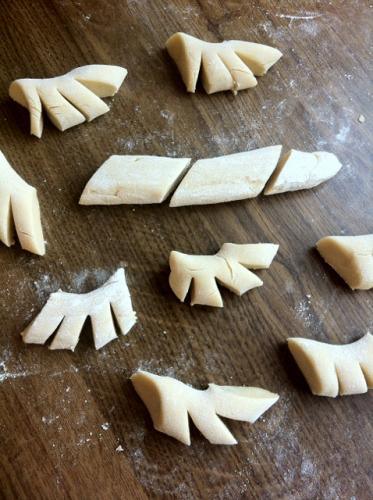 Place on a greased baking tray and let dry over night.
Bake the «Chräbeli» at approx. 150-160º C at the very bottom of the oven for about 12-15 minutes.
Just like the Springerle, the «Chräbeli» will also have little feet, and they're soft on the inside and slightly crisp on the outside.
I hope you fall in love with Springerle just as I did. Please, try them because it's totally fun and different. And don't tell me it's difficult. Come on, aren't you Daring Bakers?