Cleaning is tiresome, especially when you have to deal with those hard-to-remove and stubborn stains. You have to spend several hours trying to scrub off and polish everything so that the surface you are cleaning will show its natural shine. Aside from your cleaning skills, one of the most important things when cleaning steel is the type of cleaner that you use.
No matter how hard you try to clean off those smudges, if you are not using the right cleaner, your efforts will go down the drain. You need to learn how choosing only the best stainless steel cleaner can help get the job done right.
With hundreds of stainless steel cleaners in the market, which one works best? Read on to see our top picks for the best stainless cleaner that you need on your boat and household.
Our Best 10 Picks for Stainless Steel Cleaner
You need the best stainless steel cleaner to maintain your stainless steel's luxurious shine and sophistication. Ensuring a quality stainless steel cleaner also means that you are ensuring the stainless steel's longevity. Here are our 10 selections for the best stainless steel cleaner that you should consider buying.
1. Weimann Stainless Steel Cleaner Wipes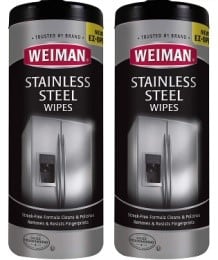 With a streak-free formula that cleans and polishes, Weimann's Stainless Steel Cleaner Wipes are a definite must-have. What we like the best about these wipes is that they are fingerprint-resistant. More often than not, we leave our fingerprints behind when cleaning, and doing so can leave an unsightly mark on our otherwise clean surface. However, with this fingerprint-resistant technology from Weimann, you can clean as freely as you want and have the surface fingerprint-resistant for a long while.
On top of resisting fingerprints, these wipes also remove watermarks, grease, and other residues from the surface that have built-up over time. The polish component of the wipes gives off a protective barrier that stops smears and smudges in their tracks. These stainless steel wipes are great to use on stainless steel appliances such as refrigerators, ovens, microwaves, and sinks.
Pros:
Wipe and buff easy cleaning
Brightens and shines surfaces
Gives a polishing protective barrier
Cons:
Smell may be too strong for sensitive people
Might leave some residue
2. Cerama Bryte Stainless Steel Cleaning Polish Wipes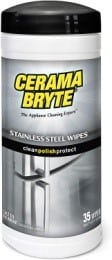 Another brand of cleaning and polish wipes that we highly recommend comes from Cerama Bryte. Each container has 35 wipes. Each wipe contains the recommended mineral oil that is needed to protect all of your surfaces from future spots. Furthermore, it leaves a protective shine that is guaranteed to last for a while after your polishing.
The wipes are great to use for outdoor grills, range hoods, ovens, and other stainless steel appliances and surfaces. These wipes make use of a high-strength formula to remove visible marks and defend from unwanted streaks.
Pros:
Streak-free
Convenient to use
Protects and shines
High-strength formula
Cons:
Not to be used on multiple surfaces
Cannot completely remove tough stains
3. Therapy Premium Stainless Steel Cleaner & Polish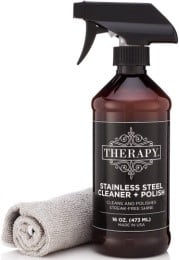 If you hate chemicals and want to go organic, Therapy Premium is your go-to cleaner. This stainless steel cleaner and polish is one of the best stainless steel cleaners because it is primarily derived from plant-based ingredients. Thus, you are guaranteed an eco-friendly product. On top of that, it removes not only streaks and smudges but also fingerprints.
When you purchase a bottle, it comes with a microfiber cloth that works well with the Therapy cleaner and polish. You do not need to fumble looking for the perfect wipe to go with it since it is already provided to you. Some stainless steel cleaner comes with a lidded bottle; however, the one from Therapy is a pump spray bottle, which is convenient to use whenever you are cleaning.
It also works best on stainless steel appliances as well as outdoor grills.
Pros:
Comes with a microfiber cloth
Pump bottle
Environment-friendly
Safe for all stainless steel appliances
Resist fingerprints, dirt, and smudges
Laced with lavender essential oil
Cons:
4. Hope's Perfect Stainless Steel Cleaner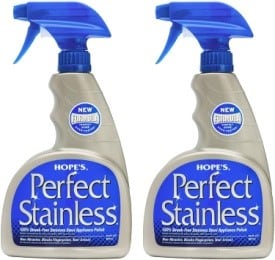 A water-based cleaning solution also makes the cut in our best stainless steel cleaner list. If you are looking for a water-based product, then Hope's Perfect Stainless Steel Cleaner is the right choice for you. With its Perfect Stainless formula, you can achieve the clean and shine you desire in no time. It guarantees a 100% streak-free surface after you are done with your cleaning.
Moreover, it has a self-polishing technology. Sounds new? Well, this is a technology where you spray and wipe the surface you want to clean and just leave it at that. Though the product may still be visible when you leave, you need not worry because the self-polishing technology will start to work by smoothing and balancing the shine across the surface. It also removes fingerprint marks as well as prevents new ones from accumulating.
The rich cream formula ensures that no residue or drips fall on the floor. Indeed, this is one amazing product for stainless steel cleaning.
Pros:
Self-polishing technology
Free from fingerprints and streaks
No chemical smell
Easy touch-up
Sprayable cream cleaner
Uniform shine
Cons:
Need to adapt to the creamy formula when cleaning
5. Sprayway Stainless Steel Cleaner and Polish

Affordability at its finest. Sprayway provides one of the very few affordable stainless steel cleaners in the market. However, even if it is less in price, it still cleans the same as the expensive ones do. This stainless steel cleaner and polish was specifically formulated to use on stainless steel surfaces.
With this stainless steel cleaner, you can be assured that it'll work incredibly well on all of your fixtures and equipment. Aside from cleaning and polishing, it adds a protective barrier to your stainless steel surfaces and does not leave a greasy film behind.
Besides stainless steel, this product also works great on chrome surfaces. You do not need to purchase another product for your furniture with a chrome finish. Lastly, the Sprayway Stainless Steel Cleaner and Polish does not contain any acids nor abrasives that can damage your appliances.
Pros:
Affordable
Simple instructions
No acids or abrasives
Does not leave a greasy film
Cons:
Fatal if swallowed
May cause serious eye irritation
Extremely flammable aerosol can
6. Method Stainless Steel Cleaner

Method is one of the best stainless steel cleaner brands primarily because of its non-toxic and biodegradable formula. This stainless steel cleaner from Method is naturally-derived and is cruelty-free, which means it was not, and never will be, tested on animals.
Its power green technology is effective against cleaning grease and grime. It also cleans and polishes without scratching the surface of your stainless steel appliances or fixtures. Moreover, it leaves behind the sweet scent of an apple orchard. You'll definitely enjoy cleaning because of that relaxing orchard scent.
Pros:
Non-toxic and biodegradable
No animal testing
Power green technology
Gentle formula
Cleans, shines, and protects
Removes grease and grime
Sweet apple orchard scent
Cons:
Not fingerprint resistant
Requires thorough buffing
7. CLR Stainless Steel Cleaner

CLR is a trusted brand when it comes to cleaners. One of the products we highly recommend from them is this stainless steel cleaner. Not only does it shine and clean, but it is also specially formulated to be used safely on appliances as well as cookware. It is very convenient to use with its spray and wipe method. Furthermore, CLR Stainless Steel Cleaner removes fingerprints, watermarks, oily residue, and dirt on surfaces and even on barbecue grills!
Pros:
Spotless stainless steel cleaner
Easy to use
Affordable
Streak-free
Cleans and shines
Great for barbecue grills
Cons:
Fatal if swallowed
May cause serious eye irritation
Extremely flammable aerosol can
8. Affresh Stainless Steel Cleaner

The most-budget friendly stainless steel cleaner on this list comes from Affresh. It is uniquely formulated to remove fingerprints, cleans smudges, and erases other residue from your stainless steel fixtures, furniture, and appliances. When using Affresh Stainless Steel Cleaner, it does not spread on other areas when you spray. It stays in the affected sprayed area. You have more control over the cleaning space.
Furthermore, this cleaner has been highly recommended by major appliance brands like Whirlpool and KitchenAid. This only means that Affresh is, indeed, a great and the best stainless steel cleaner in the market that is friendly to the pockets.
Pros:
Gentle formula
Removes fingerprints, streaks, and smudges
Polishes and shines
Great for quick touch-ups
Perfect for general cleaning
Budget-friendly
Cons:
Flammable contents under pressure
9. 3M Stainless Steel Cleaner & Polish

Many people are familiar with the brand 3M. From automotive products to personal protective equipment, and from office and school supplies to dental products, 3M has it all! That's why it is not surprising anymore to see a 3M product when it comes to home care and cleaning.
The 3M Stainless Steel Cleaner & Polish is one of the best stainless steel cleaners on the market today. What's best with it is the fact that their stainless steel cleaner is also suitable for chrome, aluminum, laminated plastics, enamel, ceramics, and metal surfaces.
Moreover, this stainless steel cleaner and polish does not leave greasy build-up on the area you are cleaning. It is also streak-free and leaves a protective sheet on the surface. Thus, restoring the shine to its once lustrous factory finish. On top of that, this best stainless steel cleaner conceals blemishes and slows down the process of re-soiling. Though it cannot totally remove fingerprints, it is still a great choice for reducing the unsightly appearance of fingerprints.
While most cleaners are just great for appliances and other home fixtures, the 3M stainless steel cleaner is excellent for commercial use and public places such as elevators and escalators. It is also the best choice for drinking water fountains and also friendly to restaurant and food equipment. Lastly, it has a citrus fragrance that does not smell like harsh chemicals.
Pros:
NSF registered
Non-flammable
Applicable to many types of surfaces
Water-based chemistry
Grease and streak-free
Cons:
Only reduces fingerprints, not eliminate them
10. Hey Mom Stainless Steel Cleaner for Appliances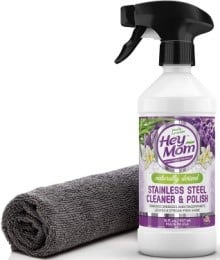 When they say that mothers know best, we rightfully agree! Hey Mom Stainless Steel Cleaner and Polish knows the best way to clean and treat your stainless steel surfaces as well. This is an ultra-concentrated stainless steel polish that cleans smudge, grime, and water stains. It also provides a protective coating to keep food splatters, grease, and fingerprints away.
Moreover, it is one of the few natural products in the market. Hence, you can be assured of your family's safety and health because this product does not contain the harmful chemicals and irritants that most stainless steel cleaners have. The cleaner has further been infused with a selection of essential oils like vanilla and lavender. The scent provides a warm and relaxing vibe when you use it.
Pros:
Less drippy than other cleaners
Naturally-derived ingredients
Best on smudges, grimes, and water stains
Protects from fingerprints and food splatters
Essential oil-infused cleaner
With soft microfiber towel
Cons:
Somewhat expensive for a cleaner
Cannot remove rust and cookware stains
Cleans oil, grime, and grease, but does not totally eliminate them on heavy situations
How to Choose the Best Stainless Steel Cleaner
It is essential to pick the best stainless steel cleaner because choosing the right one will save a lot of your time and effort when cleaning. You do not want a stainless steel cleaner that will make a mess on the surface rather than clean it, right? So, what makes a stainless steel cleaner a good steal?
Ingredients
The ingredients say a lot about the product you are purchasing. Checking the ingredients should be the first one on your list when choosing the best stainless steel cleaner to use. There are some products with harmful chemicals. Though they have the strength to clean and polish stainless steel surfaces the best way possible, these cleaners might be harmful to your health and the health of your family in the long run.
Are you willing to take that risk?
If not, then your best option is to go for cleaners with naturally-derived ingredients. There are also non-naturally-derived cleaners that are made with little to no harmful chemicals. These types of cleaners are safer to use because you are staying away from harsh chemicals that can negatively alter your health.
Cost
How much are you willing to spend for the best stainless steel cleaner? While cleaners are generally affordable, some products are more expensive than others. Think of how much you can spend on a cleaner first. Then, decide which one in the market is affordable enough for you.
Some people might think that expensive cleaners clean better than less expensive ones. However, that is not always true. There are cheap cleaners that do wonders like the high-priced ones. And there are also luxurious cleaners that are not on par with its expensive price.
To better compare the cost, check the ingredients first. You'll be surprised as to how some products actually share the same ingredients but are sold at different prices.
Multi-Function
Some stainless steel cleaners only clean, while some clean and polish. Some cleaners only work for stainless steel, while some work for other surfaces as well. Moreover, some remove fingerprints, while some can't. If you check and compare each product closely, you'll know their differences in functions, and you can decide better on which product to purchase for your stainless steel cleaning needs. Just make sure that you get your money's worth when buying the product you decided on.
Reviews
Reading legit reviews is important to know the product you want to buy. If you are a first time user of a certain cleaner, you are not aware yet of how it'll work on the surface of your stainless steel. You need reviews from people who have bought the product and can give their word that it is the best stainless steel cleaner.
Reviews also allow you to fully understand a product's capability when it comes to cleaning. Moreover, you can check the pros and cons of the product that you are eyeing. Checking the reviews provides you with the awareness that you need about the product.
If you need a stainless steel cleaner for your home appliances and fixtures, we hope that this review has helped you decide which one to purchase. Ensuring that the stainless steel surfaces are clean and well-polished is a great maintenance technique that will help your item to last longer.