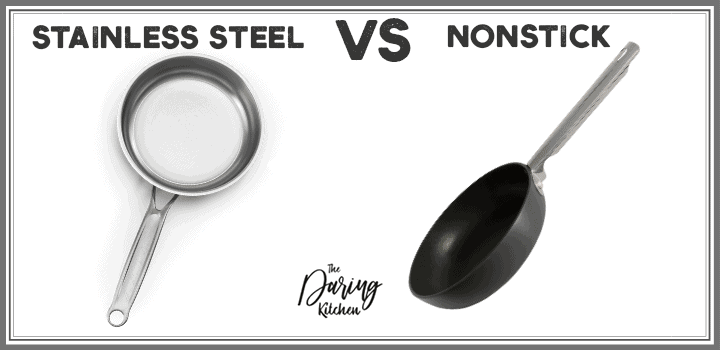 If you're in the market for a good kitchen pan, you may have questions about stainless steel pan vs nonstick and which is better. Probably you already know that stainless steel is a great material for kitchen utensils, but it sticks and it's more difficult to clean.
No need to rush! When it comes to stainless steel and nonstick (or Teflon) pans, it is good to remember that both come with their pros and cons. So, instead of taking a hasty decision, spend a little time to learn about their features and which one will best meet your cooking needs.
After all, you are making a small investment here, remember? We are here to shed some light on the upsides and the downsides of these two types of cookware, but ultimately the decision is yours. With that in mind, let's jump right in!
What Is Stainless Steel?
Stainless steel is a mixture of steel with various chemical elements. Its simplest form is made from steel and Chromium, an element that gives stainless steel its rust-resistant qualities and luster finish.
To make it stronger and more resistant to oxidation, food-grade stainless steel (the one used in cookware) contains a specific amount of Chromium mixed with other elements such as Nickel, Molybdenum, Titanium, etc. However, only stainless steel comes into contact with food, so no hazardous chemicals leach into it.
Stainless Steel Pan Pros and Cons
Pans made of stainless steel are favored by both home foodies and professional cooks alike. They can be a bit more expensive than other types of cookware but many people feel that the expense is worthwhile.
The positives include:
It's tough and durable: Bang it or scrub it, it will still work. This material does not chip or rust and it's scratch and dent resistant, which ultimately translates into a great value for money purchase.
Mirror-like finish: Its shiny, polished appearance is difficult to beat. It doesn't need any special care to maintain it either:  A gentle rubbing with little vinegar and water will do the trick!
Heat conductivity:  Stainless steel is not generally a great heat conductor, but when it's combined with a copper or aluminum core, it becomes unbeatable in terms of heat transfer. This ensures a faster and more even cooking without hot spots.
Non-reactive: It doesn't react with food unlike aluminum and pure copper so the quality of the flavor doesn't get impacted.
Withstands high temperature: Unlike nonstick pans whose coating can start to wear off in a few months due to high temperature or misuse, stainless steel cookware is resistant to high heats. Since it doesn't come with non-stick coating, there is no danger of chemicals leaking to your food, which is a healthier option overall.
How about the negatives:
Price: A set of good quality stainless cookware can be expensive, but it can last you a lifetime, so it's worth the investment.
Stickiness: Stainless steel can be sticky when cooking certain delicate foods such as eggs or fish. However, this material can gain some nonstick properties if you use enough butter or oil in the pan and enough heat. Too low or too high temperature can cause the food to stick more.
Cleaning: Cleaning can be an issue as stainless steel is not non-stick, but if you wash your pan right after use, it will prevent staining and take less time to clean. You can also machine wash it.
What Are Stainless Steel Pans Good For?
As stainless pans can withstand high heats, they are great for searing, browning or crisping steak, chicken or any other meat. They are also perfect for boiling, stewing, steaming, frying, braising, and poaching.
On the downside, they are not as good for sautéing or cooking delicate foods at a low temperature since they don't come with non-stick elements.
What Is Nonstick?
As the word indicates, nonstick is a surface that reduces the ability of materials to stick to it. In cookware manufacturing, non-stick often refers to surfaces that are coated with PTFE or Teflon (brand name of PTFE).
NonStick Pans Pros and Cons
There is no doubt that non-stick is one of the most popular cookware options out there. Here's why:
Great for 'sticky foods': When it comes to making fried eggs, omelets, pancakes, and other delicate foods, you simply can't go wrong with a non-stick pan. It gives you some peace of mind and is great for beginners.
Diet-friendly: Since there is no risk of your food getting stuck, you can use little to no oil or butter in the pan. For people who want to lose weight or reduce their fat intake due to health issues, this works like a charm.
Super easy to clean: As there are no sticky residues, cleanup is a breeze. Either wipe it using a damp cloth or hand wash it. Dishwashing is not recommended because it can damage the coating.
Lightweight: Lighter than stainless steel and much lighter than cast iron, non-stick pots and pans are easier to lift or wash especially for people with a weak hand grip.
Cheap: Cheaper than stainless steel, it's a good option for those who are tight on budget.
Now, the cons:
Health Safety: A lot of non-stick cookware contains Teflon and there have been many health concerns about the possible negative effects of it on humans and pet birds. Any Teflon coated pan will start decomposing if overheated and release toxic fumes to the air. Metallic utensils can also damage the coating. For eco-friendly non-stick options, try ceramic cookware, cast-iron, or stoneware.
Lifespan: Depending on its quality, thickness, and type of use, a non-stick coating can start flaking and peeling even in a matter of months so it will lose its non-stick properties. If you notice any scratches or other signs of wear off, you should immediately discard the pan because of potential health risks.
What Are Non-Stick Pans Good For?
For foods that do not require very high heats such as poached eggs, omelets, grilled cheese, fish, or pancakes, non-stick works perfectly. It's also good for sautéing meat or veggies.
So, What'sBetter: Stainless Steel Pan Or Non-Stick?
Non-stick pans can make your cooking life a bit easier but stainless steel is great for a variety of cooking methods and will last you a lifetime. If you don't want to face the dilemma of choosing one over the other, you can buy both and use accordingly, depending on the type of food or cooking technique you are going to use.