Steamed Spinach- Fresh leafy green spinach cooked to perfection in a steamer basket or colander with water on the stove. Add melted butter, lemon juice, and salt to make a fresh and satisfying side dish that is ideal for any occasion.
Whether you're a health enthusiast or just looking for a quick and easy side dish, steamed spinach is definitely worth trying! This nutrient-rich vegetable is low in calories and carbs but high in fiber and vitamins. Plus, it pairs well with pretty much any main course. So if you're in the mood for something light and healthy, steamed spinach is the perfect option.
I know what you're thinking. Spinach is so dull. But trust me, this recipe will make you a believer. By steaming the spinach instead of boiling it, the flavor remains delicate and mild. And with just a few simple ingredients, this dish can be on your table in no time. So go ahead and give it a try- you'll find that spinach isn't so boring after all!
Why You'll Love This Steamed Spinach Recipe
Easy To Make-

 This recipe is perfect for beginner cooks. The instructions are easy to follow and take less than 10 minutes to prepare.

Simple Ingredients-

 The ingredients for this recipe are easily found at your local grocery store.

No Complicated Equipment-

 No expensive culinary tools are needed to make this steamed spinach recipe. A pot and steamer basket is about as complicated as it gets.

Tasty-

 Steamed spinach is a delicious side dish whose flavors can be adjusted for any meal.
Equipment Needed To Make Steamed Spinach
Steaming Basket or Colander

Skillet or Saucepot with Lid

Measuring Spoons

Stirring Spoon

Ingredients For Making Steamed Spinach At Home
Water

Spinach

Butter

Lemon Juice

Salt
How To Make Steamed Spinach
If you are using a steaming basket, fill a saucepot with about 2 inches of water, insert the basket and add the spinach.
If you are using a skillet, fill the skillet with about a ½ inch of water, place the colander into the skillet, and fill it with spinach.
Cover the spinach with a lid and steam until spinach begins to wilt. Once the spinach has cooked, sprinkle it with salt and drizzle with melted butter. Stir to combine and top it off with lemon juice.
What to Serve/Pair with Fresh Steamed Spinach?
There are so many delicious things you can do with spinach. Here are some of our favorite ways to enjoy it:
Serve it as a side dish with roasted chicken or grilled salmon.

Top it with sautéed mushrooms, onions, and garlic for a delicious, easy vegetarian main dish.

Use it as a filling for tacos and burritos, or top it with crumbled feta cheese for a delicious Mediterranean dish.

You can also use freshly steamed spinach to make a chunky pesto sauce to serve over pasta.
No matter how you choose to enjoy these fresh and tasty greens, there's no denying that they will quickly become one of your favorite side dishes.

Popular Substitutions & Additions
While this recipe is delicious as is, there are a few ways you can change it up to suit your taste. Here are some popular substitutions and additions:
Swap out the spinach for kale or chard if you prefer.

Add in some diced tomatoes, red onion, and feta cheese for a Mediterranean twist.

For a bit of heat, add in some red pepper flakes or diced jalapeños.

Add a bit of creaminess by stirring in some sour cream or Greek yogurt.
Whether you choose to make this recipe as is or experiment with some of these delicious additions, we know you're going to love it!
How To Reheat & Store Steamed Spinach         
Best Way To Store Steamed Spinach?
Fresh steamed spinach is best stored in an airtight container in the refrigerator.
How Long Will Steamed Spinach Last In the Fridge?
If stored correctly in an airtight container, steamed spinach will last up to 4 days in the refrigerator. 
Can I Freeze Spinach That Has Been Steamed?
Yes! You can freeze steamed spinach for up to 3 months. To freeze, simply place in an airtight container or freezer-safe bag and place in the freezer. When ready to use, thaw at room temperature before reheating. 
How Do I Reheat Steamed Spinach?
To reheat steamed spinach, place it in the microwave or on the stovetop over low heat until warm.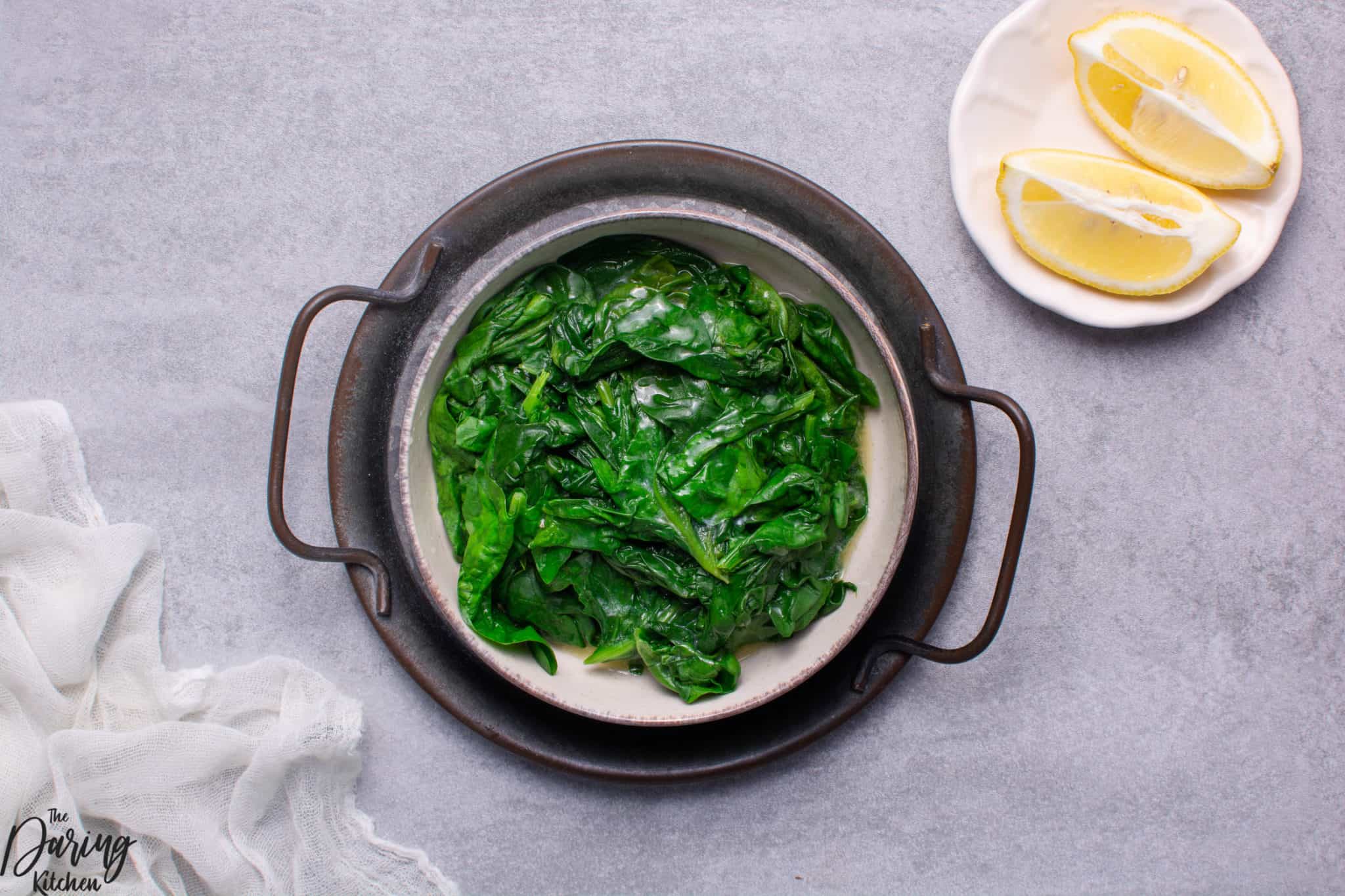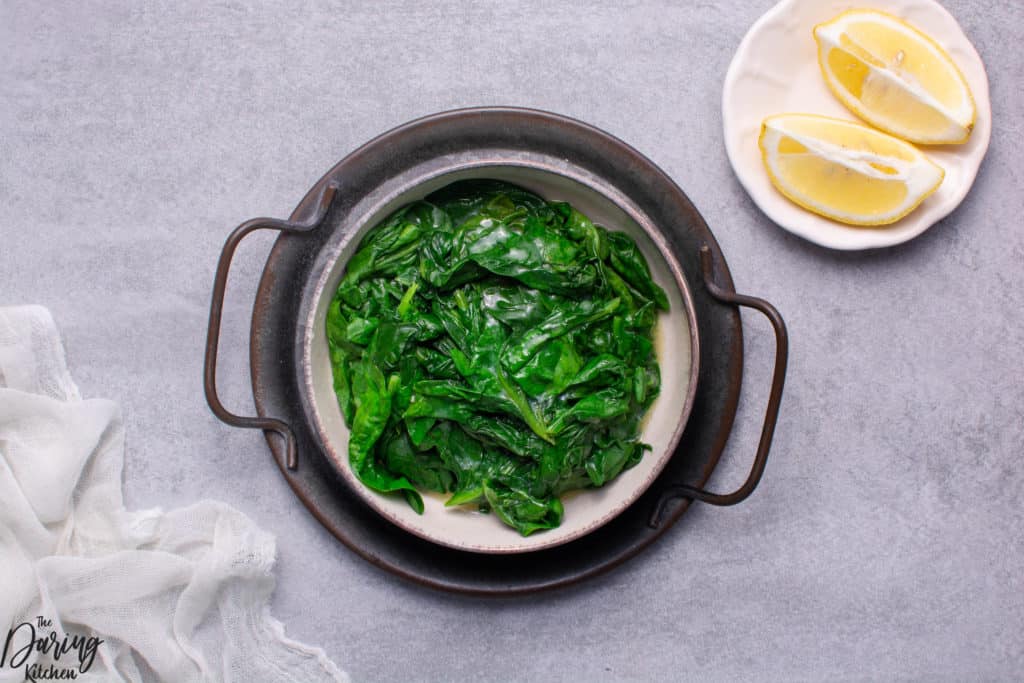 Steamed Spinach FAQs  
What Does Steamed Spinach Taste Like?
Steamed spinach has a slightly sweet taste with a hint of bitterness. The texture is similar to that of cooked leafy greens, with a lovely soft texture.
Can I Make Steamed Spinach More Flavorful?
Yes. To give your steamed spinach more flavor, consider adding in spices like red pepper flakes or cumin. You can also add diced tomatoes, onions, and garlic. Try stirring in some sour cream or Greek yogurt for a creamy texture.
How Long Does It Take To Steam Spinach?
It only takes a few minutes to steam spinach. The exact time will depend on the amount of spinach you are cooking as well as the method you are using. In general, smaller amounts of spinach will steam faster than a large amount. Generally, it will likely take 5-10 minutes to cook spinach fully.
How do I pick out fresh spinach?
To pick fresh spinach, look for bright green and crisp leaves. Avoid any leaves that appear wilted or yellowed, as these may be signs of spoilage. It would be best if you also avoided spinach with rubbery or slimy stems, as these may indicate the presence of bacteria or other contaminants. Additionally, you should always wash your spinach leaves thoroughly before eating them, even if you plan to cook them. Washing fresh spinach will help remove any dirt or debris that may be present.
Will baby spinach work for this steamed spinach recipe?
Yes. Baby spinach leaves are more delicate and will cook faster than regular spinach leaves. If you're using baby spinach, be careful not to overcook as it can turn mushy quickly.  
Can I use frozen spinach instead of fresh for this recipe?
Yes, while it is possible to use frozen spinach in place of fresh, the results may not be as good. Frozen spinach tends to have a much higher water content than fresh spinach, which can make it difficult to cook evenly and may lead to a soggy final dish. If you decide to use frozen spinach, defrost it before using it and drain any excess liquid before adding it to the recipe.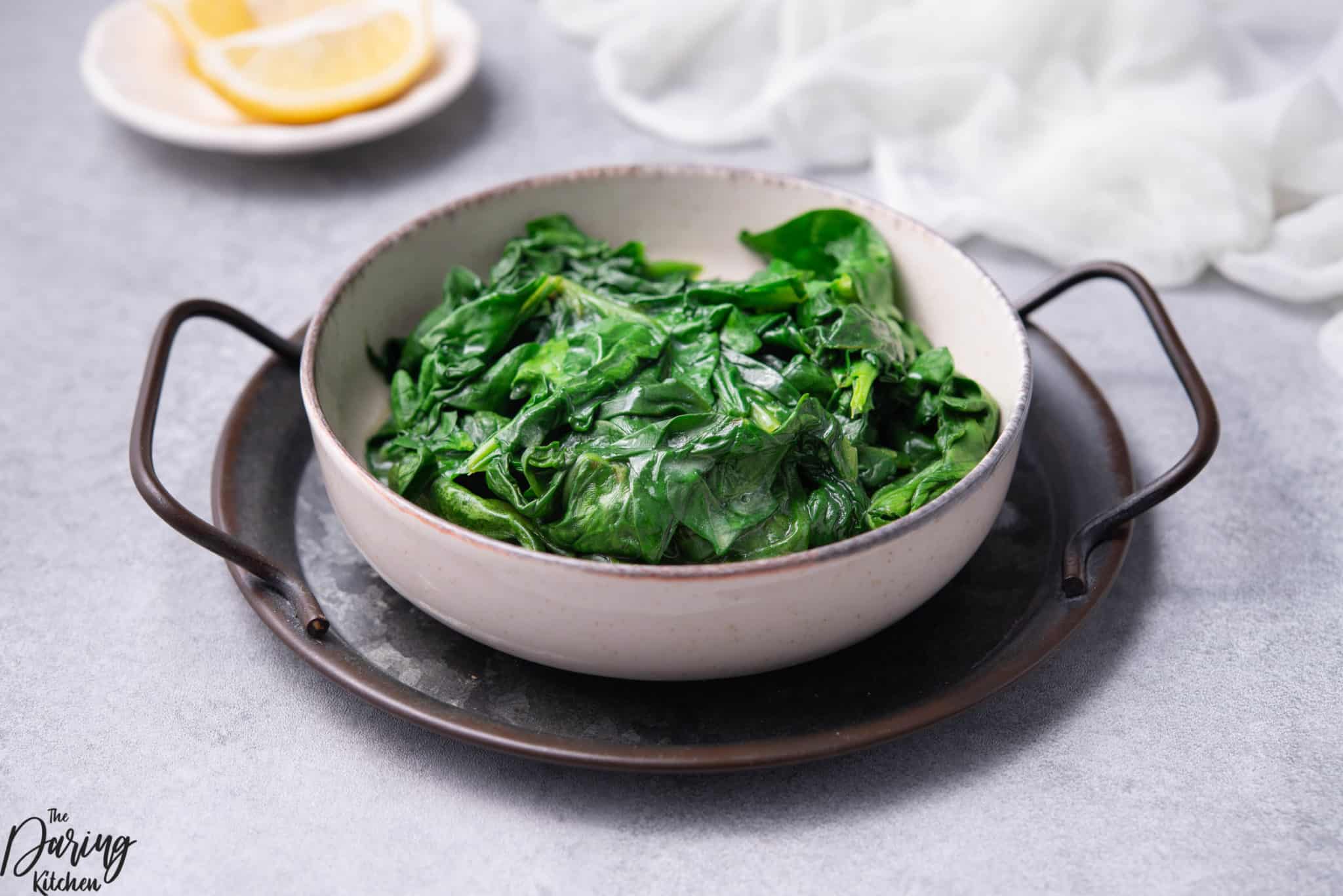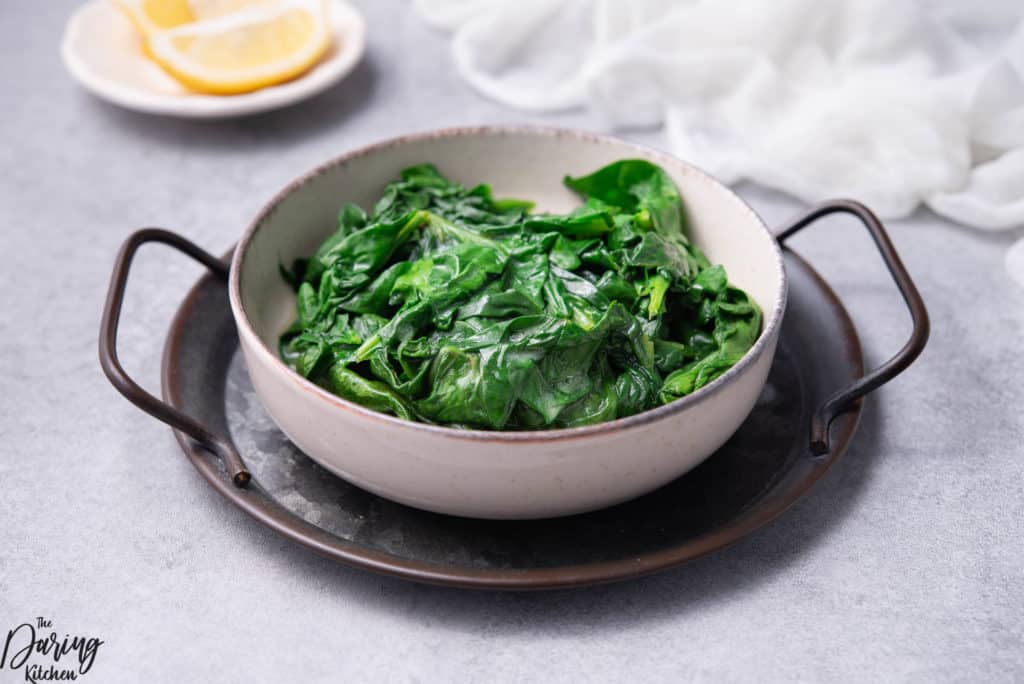 Don't Forget To Come Back And Let Me Know How Your Steamed Spinach Turned Out!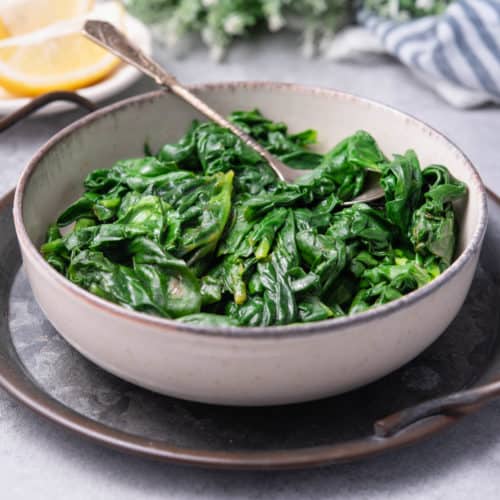 Steamed Spinach
Fresh leafy green spinach cooked to perfection on the stove. Add melted butter, lemon juice, and salt to make a fresh side dish that is ideal for any occasion.
Print
Pin
Rate
Ingredients
water

as needed

1

lb.

spinach

fresh

2

tbsp

butter

melted

1

tbsp

lemon juice

Salt

to taste
Instructions
To cook using steaming basket method:
Fill the saucepot with 2-inches of water. Insert steaming basket and add spinach into the basket.

Cover the basket with a lid and steam spinach until wilted.
To cook using skillet method:
Fill the skillet with ½-inch of water.

Place the colander into the skillet and fill with spinach.

Cover the spinach with a lid and steam until just wilted.

Sprinkle the spinach with salt, and drizzle over with melted butter.

Give it a gentle stir and finish off with lemon juice.
Nutrition
Calories:
154
kcal
|
Carbohydrates:
9
g
|
Protein:
7
g
|
Fat:
12
g
|
Saturated Fat:
7
g
|
Polyunsaturated Fat:
1
g
|
Monounsaturated Fat:
3
g
|
Trans Fat:
1
g
|
Cholesterol:
30
mg
|
Sodium:
269
mg
|
Potassium:
1277
mg
|
Fiber:
5
g
|
Sugar:
1
g
|
Vitamin A:
21617
IU
|
Vitamin C:
67
mg
|
Calcium:
228
mg
|
Iron:
6
mg