These perfectly crunchy sesame cauliflower bites are 100 percent plant based. They are baked, not fried, making them a healthy and belly-friendly treat!
Easy and Vegan Sticky Cauliflower
It is hard to resist those sweet and sour dishes you find at restaurants. That irresistible flavor combination just seems to satisfy all our cravings. Oftentimes, these dishes are heavily fried and feature some sort of sesame chicken or meat. But, did you know you can enjoy these dishes in a much healthier and vegan way?
Why, yes you can! This sticky sesame cauliflower recipe covers all the bases. It's crispy with a delicious and sticky glaze that will make you want to eat every last bit. Thankfully, my curiosity in the kitchen paid off!
With a little experimentation, I discovered this vegan sesame cauliflower recipe with identical flavors and a lot less guilt. Cauliflower is the secret ingredient. This trendy veggie really lives up to its praise. When cooked, this nutritious vegetable gets both creamy and crispy. This makes for an outstanding bite!
Making the glaze is not as difficult as you think! With a couple of tricks, I formulated a sesame sauce better than you would find at a restaurant. My secret weapon is sweet chili sauce. This is something you can either make at home or find in any grocery store. It is a pantry staple of mine - it tastes fabulous just on its own.
The power of the sticky sesame cauliflower glaze is in its fresh ingredients. Grated ginger, lime, and garlic give the glaze a bold character with some seriously tantalizing aromatics. A little soy sauce and pineapple juice are added as well, giving the glaze a more awesome salty-sweet flavor. Garnished with green onions and sesame seeds, this glazed sesame cauliflower combination is just so hard to resist.
Hungry yet? I know I am! Just the thought of biting into just one piece of sticky sesame cauliflower got me through this recipe process. And, boy, was it worth it! It is now one of my favorite cauliflower recipes.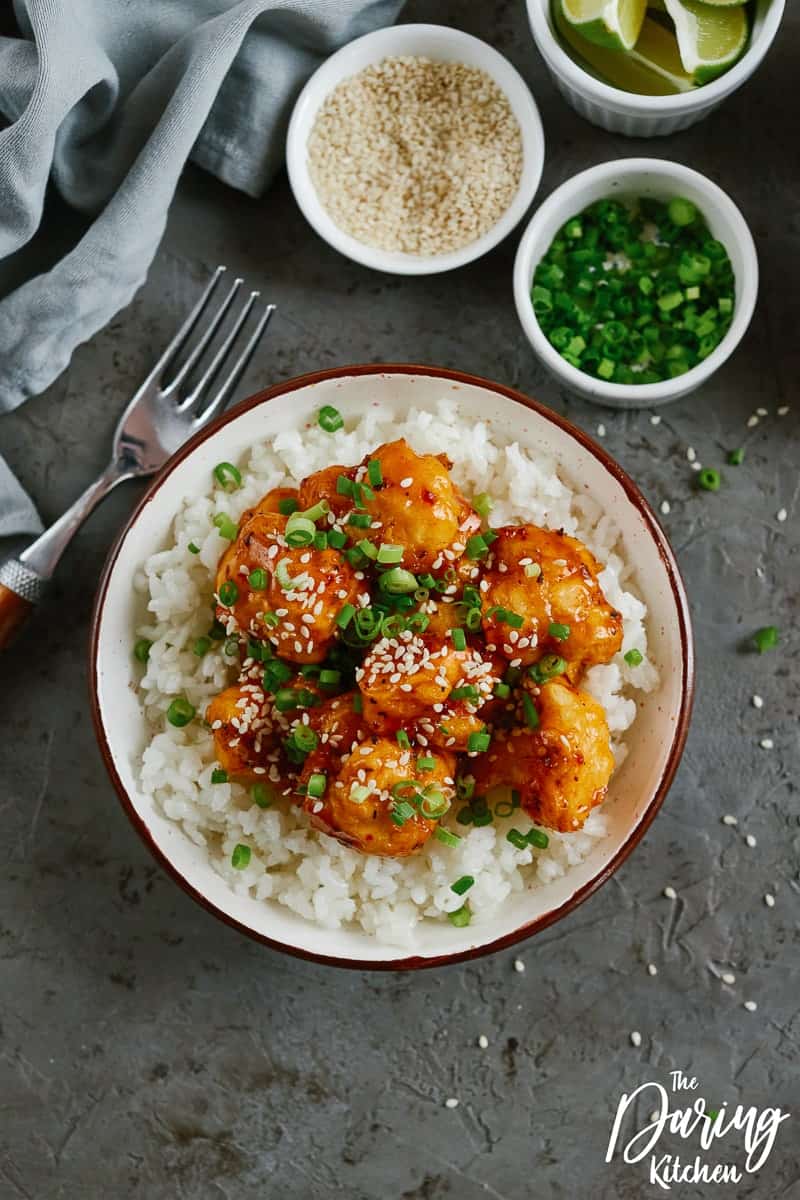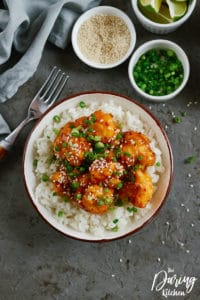 No Fryer Necessary
What I absolutely love about this sticky cauliflower recipe is that there is no frying involved. The cauliflower florets are simply baked. This is great for a multitude of reasons; most importantly, for your health and your kitchen clean up!
Fried food is not very good for our systems. Not only can they cause stomach aches, but they do not contribute to healthy bodies. Fried foods are full of unhealthy fats known to cause several diseases we would all like to avoid! If you're like me and hope to maintain a healthy diet (while also eating delicious food!) then you definitely are interested in alternatives to fried foods.
Second, frying food is a hassle. Whether you are using a dutch oven or a frier, oil just seems to get everywhere - on your counters, floors, or even cabinets. It is quite annoying to clean. Plus, hot is pretty dangerous. You need to be extra careful when working with it, especially if you have kids at home.
With all that said, this sticky sesame cauliflower is BAKED not fried! Saves our bodies and kitchens the hassle! That means you can enjoy a lot more bites of sesame cauliflower, without the crummy feeling fried food gives us.
And, trust me, these sticky sesame cauliflower bites are just as crispy as the fried version. To ensure they get the right crispiness, I bake them twice. This lets the glaze set into the coating, guaranteeing a consistent and crunchy bite for every floret. If you have an air fryer at home, do not be afraid to use it for this recipe.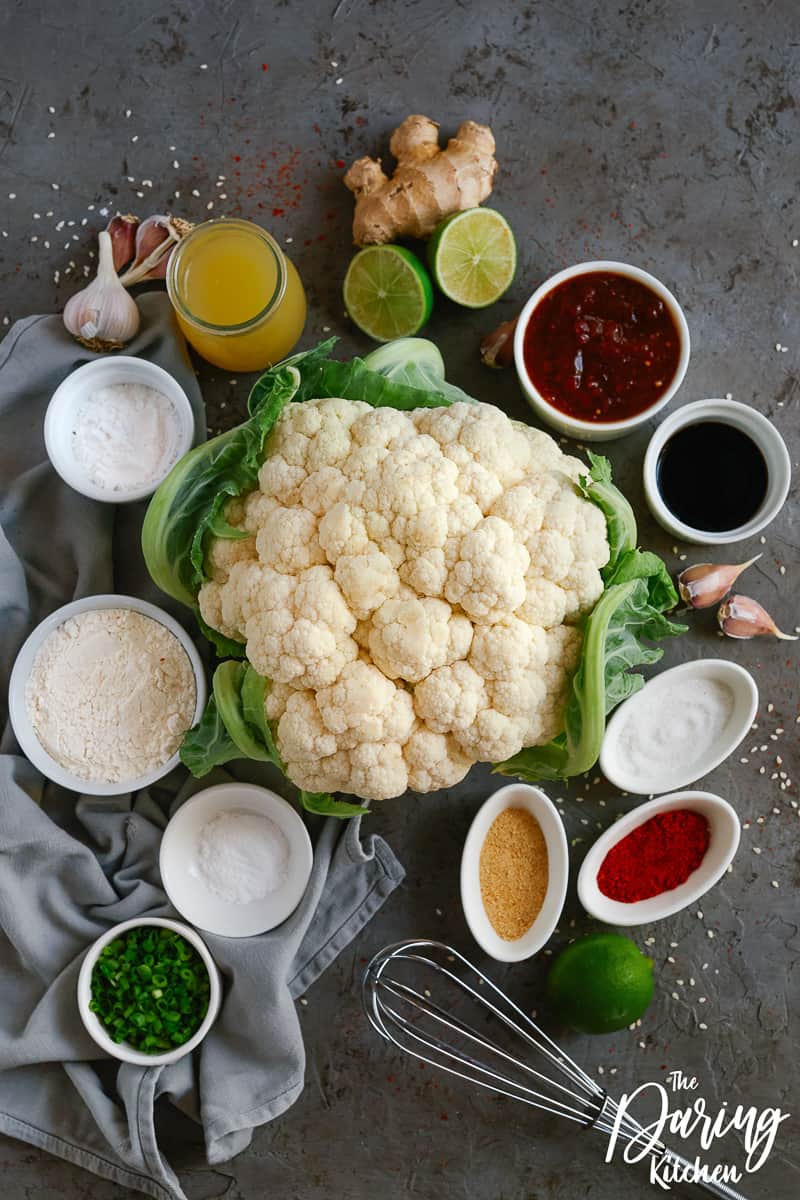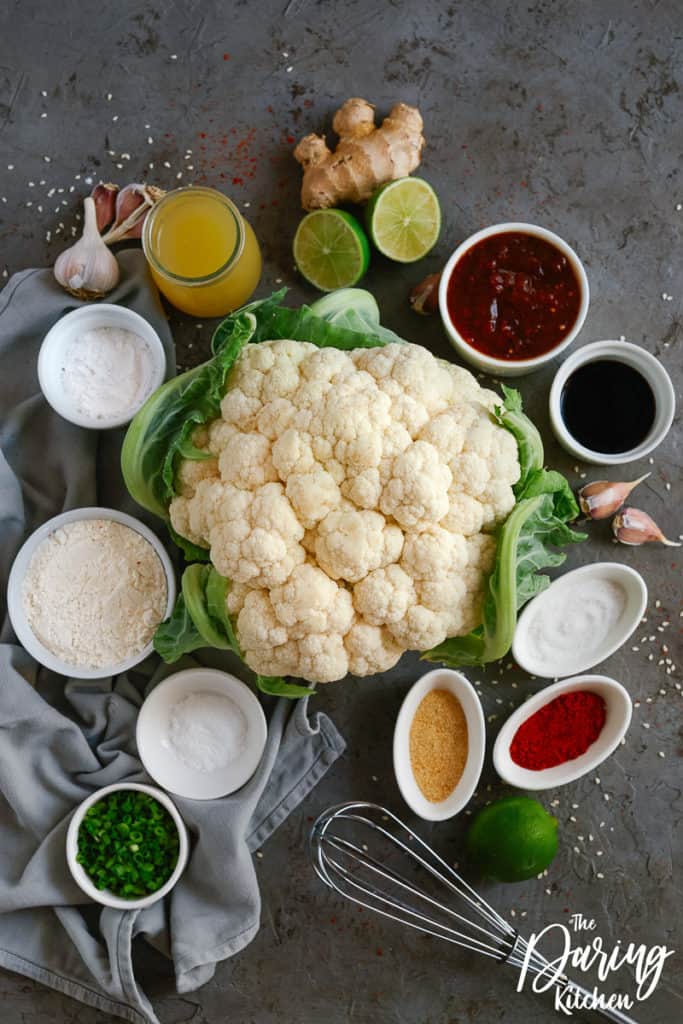 How to Make Sticky Sesame Cauliflower
This sticky sesame cauliflower recipe is not as tricky as it may seem. The prep time and cook time are quite simple. In just a few steps, you will have tasty and zesty cauliflower bites everyone will love.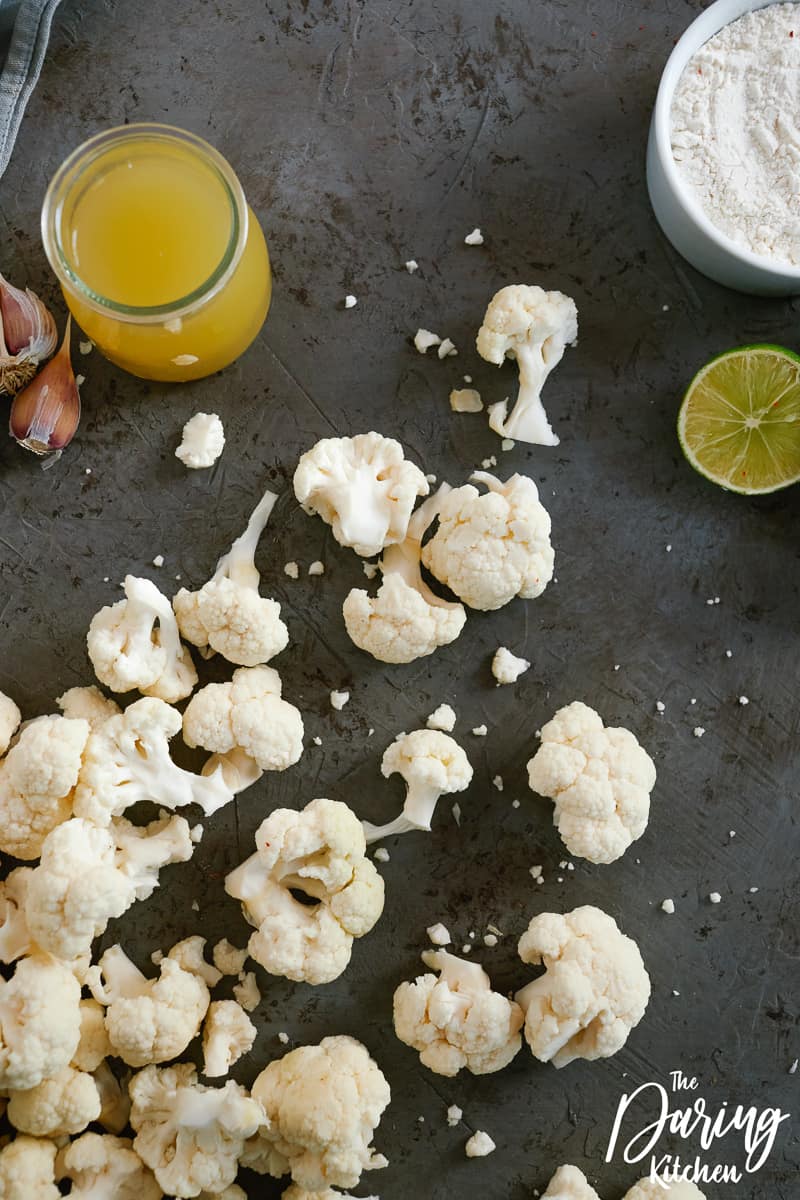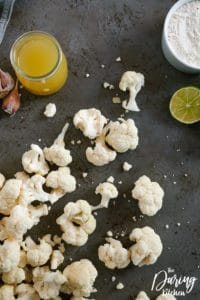 Once you preheat the oven to 445 degrees Fahrenheit, it's time to prep your cauliflower. Carefully break off large florets from the stem. Then, cut or break these larger florets into more bite-size pieces.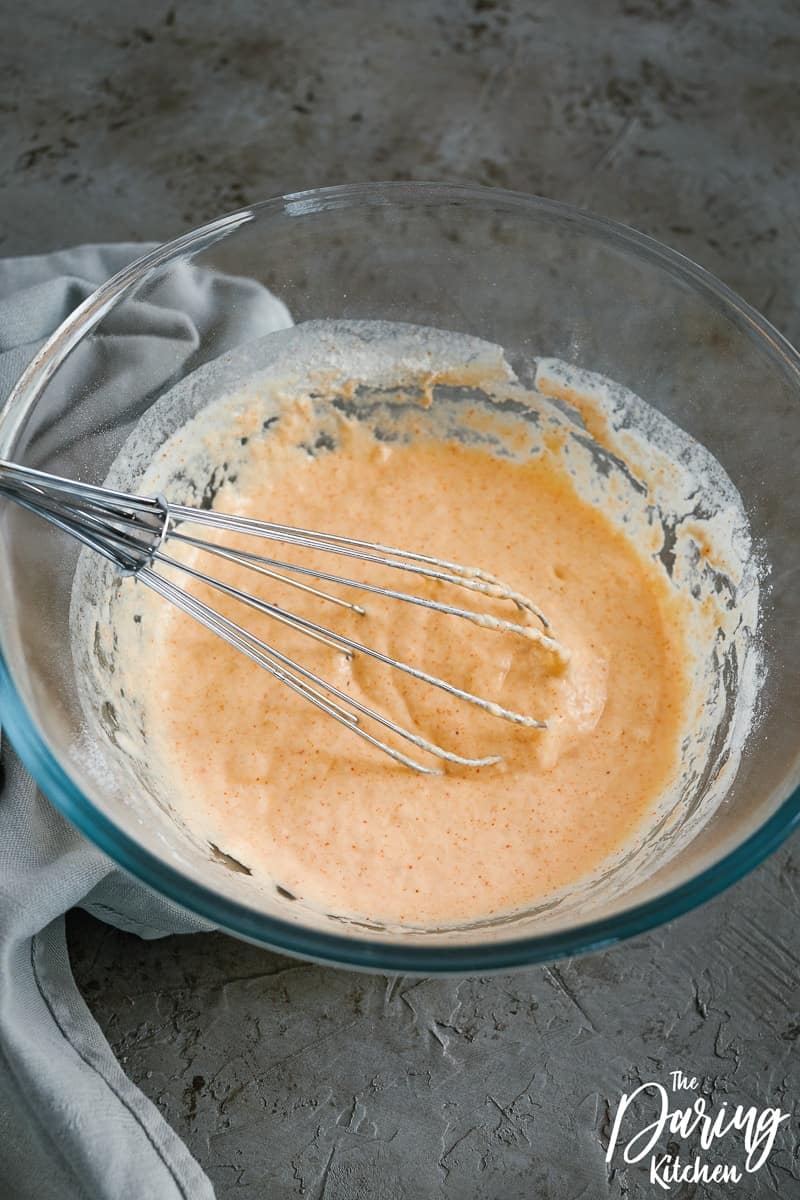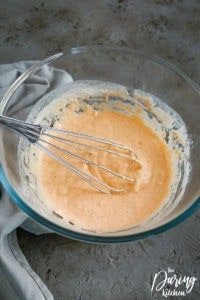 Now, it's time to make your coating. In a large bowl, mix the cornstarch, baking powder, garlic powder, paprika, and salt until even. Then, gently pour in your sparkling water and continue to whisk until everything becomes a consistent batter. Make sure your sparkling water is ice-cold.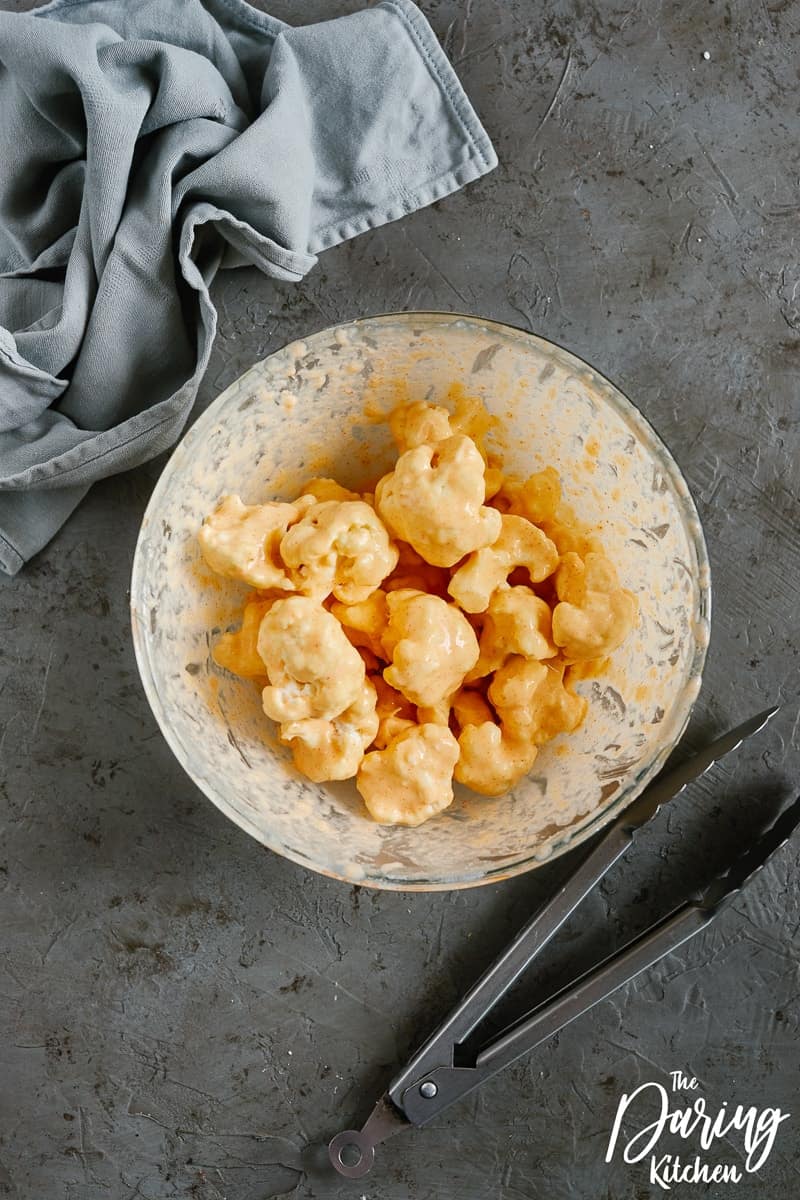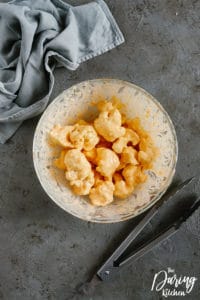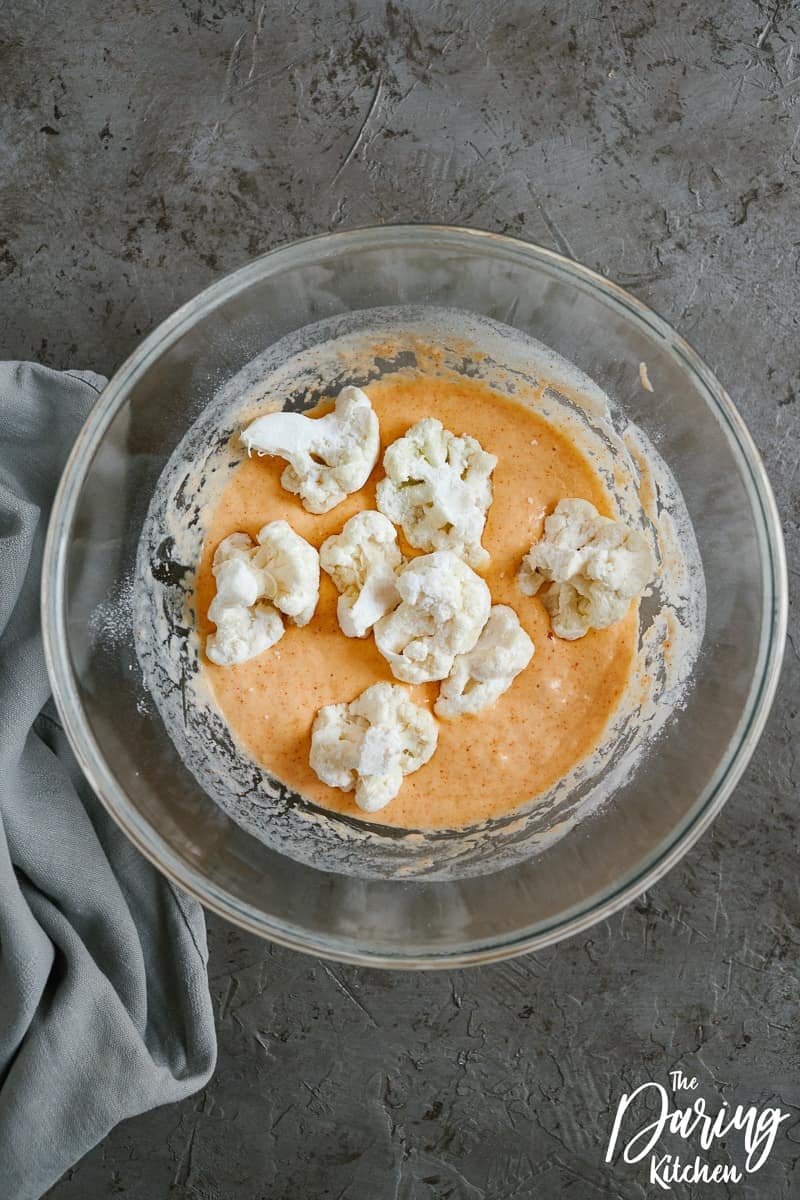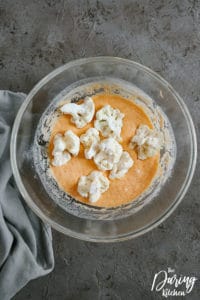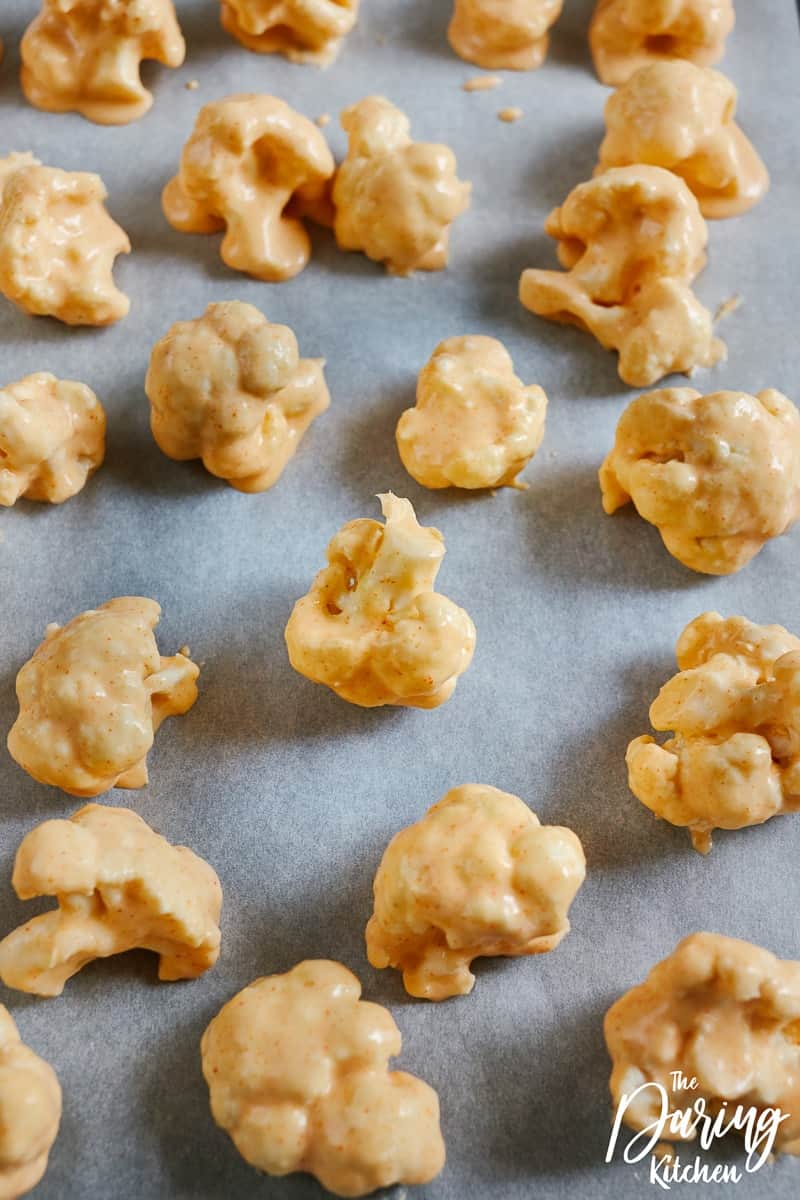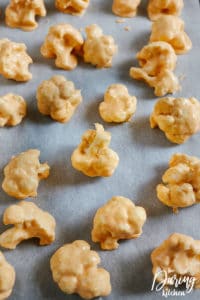 Assemble your baking sheet. Then, pour some corn starch into another bowl. Dredge each cauliflower floret in the cornstarch, shaking each one to rid of any excess cornstarch. After you dredge the floret, dip it into the batter. Once the floret is evenly coated, place it on the baking sheet. Don't crowd the cauliflower - make sure each floret has room!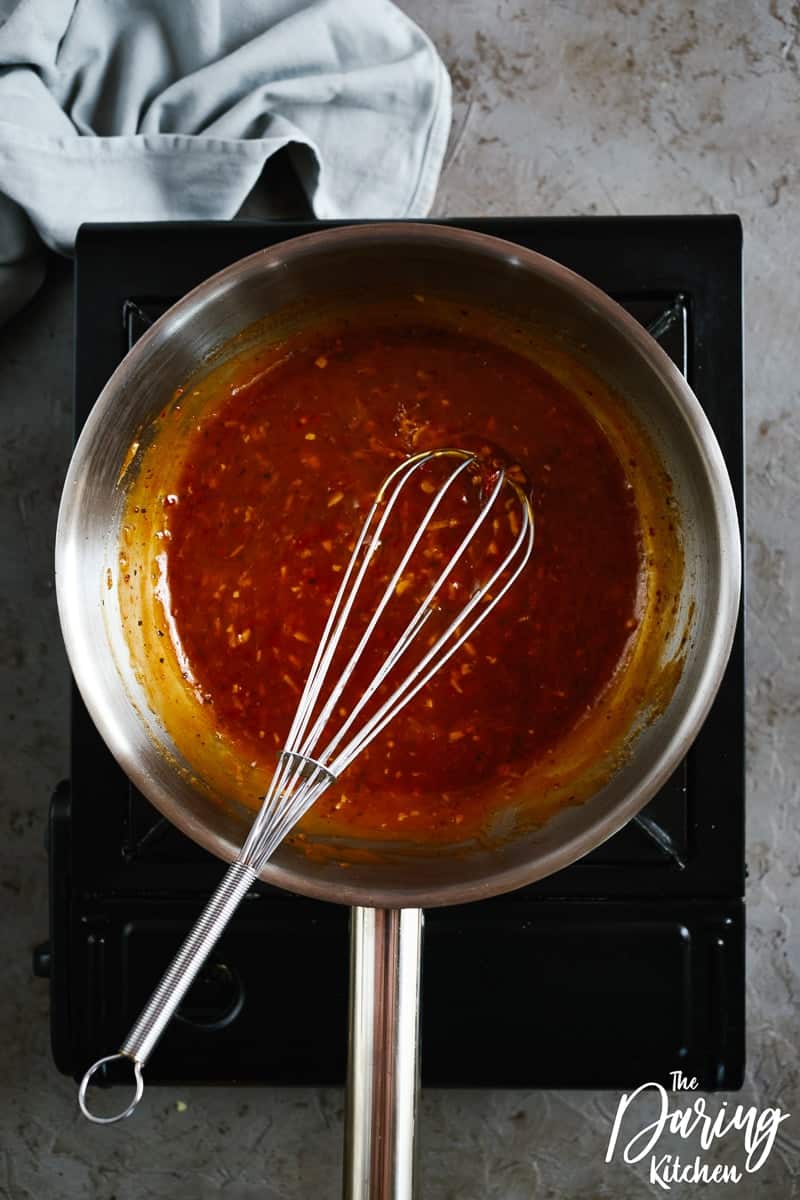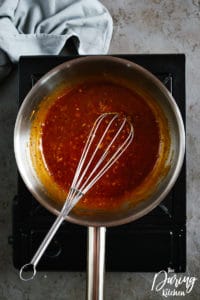 While that bakes for 25 to 30 minutes, you can begin making your sticky sesame sauce. Using a pan or skillet, heat the vegetable oil over medium heat. Add in your grated ginger and garlic. You will only need to saute them until they begin to smell flavorful. Then, you can add in your soy sauce and sweet chili sauce.
As your sticky sesame sauce bubbles and turns into a glaze, quickly whisk the pineapple juice with the cornstarch in a bowl. Pour this into your pan, combining it with the other ingredients. As you whisk your sauce, reduce the heat to medium-low. The sesame sauce will need a few minutes to thicken. While it does, do not stop whisking! Once even and thick, remove the now formed glaze from the heat and allow it to cool.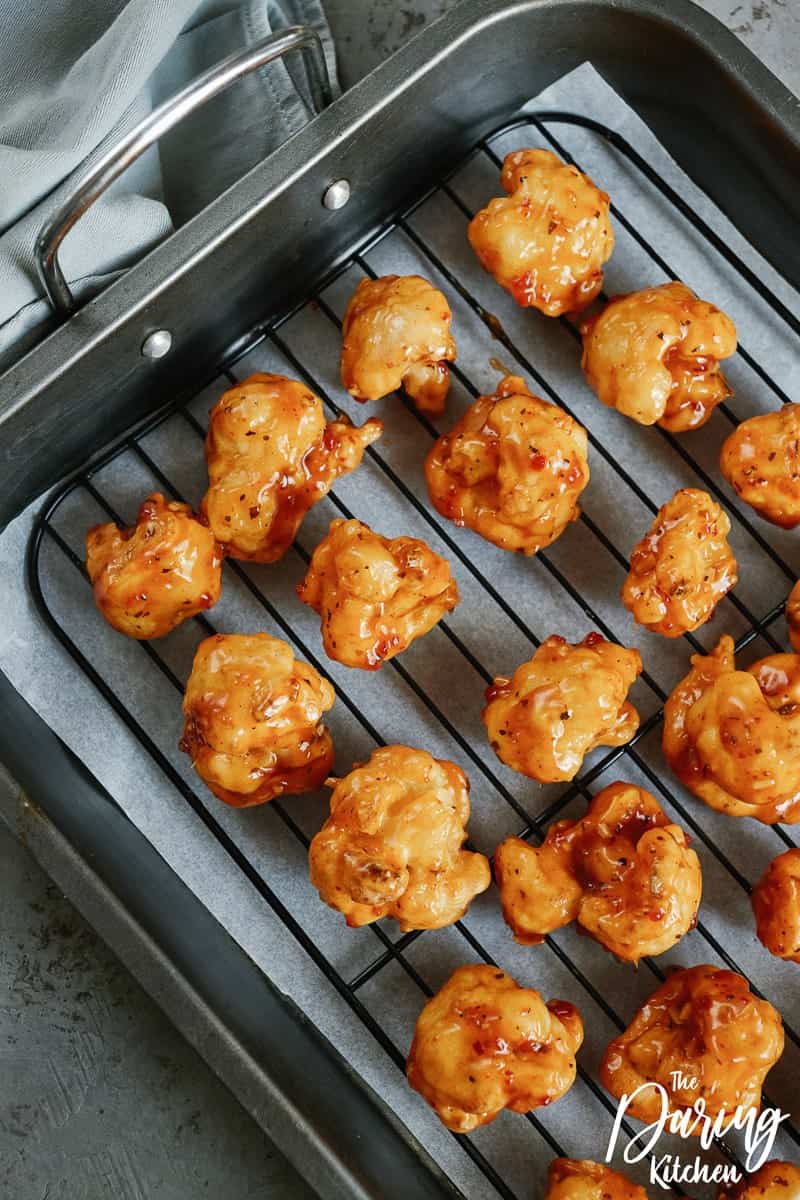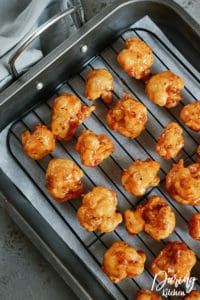 When your florets are golden brown and finished baking, it's time to marry them with the glaze. With a clean mixing bowl, toss the cauliflower with the glaze. If you are hungry enough, you can serve the cauliflower as is. Or, you can caramelize them and get them extra crispy by throwing them back in the oven. If you choose the latter, you will need a handy baking rack on top of your baking sheet.
Place the glazed cauliflower evenly on the rack. Bake for only 6-7 minutes, watching to make sure the glaze does not burn.
Serve with plenty of sesame seeds and bright green onions!
Leave a reply in the comments to tell me how delicious your sticky sesame cauliflower turned out!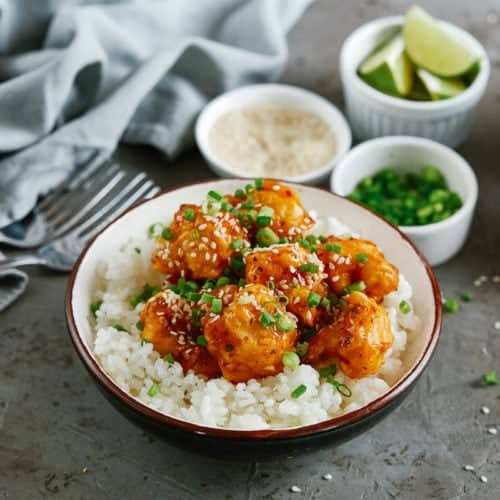 Simple Sticky Sesame Cauliflower
These sticky sesame cauliflower bites are sweet, savory, and crispy delicious. Plus, they are oven-baked - meaning no fryer necessary!
Print
Pin
Ingredients
For The Sauce
2

cloves

Garlic

minced

1

tsp

Fresh Ginger

grated

1

tbsp

Lime Juice

⅔

cup

Sweet Chili Sauce

½

cup

Pineapple Juice

1

tsp

Cornstarch

3

tbsp

Soy Sauce

2

tbsp

Vegetable Oil
For The Cauliflower
1

Head Cauliflower

medium

⅔

cup

all-Purpose Flour

3

tbsp

Cornstarch

1

tsp

Baking Powder

⅔

cup

Sparkling Water

ice-cold

1

tsp

Paprika

1

tsp

Garlic Powder

1

tsp

Salt

½

cup

Cornstarch
Instructions
Preheat oven to 230C/445F. Cover baking sheet with parchment paper

Cut off large cauliflower florets from the stem and break them up into bite-size pieces. You should end up with 500g/1 pound of cauliflower florets

Dredge florets in ½ cup cornstarch. Shake off any excess cornstarch.

Whisk flour, 3 tbsp cornstarch, baking powder, paprika, garlic and salt. Pour ice-cold water and whisk until smooth batter forms.

Add the florets into the batter and stir to cover completely. You can use your hands to make sure you cover each florets completely

Place cauliflower onto a prepared baking sheet, making sure that you leave some space in-between each piece.

Meanwhile make a quick glazing sauce by sautéing garlic and ginger in vegetable oil until fragrant (around 1 minute, stirring constantly). Add soy sauce and chili sauce

Whisk cornstarch and pineapple juice. Pour the mixture into the pan too. Season with some lime juice and continue cooking on a medium-low heat for 2-3 minutes, while whisking constantly. Leave to cool down

Combine baked cauliflower with the sauce, stir to coat. You can serve the dish right away of caramelize the glaze. For that you need to place coated florets on a baking sheet with a baking rack on top and bake cauliflower for 6-7 minutes at the same temperature
Nutrition
Calories:
1500
kcal
|
Carbohydrates:
285
g
|
Protein:
29
g
|
Fat:
31
g
|
Saturated Fat:
23
g
|
Sodium:
7752
mg
|
Potassium:
2159
mg
|
Fiber:
17
g
|
Sugar:
106
g
|
Vitamin A:
985
IU
|
Vitamin C:
295
mg
|
Calcium:
446
mg
|
Iron:
9
mg