Strawberry Frozen Yogurt- This delicious froyo is what dreams are made of! It's light yet satisfying, making it perfect for a summer party or backyard barbecue. Sweet honey, thick creamy Greek yogurt, and frozen strawberries are blended to perfection to create this delectable refreshing treat you'll want to enjoy time and time again.
Summer is just around the corner, which means it's time to start stocking up on delicious frozen treats! Did you know that you don't need an ice cream maker to make frozen yogurt? All you need is a blender or a food processor, so if you've been searching for a healthier alternative to ice cream to cool off with now that warmer weather is upon us, this homemade strawberry frozen yogurt recipe is a great choice!
Who doesn't love a good frozen yogurt? Especially when it's made with delicious strawberries! This 3-ingredient homemade strawberry frozen yogurt recipe is perfect for satisfying your sweet tooth. Strawberry froyo is incredibly refreshing, but it's also simple, quick, and perfect for impressing family and friends at gatherings. Plus, it's a lot healthier than store-bought ice cream.
Why You'll Love This Strawberry Frozen Yogurt Recipe
Delicious- This strawberry froyo recipe is so good! Light, refreshing, and so much better than anything you can buy at the store.
Ready In Minutes- Nobody likes waiting hours for a cool treat on a hot day, which is why this frozen strawberry yogurt is so perfect. This frozen yogurt can be ready in just 5 minutes from start to finish!
Crowd-Pleaser- Everyone will enjoy this delectable froyo, whether you serve it at a party, a summer barbecue, or just after dinner at home.
Perfect For Summer- Cool, refreshing, and bursting with flavor! Strawberry frozen yogurt is an ideal summertime treat.
Simple Ingredients- This delicious frozen yogurt only requires 3 ingredients. If you don't already have them at home, they're easy to find at your local grocery store.
Equipment Needed To Make This Homemade Strawberry Frozen Yogurt
Food Processor

Measuring Cups

Measuring Spoons
Note- If using fresh strawberries, you will also need:
Knife

Baking Sheet

Parchment Paper

Ingredients For Homemade Strawberry FroYo
Strawberries

Greek Yogurt

Honey
How To Make 3-Ingredient Strawberry Frozen Yogurt
Frozen strawberries are ideal for this froyo recipe but if you only have fresh strawberries, wash them, pit them, and cut them in half before freezing on a parchment paper-lined baking sheet.
Next, add the strawberries, Greek yogurt, and honey to a food processor and blend until smooth.
After the froyo has been blended, it's ready to eat! Serve immediately garnished with fresh strawberries or store in the freezer for a thicker froyo.
What to Serve/Pair with Your Strawberry Frozen Yogurt
Because frozen yogurt is a healthier alternative to ice cream, this strawberry froyo is an excellent way to cool down on a hot summer day. But serving it with other summertime snacks takes it to another level.
Fresh fruit

Pie

Granola or cereal

Chopped nuts or seeds

Graham crackers

Chocolate chips or chunks

You can never go wrong with Oreos!

Popular Substitutions & Additions
Swap the honey for agave nectar or maple syrup if you want a vegan version.

Add a splash of vanilla extract or almond extract for more flavor.

For a fun twist, add a handful of chocolate chips, crumbled cookies, or chopped nuts to the food processor with the other ingredients.

If you want a really thick froyo, add an extra half cup of Greek yogurt or use all full-fat yogurt.
How To Reheat & Store Strawberry Frozen Yogurt
What Is The Best Way To Store Homemade Strawberry FroYo?
Strawberry frozen yogurt is best kept in the freezer in an airtight container.
How Long Will 3-Ingredient FroYo Last In the Fridge?
Your frozen yogurt should be eaten right away or frozen. Putting it in the fridge will cause it to melt and make a less-than-tasty dessert.
Can I Freeze Strawberry Frozen Yogurt?
Yes! This froyo is a great recipe to make ahead and keep in the freezer for those times when you want a quick and easy dessert. When stored correctly in an airtight container, strawberry froyo will last up to 2 weeks in the freezer.
How To Reheat Easy Strawberry FroYo?
To enjoy froyo straight from the freezer, allow it to sit at room temperature for approximately 15 minutes before consuming.

3-Ingredient Strawberry Frozen Yogurt FAQs
I don't have a food processor. Can I use a blender instead?
Yes! If you don't have a food processor, you can use a blender. I would recommend pulsing the ingredients rather than blending on high to avoid turning your froyo into soup!
Can I make frozen yogurt with other fruits?
Yes. This recipe would be delicious with raspberries, blueberries, or even mango.
Do I have to use Greek yogurt?
No, you can use any type of yogurt you like. I prefer Greek yogurt because it is higher in protein and lower in sugar but feel free to use whatever you have on hand.
Is this 3-ingredient froyo gluten-free?
Yes, this recipe is naturally gluten-free. Just be sure to check the labels on your yogurt and honey to be sure they are gluten-free as well.
Can I make this frozen yogurt recipe vegan?
Yes! Simply swap the honey for agave nectar or maple syrup to make this recipe vegan. You could also use a non-dairy yogurt such as coconut milk yogurt or almond milk yogurt.
Is there anything I can do to make my froyo more firm?
Yes. If your froyo is too soft, simply pop it in the freezer for an hour or so to firm up. Let it thaw at room temperature for a few minutes before scooping if it gets too hard.

Other Refreshing Frozen Recipes You'll Love
Vegan Mint Chocolate Chip Ice Cream
Homemade Vegan Vanilla Ice Cream
Peanut Butter Banana Nice Cream
Don't Forget To Come Back And Let Me Know How Your Homemade Strawberry Frozen Yogurt Turned Out!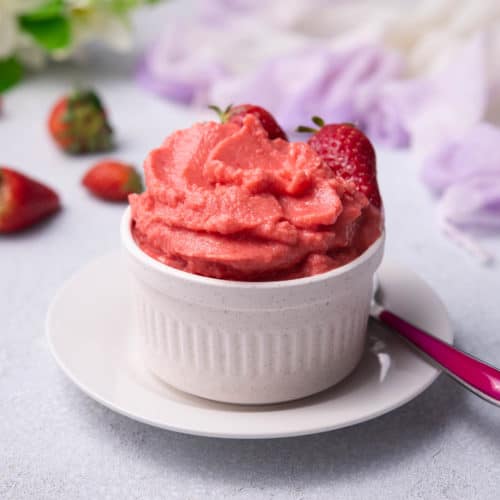 Strawberry Frozen Yogurt
Sweet honey, thick creamy Greek yogurt, and frozen strawberries blended to perfection to create this refreshing yogurt you'll want to enjoy time and time again.
Print
Pin
Rate
Ingredients
2

cups

frozen strawberries

⅓

cup

Greek yogurt

3

tbsp

melted honey

Fresh strawberries

for garnish
Instructions
Cut the strawberries in half and arrange them on a baking sheet, lined with parchment paper. Skip this and step 2 if you purchased frozen strawberries.

Freeze the strawberries for 4 hours.

Melt honey in saucepan or microwave.

Place the strawberries in a food blender or food processor. Add Greek yogurt and melted honey.

Process until smooth. You can serve FroYo immediately or pop it in the freezer for a thicker consistency.

Serve garnished with fresh strawberries.
Nutrition
Calories:
81
kcal
|
Carbohydrates:
19
g
|
Protein:
2
g
|
Fat:
1
g
|
Saturated Fat:
1
g
|
Polyunsaturated Fat:
1
g
|
Monounsaturated Fat:
1
g
|
Cholesterol:
1
mg
|
Sodium:
7
mg
|
Potassium:
142
mg
|
Fiber:
1
g
|
Sugar:
17
g
|
Vitamin A:
9
IU
|
Vitamin C:
42
mg
|
Calcium:
31
mg
|
Iron:
1
mg