Strawberry Jam- Freshly cut sweet strawberries are blended and then simmered with sugar and lemon juice until the perfect jam consistency is formed. Homemade strawberry jam is the ideal addition to toast, yogurt, and even ice cream! This strawberry jam is better than anything you can buy at the store! It's sweet, spreadable, and delicious.
Who doesn't love a good piece of warm toast with fresh strawberry jam? It's the perfect breakfast or snack. But store-bought strawberry jam can be expensive, especially if you buy the organic variety. So this summer, forget about the store-bought jam and try your hand at making your own. It's a great way to get creative in the kitchen and impress your family and friends with your homemade goodies. Plus, you'll get to enjoy the delicious results all season long.
Making strawberry jam from scratch is easier than you might think! The process is actually pretty simple and can be quite fun too. Homemade strawberry jam tastes so much better than store-bought; you can customize the recipe to your liking by adding different fruits and flavors. Strawberry jam is the perfect way to use up those deliciously sweet strawberries, and it will make your kitchen smell amazing!
Why You'll Love This Strawberry Jam Recipe
Minimal Ingredients- Unlike other jam recipes with long lists of ingredients, this delectably sweet homemade strawberry jam requires only 3 basic ingredients and is incredibly easy to make. 
Budget-Friendly: This recipe makes a much larger batch of jam and is much cheaper, fresher, and tastes better than store-bought versions.
Homemade- Homemade food tastes better than store-bought food for some reason. Perhaps it's because homemade dishes are made with fresh ingredients, they lack preservatives, or simply because they're made with love; whatever the cause, home cooking is superior!
Versatile- Strawberry jam is fantastic on a wide range of foods, not just toast! Pancakes, waffles, scones, oatmeal, yogurt, and ice cream are only a few examples.
Great Gift- Homemade gifts are always special. After your strawberry jam has been canned, add a festive fabric jar topper and a pretty ribbon for an excellent gift perfect for any occasion.
Equipment Needed To Make This Simple Strawberry Jam
Chopping Knife

Cutting Board

Food Blender

Saucepot

Stirring Spoon

Jars

Measuring Cups

Measuring Spoons

Ingredients For Jam Made With Strawberries
Strawberries

Sugar

Lemon Juice
How To Make Strawberry Jam Without Pectin
Strawberry jam is incredibly simple to make at home. Wash the strawberries first. In a food blender, blend diced strawberries until smooth. Transfer the strawberry mixture to a saucepot and add sugar and lemon juice. Simmer while occasionally stirring until the jam begins to thicken. Remove from heat and let cool completely before transferring it into sterilized jars and storing it in the refrigerator.
What to Serve/Pair With Your Strawberry Jam
Serve your strawberry jam on toast, English muffins, pancakes, waffles, or even ice cream. It also pairs perfectly with cheeses such as brie or camembert. Add a dollop of strawberry jam to your morning oatmeal or yogurt for a delicious and healthy breakfast. Enjoy!

Popular Substitutions & Additions 
Fruit: You can also use raspberries, blackberries, or other berries instead of strawberries.
Lemon Juice: Use lime juice in place of lemon juice or replace the lemon juice with store-bought pectin.
How To Reheat & Store Homemade Strawberry Jam
What Is The Best Way To Store Easy Strawberry Jam?
Strawberry jam should be stored in sanitized glass jars in the refrigerator.
How Long Will Strawberry Jam Last In the Fridge?
This homemade strawberry jam will keep for up to 1 month if stored properly in sanitized glass jars in the refrigerator.
Can I Freeze Strawberry Jam?
Yes, you can freeze strawberry jam. In fact, freezing homemade jam is an excellent way to enjoy it all year long. Simply store it in the jar or transfer the jam into freezer-safe containers or bags. The frozen jam will keep for up to six months. Thaw frozen jam in the fridge before using.
How To Reheat Jam Made With Strawberries?
Frozen strawberry jam should be thawed in the refrigerator overnight before use. If you want to warm up the jam, making it more of a sauce, pop it in the microwave for a few seconds.

Strawberry Jam FAQs
Can frozen strawberries be used for this jam?
Yes, frozen strawberries can be used in place of fresh berries, but the cooking time will be much longer due to the fact that you must cook all of the extra water out of the strawberries.
Can I make a bigger batch of this jam?
Yes! You can easily double or triple this recipe, so you'll always have some on hand. Be sure to keep in mind that the jam will take longer to cook when you double the ingredients.
Can I use store-bought pectin in this recipe?
Yes, store-bought pectin can be used in this jam recipe; omit the lemon juice if you do.
Is there a way to know when the jam is done cooking?
Yes. A sugar thermometer is the easiest method to tell when the jam is done cooking. When sugar and lemon juice combine at 220 degrees Fahrenheit, the jam thickens due to the formation of a gel.
My jam is still very runny. Is there a way to fix it?
Yes. If the jam is too runny a day after it's been made, return it to the saucepot and cook it further until you reach the desired consistency. Remember to sterilize the canning jars again.
Can I use bottled lemon juice?
Yes. However, lemon juice in a bottle just doesn't compare to the taste of freshly squeezed lemon juice. For the best-tasting strawberry jam, use fresh lemon juice for this recipe.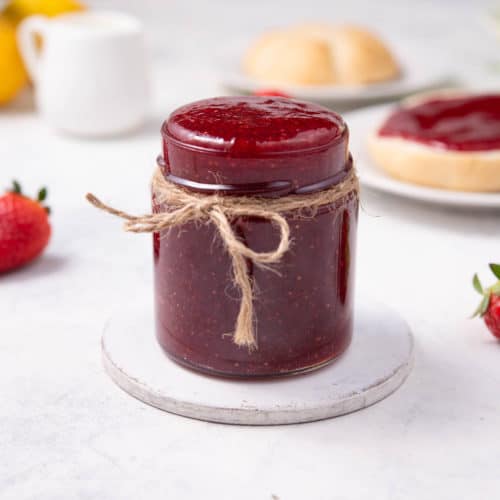 3-Ingredient Strawberry Jam
Fresh strawberries blended and cooked with sugar and lemon juice until a delicious jam is created. This strawberry jam is far superior to anything store-bought!
Print
Pin
Rate
Servings:
12
2-tbsp servings
Ingredients
1

lb

fresh strawberries

2

cups

sugar

2

tbsp

lemon juice
Instructions
Wash strawberries and cut off the green stems.

Cut the strawberries in half.

Place the strawberries in a food blender. Blend the strawberries until you have a smooth mixture.

Transfer the strawberry puree to a saucepot. Add sugar and lemon juice.

Simmer the jam for 25 minutes over medium-high heat stirring occasionally.

Allow to cool before serving.

Store the jam in a glass jar in a fridge for 1 month.
Nutrition
Calories:
141
kcal
|
Carbohydrates:
36
g
|
Protein:
1
g
|
Fat:
1
g
|
Saturated Fat:
1
g
|
Polyunsaturated Fat:
1
g
|
Monounsaturated Fat:
1
g
|
Sodium:
1
mg
|
Potassium:
61
mg
|
Fiber:
1
g
|
Sugar:
35
g
|
Vitamin A:
5
IU
|
Vitamin C:
23
mg
|
Calcium:
7
mg
|
Iron:
1
mg