Strawberry Mousse- Sweet, plump, juicy strawberries are combined with sugar and heavy cream to make this fluffy strawberry mousse. This spectacular dessert features homemade jam placed at the bottom of each serving dish below the mousse, taking it to a whole new level. Garnish each bowl with fresh strawberries and Oreo cookie crumbles for a beautiful dessert you can enjoy all season long. 
It's that time of year again when the strawberries are ripe and plentiful! The sweet, red fruit is a delicious treat that reminds us that summertime is coming. There's nothing like heading to the strawberry field and picking a few baskets of berries. Whether you enjoy them plain, in a recipe, or with whipped cream, there's no denying that strawberries are a warm-weather staple!
This light and fluffy mousse recipe for two is the perfect way to use up some of those fresh strawberries. It's super easy to make, and the resulting dessert is absolutely delicious. Plus, it looks pretty impressive, making it ideal for a date night. Give it a try the next time you've got some fresh berries on hand!
Why You'll Love This Strawberry Mousse Recipe
Romantic- This recipe is ideal for date nights. There's nothing more romantic than sharing a delicious dessert with the person you love. After all, what could be better than indulging in a sweet treat with the person you care about most. 
No-Bake- When it's hot outside, we don't want to heat the kitchen to make a sweet treat. This mousse can be made without turning on the oven, making it the perfect summer dessert.
Quick and Easy- Homemade strawberry mousse only takes a few minutes to whip up, so it's perfect for when you're short on time. This mousse will fit the bill, whether you're looking for a last-minute dessert or just want a sweet and refreshing snack.
Portable- This mousse is made in individual portions, making them ideal for a quick snack on the go or picnics.
Light and Creamy- This mousse is made with fresh strawberries, jam, and cream, making it an ideal refreshing, airy treat to satisfy your sweet tooth. 
Equipment Needed To Make This Strawberry Mousse For Two
Food Blender

Hand Mixer

Mixing Bowl

Spatula

Serving Bowls

Measuring Cups

Measuring Spoons

Ingredients For Strawberry Mousse
Strawberries

Sugar

Heavy Cream

Strawberry Jam

Oreo Cookie Crumbs (Garnish)
How To Make Easy Strawberry Mousse
This elegant, rich, and beautiful strawberry mousse is really easy to make! Combine strawberries and sugar in a food blender until smooth. With a hand mixer, beat heavy cream until it forms stiff peaks. Fold in the sweet strawberry puree gradually into the whipped cream in a separate mixing bowl. Divide your premade strawberry puree between two serving cups. Garnish the top of your mousse with Oreo cookie crumbs and fresh strawberries.
What to Serve/Pair with Your Strawberry Mousse
Strawberry mousse is excellent just as it is, but it can also be served with other treats.
If you want to keep it light, serve your mousse with fresh berries or sliced fruit.

Try serving your strawberry mousse with some rich chocolate cake, cookies, or ice cream for a more decadent treat.

Popular Substitutions & Additions
Strawberry mousse is one of those versatile recipes that can be easily adapted to fit your needs. So whether you're looking for a light and refreshing treat or a rich and decadent dessert, this mousse has got you covered.
If you're not a fan of strawberries, you can use raspberries or blueberries in this recipe. Just be sure to adjust the sugar accordingly.

Don't have heavy cream? No worries! You can use whipping cream or even milk. Remember that the mousse will be lighter and not as rich.

Try adding a teaspoon or two of vanilla extract for an extra flavor boost.

Top your mousse with chopped nuts or cookie crumbs for a little bit of crunch.

If you want a boozy mousse, add a splash of rum or liqueur to the mix.
How To Reheat & Store Fresh Strawberry Mousse
What Is The Best Way To Store Homemade Strawberry Mousse?
Strawberry mousse is best stored in airtight containers in the refrigerator. When you're ready to enjoy it, simply give it a good stir and serve chilled.
How Long Will Strawberry Mousse Last In the Fridge?
This homemade strawberry mousse will keep for up to 4 days if kept in an airtight container in the refrigerator.
Can I Freeze This Strawberry Mousse Dessert?
Yes! This magnificent strawberry mousse is the ideal treat to keep in your freezer! You can freeze it for up to 2 months in an airtight freezer-safe container.
How To Reheat Homemade Strawberry Mousse?
Because strawberry mousse is best served cold, there's no need to reheat it. Allow the frozen mousse to thaw in the refrigerator overnight when ready to enjoy it. The best thing is that once thawed; strawberry mousse retains its delicious flavor and texture. 

Homemade Strawberry Mousse For Two FAQs
Is mousse different than pudding?
Yes. While mousse and pudding are both rich and creamy, they are very different. Pudding is a milk-based dessert cooked and thickened with cornstarch or other thickeners. Pudding can be eaten warm or cold. On the other hand, mousse is not cooked and is always served cold. It's also lighter and fluffier than pudding.
Can I make strawberry mousse ahead of time?
Yes, strawberry mousse is an excellent make-ahead dessert. It can be kept for up to 3 days in the refrigerator, making it an ideal preportioned dessert to eat throughout the week.
Can I use frozen strawberries in this mousse?
Yes! You may use frozen strawberries in this recipe. If you're using frozen berries, they'll have to be thawed and drained to avoid excessive liquid in your mousse.
Is there a way to make this recipe dairy-free?
Yes. If you have a dairy sensitivity, simply substitute coconut cream for the heavy cream and proceed with the rest of the recipe.
Can I use other fruit besides strawberries?
Of course! Try any berries that you like. Blackberries, blueberries, raspberries, or a combination of all of them! When using berries, you need to strain the puree to remove the seeds and skin.

Other Heavenly Dessert Recipes You'll Love
Easy Apple Galette With Puff Pastry
Chocolate Ravioli With Mascarpone And Raspberry Sauce
Vegan Mint Chocolate Chip Ice Cream
Don't Forget To Come Back And Let Me Know How Your Strawberry Mousse Turned Out!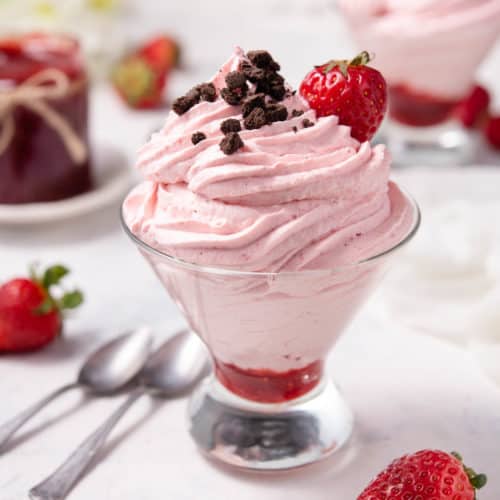 Homemade Strawberry Mousse
Make this decadent mousse with strawberries, sugar, and heavy cream. Add garnish of fresh berries and Oreo crumbles for a dessert that you can enjoy all season.
Print
Pin
Rate
Ingredients
10

oz

strawberries

¾

cup

sugar

1

cup

heavy cream

4

tsp

strawberry jam

fresh strawberries, Oreo cookie crumbs

for garnish
Instructions
In a food blender, combine strawberries and sugar.

Beat heavy cream with a hand mixer until stiff peaks form.

Fold the strawberry puree into the heavy cream, gradually.

Divide the strawberry jam between two serving cups. Top with strawberry mousse.

Finish the mousse with Oreo crumbs and fresh strawberries (optional).
Nutrition
Calories:
778
kcal
|
Carbohydrates:
99
g
|
Protein:
4
g
|
Fat:
44
g
|
Saturated Fat:
27
g
|
Polyunsaturated Fat:
2
g
|
Monounsaturated Fat:
11
g
|
Cholesterol:
134
mg
|
Sodium:
39
mg
|
Potassium:
342
mg
|
Fiber:
3
g
|
Sugar:
92
g
|
Vitamin A:
1766
IU
|
Vitamin C:
85
mg
|
Calcium:
105
mg
|
Iron:
1
mg