Well folks, that time of year is finally here. It's strawberry season! Their sudden appearance on farm stands, restaurant menus, and in produce departments may have you wondering, "are strawberries good for you?"
While it's true that a bowl of fresh strawberries is such a sweet treat, you might feel like you're having a cheat meal, rest assured that these crave-worthy gems are an important part of a healthy diet. All berries, including strawberries, offer many health benefits--from fiber to vitamins--and of course, those all-important antioxidants.
We're about to take a deep dive into it all, but keep in mind that this article is intended as general nutrition advice, and that the nutritional makeup of individual berries can vary depending on growing practices, soil quality, and variety.
How Many Strawberries in a Serving?
Before we get into what's actually in the strawberries, we have to standardize just how many strawberries are in a serving. According to the USDA, the serving size for fresh strawberries is one cup, but just how many strawberries in a cup will of course depend on how big those berries are. For medium-sized strawberries, the general consensus is that a one cup serving amounts to about 8 whole strawberries.
Organic strawberries tend to be a bit smaller than conventional strawberries, so keep this in mind if you have opted for the organic berries. In addition, sliced strawberries and whole strawberries will have a slightly different serving size, as the fact that these berries have been broken into smaller pieces causes their measurements to become more dense.
Whether they are whole, sliced, or halved though, you can safely assume that one cup is your serving size to aim for, which is equivalent to about 7 ounces by weight. If you are planning on blending or pureeing your strawberries though, one cup of berries will turn into only about half-cup of puree!
Strawberries Nutrition
Now let's get into it, answering all of your questions regarding how many calories there are in strawberries, the health benefits of strawberries, nutrition facts, and other useful information about incorporating these potent little fruits into your diet!
How Many Calories in Strawberries?
For a food which is as sweet and seemingly decadent as a bowl of strawberries, they are actually quite a low-calorie food! How many calories in a cup of strawberries will depend on how the strawberries are cut, but in general, one cup of strawberries will provide you with right around 50 calories. According to the USDA, a cup of sliced strawberries will provide slightly more calories, about 53, while whole strawberries will be just a bit less, at only 46 calories per cup. Halved strawberries lie just in the middle at 48 calories per cup.
What causes these differences in calorie content? As we mentioned before, when it comes to food, as the sizes of individual pieces of food get smaller, their measurement becomes more and more dense. This is due to the fact that less air is able to take up space in and around the pieces of berries in the measuring cup. As the measurement gets more dense, so does the calorie content.
Wondering about how many calories are in each strawberry? This is even more difficult to measure as strawberries can run the gamut when it comes to sizes! A small berry may offer as little as 3 calories, while a large strawberry might deliver nearly three times as much, up to 9 calories per berry!
Carbs in Strawberries
While it's no doubt that strawberries are a low-calorie and overall healthy choice of foods, their natural sweetness might leave you wondering about their carbohydrate content. Just how many carbs in strawberries come from fiber and which ones are from sugar? This issue might be of extra interest to those dealing with health conditions such as diabetes, metabolic syndrome, or those who are following carb-restrictive diets such as the keto diet.
If you fall into any of those categories, open your ears for some good news! Consuming strawberries does fit right into your eating plan, as they are rich in dietary fiber, meaning that having a moderate portion of these sweet fruits will be processed completely differently by your body as opposed to an equally sweet beverage or piece of candy. It all boils down to glycemic index and glycemic load, which are two metrics which measure how quickly a food will cause your blood sugar to rise and how high it may cause your blood sugar to rise, respectively. Strawberries are low on both of these counts and therefore you can consider the carb content of strawberries to be at a healthy level.
What Vitamins are in Strawberries?
Strawberries are packed with many essential vitamins and minerals!
Vitamin C: Like many other fruits and vegetables, strawberries are an excellent source of vitamin C. Just one cup of berries will provide about 88 milligrams of vitamin C, and since the standard daily value for this important vitamin is 90 milligrams, one serving of strawberries will just about get you there!
Manganese: Often thought to be one and the same with magnesium, manganese is actually a unique and necessary mineral all on its own. Manganese is considered to be a trace element for the fact that you don't need very much of it, but the little bit that you do require serves a whole host of important bodily functions. The problem is, not a ton of foods contain this micromineral, but luckily for you, strawberries provide a good portion--just around .5 milligrams. This may not sound like a lot but remember, you don't need a lot, and this half of a milligram is already 25% of your daily value of this nutrient.
Potassium: While strawberries are not exactly high in this mineral, a one cup serving does provide a decent amount--about 230 milligrams! The catch is that the average adult should aim for around 4700 milligrams of the stuff per day, nevertheless, a cup of strawberries can humbly help you get there!
Other Vitamins and Minerals: In lesser quantities, strawberries also contain other necessary nutrients such as calcium, iron, zinc, selenium, several B vitamins, choline, and vitamin K. You might even think of strawberries as one of nature's multivitamins!
Other Health Benefits of Strawberries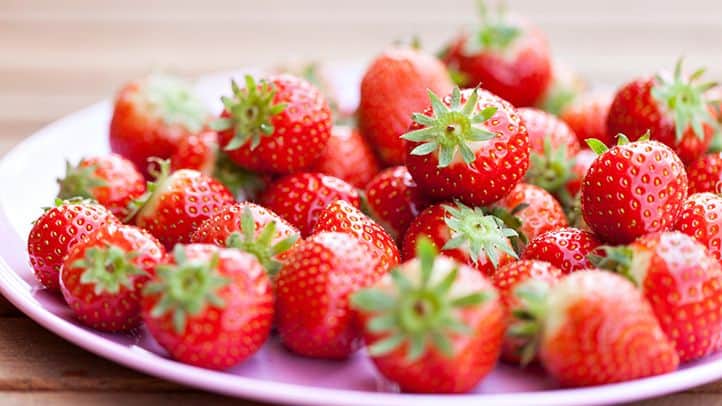 Aside from their healthy macronutrient breakdown and impressive rap sheet in the vitamin and mineral department, eating strawberries will provide you with even more health benefits!
Antioxidants
Strawberries are loaded with antioxidant-rich plant compounds such as polyphenols and more specifically, anthocyanins. Anthocyanins are the compounds which are responsible for the bright red pigmentation of the berries and are a perfect example of why we are always reminded to "eat the rainbow!".
There are plenty of other healthful compounds within the fruits though which have nothing at all to do with coloring but are just as important to consume. Diets which are rich in consumption of antioxidants can result in a lower risk of heart disease as they improve heart health and lower blood pressure. In addition, antioxidants are known to ward off cancer by removing free radicals from the system, as well as can help reduce the effects of aging!
Dietary Fiber
As discussed earlier, strawberries contain a decent dose of dietary fiber--around 3 grams per serving--but just what is so important about that? We're so glad you asked! Fiber is a major key to systemic digestive health and also plays an important role in overall heart health and weight management.
Sodium-Free
So far, we've talked about what strawberries do contain, but let's take a moment to cover the importance of some things they don't contain as well! Strawberries are naturally sodium-free, making them an excellent choice for the health of your cardiovascular system. Maintaining a low-sodium diet is key to combating high blood pressure as well as promoting kidney health.
Fat-Free
Strawberries contain such a miniscule amount of total fat that they can essentially be considered a fat-free food. While it's true that the human body does need a certain amount of fat intake to function properly, it's important that these are healthy fats such as omega-3 fatty acids (think oily fish and avocados), as opposed to the saturated fat found in processed baked goods and fatty cuts of meat. At any rate, no need to worry about the types of fats here as strawberries are free of either!
Ideas for Getting More Strawberries Into Your Diet
With all this talk about just how good for you these little berries are, you might be encouraged to work them into your daily diet more often. Sometimes pigeon-holed into being a simple fruit salad component or reserved for topping a sheet cake, it can be hard to think of new ways to get more strawberries into your diet. Here are a few ideas:
Make your own healthy strawberry sauce! No need to reach for that store bought stuff. Simply slice fresh strawberries and drizzle with a spoonful of honey or pure maple syrup. Stir the mixture well and allow the berries to rest in the refrigerator for 30 minutes to an hour. The natural sugars will pull some of the sweet juices out of the berries, giving you a low-sugar and nutrient rich way to dress up your yogurt or ice cream.
Give sweet strawberries a chance in savory recipes, such as our protein-rich Steak Salad with Strawberry Sriracha Dressing.
When paired up with whole grains, strawberries make for a nutritious and extra-filling meal. Give your oatmeal a break though and opt for a breakfast bowl made using other options such as millet or quinoa. Cook the grains thoroughly, using almond milk or oat milk as a cooking liquid if desired. Stir in halved or quartered strawberries and sprinkle with cinnamon!
Gently warm any nut butter for a few seconds in the microwave, then use it as a dipping sauce for fresh, whole strawberries. You'll get all of the classic flavors, and not to mention the protein boost, of a PB&J sandwich without the carbo-load of bread or added sugars found in most jellies and jams!
Does Cooking Strawberries Affect Their Nutrient Content?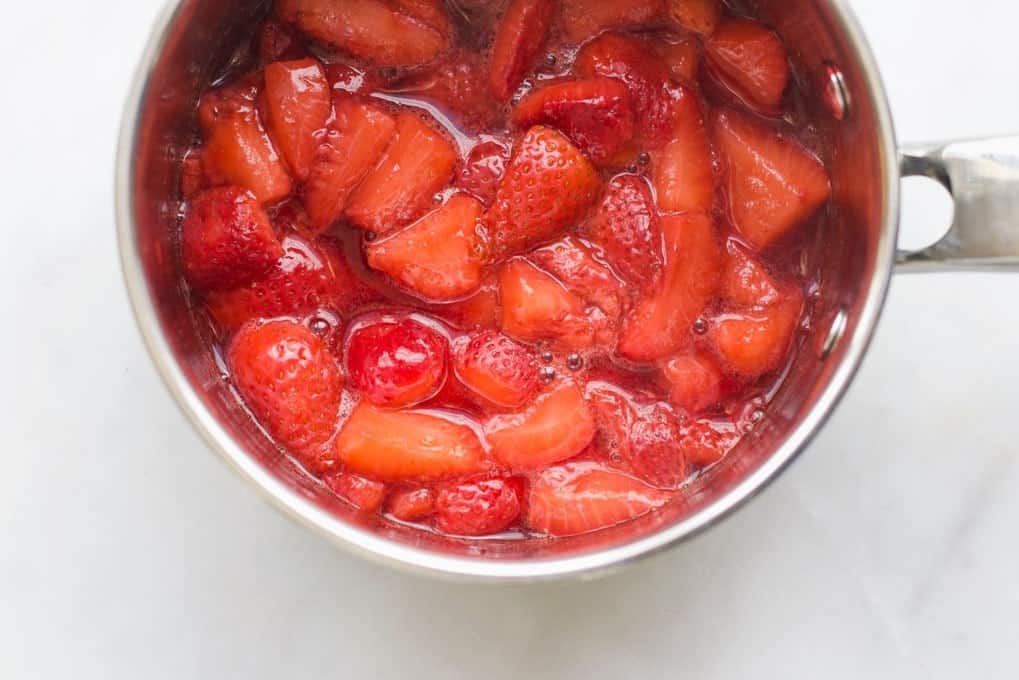 You may have heard that cooking fresh strawberries, or any fresh fruits or vegetables, destroys their nutritional value. While it's true that some nutrients are sensitive to heat exposure and could be partially lost during cooking, how much a nutrient deteriorates in the presence of heat depends on its specific sensitivities. Therefore, the fact remains that cooked strawberries still have plenty of health benefits to offer.
In addition, many people prefer the taste of cooked fruits over raw fruits, as the cooking process evaporates excess liquid and concentrates the inherent sweetness. And there is the added benefit that cooked fruits and vegetables are much easier to digest than their raw counterparts, as the heat helps to break down some of those indigestible fibers. This is especially important for folks who suffer from raw food sensitivities and who may be otherwise unable to eat berries in the raw form.
Bottom line: don't be afraid to cook your fruits and veggies! They'll still be plenty nutritious and well worth consuming.
Are Strawberries Acidic?
Speaking of food sensitivities, individuals who suffer from acid reflux may be saddened to learn that yes, strawberries are acidic, and surprisingly so! Their natural sugar content serves to mask some of their tartness but in terms of pH values, strawberries are comparable to oranges, peaches, and even that mouth puckering stuff known as rhubarb!
The sour taste of strawberries is for the most part due to citric acid, but the little berries also contain ellagic acid and ascorbic acid to name a few.
Final Thoughts on the Health Benefits of Strawberries
In summary, strawberries are an extremely nutritious choice as far as foods go. You'd be wise to add strawberries into your diet if they aren't already a key player. This low-calorie, fat-free food contributes plenty of fiber, vitamins, minerals, and antioxidants into your system.
Tired of fruit bowls and not sure how to work those berries into your eating plan? Give one of our strawberry recipes a shot! You might just find a new favorite way to enjoy their sweet yet tart flavor. As always, you should seek professional medical advice before drastically changing your eating habits, or if you are managing any type of health condition which may be affected by a shift in your eating plan.