Strawberry Oreo Milkshake- Fresh juicy strawberries, crunchy chocolate Oreo cookies, a mixture of vanilla and strawberry ice cream, and milk are blended together to make the most exquisite milkshake that you have ever had! No one will believe that this delicious yet beautiful milkshake didn't come from a restaurant.
What could be better than a delicious strawberry milkshake? One with Oeros in it, of course! It is sure to tantalize your taste buds! So if you are in the mood for a decadent treat this summer, you can forget about the old boring vanilla shakes and try this delightful strawberry Oreo milkshake. You will be hooked after the first sip!
There's a new milkshake in town, and it's made with everyone's favorite summer fruit - strawberries! This strawberry Oreo milkshake is a must-try for any chocolate and strawberry lover. It's the perfect blend of fresh strawberries, crunchy chocolate cookies, and creamy ice cream. Plus, it's so easy to make! Just throw all the ingredients into a blender and blend until smooth. Then pour into glasses and enjoy! It doesn't get any easier than that! Now that it's strawberry season give this one a try the next time you are in the mood for a good shake. You won't be disappointed!
Why You'll Love This Strawberry Oreo Milkshake Recipe
Simple To Make- You won't believe how easy this milkshake is to create at home. It tastes and appears like something you'd find in a high-end ice cream shop, yet it can easily be made at home.
Easy To Find Ingredients- This recipe doesn't require any complicated components. All of the ingredients needed for this recipe can be easily found at your local grocery store if you don't already have them at home. 
Kid-Friendly- This milkshake is ideal for youngsters! Ice cream and Oreos are two of their favorite desserts, so you've got something truly magical when you combine them.
Rich And Creamy- Milkshakes are the perfect treat when you want something cool and refreshing while still being sweet and satisfying. Strawberries mixed with Oreos and ice cream is a rich and creamy dessert you can enjoy all summer long.
Delicious- This milkshake is thick, creamy, and packed with flavor. The strawberries and Oreos complement each other perfectly to create a delicious treat that you'll want to make again and again.
Equipment Needed To Make This Strawberry Milkshake With Oreos
Food Blender

Ice Cream Scoop

Measuring Cups

Tall Glass

Ingredients For Strawberry Oreo Milkshakes
Strawberries

Oreo Cookies

Milk

Whipped Cream
How To Make Strawberry Oreo Milkshakes
This gourmet milkshake is incredibly simple and takes less than 10 minutes to make. Combine strawberries, Oreo cookies, ice cream, and milk in a food blender until smooth. Fill a tall glass with the milkshake and top with whipped cream. Use fresh strawberries and Oreo cookie crumbs as a beautiful garnish.
What to Serve/Pair With Your Strawberry Oreo Milkshake
This shake is decadent enough on its own, but you can pair it with a few extra Oreo cookies.
Or, if you want something a little different, try pairing your milkshake with:
A good burger and fries

Steak

A light and refreshing salad

Slice of cake

A bowl of fruit

Chocolate-covered strawberries
I haven't found anything that I wouldn't eat with a milkshake! I guarantee you'll love this delicious treat no matter what you decide to serve it with.

Popular Substitutions & Additions
There are a few popular substitutions and additions that people make to this recipe. Here are a few of the most popular:
Use different flavors of ice cream like chocolate, mint, cherry, or banana

Try using a variety of flavored Oreos like Double Stuf, Golden Oreos, Peanut Butter, Dark Chocolate, or Mint

Add a shot of espresso for a delicious mocha flavor and a kick of caffeine

Substitute almond milk for the dairy milk

For an adult twist, add a splash of your favorite liqueur
As you can see, there are endless possibilities when it comes to changing up this recipe! Get creative with it and have fun.
How To Reheat & Store Strawberry Milkshakes With Oreos
What Is The Best Way To Store Strawberry Oreo Milkshakes?
Milkshakes are at their best when consumed straight away, but if you do want to store them, they're best kept in individual portion-sized airtight glasses or jars with lids in the freezer.
How Long Will Strawberry Milkshakes With Oreos Last In the Fridge?
Milkshakes should either be enjoyed right away or stored in the freezer. Keeping them in the refrigerator will make for a less than ideal shake. 
Can I Freeze Strawberry Oreo Milkshakes?
Yes. Oreo strawberry milkshakes can be frozen. Store them in the freezer in airtight individual portion cups or jars with lids for up to 1 month. 
How To Reheat Strawberry Oreo Milkshakes?
Frozen milkshakes should be allowed to defrost in the refrigerator for a few hours or at room temperature for around 30 minutes before consumption. Remember that freezing milkshakes reduces the flavor somewhat. Do not refreeze thawed milkshakes.

Strawberry Oreo Milkshake FAQs
Do I use a specific type of milk to make this milkshake?
No, any type of milk you have at home will suffice, but keep in mind that the lower the fat content of the milk, the thinner your milkshake will be.
Is there a way to make the milkshake thicker?
Yes. If you find that your milkshake is too thin or prefer a thick milkshake, add a bit more ice cream to the recipe. Also, if you find that your milkshake is too thick and not blending properly, add a little more milk until you reach the desired consistency.
Can I use frozen strawberries for this recipe?
Yes, frozen strawberries can be used. On the other hand, fresh strawberries are juicer and have a more extraordinary taste, especially while they are in season.
Can this recipe be made dairy-free?
Yes. Oreos are naturally dairy-free. If you have a dairy sensitivity, you can use dairy-free ice cream and milk in its place.
Do I add ice to milkshakes?
No, you should not put ice in your milkshake. Adding ice will only dilute the milkshake and give it an unappealing texture.
Don't Forget To Come Back And Let Me Know How Your Strawberry Oreo Milkshake Turned Out!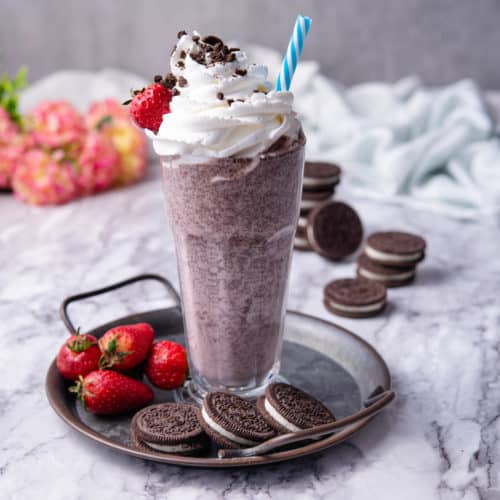 Strawberry Oreo Milkshake
Fresh strawberries, crunchy Oreo cookies, creamy vanilla and strawberry ice cream, and milk are blended to make the most exquisite milkshake you've ever had!
Print
Pin
Rate
Ingredients
6

strawberries

4

Oreo cookies

½

cup

strawberry ice cream

¼

cup

vanilla ice cream

½

cup

milk

Whipped cream

as desired

Fresh strawberries, and Oreo cookie crumbs

for garnish
Instructions
In a food blender, combine strawberries, Oreo cookies, strawberry ice cream, vanilla ice cream, and milk.

Pour the milkshake in a tall glass.

Garnish the milkshake with fresh strawberries and Oreo crumbs.
Nutrition
Calories:
514
kcal
|
Carbohydrates:
71
g
|
Protein:
10
g
|
Fat:
22
g
|
Saturated Fat:
11
g
|
Polyunsaturated Fat:
2
g
|
Monounsaturated Fat:
6
g
|
Trans Fat:
1
g
|
Cholesterol:
48
mg
|
Sodium:
299
mg
|
Potassium:
595
mg
|
Fiber:
4
g
|
Sugar:
36
g
|
Vitamin A:
557
IU
|
Vitamin C:
48
mg
|
Calcium:
293
mg
|
Iron:
6
mg