Strawberry Spinach Salad- Fresh baby spinach, vibrant sweet strawberries, crumbled feta cheese, and chopped hazelnuts are combined and tossed with a homemade balsamic poppyseed dressing that ties everything together flawlessly! Whether you're looking for a light lunch or a refreshing side dish, this salad is sure to hit the spot.
The weather is warming up, which means it's time to start getting excited about all of the things that await us! Longer days, more fun in the sun, and all of the delicious fresh produce. The spring and summer months are when I really get a craving for bright and colorful salads. Strawberry and spinach salad is always my go-to option, especially during strawberry season.
This delicious strawberry spinach salad is perfect for a light and refreshing lunch or dinner! The salad is packed with fresh baby spinach, sweet juicy strawberries, crumbled feta cheese, and chopped hazelnuts. It's dressed in a simple balsamic poppy seed dressing that makes the flavors of all the ingredients shine. You'll love this crave-worthy salad!
Why You'll Love This Strawberry Spinach Salad Recipe
Beautiful- Green baby spinach, vivid red strawberries, white feta cheese, and brown hazelnuts tossed with a homemade balsamic dressing make a bright and colorful salad perfect for springtime.
Fresh- Spinach and strawberries are at their peak in the spring and summer, making this salad a wonderful light meal during those warmer months.
Customizable- Don't like feta cheese? Swap it out for goat cheese or leave it out altogether. Prefer almonds over hazelnuts? Go ahead and use those instead! This salad is easily customized to fit your preferences.
Light- This is a beautiful combination of flavors that works equally well as a lunch, a bring-to-a-potluck dish, and even dinner. It's light enough to eat without being heavy on your stomach.
Crowd-Pleaser- Everyone who tries this strawberry spinach salad falls in love! It's sweet, crunchy, and tangy. Trust me; you will not be disappointed! 
Equipment Needed To Make This Spinach Strawberry Salad
Medium Mixing Bowl

Whisk

Small Bowl

Large Mixing Bowl

Salad Mixing Spoons

Measuring Cups

Measuring Spoons

Ingredients For Strawberry Spinach Salad
Dressing-
Extra-virgin olive oil

Balsamic vinegar

Poppy seeds

Mustard

Honey

Salt

Black pepper
Salad-
Purple Onion

Strawberries

Baby Spinach

Feta Cheese

Hazelnuts
How To Make Strawberry Spinach Salad With Chopped Hazelnuts
Making this deliciously beautiful salad is simple and quick! Start by making the dressing. Combine all of the dressing ingredients in a mixing bowl, whisk until well combined, then set it aside to let it marinate.
Chop purple onions and add them to a bowl, cover them with water and let them soak for about 30 minutes. The onion's flavor is preserved when soaked, but its harsh aftertaste is removed, making for a much more pleasant onion flavor.
Mix the spinach, drained onions, strawberries, cheese, and hazelnuts in a large serving bowl. Once the salad is put together, pour the dressing over it and toss well to coat everything in the dressing.
Note: Dress the salad as shortly before serving as you can. If you don't plan to eat it all right away, dress only the salad you plan to eat right away.
What to Serve/Pair with Your Spinach Salad With Strawberries
Strawberry spinach salad is a stunning stand-alone dish, but it's even more appealing when combined with grilled chicken or fish for extra protein. To finish off the meal, serve it with a side of toasted bread. It's also an excellent side dish to bring to a summer BBQ, potluck, or picnic.

Popular Substitutions & Additions 
While this salad is delicious as-is, there are a few ways you can change it up to fit your preferences. Get creative and make this salad your own.
If you're not a fan of feta cheese, feel free to swap it out for goat cheese or blue cheese.

Not a fan of hazelnuts? Toasted pecans or almonds would be a great substitution. Sunflower seeds are an excellent option if you have a nut allergy.

Don't have balsamic vinegar on hand? Instead, you can use red wine vinegar, apple cider vinegar, or white wine vinegar.

Looking to add a little more protein to your salad? Grilled chicken, shrimp, or fish would be a great addition!
How To Reheat & Store Strawberry Spinach Salad
What Is The Best Way To Store Spinach Salad With Strawberries?
The best way to store spinach salad with strawberries is undressed in an airtight container in the fridge. Airtight containers keep the salad fresh and prevent the strawberries from getting mushy. Refrigerate dressing in a jar or separate airtight container.
How Long Will Strawberry Spinach Salad Last In the Fridge?
Spinach salad with strawberries will last for about 3 days in the refrigerator undressed. Once the salad has been dressed, it's best to eat immediately.
Can I Freeze Spinach Salad With Strawberries And Hazelnuts?
No, it would be best if you did not freeze strawberries and spinach salad. Salad never keeps well when frozen. Spinach becomes mushy after thawing, and the salad's flavor is lost.
How To Reheat Strawberry Spinach Salad?
Strawberry spinach salad is a refreshing dish that is enjoyed cold. There's no need to heat it, making it an excellent choice for a quick and easy meal.

Strawberry Spinach Salad With Chopped Hazelnuts FAQs
Can I make strawberry spinach salad in advance?
Yes. You can prepare this spinach salad up to 24 hours in advance. Make and store your dressing and salad separately, then combine them before serving.
I'm not too fond of spinach. Is there something else I can use?
Yes! If you don't care for spinach, try using a spring mix of lettuce, romaine, or arugula.
Is there something I can use in place of honey?
Yes. If you discover that you are out of honey, don't give up on preparing this delicious dish! Maple syrup is a great substitute.
How long with the homemade balsamic poppyseed dressing last?
Homemade salad dressings don't keep as long as store-bought varieties because they use fresh ingredients and contain fewer preservatives. If kept in an airtight container in the refrigerator, this balsamic poppyseed dressing will last up to two weeks.
I can't consume tree nuts. Is there an alternative to hazelnuts?
Yes. If you have a nut allergy, you may use salted sunflower seeds or roasted pumpkin seeds instead of hazelnuts, which will provide the salad with that desirable crunch. Alternatively, you may remove them altogether.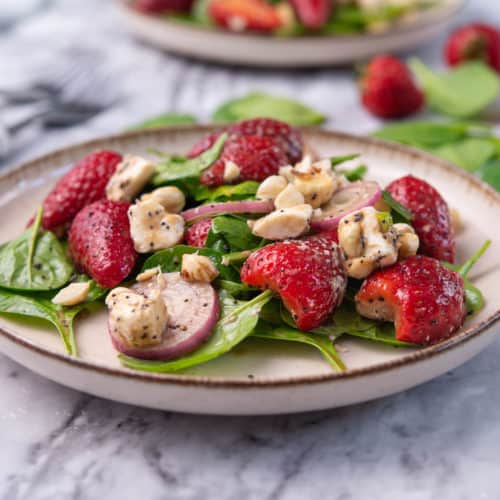 Strawberry Spinach Salad
Sweet strawberries, baby spinach, feta cheese, and hazelnuts tossed in a homemade balsamic poppyseed dressing. This will be the show-stopping salad of summer!
Print
Pin
Rate
Ingredients
Dressing
3

tbsp

olive oil

extra-virgin

2

tbsp

balsamic vinegar

1

tsp

poppy seeds

1

tsp

mustard

1

tbsp

honey

½

tsp

salt

½

tsp

black pepper
Salad
1

purple onion

1 ½

cup

strawberries

halved

6

oz

baby spinach

½

cup

feta cheese

crumbled

½

cup

hazelnuts

blanched and chopped
Instructions
To make the dressing:
Whisk olive oil, balsamic vinegar, poppy seeds, mustard, honey, salt, and black pepper in a bowl.
To make the salad:
(Optional) Place the sliced purple onion in a small bowl and cover with water. Let it stand for 30 minutes. The water will remove the harsh onion flavor.

Blanch and chop hazelnuts.

Place spinach in a bowl. Add drained purple onion, strawberries, Feta cheese, and chopped hazelnuts.

Pour over the dressing and toss the salad. Serve fresh.
Nutrition
Calories:
606
kcal
|
Carbohydrates:
35
g
|
Protein:
14
g
|
Fat:
49
g
|
Saturated Fat:
9
g
|
Polyunsaturated Fat:
6
g
|
Monounsaturated Fat:
31
g
|
Cholesterol:
33
mg
|
Sodium:
1112
mg
|
Potassium:
992
mg
|
Fiber:
8
g
|
Sugar:
20
g
|
Vitamin A:
8158
IU
|
Vitamin C:
93
mg
|
Calcium:
364
mg
|
Iron:
5
mg