Next to flour and sugar, vanilla extract is perhaps the most common baking ingredient out there. It is delicious in almost any sweet recipe or baked good and complements a massive range of other flavors: caramel, cinnamon, fruits, chocolate, nuts, and citrus to name a few!
The widespread usefulness of this flavoring only means one thing: vanilla extract is called for in recipes crazy often.
So what happens when you run out of vanilla extract mid-recipe? Or maybe you have it on your shopping list and get to the store only to discover that they are sold out due to the baking frenzy that seems to afflict everyone en masse around the holidays!
We've assembled all of the best vanilla extract substitutes here, whether you're at the store looking for an alternative or shopping in your own kitchen for a last minute stand-in, we hope you'll find the perfect option.
What is Vanilla Extract?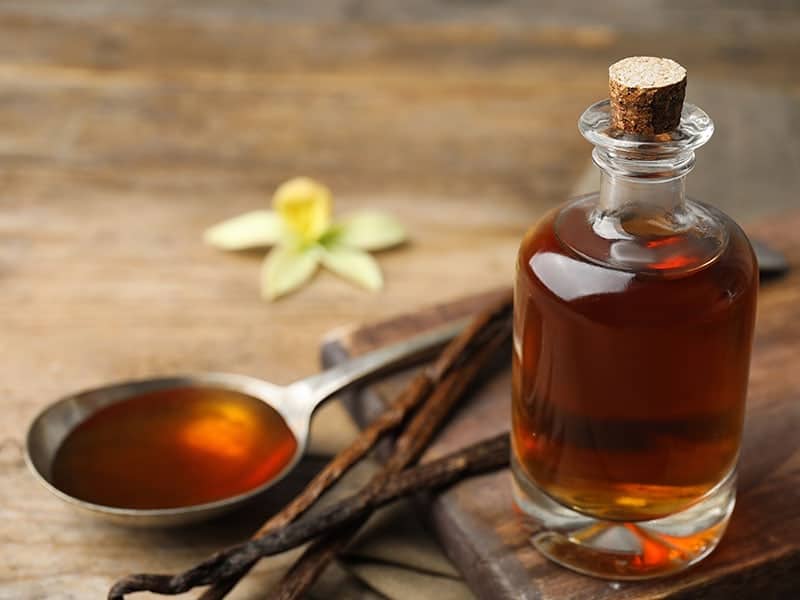 Vanilla beans earned their bean designation thanks to their long and lean bean-like shape, but in truth, are not actually beans at all! These pods are actually the fruits of a specific species of orchid, and as you might expect from something which is derived from a bloom as beautiful and intricate as an orchid flower, vanilla beans have a deeply aromatic flavor.
While the use of whole vanilla beans is perfectly wonderful in cooking, they are incredibly expensive and can be difficult to find. Therefore, vanilla extract is the perfect way to get vanilla bean flavor into your recipes without breaking the bank! Vanilla extract is made by soaking whole vanilla beans in a mixture of ethyl alcohol and water, a process which is able to draw the vanilla flavor out of the pods and into the liquid itself.
Pure Vanilla Extract vs. Imitation Vanilla Extract
When it comes to vanilla extract, there are two main varieties you're likely to encounter: pure vanilla extract and imitation vanilla extract.
Pure vanilla extract should only ever have three ingredients: vanilla bean, alcohol, and water. The fact that this product is made from real vanilla without any synthetics means it will have a more intense vanilla taste and deliver a complex flavor as close as possible to that of the whole beans themselves.
Imitation vanilla flavor, also sometimes called vanilla essence, makes use of laboratory-produced versions of the same flavor compounds found within real vanilla. As with most imitation flavorings, the taste is not quite the same as the real deal. Real vanilla extract will have a stronger flavor that is more aligned with the fragrance and flavor of the whole beans themselves, while imitation extract will taste vanilla-y, but not as floral or delicate as the true stuff.
In addition, the composition of imitation vanilla extracts can vary in alcohol content and may even contain added sugars. Therefore, imitation vanilla extracts could sometimes deliver a more sweet flavor than pure vanilla extract.
What is Vanilla Extract Used For?
It's no surprise that vanilla extract is most often used for sweet recipes! Vanilla extract is used to supplement the vanilla taste in vanilla flavored desserts such as vanilla ice cream and cake, as well as provide a floral background for desserts that have other flavors at the forefront such as eggy French toast, Cinnamon Coffee Cake, or fruit based desserts and baked goods.
Often thought of as the antithesis to chocolate and that never the two shall meet, vanilla is actually supremely complementary to chocolate recipes of all types! Vanilla can be used to bring out the rich cocoa flavor in chocolate cake, hot cocoa, and chocolate candy.
If You Need a Vanilla Extract Substitute, Look No Further!
This list of vanilla extract substitutes has got you covered.
We'll first begin with other vanilla products. It might seem obvious (duh, it's where the extract comes from in the first place!) but some of these vanilla products you might not think to look for. You just might be surprised that you have one of them in the cabinet or fridge!
If you don't have any vanilla flavored items whatsoever, no worries. We've included some alternate vanilla extract substitute options as well.
Vanilla Derived Substitutes for Vanilla Extract
Whole Vanilla Beans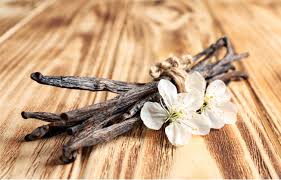 If you happen to have one on hand, a whole vanilla bean will likely be your best vanilla extract substitute! Since vanilla extract is made by soaking these whole beans, think of this as cutting out the middleman and going straight to the source of flavor.
Whole vanilla beans open lengthwise, so run a small (but sharp!) paring knife down the length of the pod so that you have two equally long halves. Then run the flat side of your knife, or use a spoon if you're more comfortable, along the insides of the pod halves, and you'll notice the tiny black, sticky seeds collecting on the edge.
Keep in mind that one major difference between whole vanilla bean and vanilla extract is that vanilla extract will blend right into a recipe while the tiny specks of fresh vanilla beans will be readily visible. In most cases this is not to fret, and is even quite fancy looking, but in some recipes where you don't wish to have any specks, you may not want to use this option.
How Much to Use:
For a recipe that calls for 1 tablespoon of vanilla extract, you can substitute the contents of 1 whole fresh vanilla bean. You can easily adjust this to fit smaller quantities as well. Remember 3 teaspoons = 1 tablespoon, so if your recipe calls for 2 teaspoons of vanilla extract, use about ⅔ of that vanilla bean!
Vanilla Bean Paste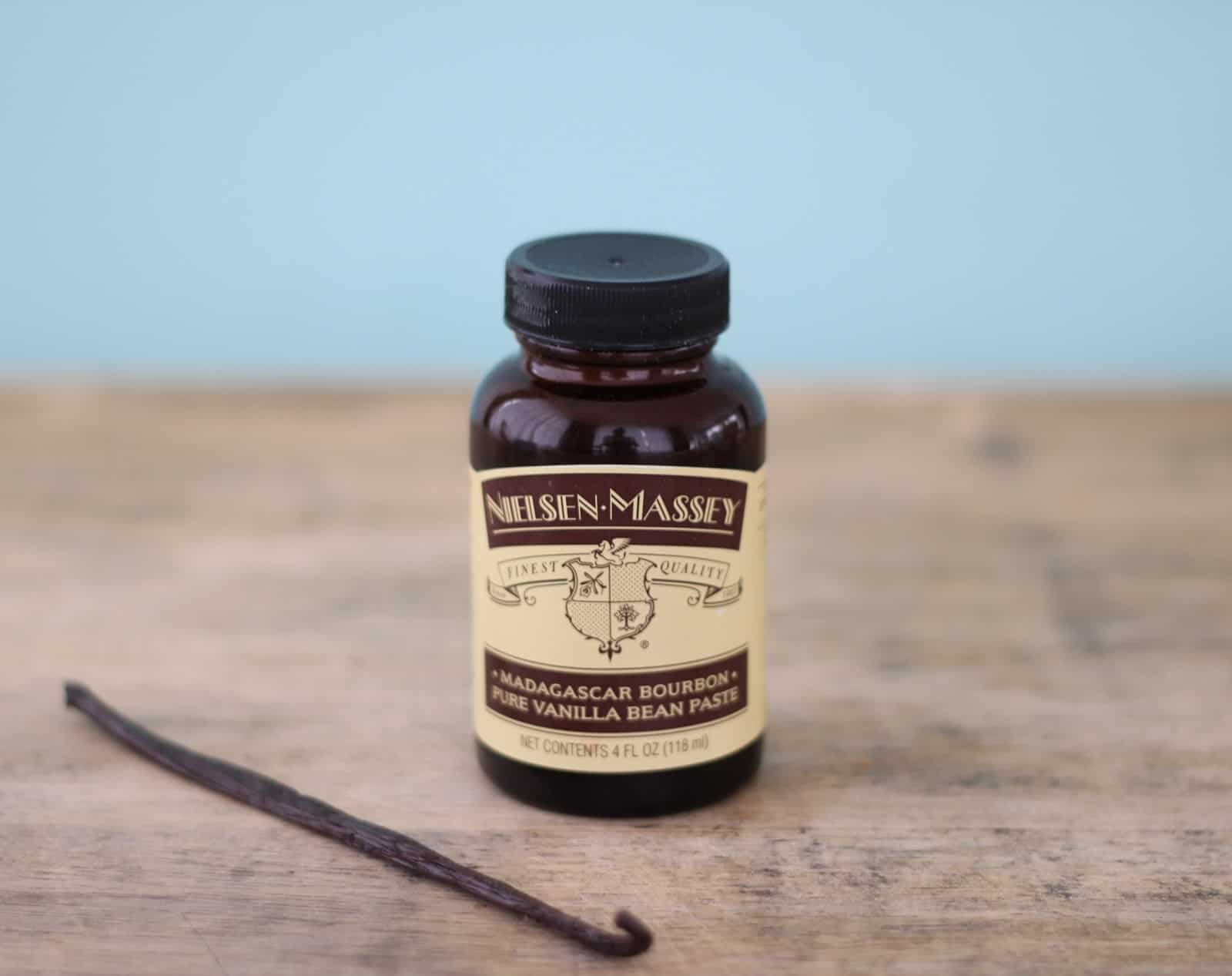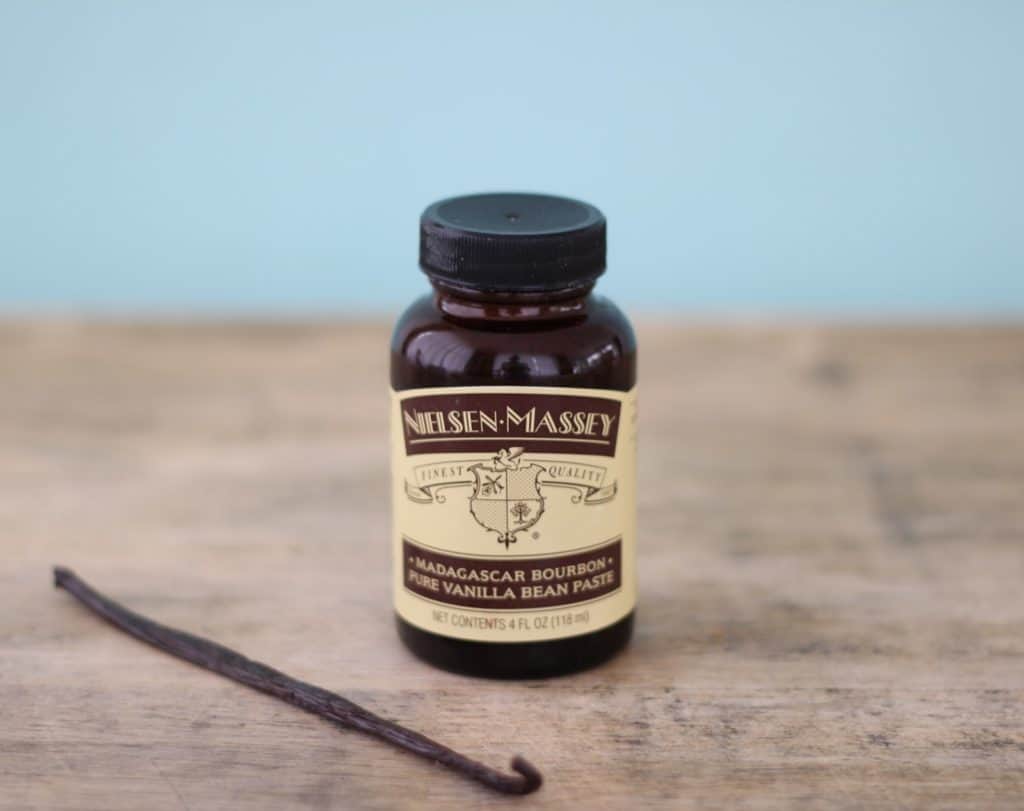 Vanilla bean paste is another perfect substitute for vanilla extract due to the fact that it actually contains vanilla extract. Vanilla bean paste is often sold in a jar but you may have seen it available in a tube as well. While the exact contents can vary between manufacturers, vanilla paste generally consists of vanilla beans, vanilla extract, sugar, and stabilizers which help to give the paste a uniform and easy-to-work-with consistency.
Vanilla bean paste is an ideal way to deliver those characteristic vanilla bean flecks into your recipe without the hassle of dealing with whole vanilla beans, or the expense for that matter (vanilla bean paste is much cheaper--hooray!). Once again, this substitute will be visible in your recipe in a way that vanilla extract wouldn't be, so if you prefer to keep the canvas clean, then move along to one of the other substitute options.
How Much to Use:
Super simple here–1:1 ratio of vanilla extract to vanilla bean paste.
Vanilla Powder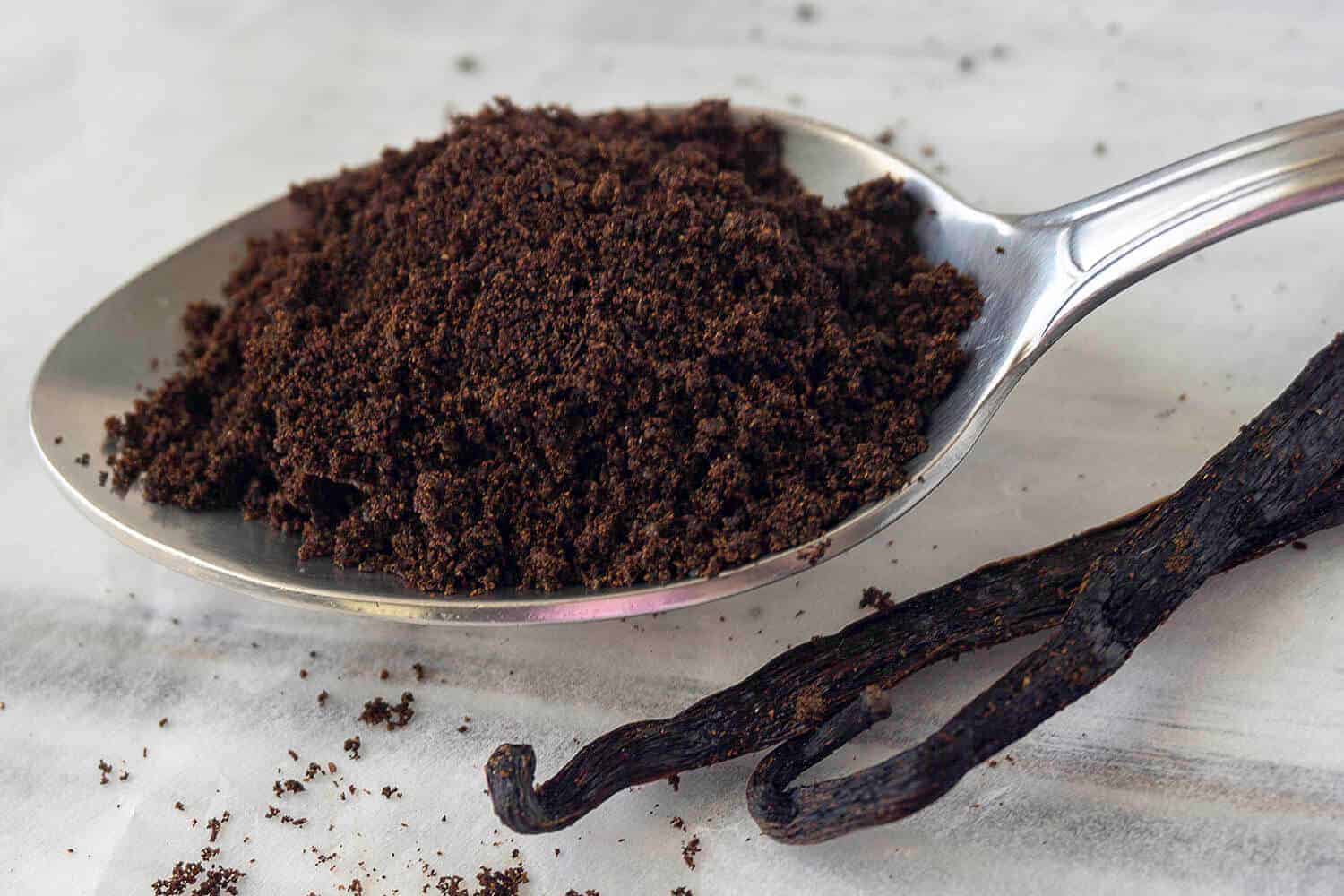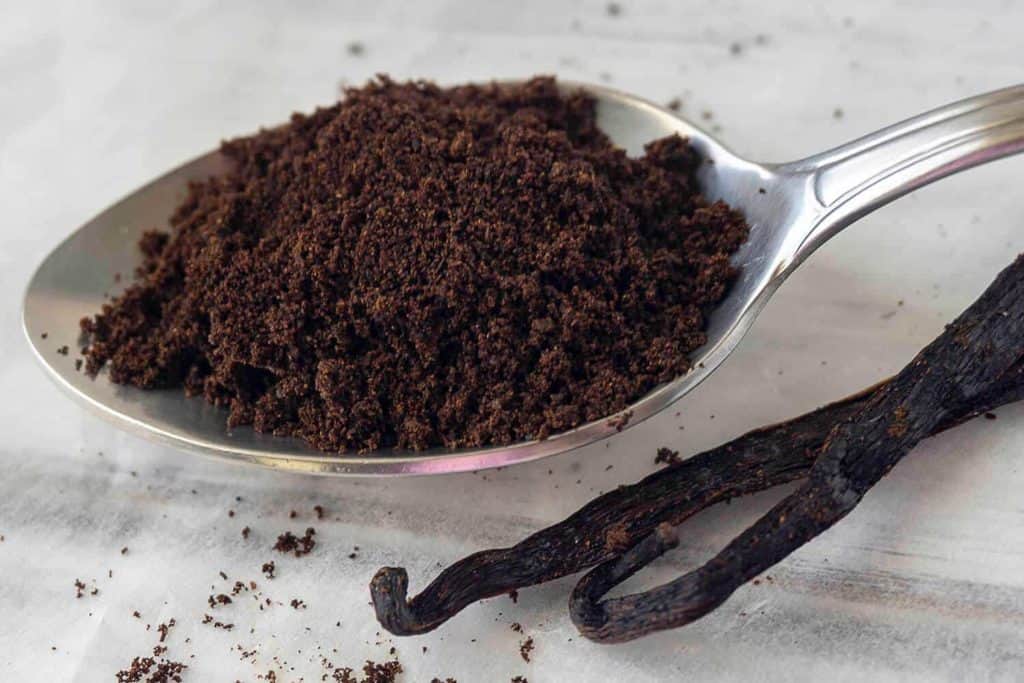 There are actually two types of vanilla powder out there in the world. They are unmistakable from one another as one is dark brown while the other is light brown or beige. The former is made from pure dried and ground vanilla bean pods, which results in a powder that contains the vanilla bean seeds we're already familiar with, as well as fragments of the flavorful pod itself. The lighter colored vanilla powder consists of vanilla extract and a fine sugar powder such as dextrose.
Either of these options will deliver a similar vanilla flavor to your recipe and both can be used in place of vanilla extract in your recipes. When working with the lighter colored, sweetener-based type of vanilla powder, be cognizant of the fact that you will be incorporating additional sweetness into the recipe where typical vanilla extract would not have added any. You may opt to reduce other sweeteners in your recipe to compensate.
How Much to Use:
Try a 2:1 ratio of vanilla extract to either type of vanilla powder. So for every 1 tablespoon of vanilla extract a recipe calls for, use 1½ teaspoons of vanilla powder.
Other Vanilla Flavored Products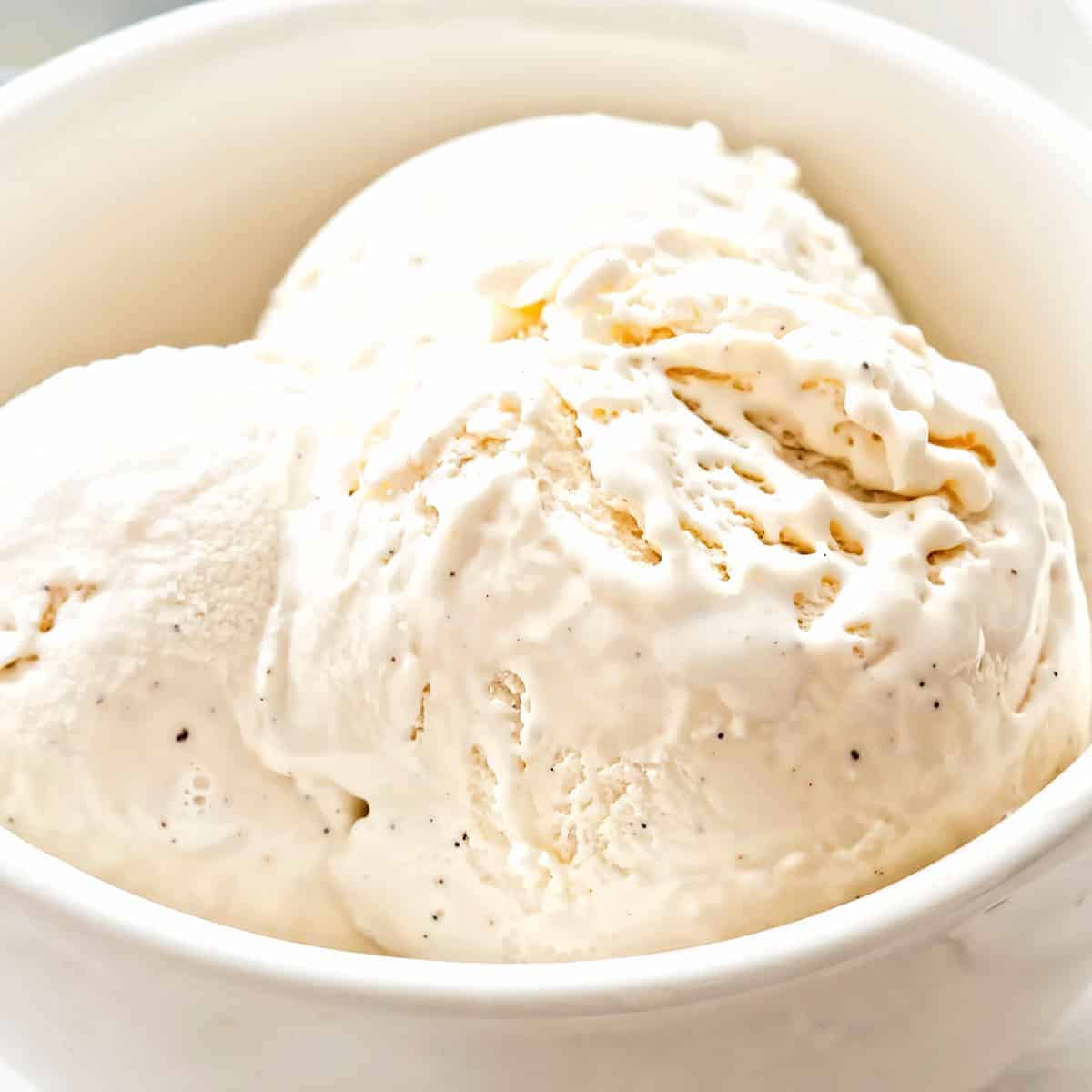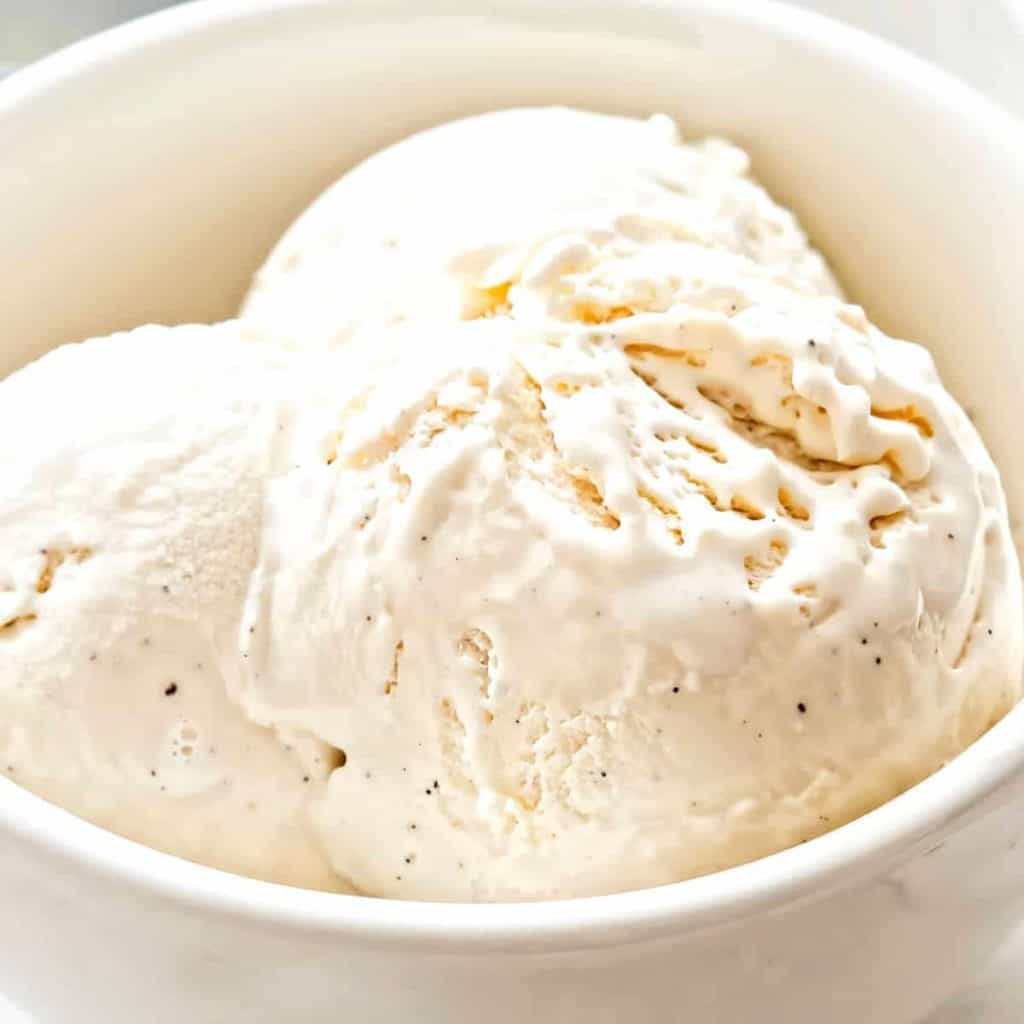 This might sound like a silly suggestion, but when it comes to nailing down a vanilla extract substitute, it pays to take a look around and think outside the box! You might be surprised by the number of vanilla flavored products you have in the house. Vanilla ice cream, vanilla almond milk or other plant milk, vanilla coffee creamer, or vanilla syrup could all potentially work well to replace vanilla extract in a recipe.
When making the substitution, be sure to take into account any additional sweetness that the vanilla flavored product will impart. Items like vanilla syrup, often used for flavoring coffee drinks, tend to be very concentrated and therefore will add a considerable amount of sugar to your recipe.
How Much to Use:
The level of vanilla flavoring in each of these products can vary widely, so start with a 1:1 ratio and go from there. If your recipe tastes like it's lacking in the flavor department and the incorporation of additional liquid won't be an issue, go ahead and add double or triple the amount called for in the recipe.
Alternative Substitutes for Vanilla Extract
Liquor or Liqueur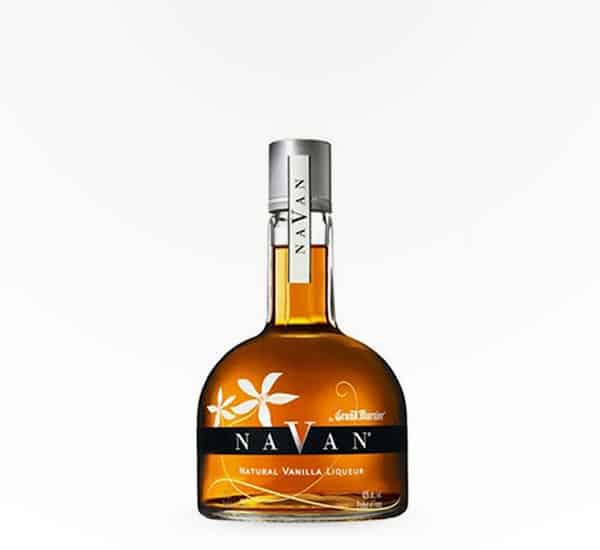 Since vanilla extract is made by soaking vanilla beans in spirits, alcohol itself makes for an excellent vanilla extract alternative. Not just any type of booze will do though, it obviously wouldn't make sense to use smoky mezcal in place of vanilla extract in your recipes.
Opt for sweet and floral spirits such as brandy or rum, which will surely taste a bit different than pure vanilla extract but are fragrant and aromatic in a similar way. Or, if you happen to have vanilla flavored liqueur or vanilla vodka, even better! Vanilla liqueur is actually strikingly similar to vanilla extract itself and makes for an ideal vanilla extract substitute.
How Much to Use:
Use a 1:1 ratio. However much vanilla extract a recipe calls for, you can substitute an equal amount of liquor or liqueur.
Maple Syrup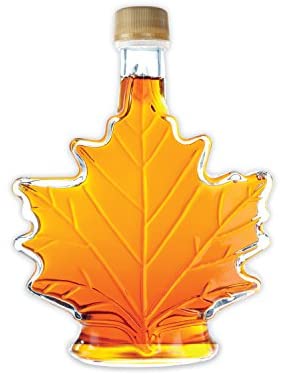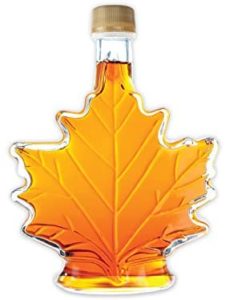 Maple syrup has a delicious flavor which is amazingly reminiscent of vanilla extract, despite being cultivated from a family of plants which is so far removed from flowering orchids of the vanilla family. While maple no doubt has a distinct flavor of its own, the effect of maple syrup on recipes is similar to that of vanilla: floral, woodsy, and inherently sweet.
Just be sure to use the 100% pure maple syrup, this is not the time and place for artificially flavored pancake syrup. Since you'll be adding sweetness by using maple syrup, you may want to reduce other sugars in your recipe to compensate as well. Also, maple syrup is a great choice as a vanilla extract substitute which is alcohol free!
How Much to Use:
Start with a 1:1 ratio of vanilla extract to maple syrup, but feel free to add a bit more if you find your dish to be lacking in the aroma and taste.
Other Flavored Extracts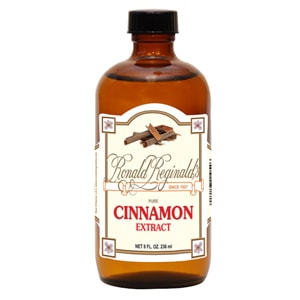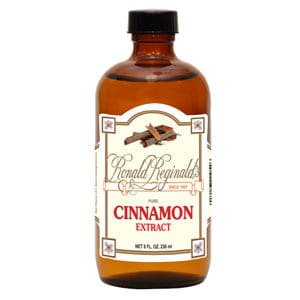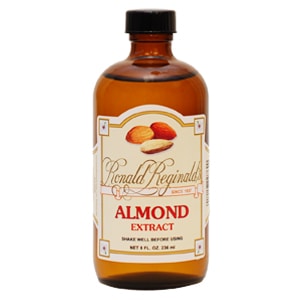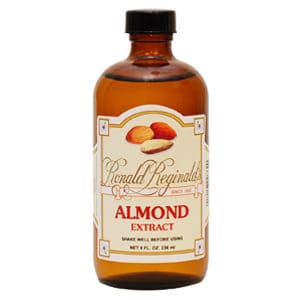 Just because you don't have vanilla extract or other vanilla flavorings doesn't mean you have to abandon your recipe altogether. There are plenty of other flavor extracts to choose from, some which might strike a similar chord to vanilla extract, while others might take a completely different, yet equally delicious flavor profile path.
Instead of maple syrup, you could use maple extract if you happen to have it. This would provide all of the fragrant maple-y, rich flavor without the added sweetness. Almond extract is another great option as it gives a floral, nutty flavor. Cinnamon extract could also be used if it seems like it might complement the other ingredients going on in the recipe.
Whichever flavor extract you choose, think carefully about how it will play with the other ingredients and use your judgment, but don't be afraid to try something new!
How Much to Use:
Start with a 2:1 ratio. However much vanilla extract the recipe calls for, use half the amount of another flavored extract. This lower quantity is especially important for some extracts, since the almond flavor in almond extract strikes the tongue as more potent than other extracts such as maple flavor.
How to Make Homemade Vanilla Extract
Making your own vanilla extract is so easy, there's truly no excuse for running out of the store bought stuff! The only problem here is that it takes about 2 months to infuse, so don't count on having homemade vanilla extract at your disposal just yet. Ready to set yourself up with a future supply of vanilla extract? Follow this simple homemade vanilla extract recipe.
Step 1: Gather Your Ingredients
When making homemade vanilla extract you need only 3 things: a container, alcohol, and whole vanilla beans.
The best type of container to use is an 8-12 ounce glass jar or bottle that tightly seals. When it comes to booze, the most common choice is vodka, as this will yield a result most similar to that of store bought extracts. However, if you like to amp up the flavor even further, you can use something along the lines of bourbon or brandy. Finally--the most important component--you will need 4 vanilla beans for every 8 ounces of extract you plan to make, but by all means feel free to splurge on more beans if you desire a more intensely flavored extract.
Step 2: Prepare the Extract
Use a small, sharp knife to split the vanilla beans lengthwise, as this will allow the alcohol to have an easier time pulling flavor out of the seeds themselves. If your bottle or jar is not tall enough to accommodate the full length of the vanilla bean halves, you can cut them width-wise as well. Place all of the vanilla bean pieces into the container and cover them with 8 ounces of alcohol. You want to be sure that the beans are completely submerged. Seal the lid and shake the container gently to combine.
Step 3: Allow the Extract to Infuse
Now all that is left between you and homemade extract is time! Allow the mixture to sit in a cool, dark place (such as your pantry or spice cabinet) for at least 2 months, shaking the container every so often to redistribute the ingredients. After 2 months, you can definitely start using your extract, but the flavor will continue intensifying the longer you let it soak.
Step 4: Remove the Vanilla Beans (Or Don't!)
After you are satisfied with the flavor of your vanilla extract, you can remove the vanilla beans to make it more convenient to use your extract moving forward. If you choose to leave them in and soak longer, just be sure to add a bit more alcohol each time the vanilla beans start to get exposed to air, as this will keep the beans themselves from spoiling.
What to Do With Leftover Vanilla Bean Pods
Got vanilla bean pods leftover from scraping the seeds out to use in a recipe or from extract making? Don't throw them out just yet! Even if they were used to make a batch of extract, those pods will still have flavor to give.
One of our favorite things to do with used vanilla pods is, after allowing them to dry if they have been in liquid, to tuck them into a jar of granulated sugar. Stir the pods around in the sugar and seal with a lid. No need to wait any specific time period for the flavor to infuse, but this little stash of ongoing vanilla sugar is a great addition to your morning coffee routine or iced tea.
You can keep adding leftover vanilla pods and fresh granulated sugar to the mix, and the perfumed sugar will continue getting more and more delicious.
Vanilla Extract Substitute: Bottom Line
As you can see, there are plenty of vanilla extract substitute options out there! If you find yourself out of extract, scrounge around your refrigerator and cabinets for other vanilla products. Whether you manage to dig up some whole vanilla beans or vanilla flavored soy milk, you've got a great solution on hand.
If you don't have any vanilla in the house, feel free to try a similarly sweet and aromatic liquor, maple syrup, or experiment with another type of flavor extract. Who knows, your substitution may even result in a new favorite recipe in which you skip vanilla extract moving forward. Sometimes, accidents turn out to be happy ones.