Depending on your level of fandom, sun dried tomatoes may be one item in your kitchen that doesn't exactly get a lot of everyday use. Their flavor is intense and you'd have to be a true enthusiast to use them often enough that you always have a jar or two on hand.
The problem is though, that when a recipe calls for sun dried tomatoes, it really relies on them! They are such a unique tomato preparation, their flavor is not easily replicated if you are to suddenly find yourself without enough to fulfill the requirements of a recipe.
Take a deep breath though, because thankfully there are some great options out there with which to replace sun dried tomatoes in a recipe. Read on as we walk through all of the best substitutes for sun dried tomatoes!
What Are Sun Dried Tomatoes?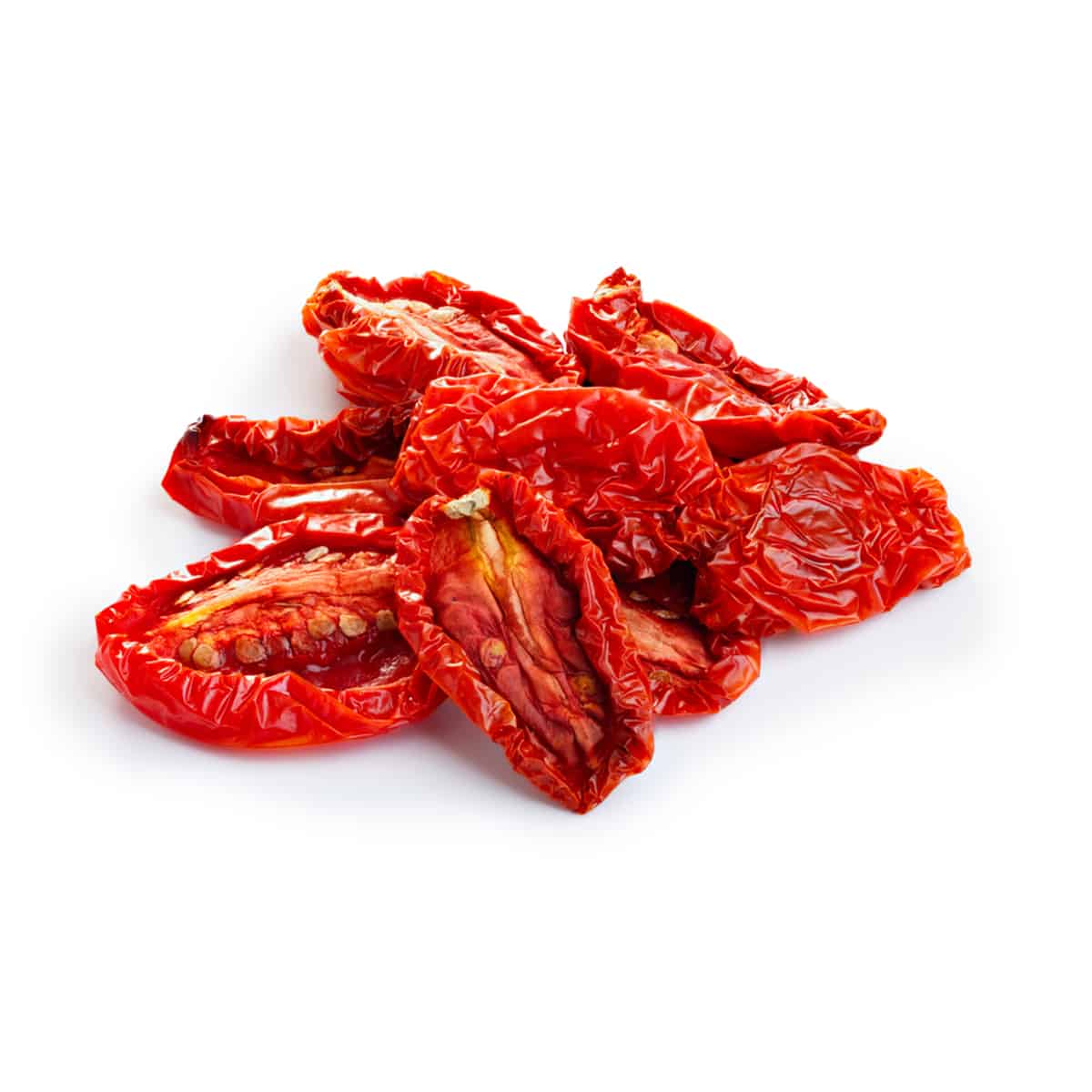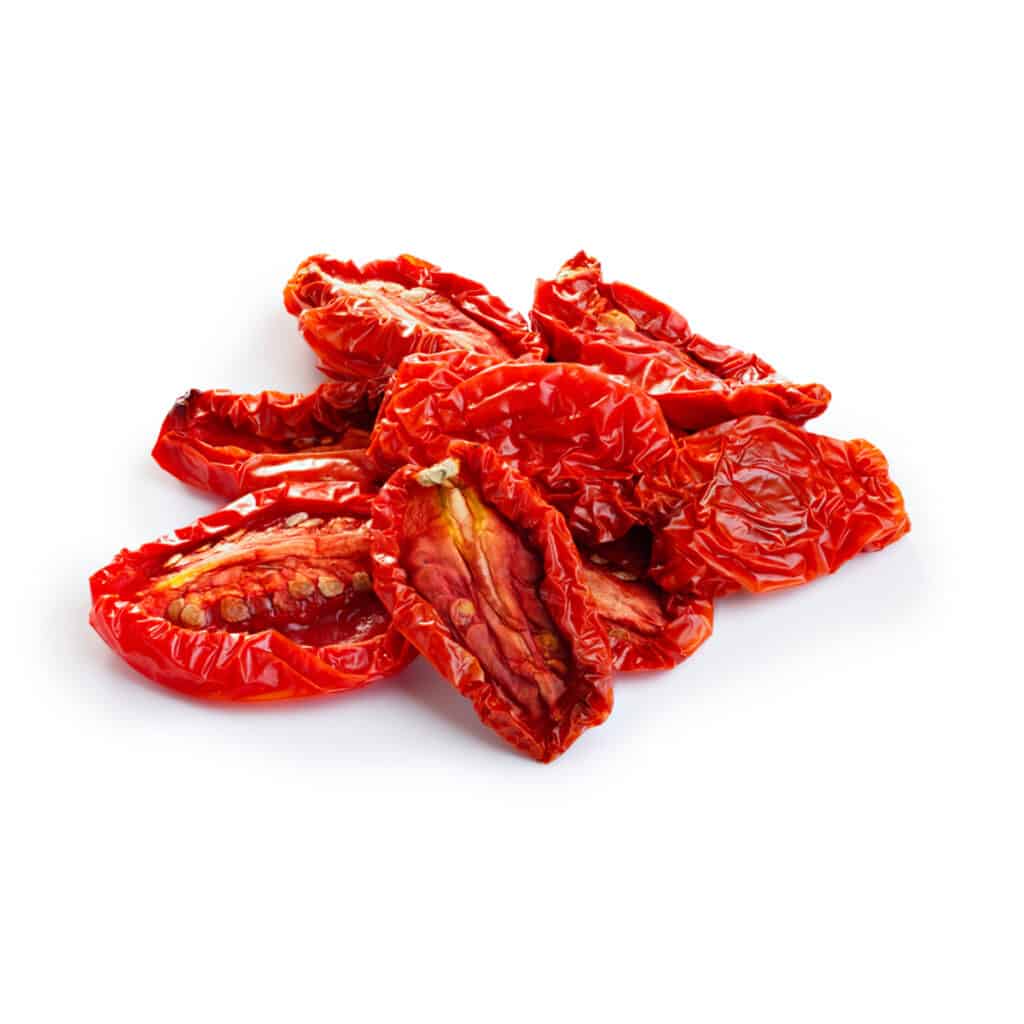 Sun dried tomatoes taste just like tomatoes with an amazingly concentrated flavor--thanks to the removal of nearly all water during the drying process--and a satisfying chewy texture, somewhat like that of other dehydrated fruits such as dried apricots or raisins.
Sun dried tomatoes come in two main variations: dry packed and oil packed. Dry packed sun dried tomatoes are simply dry tomatoes and you'll often find these in the dried fruit aisle at the grocery store or in the bulk food bins. Oil packed sun dried tomatoes differ a bit, as after the drying process is complete, they are packed and sealed into jars along with olive oil and sometimes other herbs and flavorings.
Olive oil packed sun dried tomatoes are ready to use as is, while dry packed tomatoes benefit from being briefly hydrated in warm water before use. Both options deliver plenty of strong tomato flavor, but as you might think, oil packed sun dried tomatoes also incorporate some fatty richness into whatever they are mixed into.
Sun dried tomatoes are also a tasty way to get some nutrition in! Among other health benefits, sun dried tomatoes pack a wallop of vitamin C, dietary fiber, and important antioxidants such as lycopene.
Choosing a Substitute for Sun Dried Tomatoes
When selecting a sun dried tomatoes substitute, it's important to consider the two main functions of this product in a recipe. Some recipes include sun dried tomatoes as a flavor component, while the success of other recipes relies upon the textural characteristics of sun dried tomatoes as well. Some of these substitute options will impart plenty of tomato flavor while others will add texture, and yet others add both.
The first batch of sun dried tomato substitutes are other products which contain tomatoes, making them some of the best options you'll find! However, if you are seeking a non-tomato replacement option, scroll to the next section.
9 Sun Dried Tomato Substitute Options! 
Fresh Tomatoes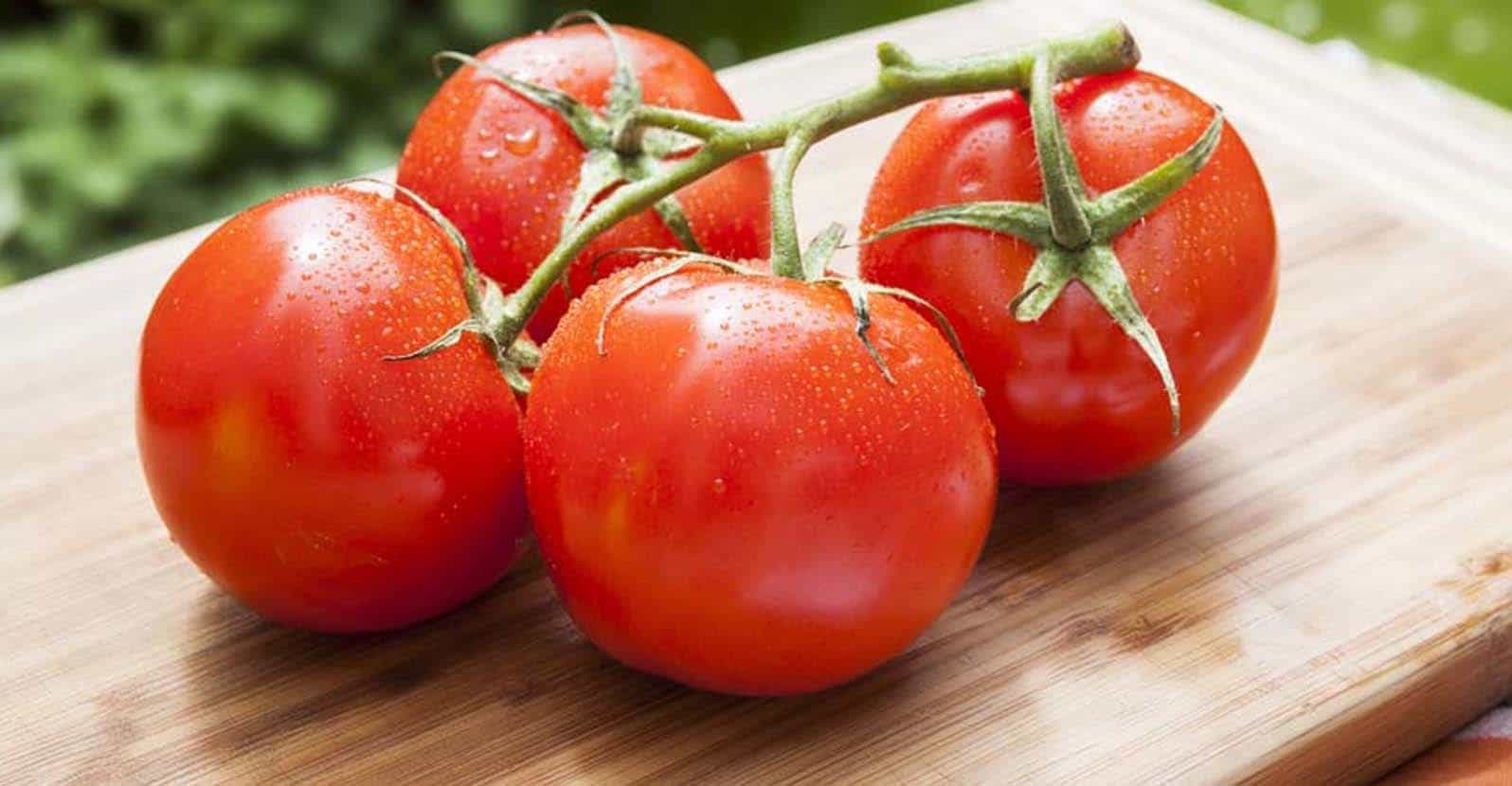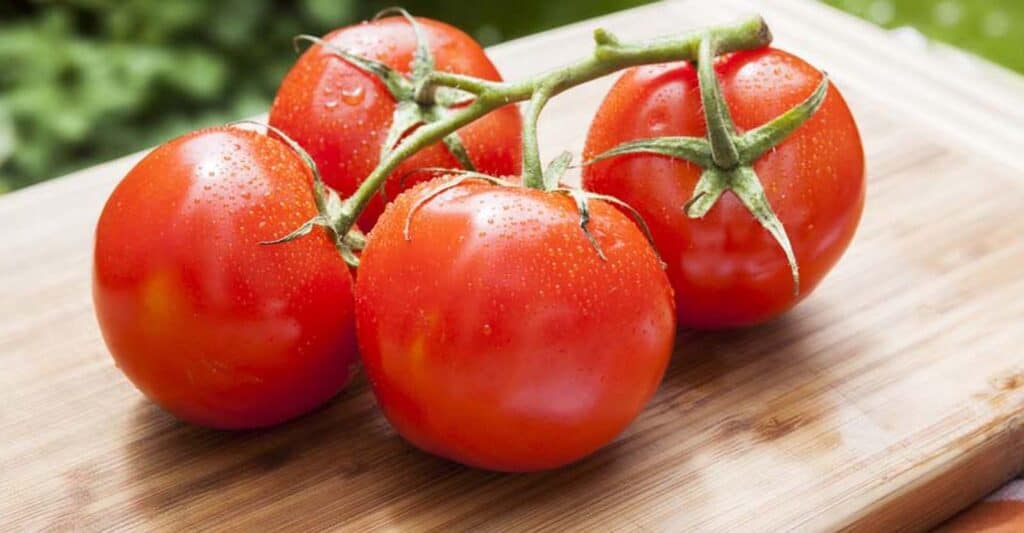 It shouldn't come as too much of a surprise that fresh tomatoes make an excellent substitute for sun dried tomatoes. While their flavor intensity is not at quite the same level, they do offer plenty of tomato flavor and are ideal for applications where texture (you know, having a piece of tomato to bite down on and chew) is important to the overall experience of the dish. Use fresh tomato slices (fresh plum tomatoes are ideal!) in lieu of whole sun dried tomatoes on sandwiches or platters. Or, go with chopped cherry tomatoes or grape tomatoes where sliced or chopped sun dried tomatoes are called for.
If you choose to substitute fresh tomatoes for sun dried tomatoes, the flavor will be most comparable if you use ripe tomatoes. You can even punch it up a bit by tossing the fresh tomatoes with a bit of lemon juice or lime juice to increase their sharpness.
How Much to Use:
The amount varies depending on what type of recipe you're working with. If you're replacing whole or halved sun dried tomatoes on sandwiches or platters, go with a 1:1 ratio. The flavor will not be as bold, but the experience will be about the same. If you are replacing sliced or diced sun dried tomatoes in a recipe, use a 2:1 ratio. For example, if a recipe calls for ¼ cup (about 4 whole tomatoes) of diced sun dried tomatoes, use a full cup for diced fresh tomatoes!
Canned Tomatoes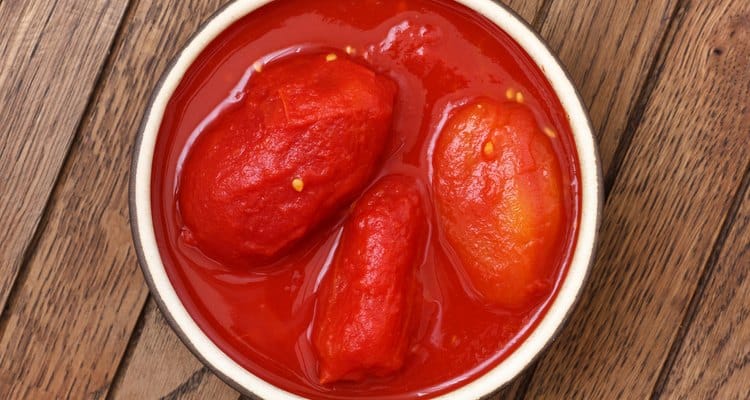 If fresh tomatoes are out of season, or you simply don't have some on hand and would like to save yourself a trip to the grocery store, canned tomatoes make for an excellent substitute for sun dried tomatoes as well!
There are many types of canned tomatoes out there to choose from, but your best bet is to opt for canned whole tomatoes as you may then cut or slice them any way you wish in order to achieve the effect you're looking for in your recipe. For the best results possible, use your fingers to scoop those loose, seedy centers out from the tomatoes as you cut them. This will leave only the flesh of the tomatoes, which will have a sturdier texture more like that of dried tomatoes.
Other canned tomatoes may be a viable option to replace sun dried tomatoes as well, such as diced or stewed varieties. Crushed tomatoes may even do the job you're looking for in some circumstances, such as when adding to a sauce or stew.
How Much to Use:
Start with a 1:2 ratio, replacing ¼ cup sun dried tomatoes with ½ cup drained, canned tomatoes. You can always add a bit more to bump up the tomato flavor, or add a splash of the super rich canning liquid if your recipe can stand to tolerate some additional moisture!
Tomato Paste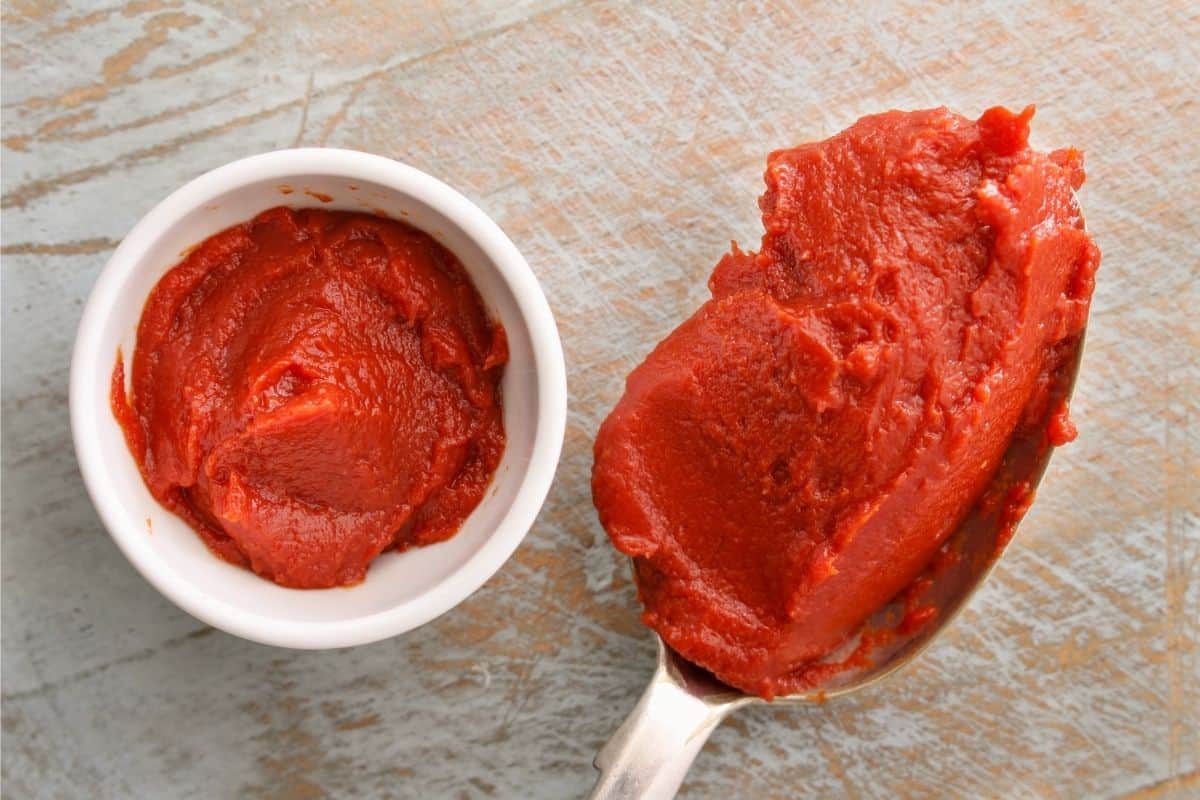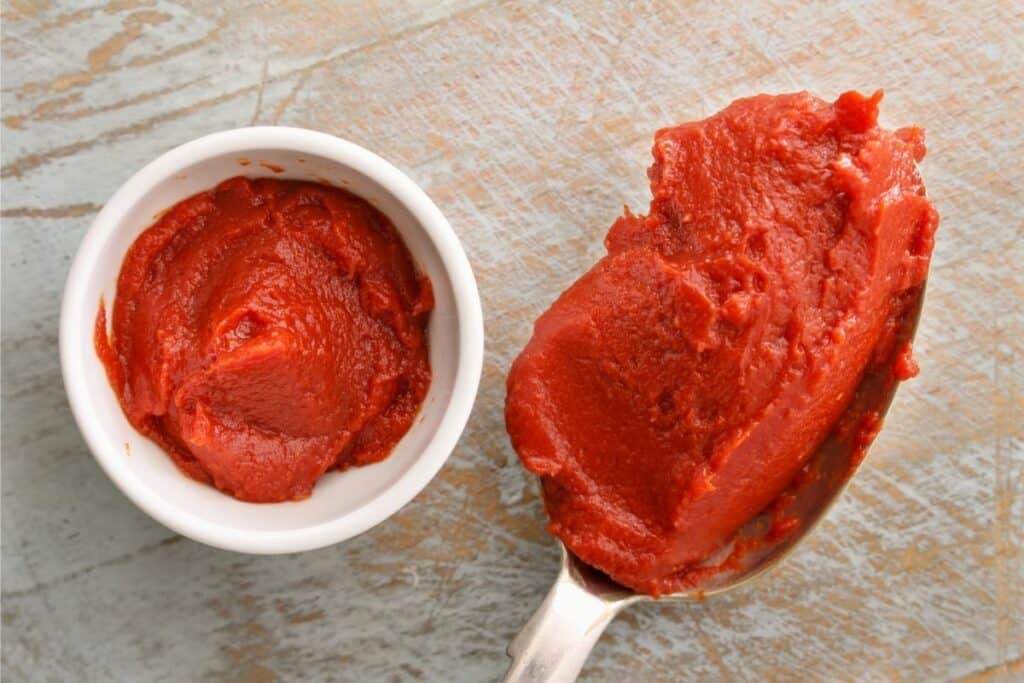 The intensely tart and savory flavor of tomato paste is actually quite comparable to that of sun dried tomatoes, and it's clear to see why! As tomato paste is made by way of dehydrating tomatoes (the main difference being that the water is removed during the cooking process as opposed to being dried in the sun or a warm air environment), its flavor is thus concentrated in a similar manner. The biggest difference between these two products of course is that sun dried tomatoes maintain their whole tomato shape and texture while tomato paste is blended into a smooth, velvety puree.
How Much to Use:
For every ¼ cup of sun dried tomatoes the recipe calls for, you can substitute 1 to 1½  tablespoons of tomato paste.
Tomato Puree or Tomato Sauce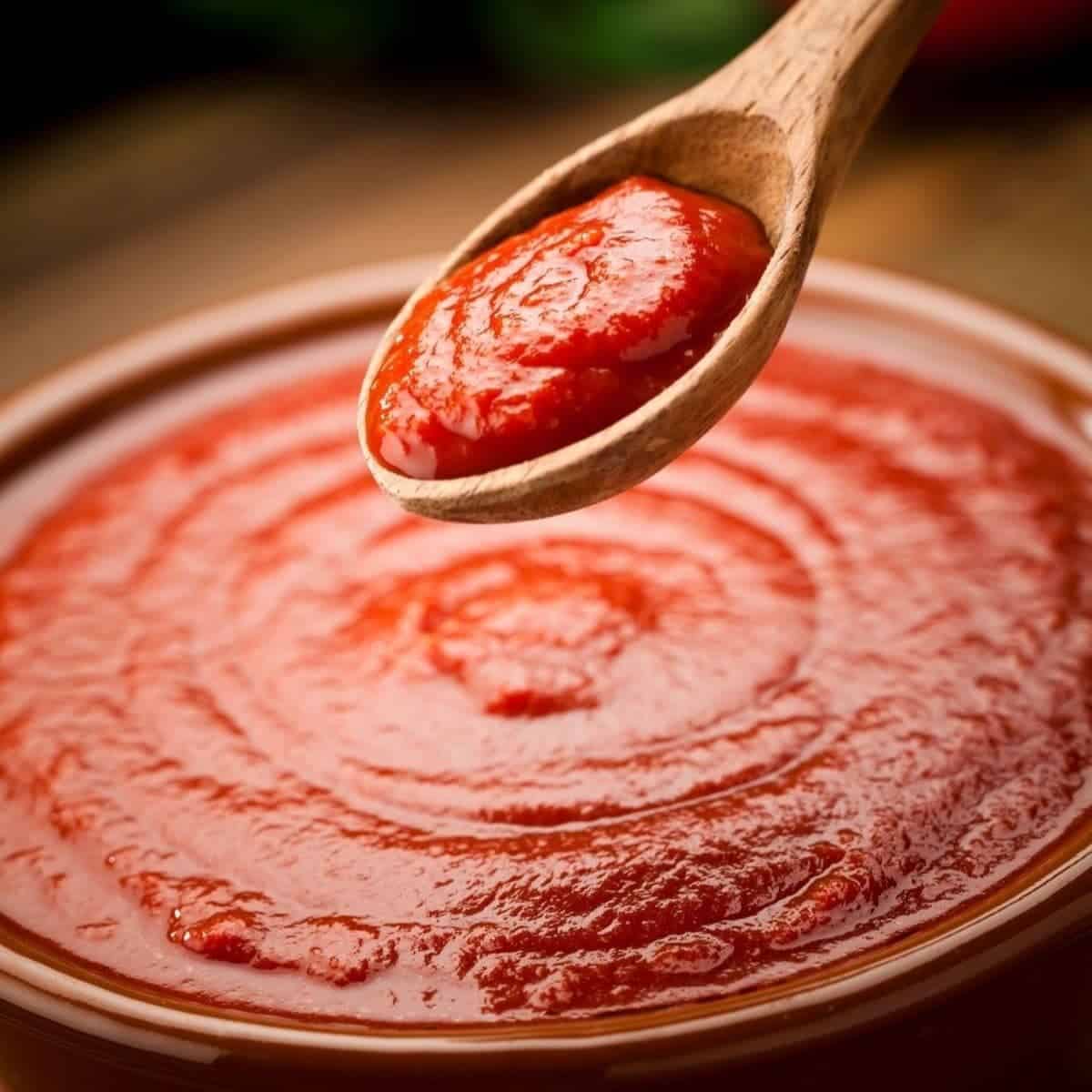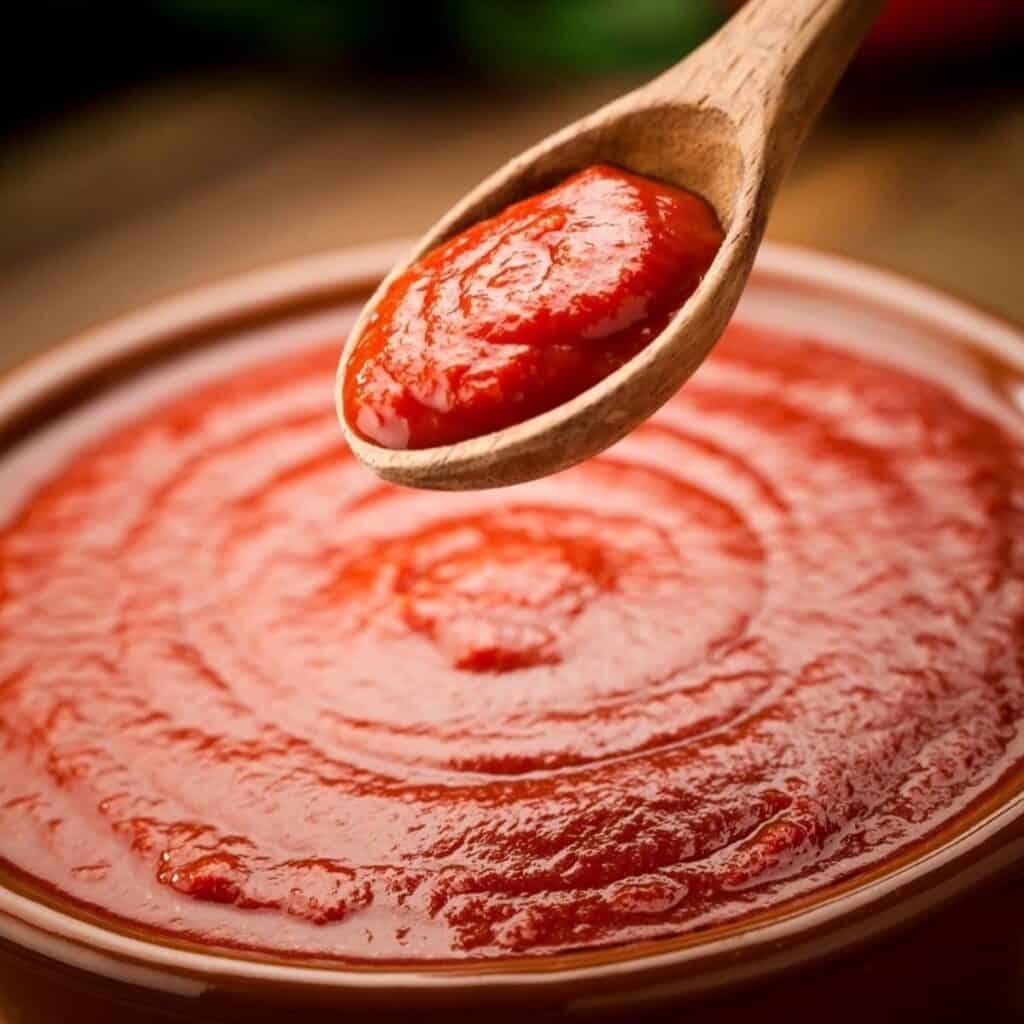 We're going to be real with you. As far as substitutes go, tomato puree and tomato sauce are not exactly the best. These types of products will always have a much weaker flavor and a thinner texture than sun dried tomatoes or tomato paste for that matter. Nevertheless, they still could serve as a suitable stand in for sun dried tomatoes depending on the recipe! The main bonus here though (and one of the key reasons why we opted to include it in this list of sun dried tomato replacements) is that most folks tend to have at least some version of tomato puree/sauce--such as pizza or pasta sauces--on hand in their fridge or pantry.
Using tomato sauce or puree as a replacement is best for recipes such as soups, stews, and sauces; dishes in which you won't necessarily miss the textural addition that sun dried tomatoes would have brought to the table. If you opt to substitute sun dried tomatoes with a thinner sauce such as tomato sauce, you may want to reduce the quantity of other liquids in the recipe and/or simmer the dish longer to compensate for the additional moisture that the tomato sauce will impart.
How Much to Use: 
This one is a bit tricky as we are looking to substitute a solid ingredient with a liquid one. Start with ¾ cup of tomato sauce or puree for every ¼ cup of chopped sun dried tomatoes called for in the recipe, and scale back if it seems like this will cause too much liquid in the recipe.
Sun Dried Tomato Pesto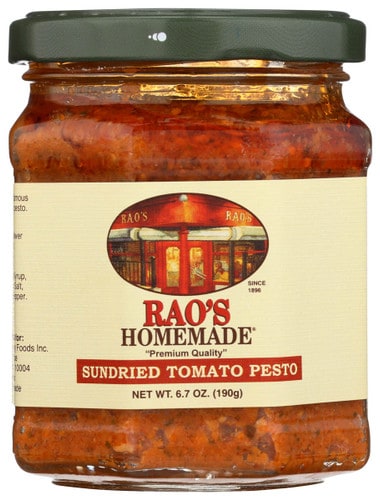 You may be familiar with basil pesto, but sun dried tomato pesto is worth getting to know as well! Seeing as it is simply made from chopped sun dried tomatoes, it makes a perfect substitute for sun dried tomatoes in a recipe.
Sun dried tomato pesto will provide just the same tart flavor and savory taste as actual sun dried tomatoes, the only difference in the case of pesto is that they are blended with other ingredients. This is where you must use your own powers of judgment to determine whether or not the other ingredients going on in the pesto are complementary to your dish or not. As with traditional basil pesto, most store-bought sun dried tomato pesto will include plenty of olive oil, as well as potentially cheese and nuts.
How Much to Use:
You want to avoid being too heavy handed when using sun dried tomato pesto as a substitute, as it is much richer in fat content and will most likely have a more intense flavor due to the presence of additional ingredients. Aim for a 2:1 ratio, for example every ¼ cup of chopped sun dried tomatoes that a recipe calls for, use ⅛ of a cup (2 tablespoons) of sun dried tomato pesto instead.
Tomato Powder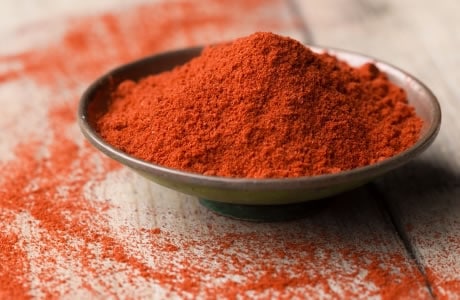 Chances are, this is one ingredient which is not in regular stock in your kitchen. However, if you happen to have a bottle or packet of this stuff, this is a great time to put it to use! Seeing as tomato powder is actually made from dried tomatoes itself, it is definitely a valid choice to replace sun dried tomatoes in a recipe.
As you might imagine, using tomato powder is a great way to impart tomato flavor into a dish, however it will unfortunately not impart the same texture as whole fresh or canned tomatoes, nor the same brightness that would even be provided by tomato sauces and pastes.
How Much to Use:
Since tomato powder is fully dehydrated and ground, it can have quite a strong flavor when reconstituted. For every ¼ cup of sun dried tomatoes required by the recipe, replace it with just 1½ teaspoons of the tomato powder.
Tomato-Free Substitutes for Sun Dried Tomatoes
The following options are tomato-free substitutes for sun dried tomatoes in case you are seeking a replacement due to allergies, dietary restrictions, or you simply don't care for the flavor of them. However, always be sure to check the label of your specific product to be sure there are no hidden allergens!
Roasted Red Peppers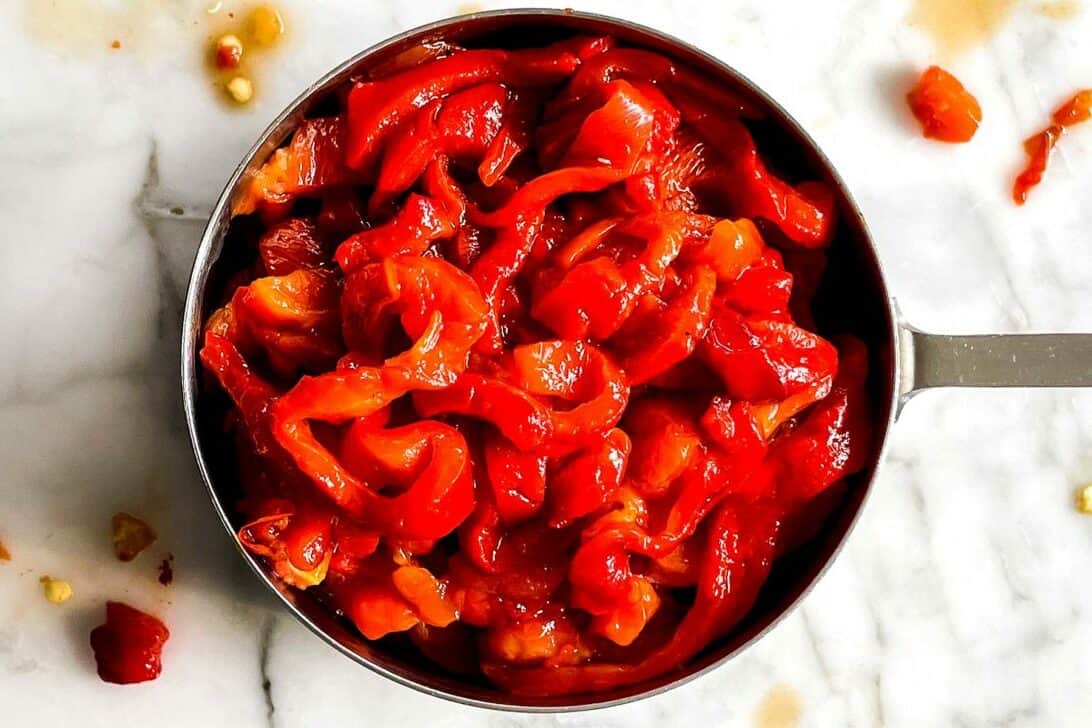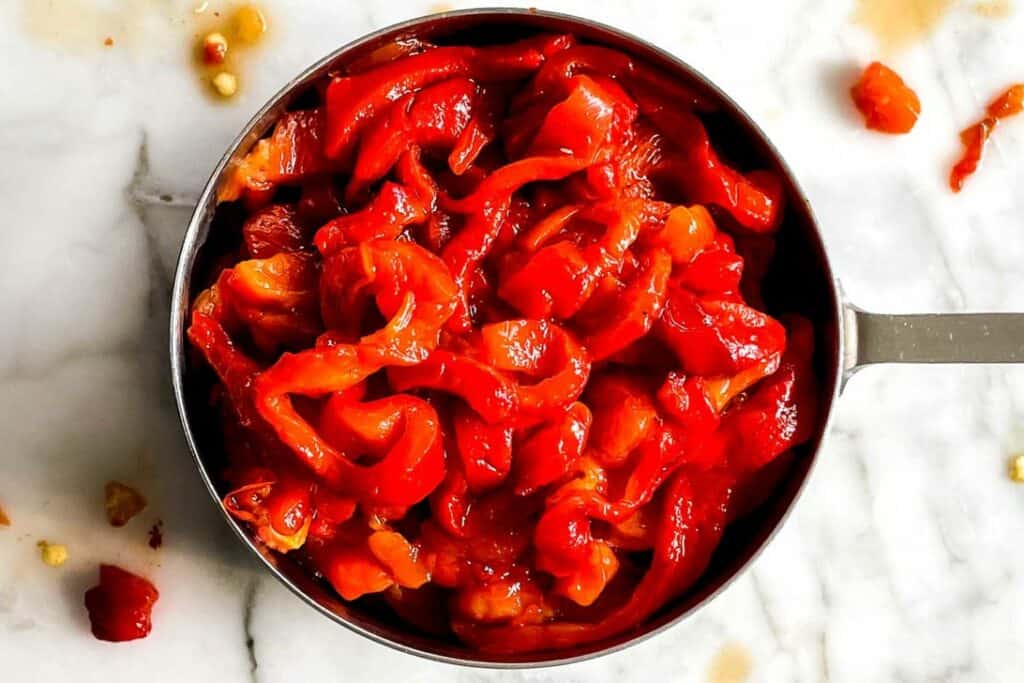 With an amazingly bright flavor of their own, roasted bell peppers are a great option in recipes that call for whole or chopped sun dried tomatoes where the appearance and texture of the tomatoes would play an important role in addition to the flavor. Think of them on big delicious sandwiches, as pizza toppings, or as part of an antipasto board.
Though they have a milder flavor, roasted red peppers are juicier and crunchier than sun dried tomatoes. They also come along with a deep smoky flavor as opposed to the sweet and sour taste of sun dried tomatoes, but still, roasted red peppers are a fantastic sun dried tomatoes substitute as they do offer a similar appearance and taste.
When substituting sun dried tomatoes in bruschetta or as part of a platter or spread, try roasted bell pepper drizzled with olive oil to impart a bit of the same richness.
How Much to Use:
The quantity you should use as a substitute will depend on your own taste preferences as well as what the specific dish in question is. Generally speaking though, you can go with a 1:1 ratio, replacing 1 whole sun dried tomato with 1 whole piece of roasted red pepper of comparable size. If the ingredients are to be chopped or sliced, you can measure them equally as well.
Tamarind Paste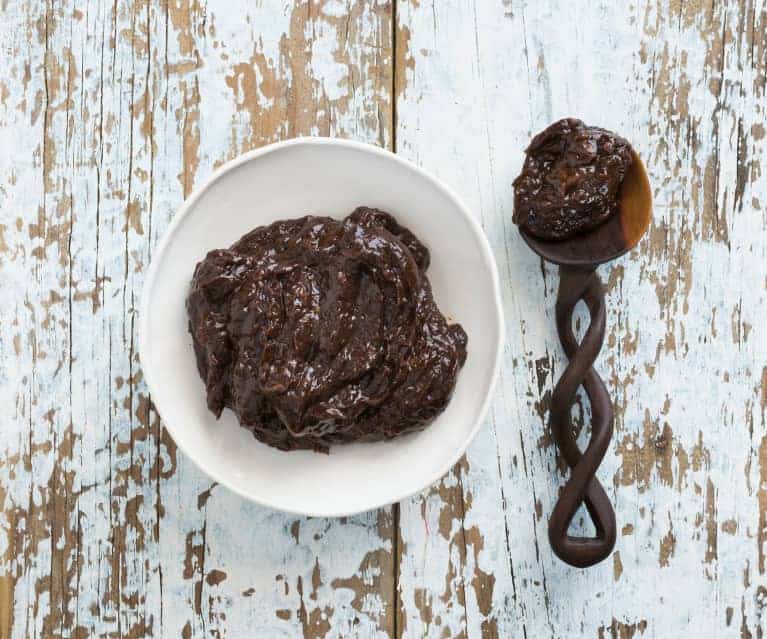 It may sound a little exotic, but tamarind paste makes a great substitute for sun dried tomatoes especially in saucy dishes such as stir fries, rice dishes, and stews. Tamarind is in the legume family, meaning it produces a pod filled with seeds. In a unique twist however, these seeds are surrounded by a thick and sticky paste-like substance which is what folks are after when it comes to producing some tamarind paste.
Although tamarind paste has a smooth texture--much like that of tomato paste actually--it also has an intensely sweet and tart flavor, much like that of sun dried tomatoes as well. You may recognize the strong aroma and flavor of tamarind as one of the characteristic flavors of Worcestershire sauce!
How Much to Use:
Start with a mere ½ teaspoon of tamarind paste for every ¼ cup of sun dried tomatoes your recipe calls for! You can always add a bit more if you find the flavor to be lacking.
Olive Tapenade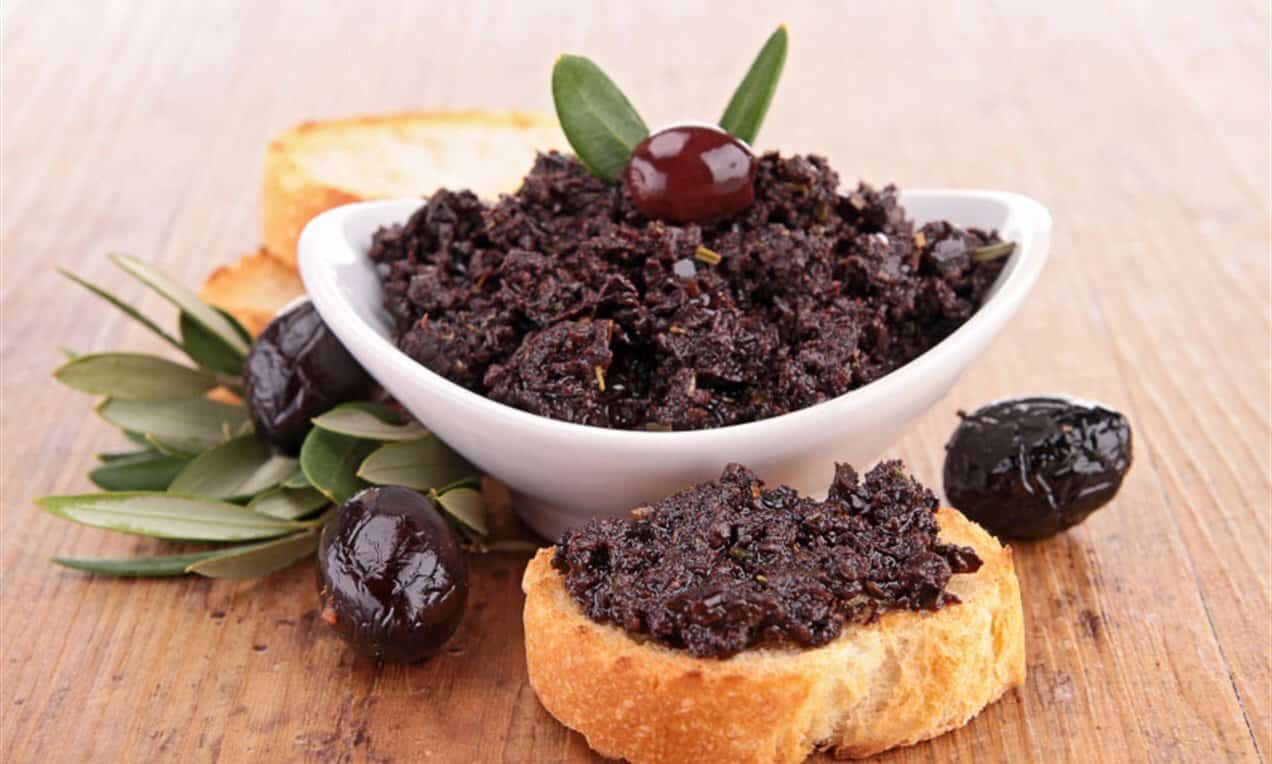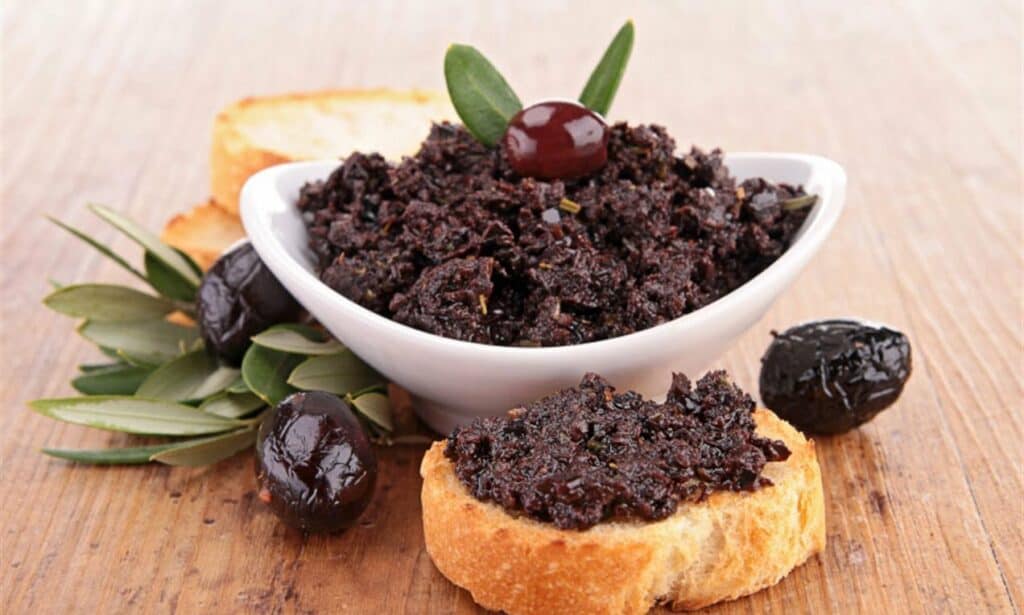 In some cases, you may find that using a product which is dramatically different from sun dried tomatoes will fit the bill just fine! Olive tapenade is one such case.
Here's why it works. Naturally rich in oils, olive tapenade is capable of delivering the same depth of robust flavor, along with the slightly chewy texture provided by the olives themselves. However, olive tapenade tends to be much saltier as compared to sun dried tomatoes or any of the other substitute options we've covered so far. Therefore you may want to take care to reduce other sources of sodium in your recipe if you opt to use olive tapenade as a substitute.
How Much to Use:
Start with a 1:1 ratio, then taste for flavor and salt content before adding any more!
Other Sun Dried Tomatoes FAQs
Just a few more morsels about sun dried tomatoes for you to chew on!
What Are Sun Dried Tomatoes Used For?
The subtle sweetness and somewhat sour flavor of sun dried tomatoes always lends plenty of punchy tartness to a recipe! Here are a few culinary situations in which you might encounter the need for sun dried tomatoes or a viable substitute for them.
Sun dried tomatoes are often called for in a range of salad recipes, sauce recipes, and are often included in the mixture for the perfect crusty bruschetta.
Adding sun dried tomatoes to your favorite sandwich gives it an instant pick me up!
Sun dried tomatoes are often used as pizza toppings and are a key component of a good antipasto platter or charcuterie board.
Sun dried tomatoes (or your favorite substitute!) are ubiquitous in delicious pasta dishes such as our Creamy Sun Dried Tomato Pasta.
Are Sun Dried Tomatoes Actually Sun Dried?
The answer is not so clear cut, but you can bet that they certainly used to be! With the introduction of cooking appliances like ovens and food dehydrators, many producers opt to use these technologies instead of continuing to do things the old school way. Nevertheless, some sun dried tomato outfits still do things the long way--slowly drying their tomatoes in large, sun-soaked outdoor enclosures.
The interesting thing is though, that whether the tomatoes are sun dried or not, it's always permissible to label them as such. Meaning, you'll never quite know at first glance how that particular package of dried tomatoes has been created.
The good news? Most folks agree that no matter how the tomatoes are actually dried, they all taste equally delicious!
Finding the Best Substitute for Sun Dried Tomatoes!
As you can see, you actually have a ton of options when it comes to replacing the unique flavor and texture of sun dried tomatoes in a recipe!
If you don't have sun dried tomatoes on hand, or you find their flavor to be a bit too intense for your liking, you can easily make do with another tomato product such as tomato paste, tomato sauce/puree, fresh tomatoes, or canned tomatoes. Or, if you would rather not have any tomato ingredients in your recipe, alternative choices like roasted red peppers, tamarind paste, and olive tapenade would fill the role just fine.
When using any of these sun dried tomatoes substitutes (or anything else for that matter!) the main thing is to be sure to taste as you go. Carefully consider the overall flavor profile of your dish and whether flavor, texture, or both factors are most important to replicate. The best thing about making substitutes while cooking is that you will always learn something, and you always stand to find a new favorite flavor combination!