What better way to celebrate pear season, but with a delicious flatbread. This savory recipe makes for a wonderful breakfast or an equally refreshing snack!
Why Pear Season is the Best
Pear season has finally commenced. These fruits are incredibly unique and full of juicy flavor. The best part is how many pear varieties they are. Each varies in its texture and sweetness, with something to please everyone.
Did you know that pears are super healthy? A single pear has 6 grams of fiber. Fiber promotes healthy digestion and helps you feel satiated. Also, pears provide a multitude of vitamins and minerals too. Potassium, copper, and vitamin C are among the most abundant, to just name a few. All technical health facts aside, pears are just so delicious altogether! I am always happy when delicious and healthy can go together so easily.
In this recipe, I used Bosc pears. These are fantastic for baking due to their firm flesh and incomparable sweetness. Most importantly, their shape and color are excellent for decorations. The thinly sliced pears look great when baked. Their brown color truly compliments the honey drizzle as well.
Even if the height of the pear season has passed, this flatbread can still be made. Fortunately, pears are available nearly year-round. People love their pears! Apples can substitute easily, but I still think pears are the best for this recipe.
I always suggest using pears that are ripe or near overripe. The natural sugars in the pears truly caramelize and add more flavor to the flatbread.
Homemade Dough Makes All the Difference
This recipe has one of the simplest doughs to make. It comes together easily, requiring much less counter space than many bread doughs. Also, its total time to prove this dough is very short. This shortens your overall cooking time, making this recipe great for even those with tight schedules.
The most distinctive factor in this dough is whole grain flour. Whole grain flour is one of the most nutritious wheat flours. That is because whole grain flour is made from unprocessed whole grains, whereas all-purpose flour comes from processed grains. Processing grains removes a lot of nutrition from the flour. This makes whole grain flour much more plentiful in nutrition, like fiber and minerals.
Whole wheat flour also boasts a more toasty and nutty flavor. This does so well with the fruity elements of this flatbread. It also makes this flatbread great for a variety of other recipes too!
A Fabulous Table Decoration
This tart is just wonderfully pretty to look at. With thinly sliced pairs, honey drizzle, and bright green mint leaves, you will put the final touch on your autumn household decorations. 
What is wonderful about this recipe is that you can always play around with the toppings! Whether its the design or ingredients, this flatbread encourages creativity. It also makes room for those with certain allergies to also it enjoy it too! 
If there is a nut allergy, try substituting the walnuts for crispy bacon or granola. If using granola, make sure to modify your honey drizzle to balance out the total sweetness.
If you have a dairy-allergy, the ricotta can be simply substituted with cashew cream as well.
How to Make this Sweet Pear Flat Bread Step by Step
The method for this flatbread is straightforward and super fun! It is a great recipe to also make with friends. Everyone can get hands-on with the dough. Plus, you can even have a little decorating contest!
Always preheat your oven first (for this flatbread, we are working with 425 degrees F or 220 degrees C.)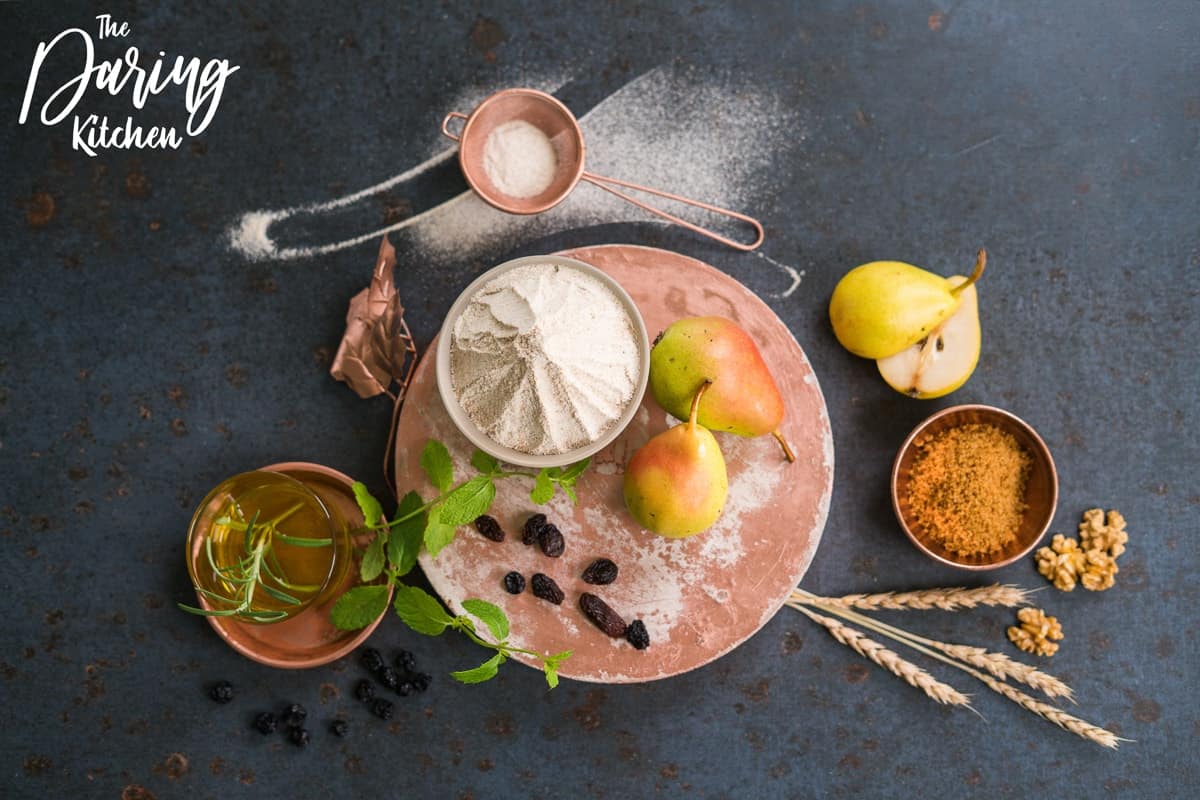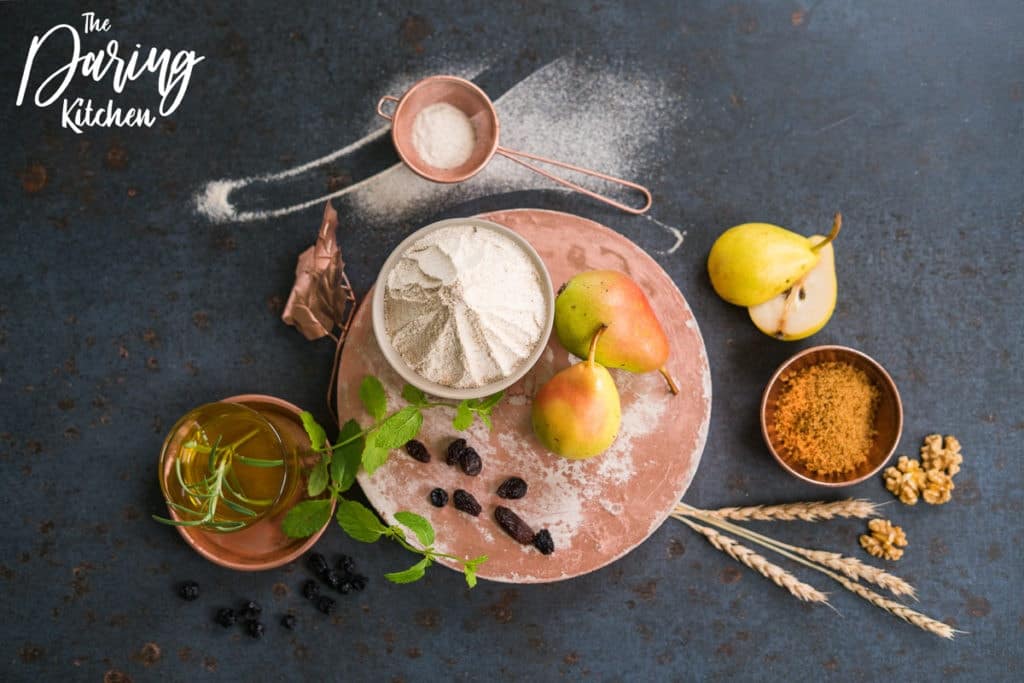 First, find an area where you have enough space for your ingredients and to roll out your dough. From there, you can begin to assemble and measure out your dough ingredients. Make sure to grab a mixing bowl as well.
Do not forget to sift your flour. This will help eliminate lumps in your dough, resulting in a smoother kneading process.
After you assemble your ingredients, you can mix all your dry dough ingredients together, except the dry yeast. Then, carefully add in the olive oil, warm water, and dry yeast. This helps to properly incorporate moisture into the dough.
Once you got these ingredients well-mixed, it's time to start kneading! Sprinkle some flour onto your counter and place the dough down. Using your knuckles and the base of the palm of your hand, knead the dough for 10 minutes. Do not use your fingertips!
Place the dough to the side - it's now time to prep your toppings! This part is incredibly simple. The ricotta and maple syrup are mixed together to create a creamy base for the flatbread. Then, you slice your pears super thin to make a pretty pear layer on top. The walnut, honey, and mint will be saved for post-baking decorations.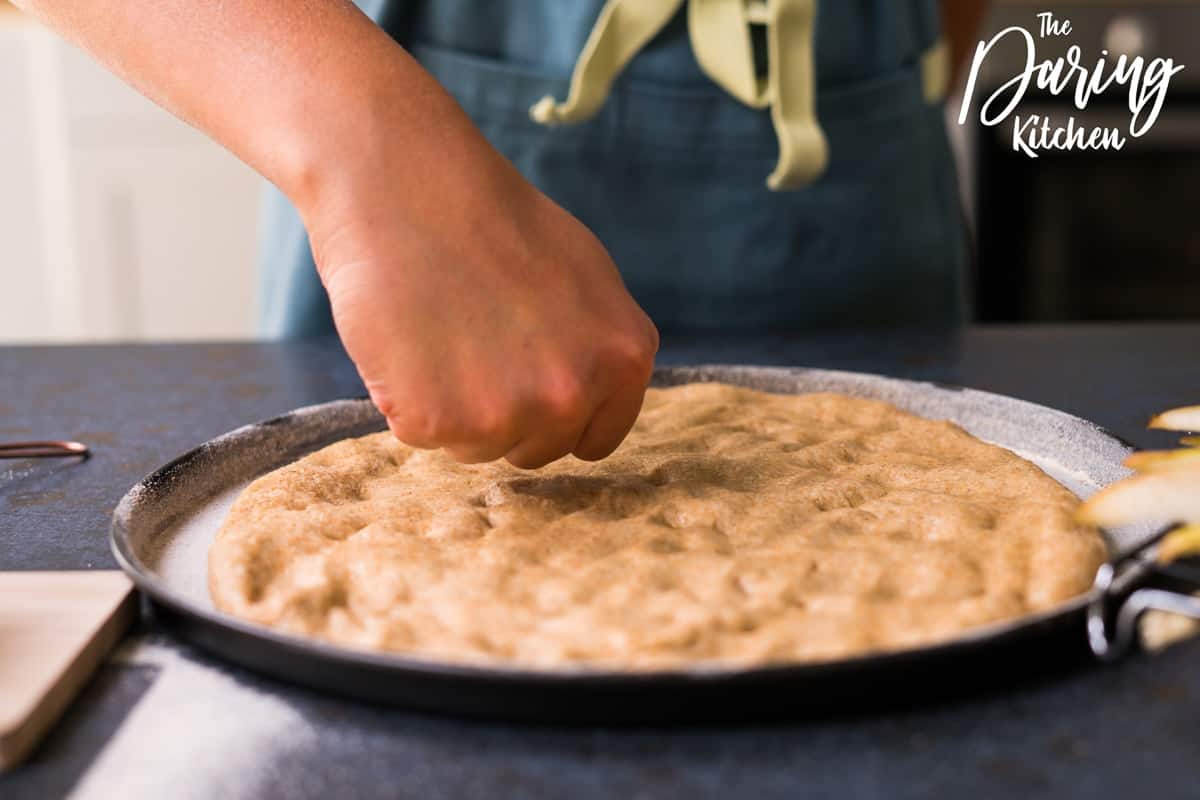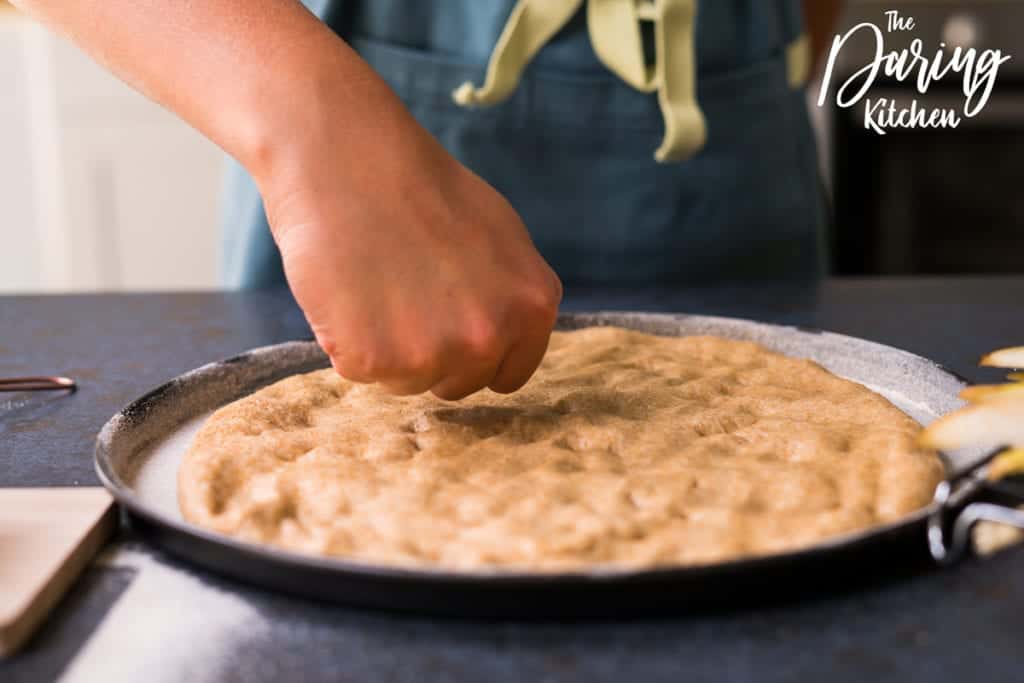 After your prep your toppings, it's time to check on your dough. You will see how soft the dough is. That means it's ready to be rolled out into a circular flatbread. It should be thin, but not paper-thin. Make sure to place it on a flour-covered baking sheet.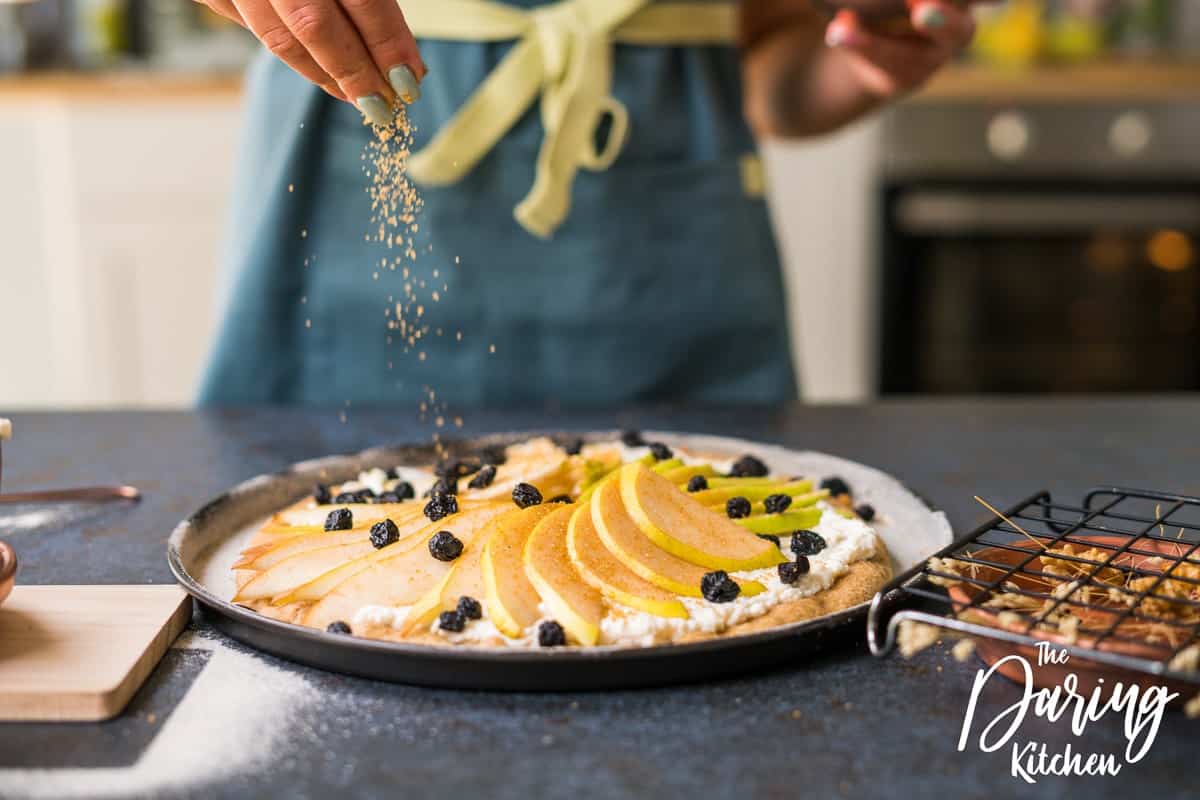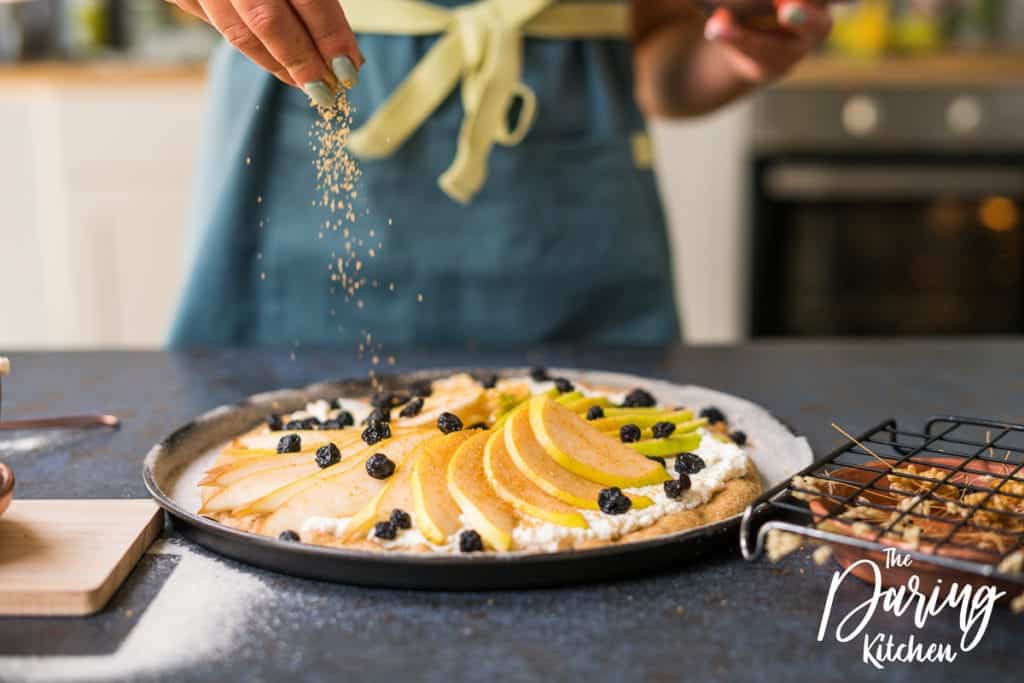 Now, it's decorating time! This is the greatest part. Start with your ricotta-maple base to create an even layer. Then, you simply layer your pear slices around the tart. Sprinkle it with dried blueberries and coconut sugar. Then, send it into the oven for 10-12 minutes. The flatbread will be done when the edges are golden brown.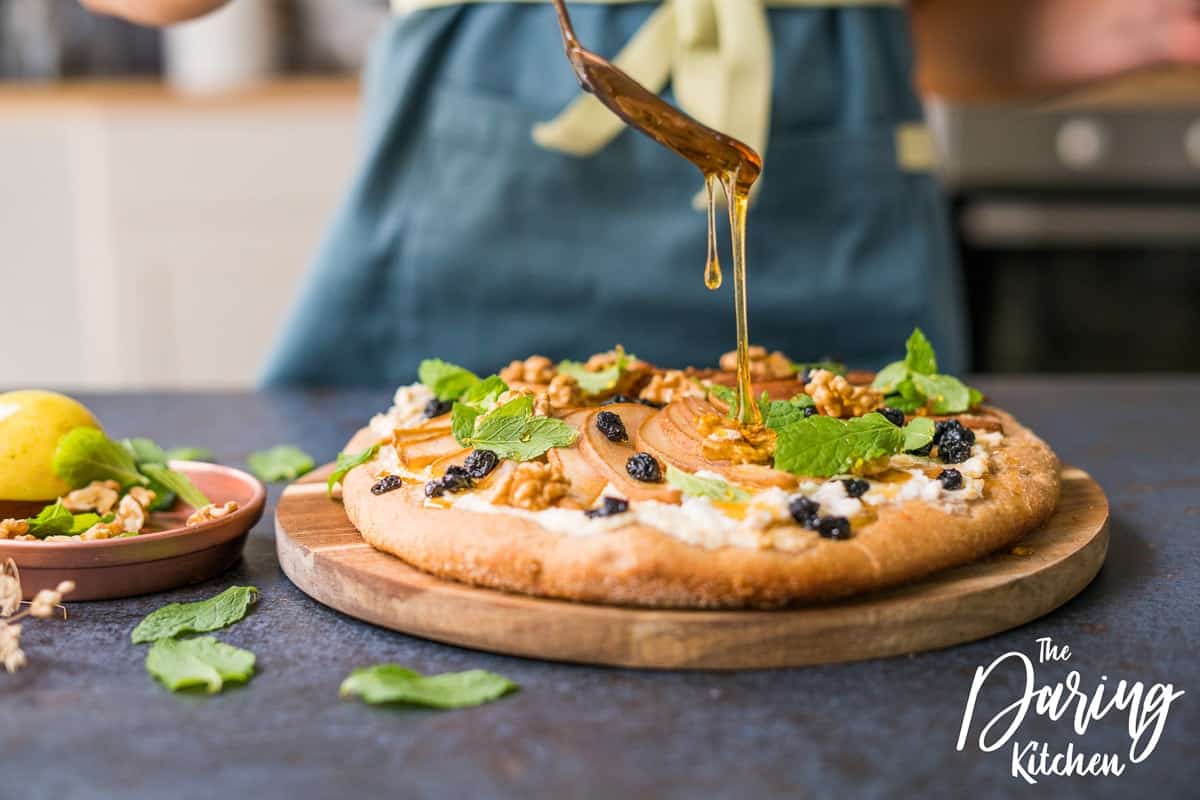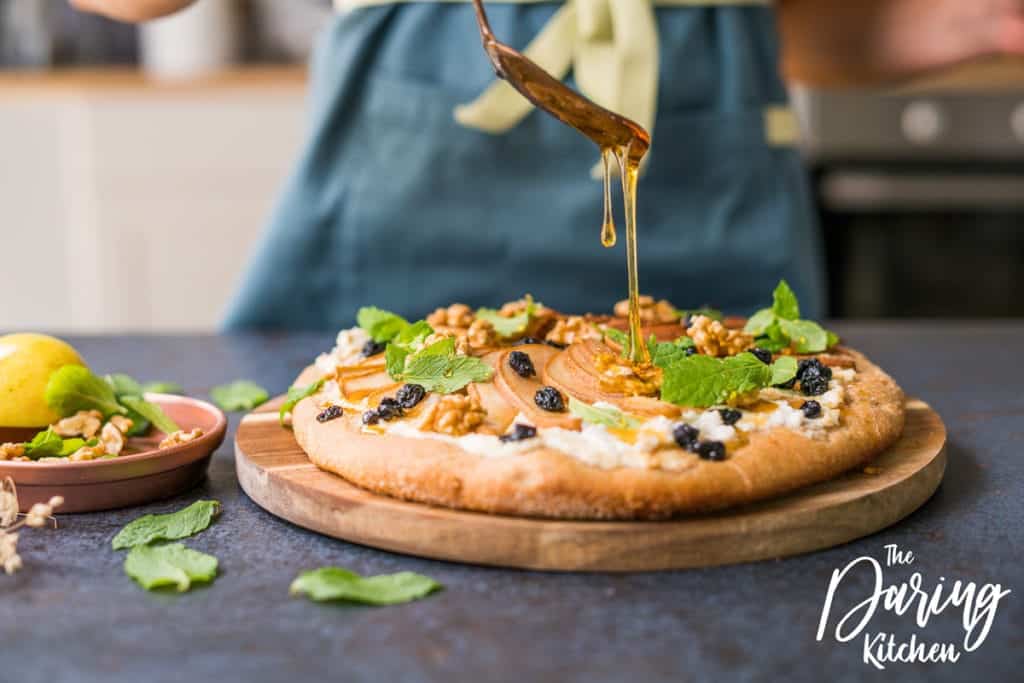 To finish your flatbread, garnish it with walnuts and amply drizzle with honey. Do not forget to finish it with vibrant mint leaves.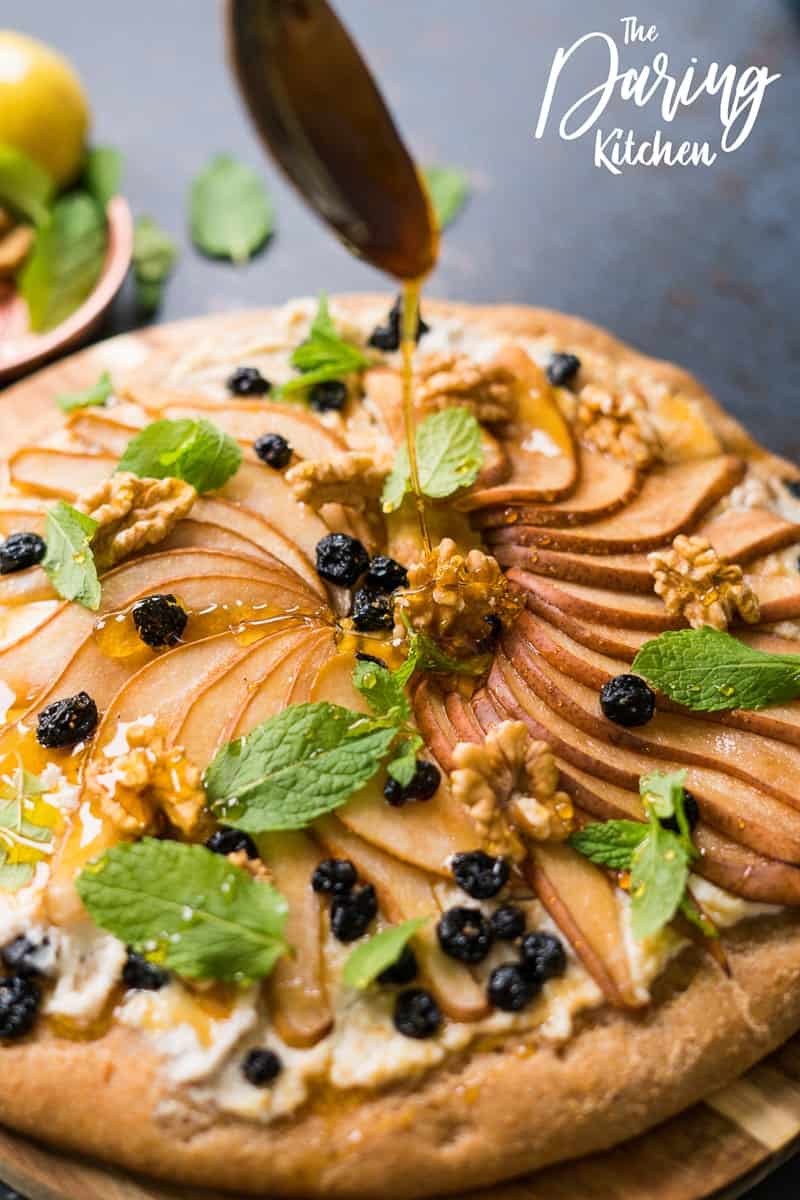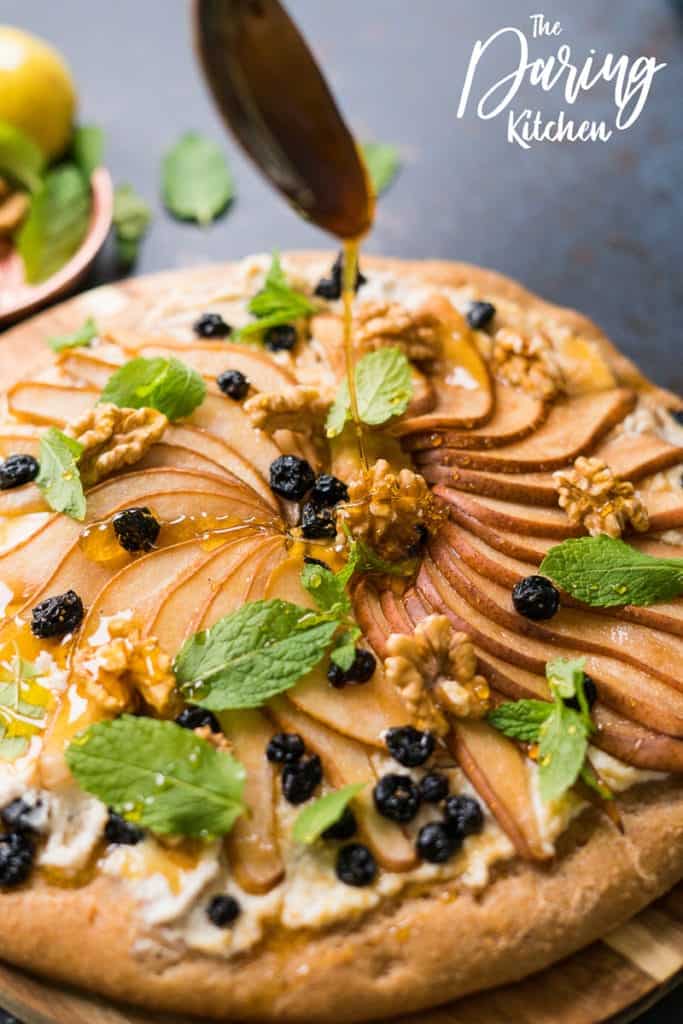 Hope you enjoy this flatbread as much as I did. I cannot wait to make it again for my friend's picnic this Saturday. Did I mention this flatbread tastes fabulous with some bubbles?
Let me know all your thoughts on this flatbread in the comments below!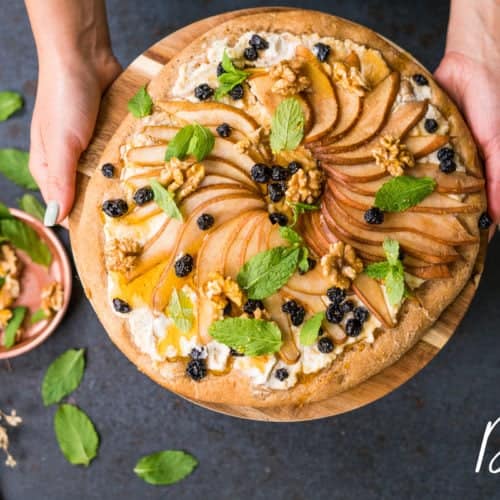 Sweet Pear Flatbread
This light and refreshing flatbread is a breeze to make. And, it will impress any guest.
Print
Pin
Ingredients
For The Dough
1

teacup

Whole Grain Flour

3

tbsp

Cane Sugar

½

tsp

Salt

4

gr

Dry Yeast

¼

teacup

Olive Oil

½

teacup

Warm Water
Filling
100

gr

Ricotta Cheese

50

ml

Maple Syrup

2

Pears

fresh

50

gr

Dried Blueberries

Coconut Sugar
Top With
50

gr

Walnuts

Mint Leaves

fresh

¾

tbsp

Honey
Instructions
In a bowl mix the flour, sugar and salt and stir well.

Add the dry yeast, olive oil and warm water. Stir in with a wooden spoon. Knead the dough with your hands for about 10 minutes and cover with a cotton towel.

In a bowl, mix the ricotta and maple syrup, which we are going to use for the filling.

Slice the ripe pears into thin slices.

Spread the dough onto a flour covered tray. Top with the ricotta mixture, pear slices and dried blueberries. Bake for 10/12 minutes at 220 degrees in a preheated oven.

Top the baked flatbread with walnuts, fresh mint leaves and honey.
Nutrition
Calories:
1220
kcal
|
Carbohydrates:
188
g
|
Protein:
23
g
|
Fat:
48
g
|
Saturated Fat:
12
g
|
Cholesterol:
51
mg
|
Sodium:
1272
mg
|
Potassium:
1264
mg
|
Fiber:
22
g
|
Sugar:
141
g
|
Vitamin A:
534
IU
|
Vitamin C:
15
mg
|
Calcium:
368
mg
|
Iron:
3
mg