Indulge in a delectably sweet fruit treat! This made-from-scratch flatbread is topped with creamy ricotta and maple spread, fresh pear slices, chopped walnuts, mint, and a drizzle of honey.
Why You'll Love This Pear Flatbread Recipe
Eye-Catching- This beautiful pear flatbread looks so mouth-wateringly delicious that it's sure to be the star of any spread.
Flavorful- The combination of creamy ricotta, sweet maple syrup, fruit, and nuts is a flavor explosion in your mouth!
Simple To Make- This easy recipe only requires a few ingredients and minimal effort to make the dough. You can even use store-bought dough if you're in a pinch!
What Is A Pear Flatbread?
Pear flatbread is a delicious sweet treat that uses homemade dough, fresh pears, and ricotta cheese with maple syrup as the topping. It's similar to pizza in texture, but this awesome recipe has a unique sweet flavor.
Equipment
Large Mixing Bowl
Wooden Spoon
Cotton Kitchen Towel
Medium Mixing Bowl
Sharp Knife
Cutting Board
Baking Sheet
Ingredients
For the Dough
Whole Grain Flour- This gives the dough structure and helps bind it together.
Cane Sugar- Adds a hint of sweetness to the flatbread crust.
Salt- Enhances the flavor of the flatbread.
Dry Yeast- Used to leaven or rise the dough so it has a light and airy texture.
Olive Oil- Keeps the dough from getting too dry during baking.
Warm Water- Binds all ingredients together so they can be mixed into a smooth, cohesive dough.
For the Filling
Ricotta Cheese- Adds a creamy, cheesy flavor and texture to the flatbread.
Maple Syrup- Enhances the sweetness of the pears while adding depth to the overall flavor.
Fresh Pears- Thinly sliced pears provide a sweet and juicy burst of flavor when you take a bite.
Dried Blueberries- Adds a subtle tartness to the flatbread and a pop of color.
Coconut Sugar- Enhances the sweetness of the pears and helps keep them from getting too soggy.
For the Topping
Chopped Walnuts- Adds crunchy texture and nutty flavor.
Mint Leaves- Provides a hint of freshness.
Honey- Gives the delicious flatbread an additional layer of sweetness, making it extra tasty, and helps tie all the flavors together.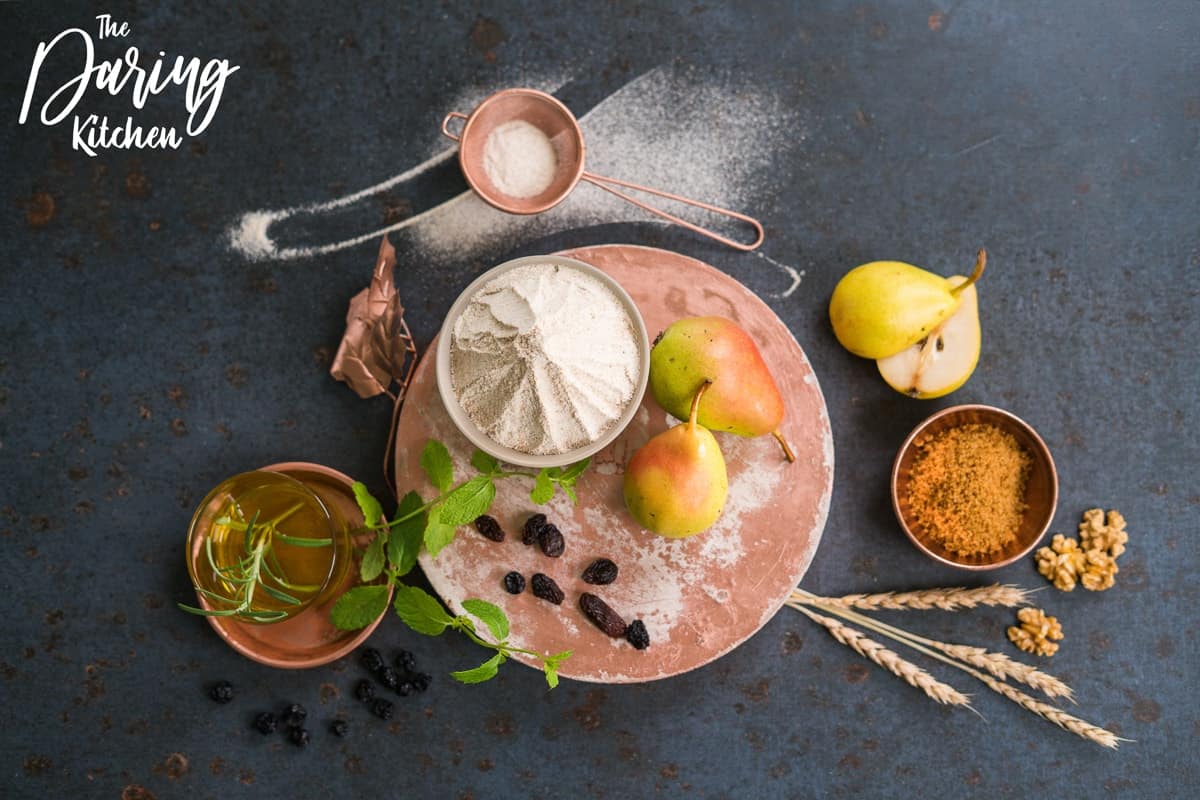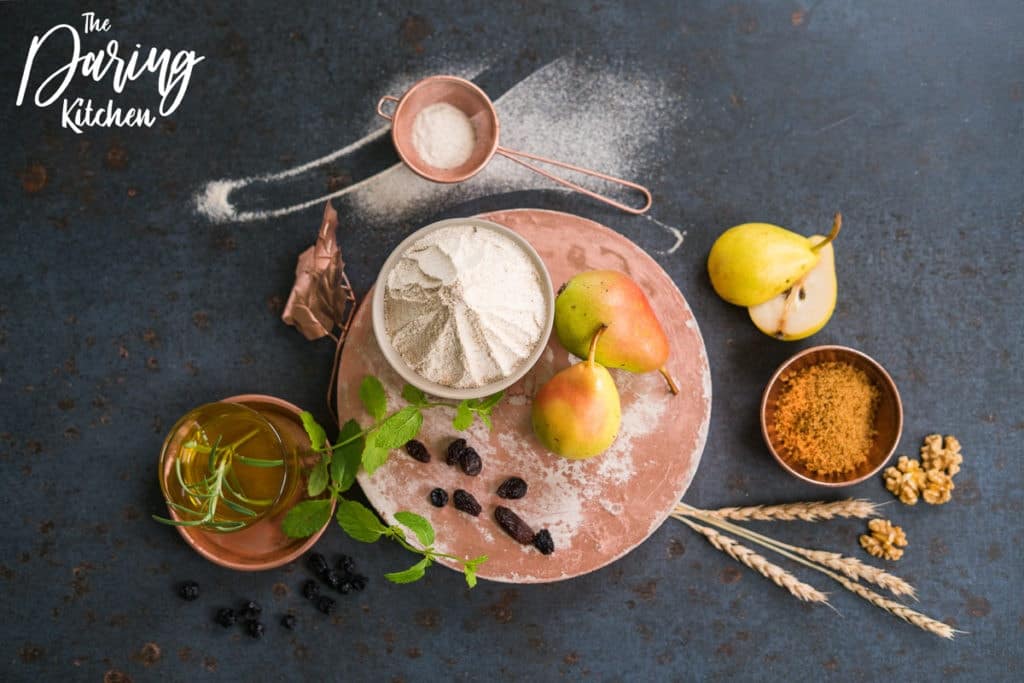 How To Make Pear Flatbread
Before beginning, ensure you have enough space to work with your ingredients and roll out the dough. Gather your dough ingredients, mixing bowl, and go ahead and preheat oven to 450F.
After preparing the ingredients, mix all the dry ingredients for the homemade flatbread dough together except for the dry yeast. Next, add oil, warm water, and dry yeast into the mixture carefully. This will help to properly combine moisture into the dough.
Once thoroughly mixed ingredients, put the dough on a floured counter to begin kneading. Use the base of your palm and knuckles, but avoid using your fingertips. Knead the dough for about 10 minutes. Place the dough back in the bowl covered with a cotton kitchen towel and set it aside.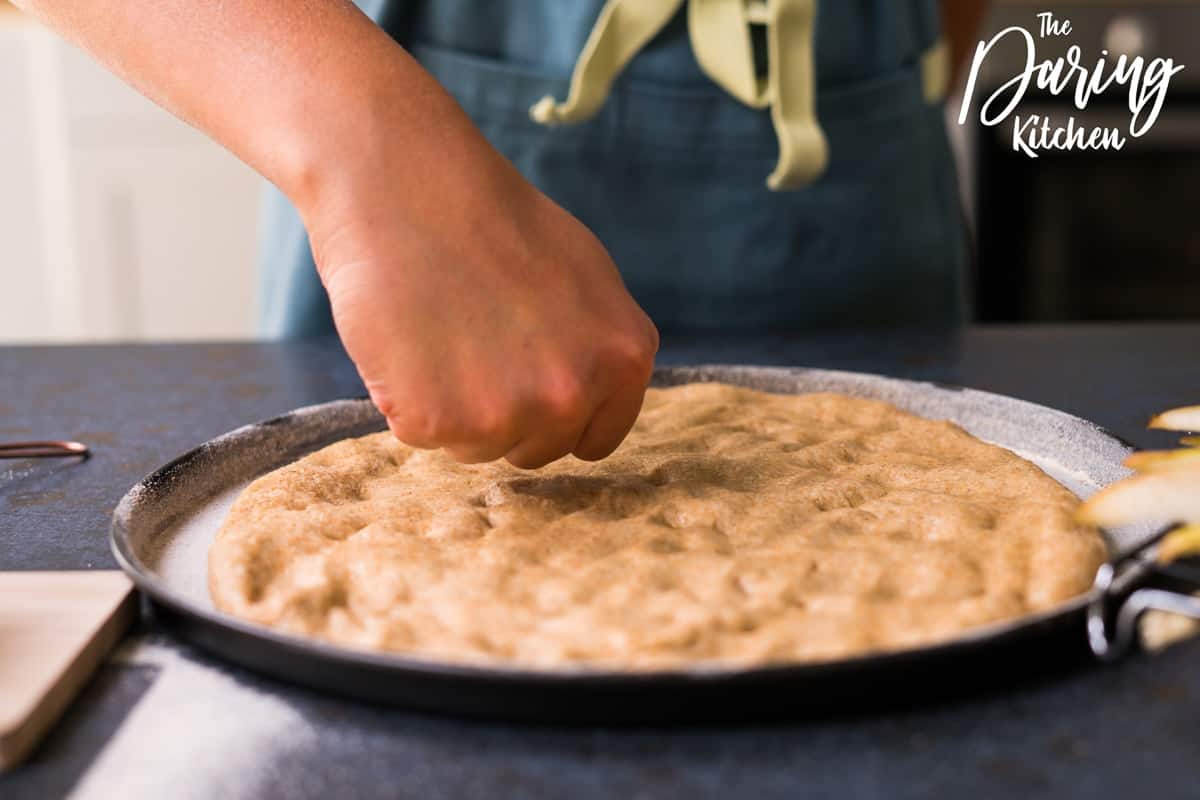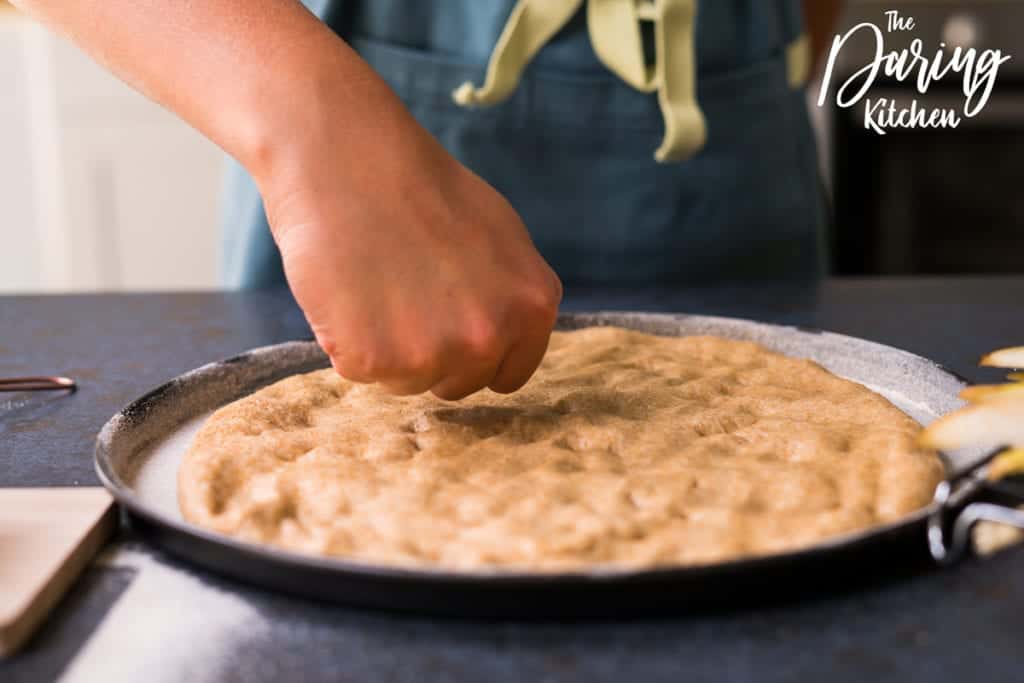 Now it's time to prepare the toppings for the flatbread. Mix the ricotta and maple syrup first to create a creamy base. Next, slice the pears very thinly to create a layer for topping. Save the honey, walnut, and mint for decorating the flatbread after baking.
Check on the dough and see how soft the dough is. Once the dough is soft enough, roll it out into a circular shape. The flatbread should be thin but not too thin. Remember to place it on a baking sheet covered with flour.
Time to decorate! Spread on an even layer of the ricotta-maple mixture. After that, add thinly sliced pears around the flatbread crust, followed by a sprinkling of dried blueberries and coconut sugar. Finally, bake it in the oven for about 10-12 minutes until the edges turn golden brown.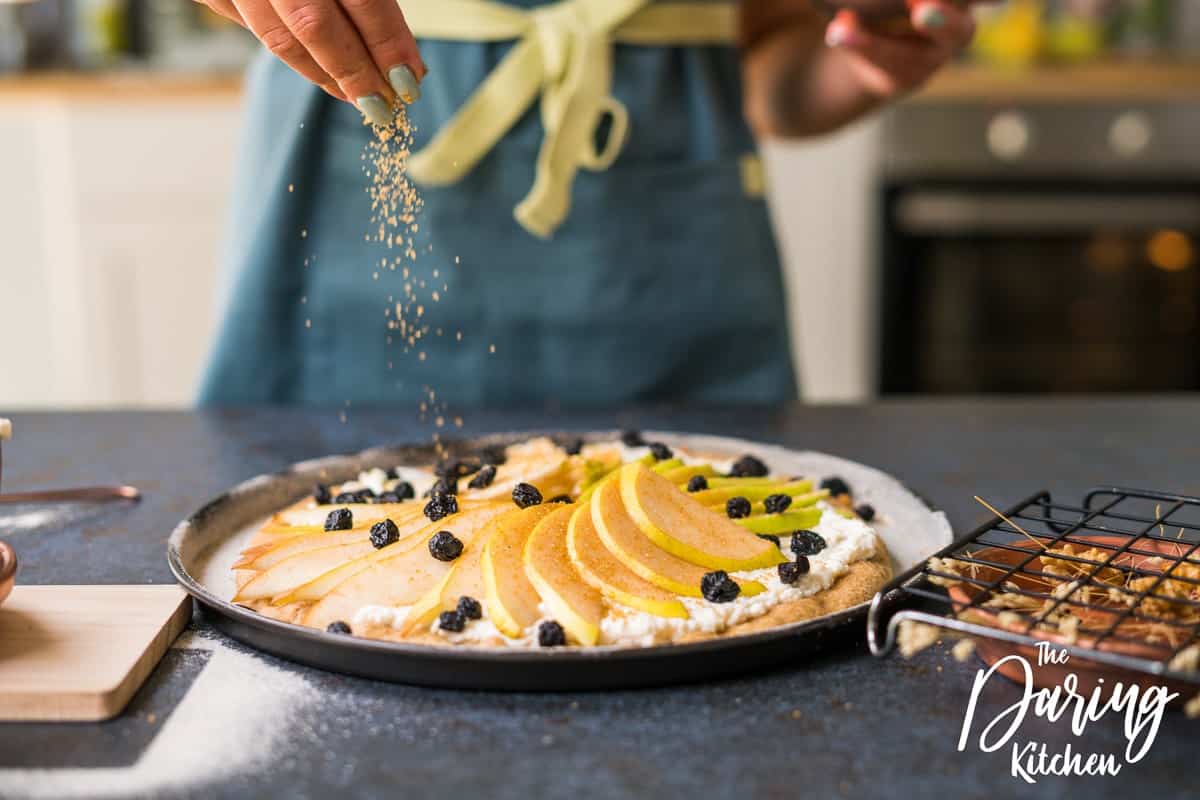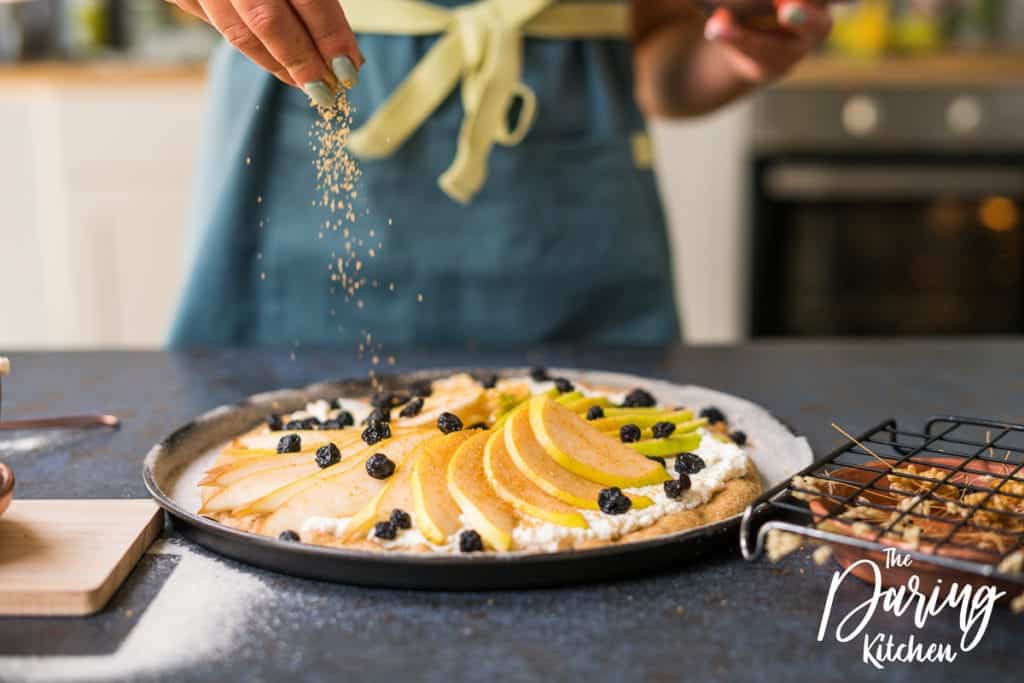 Remove flatbread from the oven once it's done cooking, add some chopped walnuts on top, generously drizzle it with honey, and don't forget to top it off with some beautiful fresh mint leaves!
This flatbread can be served warm or cold. However, it's best enjoyed when it first comes out of the oven.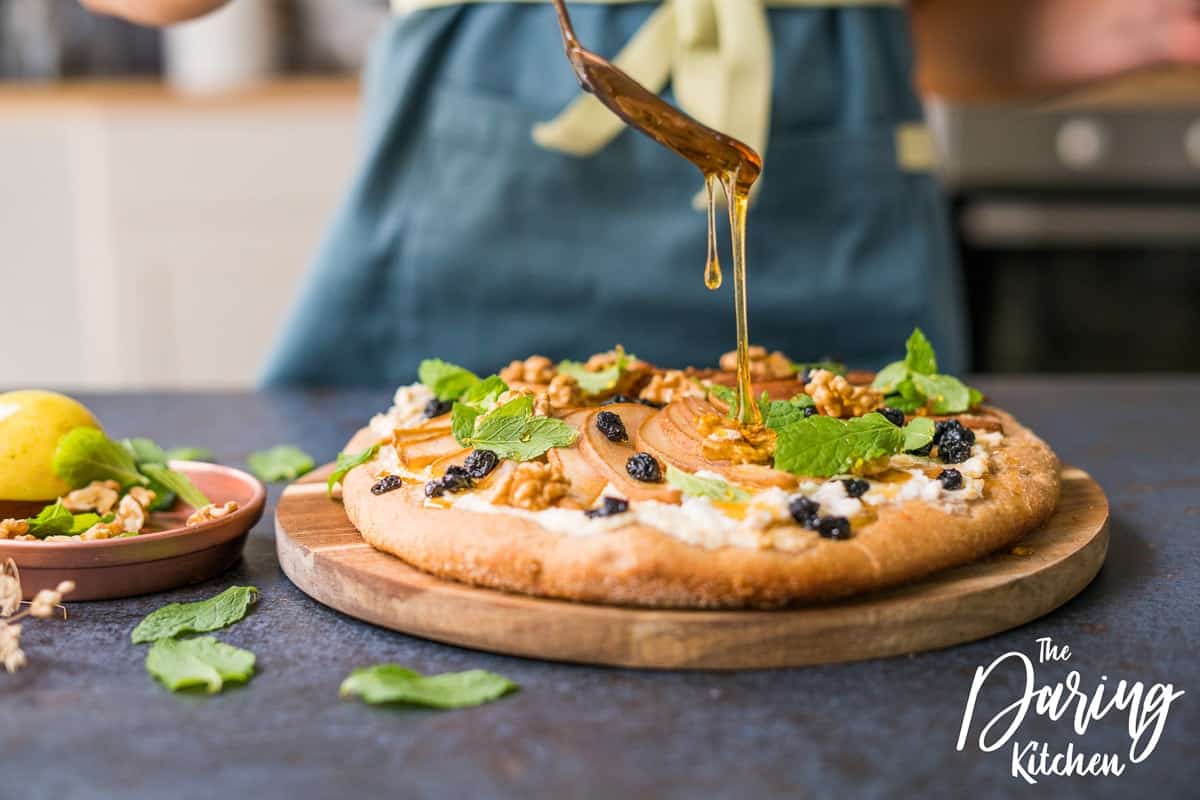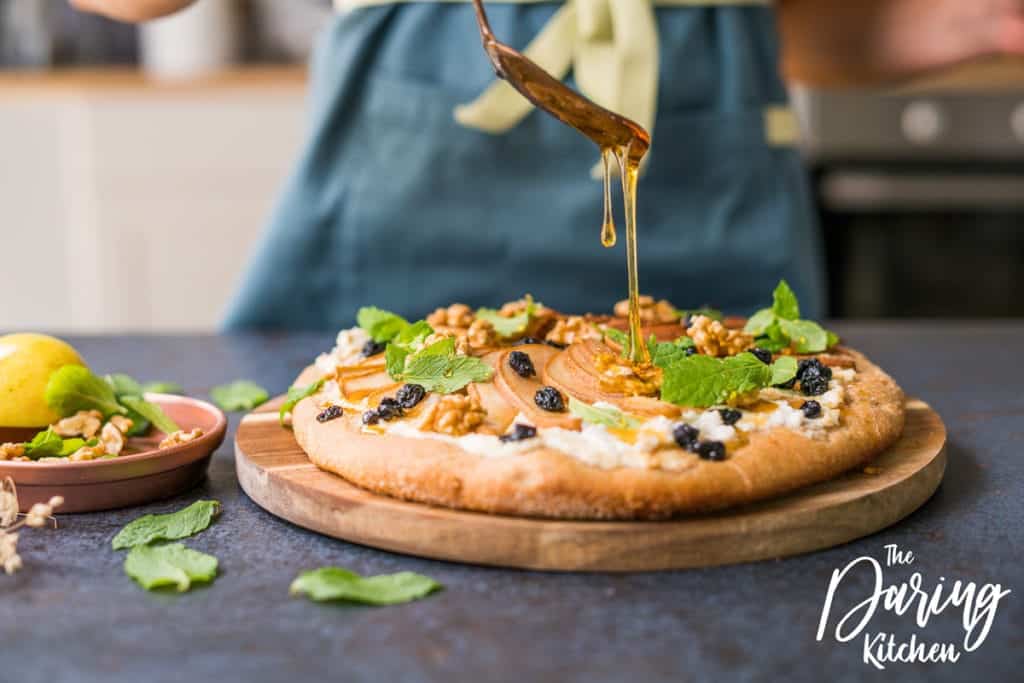 Note- Do not forget to sift your flour. This will help eliminate lumps in your dough, resulting in a smoother kneading process.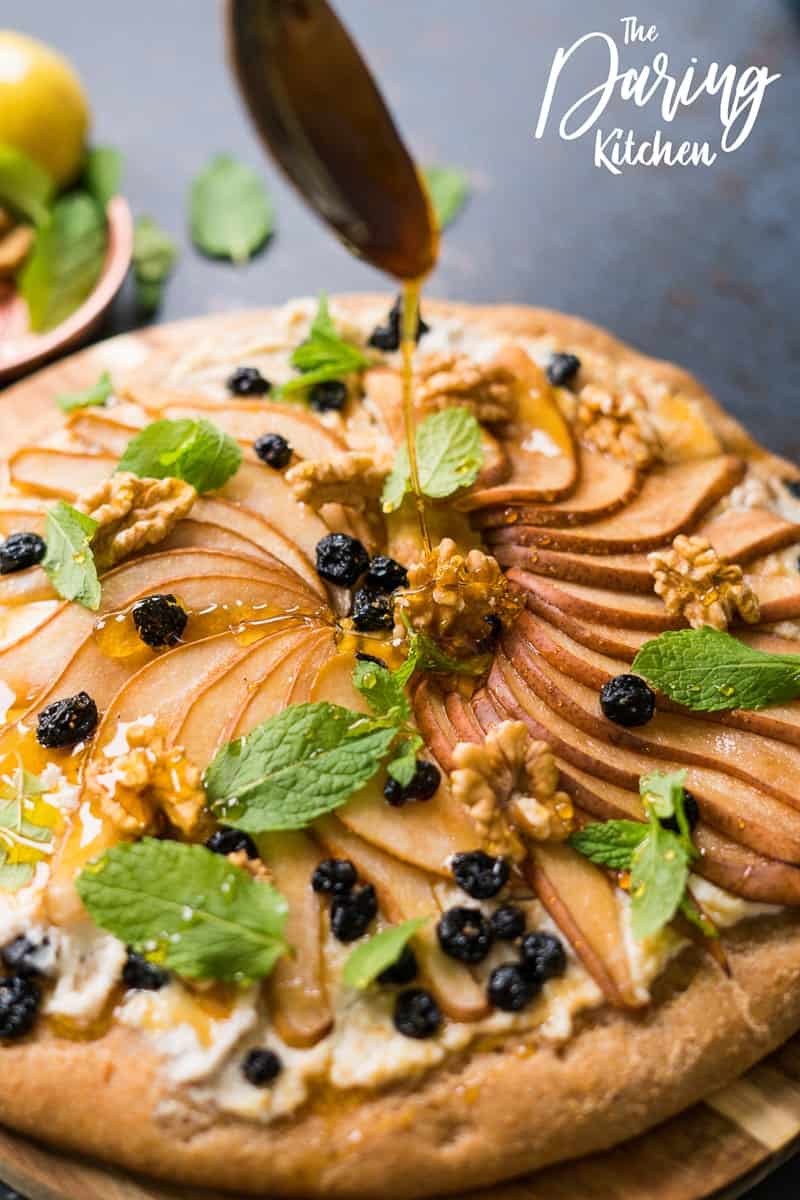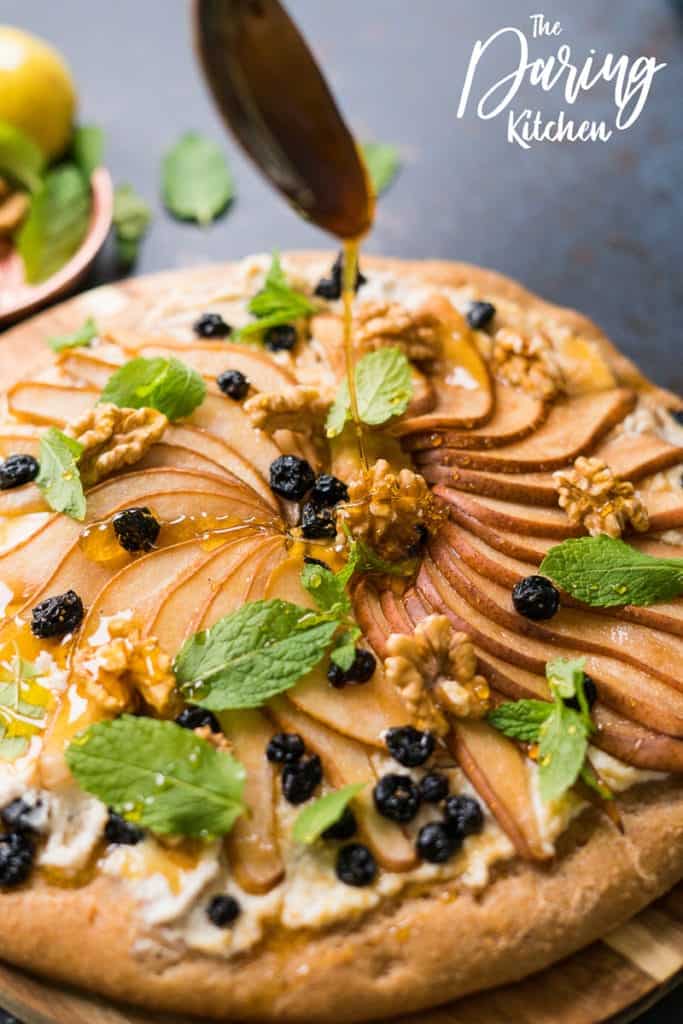 Popular Substitutions And Additions
If you aren't a huge fan of pears, use any type of fresh fruit for the filling, such as apples, blueberries, or strawberries.
Use take-and-bake store-bought dough if you don't have time for making homemade dough.
Try using milk or almond milk instead of warm water for an extra hint of sweetness in this delicious appetizer.
Substitute cane sugar with brown sugar if that's all you have on hand.
Use any nut you like in place of the walnuts.
Can I Freeze Pear Flatbread?
Yes, you can freeze the pear flatbread. Let the flatbread cool completely before freezing it in an airtight container or resealable bag. The frozen flatbread will last up to two months in the freezer.
When ready to eat, simply thaw the flatbread at room temperature and reheat it in a preheated oven for about 5 minutes or until heated through.
Walnut Pear Flatbread FAQs
Is this pear flatbread a gluten-free-friendly recipe?
As written, this recipe is not gluten-free. To make it gluten-free friendly, substitute the whole wheat flour with a gluten-free all-purpose blend.
How do I store leftover pear flatbread?
Leftover flatbreads can be stored in the fridge in an airtight container for up to two days. To reheat them, place them back in a preheated oven for about 5 minutes or until heated.
Will frozen fruit work in this flatbread recipe?
While fresh is always best, you can use frozen fruit in this recipe. Simply thaw the fruit before adding it to the flatbread. Submerging it in warm water for about 10 minutes should do the trick. Be sure to pat the fruit dry with a paper towel before adding it to avoid making your dough too wet.
Can I make this recipe for flatbread vegan?
Yes, simply substitute the ricotta cheese with a vegan cheese alternative, such as vegan ricotta or vegan cream cheese.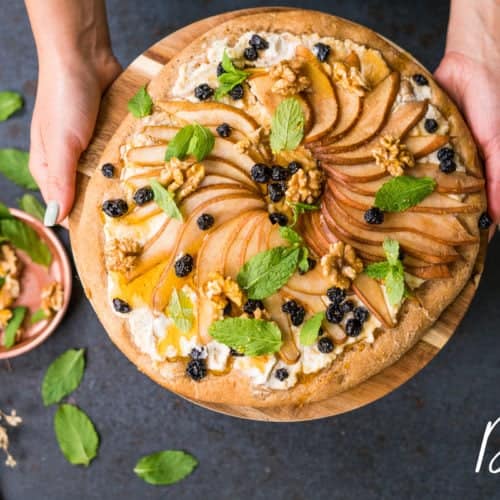 Walnut Pear Flatbread
A delicious fruit dessert! A homemade flatbread is covered with smooth ricotta and maple spread, with fresh pear slices, walnuts, mint, and a drizzle of honey.
Print
Pin
Ingredients
For The Dough
1

teacup

Whole Grain Flour

3

tbsp

Cane Sugar

½

tsp

Salt

4

gr

Dry Yeast

¼

teacup

Olive Oil

½

teacup

Warm Water
Filling
100

gr

Ricotta Cheese

50

ml

Maple Syrup

2

Pears

fresh

50

gr

Dried Blueberries

Coconut Sugar
Top With
50

gr

Walnuts

Mint Leaves

fresh

¾

tbsp

Honey
Instructions
In a bowl mix the flour, sugar and salt and stir well.

Add the dry yeast, olive oil and warm water. Stir in with a wooden spoon. Knead the dough with your hands for about 10 minutes and cover with a cotton towel.

In a bowl, mix the ricotta and maple syrup, which we are going to use for the filling.

Slice the ripe pears into thin slices.

Spread the dough onto a flour covered tray. Top with the ricotta mixture, pear slices and dried blueberries. Bake for 10/12 minutes at 220 degrees in a preheated oven.

Top the baked flatbread with walnuts, fresh mint leaves and honey.
Nutrition
Calories:
1220
kcal
|
Carbohydrates:
188
g
|
Protein:
23
g
|
Fat:
48
g
|
Saturated Fat:
12
g
|
Cholesterol:
51
mg
|
Sodium:
1272
mg
|
Potassium:
1264
mg
|
Fiber:
22
g
|
Sugar:
141
g
|
Vitamin A:
534
IU
|
Vitamin C:
15
mg
|
Calcium:
368
mg
|
Iron:
3
mg