Who doesn't love a good curry? This simple, 1-pot curry recipe is the answer to cold weather. It makes meal prep a breeze!
Cold Weather Cure
This sweet potato curry relieves all your cold-weather blues. That is what I absolutely love about this recipe. First, it comes out steaming hot and full of flavor. With just enough spice, you feel instantly warmed up. And, the recipe is super filling. Energy is everything, especially in the cold weather. This nourishing soup will keep you feeling comfy, no matter the temperature!
It is also gluten free and vegan. It will not weigh you down, just energize you with the nutrients you need. This makes it great for everyone to enjoy.
Sweet Potatoes are Seasonal Superheros
This recipe is loaded with sweet potatoes. These root vegetables are about to be in season - its time to take advantage! Demand for sweet potatoes makes them available pretty much all year long. But they just feel more special when Fall rolls around.
Sweet potatoes are mighty nourishers. These vegetables are so full of vitamins and minerals. I do not want to bore you with an endless list of nutrition benefits. But, I will tell you that sweet potatoes do an excellent job of boosting our immune systems and protecting us from diseases. Plus, sweet potatoes are known to improve our skin and eye health. Can these roots get any better?
Adding sweet potatoes to this recipe also makes it more hearty. These roots fill you up and sustain you. They are complex carbs, meaning they digest slowly. This keeps you full for longer. Also, sweet potatoes are naturally a little sweet, which wonderfully contrasts the heat of the curry.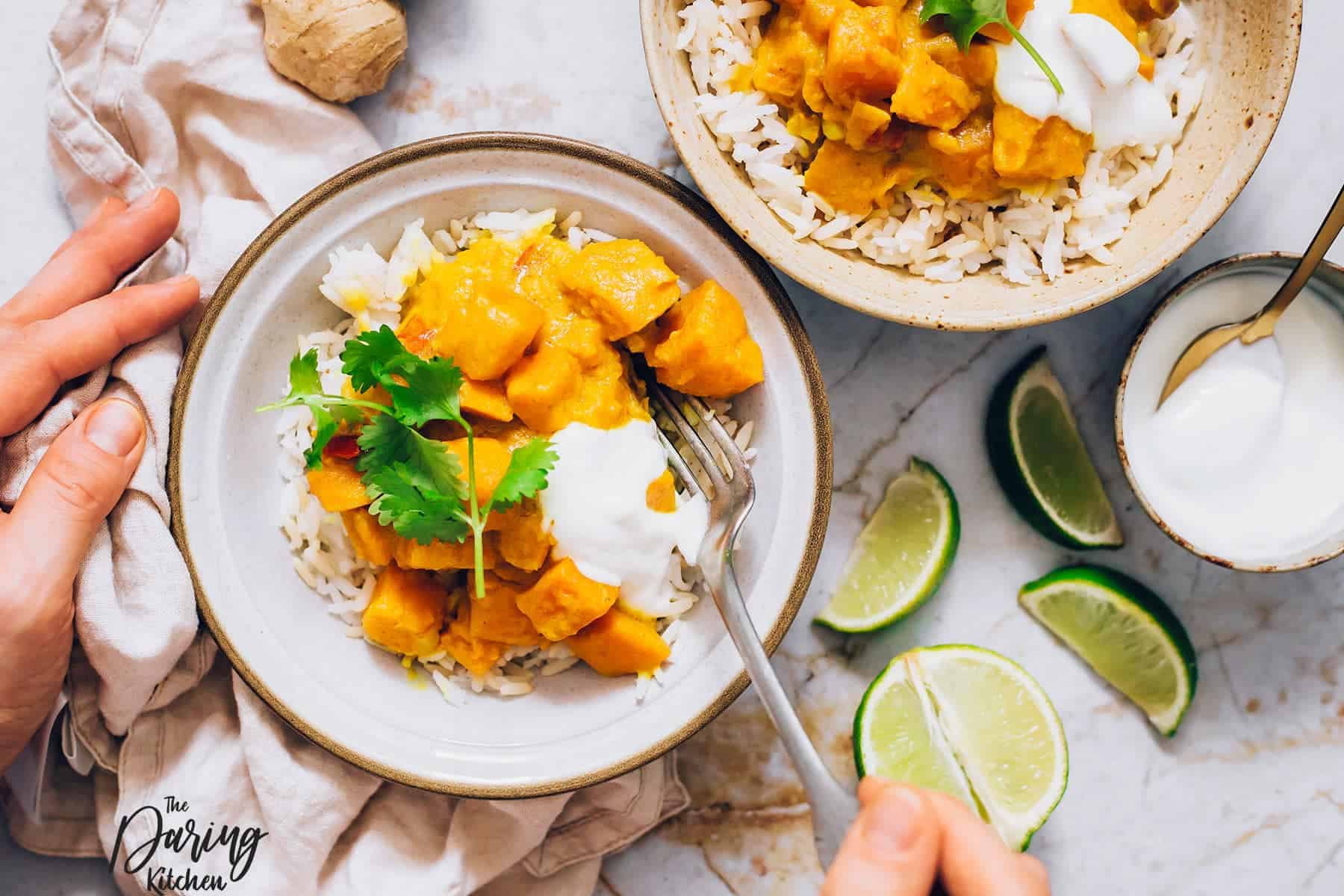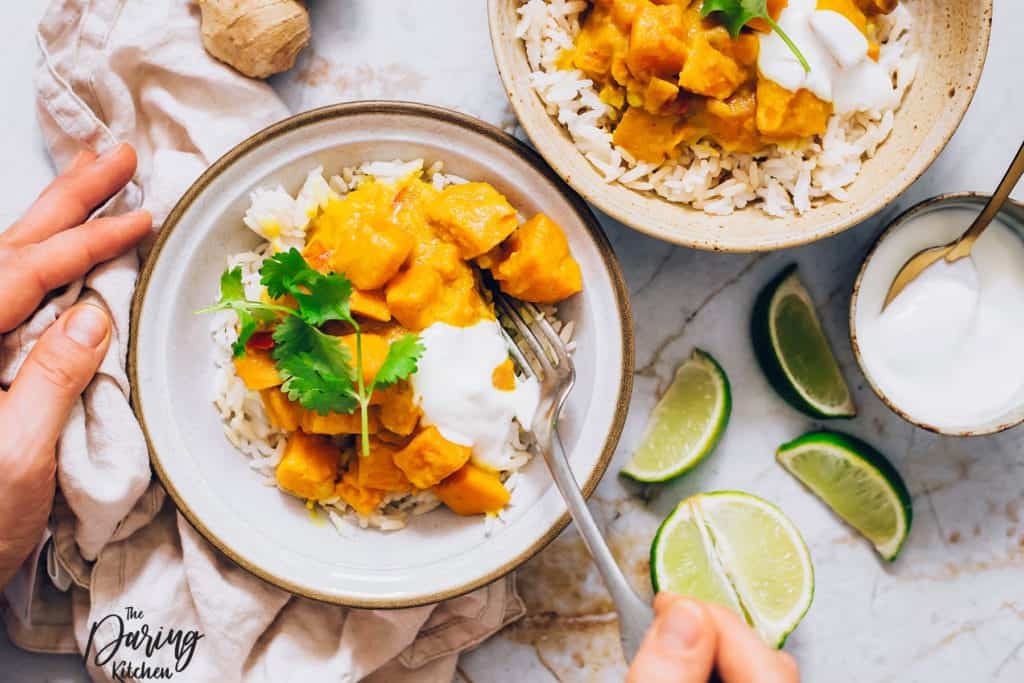 What Makes this Sweet Potato Curry so Flavorful?
One word: spice! That is why I love curry. It is rich in crazy flavor, from some of the best spices around. There are various kinds of curries out there. Each one has its own origin and flavor profile. For this recipe, I used a Thai green curry base. The dish is not green, of course, because of all the sweet potatoes.
Thai green curry is one of my favorites. It is fresh and spicy, with a more herbaceous flavor. It is made with coriander, ginger, and kaffir lime leaf, among other ingredients. Combined with additional fresh ginger and turmeric, the base flavors of this curry are unbeatable.
Also, what's curry without coconut cream? While there are many curries that do not feature coconut milk or cream, I prefer the ones that do. The coconut cream gives the defining texture of this curry. It makes it creamy and smooth. Mixed with vegetable stock, the coconut cream loosens up all the ingredients. Without it, this dish might as well be vegetable soup. Boring!
If you are not partial to coconut or do not have it on hand, dairy options work too. I do prefer to keep this recipe vegan. But, plain yogurt can work as well. Just make sure you temper the yogurt. What does that even mean??
Tempering prevents the yogurt from curdling. All you need to do is slowly incorporate the curry with the yogurt. Using just a little bit of curry mixture, you add it to your yogurt and mix. You continue this step until the yogurt is very warm. Then, you can pour your yogurt-curry mixture back into your pot!
A Total Time-Saving Recipe
This entire curry can be made in one pot ONLY. Isn't that just awesome? This saves you prep time and your dishwashing time. That is a total win-win in my book.
Also, this recipe can be made in an instant-pot or any slow-cooker. This makes it such a great option during a busy workweek. You can throw everything together and have dinner ready the moment you walk in the kitchen.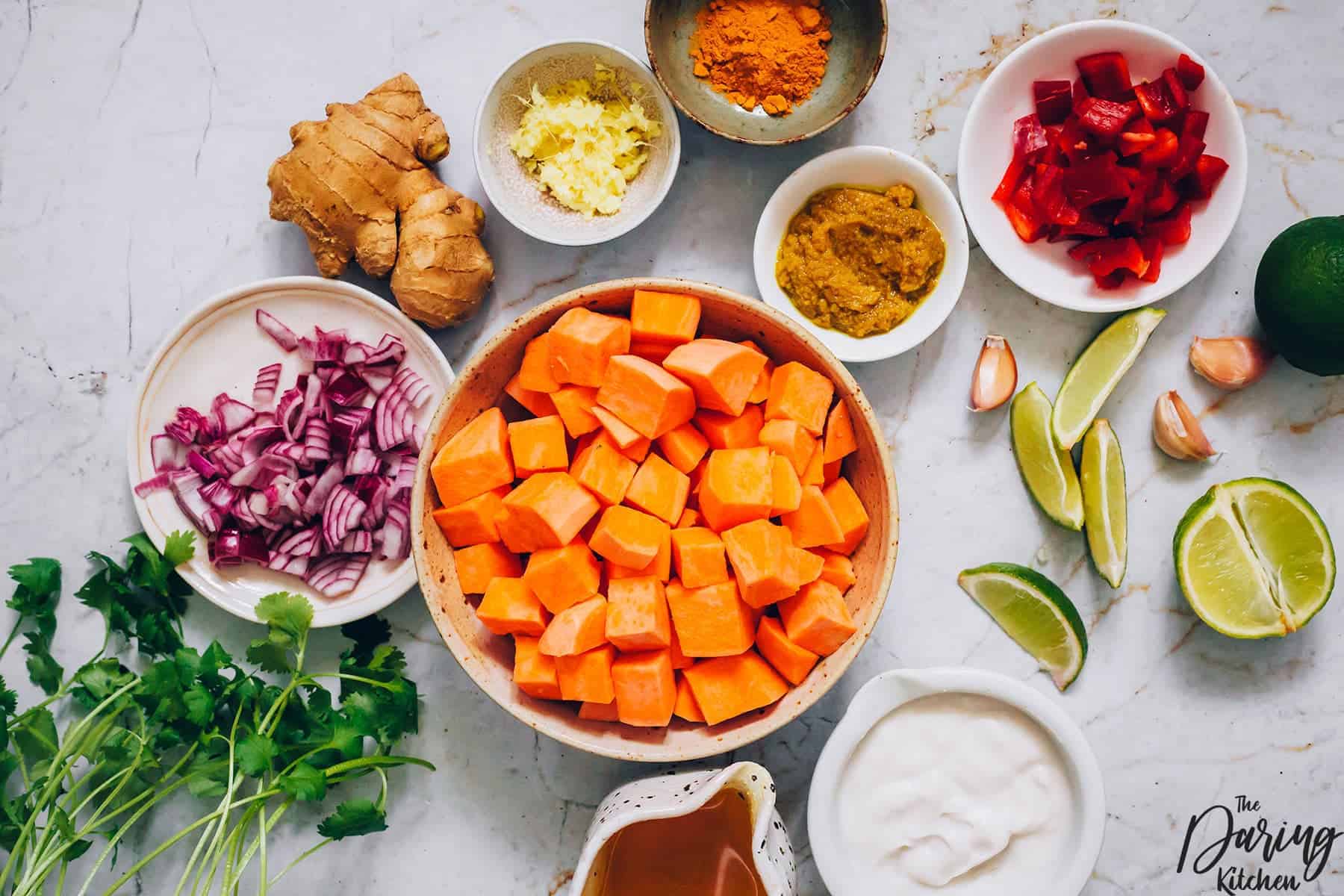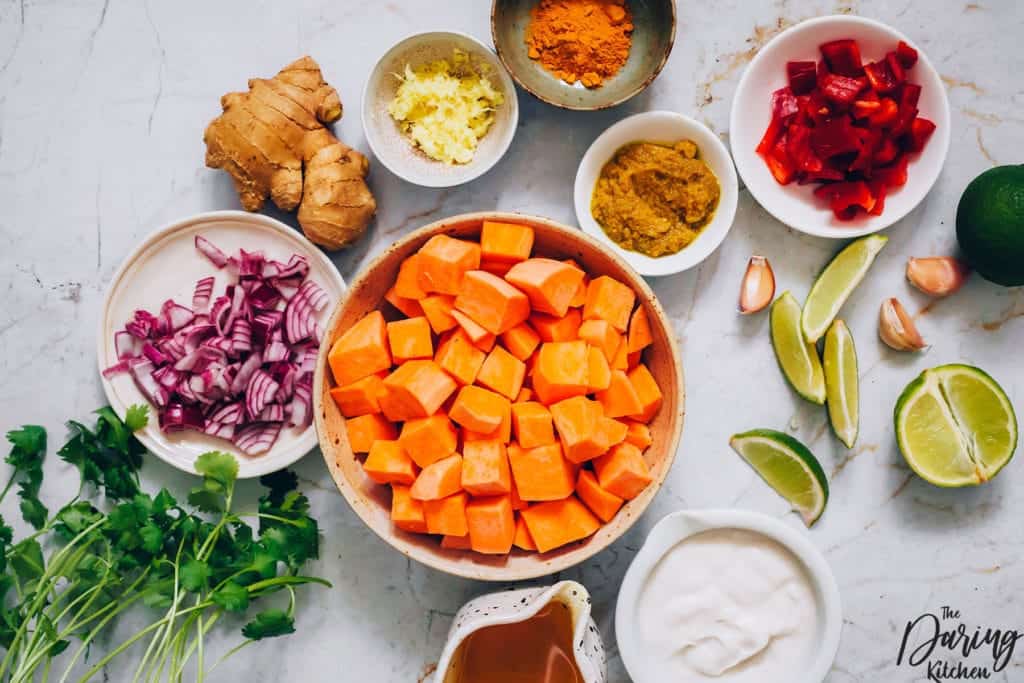 All you need for this recipe is:
Sweet potatoes

Red peppers

Red onion

Garlic

Green curry paste

Ground ginger

Ground turmeric

Coconut cream

Coconut oil

Vegetable stock

Almond butter
This recipe is fantastic because of its versatility. You can throw in some additional veggies, like kale or carrots, if you like. Even if you do not have vegetable stock, you can simply use water with salt to taste. The same goes for almond butter - you can always use peanut butter or any nut butter you love.
Whether you are using a regular pot or an instant pot, the directions are super simple. Once you saute your garlic and onion in coconut oil, you need to slowly add in all your other ingredients. Give it a good stir, making sure all your green curry paste and spices are well incorporated. Bring it to a boil, then simmer it all for 15 minutes.
When times up, add in your almond butter. Stir it generously then let it bubble some more (for about 10 minutes.) Your sweet potato curry is ready to eat!
Don't forget your Toppings!
To enhance all the yummy curry flavor, try playing around with your toppings. I adore coconut yogurt with pretty coriander leaves for color. This adds a refreshing bite to your curry. Don't forget to serve it with some rice on the side. This will help you get all the last bits of curry sauce!
Here are some optional and fun topping ideas!
Coconut yogurt

Roasted cashews or peanuts

Green onion slices

Bean sprouts

Microgreens

Pickled onions

Lime juice (with a lime wedge for garnish!)

Coriander leaves
Can't wait to see how you dazzled up your sweet potato curry. Happy Fall everybody!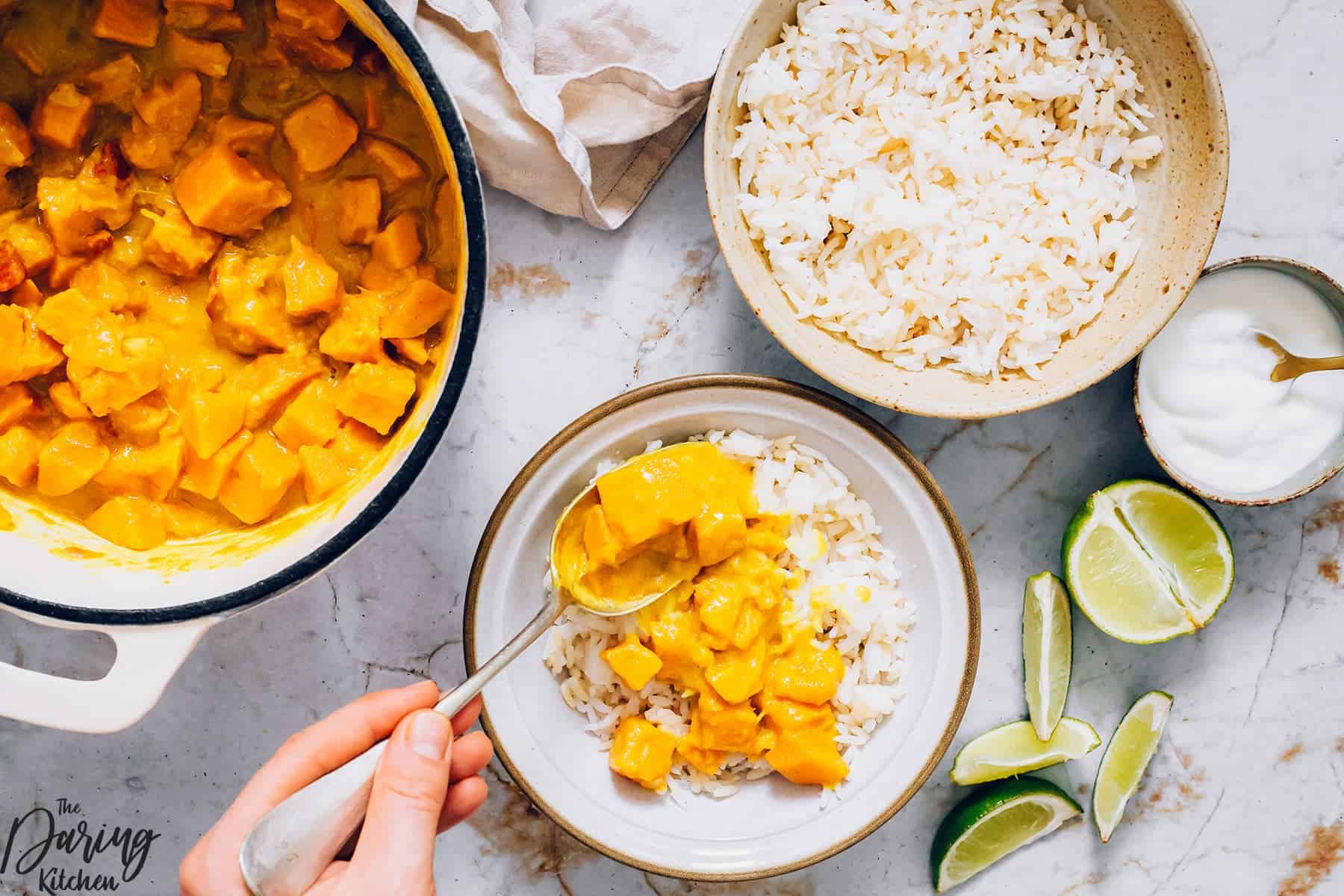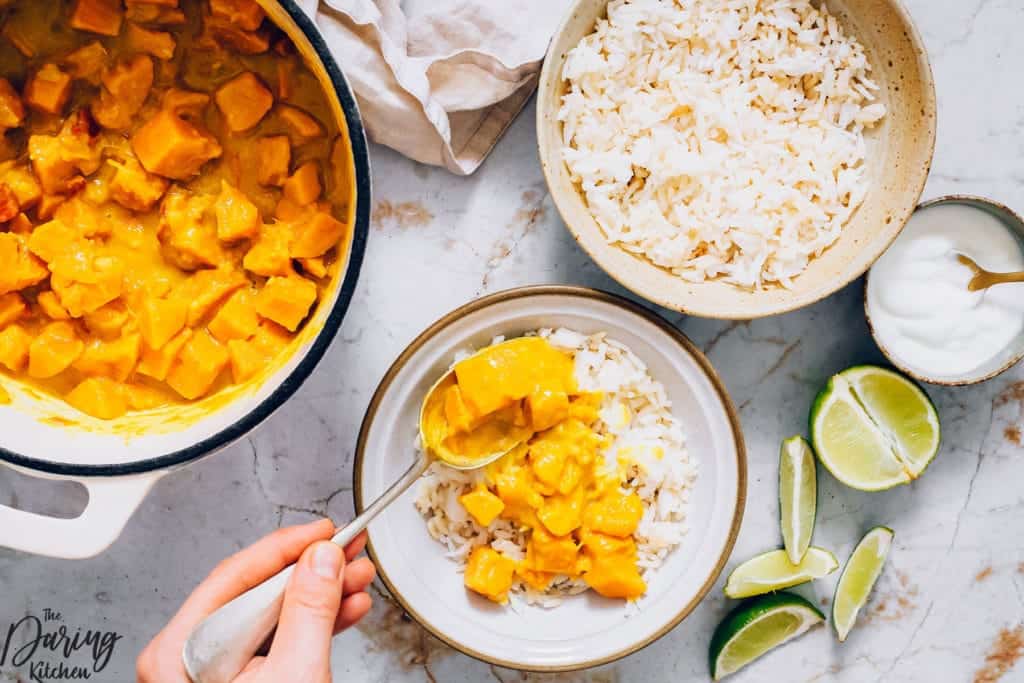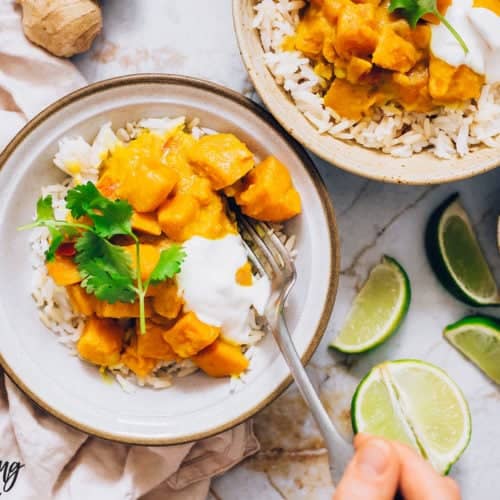 Sweet Potato Curry
This nutritious one-pot recipe will fill you up and save you energy cleaning up!
Print
Pin
Ingredients
4

Sweet Potatoes

large

1

Red Bell Pepper

large

1

Red Onion

finely diced

3

cloves

Garlic

diced

½

cup

Coconut Cream

1

tbsp

Coconut Oil

2 ½

tbsp

Green Curry Paste

1

tbsp

Turmeric Powder

2

tsp

Ginger

grated

1

cup

Vegetable Broth

2

tbsp

Almond butter

2

tbsp

Lime Juice

freshly squeezed

Coriander Leaves, Coconut Yogurt

to serve
Instructions
Peel the sweet potatoes, rinse and cut into cubes.

Heat the coconut oil into a medium pot and add the onion and garlic.

Fry over medium heat stirring frequently, until translucent.

Add the sweet potatoes, red bell pepper, turmeric and ginger and stir to combine.

Add the coconut cream, curry paste and pour the vegetable broth over the veggies.

Mix to combine and bring to boil, then simmer over low heat for 15 minutes.

Add the almond butter, mix to incorporate and simmer for 10 more minutes.

Drizzle the lime juice and mix.

Divide the curry into serving bowls, drizzle with more lime juice, top with a dollop coconut yogurt and garnish with fresh coriander leaves.

Serve warm, over cooked rice or quinoa.
Nutrition
Calories:
419
kcal
|
Carbohydrates:
58
g
|
Protein:
7
g
|
Fat:
19
g
|
Saturated Fat:
13
g
|
Sodium:
365
mg
|
Potassium:
1075
mg
|
Fiber:
10
g
|
Sugar:
14
g
|
Vitamin A:
34596
IU
|
Vitamin C:
50
mg
|
Calcium:
126
mg
|
Iron:
3
mg