Healthy, perfectly sweet, and 100 percent vegetarian - this sweet potato pudding is hard to resist. With cinnamon, vanilla extract, and brown sugar, this is an ideal Fall dessert. But, trust me, you can enjoy this any time of year!
The Best Sweet Potato Pudding Recipe
Pudding is one of those funny desserts. We don't eat it that often and probably haven't eaten it since we were kids. But, pudding is actually super delicious. What is even more delicious is sweet potato pudding.
Almond milk, mashed sweet potatoes, spices, and brown sugar all come together to create a creamy pudding you've never had before. The natural sweetness and texture of sweet potatoes are made for pudding. Mixing it with a little milk helps to even it all out.
In this recipe, I used almond milk. You can also use canned coconut milk, melted butter, or just regular milk. It's totally up to you - all these options taste amazing in this recipe. I personally enjoy how almond milk adds a little nuttiness to the pudding.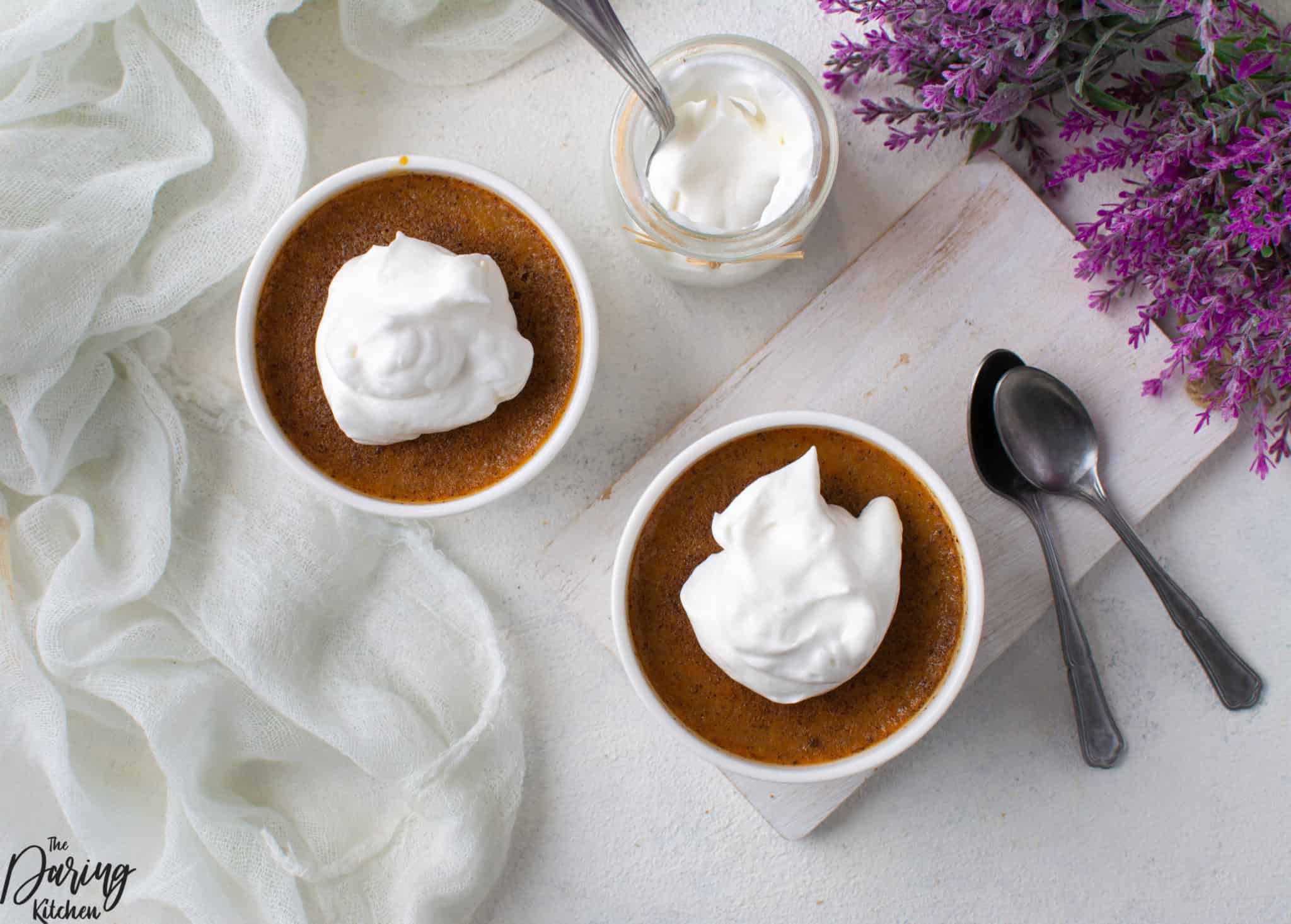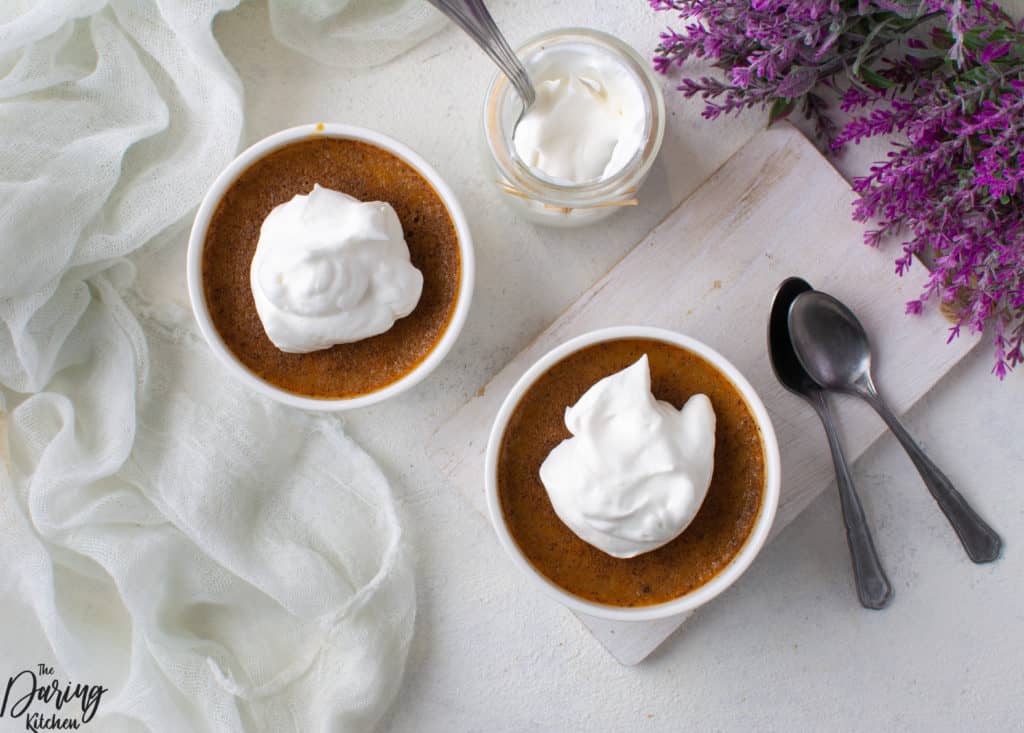 Why I Love Sweet Potato Pudding
This sweet potato pudding recipe is one of my top recipes. Why? So many reasons!
First, it's full of heart-healthy sweet potatoes. I adore these roots. Fresh sweet potatoes are plentiful in vitamins and antioxidants. Their natural sweetness makes them so easy to enjoy in a dessert. All you need are cooked mashed sweet potatoes which are super easy to prepare.
In this recipe, I used yams. You can use purple skin sweet potatoes, but they typically have less sugar so you may need to adjust your sugar needs.
I also love this pudding recipe because of how smooth and creamy it is. Sometimes, I will get a little crazy and add extra coconut milk to the pudding. This adds a nice silkiness to the pudding. If you only have almond milk or regular milk, that will make your pudding taste great too.
Finally, I absolutely dig this pudding recipe is because it's so fast to make! It only requires 25 minutes of your time, just like any cookie recipe would. If you prefer your pudding cooled, then it will require some chilling. But, that just gives you some extra time to prepare any of the delicious meals you have planned to pair with your sweet potato pudding!
Have leftover grated sweet potatoes? Why not make sweet potato casserole. Never waste any of your sweet potatoes!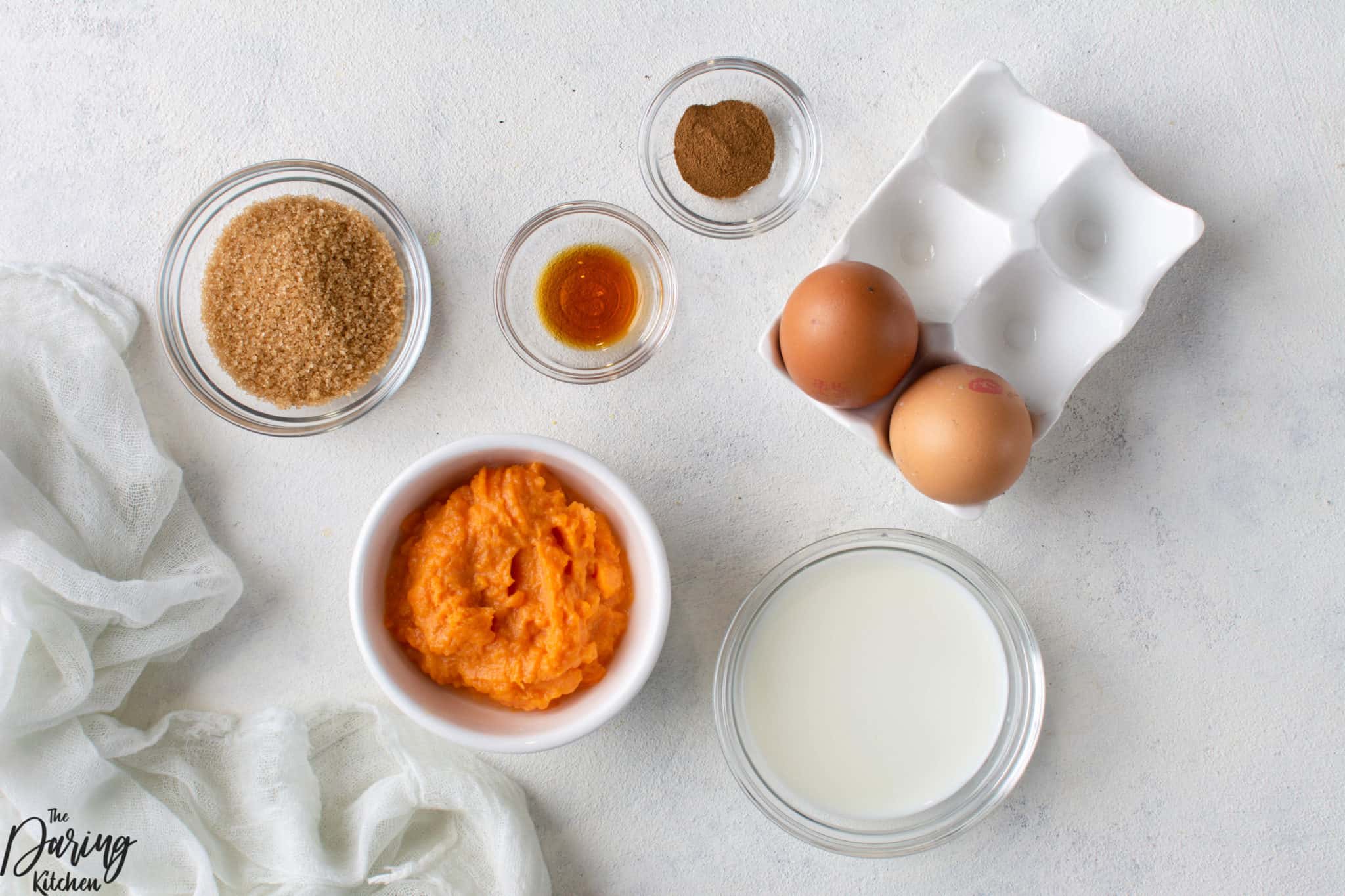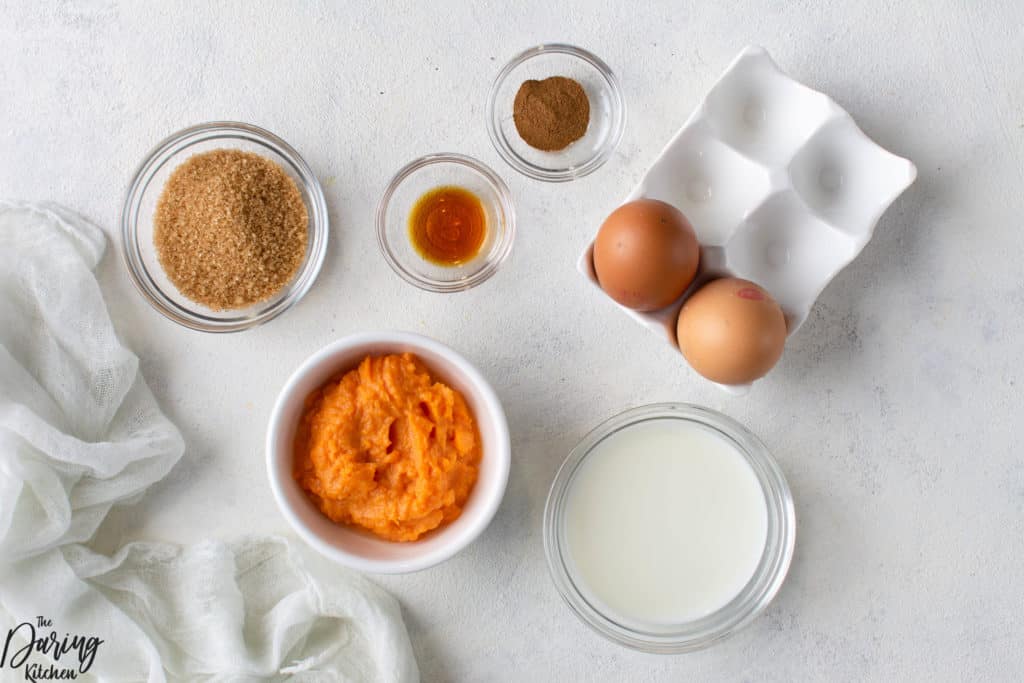 What's in Sweet Potato Pudding?
So, obviously, there's sweet potato in this recipe. There are a few other yummy ingredients in it too.
Sweet potato mash - You will need pre-cooked and mashed sweet potato. There are a few options for this. You can roast them whole and mash them without the skins. You can also roast grated sweet potatoes in the oven too.
Eggs - these are necessary to bind this dessert altogether and also give it a nice velvety texture.
Brown sugar - The iconic pairing with sweet potatoes, this sugar adds a deliciously toasty and nutty sweetness. You can also use honey or maple syrup as well.
Almond milk - This helps to smooth out the pudding. You may also use coconut milk, melted butter, or regular milk if you like.
Vanilla extract - This perfumes the pudding and gives it flavor.
Cinnamon - This spice makes everything nice with sweet potato. You can also add in clove, nutmeg, or whatever baking spices you love too.
See? Super simple ingredients. This recipe also requires easy appliances too. You just need a large mixing bowl, whisk, and adorable ramekins. Also, you will need a baking pan or sheet to hold the ramekins. This will hold the hot water that helps to evenly cook your pudding.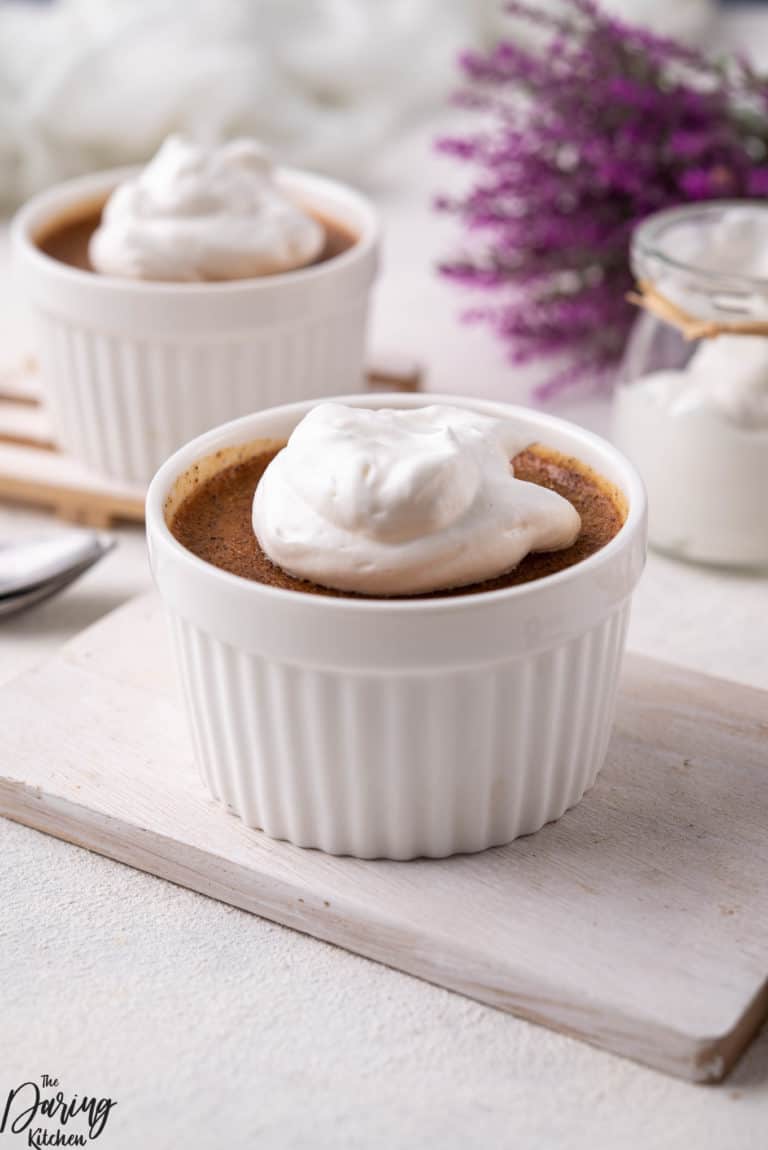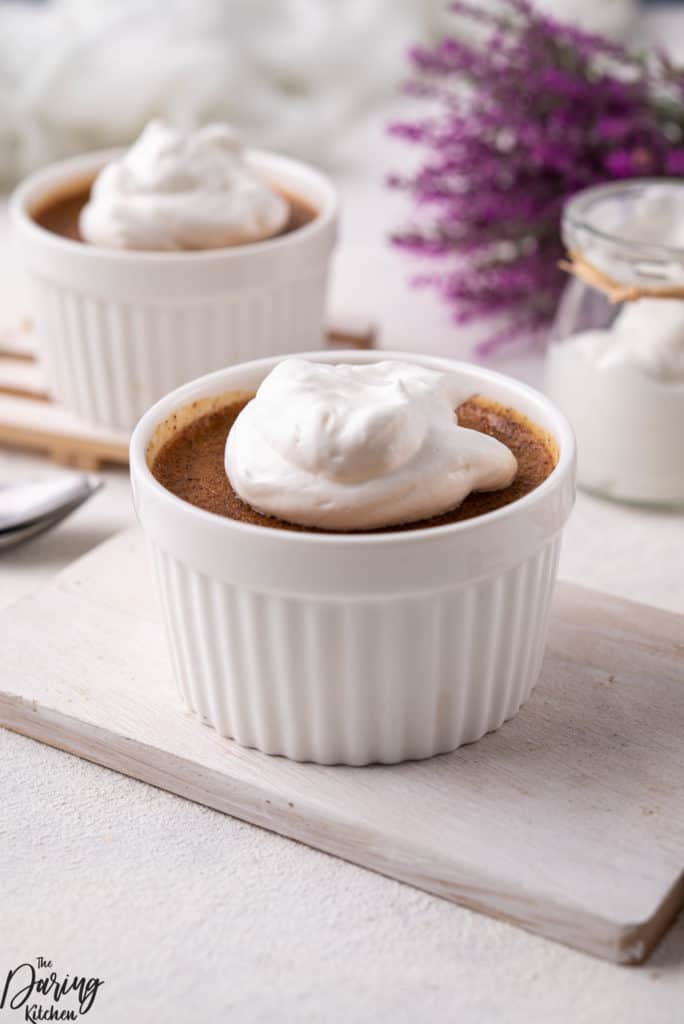 How to Serve your Sweet Potato Pudding
Presentation is key with dessert. Otherwise, it just looks boring! This sweet potato pudding, fortunately, has such a pretty natural color so you don't need to do all that much.
My go-to garnish is tons of fresh whipped cream and chopped pecans. You can also do coconut milk cream with chopped pecans as well.
If you like things a little extra sweet, I love adding a maple syrup drizzle and an extra garnish of cinnamon. Someone I know likes adding a bit of lime juice for a zesty kick. Whatever it takes to make this pudding taste and look great!
How to Make Sweet Potato Pudding
First, prep your sweet potatoes. I always suggest doing this way ahead of time so that you can have sweet potato prepped for this dish and whatever savory dish you like.
If you do make your sweet potato mash right before, the good thing is: you will have a preheated oven. No matter what you chose, make sure your oven is preheated to 350 degrees Fahrenheit for your pudding.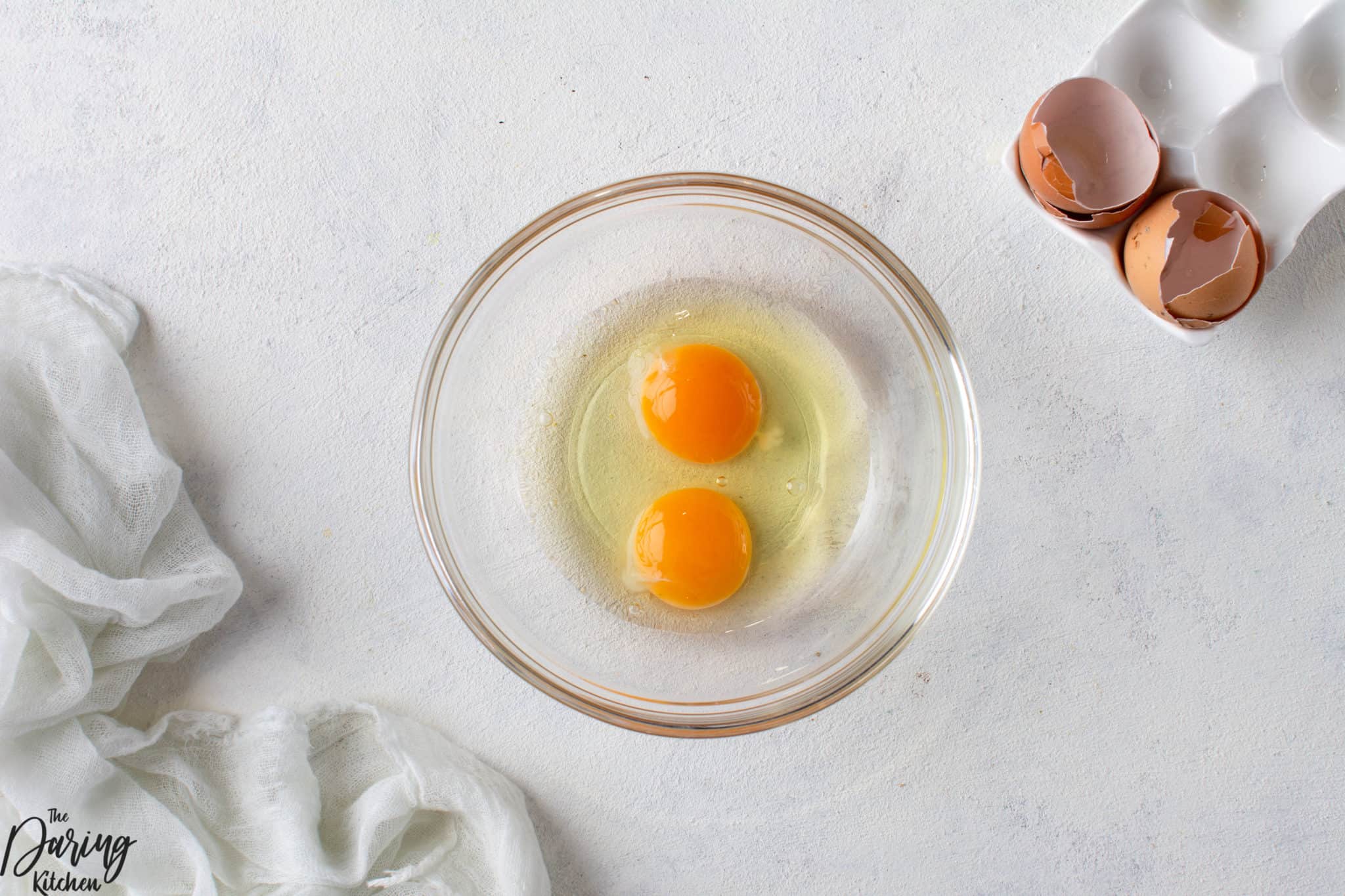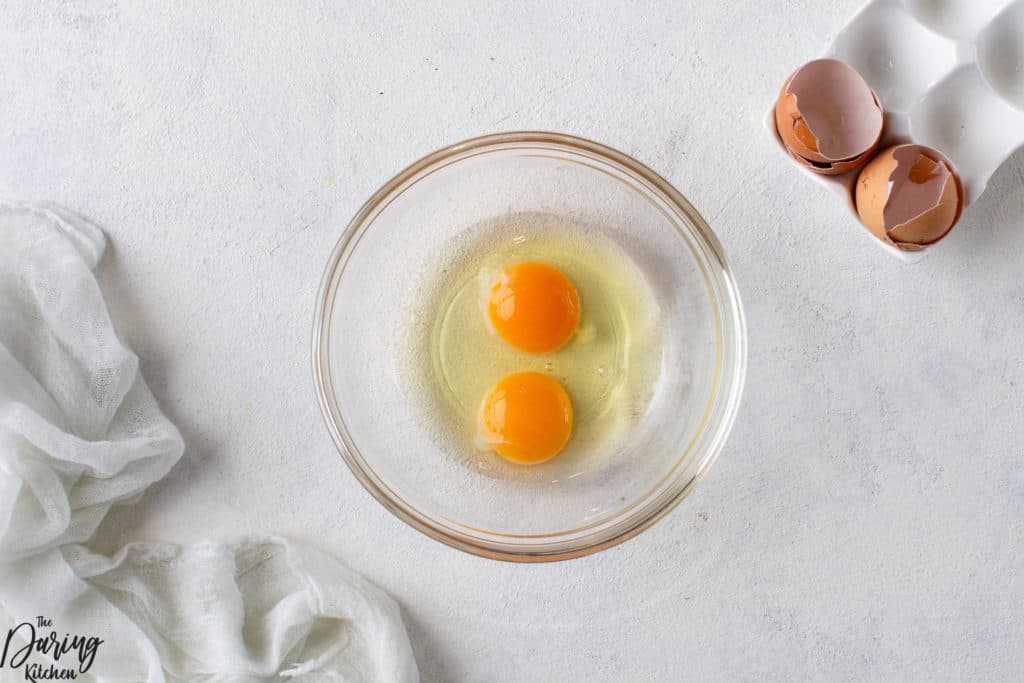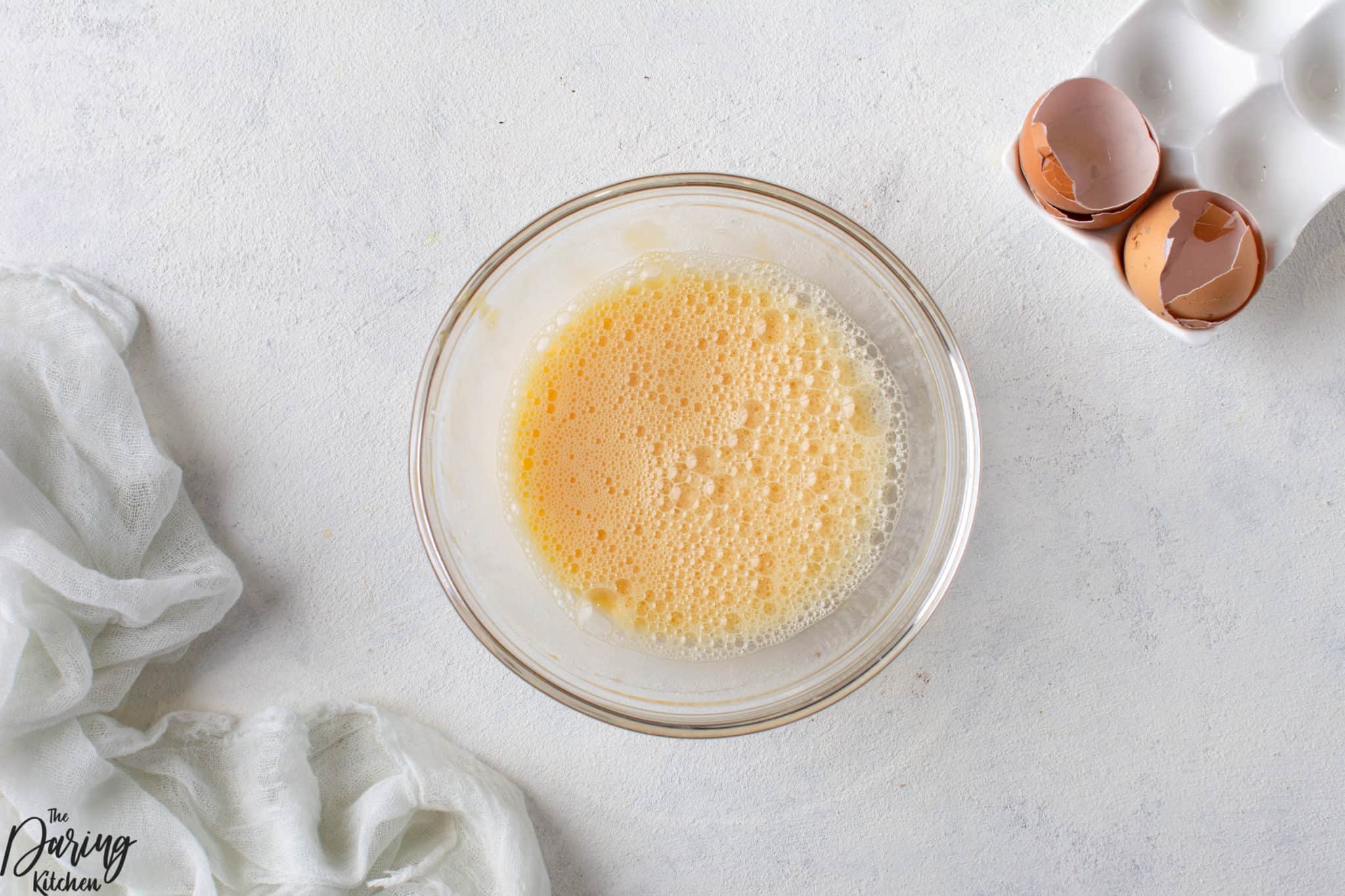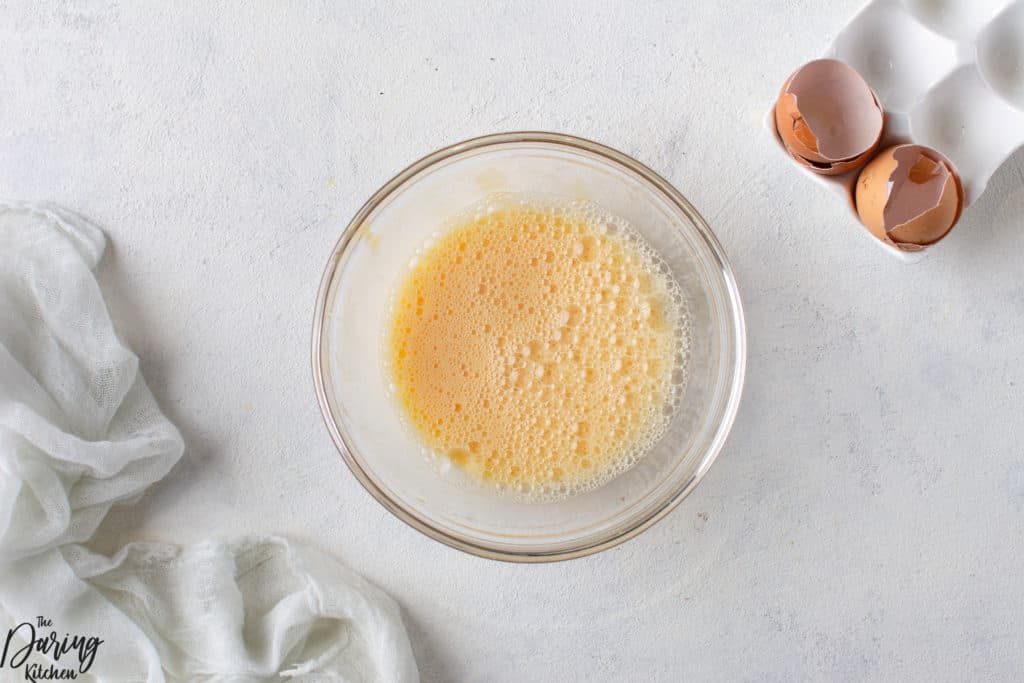 In a large mixing bowl, beat your eggs with an electric mixer. You want them to be fluffy, but not stiff as if you are making meringue.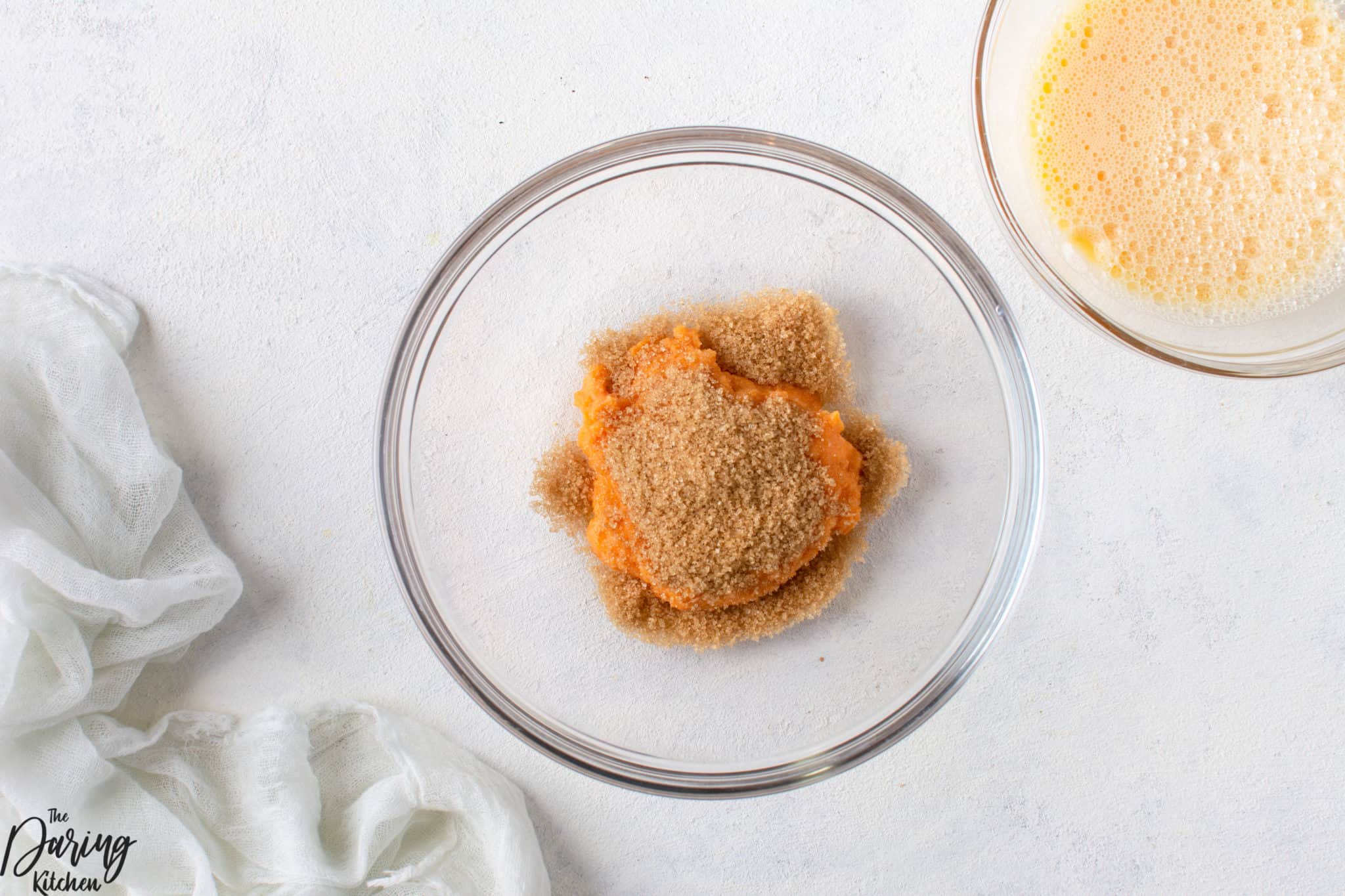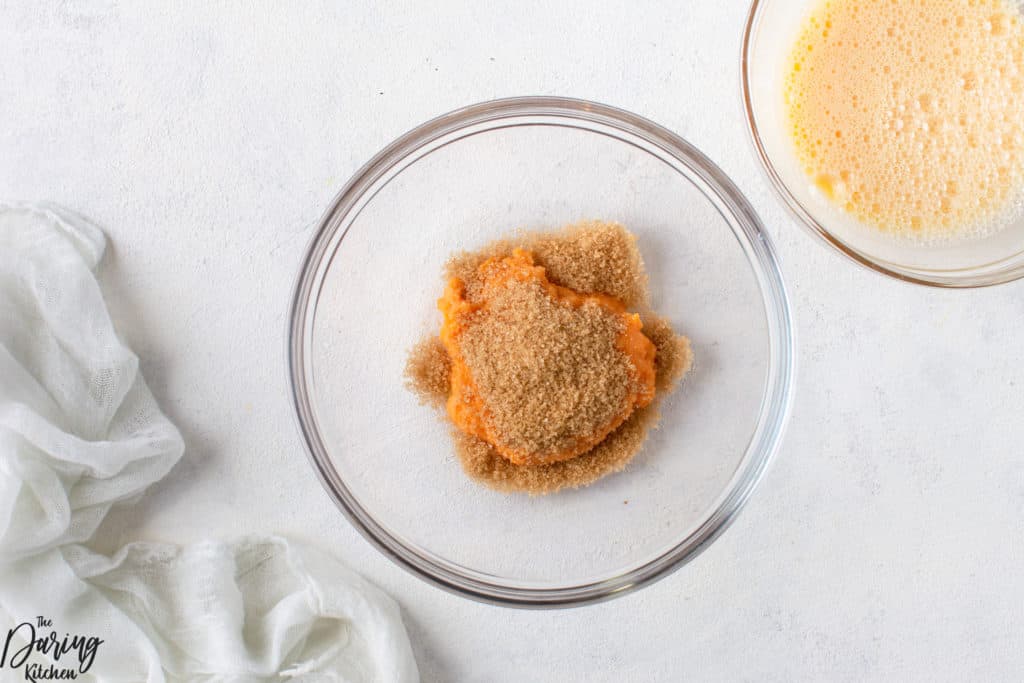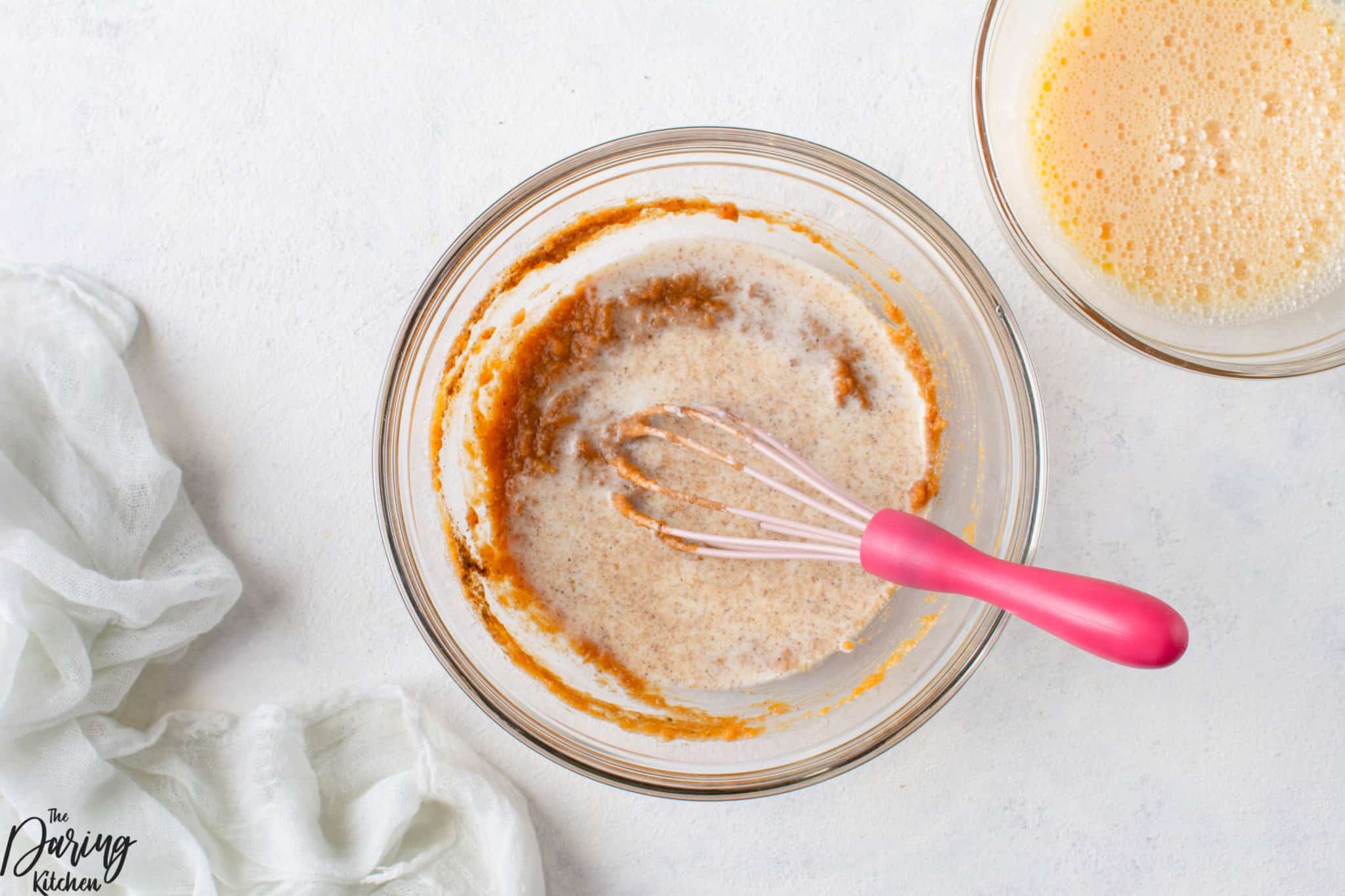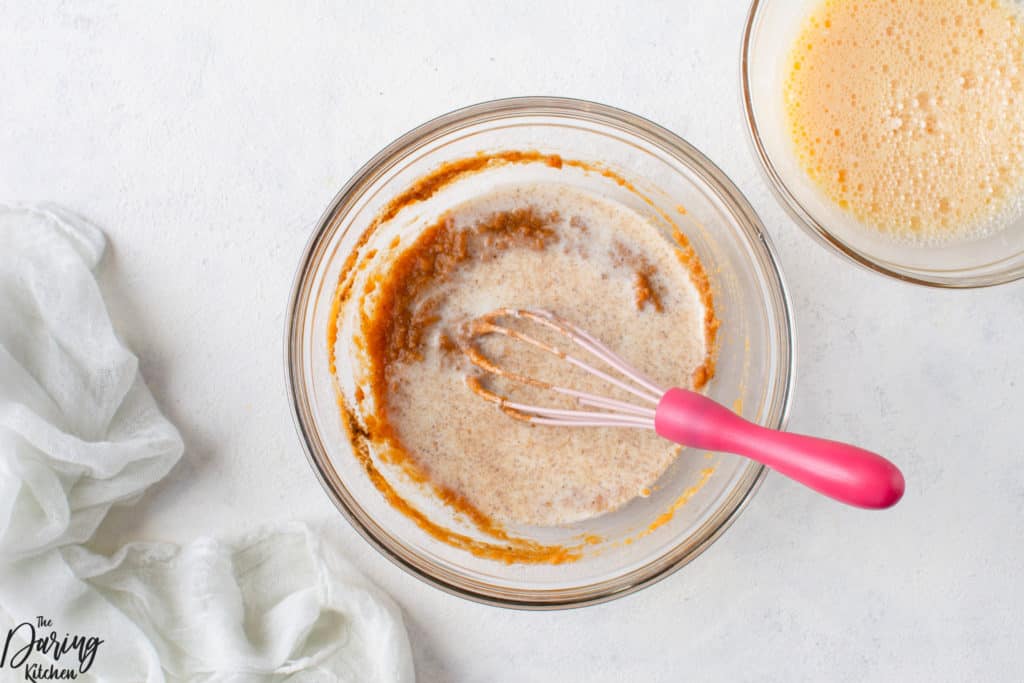 Using another large mixing bowl, mix together your sweet potato mash, sugar, vanilla, and cinnamon. Slowly add in your almond milk, mixing as you pour it in.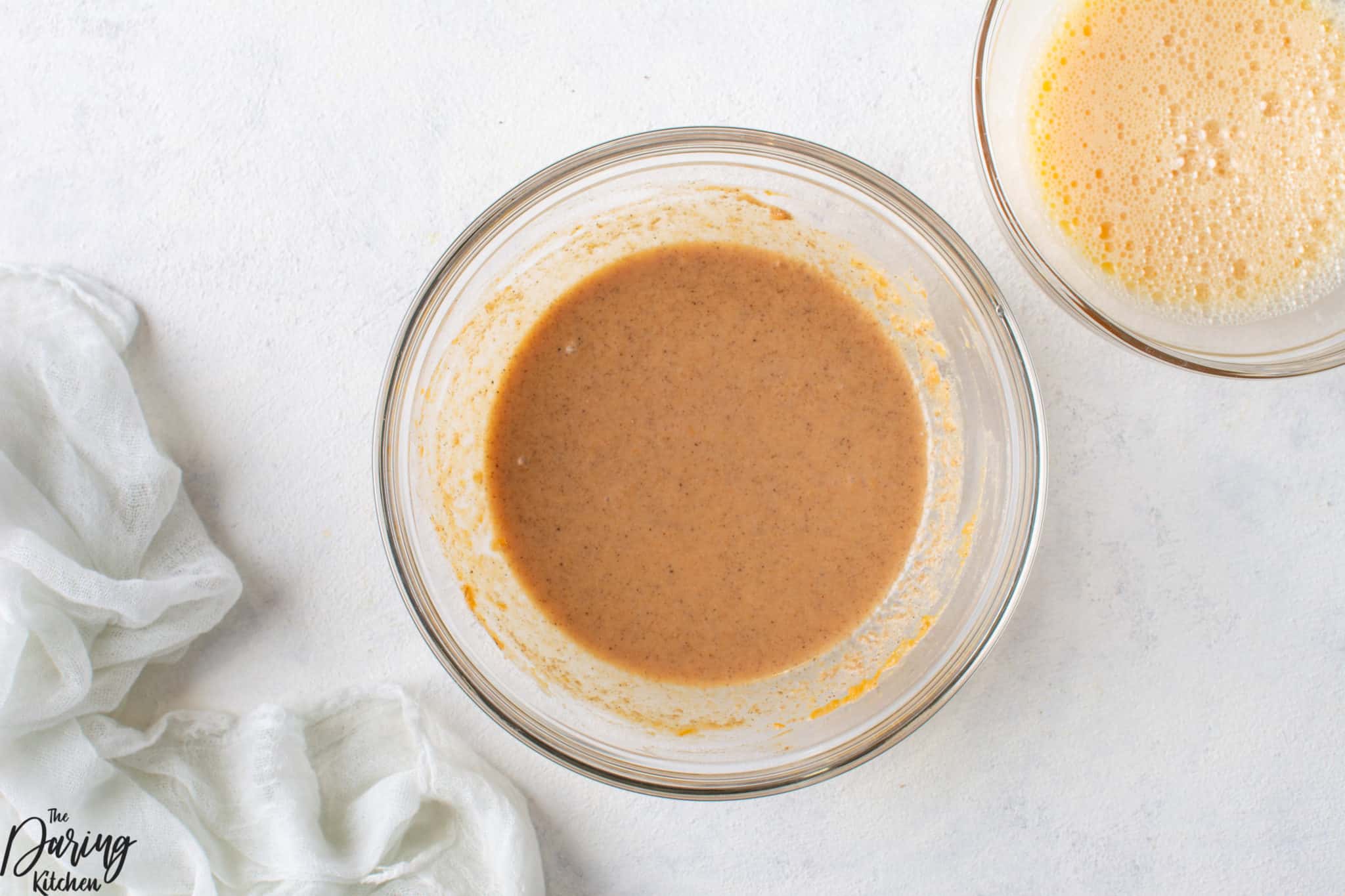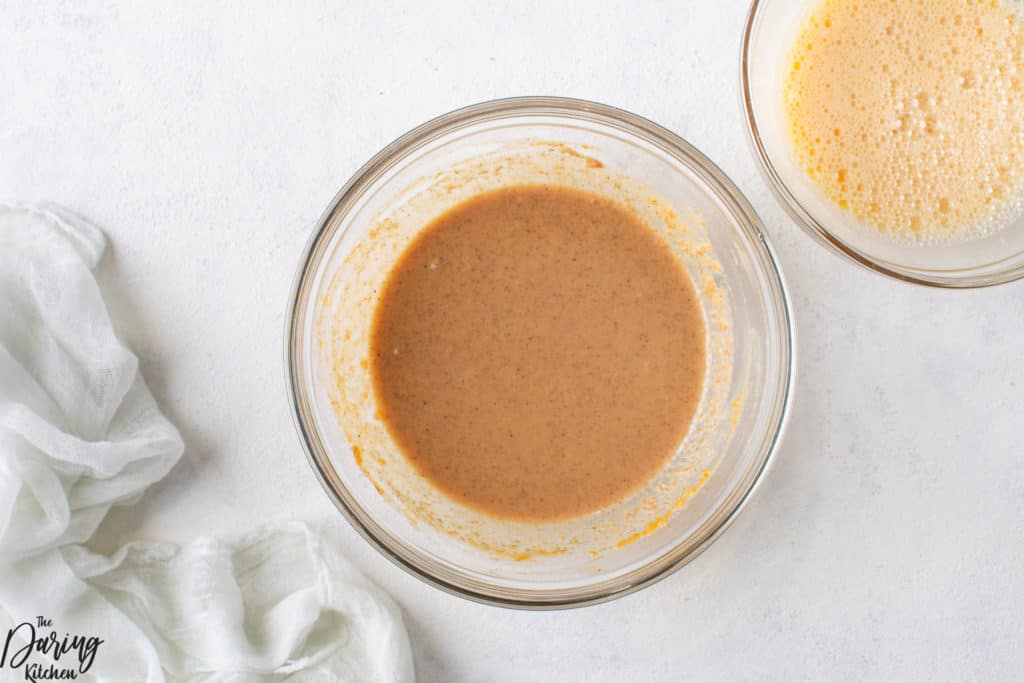 Then, mix in your eggs so that everything is evenly mixed.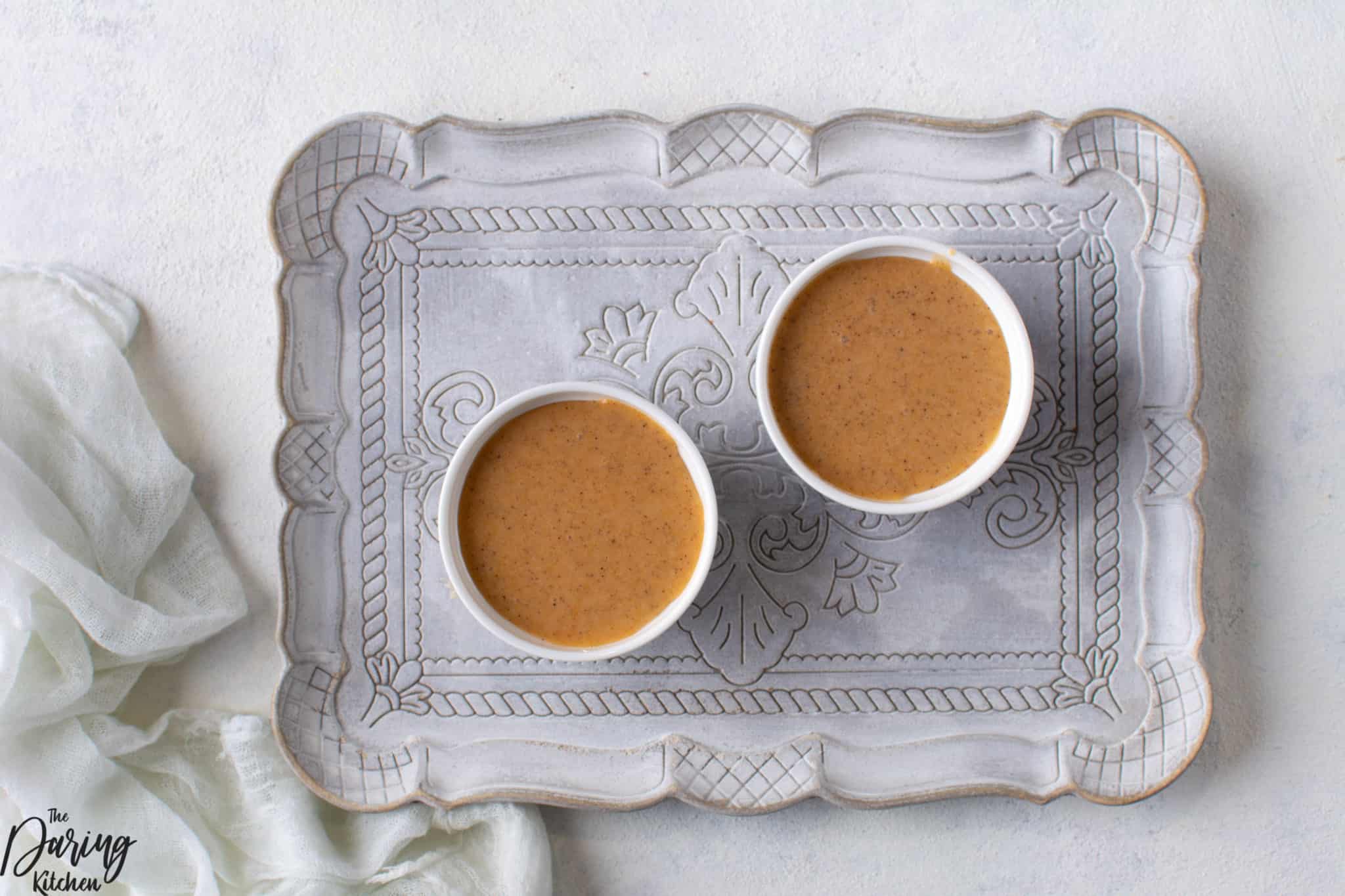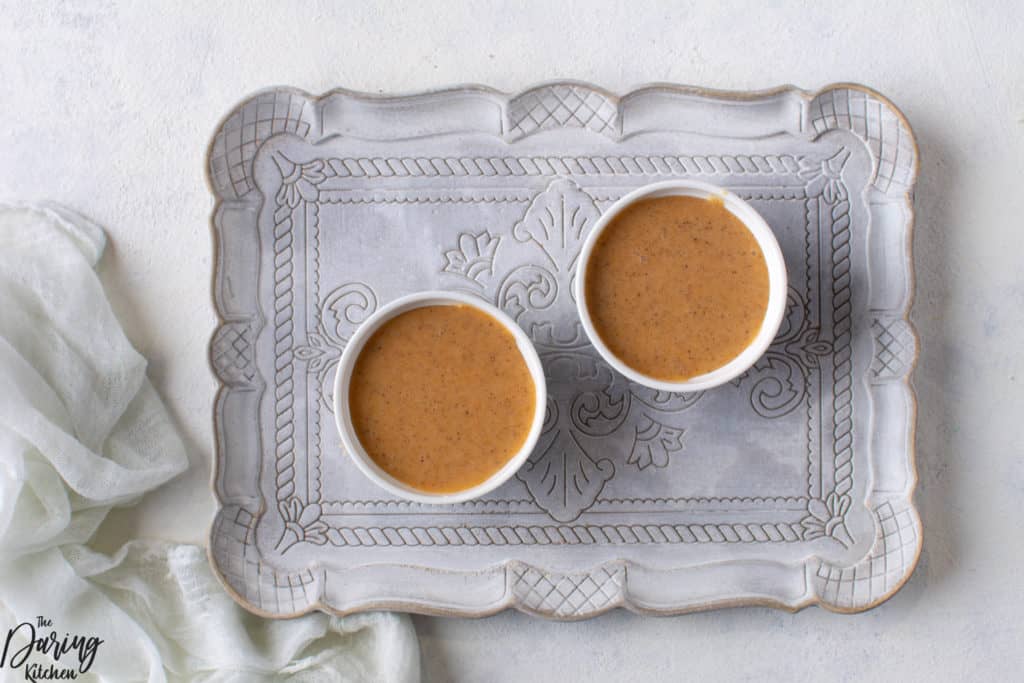 Line your ramekins on a baking pan or sheet. Pour in your pudding mixture into the ramekins, ensuring each has the same amount of the mixture. Gently add hot water to your pan, filling your pan with about 1-inch deep of water.
Bake your pudding for 15 minutes, or until the pudding is set and golden brown.
Serve up your pudding in the ramekins, hot or chilled, with whipped cream.  If you want to get fancy, sprinkle some chopped pecans and maybe a dust of cinnamon.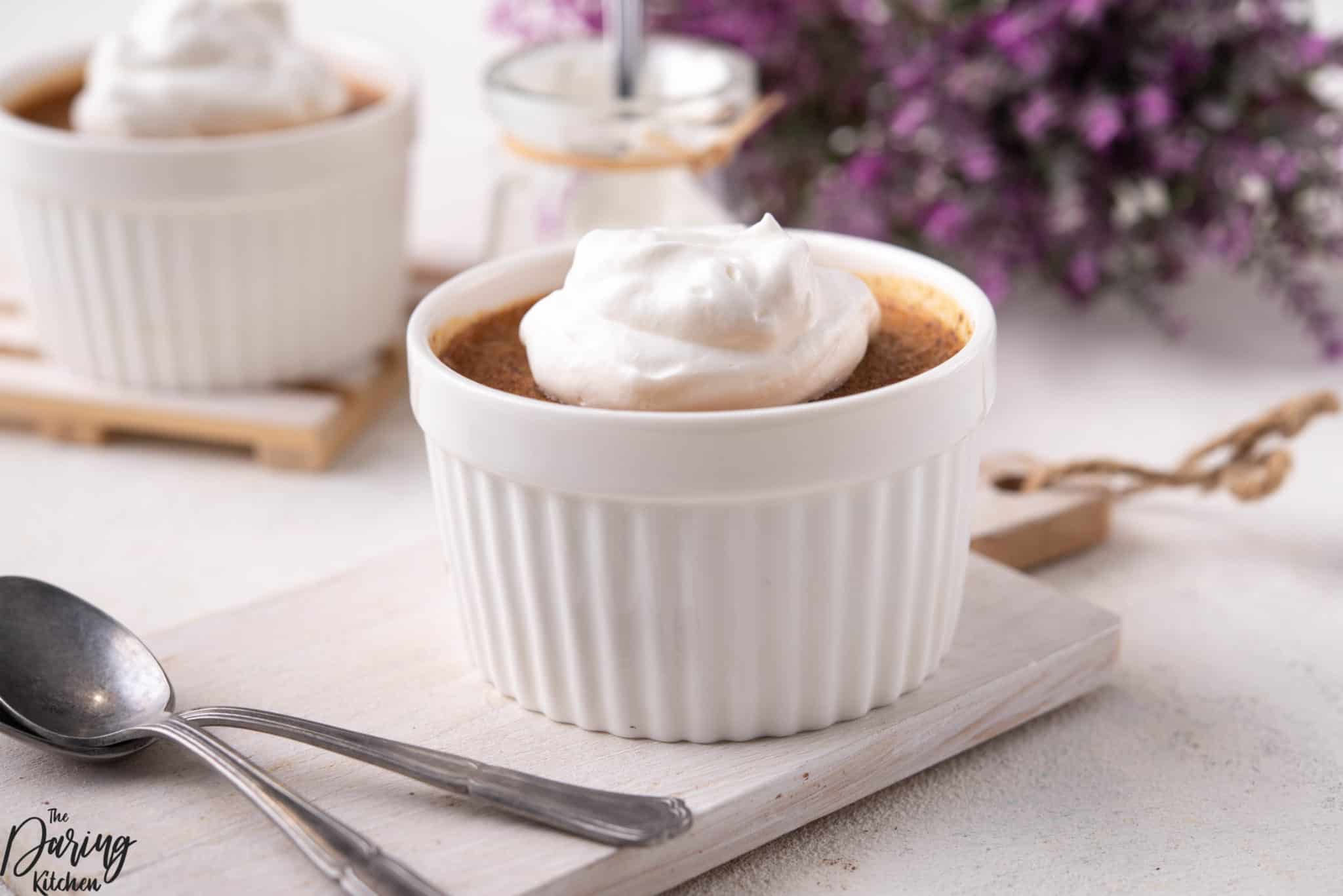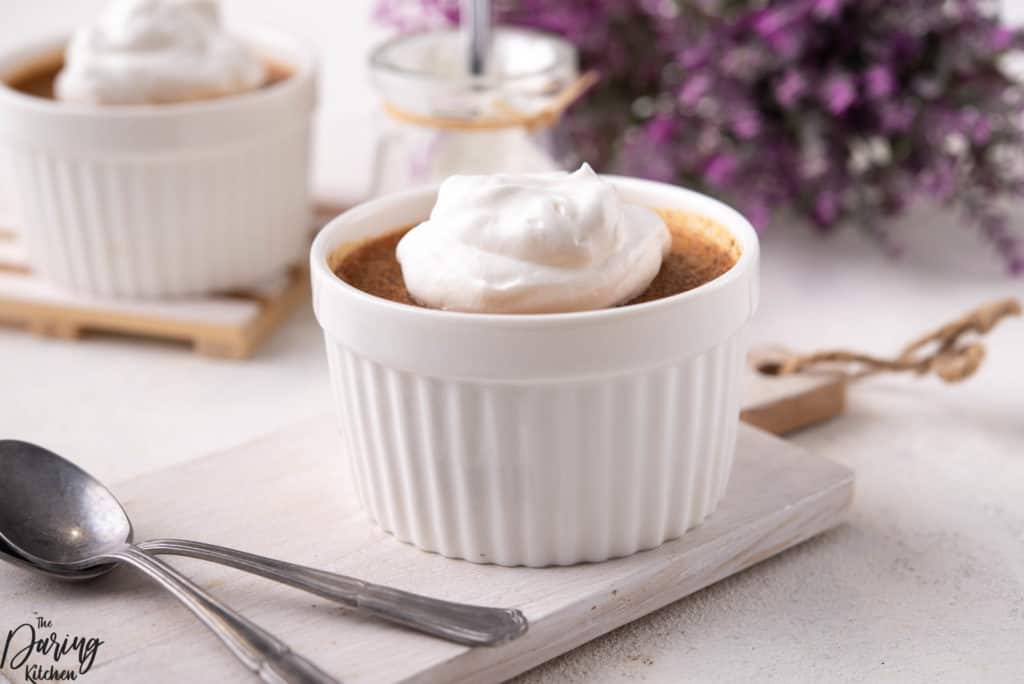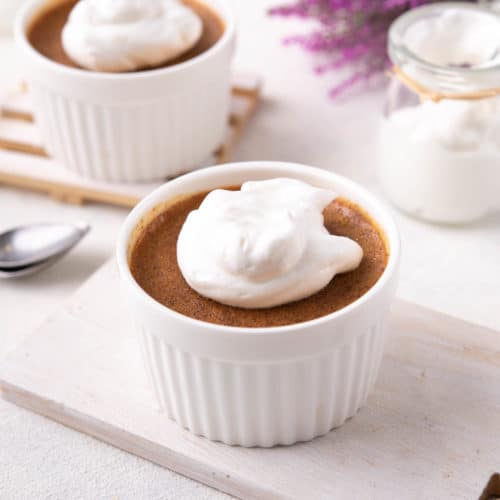 Sweet potato pudding
Easy to make and even easier to eat, this silky pudding is your next favorite dessert!
Print
Pin
Rate
Equipment
Bowl

Whisk

Electric mixer

Ramekins
Ingredients
2

eggs

¼

cup

brown sugar

1

cup

sweet potato mash

1

cup

almond milk

1

tsp

vanilla extract

1

tsp

cinnamon
Instructions
In a mixing bowl, with an electric mixer, beat eggs until fluffy. Set aside.

In a separate bowl, whisk sweet potato mash, and brown sugar. Add vanilla and cinnamon.

Pour in milk and whisk until smooth.

Add eggs and whisk until combined.

Pour the mixture into the ramekins.

Place the ramekins on a baking sheet. Pour around 1-inch of hot water.

Bake the pudding for 15 minutes.

Serve topped with whipped cream.
Nutrition
Calories:
193
kcal
|
Carbohydrates:
29
g
|
Protein:
6
g
|
Fat:
6
g
|
Saturated Fat:
1
g
|
Polyunsaturated Fat:
2
g
|
Monounsaturated Fat:
2
g
|
Trans Fat:
1
g
|
Cholesterol:
164
mg
|
Sodium:
233
mg
|
Potassium:
105
mg
|
Fiber:
1
g
|
Sugar:
27
g
|
Vitamin A:
241
IU
|
Vitamin C:
1
mg
|
Calcium:
208
mg
|
Iron:
1
mg