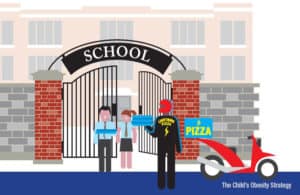 Obesity is one of the most serious health epidemics facing our society today, with an estimated three million overweight and obese children in the UK alone. This week is National Childhood Obesity Week in the UK which aims to bring awareness to the increase of prevalence of childhood obesity. Here, the Royal Society for Public Health talk about how with take aways being ordered to kids at school, we need to get more creative in tackling this epidemic.
When I took to the airwaves two weeks ago to present the findings of RSPH's latest report, The Child's Obesity Strategy, the reaction of many presenters bordered on incredulity. 'One in four secondary school children have ordered takeaways to their schools!? Surely that doesn't really happen!?'
Well, if you ask the kids themselves – as we did for this report – that's what they tell you is happening. And when you consider the ever-easier access to junk food takeaways in our lived environment, it becomes easier to believe. Half of teenagers have ordered a takeaway via their smartphone. More than two in five can walk from their school to somewhere selling unhealthy food in under two minutes. In the last seven years in the UK, more than 5,000 fast food takeaways opened within five minutes' walk of a primary or secondary school.
It all forms part of the obesogenic environment that has made almost one in five of our 10-11 year olds obese, and risks an apocalyptic future for our health service. Not only that, but it undermines all the good work that has been done in recent years to make food served in schools themselves markedly healthier.
What are the solutions?
As well as asking young people what they think the causes of the childhood obesity crisis are, we asked them what they think might be some of the solutions. Remarkably, this is the first time this has been done on a significant scale.
In public health, we sometimes have a bad habit of talking over people's heads; talking about them, not to them – or to them, not with them. This is especially the case with children. And yet, we know from studies of what makes for effective Personal, Social, Physical and Economic (PSHE) education, that approaches focused on peer-to- peer learning and discussion often see better results. We need to engage children with the solutions, and enable them to take control of their own healthy behaviours.
That's what The Child's Obesity Strategy attempts to do – and many of the children's suggested solutions are more than worthy of implementation. Some – like banning fast food shops from delivering to schools – are obvious. Some – like displaying nutrition information in a more relatable whole product form, rather than per serving – you realise should be obvious, once they've been pointed out. And some, like giving out free 'wonky' fruit and veg to kids in shops to help curb pester power, demonstrate that to really solve the childhood obesity crisis, we're going to have to start thinking a little more creatively – and who thinks more creatively than children?
Read Jamie's obesity strategy which he sent to the UK government back in November in anticipation of their long awaited strategy, and share your thoughts with #FoodRevolution.