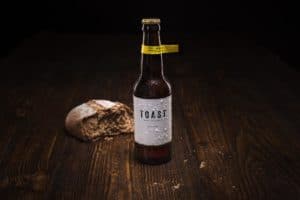 Toast Ale is the brainchild of Tristram Stuart and his team of food waste advocates at Feedback. After years of calling attention to the problem and identifying solutions to food waste, they decided it was time to take the matter into their own hands. They took one of the most wasted foods – unused bread loaf ends – and came up with a genius solution: they made GREAT BRITISH BEER! Even better, they chose to re-direct all of the profits of that beer back to support the fight against food waste!
What led to the creation of their product?
Tristram Stuart, the founder of Toast Ale, has been writing and campaigning about food waste for over a decade and has seen first hand the scale and the social and environmental impacts of the problem. One third of the food grown for us to eat is thrown away and this must stop. When he discovered a great beer brewed with bread in Belgium he realised that Toast could be a beer business which could be part of the solution (every bottle contains a slice) as well as helping to raise wider awareness of the issue. By donating all profits to Feedback, the charity he founded in 2009, he hopes that Feedback's success may eliminate bread waste and then Toast will no longer be brewed.
Why bread?
Bread is the biggest problem food wasted, due to how popular it is in our everyday diet, how relatively cheap it is and how short it's shelf life is. Also, because bread makes great beer!
What were the main challenges in getting Toast up & running?
The main challenge in the beginning was keeping up with demand. We had no problem sourcing the surplus bread or persuading the first UK brewery to brew with bread. But after a successful launch on Jamie & Jimmy's Friday night feast (which causes our website to momentarily crash every time that episode is screened!) we had to quickly scale up by moving to a larger scale brewery so that we could meet demand. This meant we had to further refine the recipe and work out how to scale the process.
Where does the wasted bread come from?
Bread for our very first brews was sourced by an army of energetic volunteers going to their local bakers across London at the end of the day before the brew. Now that our brews are bigger, we source from commercial scale bakers and sandwich makers as close to the brewery as we can. The bread we brew is as fresh as the sandwich you'd buy from a store.
What's the greatest roadblock to growing Toast Ale as a business?
Our challenge now is to accelerate our sales so that we can deliver significant profit to Feedback to aid their campaigns. We proved the concept in our first year – beer fans love us and want us to succeed and so now we need to brew more beers in many more styles and make them more widely available so we can take the rev-ale-ution to the next level.
What's next?
First brews of our Session IPA and Craft Lager will be brewed later this month, following a successful crowdfunding campaign. Alongside an improved recipe pale ale. We've also got some exciting news regarding our stockists, which we'll share soon. We also have plans around the world; we plan to be brewing local surplus bread into Toast in USA, South Africa and Iceland very soon… and are talking with many others too!
It's exciting times for Toast Ale, so please stay tuned and follow all of what's to come @ToastAle!