Anyone up for a cup of tea? Whether it is the aroma, warmth, the familiar whistling sound of the kettle or the ritual of preparing and sharing a brew with friends or colleagues, tea is all about magic! And this is what makes it so soothing and comforting, especially on a cold or stressful day.
Now, if you are on the hunt for the best tea kettle, you might be thinking that it can't be that difficult to find a good kettle. But the reality may surprise you. With so many negative reviews by people complaining about issues of rust or leakage, one might wonder how easy it is to find a pretty, functional and durable kettle after all.
We have done the research for you and here are some of the best tea kettles to match your needs, budget and taste. So, let's get started.
Top Rated Tea Kettles Reviews
Cuisinart PerfecTemp Cordless Kettle: Best Electric Tea Kettle, Overall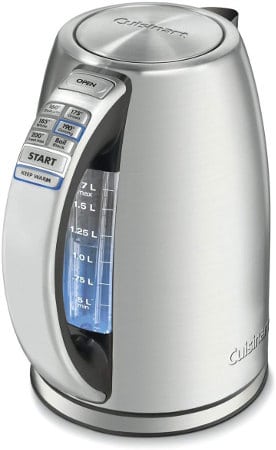 When it comes time for your favorite cup of tea, nothing can beat the speed and convenience of using an electric tea kettle. With a power of 1500 watts, Cuisinart CPK-17P1 brings up to 1.7 liters to a boil in just a few minutes.
Now, if you are not a tea connoisseur who knows exactly at what temperature each type of tea should be brewed, this product has you covered. On its handle, there are one-touch control buttons that you can select according to the kind of tea you are preparing.
For example, if you want to have green tea, which by the way can become bitter if you brew it at the wrong temperature, you just need to press the 'green tea' button that will heat the water at 175°F. Similarly, there are other settings for various types of tea such as delicate tea, oolong, and white.
The 'boil' button is for herbal tea or black tea but it also comes handy if you want to make cocoa, noodles, oatmeal and other foods or beverages. Other features such as the 'keep warm' button that keeps the set temperature for half an hour and the 'memory' feature that allows you to lift the kettle off its base for up to two minutes without going off make this home appliance highly functional.
The large capacity caters to several guests and the markings on the water window promote precise filling. The latter also provides a clear view of the water level even during the night due to the blue backlit feature.
Cuisinart comes with a 360° swivel base connector which saves you from the hassle of a cord constraining your movements. To prevent mineral buildup, the unit is equipped with a concealed heating element.
Additionally, the wide mouth makes it quick to fill from the tap without spilling and the trigger that is built into the handle makes it easy to open. On the downside, the lettering on some products rubs off after some months, making them difficult to read.
Note: this kettle is only suitable for heating water at various temperatures, you cannot brew tea inside.
Important specs:
Model Number: CPK-17P1
Dimensions: 8. 8"L x 9. 75"W x 6. 1"H
Comes with auto-shutoff for safety
Heat resistant handle
36 inch, cord length
Blue LED indicator buttons
Removable and washable scale filter
Limited 3-year warranty
Willow & Everett Tea Kettle: Best Stainless Steel Tea Kettle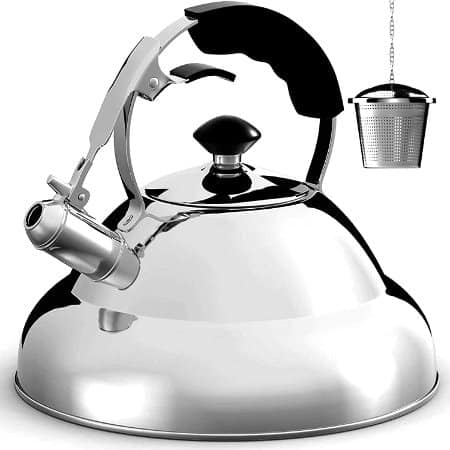 Stainless steel is a great material in terms of durability, heat retention, and aesthetics, but not all stainless steel tea kettles are equal.
Willow & Everett is a large size (3-liter) kettle made of 5 layers of metal including premium stainless steel of surgical grade as well as iron and aluminum. This gives it heavy duty and sturdy construction that feels quality and is resistant to dents, scratches or other types of damage.
But there's more to it. The wide 5-layer metal capsule bottom makes heating up fast and holds the heat longer when compared to lightweight products that have 2 or 3 layers of metal.
What this practically means is that it will have steaming water even an hour after its first use. Combine this feature with its large capacity and you have the perfect kettle to prepare tea or coffee for your family or guests.
On the other side of the coin, the 5 layers of metal make it a bit heavy when it is filled up with water.
This is a beautiful tea kettle with a mirror finish that makes it a pleasant sight for any kitchen. The shiny finish does not only look pretty but makes the exterior easy to clean, too. When it comes to functionality, the non-slip heat resistant handle offers a safe and comfortable grip.
Also, the spring-loaded lever that opens the spout automatically closes if you let go, which prevents your appliance from boiling dry in case you forget to close its mouth.
Did we say anything about the whistling sound? If you don't like loud whistling sounds, you will probably like the sound of this model but if you need a very loud sound, you may not be quite pleased with it. In other words, the sound effect is neither too loud nor too soft.
Finally, the flat bottom makes it ideal for smooth glass-topped stoves but it is also good for wood stoves and gas stovetops.
Important Specs:
Comes with a premium tea strainer made of stainless steel
BPA free
Induction stove compatible
Bonavita BV382510V One-Liter Digital Kettle: Best Variable Temperature Tea Kettle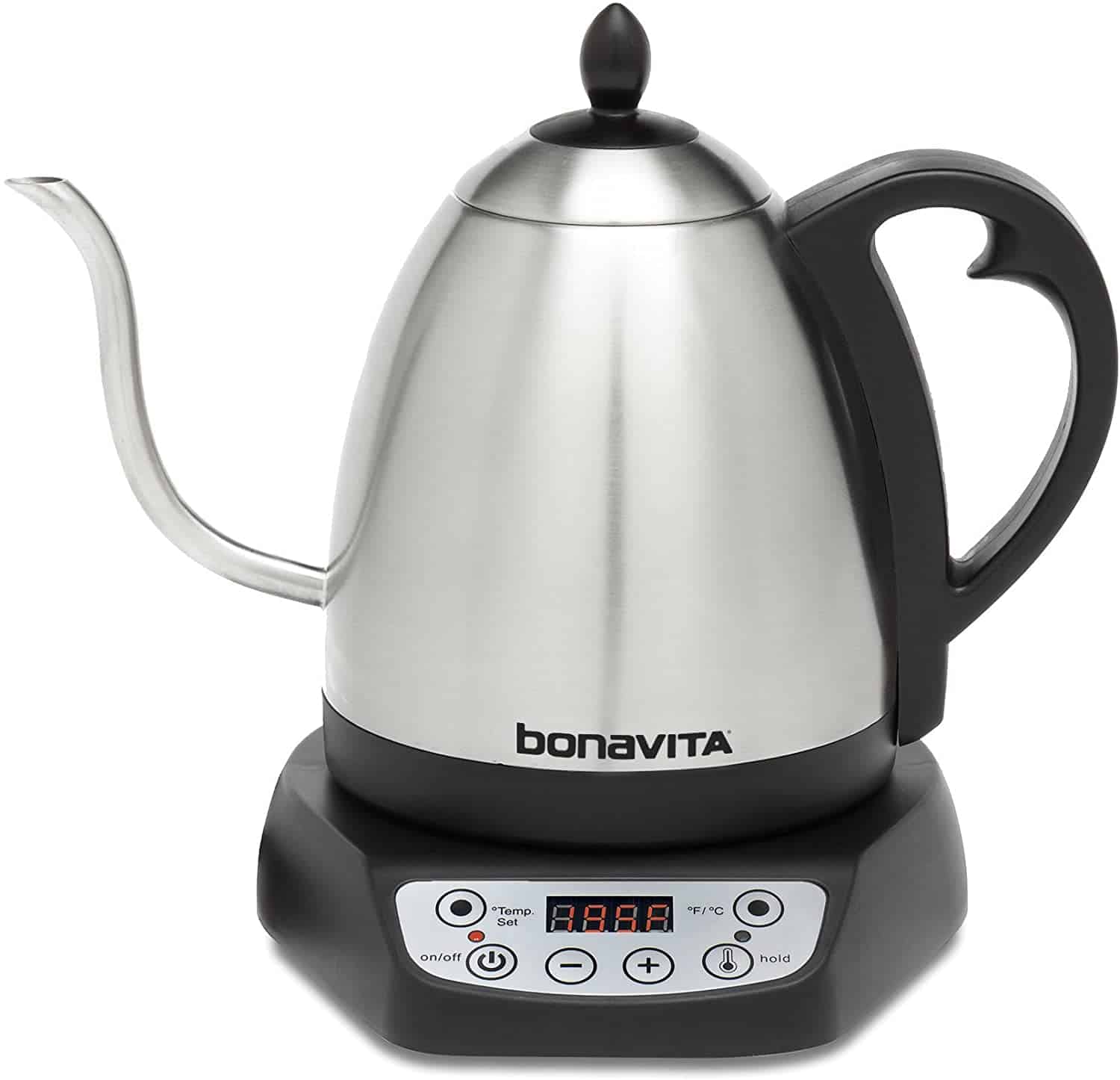 If you want to spend a bit more money, we have the Bonavita Digital Gooseneck Kettle. You can see from the design that you're paying for something more sophisticated and complex.
First things first: the gooseneck gives you perfect control over the stream of boiled water. This is ideal if you plan on preparing many cups of French Press or pour-over coffee. It lets you wet your coffee filter accurately, as well as stir the grounds effectively.
This gadget will boil up to one liter of water at a time, in seven minutes or less. And since it's powered by a 1000-watt base, you don't even need to set it on the stove. This makes the boiling process much quicker and frees up room in your kitchen.
If you don't want the water to reach its boiling point, you can always adjust the water temperature. Through one-degree increments, you can warm the water anywhere from 60ºC to 98ºC (or 140ºF and 212ºF). This is perfect for specialty teas and gentler coffee grounds that are best brewed at lower temperatures.
The set-temperature feature is also handy. It lets you keep your water hot between 140ºF and 208ºF for up to an hour.
Lastly, the sturdy plastic handle and the brushed stainless steel coating make this a very durable and long-lasting kitchen appliance.
Important Specs:
Lets you select the exact temperature for your water
Made from long-lasting materials
Long gooseneck allows for a perfectly controlled stream of boiled water
Le Creuset Tea Kettle - Best Camping Tea Kettle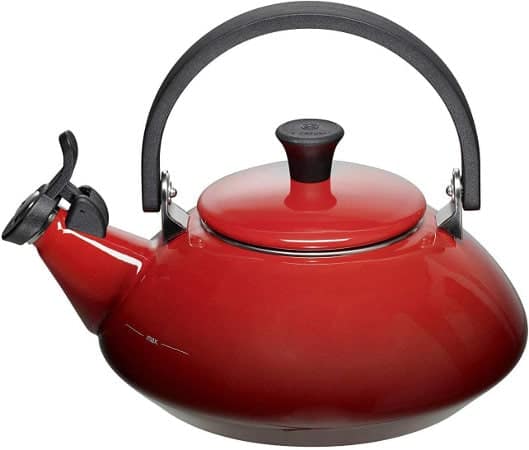 One of the most popular tea kettles in the market, Le Creuset features a modern zen-looking appearance and is available in a variety of beautifully painted exteriors that can brighten any kitchen.
Enamel kettles are not only suitable for any type of stovetop including electric, gas, ceramic, induction and halogen, but they are also popular among camping lovers because they are lightweight, they heat up fast and are super easy to clean.
For safe use when you are making tea on a campfire, make sure that the flames don't go up the pot's sides and never leave it empty on the fire because it can damage the coating. Also, beware of the handle as it can be less resistant to the heat than the sides and the bottom of your kettle.
Le Creuset Q9213-67 features a carbon steel core for superior durability and is enamel coated which prevents rust and gives the product its glossy finish. Many people choose enamel coating to prevent the chemicals of the metal core go into the water or change the taste of the tea, but there are more benefits to it.
Enamel on steel provides fast and even heating, and the glass-like surface is great for smooth stovetops including glass and induction. It is also rust-proof if the coating does not get damaged and is super easy to clean. This product is dishwasher safe but the company recommends hand wash to prevent the shiny finish from deteriorating and damaging the coating.
To prolong the life of your kettle, here is one more tip: use low or medium heat and avoid high heat because it can damage the coating.
Finally, it comes with an ergonomic and heat resistant handle that offers a comfortable and safe grip. The lid knob is resistant to heat, too.
Important Specs:
1-⅝ quart capacity
Produces whistling sound
5-year limited warranty
Hiware Borosilicate Glass Tea Kettle with Infuser - Best Glass Stovetop Tea Kettle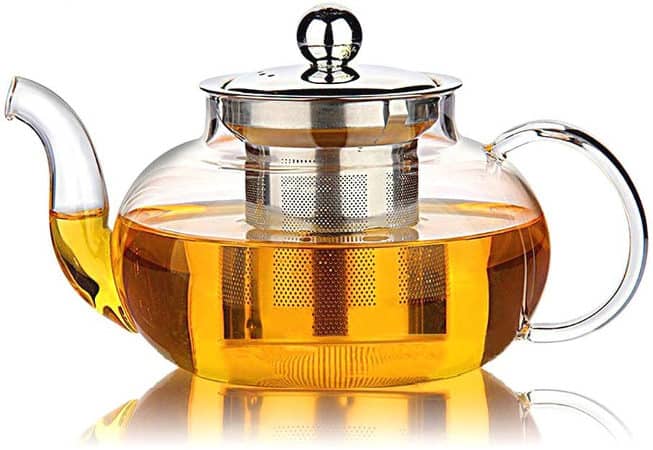 If you love the ritual of preparing loose leaf tea, Hiware glass tea kettle can seriously upgrade your experience. As it is stovetop safe, you can safely brew tasty tea and enjoy watching it while it releases all those beautiful colors. How relaxing!
Combining silver glass accents and a sturdy thickened glass construction, this is a real gem to display whether you use it for work or at home. Borosilicate glass is a heat resistant material that is recommended by the company as safe for stovetop and microwave use. It is also known to be resistant to scratches.
For people who are a bit squeamish about toxic materials in kettles or want to avoid the 'rust' issues that may occur, glass is a good alternative. It is also much cheaper, which makes it the best budget-friendly tea kettle out there. Of course, glass is glass, so even this kettle needs a little bit extra attention when handling it.
Besides, it comes with a food-grade stainless steel tea infuser to brew the tea in the pot. The holder is quite roomy so you can see the leaves floating around inside the holder. No bits left in your cup either, just clear and tasty tea.
When it comes to serving, the spout does not drip and offers a smooth flow. The handle is well-shaped but it can get hot if you are using high heat. The large loop makes things easier if you need to use a towel or a silicone mitt to grasp the handle.
To keep your tea warm in the pot, you can use an electric warmer or you can even create a cold brew and leave it in the fridge.
Important Specs:
Model number: Hiware-GGT-27
Holds 800 ml. of water
Dishwasher safe
Lead-free
BELLA 1.2-Liter White and Silver Tea Kettle: Best Ceramic Tea Kettle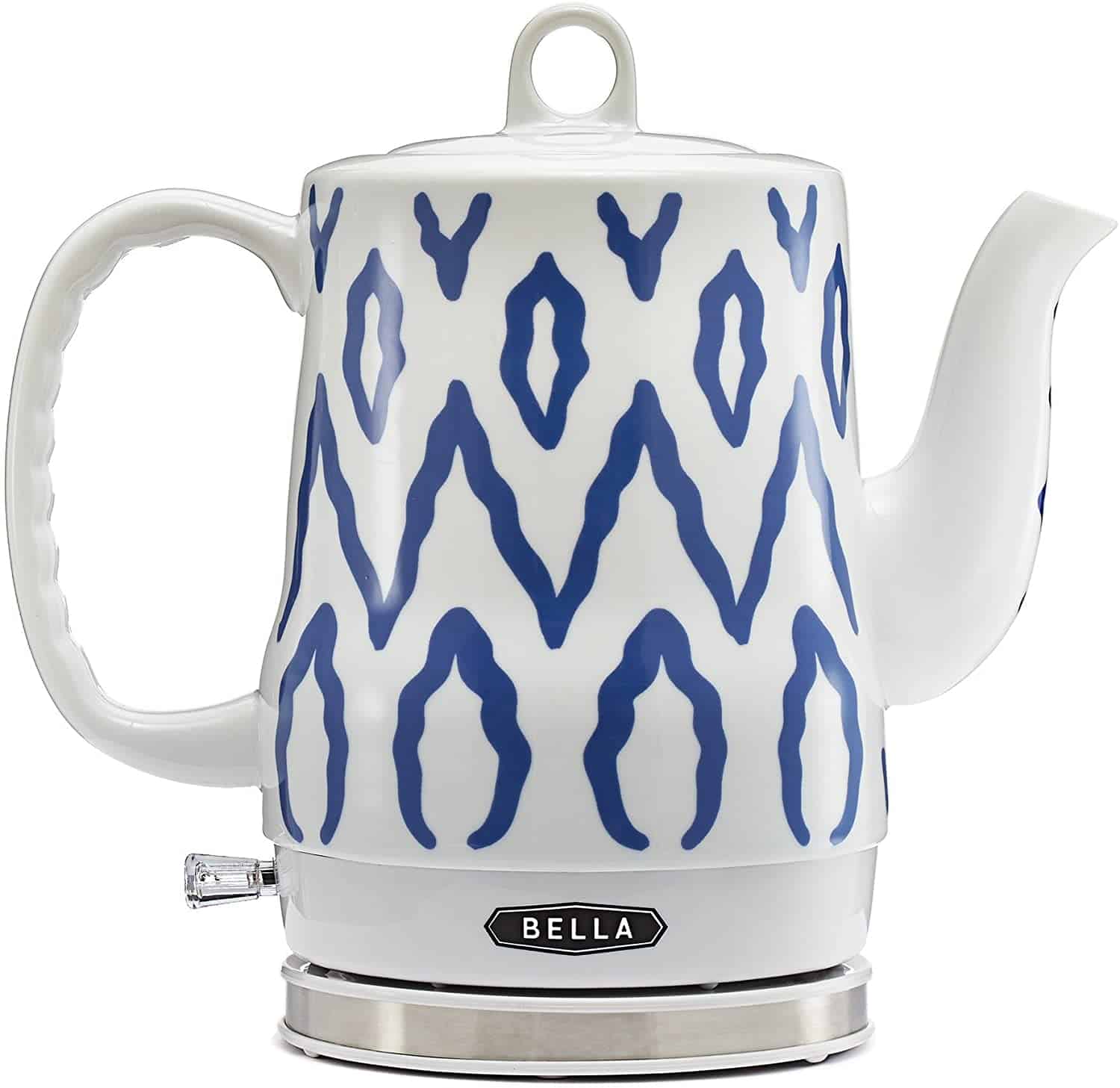 Some people prefer staying away from stainless steel and glass kettles. If that's you, then the BELLA ceramic kettle is the right appliance for your kitchen. 
The ceramic design gives it a timeless, traditional look perfect for every kitchen. In total, there are four different patterns for you to choose from. Plus, since there are no adverse health effects of cooking with ceramic cookware or appliances, it's a safe purchase.
In under seven minutes, you can boil up to 1.2 liters of water. That's a step up from using the microwave or the stovetop. All thanks to the 1,200-watt base, which heats up the water much quicker than using any other method.
Once the water hits the boiling point, the BELLA kettle shuts off automatically without needing you to flip the switch. This will save you time and money in the long run, as it prevents the melting of any important parts inside the kettle.
The only downside is that you have to be extra careful using it. Hitting it on the counter, for instance, could prove fatal, as ceramic tends to break relatively easily.
Important Specs:
Powerful base heats up water in record time
Timeless ceramic look
Chantal Retro Tea Kettle: Best Whistling Tea Kettle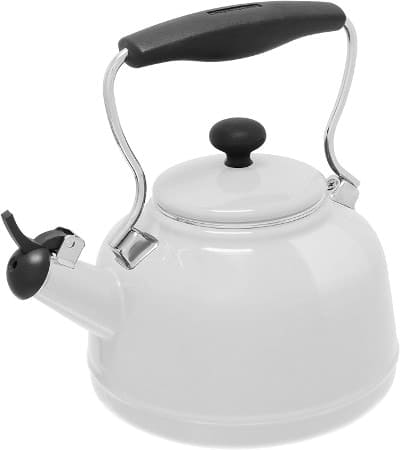 One of the most well-known facts about the Chantal tea kettles is that they whistle like a train, and it's up to you to decide whether this is a desirable feature or not. But we would be unfair to focus just on the whistling sound since Chantal products have a history that is not only defined but the sound they produce.
Chantal 37-VINT is inspired by old fashioned stovetop designs and this is one of the things it makes it so attractive. Its enamel on steel construction features a carbon steel core, which is suitable for all types of cooktops including induction.
This material is a good heat conductor so it will heat up fast and it is durable. The interior is enamel so it is resistant to hard water buildup and rust but this does not mean you won't need to dry it fully after each use and clean it from time to time to remove calcium buildup if necessary.
Besides, the lid has a wide opening which allows easy cleaning and filling while the handle and the knob are heat resistant. When it comes to the visual effect, it is certain that the big variety of bright colors looks appealing and would complement any kitchen décor.
Important Specs:
1.7-quart capacity
Conical spout
One tone whistle
Bodum 1183-259US Melior Water Kettle: Best Gooseneck Tea Kettle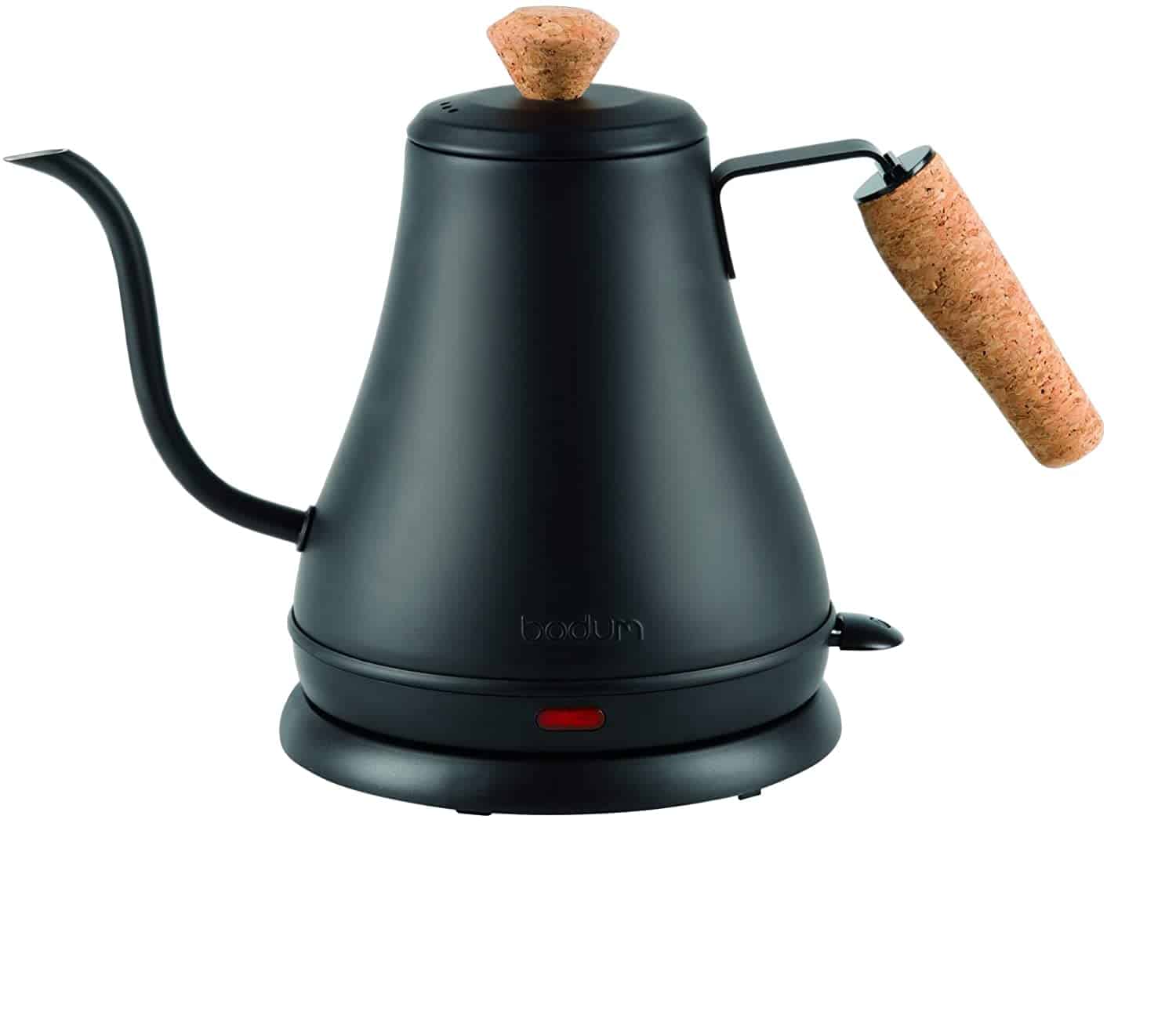 Another awesome gooseneck water kettle is this Bodum model. It doesn't cost as much as the Bonavita but it is still reliable and sleek-looking.
This compact little gadget can boil up to 27 ounces at once. That's less than most models, which is why this is the perfect appliance for a small kitchen.
The ergonomic non-slip cork handle makes it easy for you to pour comfortably. At the same time, you won't burn yourself when holding the kettle. It is made using renewable European cork, meaning it is more environmentally friendly.
When the water is done boiling, the automatic shut off takes over. This way, you save energy and avoid damaging the electric parts of your kettle.
You can take off the lid by grabbing onto the cork-covered handle, thus allowing for easy cleanup.
Lastly, storing this gadget couldn't be easier. Its compact design and wrap-around cord make it perfect for kitchens with little storage space.
Important Specs:
Small capacity and compact design make it a space-saver
The powerful electric base boils water quickly
Cork handles protect you from getting burned
KitchenAid Tea Kettle with C Handle: Best Classic Option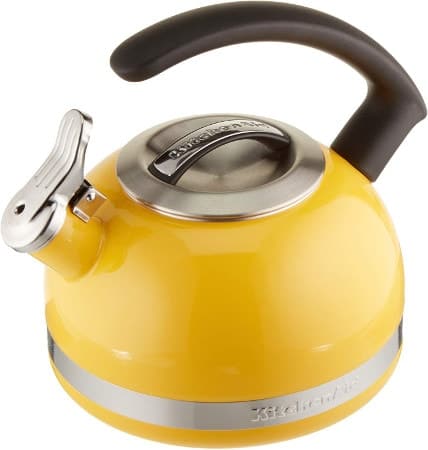 With a modern stylish design and a shiny porcelain exterior that comes in various bright colors, this KitchenAid kettle is a popular product that earns positive and quite a few negative reviews.
Visually, this model is an absolute winner because of the colorful appearance and the stainless steel trim band that adds plenty of style to it. In terms of functionality, the plastic C handle provides an easy and sturdy grip but it can get a bit hot especially when the heat is high.
Moreover, the food-grade stainless steel spout easily opens when you press it with your thumb but, unfortunately, there is no silicone touchpoint to prevent it from heating. The lid comes off easily and it is not snug like some other models.
Tea is surely not the only thing you can use this product for, you can also use it to prepare hot cereals, soups and seasonal drinks like hot cocoa. No worries if you forget it on the stovetop, the clear whistle will warn you when the hot water is ready.
However, there are some quality issues with this model. Some users have mentioned that the water spills down the kettle while pouring and the bottom has a tendency to chip. There are some improvements to be made.
Important Specs:
Model number: KTEN20CBIS
2.0-quart capacity
Lifetime limited warranty
Remington Russell Retro-Looking Kettle with Temperature Control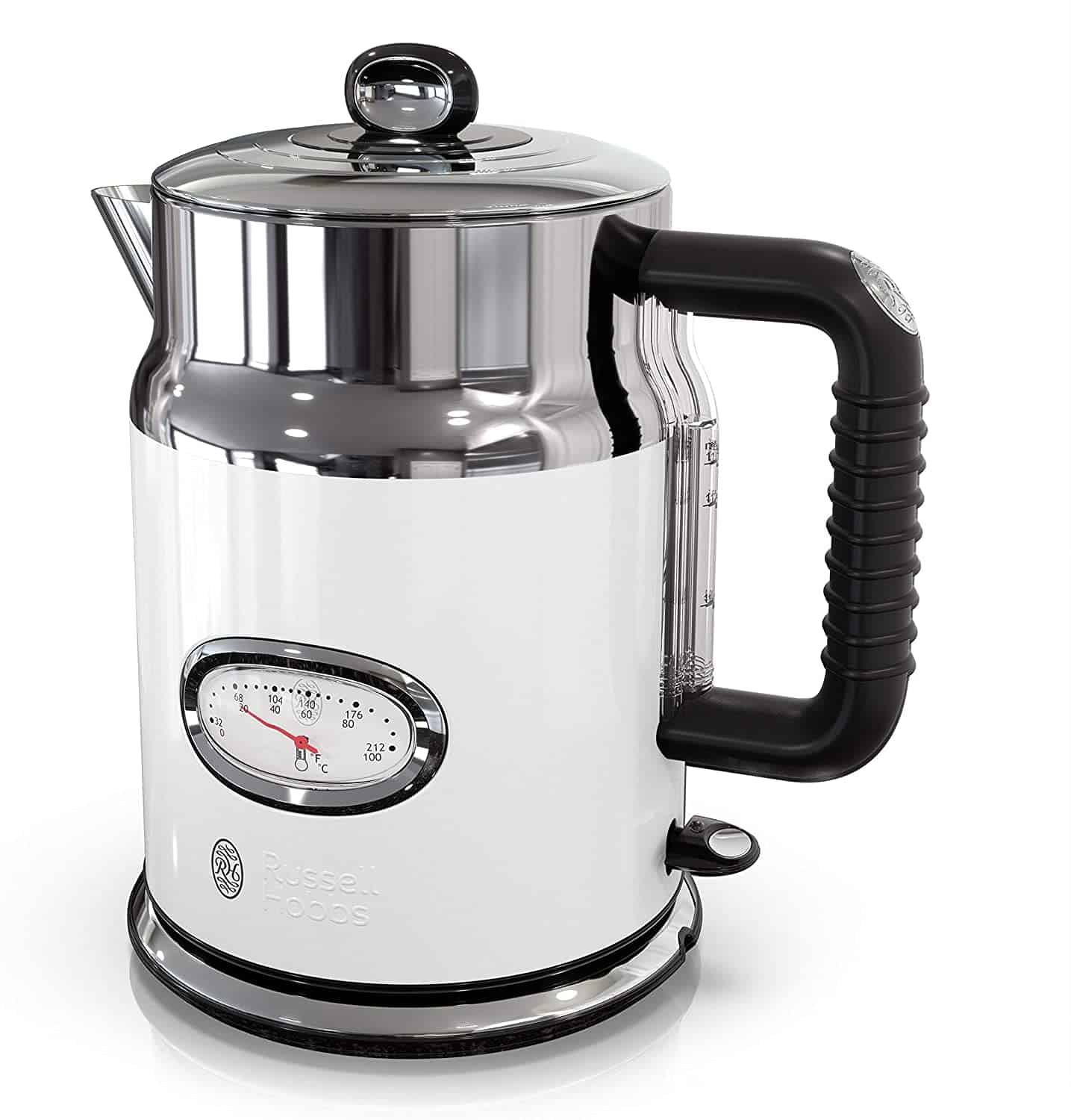 The retro-looking Remington Russell tea kettle is the perfect blast from the past. Its out-there design, combined with its impeccable functionality, makes it worth every penny.
The capacity of this gadget is quite impressive: 1.7 liters. That's more than what most other models can handle. Still, it surprisingly boils the water in under ten minutes.
There is a plastic window on the side with liter markings. On top of that, if you're only looking to boil enough water for a cup or two of tea, there are also separate red-colored markings for that. This helps you boil only the amount of water you need, avoid waste, and save time.
Lastly, the temperature gauge is an awesome feature. It tells you what temperature your water is at any given minute. This is great for when you need the water to be not quite boiling to brew specialty teas and coffee grounds.
Important Specs:
Retro design still incorporates modern technology
Can boil a lot of water in one go
Lets you see and adjust the water temperature
Other Popular Brands
Make sure to get your tea kettle (be it electric or otherwise) from a reputable brand. This is the best way to ensure your investment is safe and that you'll be able to use your kettle for a long, long time without replacing it.
Pioneer Woman
Copco
All-Clad
Breville
Circulon
Calphalon
What To Look For In A Tea Kettle: Buying Guide
Still haven't found what you're looking for? Pay attention to our curated buying guide. It will certainly help you in your search.
Material
Choosing a tea kettle based on the material it is made of is an excellent choice. This is important for various reasons including the type of stovetop you have, heat retention and speed, durability, style, and more. Also, some types of material are better than others in terms of health safety.
Stainless Steel
It's an excellent material in terms of durability, heat conduction, and ease of cleaning. Stainless steel tea kettles come in many nice finishes that add style to your kitchen.
To prevent rust and mineral buildup, you need to dry the interior and the lid completely after each use and remove water residues once in a while with a mix of vinegar and water or baking soda.
Aluminum
This is a lightweight and affordable material, but it may prove too fragile after some years. Aluminum kettles are best for those on a tight budget.
Enamel on Steel
These kettles come with either carbon steel or stainless steel core. The enamel coating prevents rusting. Besides, the shiny finish looks attractive and it's easy to clean. On top of all that, the steel base makes them suitable for all types of cooktops, including induction.
Cast-Iron
Cast-iron kettles are incredibly long-lasting and extremely durable. They also offer even heating and keep the water hot for much longer. While they are a great budget-friendly pick, they can be somewhat heavy to carry around.
Copper
Copper tea kettles heat up quickly and are aesthetically appealing, but they do need polishing to stay shiny. Some models, however, are made of a special blend of materials that give them a beautiful copper finish but don't tarnish.
Ceramic
Ceramic tea kettles are free of harmful coatings that could put your health at risk, such as Teflon and other toxins. They do not release a metallic taste into your tea nor create a calcium buildup at the bottom of your tea kettle. Moreover, their smooth surface is less fragile than glass (although more fragile than stainless steel) and is resistant to corrosion.
Glass
As you can imagine, tea kettles made from glass are much more fragile when compared to the other materials we've mentioned so far. However, they have a unique visual appeal, they're cheap, and they're safe for your health. Borosilicate glass kettles are better in terms of durability and use on a stovetop, so make sure to keep an eye out for those.
Speed Of Brew
Electric models are by far the fastest to heat up. The more powerful their base, the quicker they'll boil your water. On top of that, some electric tea kettles come with temperature control buttons to let you keep the water at a desirable temperature.
That said, enamel and stainless steel kettles designed for the stovetop can also be quite fast at boiling water. Cast iron tea kettles, on the other hand, take the longest to heat up (and to cool off).
In a nutshell, your preferred speed of brew will also determine the type of material your kettle should be.
Functionality
At the end of the day, you need a kettle that's easy to use, regardless of the type of material or if it's electric or not. Here are some features to be on the lookout for:
Ergonomic handle with a trigger to open the spout
Heat-resistant touch points on the handle, lid, and pour spout
Well-designed spout that allows for easy and precise pouring
Wide opening for easy cleaning and filling with water
Temperature control buttons, if you're looking for an electric model
Whistling sound for those who tend to forget they've set water to boil
Other Important Features:
Durability
Water Capacity
Stovetop friendly
Weight
Style
Price
The Bottom Line
Utilitarian, stylish or funny, there is a tea kettle for anyone who is looking to upgrade their tea experience or buy as a gift for a tea lover friend. The choices are many and it is up to you to find the perfect combination of quality and style.