Are you ready for the ultimate comfort food, but with a hidden healthy twist? This Tex Mex Turkey Mac and Cheese combines classic Tex Mex flavors with guilt-free mac and cheese.
Everyone loves Tex Mex. Its fusion of Mexican and Texan food traditions created some awesome dishes, like fajitas and fully loaded tacos. Each dish has bold and flavorful spices like cumin and paprika. And, we cannot forget all the cheese! This inspired us to make this creamy nutrient-packed mac and cheese.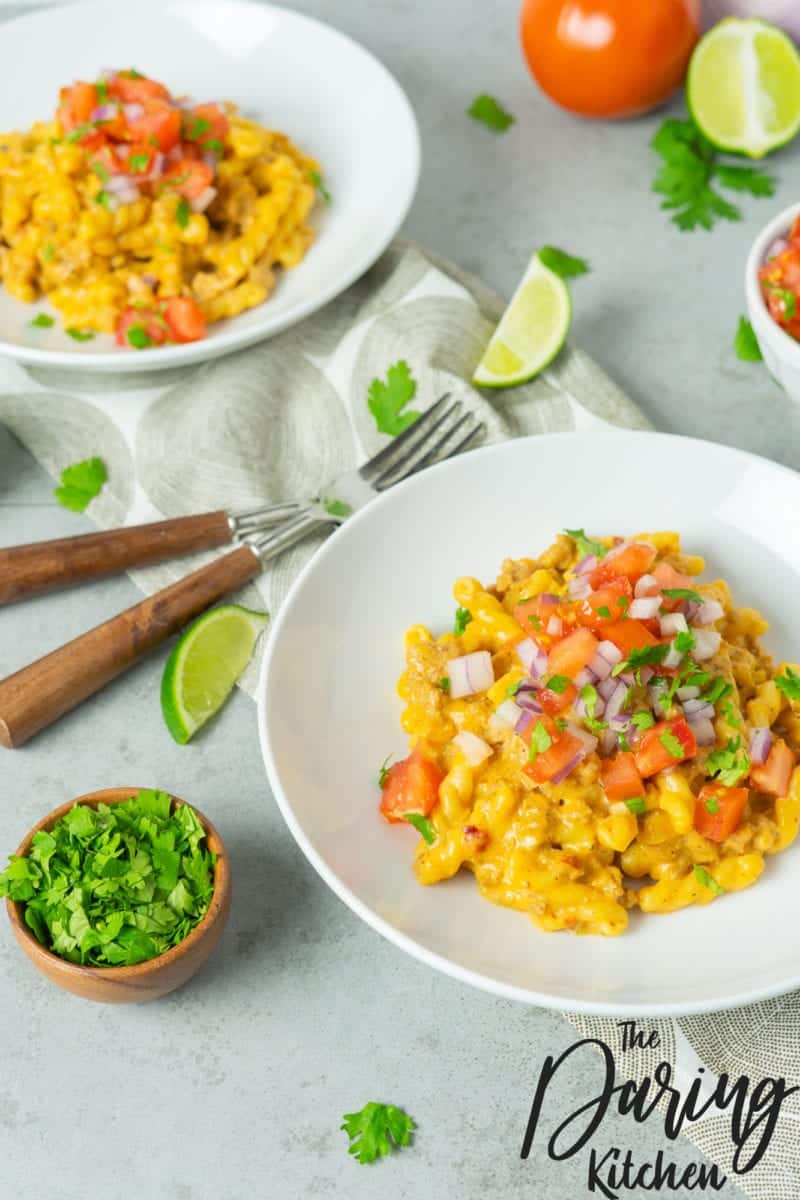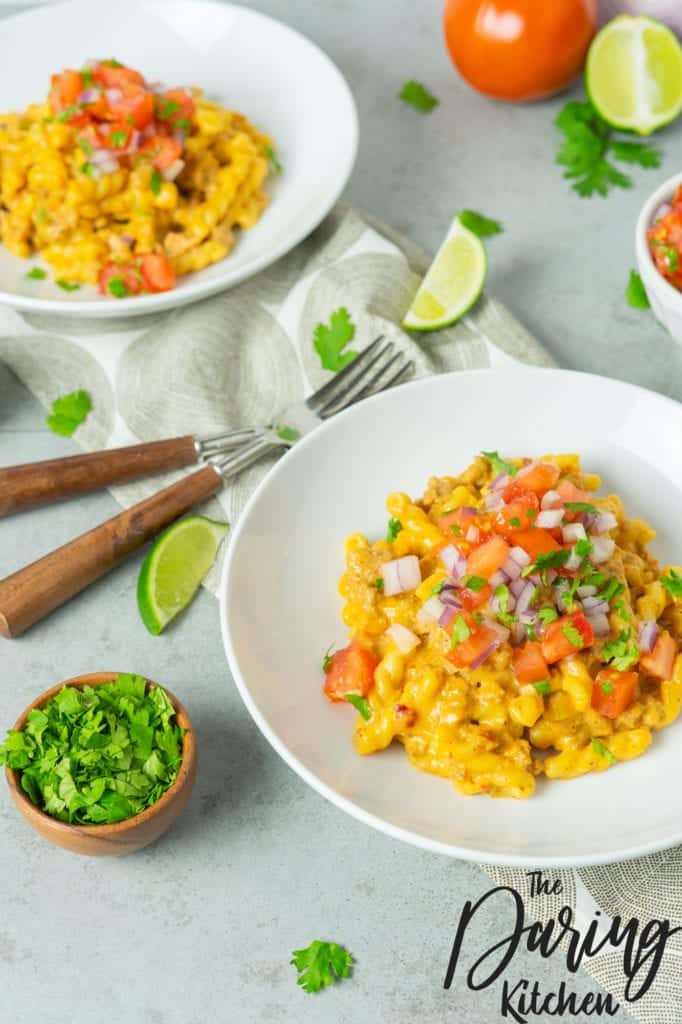 The Power of Cashews
Decadent mac and cheese can still be belly friendly and delicious! There are plant-based ingredients that create a perfectly luscious cream sauce.
Cashews make all the difference. Something magical happens when you substitute cashews for dairy in a recipe. When blended, these nuts produce an impressively velvety sauce. Cashews are also filled with tons of healthy fiber and fats. These keep you feeling full and satisfied longer. 
Remember, you must soak cashews in water for 4 hours before making your sauce!  
Sneaking Vegetables into Your Sauce
Cauliflower adds a secret serving of vegetables to your sauce. The color of cauliflower helps mimic the classic buttery texture of cheese sauce. Steamed cauliflower blends super easy. Did we mention that cauliflower is packed with nutrients? One serving of cauliflower contains an entire daily dose of vitamin c! Not to mention that it is plentiful in vitamin K and fiber as well.
If you are still feening for cheese, don't fret - we couldn't leave out the cheese if we tried! We included a bit of pepper jack cheese. This completes the sauce with a little kick and that addictive cheesy flavor.
Have Fun with Spices!
The dish cannot be Tex Mex without spices! This is what flavors the cheese sauce and makes it irresistible. Spices are also an incredible way to boost your daily dose of antioxidants and nutrients.
Cumin is an absolute must in all Tex Mex and Mexican cooking. This mighty spice is earthy and fragrant. It works well with garlic. Cumin also contains tons of antioxidants and supports healthy weight loss.
Adobo sauce is a major key in this dish's spice game. Adobo is a cornerstone of Mexican cooking. It is a mix of 2-3 types of chili peppers, along with garlic, vinegar, salt, and spices. Adobo is on the thicker side. It is often found in a can, where it often contains whole peppers. If you want to make your dish super spicy, add in one or two of the peppers for a serious kick. If you prefer something milder, stick to the recipe as is.
Taco seasoning is handy in this recipe. It gives turkey those flavors we crave in the perfect taco. Taco seasoning mainly includes chili powder, paprika, cumin, and garlic powder. You can buy taco seasoning at any grocery store. You can also make your own at home.
Turkey for a Protein Punch
Turkey is a great way to add protein to your diet. It is a much leaner alternative to ground beef. This makes it much easier to clean too! Ground beef renders a large amount of fat that you usually need to drain. Turkey simplifies this cooking process with no draining necessary. This keeps the flavor in the pan.
Make sure to purchase lean ground turkey to get more protein and to avoid excess grease.
Making Tex Mex Turkey Mac and Cheese with Fresh Pico:
This dish is made in a few simple steps. Make sure that you have a blender, saute pan, and pot for pasta water ready.
First and foremost, place your cashews in water. They need to soak for 4 hours.
Once the cashews are finished soaking, start to prep all your ingredients for your pico de gallo. Mix the ingredients together well and let sit on the side while you prepare the rest of the dish.
Now it is time to make your sauce. Drain your cashews and blend them at high speed with one cup of water. Then, add in your steamed cauliflower, garlic powder, salt, chipotle pepper, adobo sauce, and cumin. Blend everything until it resembles a cream sauce.
You can let your sauce rest while you cook your pasta. Boil enough water to amply cover the pasta. Once the water reaches a boil, add in and cook the pasta according to the suggested directions on the box. Drain the pasta and pour it back into the pot so that the pasta keeps warm.
To make the turkey, simply heat olive oil in your saute pan. Add in the turkey and gently break it up so that it resembles crumbles. You want the meat to brown and be fully cooked. This should take about 8 minutes. Then, you can add your taco seasoning and water. Mix and make sure the spices are well incorporated. Allow the mixture to cook for another 4 minutes. Then, place seasoned turkey in a bowl. 
In the same saute pan, add in your sauce from the blender. This will help you melt the pepper jack cheese into the sauce. Bring the sauce to a low simmer. Carefully stir the sauce while gradually adding in the shredded cheese. Let the sauce simmer for 3-4 minutes until it is thick. Do not be afraid to taste it as you go…!
We are ready to combine everything! Pour the cheese sauce and turkey into your pot of pasta. Make sure to stir as you go, ensuring all three components are well combined.
How to Serve Your Tex Mex Mac
We suggest bowls so that you can fill up on all that mac and cheese goodness. Do not forget to top it off with a generous amount of pico de gallo and a little cilantro flower garnish!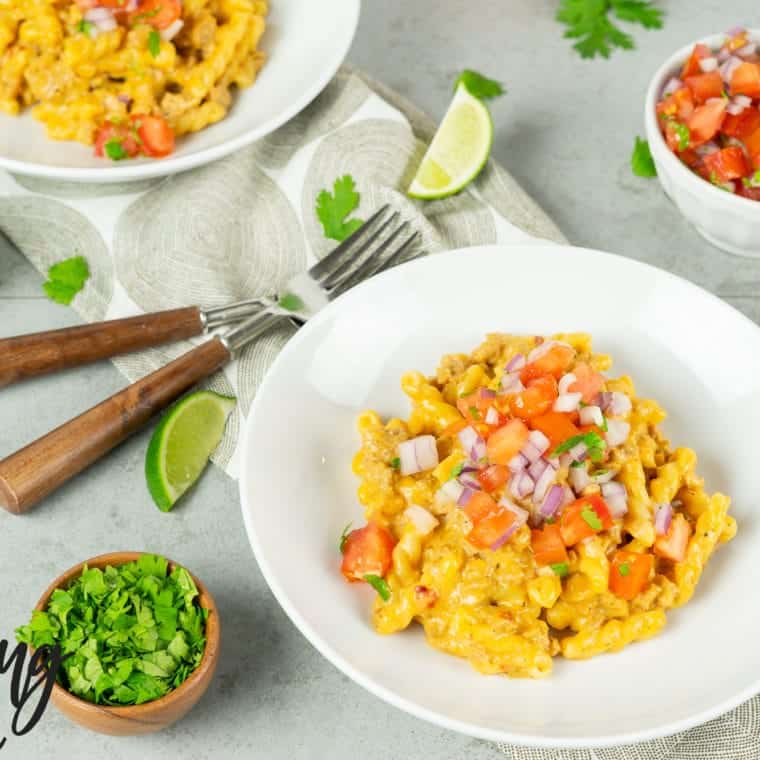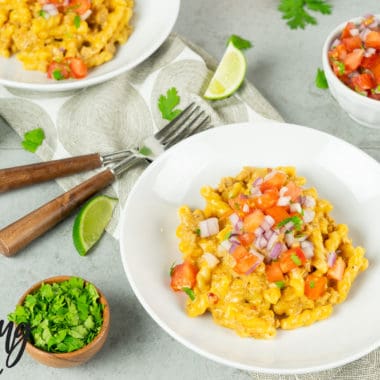 Ingredients
Turkey Mac and Cheese
¼

cup

Cashews

soaked for 4 hours and drained

1

cup

Water

1

cup

Cauliflower Florets

steamed

½

tsp

Garlic Powder

¾

tsp

Salt

1

Chiplote Pepper

small

¼

tsp

Adobo Sauce

¼

tsp

Cumin

1

tbsp

Olive Oil

½

pound

Ground Turkey

2

tbsp

Taco Seasoning

2

tbsp

Water

½

pound

Pasta

like gemelli, penne or rotini

4

oz

Pepper Jack Cheese

Shredded
Quick Pico:
1

medium

Tomato

diced

2

tbsp

Red Onion

diced

1

tbsp

Cilantro

chopped

½

tbsp

Fresh Lime Juice

½

tsp

Salt
Instructions
In a small bowl, mix together the diced tomato, red onion and cilantro. Add the fresh lime juice and salt. Stir and set aside.

In a high-speed blender, combine the soaked cashews and water. Blend on high for 1 minute until smooth. Add in the steamed cauliflower, garlic powder, salt, chipotle pepper, adobo sauce and cumin. Blend for 2 minutes until fully combined and set aside.

Bring a pot of water to a boil and cook the pasta according to the directions on the box. Drain and return to the pot.

In a saute pan over medium-high heat, heat the olive oil. Add the turkey and break up into small pieces. Cook for about 8 minutes until browned and cooked through. Pour in the taco seasoning and water. Stir well and let cook for 4 minutes.

Remove the taco-seasoned turkey from the pan and place in a bowl. Return the saute pan to the heat. Pour in the blender sauce and bring to a low simmer. Slowly add in the shredded cheese a bit at a time and stir well to melt the cheese and combine. Once all cheese has been added, let the sauce simmer for another 3-4 minutes until thickened.

Add the cheese sauce and taco-seasoned turkey to the pasta pot with the pasta and stir together. Serve into bowls and top with a big spoonful of pico.
Nutrition
Calories:
1920
kcal
|
Carbohydrates:
201
g
|
Protein:
121
g
|
Fat:
72
g
|
Saturated Fat:
28
g
|
Cholesterol:
226
mg
|
Sodium:
4324
mg
|
Potassium:
2070
mg
|
Fiber:
15
g
|
Sugar:
19
g
|
Vitamin A:
2422
IU
|
Vitamin C:
71
mg
|
Calcium:
940
mg
|
Iron:
9
mg