This Tex-Mex Turkey Mac and Cheese with Fresh Pico is a super fun twist on a cozy classic! For all its ooey-gooey goodness, this Mac and Cheese is actually light and healthy from a sneaky cauliflower-based bechamel sauce. By melting in some pepperjack cheese after the sauce is removed from the blender, we're able to bring all the delicious cheese flavor to the front of the dish without drowning in dairy. Adding in the ground turkey bulks up this dish to make it a protein-packed meal and the spoonful of pico on top rounds it out with some freshness and interesting crunch. Make this Tex-Mex Turkey Mac and Cheese with Fresh Pico for your next Taco Tuesday, Pasta night or anything in between!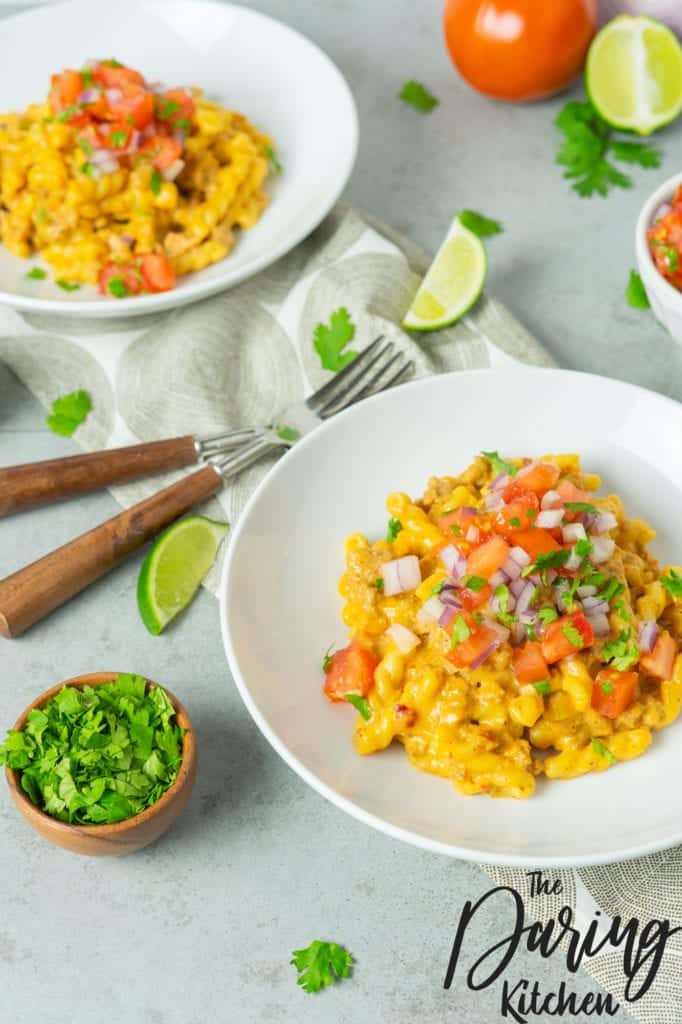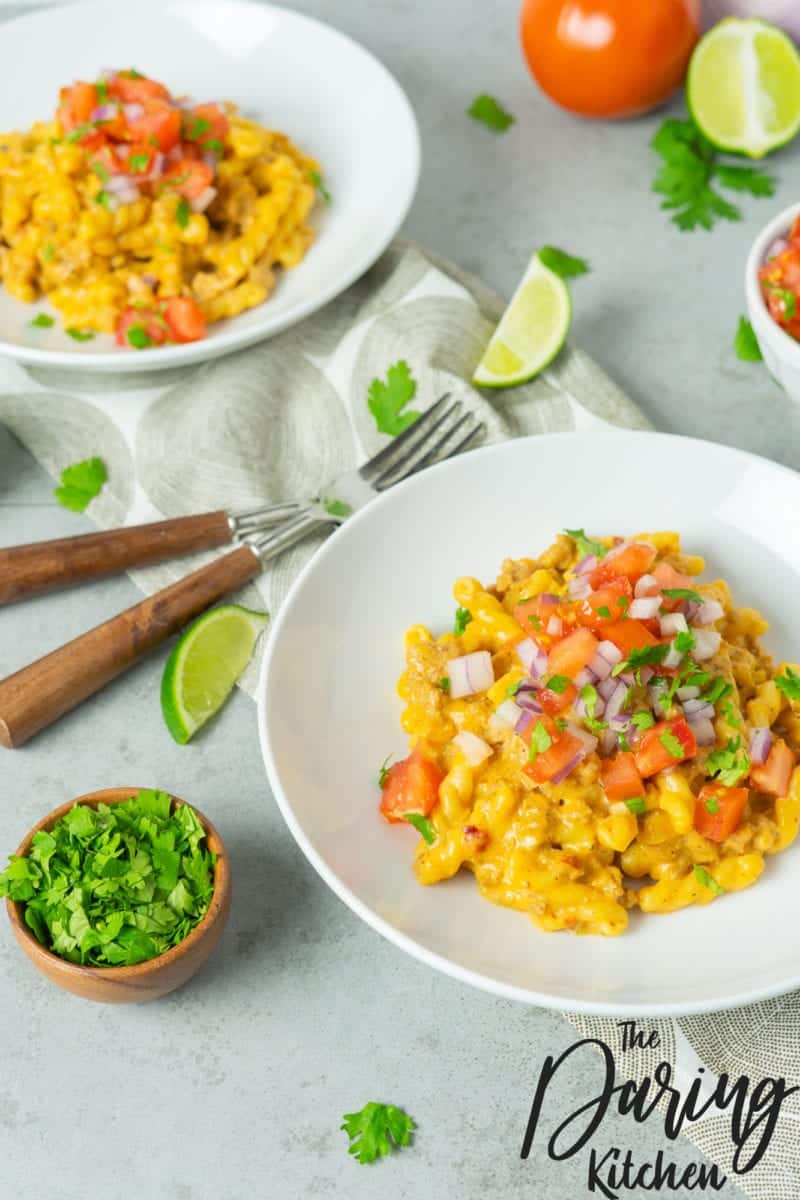 Ingredients
¼ cup cashews, soaked for 4 hours and drained
1 cup water
1 cup cauliflower florets, steamed
½ teaspoon garlic powder
¾ teaspoon salt
1 small chipotle pepper
¼ teaspoon adobo sauce
¼ teaspoon cumin
1 tablespoon olive oil
½ lb ground turkey
2 tablespoons taco seasoning
2 tablespoons water
½ lb pasta, like gemelli, penne or rotini
4 oz pepper jack cheese, shredded
Quick Pico:
1 medium tomato, diced
2 tablespoons red onion, diced
1 tablespoon cilantro, chopped
½ tablespoon fresh lime juice
½ teaspoon salt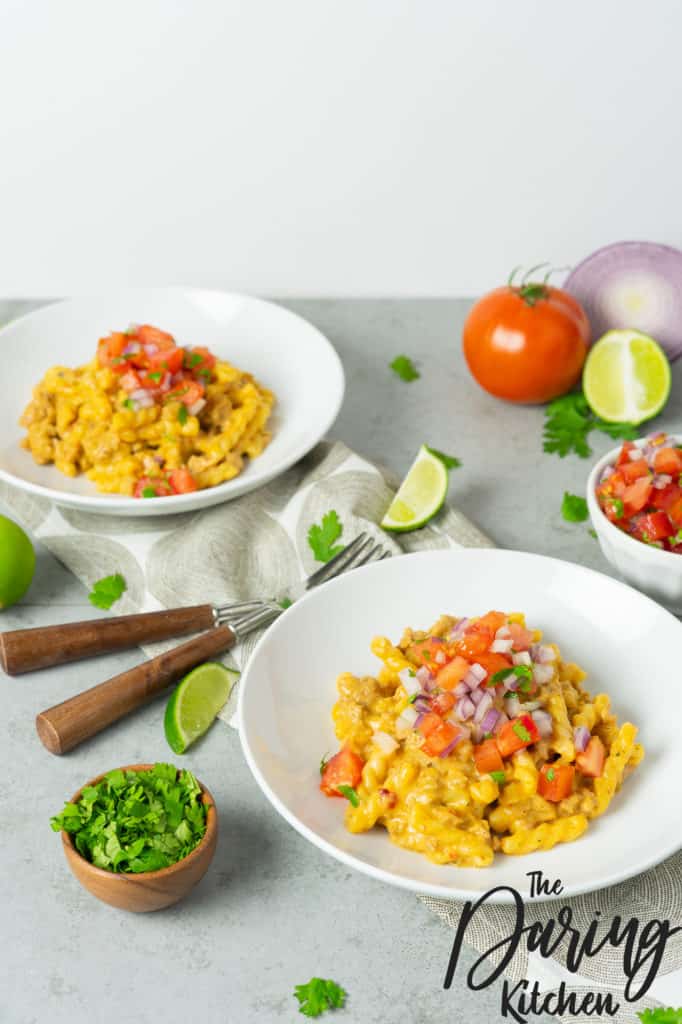 Instructions
In a small bowl, mix together the diced tomato, red onion and cilantro. Add the fresh lime juice and salt. Stir and set aside.
In a high-speed blender, combine the soaked cashews and water. Blend on high for 1 minute until smooth. Add in the steamed cauliflower, garlic powder, salt, chipotle pepper, adobo sauce and cumin. Blend for 2 minutes until fully combined and set aside.
Bring a pot of water to a boil and cook the pasta according to the directions on the box. Drain and return to the pot.
In a saute pan over medium-high heat, heat the olive oil. Add the turkey and break up into small pieces. Cook for about 8 minutes until browned and cooked through. Pour in the taco seasoning and water. Stir well and let cook for 4 minutes.
Remove the taco-seasoned turkey from the pan and place in a bowl. Return the saute pan to the heat. Pour in the blender sauce and bring to a low simmer. Slowly add in the shredded cheese a bit at a time and stir well to melt the cheese and combine. Once all cheese has been added, let the sauce simmer for another 3-4 minutes until thickened.
Add the cheese sauce and taco-seasoned turkey to the pasta pot with the pasta and stir together. Serve into bowls and top with a big spoonful of pico.