This is the ultimate Thai green curry recipe. With homemade green curry paste and even homemade naan, this recipe is a total flavorful feast!
The Best Thai Green Curry Recipe
There are all kinds of curries around the world. I am a particular fan of Thai curries. That's because I love how refreshing and fragrant they are. I also am super fond of coconut milk-based sauces, soups, and stews.
Yes, you can always just go to a Thai restaurant or get takeout. But, making your own green curry is on another level. You really get the full spectrum of flavors. Also, you can control how spicy the green curry is.
Traditionally, Thai green curry is spicy. That's because it has a lot of Thai red chili added to it when cooking. It's hard to control the spice level when you order curry, as every restaurant has its own preparations. When you make green curry at home, the choice is up to you!
Thai green curry is a perfect balance of savory and sweet. It's creamy, thanks to good ole coconut milk, and filled with delicious vegetables. Served with fresh jasmine rice and fluffy naan, you are ready for an amazing feast. Naan is typically served with Indian dishes, but I just love how great it tastes with green curry! So, I decided to share my ultimate homemade naan recipe as well.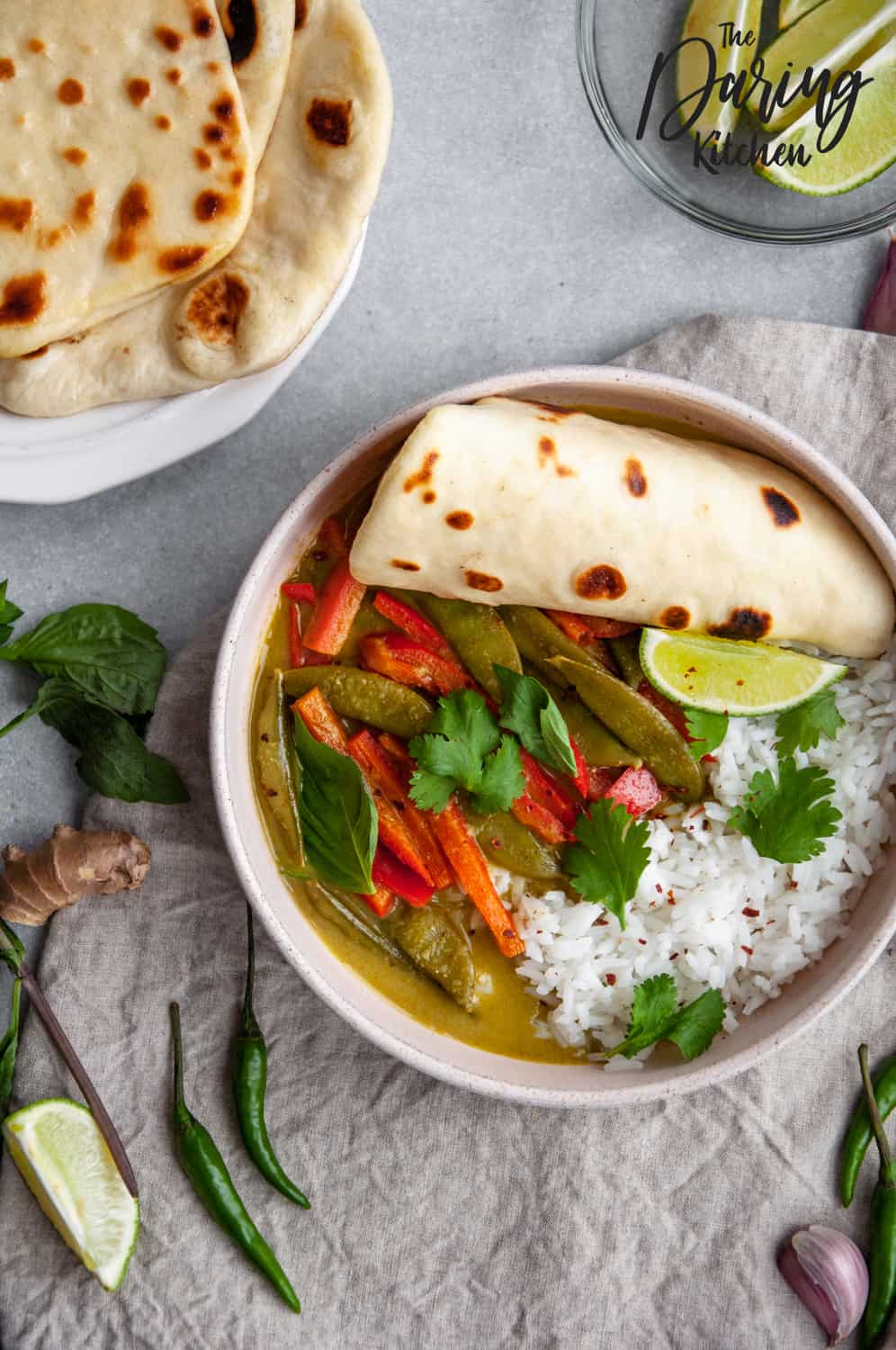 How to Make Homemade Green Curry Paste
At the heart of any Thai curry is the curry paste. This paste is what gives the curry color, flavor, and incredible aroma.
You can easily find premade green curry paste at the store. Each company has its own take on curry paste, with some being sweeter and others more earthy. When you make your own curry paste, you don't have to worry about any of that!
Thai green curry paste is simple. Once you have all the right ingredients, it isn't hard to make. There are 14 ingredients in this curry paste. Don't let that scare you! Each serves a delicious purpose.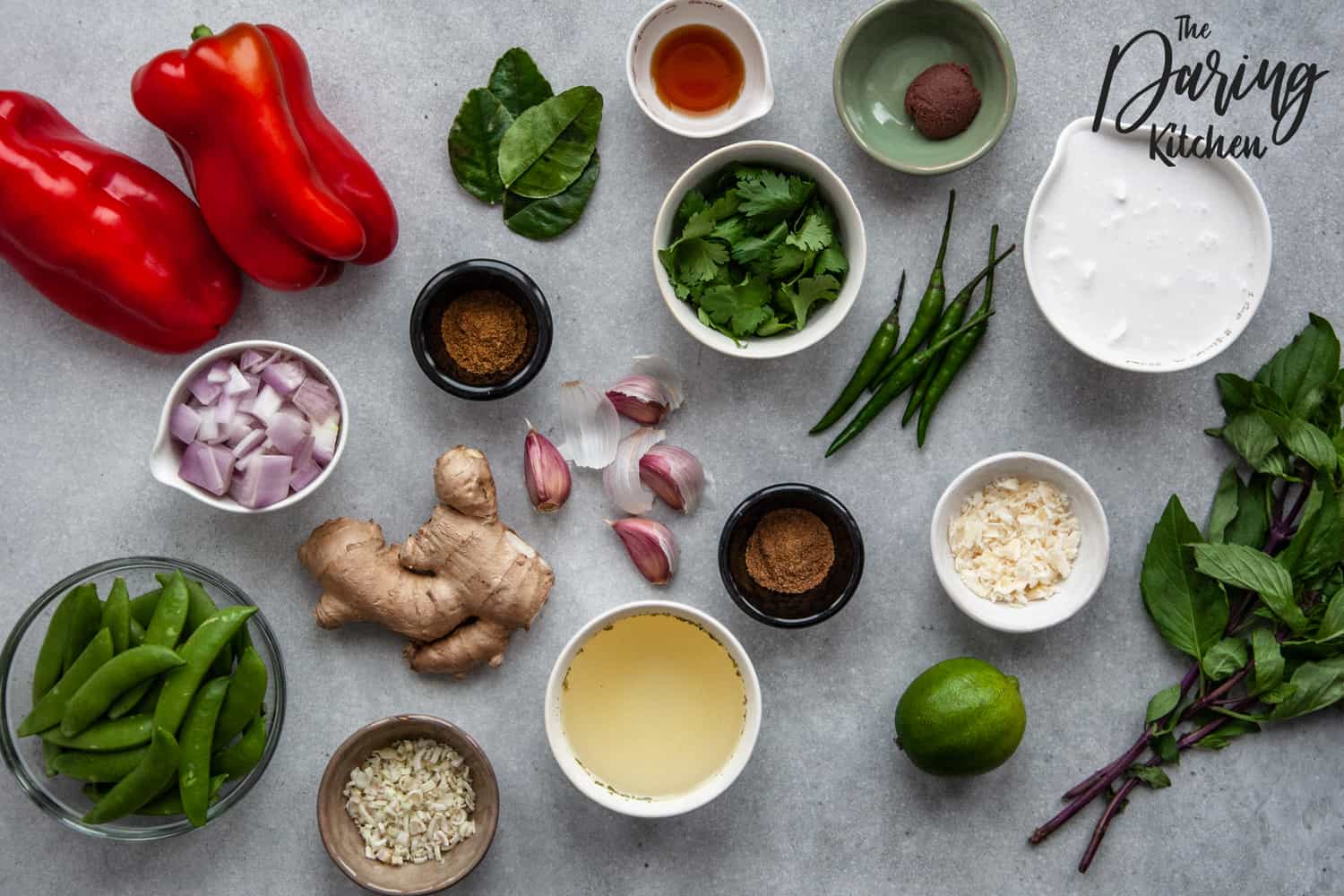 What you will need for home green curry paste:
Spices: cumin and coriander
Herbs: thai basil, cilantro
Aromatics: ginger, garlic, lemongrass, shallot
Thai green chili
shrimp paste
fish. sauce
palm sugar
lime
coconut milk
Many of these ingredients you can find at your local grocery store, like coriander, ginger, and garlic. But, there are a few ingredients you may need to seek out in a specialty store or on the internet. Fish sauce, shrimp paste, and Thai basil are unique and worth finding. They lend the unique umami flavors to the Thai green curry that you need. You can also get a lot of use out of these ingredients in general. They can really add an edge to stir fry and noodle dishes.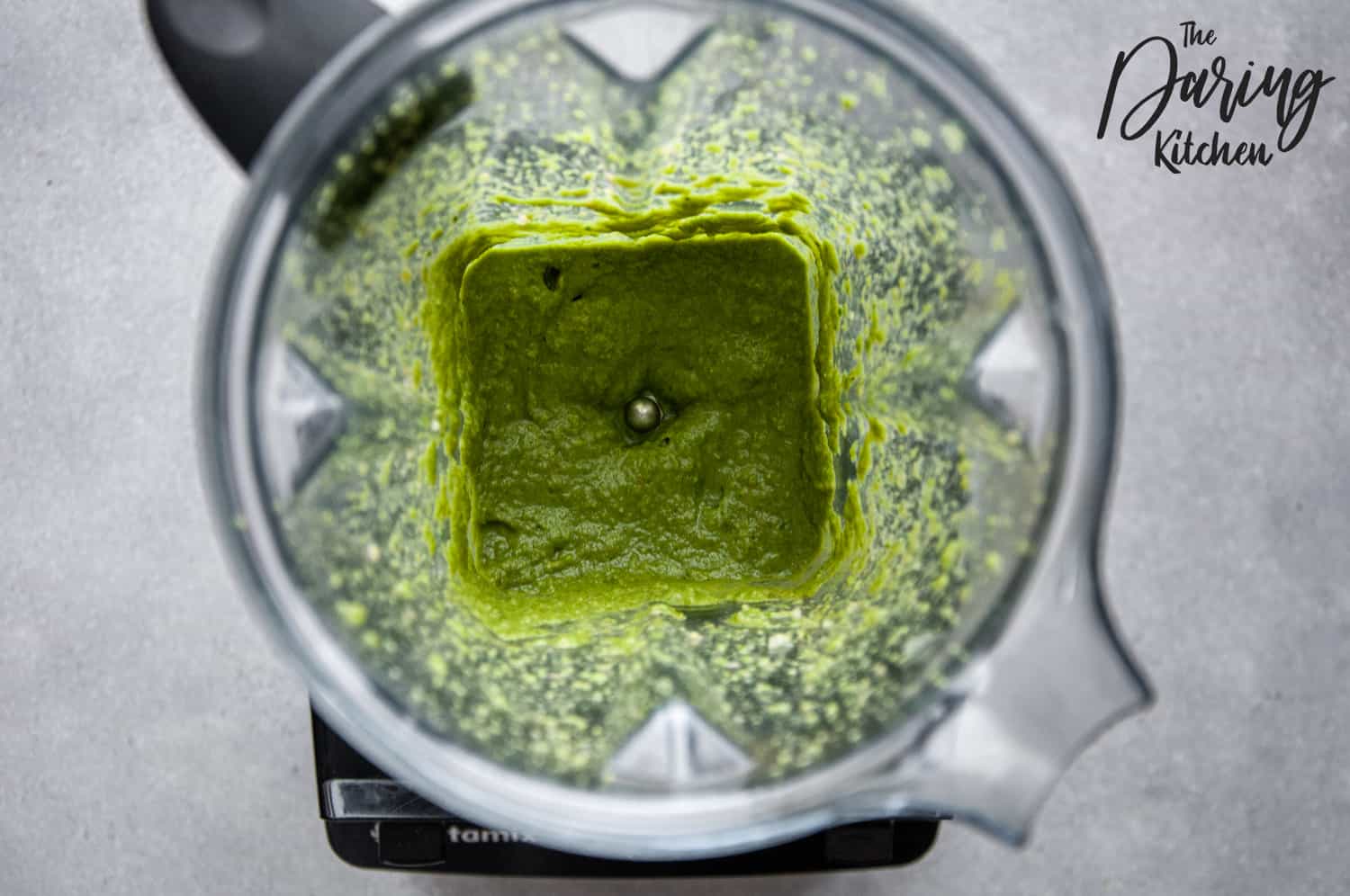 So, how do you make the paste? Easy! Blend it all together in a food processor or blender until even. If the mixture is too runny, add more coconut milk. This recipe makes enough curry paste for a few servings. once your paste is done, it's ready to be combined with coconut milk and all the veggies you love.
You can always increase the recipe and store the green curry in the fridge for a few days. My tip? Freeze your green curry in ice trays. This will let you have curry paste on hand whenever you need it!
How to Make Homemade Naan
Most people don't think naan when they think Thai green curry. They should!
Naan is a traditional Indian flatbread I think I can eat with nearly everything. It's soft and chewy, great for dipping and wraps. The secret ingredient is plain yogurt, which gives this bread extra texture and moisture. With a rich and spicy dish like green curry, naan helps to cool off your palate as you eat.
Typically, naan is made with a tandoor oven. The dough practically sticks to the oven, cooking it and giving the flatbread its classic 'charred' look.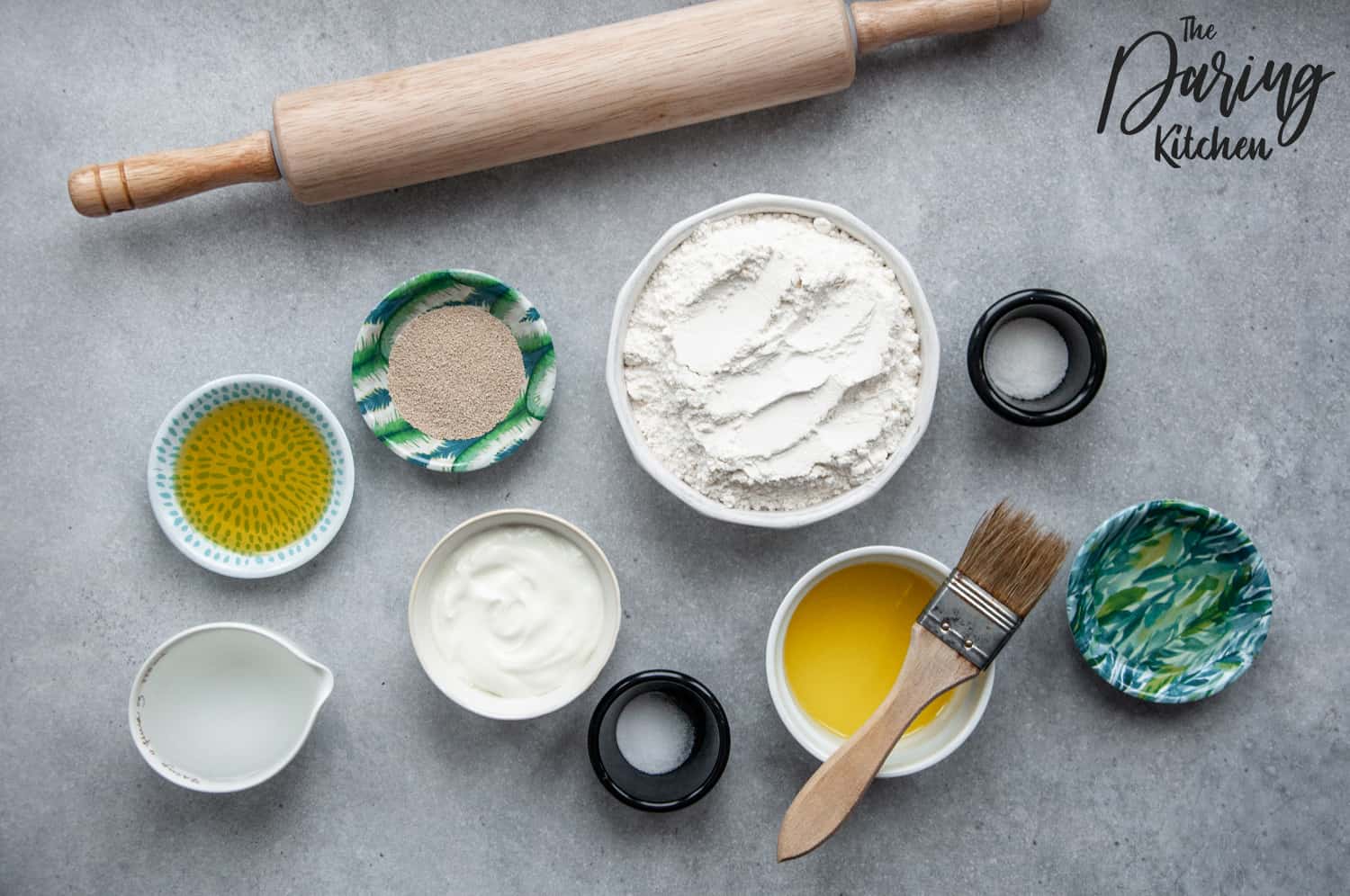 The good news is you can easily make naan at home! All you need is a few key ingredients, a standing mixer, and a cast iron or griddle. The whole process takes about an hour and a half.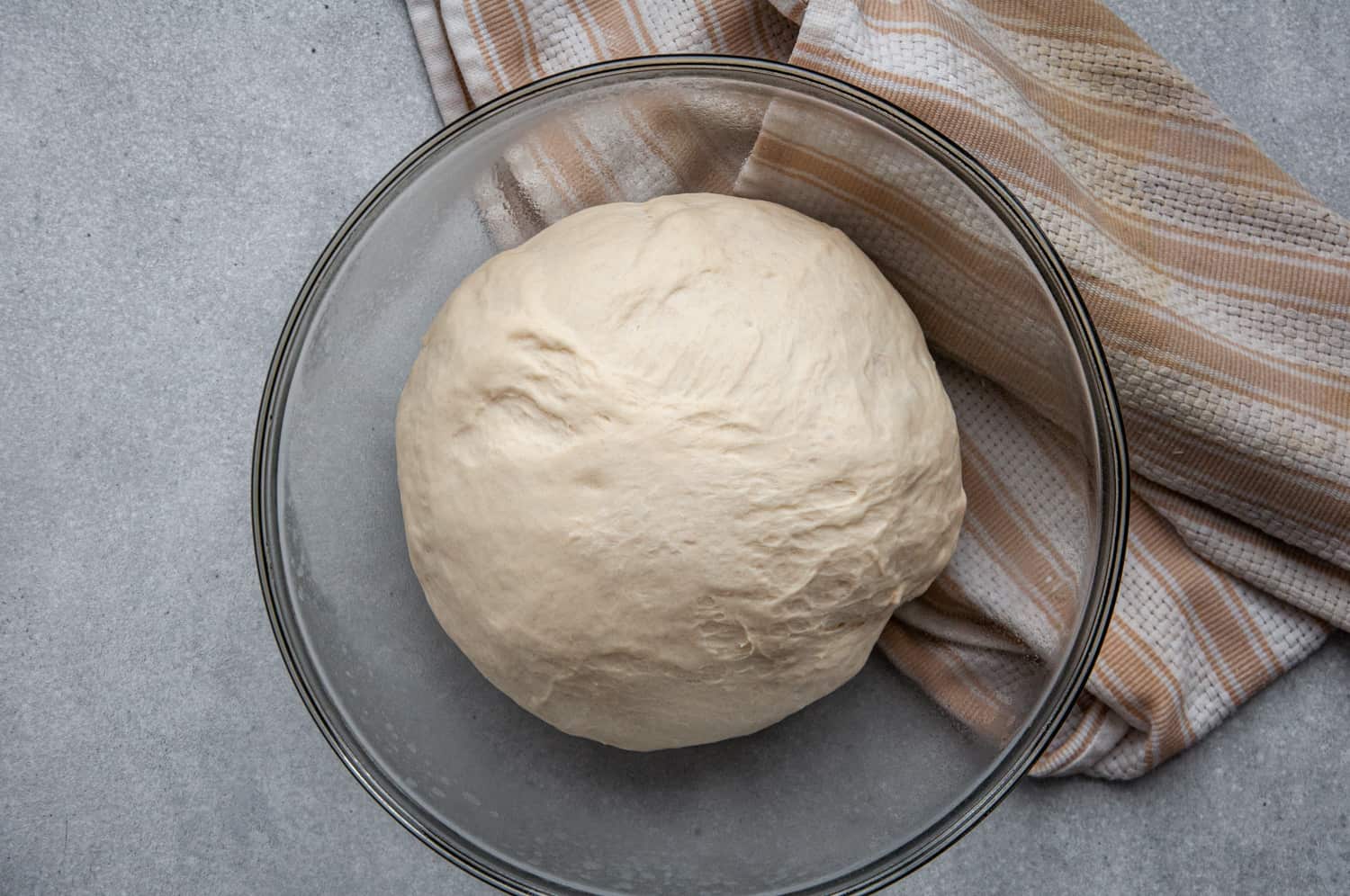 Why so long? Well, once you make your dough, it needs to rest for around an hour. This allows the yeasts to activate, which will give the dough a more airy fluffy character.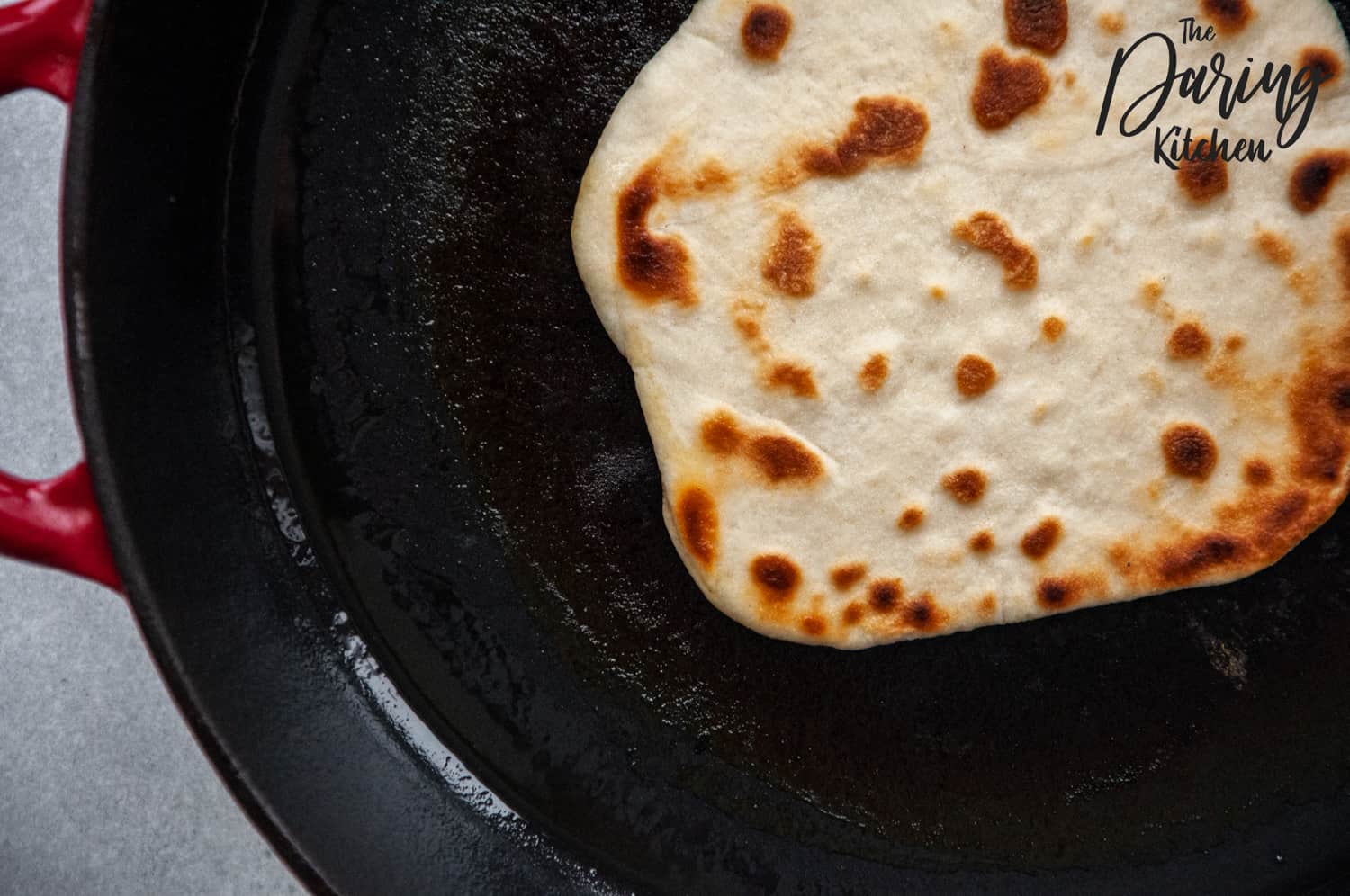 Once your dough is ready, cut it into 8 wedges. Roll out the pieces of dough so that they are flat and resemble naan bread. Then, you heat up a cast-iron over medium heat with some neutral oil. When the oil is hot, place a piece of rolled out dough in the pan. It will only need a couple of minutes on each side.
Homemade naan bread is really that easy! Your work pays off when you take a bite of warm naan, fresh out of the skillet.
How to Serve your Thai Green Curry
Thai green curry tastes even better with just the right sides and garnishes. A classic way to serve green curry is with a lime wedge and fresh Thai basil. You can even get fancy and top it with crispy shallots or green onions.
When it comes to sides, I love the combination of naan and jasmine rice. The rice absorbs all the delicious green curry flavor. Plus, you have some wonderful bread for dipping!
No matter what you choose, you will definitely be satisfied with all the bold and delicious flavors in this dish!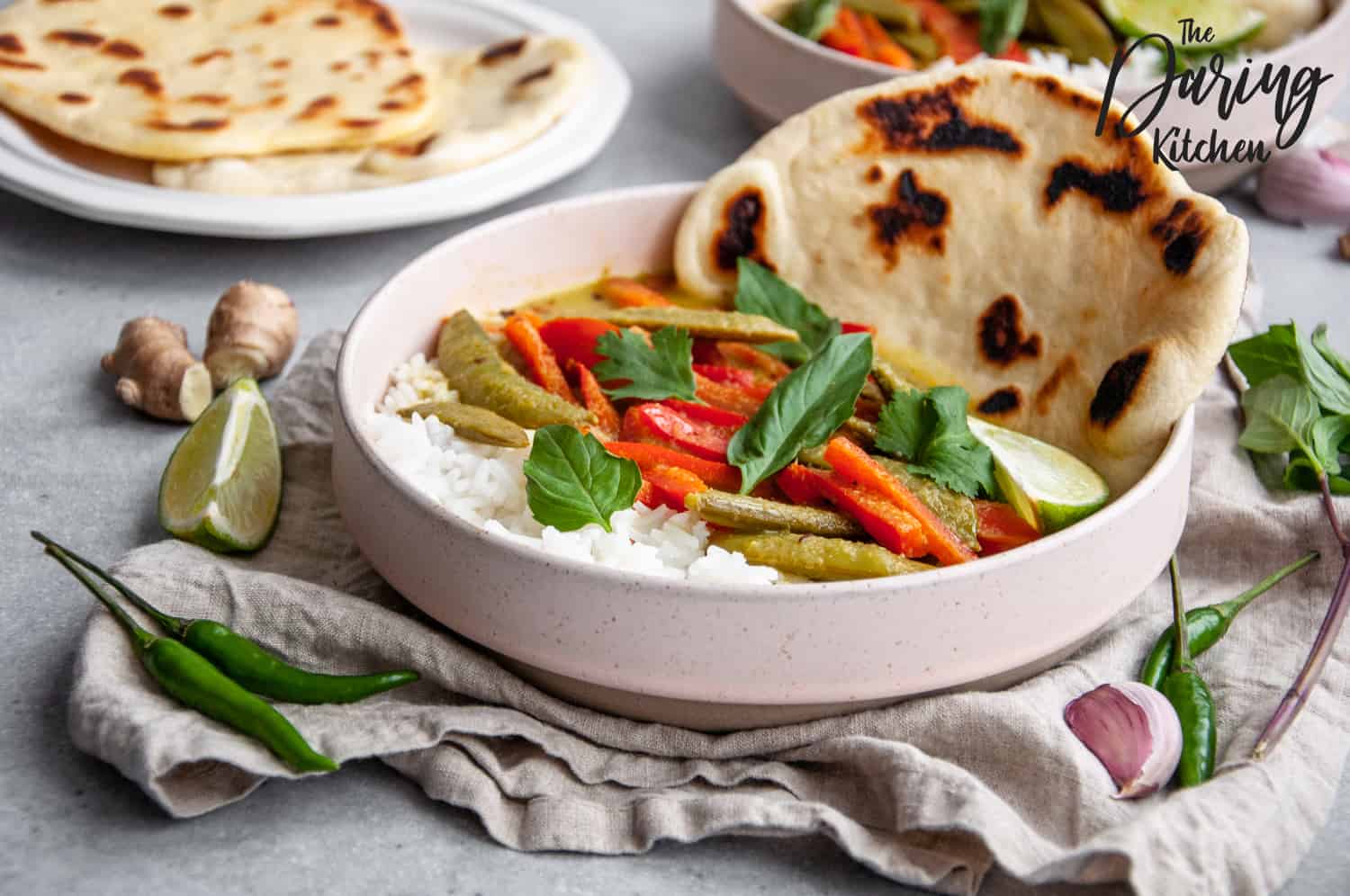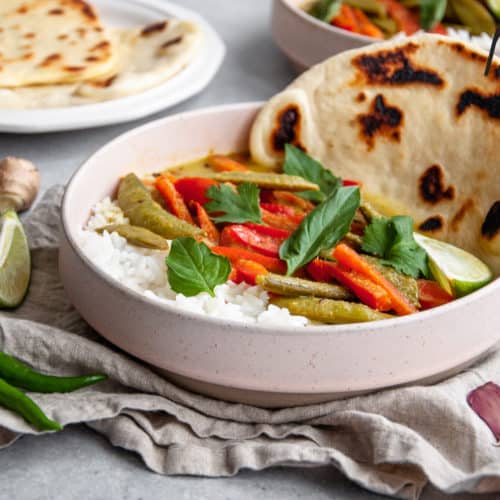 Thai Green Curry with Naan
With warm thai green curry and fresh naan bread, this meal is perfect for any night of the week.
Print
Pin
Rate
Equipment
Food processor

Stand mixer with dough hook attachment

Large skillet

Cast-iron skillet

Bench scraper

Rolling Pin

Pastry brush
Ingredients
Green Curry Paste
1

tsp

ground cumin

1

tsp

ground coriander

3

tbsp

lemongrass

minced

3

tbsp

ginger

grated

4

cloves garlic

minced

½

cup

cilantro leaves

1

shallot

chopped

4

Thai green chiles sliced in half

seeds and ribs removed

¼

cup

Thai basil

chopped

1

tsp

shrimp paste

2

tsp

fish sauce

1

tsp

palm sugar

zest and juice of 1 lime

3

tbsp

coconut milk
Vegetable Curry
1

green curry paste

1

cup

coconut milk

1

cup

vegetable stock

1

tbsp

palm sugar

2

bell peppers

sliced

1

cup

sugar snap peas

4

makrut lime leaves

salt and pepper

to taste

Thai basil leaves, cilantro, and red pepper flakes

for garnish
Naan
1

tsp

sugar

½

cup

warm water

1

packet (0.25 oz) active dry yeast

2.5

cups

all-purpose flour

½

cup

plain yogurt

2

tbsp

olive oil

½

tsp

salt

1

tbsp

vegetable oil

2

tbsp

butter

melted
Instructions
Make the naan dough
Combine sugar, salt, water, and yeast in the bowl of a stand mixer with the dough hook attachment. Turn on the mixer and add yogurt and olive oil, then slowly add flour. Continue kneading on medium speed for 5 minutes.

Transfer dough to a lightly greased bowl and cover with a damp kitchen towel. Let rise until almost doubled in size, about 1 hour.
Make the curry
Make the green curry paste: combine all ingredients in a food processor.

In a large skillet, cook the green curry paste for about 1 minute, until aromatic.

Add vegetable broth and coconut milk and stir to combine.

Add the veggies and lime leaves and bring to a simmer. Simmer over medium-low heat, covered, for about 15 minutes, or until the vegetables are softened.

While veggies are simmering, finish the naan: Preheat a cast-iron skillet over medium-high heat and add 1 tablespoon vegetable oil. Divide the dough into 8equal portions. One at a time, roll dough into a circle about 6 inches in diameter, and place onto the preheated skillet. Once it puffs up (around 45seconds) flip and cook on the other side for about 45 seconds longer. Repeat until all of the naan is cooked. Brush with melted butter.

Once vegetables are tender, finish curry with basil leaves and remove lime leaves before serving. Serve naan warm alongside curry and white rice, if desired.
Nutrition
Calories:
2600
kcal
|
Carbohydrates:
322
g
|
Protein:
61
g
|
Fat:
124
g
|
Saturated Fat:
71
g
|
Cholesterol:
73
mg
|
Sodium:
3383
mg
|
Potassium:
2325
mg
|
Fiber:
19
g
|
Sugar:
40
g
|
Vitamin A:
10042
IU
|
Vitamin C:
378
mg
|
Calcium:
461
mg
|
Iron:
33
mg