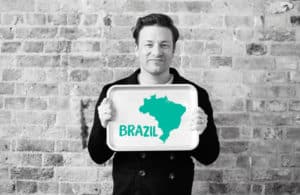 "The world is in the midst of a global food crisis and Brazil has a chance to help fix it. One in ten children in the world under the age of five suffer from malnutrition. Around 41 million children are overweight or obese, while at the same time 159 million children are so hungry and undernourished that their bodies cannot grow properly. Humanity finds itself in this mad situation where billions of us eat too much of the wrong food, while billions more have too little good food. In many countries, communities, villages, and even within some families, obesity and under nutrition now coexist.
The cost of obesity and under nutrition to all countries is staggering. It can be measured by the direct costs to health systems of dealing with these problems; by the loss in productivity of workforces; or by the loss of future potential. Globally, the total economic impact of obesity alone is estimated to be $2 trillion a year. That statistic alone should be enough to kick us all into action.
The world has a lot to learn from Brazil about how to tackle this crisis. According to the World Food Programme, the proportion of Brazilians who are undernourished fell from 11.2% between 2000 and 2002 to less than 5% between 2014 and 2016. But, like in so many other countries around the world, overweight and obesity have increased at alarming rates within the country. An astonishing 54% of Brazilians are now overweight, with 20% obese. Some very good policies have been put in place but more needs to be done to address this health time bomb. And, more still needs to be done for those who remain undernourished.
We are now just a few days from the opening of the 2016 Olympic Games and the whole world will be focused on what happens in Rio de Janeiro. Over 200 countries with 10,000 athletes will take part, while millions of viewers follow the action. With the global spotlight firmly on Brazil, this is the perfect moment to raise awareness of the big challenges the world faces, particularly around food and nutrition.
The Brazilian government is hosting an event called "Nutrition for Growth" on 4 August in Rio. We hope this meeting will be used to drive forward progress globally on all aspects of food and nutrition. Specifically, we hope that governments will take the opportunity of this meeting in Rio to announce that a much-needed major global summit on nutrition will be held in 2017, so that the world can come together and address this global food crisis once and for all.
As chefs, we know that a Food Revolution is not only urgently needed, but also entirely possible. That's why we're joining together to bring about change and call for action. We both believe that a balanced diet is essential for good health, wellbeing, and a productive, happy, fulfilled life. It should be a human right for everyone to have access to affordable and diverse healthy food.
Across the world we need better food education so that children understand what they are putting into their bodies; we need better food to be available to children in schools and in their daily lives; we need to stop the aggressive marketing of junk food to children; and we need better labelling so people understand what's in the food they're consuming.
We also need to curb the waste along our food value chain. One third of food produced in the world is wasted, and yet millions of people go hungry. The volume of food we waste is actually enough to feed the world, and during the Olympics in Rio we'll be showing how. The Refettorio Gastromotiva, a new restaurant-school in the Lapa neighborhood of Rio de Janeiro, will use surplus ingredients to serve nutritious, healthy meals to underprivileged community members, with dignity. This initiative invites all of us to learn about and fight food waste, malnutrition and social exclusion with celebrated chefs from around the world including Massimo Bottura (Food for Soul) and David Hertz (Gastromotiva). The venue will be open during the Olympic Games in Rio and it will continue to operate afterwards as an important legacy to the city.
The Food Revolution should be prepared by many hands. So we are inviting the Brazilian people and governments worldwide to join us in this effort by putting the discussion of healthier food on the plates of every world leader who will be in Rio for the Olympics. Watch this space…"
 While all eyes are on Brazil this month, the government's 'Nutrition for Growth' event on August 4 in Rio is an exciting opportunity to drive forward progress globally, on all aspects of food and nutrition. It adds momentum and energy to a much-needed Food Revolution, across the world. First held by the UK when London hosted the 2012 Olympics, 'Nutrition for Growth' has seen 94 governments, UN agencies and companies endorse the 'Global Compact on Nutrition', which pledged more than US $4 billion to tackle undernutrition. Today's event is an opportunity for world leaders to build on this legacy and make new and improved commitments.
Discover more at Jamie's Food Revolution blog and join the conversation at #FoodRevolution or by joining the #Nutrition4Gold Twitter campaign on Thunderclap.