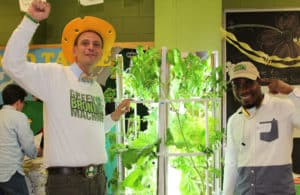 The newly announced Good Food Machine in Canada gives top notch food growing and cooking kits to teachers so kids can learn to grow, harvest, cook and eat healthy food in their classroom.
This novel cross-sector partnership between LoyaltyOne Air Miles, FoodShare Toronto and Global Teacher finalist Stephen Ritz (of educationally acclaimed Green Bronx Machine) will bring this exciting new food education program to Canadian children this September.
"LoyaltyOne Air Miles is thrilled to help teachers help kids form healthy eating habits for life" says Angela Simo Brown, Head of Social Impact Strategy & Innovation at LoyaltyOne Air Miles. "Working with the invaluable expertise of Stephen Ritz and FoodShare Toronto ensures the program will have the support it needs for ongoing success."
Food education and getting kids hands-on with real food is the key to the Food Revolution and through an ongoing curriculum of how to physically grow, cook and eat healthy food in the classroom, this program will transform the health and eating habits of students in primary and secondary schools.
The Good Food Machine is based on the incredible Green Bronx Machine, the first indoor edible classroom in NYC which grows enough food to feed 450 students daily. The greatest success of this US program is the measured impact it has on the children, with 40% daily attendance increased to 93%, 50% reduction in behavioural isuues and bullying and 100% of post-secondary graduates in training or working wage jobs.
Phase One sees LoyaltyOne providing Good Food Machine kits to priority schools within the Toronto area. Each kit provides key essentials including aeroponic tower gardens for growing food indoors; a mobile classroom kitchen; access to Stephen Ritz's curriculum plus hisclassroom teachings via livestream; and support from FoodShare Educators who will visit the schools regularly to bring food literacy education to life through teacher mentorship and in-class workshops. In addition to the donated kits, the Good Food Machine is available to all Canadian schools as a purchased program.
Find out more about this exciting new program and how you can get your own Good Food Machine here.
Image: Stephen Ritz of Green Bronx Machine with graduate of the program, Nadje.