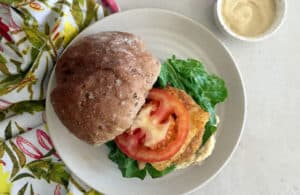 In honour of Meat Free Week we reached out to our Food Revolution Ambassador network to get some real life inspiration and stories about how they approach Meat Free Week or if not the whole week, then at least cutting back a little.
"I respect and love the concept of cutting back on our meat consumption through campaigns such as Meat Free Week. Getting all of us to think about what over consumption of meat is doing to our planet, to our bodies and to our animals is something to ponder about. The fact that we observe this together makes it more of a pact and I absolutely adore that about this.
My parents are vegetarians. However, mum and dad always allowed me to make my own choices with respect to everything in life. So when it came to food it was the same. About the time when I was four or five, one day we were out with my uncle who enjoyed meat as much as vegetables. He offered me the meat preparation he had ordered. My parents urged me to give it a try (you must try everything and then decide whether you like it or not was the unsaid rule at our home when it came to food). I happened to like it and my vegetarian mum immediately started looking out for recipes she thought I would enjoy. From that day onwards, different forms of meat started appearing on our dinner table occasionally. We still remained largely a vegetarian household though. In our house, vegetables didn't appear as 'sides'.
When I grew up and set up my kitchen, meat began to show up frequently. However, I didn't give it much thought when vegetables were the mains most days and meat was the side. Initially I had trouble understanding friends who said vegetables weren't exciting enough. It was only later I realized if you had been a faithful meat eater all your life it could be pretty challenging to think about how a plate full of vegetables could be both delicious and a complete meal in itself.
So this whole week; I urge you to give vegetables another fair chance. For me, this week is not about giving up meat but it is about embracing vegetables. Let me take you through some of the ways my family enjoys vegetables. I am not sharing recipes but simply some ideas to get all those creative juices flowing! Cold salads and steamed vegetables will soon be a thing of the past.
Dips
I love having a number of them in my refrigerator all the time. Delicious to dunk the veggies in and they make for great spreads in sandwiches and with baked "fries". Try offbeat combinations like a charred red bell pepper, dates, walnuts and a pomegranate dip.
Gratins
A little bit of cheese always makes everything in life seem good! Especially when inside a gratin. My little girl's favourite is a trio is cauliflower, broccoli and cheddar with a green salad on the side.
Curries
I grew up on curries. Simmered over low heat, a bowl of curry is a riot of caramelized vegetables, spices and herbs. I like to pair it with rice or a flatbread along with a bowl of raita or a cold salad. Coconut milk, carrots and beans seasoned with mustard seeds and curry leaves with poppadoms, if you like!
Soups
A bowl of soup is like happiness and warmth around your cold hands on a chilly day. Most days we don't even follow a "recipe". It is about working with what we have on hand. I like to give the good old tomato soup a makeover with the addition of lentils and a generous squeeze of lemon.
Pilaffs
Pilaffs are my one pot meals. All that rice glistening with the juices and flavours from the vegetables, throw in some lentils too and you have a nutritious bowl on your table. Plus just one pot to wash! Pumpkin is something that my daughter doesn't enjoy. However pair it with mushrooms in a pilaf and she approves of it!
Warm Salads
Who says salads have to be always cold! Warm salads make for wholesome and filling meals and so perfect for days when you don't want to spend a lot of time in the kitchen. Give me a lentil, sautéed vegetables and grilled halloumi salad any day and I am a happy girl.
Wraps
Grilled or steamed vegetables can get a little boring on their own sometimes so I like to dress and wrap them up in a tortilla or a pita bread. Such a great way to work magic with vegetables. Skewer some paneer, bell peppers and grill them in a yoghurt sauce. The possibilities are endless.
Croquettes
I love to "croquette" all kinds of vegetables. Zucchini, potato, cauliflower, spinach and even onions appear on our table regularly. Bake them instead of frying and make it healthier. Add a little a bit of chutney or dip on the side and it is a party on a plate.
Burgers
Vegetable burgers? I know what you are thinking! No match for a meat one, right? Try switching the regular vegetable patty for a falafel, layer it with some halloumi (all burgers need cheese!) and a hummus "sauce" and you will be a convert I assure you.
So go rekindle that love with the veggies this year and celebrate Meat Free Week!"
Check out meatfreeweek.org for loads more info and inspiration and visit Prachi's blog here for recipe ideas.