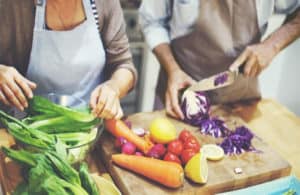 When did you last toss a salad… in the bin? Let's rephrase that. When did you last toss a packet lined with deep green sludge in the bin?
Your answer will probably depend on whether you are reading in the summer time when millions of us fill our shopping baskets with bagged salad and its promise of a quick, healthy and fresh meal.
Salad squander stats
According to new research from environmental charity Hubbub, three quarters of Londoners buy bagged salad at least once a week over the summer. Only half of these optimistic folk use it all, and shockingly, a quarter of them throw away at least as much as they eat. The fact that salad waste clocks in well above average in terms of household waste attests to the fact that it's really hard to keep these convenient little packages looking as fresh as they did on the day of purchase.
Turn over a new leaf
One of Hubbub's campaigns is aiming to make it easy for us to turn over a new leaf this summer. #NewLeaf combines solid storage tips and an armoury of recipes for using up salad items past their best to help UK households save money and reduce their food waste. Recipes range from Panzanella and Summer pudding – both of which mop up stale bread as a well as odds and ends of seasonal fruit and veg – to 'bendy' cucumber soup and a 'less than fresh' spinach curry. The likes of LEON, Hugh Fearnley-Whittingstall and top chefs at Pied à Terre have contributed to the campaign confirming that, yes, you can cook lettuce.
Londoners can join Hubbub for a cheap cooking class to broaden their salad horizons, or get a hands-on introduction to home composting. But wait – before you dash off to plant a window box, we want to introduce a second quick way that you can save this summer.
Travellers check
Are you going anywhere nice for your holidays? Got your travel insurance? Check. Sun cream? Check. Selfie stick? Check. Oh and have you checked the fridge? No. Well you're not flying solo. According to fresh research from Hubbub and Unilever, in the UK we waste a whopping £1/2 billion worth of food before heading off on holiday.
More than half of people surveyed admitted to throwing away perfectly edible food before they left. Within the first week of the summer break alone, this wastage will amount to £12 million worth of edible groceries in the UK, with dire implications for the planet and also for our holiday spending money!
Your freezer is your friend
#TravellersCheck is a bright new campaign which shows that five minutes of pre-planning will help you to come home to a well-stocked kitchen and happy neighbours. It draws attention to the preserving power of our freezers, following research findings that 45% of people said they threw away food because they thought it couldn't be frozen. If you've got any queries about what can't be frozen, which is near enough everything bar hard liquor, delicate cream and lettuce, check out 12 foods you thawed you couldn't freeze and their freezer myth busters. This post came in response to widespread misconceptions that you can't freeze milk, ham or hard cheese. You can.
Intriguingly, the research also discovered that a massive 81% of people would be happy to receive unwanted food from their neighbour, but only 13% of people currently do this, and the thought hadn't ever occurred to 26% of respondents. You can start this cultural shift by downloading a postcard for your neighbours detailing the food items that you'd like to pass along before going away on holiday.
Want to find out more quick tips for a leaner, greener lifestyle? Sign up to receive updates from Hubbub – from food and fashion to homes and neighbourhoods, they have a bundle of fun and simple ways to make a positive difference daily.