You've probably come across cookware sets made from all kinds of materials. All you have to do is walk into any home supply store and you'll be faced with a wide variety of products, from cast iron sets to stainless steel cookware. But did you know that there are also titanium cookware sets?
These are becoming more and more popular, and for good reason. They're lightweight, scratch-resistant, almost always nonstick, and durable. Moreover, they boast great heat distribution and are completely safe for your health.
Getting titanium cookware for your kitchen is a good idea if you like to try out new things. You can achieve different results when cooking thanks to how these pots and pans work.
In this article, we'll explore the best titanium cookware sets you can buy online. We've ranked and reviewed these products taking into account how effective, practical, and safe they are. We've also put together a buyer's guide to help you pick out the best cookware set for your needs. Lastly, you'll find a frequently asked questions section all about these kitchen essentials.
1) Fleischer & Wolf 10-Piece Titanium Covered Pans and Pots Set: Premium Pick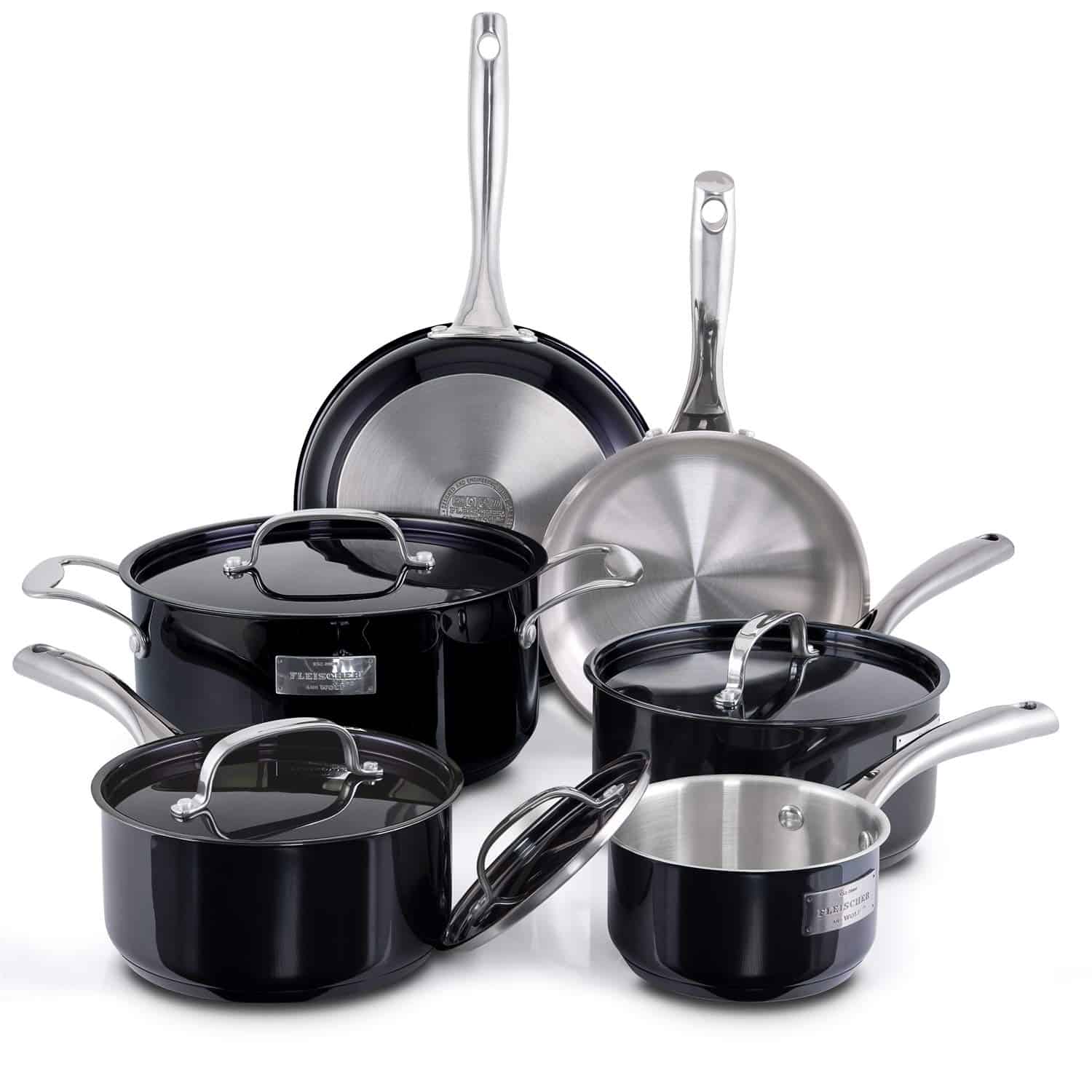 If you're comfortable spending a few hundred dollars more, we recommend getting the Fleischer & Wolf hard anodized titanium cookware set. It costs almost $300 but its slick design and great performance justify the cost.
The set comes with ten pieces, once you've counted the lids. You'll get two fry pans, three covered saucepans, and one covered Dutch oven. Granted, that's a little less than what you get with the two sets we've already mentioned, but it's more than enough for your day-to-day cooking.
Each pot and pan is made with stainless steel and titanium layers. This ensures your food will cook evenly to perfection.
All pieces are also nonstick and non-toxic. This lets you cook without oil, if that's something you want to do. It also makes cleanup a lot easier when you're done cooking.
A great thing about this set is that every item has good-quality handles. They're all made from stainless steel and fixed in place with sturdy screws. This is one of the reasons why these pots and pans are so durable.
Looks are also important. That's why the Fleischer & Wolf pieces look so slick and professional. The pots even have a fancy-looking stainless-steel rectangle with the name of the brand engraved on it.
Lastly, all parts of this set are dishwasher- and oven-safe. 
Main features:
Slick, professional-looking design

Includes basic cookware

Safe to use in the oven

Can be cleaned in the dishwasher

Good heat distribution

Heats up quickly

Non-stick and scratch-resistant
Downsides:
High price tag may be over budget for some

Not safe for induction-top stoves
2) T-fal E765SH Ultimate 17-Piece Titanium Cookware Set: Overall Pick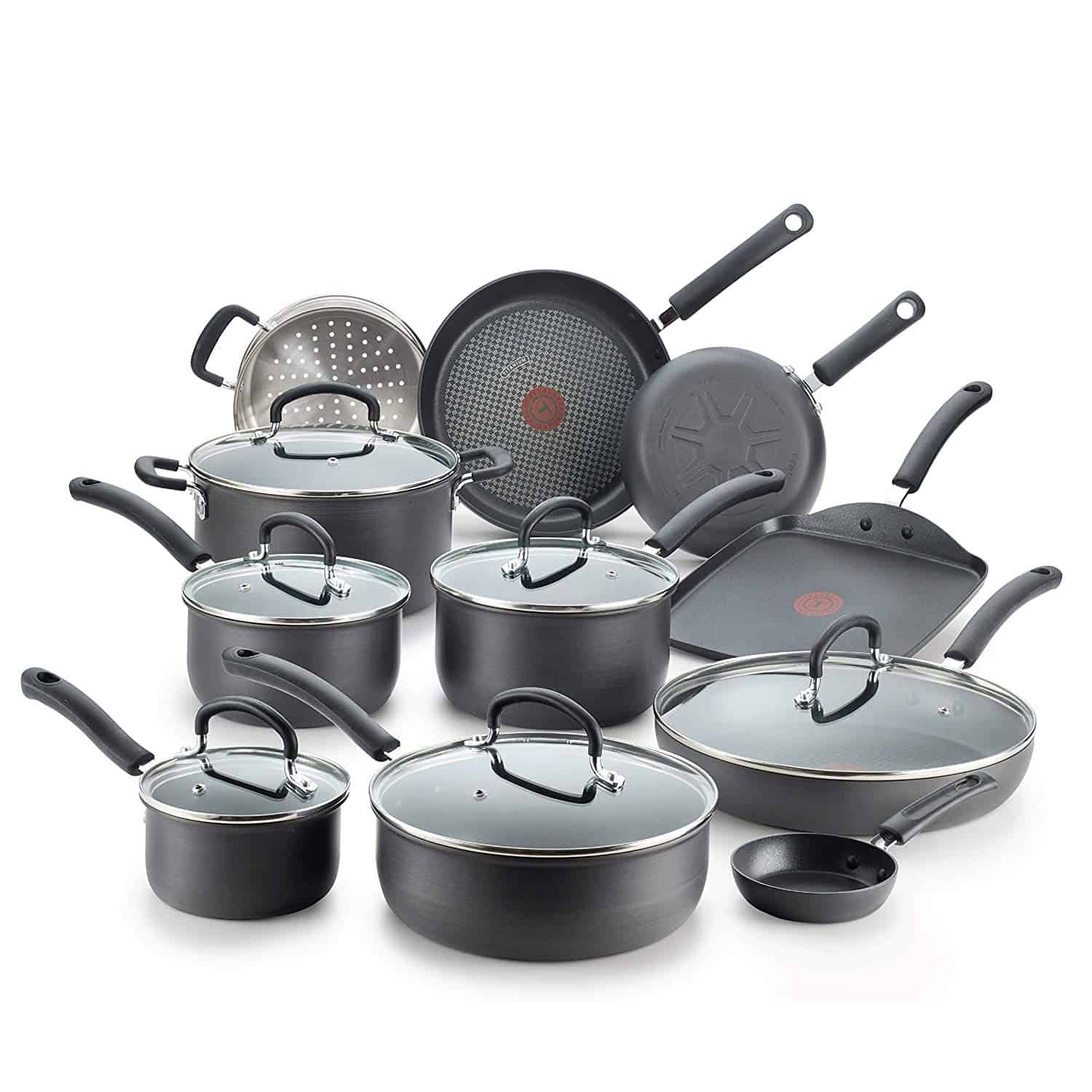 This hard anodized aluminum set is our favorite on this list and has snatched the title of "best titanium cookware set." It's super versatile, oven- and dishwasher-safe, and it comes with a pretty reasonable price tag.
For starters, we have to mention how diverse the set really is. It includes seventeen different pieces, if you count the glass lids as well. You'll get three fry pans (one of which is covered), an egg pan, a square griddle, a covered deep sauté pan, three covered saucepans, a steam insert, and a covered Dutch oven. All those pots and pans alone will be enough to cook a vast range of dishes.
We also really like that all these items are nonstick and non-toxic. You won't need to use as much (or any) oil or butter to keep food from sticking, even while cooking on high heat.
On top of that, the base of all these pieces has incorporated T-fal's Thermo Spot technology. This means the pots and pans heat up evenly. Thus, you will get more consistent cooking results and your food will taste better in the long run.
Cleaning up this set is surprisingly easy. Everything is dishwasher-safe, so there's no need to scrub everything after using it.
Additionally, you can also pop the set in the oven. The pots and pans withstand temperatures of up to 400ºF without warping or leaching. The lids can be exposed to temperatures of up to 350ºF. This is a good added feature for adventurous cooks who like to play with textures and flavors.
Main features:
Easy cleanup, since it's dishwasher-safe

Can be placed in the oven (up to 400ºF)

Includes many different and versatile items

Even heat distribution

Nonstick resistant bottom

Affordable price tag
Downsides:
Not suited for induction-top stoves
3) T-fal B210SA Stackables 10-Piece Cookware Set: Runner-Up
: Budget Pick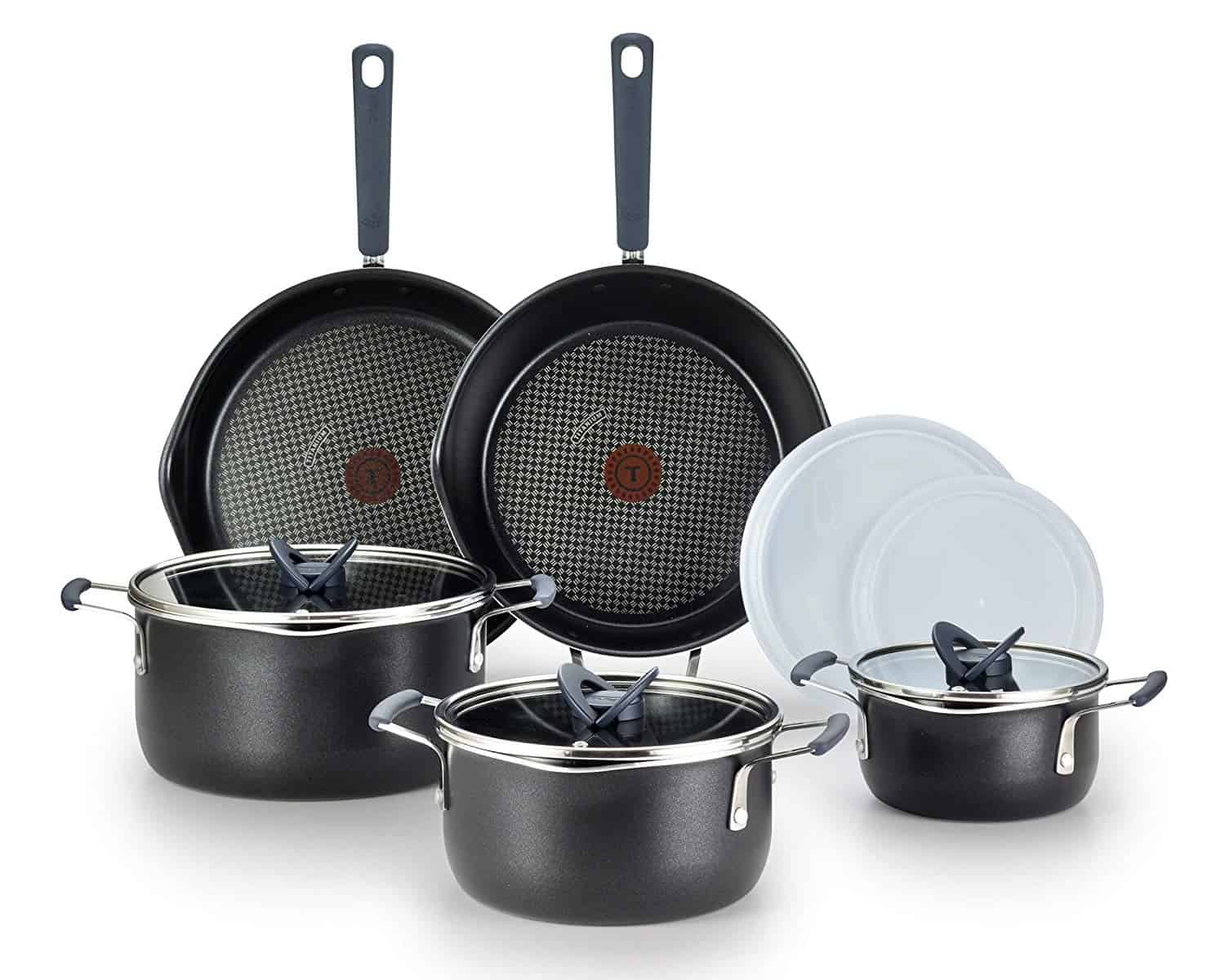 This is the second T-fal product on our list, and it almost dethroned the E765SH model as the best titanium cookware. It's a great set for all cooks to have at home. It's versatile enough for day-to-day cooking and for preparing holiday meals.
You'll get ten pieces with this set. Inside the package, you'll find one fry pan, a covered deep sauté pan, two covered saucepans, a covered Dutch oven, and two plastic lids. All these items have two pour spots.
If you want to try something different, you can place these pots and pans in the oven. The glass lids can withstand high heat up to 350ºF but the pots and pans themselves can be exposed to up to 400ºF. This is great if you want to make dips, flavorful sauces, and delicious casseroles.
At the base of each item, there's patented Thermo Spot technology. This means the pots and pans heat up evenly. In turn, your food will be cooked to perfection.
Storing these items is easy. They are designed to fit inside each other, a bit like matryoshka dolls. This will save you a lot of storage space.
The silicon handles are also pretty solid. They hold up great even at high temperatures (400ºF). Luckily, they don't overheat. This makes it much easier to move hot pots and pans around without burning yourself.
Main features:
Safe to put in the dishwasher

Can be placed in the oven

Easy to store

Great heat distribution
Downsides:
Not suited for induction-top stoves

Customers complain about the nonstick coating
4) Michelangelo Copper and Ceramic Nonstick 12-Piece Titanium Cookware Set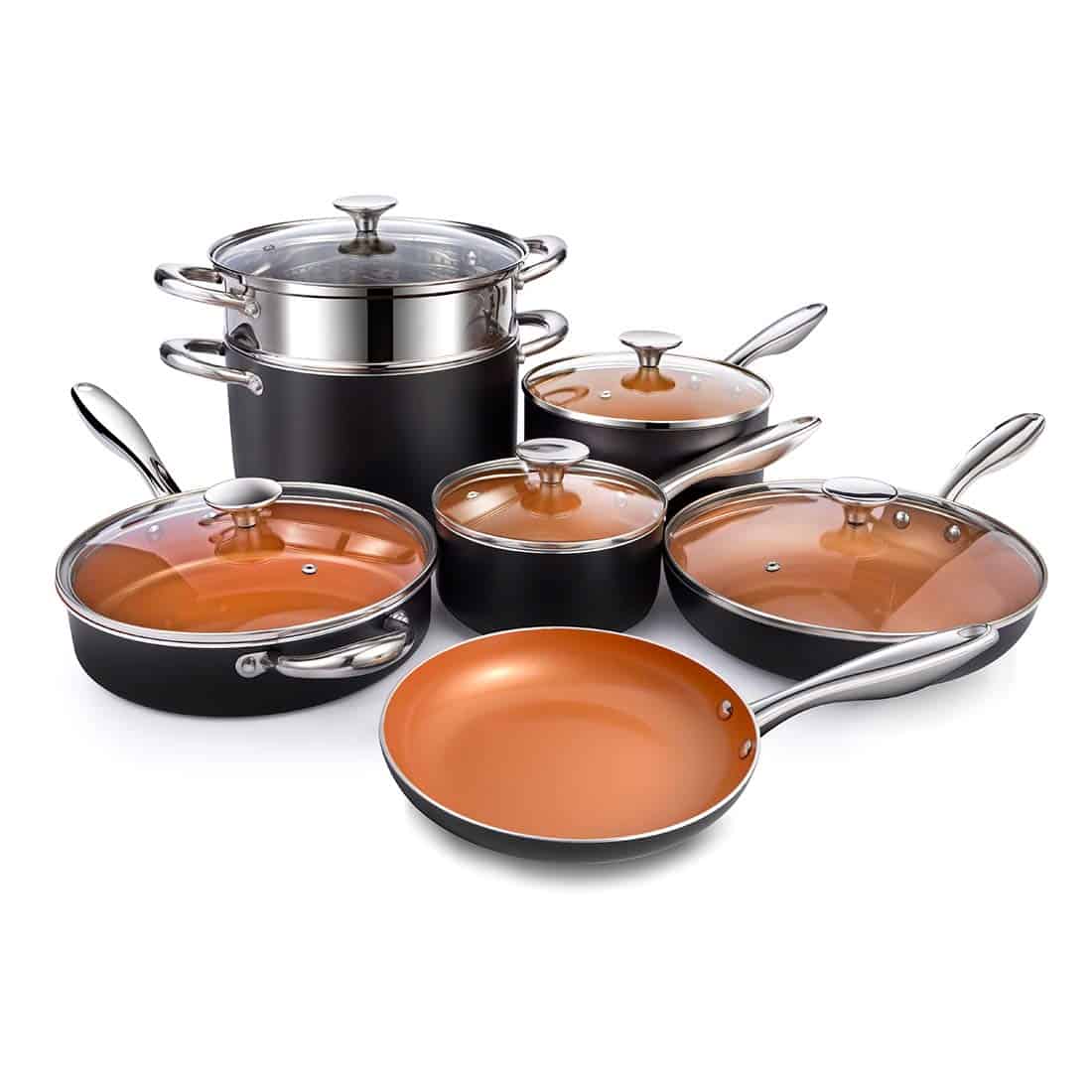 The Michelangelo titanium cookware sets itself apart from other pots and pans on the market because it looks so different. The copper finish gives it its distinctive burnt-orange color. But this isn't just a pretty set to look at. It performs really well in the kitchen and it's a perfect addition to any kitchen.
The pieces included in the set are more than enough for most cooks in the United States. You'll get a frying pan, a covered stockpot, a steamer insert, two covered saucepans, a covered sauté pan, and a covered skillet.
The fact that all utensils in this set are nonstick is also a big plus. The ceramic coating helps food not stick to the bottom of the pans and pots. This means cleaning up is easy. It also lets you not use oil in your cooking if you'd prefer not to.
It's also great that you can use these pans and pots in the oven. This way, you can make even more dishes using this set, such as dips, hearty sauces, and casseroles.
You can also wash every Michelangelo utensil in the dishwasher without worrying about them deteriorating. They're sturdy and scratch-resistant.
Main features:
Suited for dishwashers

Can go in the oven

Superior nonstick coating

Sturdy and durable handles

Even heat distribution

Scratch-free 
Downsides:
Not suited for induction stoves
5) T-fal C561SC Titanium Advanced Nonstick 12-Piece Cookware Set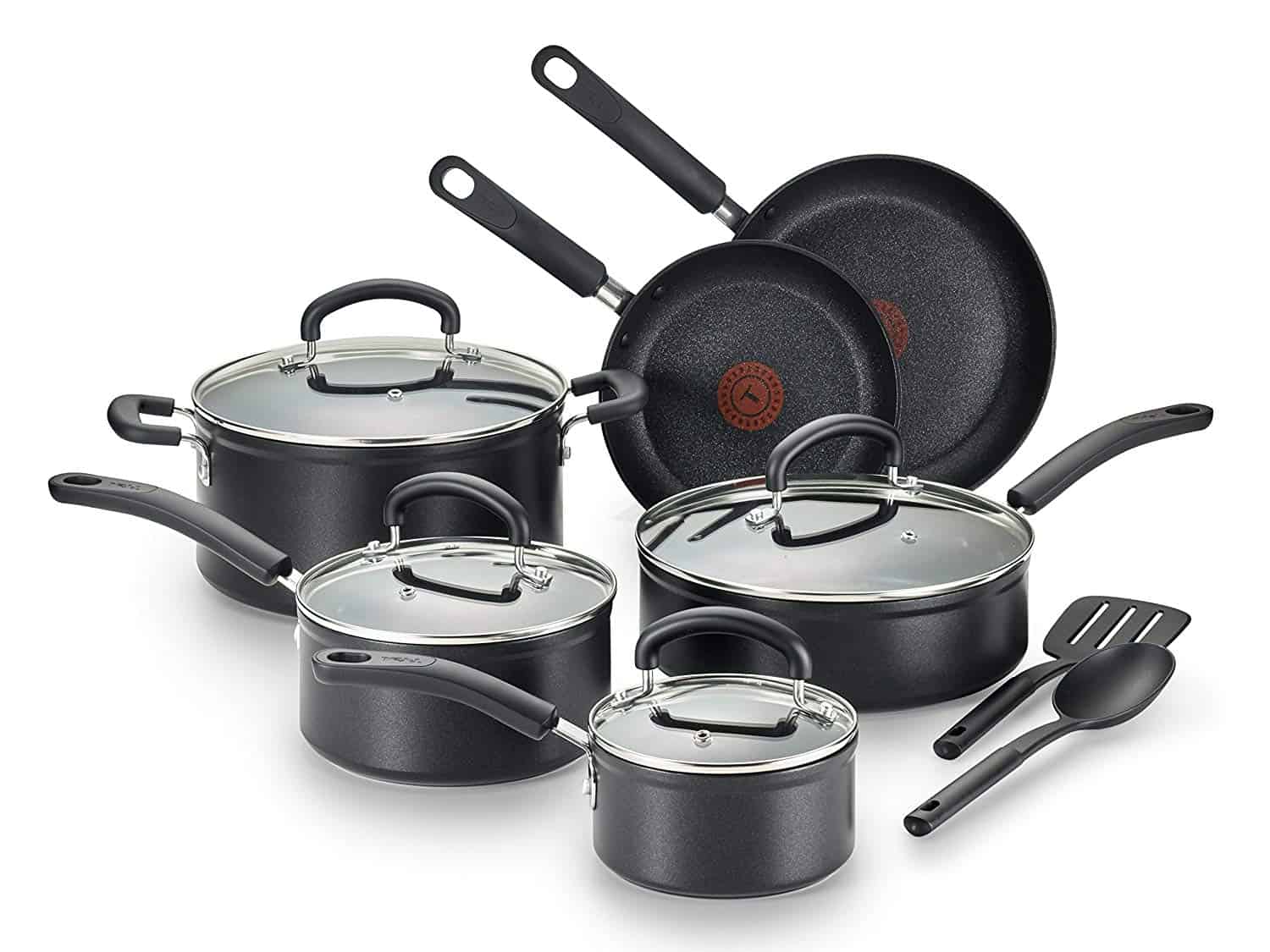 This is the third T-fal set on our list, which goes to show just how big and reliable this company is. The C561SC unit is no outlier, as you can tell by the hundreds of glowing customer reviews on Amazon.
There are six pots and pans in the package. You get two frying pans, two covered saucepans, one deep sauté pan, and one Dutch oven. You'll also get a solid spoon and a slotted spatula. It's a versatile set suited for day-to-day use.
The inside of each item has a nonstick titanium coating. It stops food from burning and sticking to the bottom of the cookware. This lets you cook without oil, if that's something you'd like to do.
When you're done using the cookware, you can put it in the dishwasher. Since the outer and inner coating are scratch-resistant, you won't run into any problems.
You could also pop it in the oven to change things up. Every item on this set withstands high heat temperatures of up to 350ºF.
Another feature we have to point out is the integrated Thermo Spot technology. It distributes heat evenly so that you end up with perfectly cooked food. 
Main features:
Non-stick coating

Oven-safe

Dishwasher-friendly

Even heat distribution
Downsides:
Not suited for induction cooking
6) Gotham Steel 1752 Titanium Cookware 15-Piece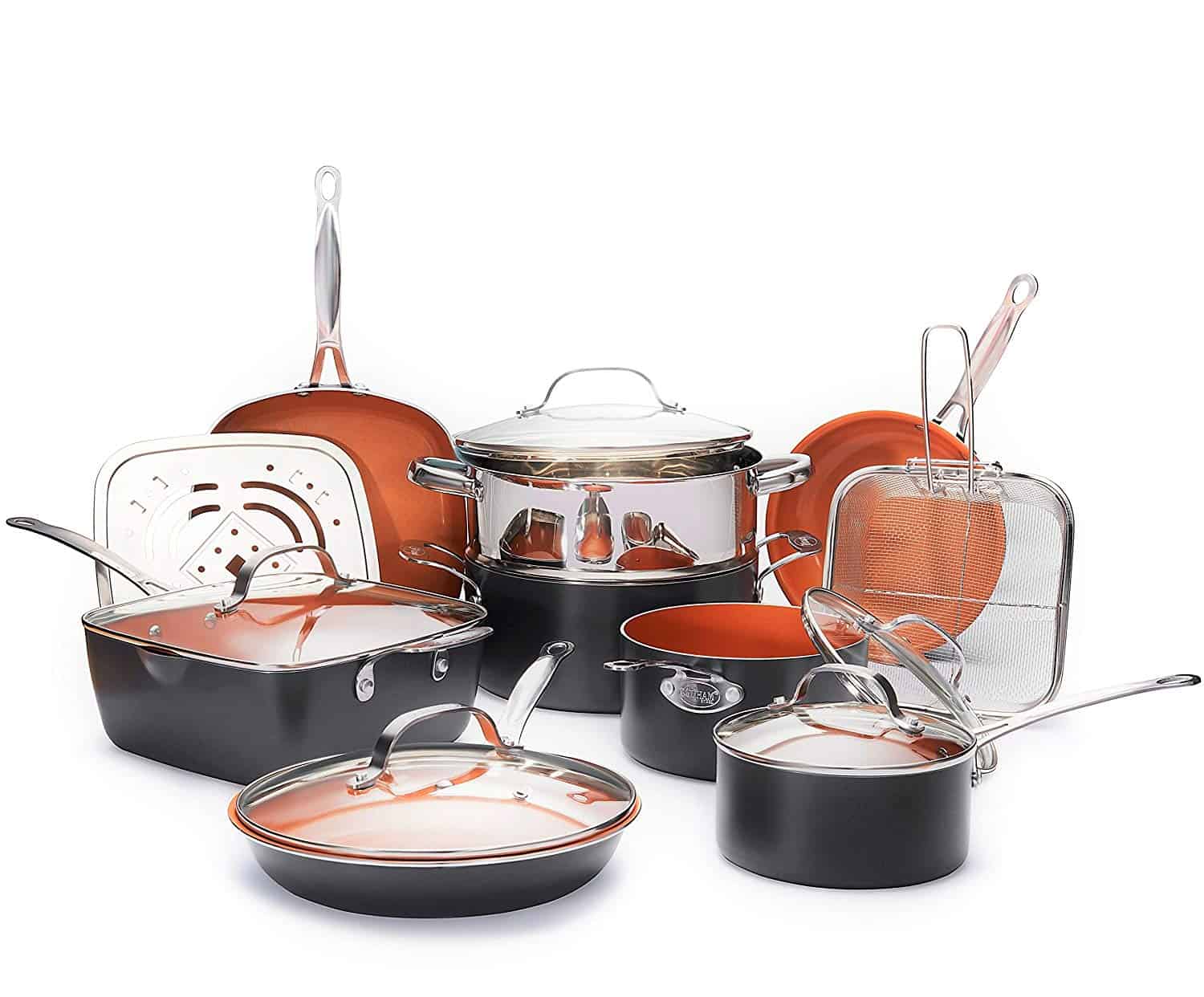 If you're looking for a cheaper set, Gotham Steel has you covered. This set is the best budget titanium cookware you'll find online. Its fifteen pieces will only set you back about $100 but they'll last you a long time.
The set includes fifteen pieces once you count the lids. Inside your package, you'll find a skillet, a covered frying pan, three covered pots, a steamer insert, a covered square pan, a fry basket, a steaming rack, and a square pan. It's more than enough for most cooks.
Every piece in the set is nonstick. The titanium-and-ceramic coating prevents things from burning and forever sticking to the bottom of the pots and pans. This will not only make cleanup quicker and easier, but it will also allow you to reduce the amount of oil or butter you use when cooking.
Since these pieces are lightweight, you can hang them on a hanging pot rack. They're also easy to stack and put away.
When you're done using the set, you can just pop it in the dishwasher and not worry about it scratching or losing its properties. It'll make cleanup even easier and more practical.
If you want to, you can also place these items in the oven. They hold up even with temperatures as high as 500ºF. It's an added advantage.
Main features:
Even heat distribution

Lightweight and easy to use

Oven-safe up to 500ºF

Dishwasher safe

Scratch-resistant

Non-stick bottom

Very affordable price tag
Downsides:
Not suited for induction-top stoves
7) Snow Peak Multi Compact 4-Piece Cook Set: Best Titanium Backpacking Cookware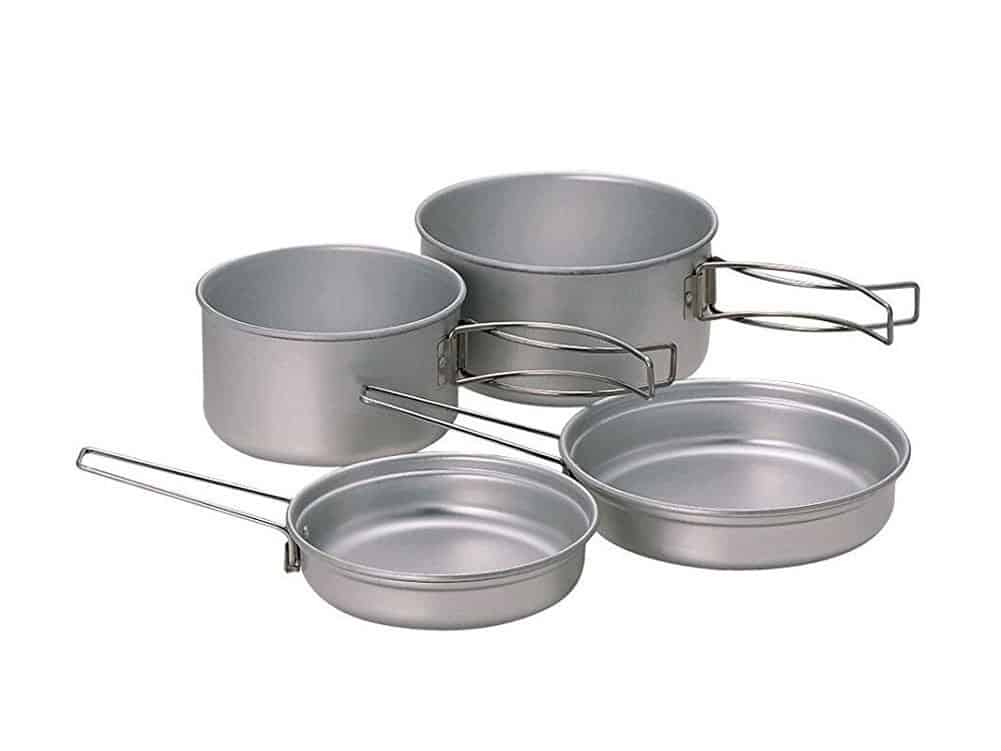 The best titanium camping cookware we could find out there is the Snow Peak Multi Compact set. It's super handy if you're on the go and can't carry around much weight with you.
Above all, this set gets glowing reviews from customers because of its simplicity. It only comes with four items: two frying pans and two pots. But that's more than enough for the average camping trip, after all, you're not cooking a three-course meal.
The best thing about the Snow Peak pots and pans is how lightweight it is. In fact, all pieces together only weigh about 11.6 ounces. You can easily carry it around in a backpack without your back hurting.
On top of that, they're compact and easy to store. Simply stack the small pan upside down on top of the small pot and fold the handles downward. You can do the same for the large pan and large pot. This will save you a lot of room in your backpack.
The titanium coating is high-quality and scratch-proof. All Snow Peak products are designed and manufactured in Japan, so they comply with quality standards and are perfectly safe to use.
Main features:
Lightweight pots and pans

Compact design

Practical handles make it easy to use

Large enough for two people
Downsides:
Not nonstick

Not suited for induction stoves

Can't be put in the dishwasher

Price tag may be too expensive
8) Gotham Steel Professional Titanium Cookware Set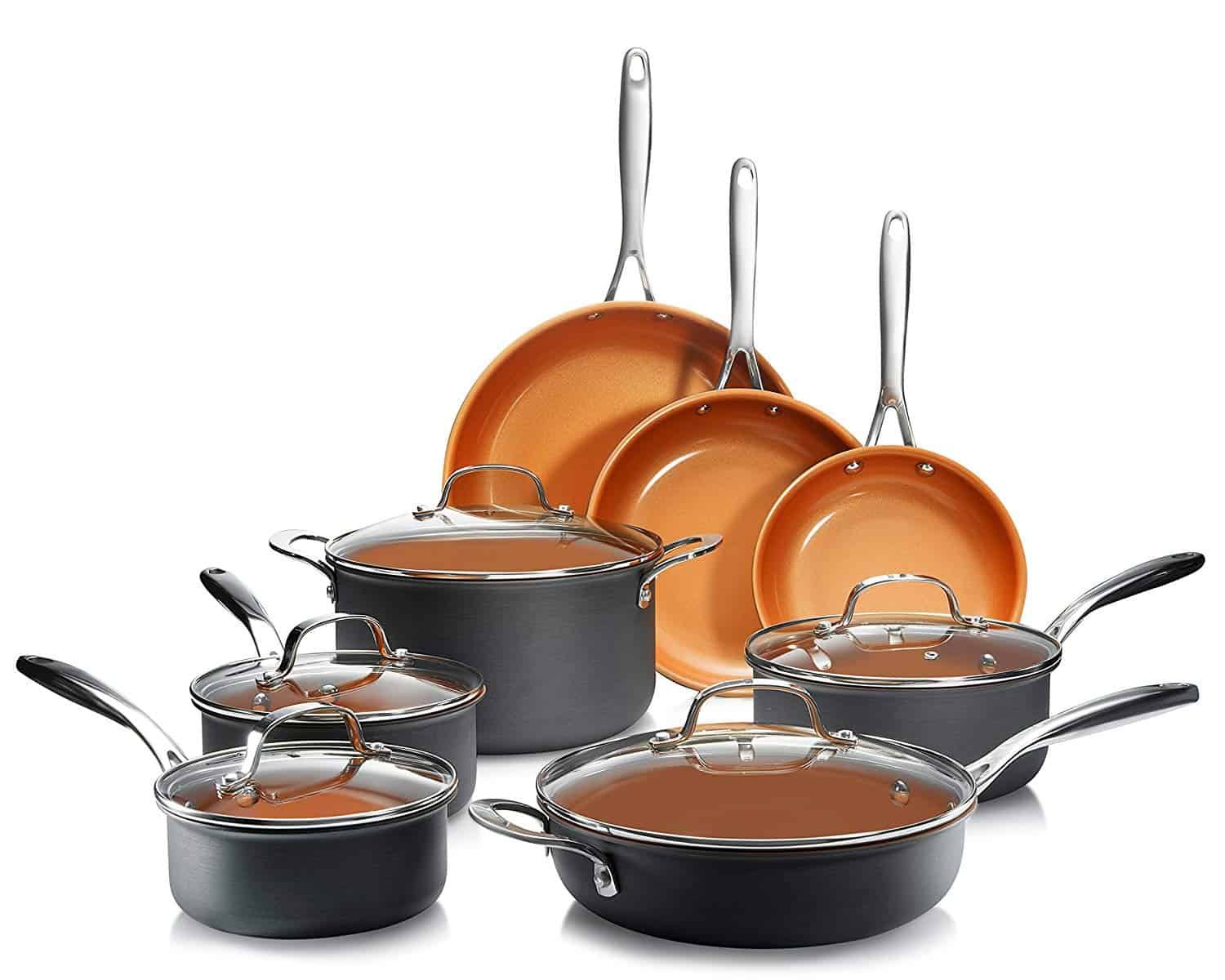 This Gotham Steel titanium cookware set is great for any cook. It boasts great online reviews, looks like it belongs in a professional kitchen, and above all performs perfectly.
You'll receive thirteen pieces in total once you get this package. Inside, you'll find one frying pan, two skillets, two covered saucepans, a covered chef's pan, a covered sauté pan, and a covered stockpot. 
The utensils are made from aluminum and coated in both ceramic and titanium. As a result, the pieces are nonporous, dense, and wear-resistant. That's what makes them such a good investment.
Every piece is nonstick. You can cook without oil without worrying about food sticking to the bottom of the pot or pan. It also makes for easier cleanup.
As if that weren't enough, you can put every single piece of the set in the dishwasher. It won't lose its nonstick properties or get its beautiful burnt-orange coating scratched.
Lastly, you can safely place the cookware in the oven. It will keep structurally sound and won't leach anything into your food.
Main features:
Great nonstick coating

Thick, sturdy handles

Durable cookware

Good heat distribution

Oven-safe

Dishwasher-safe
Downsides:
Can't be used with induction stovetops

Costs a bit more than similar sets
9) Saflon Titanium Nonstick 14-Piece Cookware Set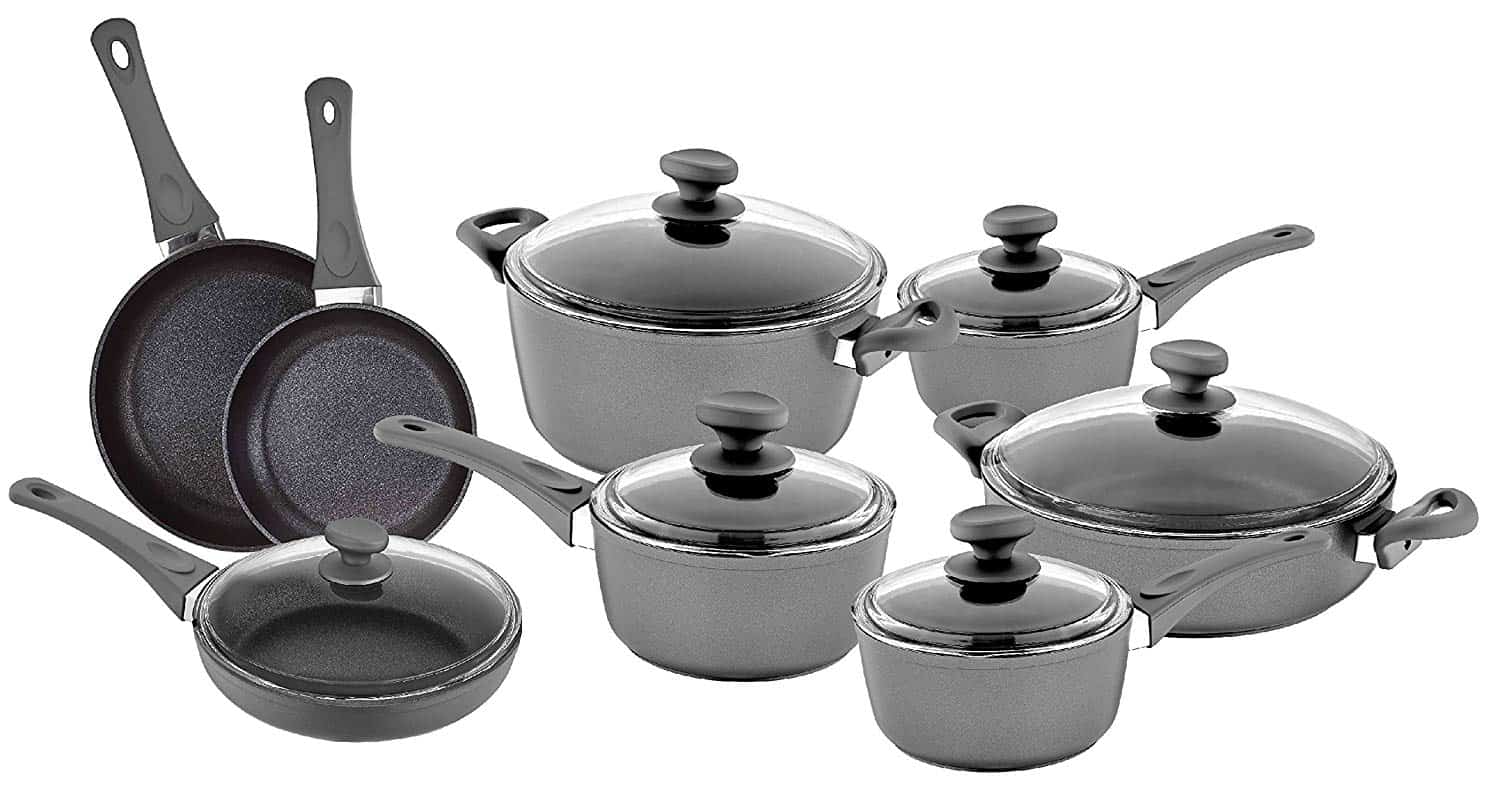 The last item on our list may be a bit more expensive than most other sets, but it's well worth the price. It's a diversified set that performs great and is durable. What else can you ask for?
The Saflon titanium cookware includes two fry pans, a covered fry pan, three covered saucepans, one covered sauté pot, and a covered stockpot. It's a diverse set that will suit the needs of the vast majority of cooks.
We love how durable and sturdy these Saflon pieces are. They have a triple scratch-resistant titanium coating. They're also weighted, which keeps them from warping or losing their shape over time.
You can leave out the oil when cooking using these items. That's because they have a durable nonstick and non-toxic coating. This also makes them easy to clean.
Lastly, every pot and pan in this set is dishwasher safe. This will save you time when you're done cooking.
Main features:
Distributes heat evenly

Great nonstick coating

Holds up great with high temperatures on the stove

Durable and sturdy design

Safe to use in the dishwasher
Downsides:
Not suited for induction cooking

Can't be used in the oven safely

Bit pricey when compared to similar sets
What Is Titanium Cookware Made Of?
Despite the name, titanium cookware isn't completely made of titanium. That material is expensive and doesn't retain heat that well. You'd end up with an overpriced cookware set that wouldn't cook food well.
Instead, titanium cookware is usually made mostly from aluminum coated with a layer of titanium and ceramic. This is one of the best combinations we've ever seen. The aluminum (or stainless steel) traps heat and warms up your cooking surface quickly. The titanium coating prevents harmful chemicals from getting in contact with your food. And the added ceramic layer adds nonstick properties to your cookware. It's a match made in heaven.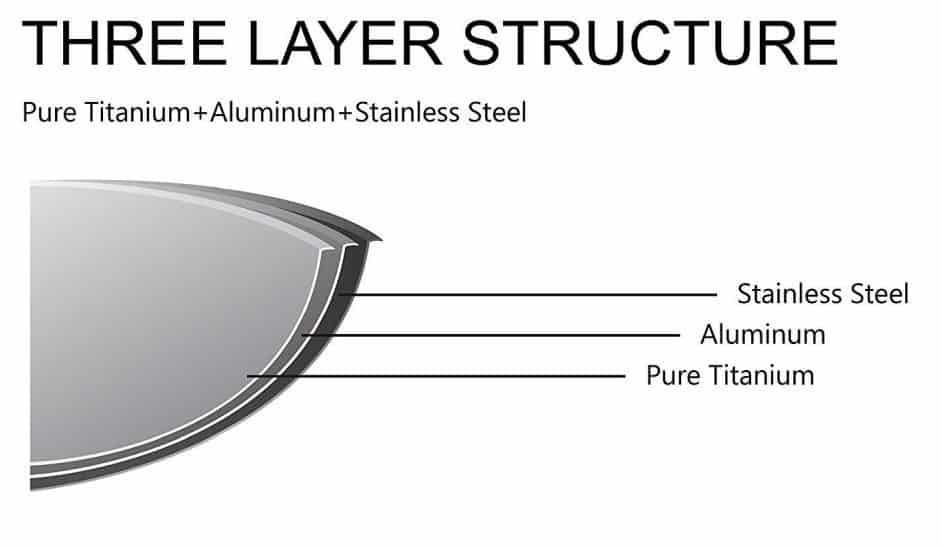 Which Is Better: Ceramic or Titanium Cookware?
This truly depends on what you think is most important in cookware.
Titanium cookware heats up more evenly and more quickly than ceramic cookware. Thus, it's more energy-efficient and time-saving.
On top of that, titanium cookware tends to be more durable than its ceramic counterpart. Ceramic pans and pots are infamous for chipping more easily.
Lastly, titanium cookware boasts better heat distribution than ceramic. You'll end up with food cooked more evenly.
If none of these things are deal-breakers for you, getting ceramic cookware is a good idea. We've even written a whole article about the best pieces on the market.
How to Choose Titanium Cookware Sets?: Buying Guide
Let's get down to what's important: picking out the best titanium cookware set for your needs. Everyone has different deal-breakers and wishes in the kitchen, so if you haven't found a set you love so far, don't fret. You can start the search yourself with the help of these main features.
Range and Use
Ask yourself what kind of recipes you'll be cooking with your new titanium cookware. It's important to know what type of cookware you'll need on a regular basis. As a rule of thumb, the more diversified the set, the more expensive it will be.
For instance, if you love a good stir-fry, you'll need a wok (or at the very least a wide and deep fry pan). But if soups are a regular at your house, you'll need a large enough pot or Dutch oven.
Keep this in mind, along with your budget. If you can afford to buy a complete set with all kinds of cookware, go for it! The more the merrier. But if you can't, stick to the ones you'll be using again and again.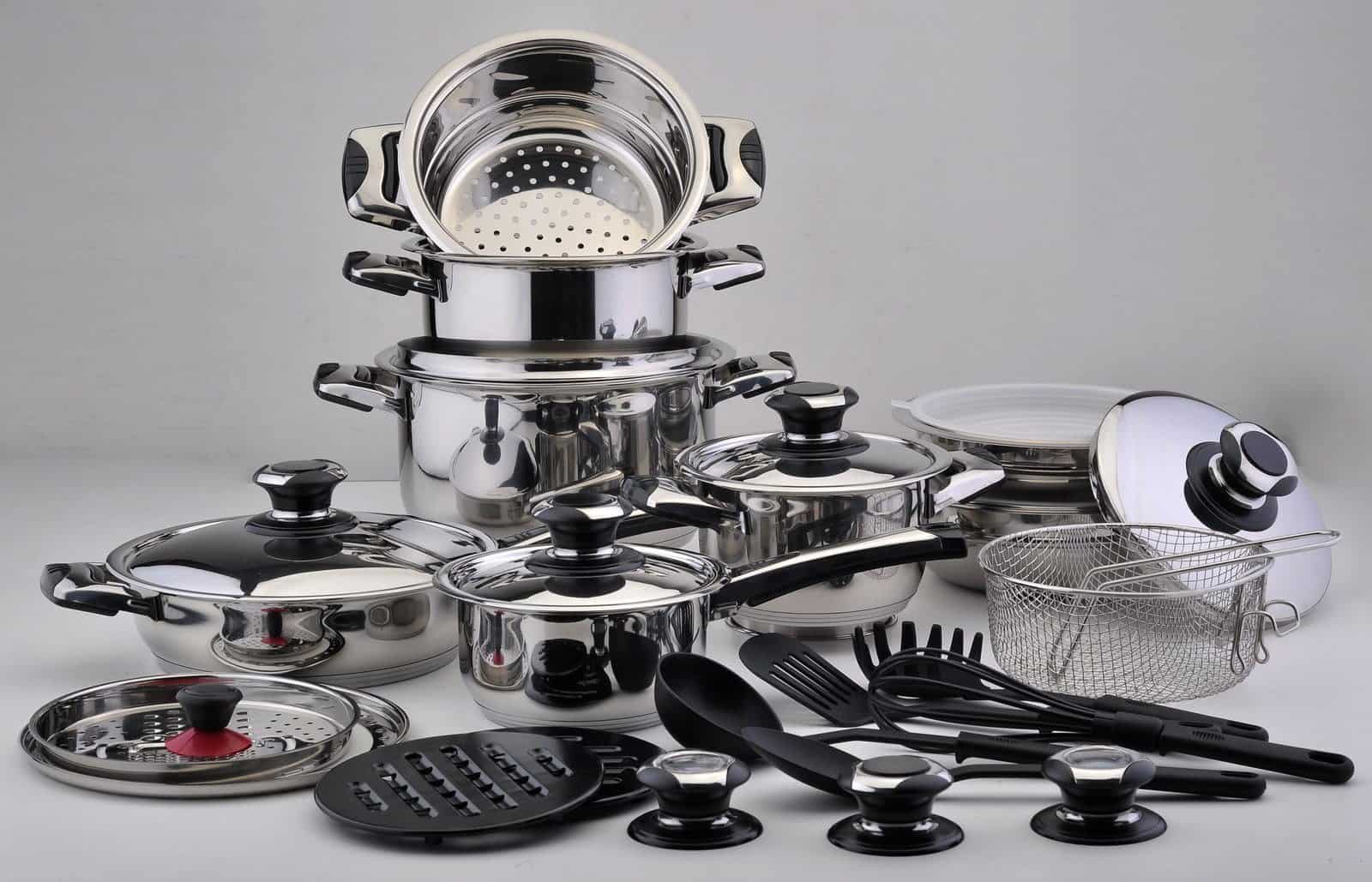 Size
It's also important to take into consideration how large each cookware in the set is. If you're cooking for one or two people, you won't need a particularly large pot, for instance. But if you're cooking for a family of four, your cookware will need to be larger and be able to hold more food. After all, you'll be cooking more portions at a time.
Coating
Generally speaking, all sets come with a titanium coating. Yet, these coatings are all the same. Reputable companies tend to create high-quality products whose coating doesn't scratch or deteriorate even after years of use. Other companies, however, are notorious for flimsy titanium coatings, which get ruined after only a few weeks. 
Before committing to a product, make sure the reviews mention positive things about the coating. Does it stay on for a long time? Or does it start to bubble after only a few weeks? As soon as cookware loses its coating, it's no longer safe to use.
Durability
Tied to the previous point is durability. Titanium cookware is expensive, so you want to invest your money in a set that will last you a long time. If you get high-quality products, use them correctly, and handle them carefully, you could use the same set for a decade.
Safety Features
There are a few built-in safety features manufacturers work hard to develop. For instance, sturdy handles that don't heat up too much. Not only will they stay in place for a long time if they're well-built, but you also won't accidentally burn your hand or arm moving cookware around.
Cost
There's no need to go over budget when looking for titanium cookware. There are many sets available for $100 that work just as well as $300 sets.
Crunch some numbers, decide what you're willing to spend, and narrow down your search by price. We're sure you'll find a good set to add to your kitchen without breaking the bank.
Style and Design
This point isn't as important as the other ones we've brought up, but it's still worth considering. If you're torn between several sets, choose the one that appeals to you the most. Maybe one caught your eye because it has a beautiful copper finish. Or maybe it's because of its professional-looking, sleek black design. It's not a bad idea to pick between two amazing products based on looks.
Final Words: What Type of Titanium Cookware Is the Best?
To close things up, let's sum up our picks for this article. When all is said and done, what is the best titanium cookware brand? We have to hand that prize to T-fal. They lead the market and their products are consistently highly rated. On top of that, they're a trusted company with a good customer support system you can rely on if you run into any problems.
Frequently Asked Questions on Titanium Cookware
Q: Where to buy titanium cookware?
You'll find titanium cooking sets in most home improvement and retail stores. But you'll find more variety online on Amazon.
Q: How much does titanium cookware cost?
The cheapest sets we've seen start at $75 and can cost up to $300 for the most complete ones.
Q: How to cook with titanium cookware?
Cooking with titanium cookware is very straightforward. The pieces come seasoned out of the box, meaning you can start cooking right away. Just make sure to not cook at extra-high temperatures all the time if your cookware has a ceramic coating, as it could deteriorate. Other than that, simply follow the manufacturer's instructions (don't put it in the oven if it's not oven-safe, don't put it in the dishwasher if it's not dishwasher-friendly, and so on).
Q: What are the health risks of titanium cookware?
If you get your cookware from a trustworthy company, you have nothing to worry about. Yet, if you get it from a no-name company with no reviews, there could be serious health risks. That's why you should always pay a little more for brand recognition, even if you find a cheap set online.
Q: Does titanium cookware leach?
Again, if it's made by a popular company, it won't leech. If it's made by a no-name company you can't find reviews about, there's a chance it could leach.
Q: How healthy is titanium cookware?
It's perfectly healthy for us. The vast majority of sets don't have any toxic elements added to them. You'll want to stay away from cadmium, BPA, and other harmful chemicals. This is the stuff you'll find in cheaply made sets shipped from Asia and manufactured by no-name brands. One more reason to be vigilant.
Q: How to clean titanium cookware?
Most sets let you put them in the dishwasher. If you're wary about doing so, you can hand wash them with mild soap, lukewarm water, and a soft sponge.
Q: How hard is titanium cookware to clean?
Most models aren't hard to clean at all. If they're nonstick, all the better: there won't be food burned and sticking to the bottom.
Q: How to remove soot off titanium cookware?
You can find soot-removing products at hardware stores or on Amazon easily. Those will work great. You apply some of the product on a damp towel and scrub the soot on the cookware. It will immediately start coming off.
There are also natural home remedies for soot. To a large container add equal parts of boiling water and white vinegar. Place the soot-ridden cookware in the container and cover it. Leave it for five to ten minutes. Then, rinse with warm water and scrub with a nylon scrubbing sponge. Repeat the process if all the soot hasn't come off yet.
Q: Does titanium cookware work on induction?
The vast majority of titanium cookware will not work on induction stovetops. You need to find one that has been specifically designed for that purpose.