A beautiful thing about tofu is the variety of ways in which you can eat it. You can have it cubed and add it into a vegetable stir fry, food process it up with some cacao and other ingredients for a chocolate mousse pie, steamed, grilled, or fried up and made into a tofu barbeque sandwich.
Tofu is an ingredient that lies at the heart of Asian cuisine, and is a popular ingredient for vegans and healthy eaters alike. It's really just a matter of whatever you decide to season it up with, as the tofu mainly takes on the flavor profile of whatever you choose to infuse or prepare it with.
So, what exactly is tofu..?
One of the most largely consumed proteins on the planet, tofu is a soybean that has been hydrated, coagulated, and pressed, with high amounts of protein and iron. Essentially, its coagulated soybean milk that has been pressed down into a block. Sounds pretty magical, right?
You're likely to see tofu at the grocery store with different labels, like firm, extra firm, soft or silken tofu. Soft, or silken has a lot of moisture content, whereas firm or extra firm tofu is drier and has been pressed enough to where it still retains its shape.
What is a tofu press?
It's a nifty kitchen gadget that simplifies the pressing and draining of tofu blocks. A tofu press extracts water from tofu, so you have a dense, nicely textured block of tofu to cook with instead of a soggy one. When the water is removed, you can add yummy flavor marinades and dressings, too.
You might be thinking, why press tofu? Well, when your tofu is dry after using a press, it's easier to get that golden, crispy texture upon cooking it.
Tofu is the perfect healthy ingredient to add into your meal routine – it provides cancer-fighting antioxidants, reduces the risk of heart disease, is packed with calcium, and helps remove excess cholesterol.
Now, without further ado, let's explore some of the 10 best tofu presses we've chosen to highlight to help make your tofu presser selection as easy as possible:
1. EZ Tofu Press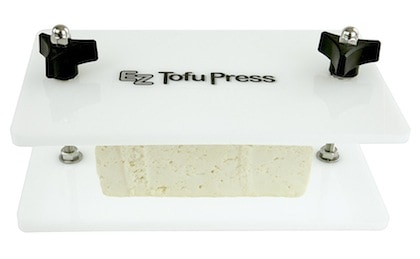 One of the tofu presses that is convenient and affordable, the Pick E-Z tofu press presses tofu in fifteen minutes or less – or in as little as five.
This cost-efficient press has a popular plate style design and uses tension for effective water removal, and the hardware includes a large butterfly screw and wing nuts to tighten the system if any of its parts get loose over time. You don't have to be concerned with spring breaks for this one, as there are none. All you have to do is apply pressure for about two minutes until all the water is out.
On the bottom plate of this handy kitchen tool, you'll find markings in the center of it, so you'll know right where to place the tofu. Also, the press is made of durable and BPA-free food-grade plastic, and its bolts, nuts, and other small pieces are made of food-grade stainless steel to allow for smooth pressing.
This U.S. made, versatile press can be used with any size tofu blocks, and can also be used to press sliced pieces of tofu.
Its size isn't able to be minimized for storage, but it's compact overall. Since it uses screws instead of springs, it takes up a tiny bit more space.
It weighs a little over one pound, if you're searching for something light as a feather.
2. Raw Rutes Tofu Press Ninja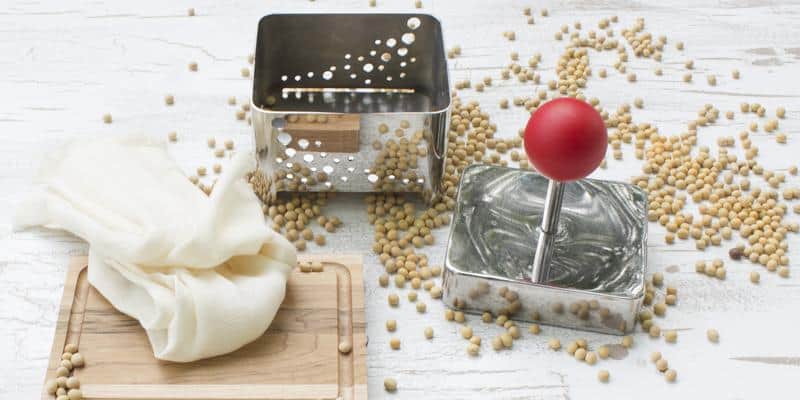 Being the chicest and the best quality of tofu presses, Raw Rutes Tofu Press Ninja is a high end and heavy-duty choice that's made of 304-grade stainless steel.
This choice features a monster press with a 4.5-pound top weight that you press down after you set the tofu on it- all that's left to do later is to come back and prepare it after the water has all been drained. If you've been wondering how to press tofu fast.. this will be one of your best bets.
This excellent option features BPA-free plastic and comes with a lifetime guarantee.
You can also press any residual moisture you might have from canned vegetables with this best tofu press, and also separate any moisture from cheesemaking – if you're venturing down that road.
3. TofuXpress Gourmet Tofu Press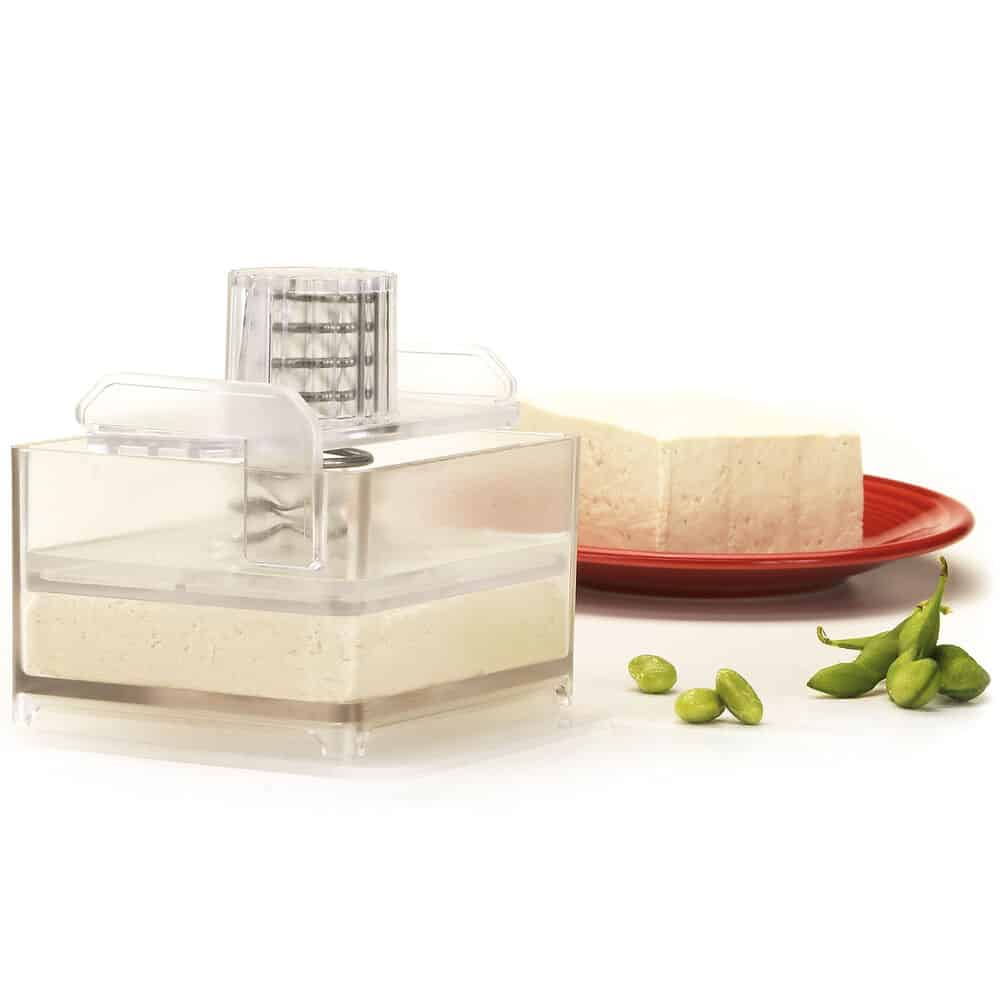 A great middle-ground as far as price goes for tofu presses, the Gourmet TofuXpress will save your bank account, and it's good enough quality to where you won't be left feeling like you want a refund.
This is a compact size that's able to press one pound tofu blocks at a time. If you want to do bigger chunks, just cut them up beforehand. It's easy to use, overall.
This sensational, gourmet tofu presser consists of two parts – the first part comprising of a handle, a sturdy stainless steel spring, and a presser, with the second part consisting of a box (with a lid underneath) where the tofu will be placed for pressing. The separate doubles as a marinating dish if you like to add in yummy sauces.
This tofu press model allows for fuss-free draining without needing to have to monitor it if you're short on time and need to do other things in the meantime.
The TofuXpress is made of thermoplastic, so it won't be damaged over the change in temperature which also makes it dishwasher safe.
4. Mangocore Mold Kit and Press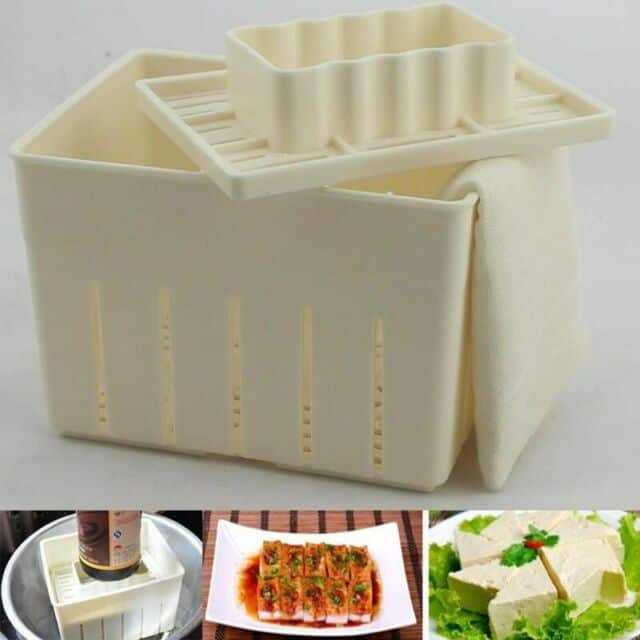 The 3-piece Mangocore Press Mold kit and press serves as both a press and a mold.
This one features a dishwasher safe design, is made with food-grade plastic, is affordable and easy to use.
This simplistic Mangocore tofu maker comes with a cotton cheesecloth, and is 5.5 inches long and 3.5 inches high.
This super tofu press is made of food-grade plastic which ensures there won't be any funky aftertastes. It not only presses and molds tofu, but it can also be used as a steamer for steaming tofu. And that's only a few of the many ways in which you can prepare this versatile menu item.
5. Tofu Presser Super Tofu Press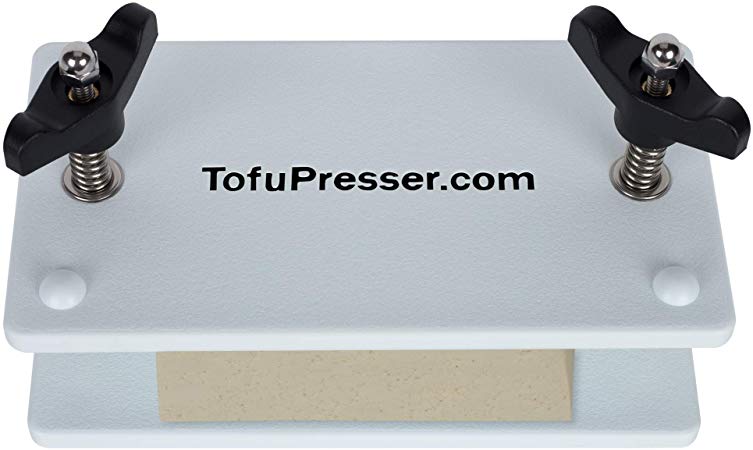 Being more of a traditional option, and ringing in at number one, the Super Tofu Press is very easy to use, and is the best way to press tofu.
You'd be working with two plates that have screw clamps on the sides. It's simply a matter of placing the tofu in the press and bam –  you now have pressed tofu.
This lightweight, one point two-pound Tofu Super Press is made of BPA-free HDPE-plastic. It features BPA-free plastic plates and food-grade stainless steel nuts, bolts, and screws – it's so durable that this appliance might very well last you the rest of your life!
The lower plate has been designed with footpads for a steady foundation and they lift the press a tad from a flat surface.
It's even been run through 50,000 dishwasher cycles to prove that it's indestructible to wear and tear.
This one has four spring technology, too, giving the press strong pressure that makes it adaptable with both firm and extra firm tofu. All you have to do is press down for perfect tofu – easy peasy, lemon squeezy.
A 60-day unconditional guarantee is also offered by the manufacturer for the Super Tofu.
6. Bamboo Tofu Press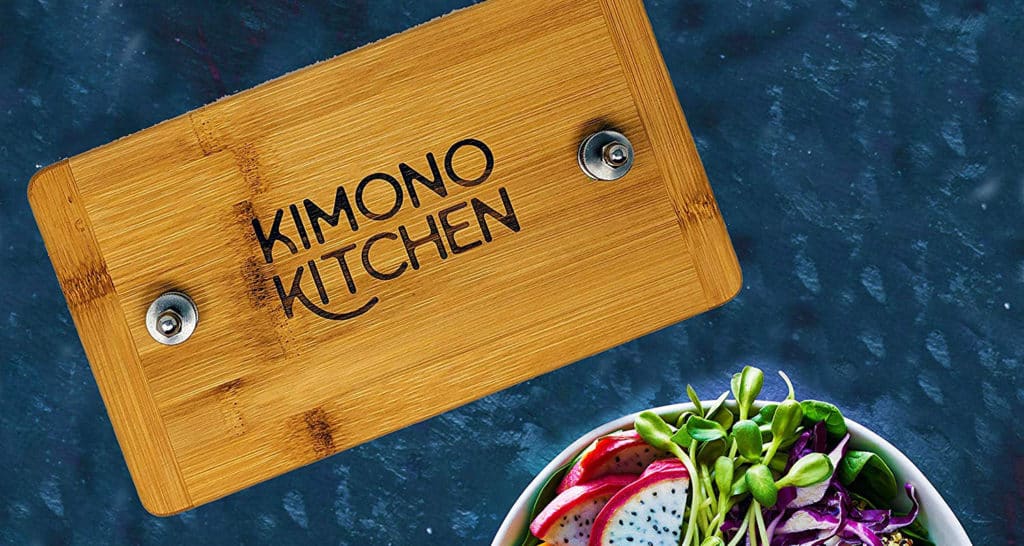 Designed by a long-term vegetarian, this aesthetically pleasing Bamboo Tofu Press is made from eco-friendly bamboo boards – no plastics in this one.
This curated bamboo is finished with a food-grade safe stain, if you care about decreasing potential chemical contaminants.
This one includes an instructional manual with extra recipes from world-renowned plant-based chefs.
The Bamboo tofu press is suitable for small, standard, and large tofu presses. It features thick, dense boards that will withstand the test of time and won't bend with wear and tear.
Reviewers recommend that you tighten the screws every three minutes or so to adequately squeeze water out of the block of tofu.
This one presses water evenly (for perfect, consistent texture) from tofu anywhere between 5 and 15 minutes, which is ideal if you're looking to prepare dinner in no time. If you want a press that gets out the excess tofu water in a jiff – this might be the one for if you're juiced to add more plant-based protein to your diet.
7. Simple Drip Tofu Press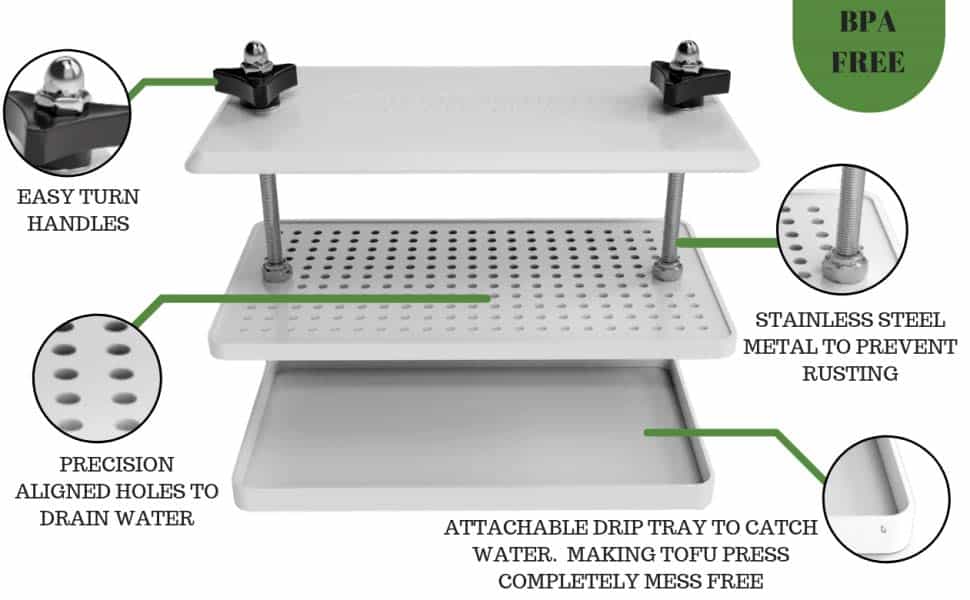 This Glue Theory Simple Drip Tofu Press 2-spring tofu press is a fantastic choice for a stellar tofu press that's well built and versatile.
The Glue Theory Simple Drip tofu press features a standard top plate for pressing, a bottom plate with drip holes, and a drip tray that can be removed. And, all of these parts are made of FDA approved BPA-free plastic and stainless steel.
The bottom plate has holes for water dripping and faster pressing and comes with a bottom drip tray to catch water.
What makes this press unique is its bottom plate and drip tray – where most bottom plates are solid plastic and require you to place the press in a container to hold water as it's pressed, this one has a convenient drip tray that's attached to the bottom, which makes for easier cleanup and fewer dishes to clean.
Also, this product is compact and weighs just a little over two pounds.
This entire piece is top-rack dishwasher safe. The only caveat is that the parts of the press aren't detachable for flat storage, but it is relatively small and easy to store.
There is a 100% money-back guarantee on this one, in case you aren't happy with it for any reason.
8. Yarkor Tofu Press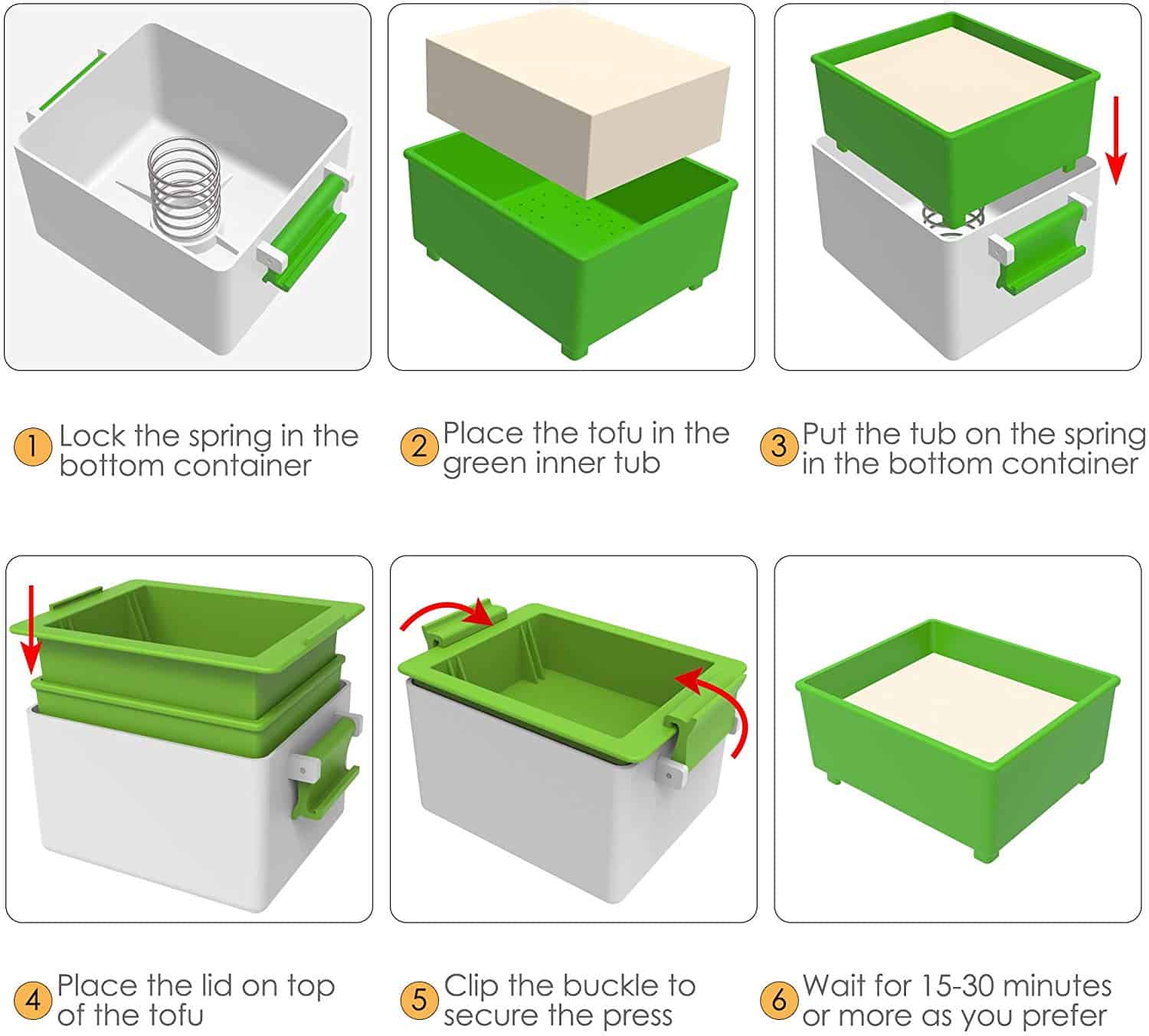 The Yarkor tofu press is a spring-loaded press that extracts the most water possible.
The Yarkor tofu press is BPA-free and has been designed with 100% food-grade ingredients for maximum food safety.
If you'd like to know how to press tofu fast, this time-efficient option features a built-in drainage press with holes on the bottom that allow water to drip into the collecting tray, and there's no need to buy any additional parts. This makes for easy cleanup, which is convenient if you lead a busy life.
This tofu press uses a forceful spring to squeeze out the water, yet it's effortless to maneuver.. so, you don't need to have a lot of muscles to work the magic on this one. Note that this one is designed to be used for one block at a time.
Your tofu will be of excellent texture after using the press, according to what reviewers have to say.
The Yarkor press manufacturing company offers a 30 day 100% money-back guarantee, if you're dissatisfied for any reason.
For those of you that like a variety of tofu – try the silken, firm, and extra-firm tofu – as this tofu presser works with all of these ones. You could also make paneer, or Indian cheese, with this.
If you don't have much extra time on your hands, this is one of the tofu presses that is dishwasher safe.
9. Tofuture Tofu Press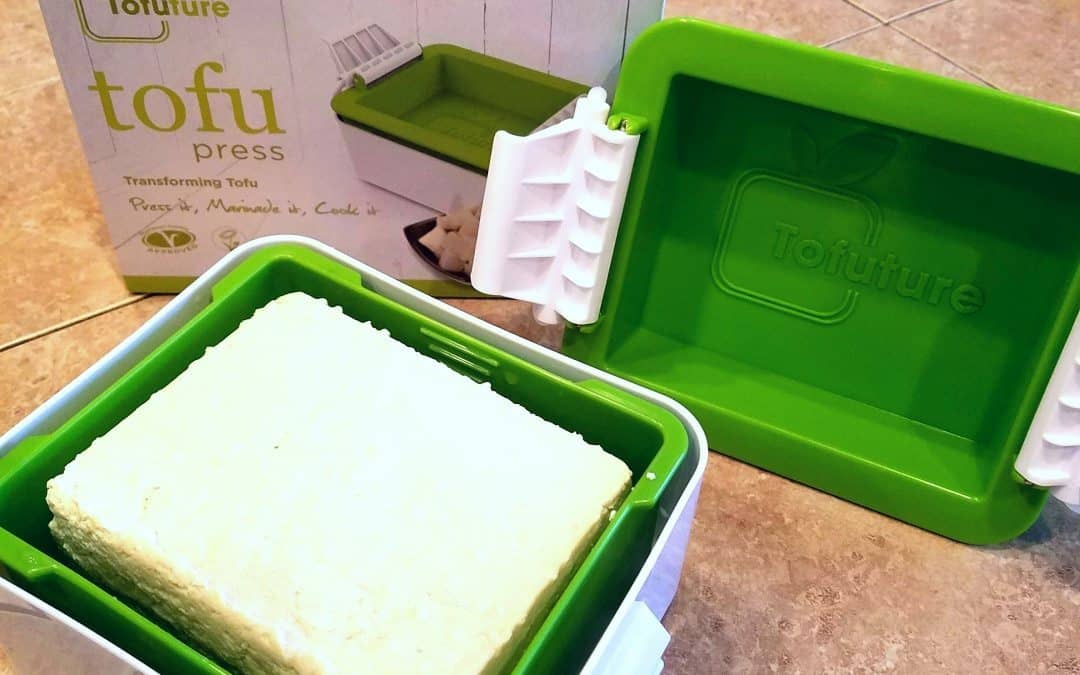 One of the very best tofu presses, the Tofuture tofu press is characterized by a slick and modern design, and it can be used to make your own DIY tofu – hows that sound for a fun cooking project?
With this one, you operate it by placing a tofu block into an inside block sleeve and then tension bands press another sleeve into the tofu, hooking behind a band on the box. The box also doubles as a marinating dish, if you want to debut a special sauce you've been waiting to debut.
The only minor downfall is that the block of tofu may not turn out completely even, as you can't adjust the pressure with this one. But unless you're an absolute perfectionist, that may not be a big deal, according to tofu press reviews.
The Tofuture contains the excess water without any mess – you can just easily dump out the excess water after you're done.
This gourmet tofu press also features 100% BPA-free plastic material, so there are no harmful chemicals that could leach out into your tofu.
If you like to maximize space with a minimalistic kitchen, this amenity of an appliance won't take up much space and is lightweight to make storage easy.
10. TM1202 Tofu Maker and Press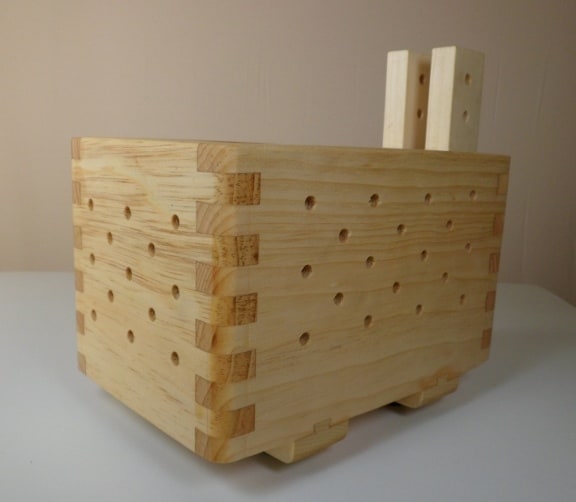 The TM1202 tofu maker and press can be used as a tofu maker, tofu press, or press for other foods.
Handmade in the U.S out of white pine and poplar woods, this arboraceous gem is solid, well-built,  and doubles as a staple kitchen and an ornamental piece in the kitchen.
Its parts have been hand polished with walnut oil to provide a food-safe, water-resistant treatment for the wood.
This tofu presser also features thermoplastic feet so it doesn't slip around on your kitchen counter, and has drainage holes on all four sides and the bottom plate, allowing for faster drainage of the tofu and more firmness.
The TM1202 can be used to make tofu from scratch with soymilk, if you want to use this for more than just the premade tofu-press function.
You can make large blocks of tofu with this best tofu press – it can fit a 2-3 pound block in at a time if you're hoping to prepare a bunch at a time. It saves time in the long run, and you could have leftovers for days if you so wanted.
What to consider when buying a tofu press?
There are two main different types of tofu presses:
Plate Style Tofu Press
With a plate style tofu press, the tofu is placed between two plastic or metal slabs that work to squeeze the liquid out of the blocks.
This style comes with or without tension springs built into their frames, and the plate style does need more consistent monitoring of the wingnuts – to ensure regular drainage as the blocks lose their water.
This option is simple, easy to clean, doesn't take up much space, and is the most financially feasible option.
Box Style Tofu Press
Ideal for someone that likes to have tofu on the menu more than just one time a week, the box style tofu press.. this one is next level compared to the cost-efficient ones. You get what you pay for, and with this type of press, you have the convenience of not needing to adjust the press as is with the plate style one. Once the tofu is snug in the box, most box model types will automatically continue to add pressure to achieve texture perfection so you can have extra time to prepare the rest of your meal.
What's the best tofu press, quality-wise?
A great quality tofu press will be one that gets every drop of water out of your tofu. A higher-end quality one will be one that presses your tofu for you – like the Raw Rutes press – meaning you don't have to supervise it to ensure the water drains out and can walk away from the kitchen if need be.
Benefits of a tofu press
-Saves time versus a DIY tofu press
-Texture improves
-Enhances overall flavor experience in tofu dishes because there is more room to add spices and flavorings
How we picked the best of the best
When compiling a list, we looked at the material the press was made of, the facility of use, the price, and at what customers had to say.
In the end, we wanted to ensure the products we recommend are of good quality, are easy to use, and are ones that release as many drops of excess water possible from your tofu. We want you to have the best-tasting tofu, and a press will ensure you receive that!
Using a tofu press beats drying your tofu with old school paper towels. And hey – it saves resources!
One might ask him or herself, do you need to press tofu? Well, you can always do it yourself with a paper towel or a different inventive way – the tofu press is just something to make life a little easier.