Tomato paste is one ingredient whose inclusion is not always obvious when it comes to tasting a finished dish, but one thing is for sure, it never fails to amp up the flavor and richness of any recipe it is added to. You may not detect the tomato flavor lurking in the background of a dish, but you sure would miss it in its absence!
For this reason, it's unfortunately not so easy to just go ahead and omit the tomato paste from a recipe if you suddenly find yourself without enough, or without any at all for that matter. If you attempt to leave it out, rest assured, you will notice a difference!
So, when you find yourself in this situation, what's the best tomato paste substitute? There are actually several ingredients you can choose from, many of which you likely already have on hand in your kitchen.
What is Tomato Paste?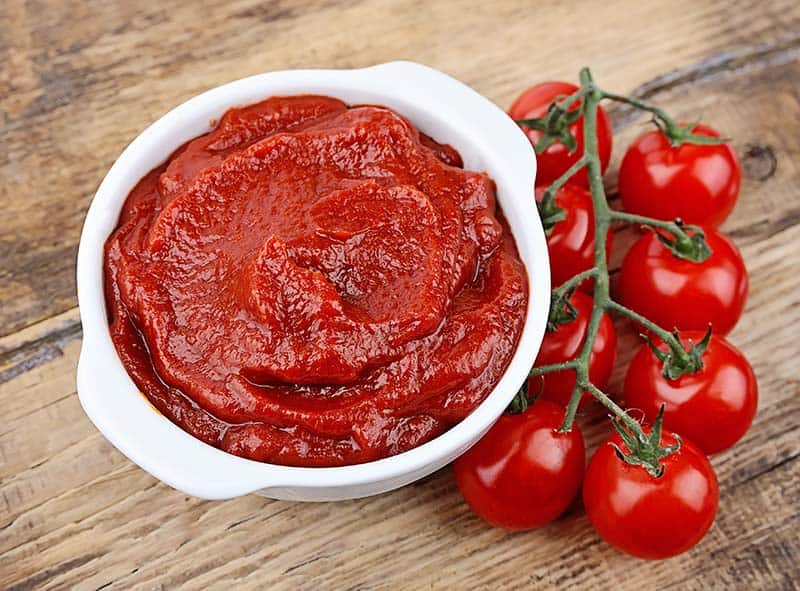 Many people are aware of the fact that tomato paste comes packaged in those cute, extra-small cans but aren't sure exactly what the product is or when you might use it!
Simply put, you can think of tomato paste as tomato concentrate. It all starts with blended fresh tomatoes which have had skins and seeds removed before being cooked down to remove as much moisture as possible. The result is a velvety smooth, richly thick paste that is packed full of concentrated tomato flavor. Seriously, a punch. Just a taste of the stuff is enough to understand how strongly flavored tomato paste is. Its taste is sweet yet acidic as well as deeply savory with umami characteristics.
Seeing as tomato paste is brimming with such flavor, the need for large quantities of it at any given time is rare. This explains why manufacturers often choose a mini-can for packaging this stuff, or better yet, a resealable tube--just like you'd find toothpaste in!
What is Tomato Paste Used For?
First things first, tomato paste is used for delivering super rich, savory flavor to dishes of course! Just a little tomato paste goes a long way, as even just one tablespoon of tomato paste is typically enough to serve its purposes in an entire Dutch oven or stock pot full of food.
Very often, tomato paste is added early on in the recipe while the initial flavors are still being built, such as when sweating vegetables for chili or searing meat for a braise. At this stage, much of the tomato flavor melds with others, and the resultant dish ends up with savory and acidic notes as well as a richer coloring thanks to the tomato paste.
Not only does tomato paste help to develop the background flavors of a dish but it also enhances the texture of a dish as well. When added early in the cooking process, tomato can serve as a thickening agent to any liquids that are subsequently added. This makes tomato paste ideal for making sauces, soups, stews, casseroles, and so much more.
The Best Tomato Paste Substitutes
Without further ado, here we have all of the best tomato paste substitutes!
You'll notice we've divided our list of tomato paste substitutes into 2 categories. First, the tomato-based options, as these tend to make for the most simple tomato paste substitutes as well as will produce results most similar to that of actual tomato paste.
However, if you are looking for tomato-less tomato paste substitutes, whether due to a food allergy or taste preferences, stay tuned to the end for some alternate stand-ins!
Tomato-Based Tomato Paste Substitutes
The following substitute options all contain plenty of tomato ingredients (for delivering great tomato flavor to your dishes!) but may differ widely from one another in terms of moisture content and additional ingredients. It all boils down to what works for you and whatever recipe is currently at hand!
Tomato Sauce/Tomato Puree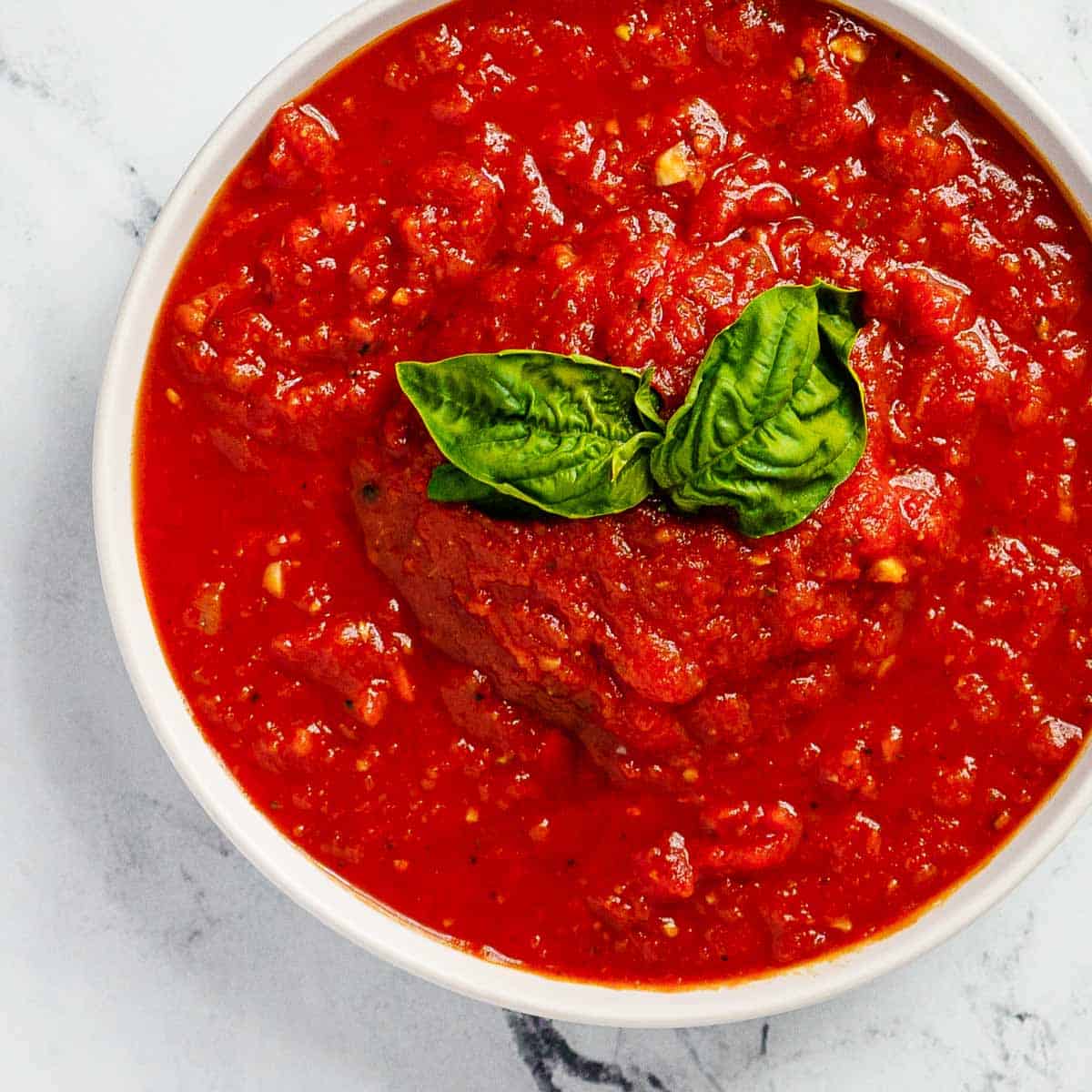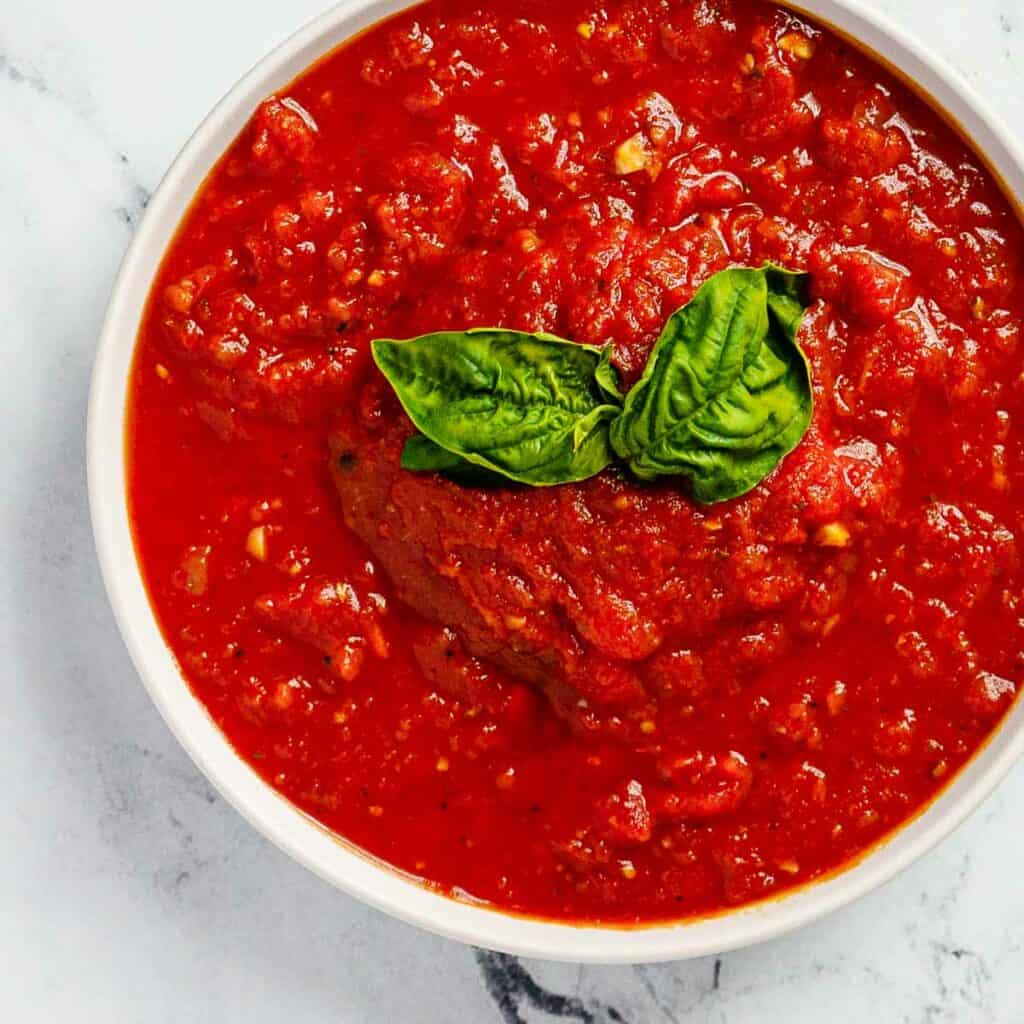 These types of products are a near perfect substitute for tomato paste! Any type of blended tomato sauce or pureed tomatoes will work, whether it be marinara sauce, spaghetti sauce, pizza sauce, or something else.
When using tomato sauce or puree in place of tomato paste, you have a couple of different options on how to incorporate it into your recipe. You can add the tomato sauce or puree to the recipe at the point at which the recipe calls for tomato paste and cook it for a few extra minutes during this stage. Or, you could skip the extra cook time and simply reduce the quantity of other liquids in the recipe to compensate for that which the tomato sauce is adding. Say you are using tomato paste in the base of a stew, just go ahead and reduce the amount of stock you are adding thereafter to compensate for the extra liquid.
When using any type of tomato sauce or puree as a substitute for tomato paste, you must be cognizant of any other flavors that may be going on. Many store bought versions feature other flavor additions such as onion, garlic, and herbs among other things. More than likely these added flavors will be complementary to your recipe but it's worth considering!
Also, you can use store bought tomato sauce or puree to easily make your own tomato paste, just skip to the end for instructions on how to achieve a product most like that of store-bought tomato paste.
How Much to Use:
Use 3 parts tomato sauce or puree for every 1 part tomato paste needed. If the tomato sauce or puree you happen to be using is already quite thick in texture, you can use a 2:1 ratio of tomato puree to tomato paste.
Canned Tomato Products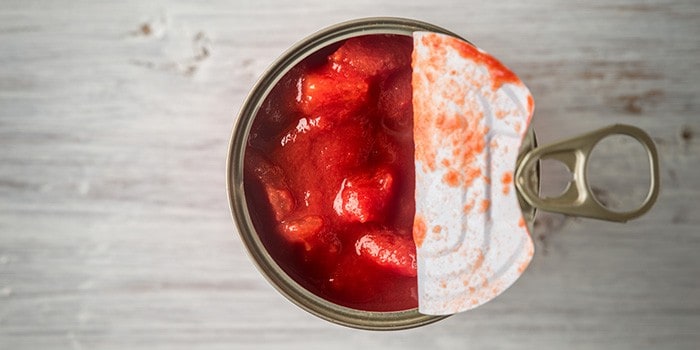 Almost any canned tomato products will do the trick here, as they are essentially un-blended tomato sauce. Options may include canned whole tomatoes, crushed tomatoes, diced, or stewed tomatoes. Even tomato soup will work!
Depending on what type of canned tomatoes you are using, such as crushed tomatoes or tomato soup, you may just be able to use some of the product straight from the can as your substitute. However, if you are using whole or diced tomatoes, you will need to blend some of the tomato pieces before doing so. You can blend the canned tomatoes by way of an upright blender, immersion blender, food processor, or food mill! Once you have achieved a nice uniform consistency, you can go ahead and add the product to the recipe at the point where tomato paste is called for by the recipe.
Similar to using tomato paste or puree, using canned tomato products as a substitute for tomato paste will be adding quite a bit more liquid than the paste would on its own, so be sure to cook things for a bit longer here to eliminate some of that excess water.
How Much to Use:
Use a 3:1 ratio of canned tomato product to tomato paste. For example, use 3 tablespoons of canned tomatoes for every 1 tablespoon of tomato paste your recipe calls for.
Ketchup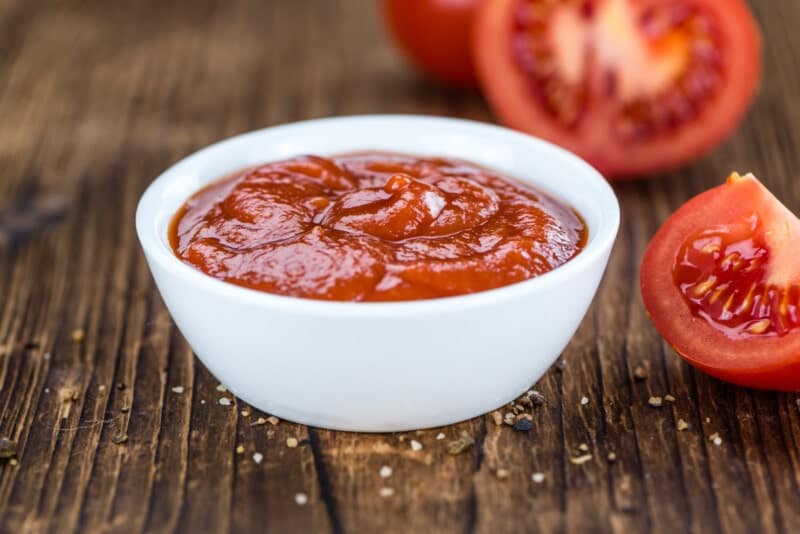 Finally, a way to make use of that bottle of ketchup which has been lurking on your refrigerator's condiments shelf! Ketchup is arguably the most handy substitute for tomato paste because--who doesn't have a partial bottle kicking around, or at the very least a few ketchup packets leftover from some takeout. The excellent thing about using ketchup as a tomato paste substitute is that it is essentially a type of tomato paste itself, being made from concentrated tomatoes that have been cooked down to a smooth, paste-like consistency.
The main difference however is in the amount of seasoning used, as tomato paste tends to be pure tomatoes and nothing else (save for a bit of salt in certain brands), while ketchup often contains plenty of sugar, making it much sweeter, quite acidic, and at times even a bit spicy. Therefore you may want to adjust the other ingredients in your recipe to accommodate for these flavor differences.
Also, although ketchup is relatively thick as compared to some other tomato paste substitute options, it is still not quite as thick as tomato paste so including it in your recipe will likely add on a bit of extra cooking time as well.
How Much to Use:
You should go with a 1:1 equal parts ratio here. While you may be tempted to add more ketchup in order to amp up the tomato flavor, doing so can easily cause your recipe to take a turn for the too sweet or vinegary.
Fresh Tomatoes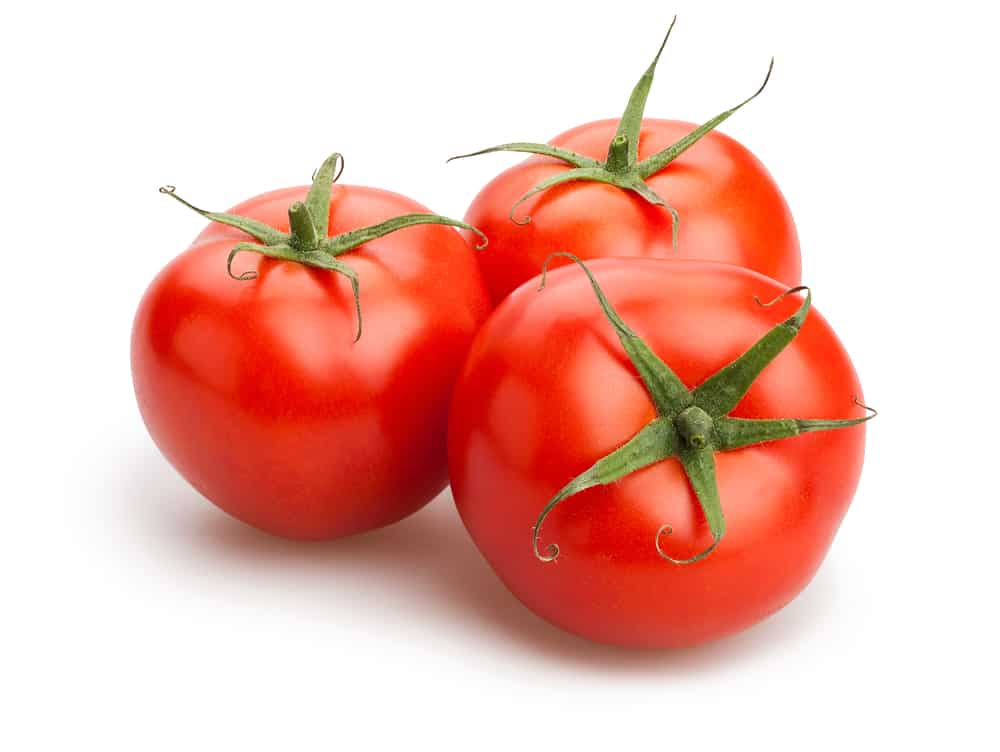 Fresh tomatoes require a bit more work than the other, more processed tomato products we've covered so far. Nevertheless, fresh tomatoes of course contain plenty of rich flavor and can therefore take the place of tomato paste in your recipe if needed!
Before you can use fresh tomatoes as a substitute, you first need to blend them. This is a great time to use a food processor if you have one, but a blender or a food mill would work just fine as well. Before going on to blend a ton of tomatoes, consider carefully how much you will actually need. Due to the fact that most recipes only call for a small amount of tomato paste, chances are you won't be needing more than half a cup of blended fresh tomatoes. Therefore, a handful of grape or cherry tomatoes should do the trick, or one medium-large sized while tomato.
Blend the fresh tomatoes until you achieve a uniform consistency. You may also want to add a bit of salt (or soy sauce, to bump up the umami factor!) and sugar to enhance the natural flavor of the fresh tomatoes and give them a more similar taste to that of tomato paste. Once you have achieved a homogenous tomato blend, you can use this mixture as a tomato paste substitute in your recipes, just give it a few extra minutes of cooking time to burn off all of that excess liquid released by those fresh tomatoes.
How Much to Use:
This might sound like a lot, but due to the completely un-concentrated flavor of fresh tomatoes, you need a 4:1 ratio here! Use 4 tablespoons (¼ cup) of blended fresh tomatoes for every tablespoon of tomato paste called for in your recipe.
Tomato-Free Tomato Paste Substitutes
Need a tomato paste substitute that doesn't actually contain any tomatoes? This is your section!
If you simply don't desire tomato flavor in your recipe, any of the following options will do. However, if you are seeking a substitute due to an allergy, always be sure to carefully check the ingredients label of any product as there is always the chance that hidden tomato ingredients may lurk, such as sun-dried tomatoes hidden in pesto or red pepper paste, for example.
Other Types of Pastes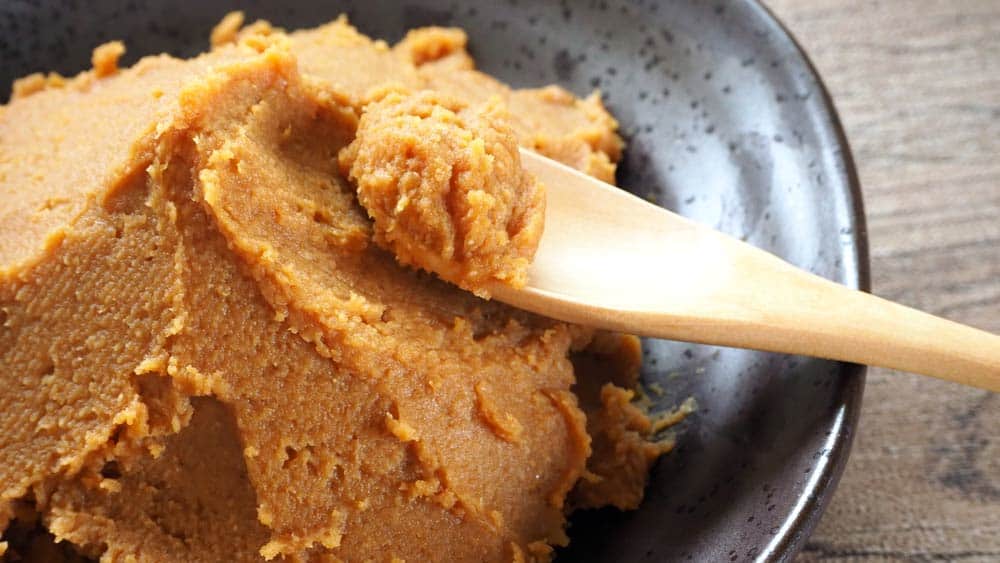 There is a whole wide world of pastes made from delicious ingredients out there! While not all of them will contribute the same deep savoriness or thickening power as tomato paste, they are certainly worth considering as a substitute! Miso paste is highly savory and has a thick texture much like tomato paste, while pesto and olive tapenade would be thinner but pack a ton of flavor. Here are a few types of pastes which might do the trick when looking for a suitable replacement for tomato paste:
Miso Paste
Pesto
Red Pepper Paste
Olive Tapenade
Curry Paste
How Much to Use:
The exact amount to use depends on which type of paste you are subbing in. Miso paste, pesto, and olive tapenade would most likely do well at a 1:1 ratio, while items such as red pepper paste and curry paste would likely add too much spice at this level. Our best advice? Start with half the amount of paste as called for in the recipe, then taste and add more as needed. Trust your taste buds!
Other Vegetable Purees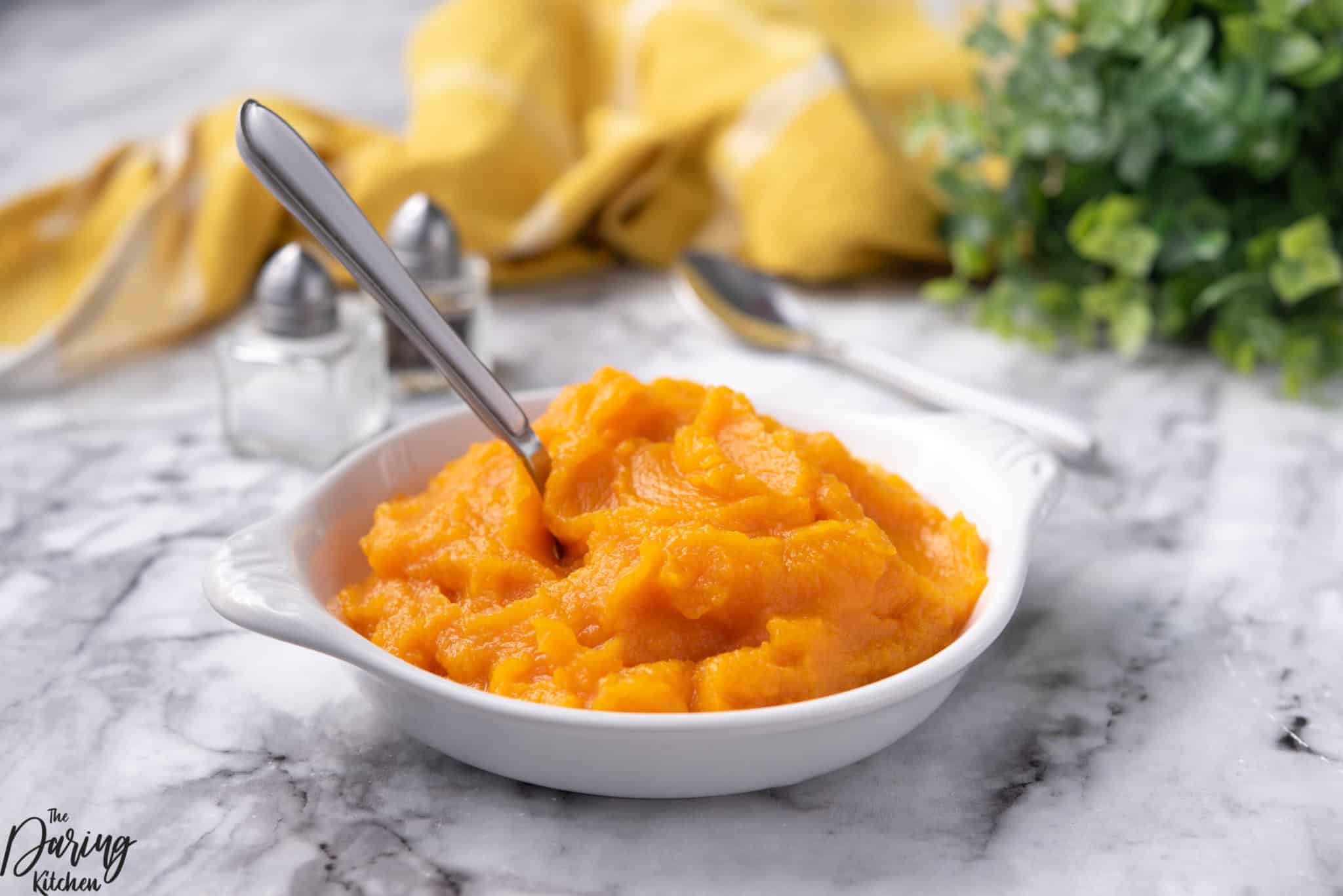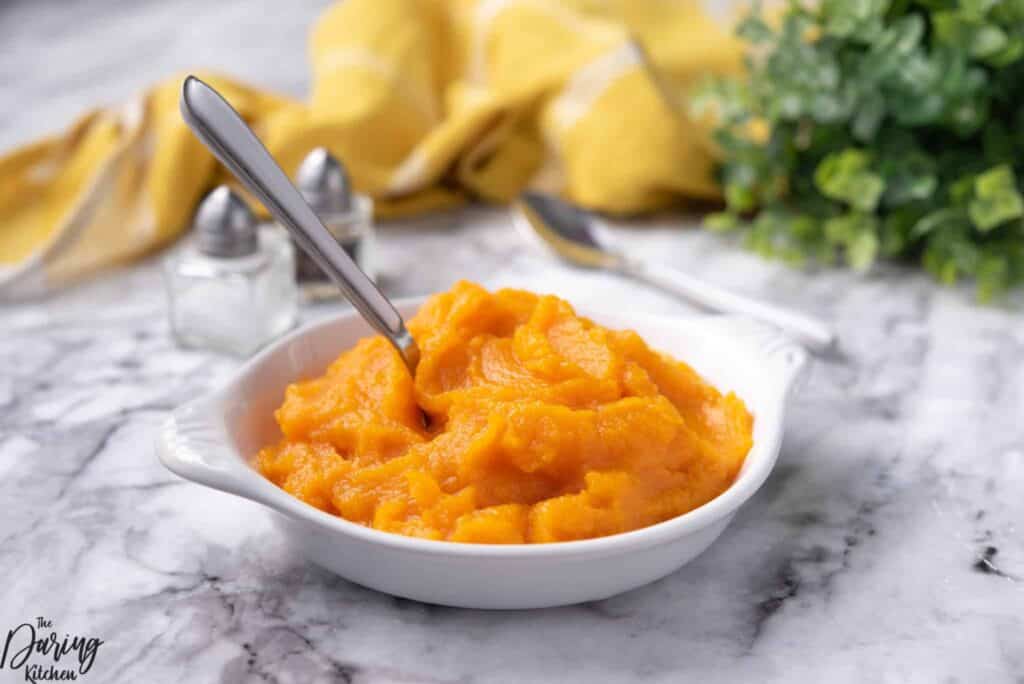 While not just any vegetable puree will be up to the task here, as many vegetables are just too watery, certain veggies produce a wonderfully rich and thick paste when pureed. We're looking for creamy, velvety texture here such as those made from winter squash or pumpkin. We're here to cheer you on if you feel like making your own homemade vegetables purees (try our recipes for both Healthy Roasted Butternut Squash Puree and our Homemade Pumpkin Puree), but if you happen to have a leftover can of pumpkin puree lingering in the cupboard from last Thanksgiving, that'll do perfectly as well.
The flavor will be alternate, but other vegetable puree is a great option if you are looking to remove the tomato ingredients all together due to allergens, or if your recipe is already tomato-flavor heavy thanks to other ingredients. In this case, the flavor of the tomato paste will not be missed and other vegetable flavors will be quite complimentary!
How Much to Use:
Start with a 1:1 ratio. However much tomato paste your recipe calls for, you can use the same amount of vegetable puree. If you are loving the taste, go ahead and add more!
Homemade Tomato Paste
As promised, here is an easy method for using store-bought tomato sauce or puree to make your own homemade tomato paste! While you can absolutely use the sauce or puree as is in your recipe, taking the extra steps here to turn it into tomato paste will yield even better results. And! If you make extra tomato paste, go ahead and freeze it! Future you will thank present you for being so thoughtful.
One method is to cook the tomato sauce on its own beforehand, so as to evaporate some of the excess moisture and reduce it to a thick puree. To achieve a more concentrated tomato flavor
How to Make Tomato Paste
Step 1: Combine the Ingredients
For every ½ cup of tomato sauce or puree you plan on cooking down into tomato paste, add 1 teaspoon of soy sauce (or a pinch of regular salt), 1 teaspoon of sugar, and 1 teaspoon of olive oil. Stir it all together in a small pot or saucepan.
Step 2: Cook the Tomato Paste
Place the mixture over medium heat and cook, stirring often, until you begin to see steam. As the water evaporates the sauce will thicken and may have a tendency to stick to the bottom of the pan, so reduce to low heat and continue stirring until the sauce takes on a paste-like consistency.
Step 3: Store the Tomato Paste
Once the proper texture and concentrated tomato flavor are achieved, remove the tomato paste from the heat. You can either use it in your recipe straight away, or store it for future use!
Summarizing the Best Tomato Paste Substitutes
So, when you find yourself suddenly without any tomato paste to finish off that recipe you're working on, just choose any of the above options!
Other tomato products serve as perfect stand-ins, whether they be tomato sauce or puree, tomato soup, canned whole tomatoes, or even ketchup! If you'd like to be tomato-free, go ahead and reach for another paste-style product such as miso paste or pesto. Or, shine the spotlight on another vegetable for a change, giving purees of winter squash or pumpkin a chance to work their magic in your dish!
If you feel like it, it's quite easy to whip up your own tomato paste in a snap using the handy shortcut of some store-bought sauce and some seasonings. Need some recipe inspiration for that leftover tomato paste you'll surely have after doing so? Try our Vegan Lentil Meatballs or Vegetarian Chili!