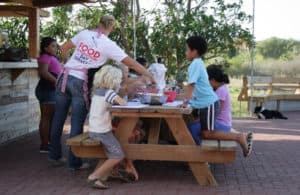 Unfortunately, the facts and figures of both are equally bad. A study compiled in 2008 revealed shocking figures of obesity amongst adults and children on Curaçao island alone, with another study in 2013 showing no improvement.
Shocking teen obesity levels
The research shows, amongst other overweight and obesity related issues, that in 2008 a whooping 22% of teenagers (15 to 16-year-olds) on Curaçao were obese according to the BMI index, the waist-circumference and waist-to-hip ratio.
The childhood obesity and overweight problem is not only on Curaçao or the Caribbean; it's a worldwide issue. Where on the one hand children are dying of starvation in India, others' lives are cut short because of overweight-related diseases.
One thing is clear: making healthier consumption choices can make a difference to these figures.
Time for change
As an ambassador for Jamie's Food Revolution I have made it part of my mission to combat and prevent childhood obesity and overweight-related issues. Living on an island surrounded by crystal clear water, guaranteed sunshine every day and plenty of locally grown fruits and vegetables, I find it shocking to read these results and see it around me on a daily basis. With these figures and over 30 fast food restaurants on an island that stretches only 60km long, there is a serious health problem on the rise.
My solution
I believe that we should start with children, as they can enforce the awareness for healthier choices and help to make a difference in their family homes. By running workshops and demonstrations at schools, and setting up programmes with governing school and sports club bodies, we can really make a difference and break the chains of the fast food habits into more of the slow-food moments and togetherness.
Cooking from scratch offers so much more than food education alone – it brings people together, gives families time to chat about their day and it slows us all down a bit after a hectic buzzing day at school or work. In the ideal world, we would all have seas of time for each other and to do everything we love – unfortunately, the times we live in are based on rush hours, tight scheduling and quick meals. The least we can do is to look after ourselves by becoming more aware of what and how we eat in order to keep our bodies and minds in the right condition to deal with our busy lifestyles.
So I can't wait for schools to start again – I'm ready to slow down and get kids cooking, get them excited about local produce and get them talking about real food!