Even if you've somehow never tasted peas, you've most likely at some point at least heard about them, as peas are the subjects of many of our most common sayings and idioms. From "pea-sized" to "two peas in a pod" to "thick as pea soup", peas have somehow made their way out of their pods and into everyday language as a measure of size, a comparison for likeness, and an excellent weather descriptor for when that summer morning fog is all encompassing.
When you stop to think about it, it's no wonder these little green globes are so ubiquitous--they've been a consistent part of the human diet for the last 10,000 years! Since their origination though, the pea has branched out in a big way, resulting in several different varieties of the fresh green pods we know as peas.
Join us as we get to know all of the different types of peas (and pea imposters!) and face some frequently asked pea questions.
What Are Peas?
Peas (Pisum sativum) are members of the legume family (Fabaceae) along with other important food crops such as soybeans, kidney beans, and lentils. The unique thing about peas, as opposed to these other legume relatives, is the fact that in many cases we consume the pods as well! Most legumes have tough and fibrous pods which are not edible, but as we're about to find out, some types of peas are delicious and nutritious--pod and all.
Where do Peas Come From?
The official origin story of the pea plant is a murky one, perhaps due to the fact that it's been around for so incredibly long! Wild relatives of our modern pea cultivars are found throughout the Mediterranean, while archeological digs have uncovered evidence of peas dating all the way back to about 10,000 BCE!
On top of this raw data, you can find peas sprinkled throughout history and across many cultures, from having a place in Norse mythology to being buried in tombs alongside Egyptian pharaohs. Wherever peas came from originally, the fact remains that human beings have been enjoying them for a very, very long time.
How do Peas Grow?
Depending on the variety, pea plants may either grow as a bush, keeping themselves compact and low to the ground, or as a vine, climbing up and around structures and other plants. Pea plants are known for producing beautifully colored and delicate flowers in a range of hues from pink to white to violet.
Are Peas Fruit?
After flowering, the pea plant will begin producing pea pods from the base of each flower. That's right, while they are often considered a vegetable (perhaps thanks to their grassy flavor and green coloring) pea pods are actually a fruit and the peas themselves are the seeds of the fruit. Depending on variety, each pod may contain just a few or many of these individual seeds.
Are Peas a Starch?
While not a starch in the same sense as say, rice or wheat flour, peas are definitely starchy. They are widely considered to be a type of "starchy vegetable" (although you now know they are actually fruits!) which means that they are less starchy than grains, but definitely starchier than other veggies. Some examples of other starchy vegetables/fruits are sweet potatoes and winter squash, while non-starchy vegetables include things like asparagus and bell peppers.
What exactly causes the scales to tip either in the direction of starchy or away from it? Good ol' fiber! Starchy veggies have a higher starch to fiber ratio while non-starchy veggies will contain a great deal more fiber.
The Three Main Types of Peas
The pods and seeds we know as peas are organized into three main categories. Within each grouping, there are several different pea varieties, each of which has different characteristics and growth preferences. To impart an additional dose of confusion into the matter, both snow peas and sugar snap peas are considered to be "sugar peas", yet the two are indeed different from one another.
English Peas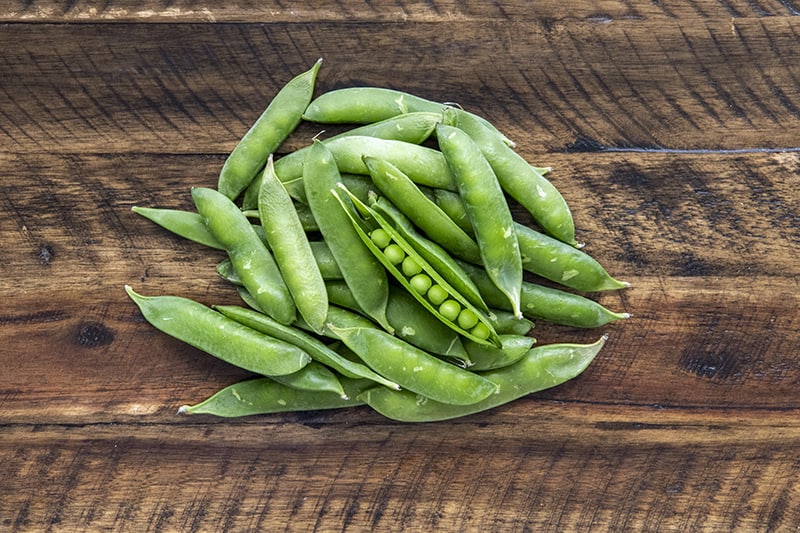 English peas are also known as garden peas or shelling peas. Why a name such as shelling? Because they must be shelled in order to be eaten! The pods of English peas are far too tough to consume, therefore time must be taken to split the pods open, freeing the peas and making their nutrition accessible.
Shelling pea plants are available in both bush and pole varieties, with the climbing vines sometimes reaching six to eight feet tall. Peas such as these will require the support of a trellis or a staking system, upon which they can wrap their tendrils around and effectively "climb" upwards.
Depending on variety, a single garden pea plant can produce a great deal of individual pea pods throughout the growing season.  The plants may produce dark green pods, yellow pods, or even purple pods in some cases! When peeled apart at the seam, each pod will reveal a near perfect row of plump peas inside, which will be green no matter the color of the outer pod. These peas generally will have a moderately sweet taste, with some varieties being very sweet and others tasting more nutty.
Some Varieties of English Peas
Lincoln Peas
Wando Peas
Spring Peas
Survivor Peas 
Misty Shell Peas
Garden Sweet Peas
Snow Peas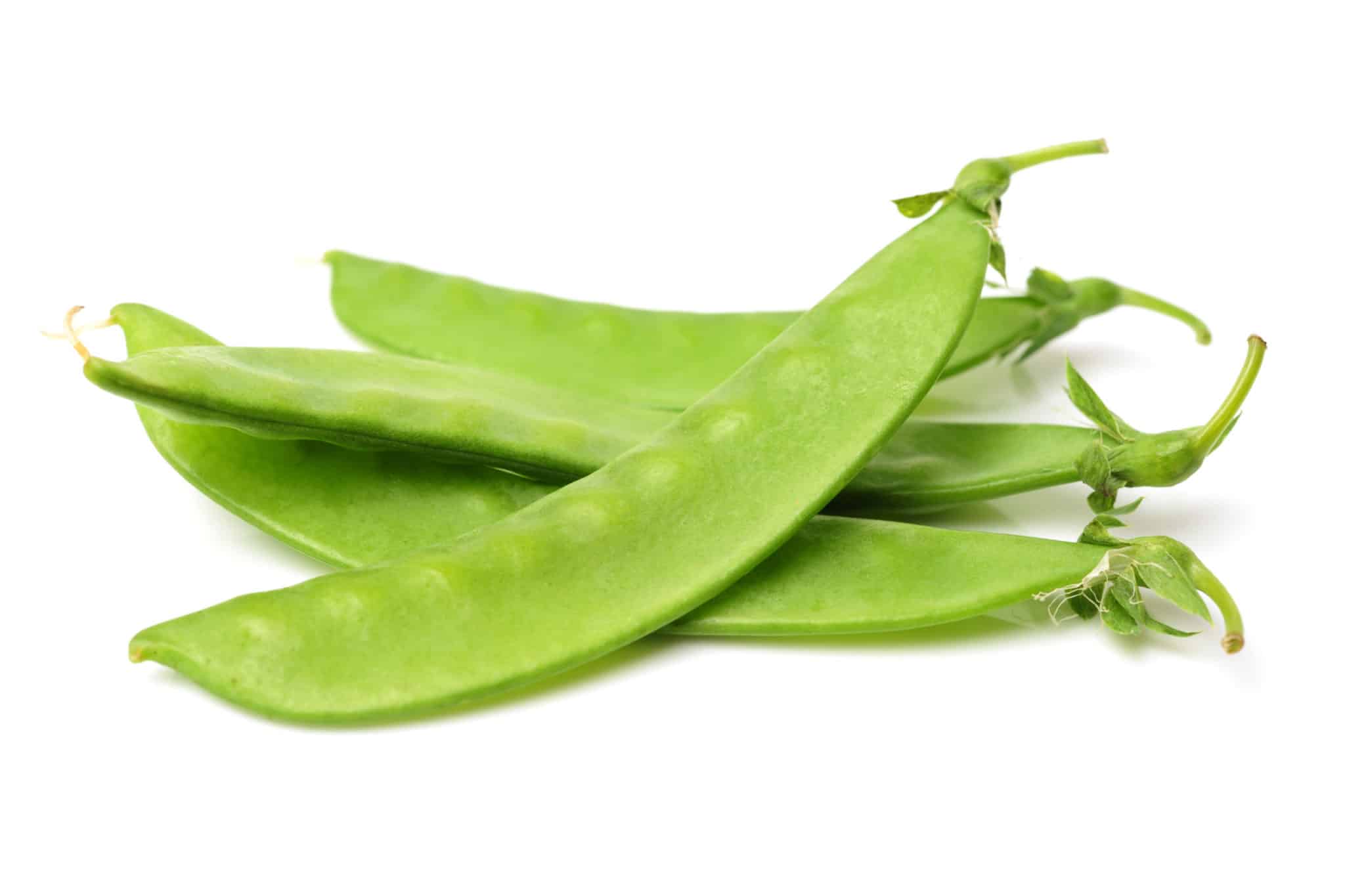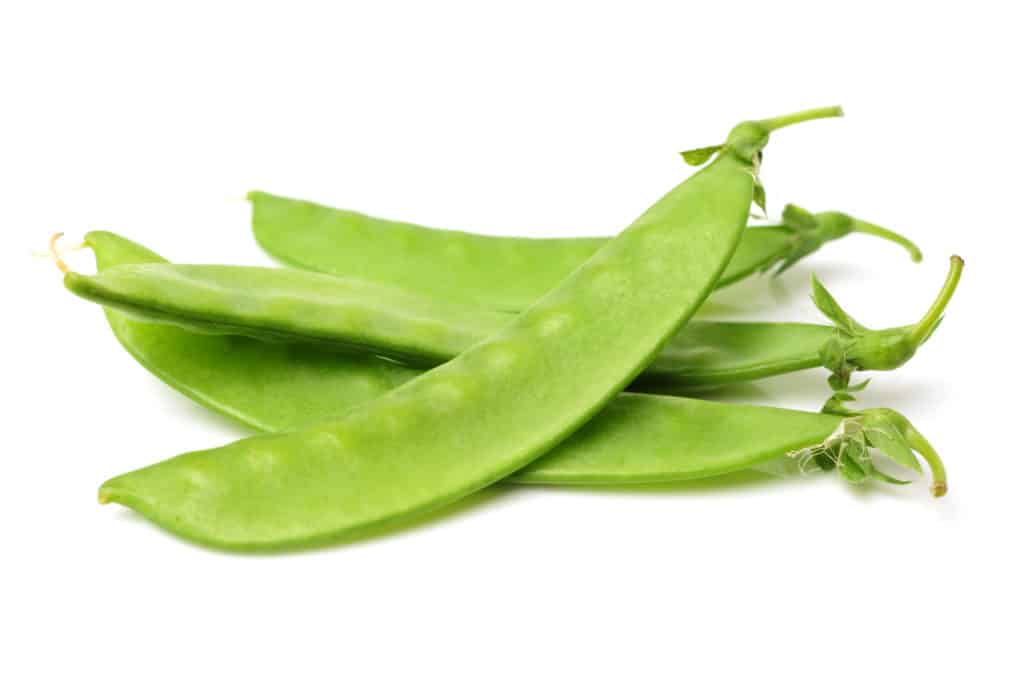 More often than not, peas are seen as a harbinger of spring, with their bright green coloring and fresh taste evoking feelings of longer days and sunny warm weather. Snow peas march to the beat of their own drum though and grow happily in cooler weather. They can even survive through frost and snowy conditions, hence their name!
Unlike garden peas, snow pea plants do not produce very big peas. Rather, the peas inside the pods of snow peas stay quite small. Luckily for these small, tender peas, they happen to be wrapped in an entirely edible pod, therefore, "pea-sized" in this case is just fine! Snow peas are crunchy and refreshing when eaten raw but are also especially delicious when tossed in stir fries or blanched and mixed into a salad.
Snow peas are easily distinguishable by their flat appearance which causes a visible silhouette of the small, round peas within the pod. You may have heard them referred to as Chinese peas, for their prevalence in Asian cuisines as well as the fact that they are thought to have originated in that region of the globe.
There are several varieties of snow peas, many of which have wonderfully wintery sounding names!
Some Varieties of Snow Peas
Avalanche Peas
Snowbird Peas
Oregon Sugar Pods
Mammoth Melting Sugar Peas
Sugar Daddy Peas
Sugar Snap Peas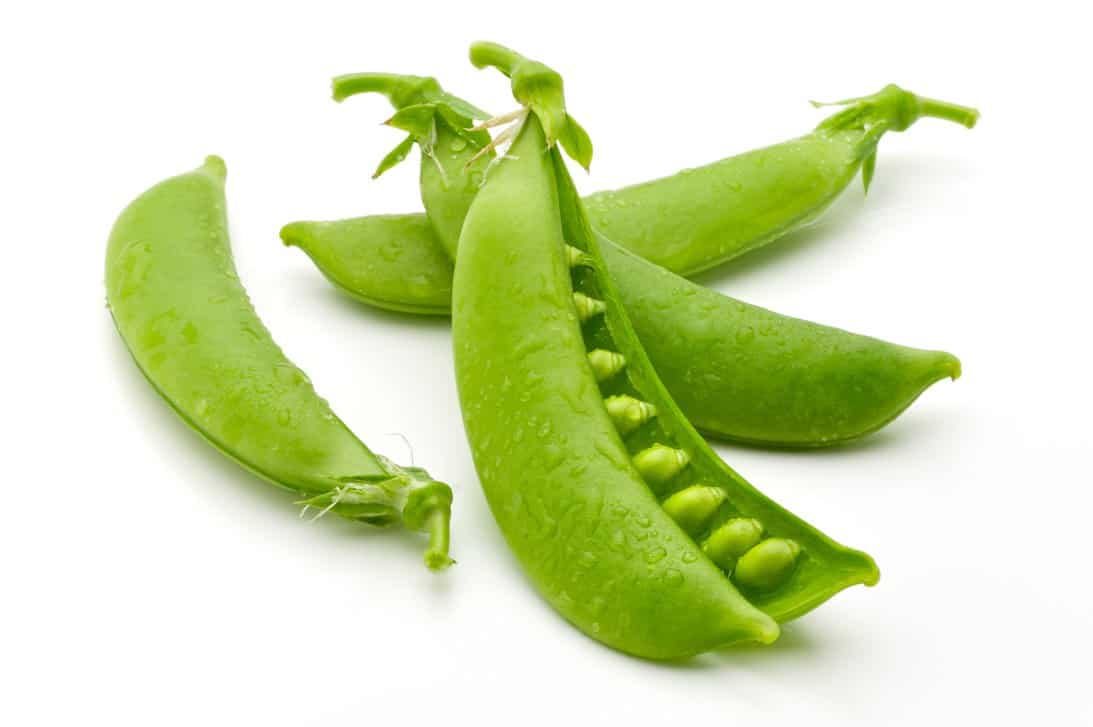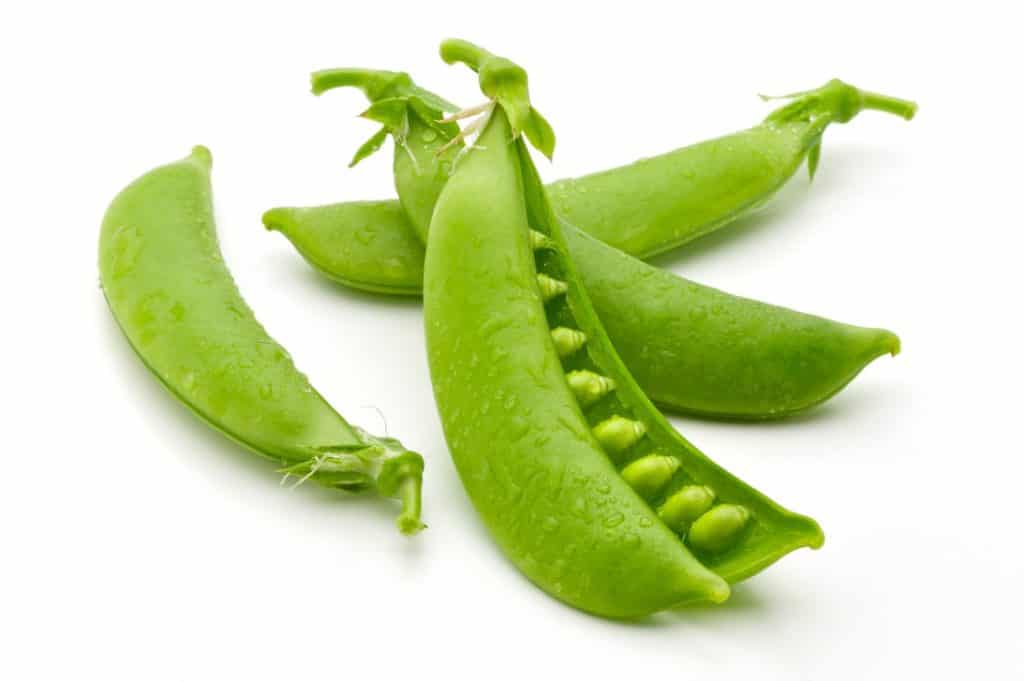 Upon first glance, sugar snap pea pods bear a great resemblance to English pea pods, however there is one key distinction. Where the pods of English peas are thin enough to highlight the plump peas within, sugar snap pea pods are thick and rounded, completely disguising any presence of peas inside! Just like snow peas, sugar snap peas have edible pods, therefore these thick pod walls are a welcome treat.
Unlike snow peas, however, sugar snap peas are happiest in warm temperatures, easily outlasting varieties of snow and English peas well into the summer months. Many varieties of sugar snap peas are climbers which can grow well over 6 feet tall, so once again, proper structure is important to support these plants as they grow.
With just one taste, you'll realize that sugar snap peas truly live up to their name, as they have a remarkably sweet flavor and juicy texture. Sugar snaps can be eaten raw or used in any number of cooked applications as they maintain their crunch even after cooking.
Some Varieties of Sugar Snap Peas
Sugar Ann Peas
Super Sugar Snap VP
Sugar Bon Peas
Super Snappy Peas
Other Types of Peas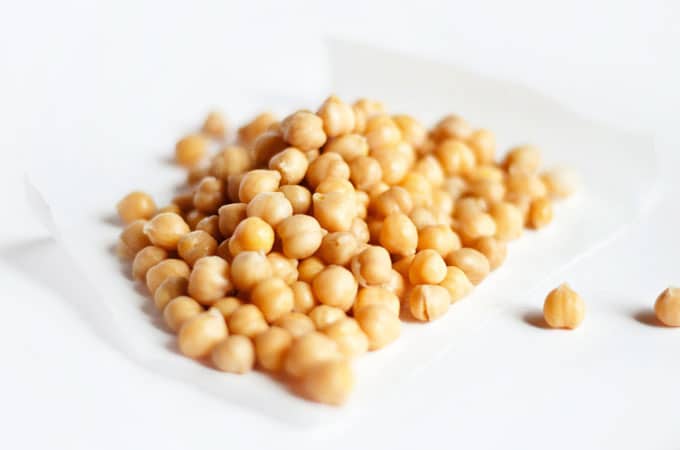 So far, we've covered the different types of peas which are true peas, meaning members of the legume family which are classified under Pisum sativum. But what about all of those other foods which bear the same name?
Though the names might be deceptive, if you take one look at any of the following "imposter peas" you would most likely not be confusing them for fresh, green peas anytime soon as their appearances and uses are markedly different.
Field Peas
Let's start with field peas, of which there are several sub varieties: cowpeas, black eyed peas, crowder peas, purple hull peas, and Southern peas to name a few! These legumes, while sometimes used in their fresh form, are typically dried and sold like any other dried beans. In addition to being a quality food source for humans, many types of field peas also serve a role as livestock feed.
Field peas come in a range of sizes, shapes and colors. Black eyed peas are perhaps the most recognizable, with their smooth beige surface and characteristic dark spot at the seam while purple hull peas grow in long, deeply violet-colored pods. Field peas are highly useful for the fact that they can thrive in soil which is drier and less nutritious than that which is required by the three varieties of true peas.
Pigeon Peas
Out of all of the imposter peas, pigeon peas (Cajanus cajan) probably stand the best chance of ever being mistaken for fresh green peas. Young pigeon peas are fairly similar in shape and size to English peas and have a lovely bright green coloring and a nutty, mildly sweet flavor. When allowed to mature and dry however, they turn light brown and take on a mottled appearance, developing a flavor more like other dried beans.
Pigeon peas are prevalent in Indian, Caribbean, and Latin American cuisines among others, especially since they grow best in moist, tropical regions. While most legumes grow on bushes or climbing vines, the pigeon pea plant actually develops into a shrub-like tree and can reach heights of 12 feet tall!
Chickpeas 
Also known as garbanzo beans, chickpeas are those lumpy yet lovable beige beans which are perhaps most famous for their starring roles in the Middle Eastern dishes like hummus and falafel. Though they are round like actual peas, their shape is way off, and in comparison to green peas, chickpeas are huge! Although in their fresh form, chickpeas are actually green, it's likely you never have and never will encounter chickpeas at this stage. Chickpeas are most often available dried and bagged or pre-cooked and canned, ready to deliver a creamy, satisfying texture to your next meal.
Sweet Peas
Deceptively named, the sweet pea (Lathyrus odoratus) is one type of pea which is not edible. Instead, the "sweet" refers to the saccharine aroma released by the flowers of the sweet pea plant, not to the flavor of the seed pods themselves. Sweet pea pods and seeds are actually toxic to humans and pets, so this is definitely one to look out for. There is some conflicting evidence however that young sweet peas may be edible if given ample time to soak (which removes the toxins) but as the seed pods age, the toxins get more and more concentrated in the peas themselves. Bottom line? Admire sweet pea flowers, but leave their seed pods alone!
Now, don't be worried if your bag of frozen peas from the grocery store or your pile of fresh peas from the farmer's market has been labeled "sweet peas". In these cases, the word sweet is often used as a descriptor, generally referring to peas which are smaller and sweeter as opposed to more mature, larger peas.
Pea FAQ's
Can You Eat Other Parts of Pea Plants?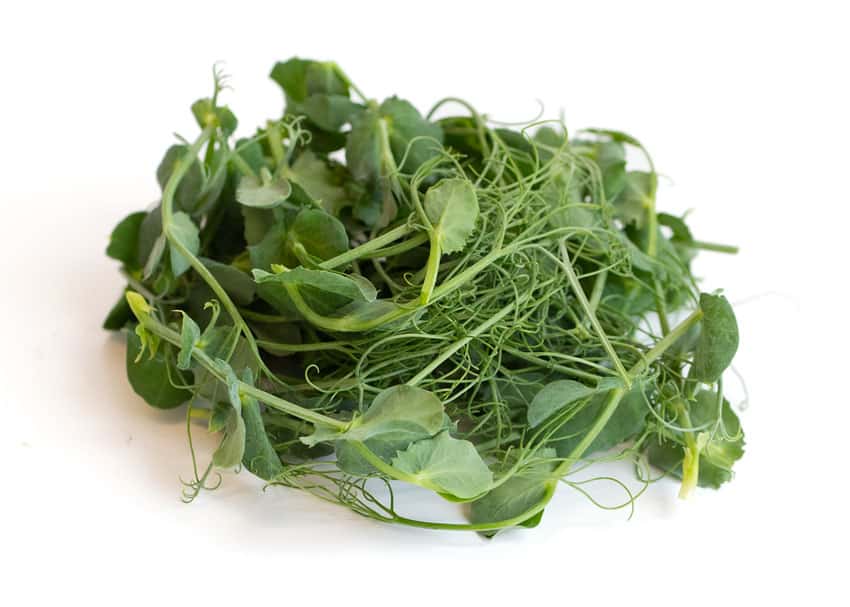 Despite being grown specifically for their pods and/or seeds, pea plants offer many other delicious bits and bites as well. Pea shoots, the tiny and tender young stems of the pea plants, are edible and tasty when tossed in a salad. You may have also seen pea tendrils garnishing plates of food at your favorite restaurant. These curly tips, produced by the pea plant as it grows, have long thread-like fibers which can wrap themselves around nearby objects and plants for added support.
You can even eat entire pea leaves! While older pea leaves may be too tough or fibrous to enjoy raw, don't hesitate to lightly sauté them. Or, if you get lucky enough to have a batch of young and tender pea leaves, you can toss them right into a salad. The flavor of all of these pea plant parts is pretty reminiscent of fresh peas themselves, however they tend to taste a bit more vegetal and less sweet than the actual peas or pea pods.
Which Types of Peas Have Strings?
All three types of peas (English, snow, and sugar snap) naturally have strings, but the truth is, you don't really need to worry about strings on English peas since you will be removing the entire pod in order to get to the seeds inside anyway.
That leaves snow peas and sugar snap peas to worry about in the string department. Now, as botanical sciences have progressed, many "stringless" varieties of these types of peas have been produced, but in some cases these strings are still present and just happen to be less "stringy" while in other varieties, they are altogether gone.
How to String a Pea Pod
Happened to wind up with a batch of stringy snow or sugar snap peas? No worries! Removing the strings is a simple, albeit slightly time-consuming task.
Step 1
Using just the tips of your thumb and index finger, grab a hold of the stem end of the pod. Some pods will still have a stem or stem remnant attached, while others may have been broken off during harvest.
Step 2
With a swift movement, use your fingers to snap the stem (or a tiny bit of the stem end) off of the tip of the pod. In most cases, you'll find that the broken piece you're holding onto is still attached to the pod by a stringy thread.
Step 3
Use the broken stem to pull the string downwards along the seam and towards the other end of the pod. With any luck, the entire string will come off in one piece! If you end up breaking the string part way through, don't worry, you can always use a paring knife to remove the string starting from where you left off.
Step 4
Enjoy your string free snow or sugar snap pea! To make things easier, we recommend stringing your whole batch of peas the day you bring them home from the store or market, which ensures that your peas are ready for snacking or cooking when you are!
Recapping the Different Types of Peas
Turns out, there's a lot more to a pea than meets the eye! In terms of true peas, there are actually only three of these: English peas, snow peas, and sugar snap peas. English peas are the only type which must be removed from the pod in order to be eaten. Snow peas and sugar snaps are delicious when eaten pods and all, plus you get the added benefit of more fiber thanks to those crunchy pods!
All other peas, sorry to call you guys out, but you are imposters. Field peas, black eyed peas, pigeon peas, and chickpeas are all in the legume family, but are classified in entirely separate genera and have characteristics more in line with other legumes like kidney beans and black beans.
No matter which peas you choose to put on your plate this spring, we hope this handy guide to all the types of peas has taught you a thing or two about them!