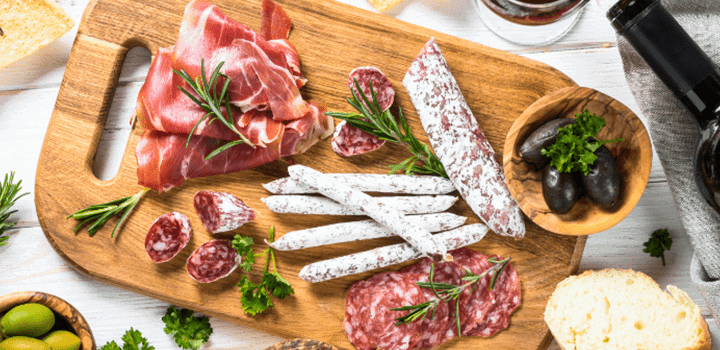 Salami is not a new invention. Its history dates back to the ancient Roman times when people needed to preserve meat for long. As you may have guessed, salami has an Italian origin. Italians call it 'salume' deriving from the ancient Latin name 'Salumen' which means salted meat.
Any dry fermented mix of encased meat is called salami but there are many different types of salami. Some of them are named based on their ingredients and others based on the name of the region or country in which they are produced.
What makes these salami types different is a variety of factors including:
Type of meat used: Typically, it is pork or a mixture of pork and beef. Other salami varieties include and are not limited to veal meat, poultry, venison, lamb, and buffalo.
Ratio of fat to meat: A good salami needs a proper ratio of fatty and lean meat parts. The taste and texture of the product largely depend on this ratio. The presence of fat makes the texture softer.
Fineness of ground meat: The texture of salami also depends on how fine the meat is ground. Not all meat parts are passed through the machine that grinds the meat. Sometimes, the fatty parts are left untouched.
Quality of meat: The best quality meat comes from animals that are bred under healthy living conditions. This includes good food and plenty of space to roam outdoors.
Salami Ingredients: Depending on the salami recipe, the ingredients may vary. Favorite seasonings include black pepper, white pepper, sea salt, powdered garlic, wine, nutmeg, fennel, chili flakes, paprika, cloves, sugar, or dextrose, juniper berries and in some cases cinnamon. Most types of salumi usually contain about 3% salt. Preservatives such as nitrates and nitrites are also used. Nitrites derived from natural foods such as celery and beetroot are a natural substitute. Products with natural preservatives are labeled as uncured.
Production process: The stages involved in the creation of salami are preparation of the raw materials, fermentation, ripening, drying, and sometimes smoking. Small differences in the preparation or production techniques are responsible for the variety of salami products produced across different countries.
So, how can you choose among so many different varieties of salami? Let's have a look at the ones that stand out.
Finocchiona Salami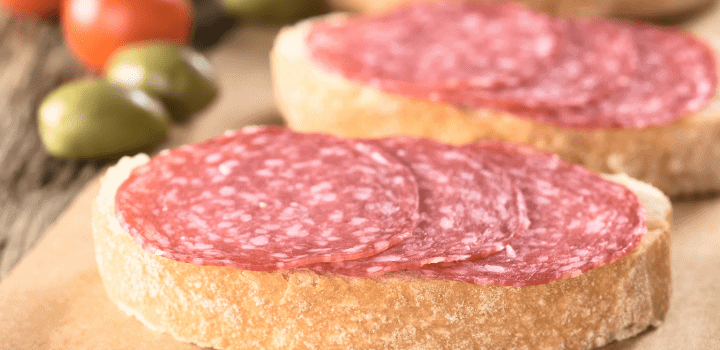 A typical Tuscan specialty, Finocchiona takes its name from one of its special ingredients, Fennel (Finocchio in Italian).
It is made from lean and fatter meat parts chopped and mixed with ground pepper, black peppercorns, salt, and fennel seeds. In the final stage, red wine is added to the mixture. Air-drying lasts at least for 5 months.
The flavor of Finocchiona is intense but sweet at the same time due to the presence of fennel. Its special aroma makes it an excellent antipasto salami which is versatile enough to be used in different recipes from salads to pasta and risotto. However, the most popular Italian combination is eating it with unsalted homemade bread, fresh raw broad beans, and pecorino cheese.
Felino
One more Italian specialty, Felino is known as the 'King of salamis'. It originates from the region of Parma and comes with the European IGP Certification. The meat used to make the sausage is carefully selected from pigs that have been raised without the use of hormones.
It has a cylindrical shape with one edge smaller than the other. The casing is covered with a benign type of fine white mold that can be removed if you like. Its purpose is to keep bacteria away and help cure the sausage.
The ingredients are 70 % lean meat, 30% fatty meat, Salsomaggiore salt, pepper, black peppercorns, garlic, and white wine. Hand-stuffed into a 100% natural casing, the sausage is left to dry and slowly age for 1-3 months.
Felino boasts a sweet, light peppery taste with undertones of white wine. It has a soft texture with opaque white fat bits and ruby-red color. It makes an excellent snack, appetizer, or picnic treat.
Pepperoni
One of the most popular pizza toppings in America, pepperoni is a spicy salami with an American-Italian origin. It is made from pork and beef although sometimes, turkey can also be used. Other ingredients include salt, chili pepper, paprika, garlic, white pepper, and anise.
It has a soft texture and a lightly smoked flavor. When heated, its edges curl and become crispy - a characteristic that people love. It may not be as versatile as other salami types of sausage but its popularity as a pizza topping makes up for it.
Chorizo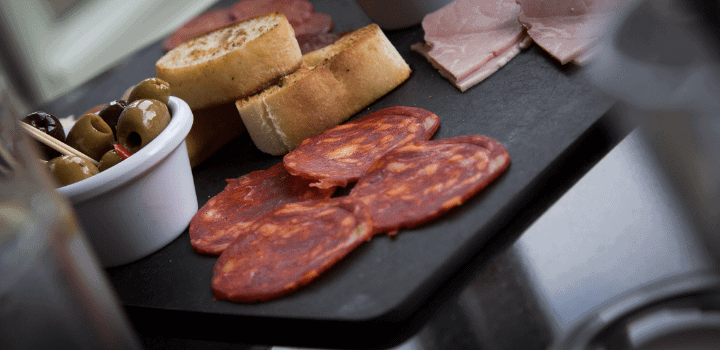 Chorizo is a Spanish salami usually made from pork and beef and seasoned with spicy paprika. It's a typical product of the Iberian peninsula and Latin American countries, and there are various artisan recipes for making it. In the US, it comes in 2 forms: dry like salami and semi-cured.
Pork and beef are not the only types of meat used in this sausage. Other varieties include turkey, cow, venison, wild boar, and even horse.
During the preparation process, the meat is coarsely chopped rather than minced. Then, it's seasoned with salt, spicy or sweet paprika, and garlic. Sometimes other ingredients are added such as cumin, thyme, bay leaf, onion, chili pepper, and oregano.
Chorizo has a characteristic red color due to the paprika and a rich flavor. Some varieties are also smoked with oak. From breakfast dishes to lunch and dinner, there are many ways to cook it. Remember to remove the casing before doing so.
Genoa Salami
Dry-cured and smoked, authentic Genovese salami is made of equal parts of pork and beef although, according to the USDA-FSIS rules, the American version of Genoa salami should contain pork as the main ingredient. Other ingredients include grainy black pepper, garlic, white wine, and salt.
This sausage features large white fat grains since only the lean parts of the meat are ground. It has a smoky aroma and a tangy flavor due to the wine.
Cacciatore Salami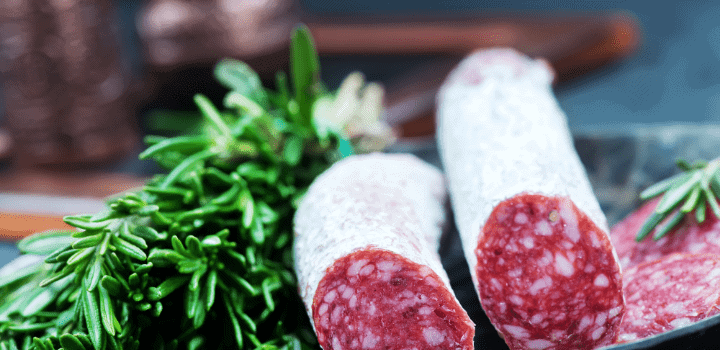 Cacciatore comes with a DOP certification which ensures that the product is locally produced and packaged.
Centuries ago, hunters used to carry it in their saddlebag because of its small handy size. Also, in terms of nutrition, it provided a good amount of proteins, fat, and salt to make up for the loss of mineral salts during the hunting trip. That's how the salami got its name (in Italian the word cacciatore means 'hunter').
It has a ruby red color and the fat grains are uniformly distributed. It can be best paired with a glass of sparkling wine, some unsalted bread, and mild flavor cheese. It also gives a nice taste to lettuce, fresh mushrooms, tomato, rocket, lentils, and olives. Finally, an original Italian way to savor it is together with fruit such as apples and pomegranate seeds.
Soppressata
One of the most well known Italian salami types, soppressata is a type of Calabrese salami that is dry-cured and made from pork.
While most other kinds of salami are made from a mixture of lean and fatty pork meats, Soppressata contains exclusively lean pork cuts like shoulder, thigh, ham trimming, or fillet. Therefore, it contains less fat. The shape is also different. It is not cylindrical but rather more flattened and the casing is larger.
Besides, the meat is not passed through a grinder like in common salami but it's cut with the tip of a knife. Seasonings include salt, black peppercorns, chili peppers, garlic, cinnamon, cloves, fennel, rosemary, basil, or oregano.
The duration of the curing can vary but it's usually between 4 and 10 weeks.
Napoletano
Napoli or Napoletano salami boasts of being among the top-selling sausages in Italy. It is made with pork and sometimes veal. It has a coarse-grained texture and the fat ratio of the meat can't exceed 25%.
Stuffed into a natural casing of either pork or veal, the sausage takes 1-6 months of dry-aging in properly ventilated rooms. It may also be smoked. Besides, it has a deep red color and a spicy flavor due to the chili flakes but the spiciness can vary from one variety to another. Other ingredients include salt, pepper, wine, and garlic.
Milanese
Milanese, also known as Milano salami, is a combination of pork and beef with pieces of fat and lean meat evenly distributed. It has a bright red color and a fine-grained texture. In terms of taste and appearance, it is said to have a resemblance to Hungarian salami, but Milanese has a sweeter and more delicate flavor.
Its maturing period is 3 to 9 weeks depending on the diameter of the product. Usually, the diameter is between 6 and 11 cm.
Serve it as an appetizer, pair it with delicate-flavored types of cheese, use it in pasta or make a hearty soup with courgettes, beans, and peas. It also goes well with potatoes and mushrooms.
Hungarian Salami
Hungarian or winter salami is a type of Hungarian smoked salami made from the meat of a Hungarian breed of domestic pork called Mangalica or Mangalitsa. Based on a century-old tradition, the meat is chopped by hand using specially designed knives and then mixed with white pepper, allspice, and sweet paprika.
While cured in the damp cold air, white mold is naturally formed on the casing surface which helps preserve the product. The maturing period can take up to 3 months. This cylindrical sausage has a strong smoky flavor and a creamy tender texture.
In the past, it was only made in winter, hence the name 'winter' (téliszalámi in Hungarian)
German Salami
German salami is a dry fermented and smoked sausage that is made from pork or a combination of beef and pork - both lean and fatty parts of the animal are used. Other ingredients include salt, pepper, garlic, and sometimes rum, red wine, or mustard seeds.
The mixture is stuffed into large casings and left to dry until a 25% water loss is obtained. This product has a distinctly sour taste due to fermentation.
The Bottom Line
Authentic Italian artisan salami is more expensive than mass-produced American salami but it's worth the cost in many ways. Besides, there are so many different types of salami that you'll never get salami fatigue. However, remember to enjoy this lovely treat in moderation as it contains lots of fat and salt.