A classic with a vegan twist - this vegan BLT sandwich recipe is one of my all time favorite recipes. It's crunchy, smoky... all the flavor you want from this traditional sandwich, without any of the meat!
The Best Vegan BLT Ever
When it comes to one of the all-time greatest sandwiches, it's hard not to mention a BLT. It is so simple and delicious. As someone who eats mostly plant based, making a BLT at first seemed impossible. Then, I discovered how delicious it can be.
For years I used tempeh bacon on my sandwiches and salads. There a couple of awesome brands that make tempeh bacon. You can find tempeh bacon in different flavors at most grocery stores. I usually can find it at my local stores.
In this recipe, I do not use tempeh bacon. In fact, I use eggplant bacon (my new secret weapon!) I created the perfect recipe for it too. It's what makes this one of the best sandwich recipes.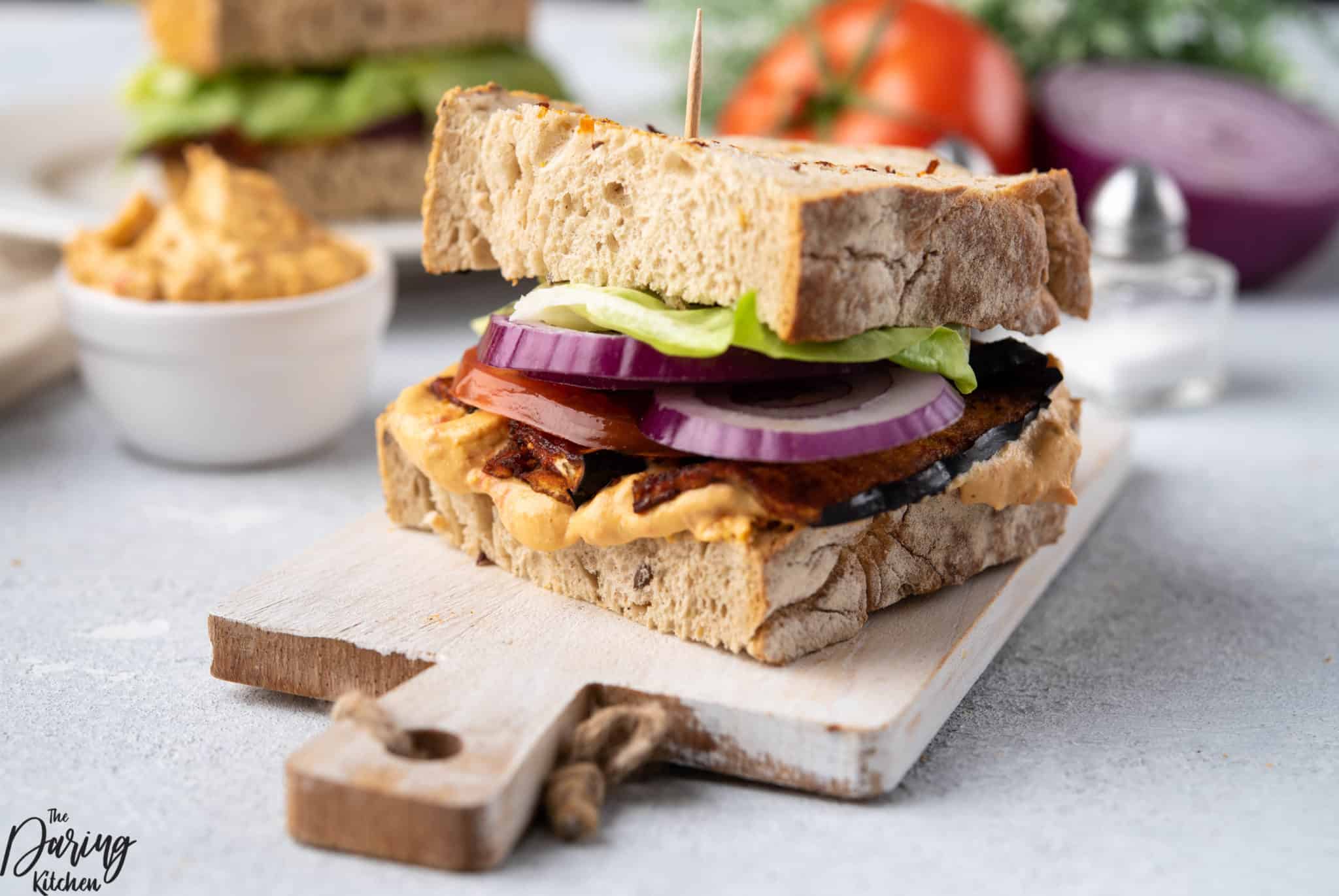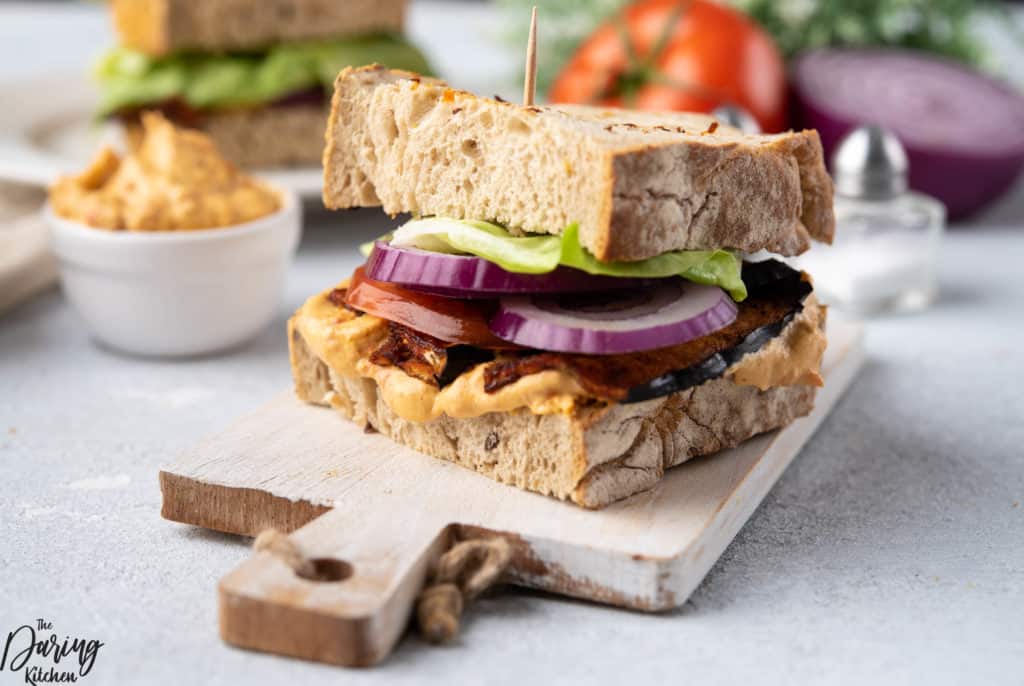 While vegan bacon does add the perfect touch to this sandwich, all the other fillings matter too! The tomato slices, purple onions, and lettuce are the perfect balance to the salty-smoky vegan bacon. I use hummus in this recipe, to add some extra protein and fiber. You could also use vegan mayo to keep to the classic BLT sandwich recipe.
When it comes to bread, I go whole wheat. This offers a ton more nutrients than plain old white bread. You also want something that is strong enough to hold up when toasted. Gluten free bread also works perfectly in this recipe too. No matter what you choose, make sure you have toasted bread slices. You do not want your sandwich to become soggy.
I am so excited to share this amazing sandwich recipe with you. Even if you have to make minor substitutions, you will be so surprised how much you will love each bite, especially if you use my eggplant bacon recipe...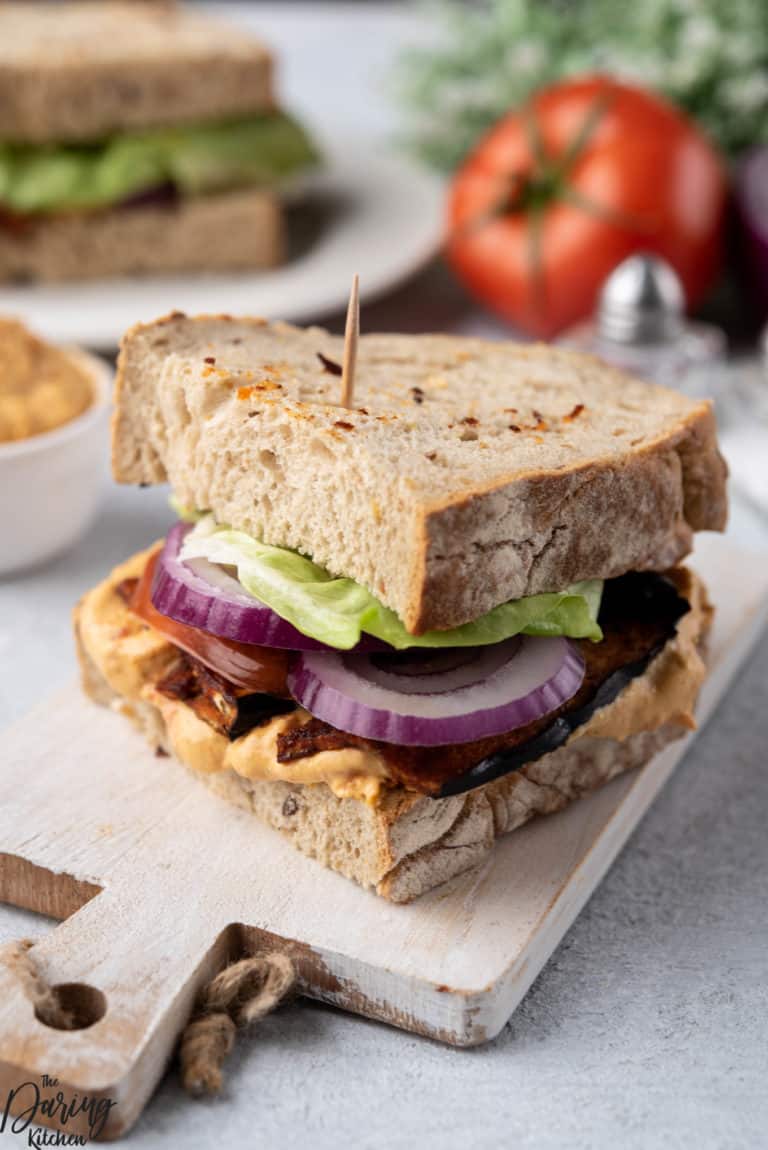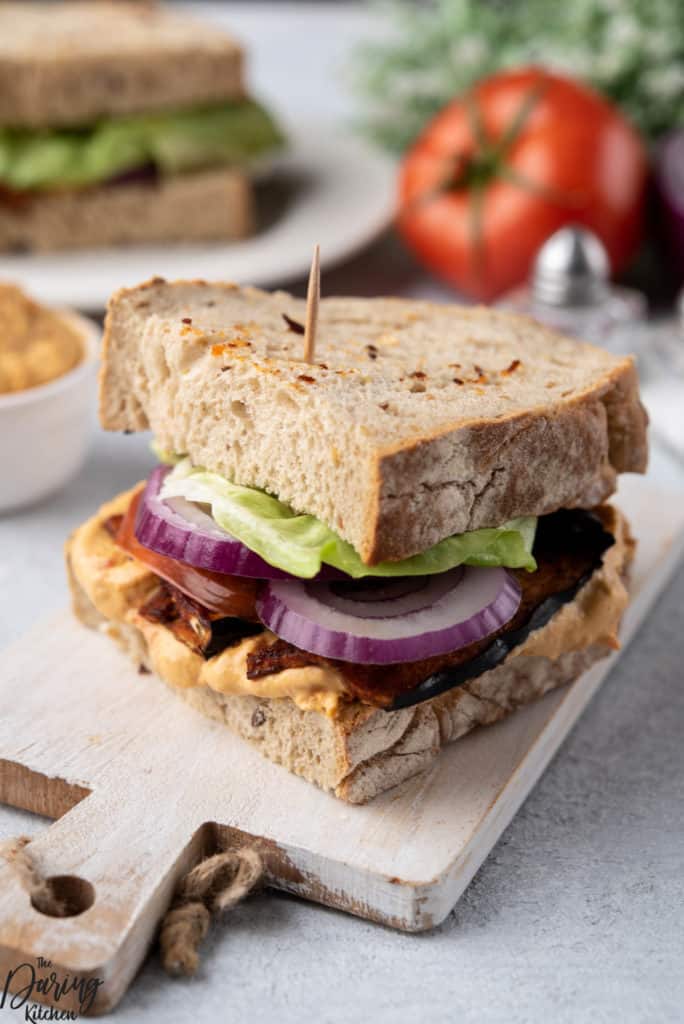 My Go-To Eggplant Bacon Recipe
You may have heard of tempeh bacon, tofu bacon, or even coconut bacon. Eggplant bacon is a new one though. I cannot believe I didn't discover it sooner! To be honest, I missed bacon until I had this recipe.
With a few ingredients, eggplant slices, and a little magic, eggplant transforms into crunchy, smoky bacon. I created the perfect recipe the make at home so that you can have vegan eggplant bacon when you want, for as many BLTs as you want! It's also great to add to salads or an epic breakfast spread!
My eggplant bacon recipe is not just vegan - it is dairy free and gluten free as well. It all comes down to the ingredients. These are what brings the sweet, salty, and smoky flavors we love from the original.
This recipe contains a little secret: liquid smoke. Combined with smoked paprika, the liquid smoke gives the smoky flair to the eggplant slices. Then, agave and tamari add the sweet-salty flavor we crave from regular bacon. Sometimes, I use maple syrup and/or black pepper to change up the flavor.
I use tamari purposefully, as it is the gluten free version of soy sauce. I prefer to keep recipes as gluten free as possible. Not only is it better for your belly, but it makes recipes more accessible to everyone!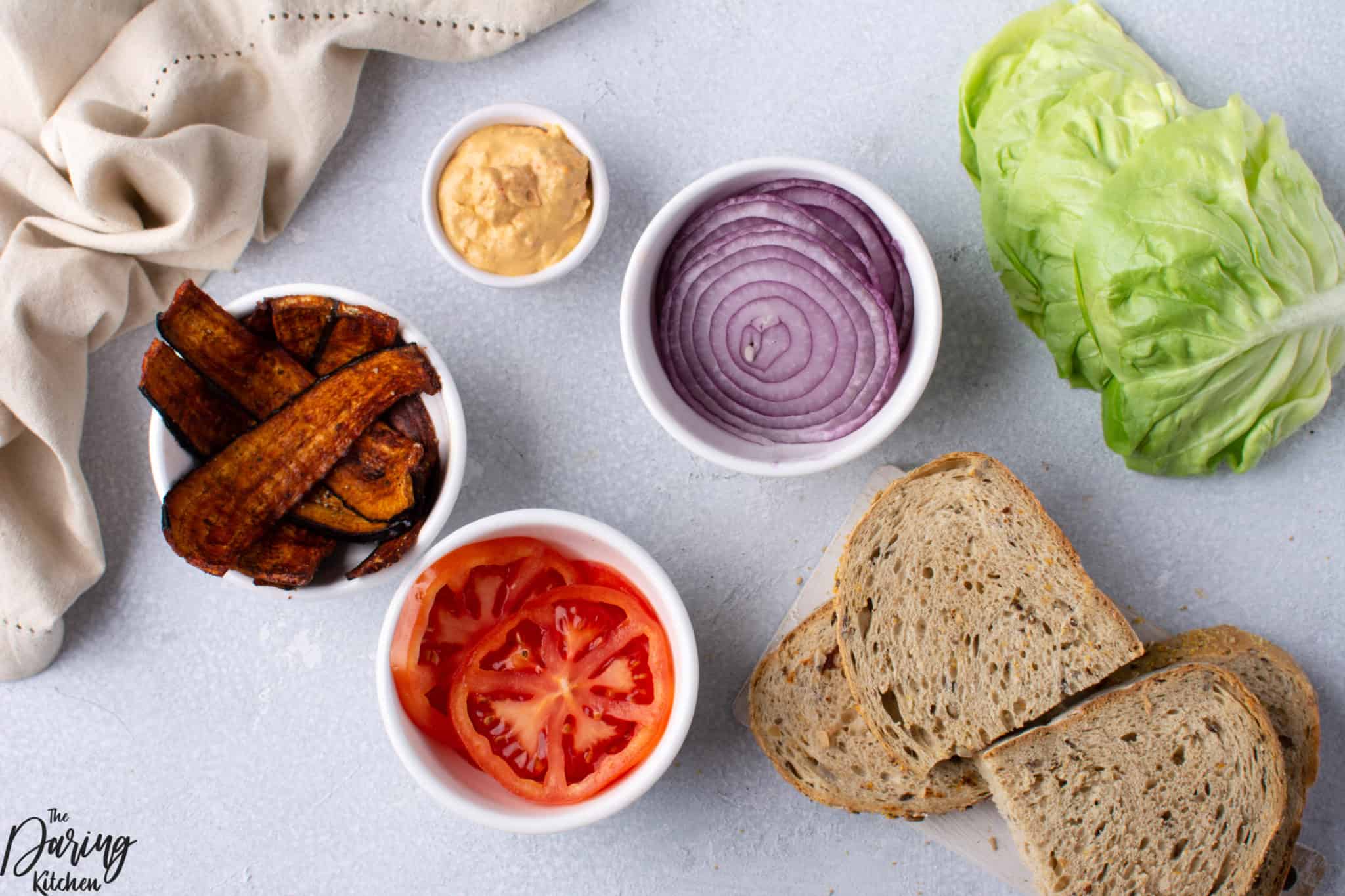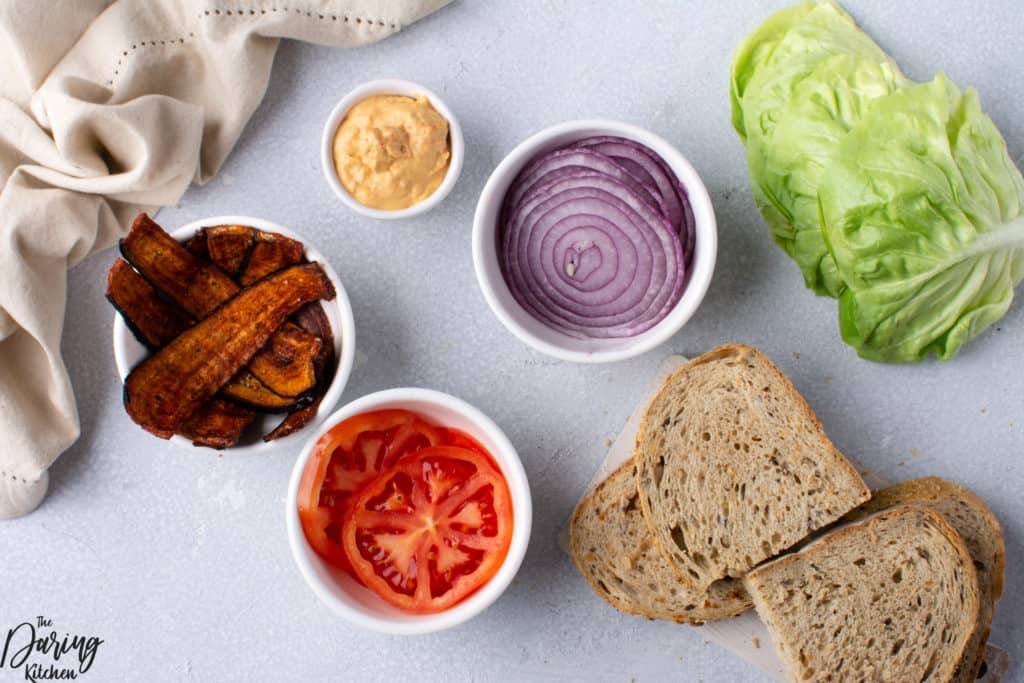 What Ingredients Are in a Vegan BLT Sandwich?
A vegan BLT is just like a normal BLT - simple. You have bacon lettuce tomato. There are just some slight differences!
First, you have vegan bacon. This recipe features a delicious eggplant version. If you do not have time to make it, then tempeh bacon works great too. Then, you have the classic lettuce tomato. I add in some sliced purple onion as well because onion adds zest and more crunch factor.
For bread, you can use some fiber rich whole wheat bread or gluten free bread. You could add vegan mayonnaise to your bread. But, I decided to change it up with spicy hummus. It adds a nice kick to the vegan sandwich. Plus, spicy hummus has less saturated fat. Or, have both hummus and vegan mayo - that combination is awesome too.
You can even go the extra mile and add in avocado. It tastes so great with the red onion. Like I love to say: a little added avocado never heard anybody!
The final product of this amazing recipe is a sandwich you can eat any time, anywhere. Vegan BLT sandwich is super portable, making it perfect for a picnic lunch.
How to Make a Vegan BLT Sandwich
Constructing a sandwich seems simple. But, you always have to make sure you do it just right. That's what makes this vegan BLT recipe just right.
If you haven't made your eggplant bacon yet, do that first! Once your bacon is ready to rock and roll, prep your tomato slices and red onion. Then, wash your lettuce.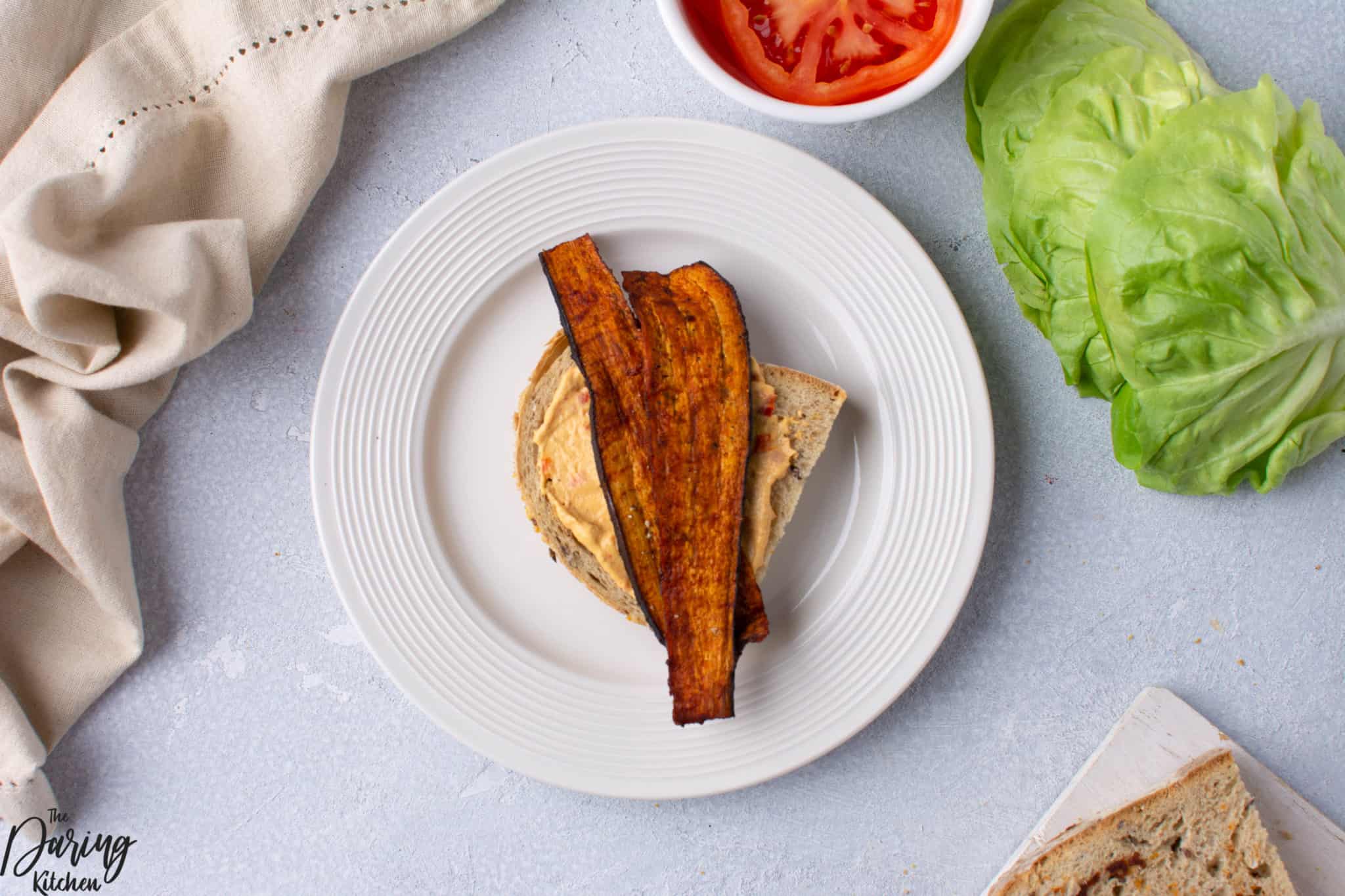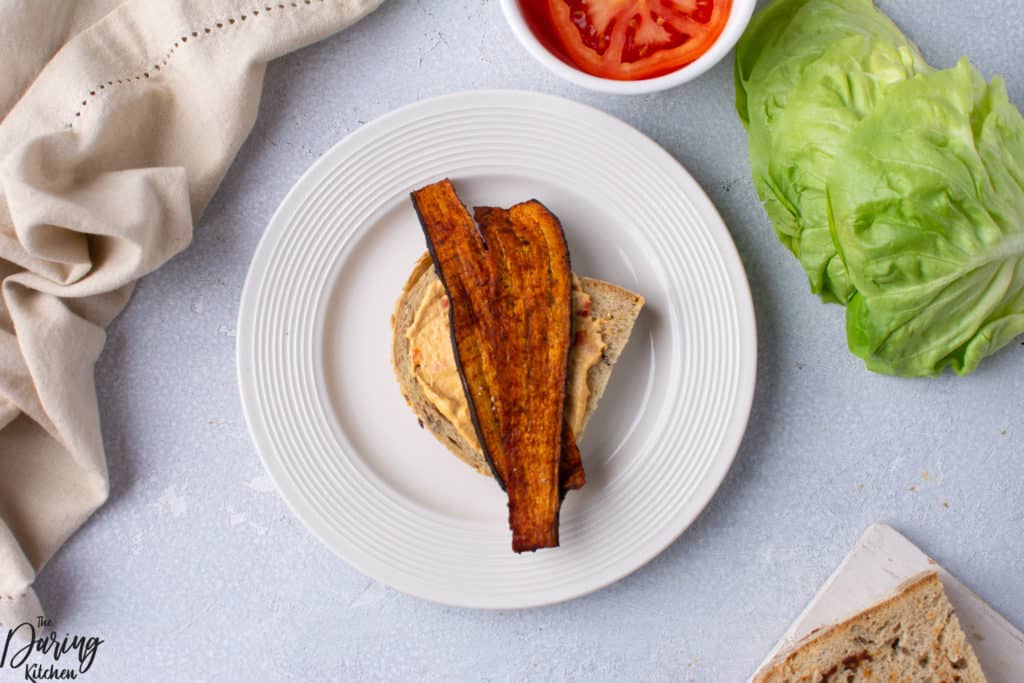 When your fillings are all prepped, toast two slices of bread. When golden brown, the bread is ready. Carefully spread spicy hummus onto each slice. You can also use vegan mayo (or both!)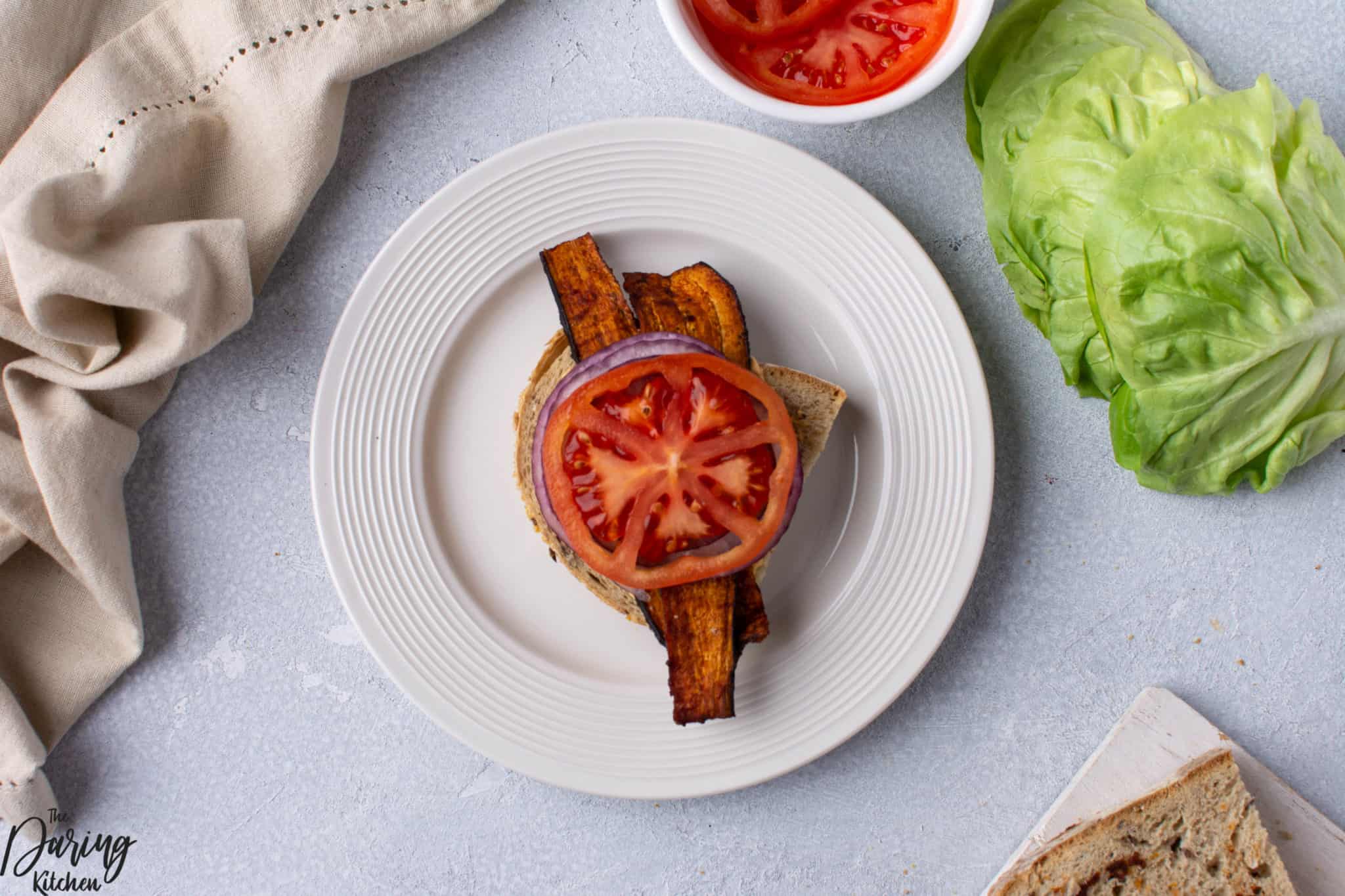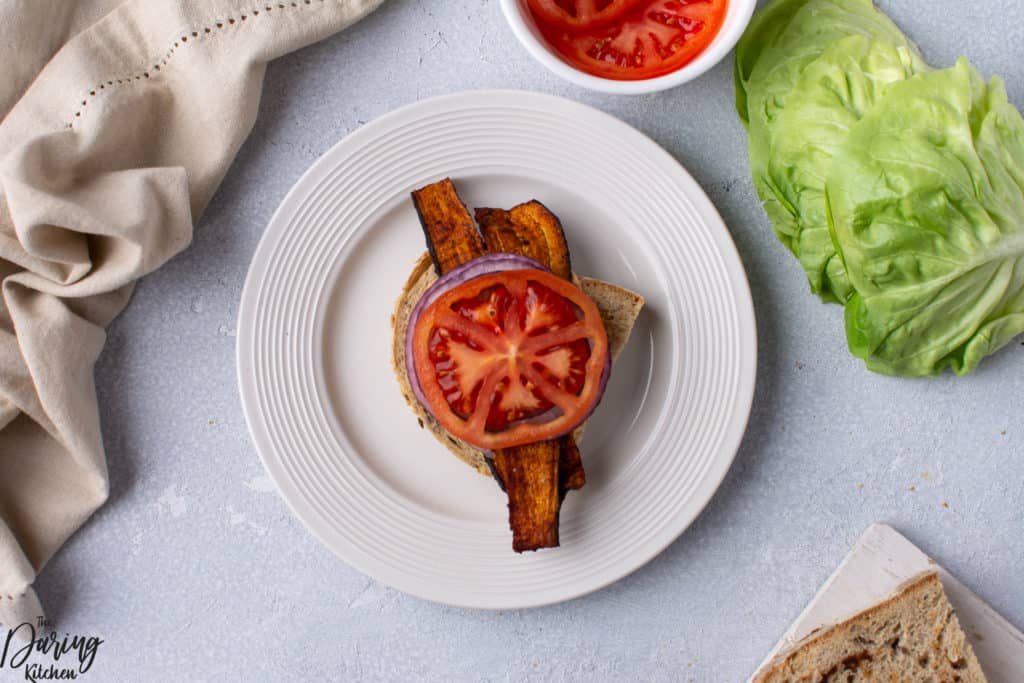 Then, begin adding your fillings to one slice of the bread, starting with your vegan bacon. Layer how many slices you want. After, add your onion, tomato, and lettuce.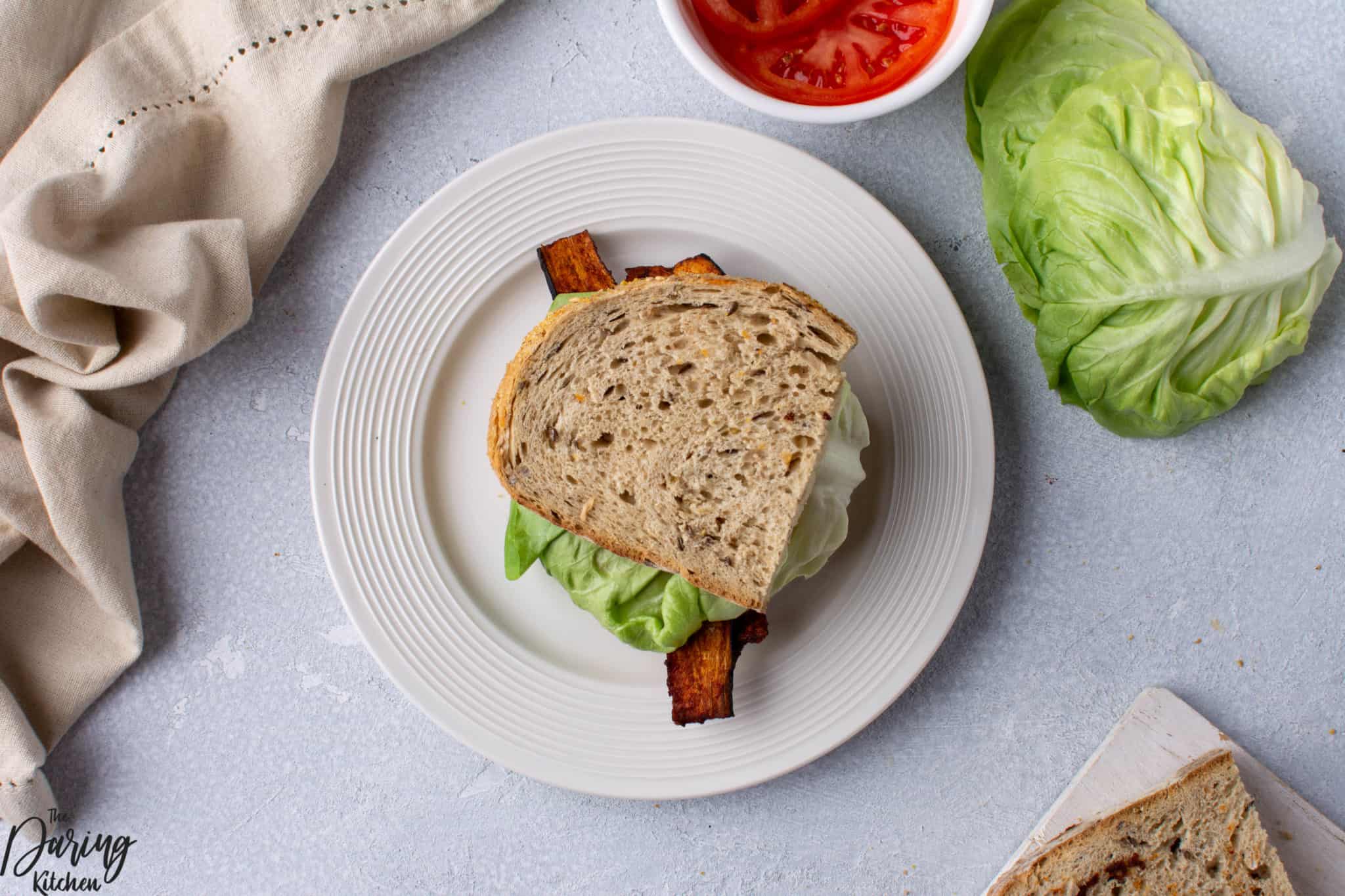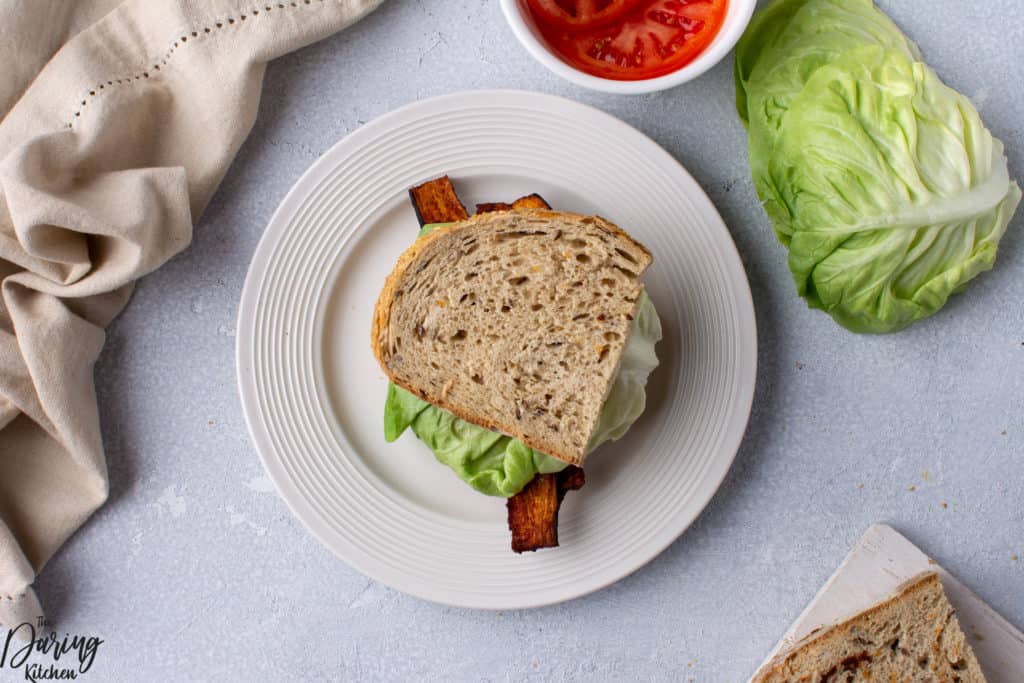 Then, close the sandwich. To add a little flair, you can stick a toothpick down the middle.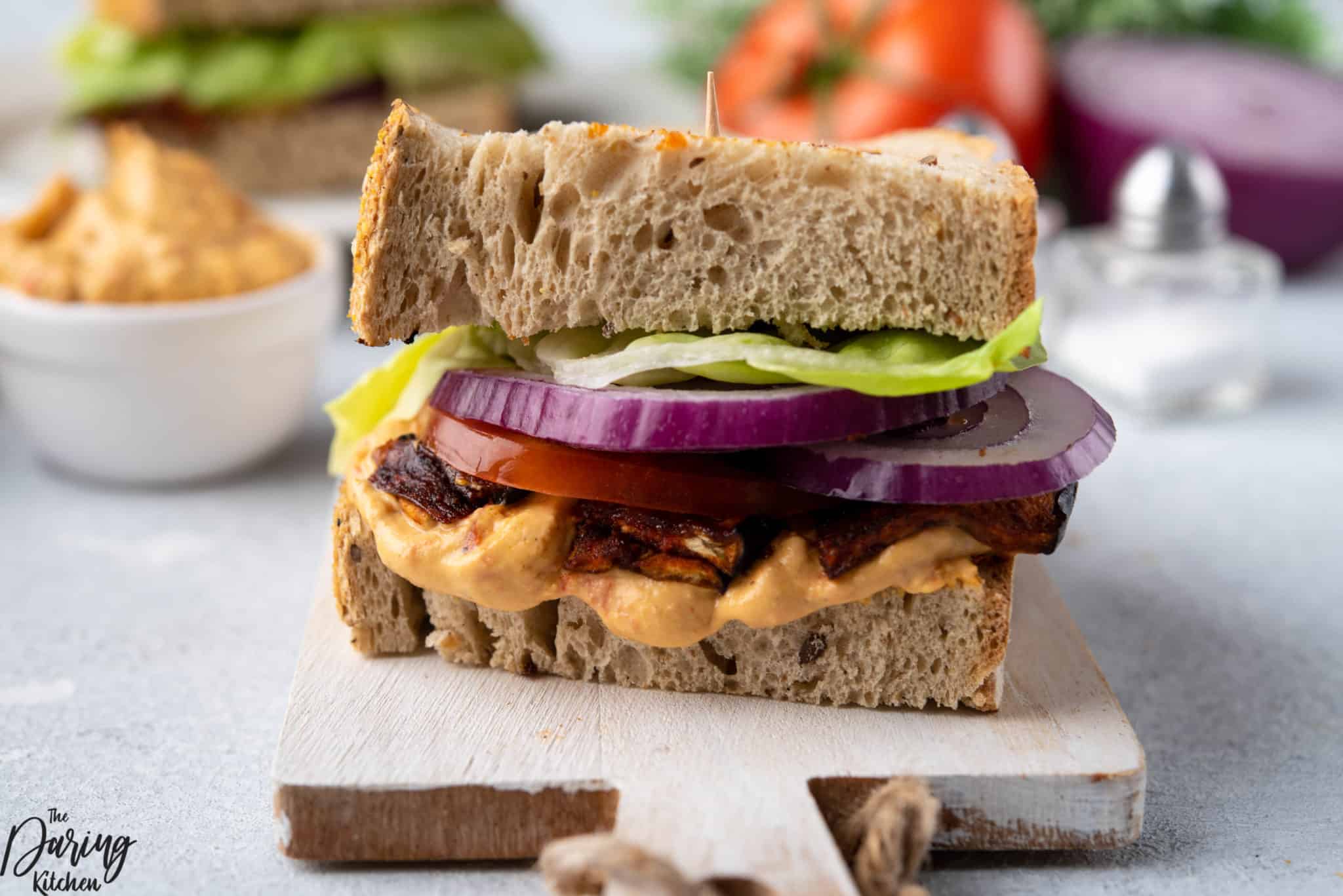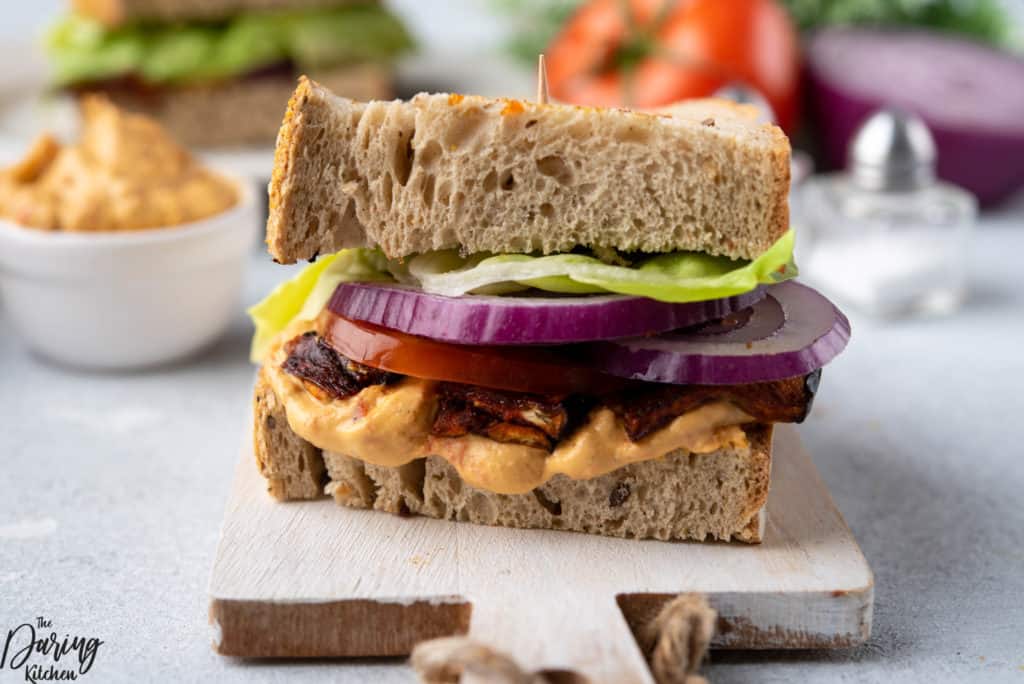 Serve your delicious vegan BLT sandwich with chips, salad, or whatever side you love.
I hope you enjoy this sandwich as much as I do. If you're looking for more sandwich recipes, I have more than just this vegan BLT recipe up my sleeve. You can discover more recipes on my blog.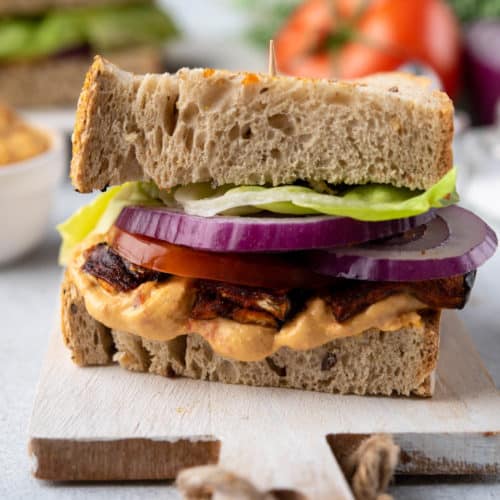 Vegan BLT Sandwich
The classic we all love, but 100 percent vegan - this sandwich will please both plant based and meat eaters alike!
Print
Pin
Rate
Ingredients
2

slices

wholewheat bread

1

tbsp

spicy hummus

2

slices

Vegan bacon

1

slice

purple onion

1

slice

tomato

1

leaf

lettuce
Instructions
Spread the hummus over bread.

Place vegan bacon on top, followed by onion, tomato, and lettuce.

Close the sandwich with another bread slice.
Nutrition
Calories:
12
kcal
|
Carbohydrates:
3
g
|
Protein:
1
g
|
Fat:
1
g
|
Saturated Fat:
1
g
|
Sodium:
3
mg
|
Potassium:
96
mg
|
Fiber:
1
g
|
Sugar:
1
g
|
Vitamin A:
265
IU
|
Vitamin C:
5
mg
|
Calcium:
7
mg
|
Iron:
1
mg