This easy to make plant-based Buddha bowl is full of fresh veggies, protein, and flavor. Plus, it has such a pretty presentation. This recipe is great for your next meal-prep or a fun lunch out in the sun. 
What is a Buddha Bowl?
Buddha bowls are popular, for good reason. These bright bowls have all you need to power up through the day. They are incredibly balanced. That is probably why they have 'Buddha' in their name!
What I love about Buddha bowls is that they are veggie-powered. Typically these bowls feature solely vegetarian ingredients. In this Buddha bowl, I decided to keep it vegan. With roasted tofu and chickpeas, you get just enough protein power to fuel your day. Also, this bowl is entirely gluten free!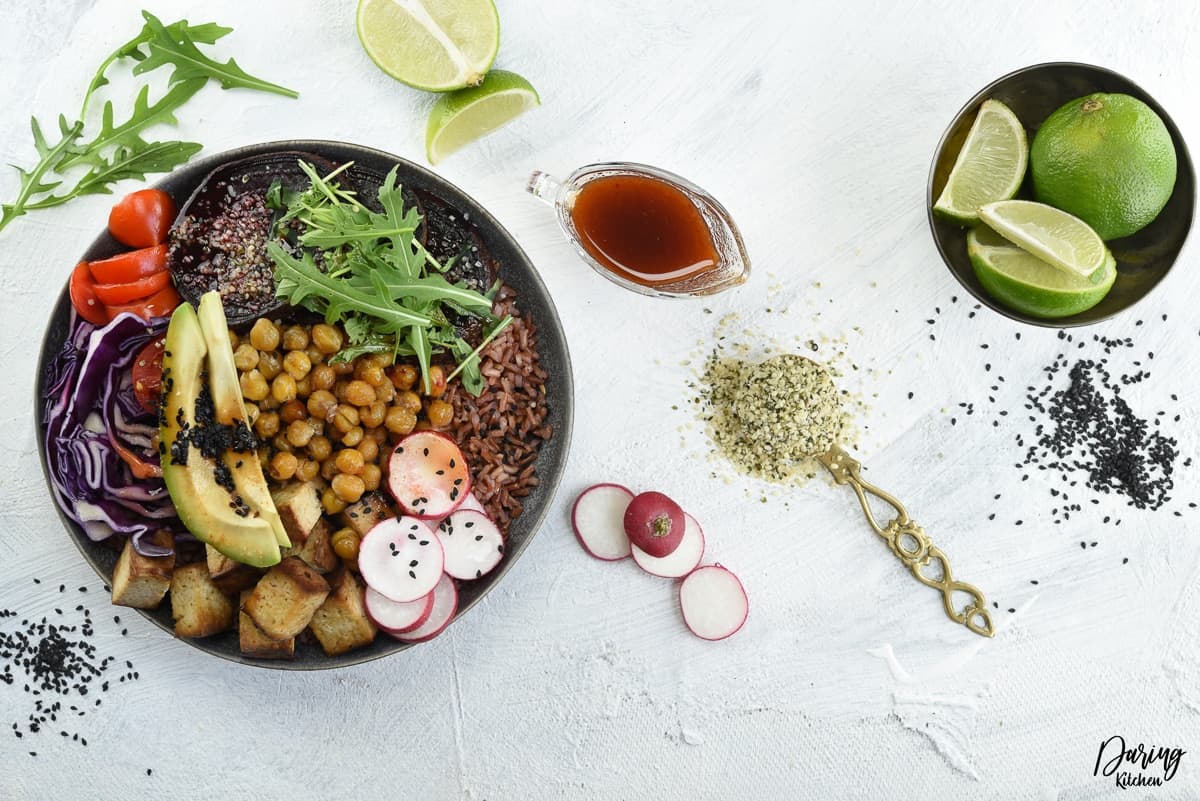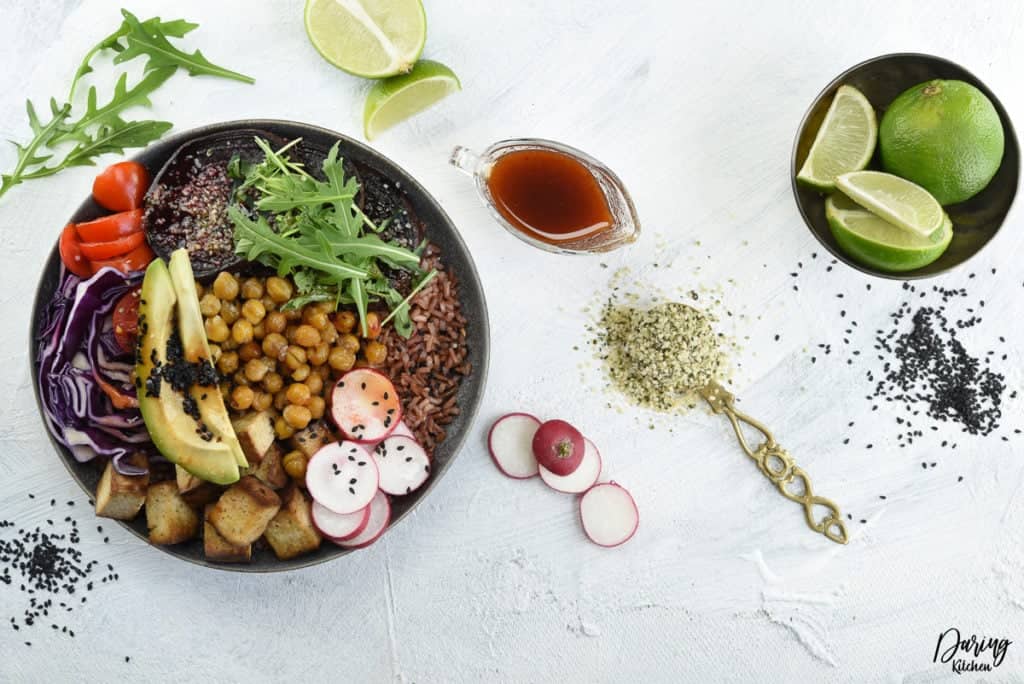 These charming bowls are also super simple to make. They essentially have only four parts. First, there is a grain base, which is typically rice. Then, you have vegetable toppings and a protein topping. Finally, you finish off your bowl with a delicious dressing that brings all the flavors together.
The Buddha bowl is definitely a more recently invented dish. It is basically a type of grain bowl. But, it's a little more special than that. Buddha bowls are not just delicious, but lovely to just look at. You probably have seen at least one or two on Instagram before. They are exploding with colorful ingredients. Just looking at a buddha bowl makes you excited to eat one. 
Pick your Favorite Veggies
I love how much fun you can have with Buddha bowls. The toppings are endless and can cater exactly to your preferences. The highlight, however, of Buddha bowls are their fresh veggies.
I chose to use more seasonal ingredients. Beets and red cabbage are vibrant this time of year. They add some pretty purple colors and a lovely texture to this bowl. The red cabbage adds the perfect crunch that just tastes wonderful with the spicy dressing. Also, all beets and red cabbage have tons of nutrients too.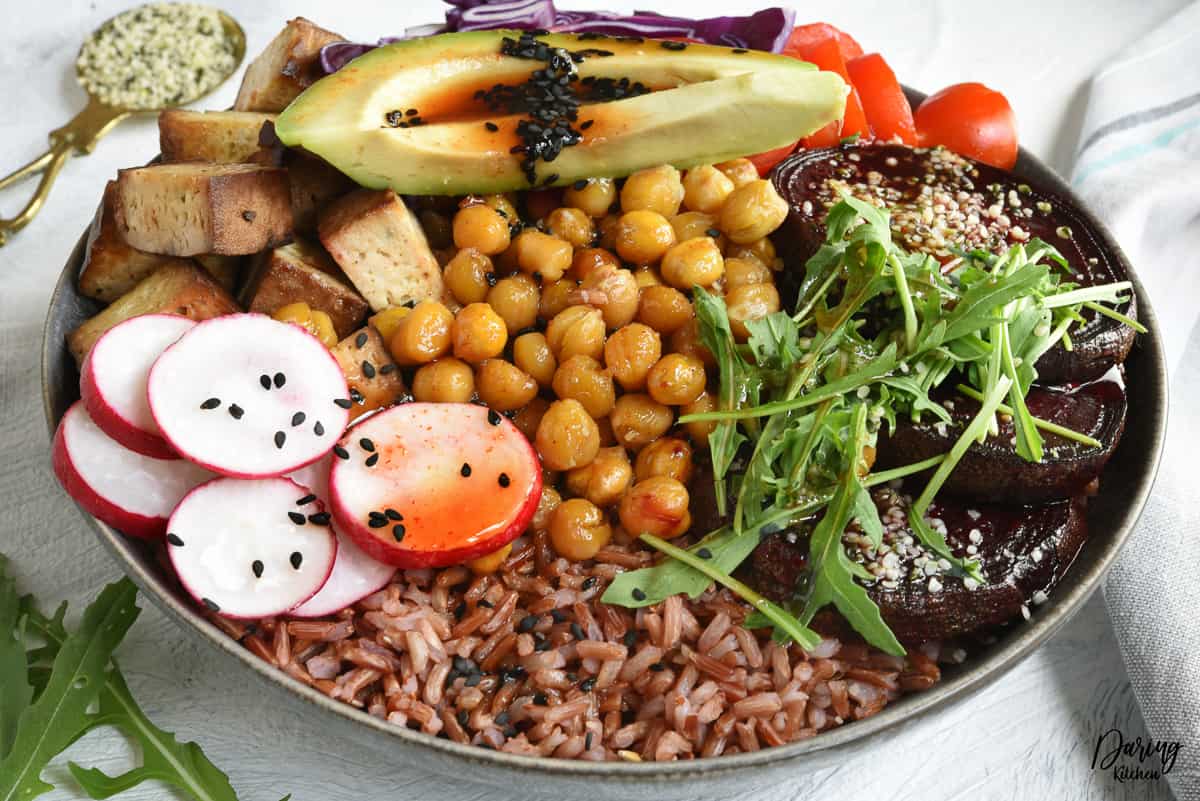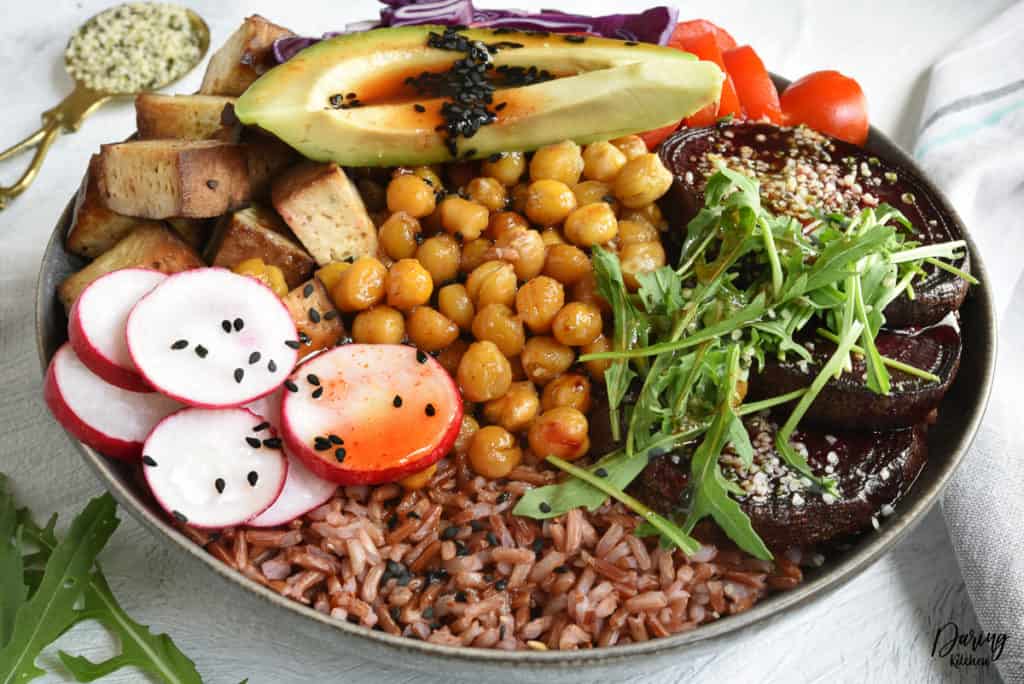 I also love these veggies because they are simple to prepare. The cabbage can be eaten raw and the beets can be roasted quickly in the oven. Both can be prepared ahead of time and stored in the fridge for whenever you want to make your bowl. I also included a little bit of avocado to add some healthy fats and to make this bowl more filling.
But, the thing is - you can truly add whatever vegetables you like to this bowl! There is no veggie-bias ever. It also makes this recipe a great way to clean out whatever you may have in your fridge.
The Healthiest Dressing with a Kick
The right dressing brings this Buddha bowl altogether. With just a few ingredients, you can really make an excellent dressing. No need to go the store-bought way again!
For this recipe, I wanted a dressing that was balanced but with a little kick. It resulted in a dressing that has enough sweet, spice, and zest. It truly makes this bowl extra delicious. Luckily,  this dressing is super simple. It only takes just a handful of ingredients. There are no secret fillers or additives.
All the 6 dressing ingredients are pantry essentials. Plus, each ingredient is pretty flexible so don't you worry about having to run out to the store. My suggestion is to pick whichever hot sauce you love the most for this dressing. Also, if you do not have agave syrup, you can always use your favorite honey too. If you are looking to keep this recipe entirely gluten free, choose a soy sauce that is wheat-free (like Tamari!)
You also can make the dressing in a larger batch to keep in the fridge as well. It works great for salads and to dress roasted vegetables. Or, you can simply use it for some week-long Buddha bowl meal prep.
Building your Buddha Bowl
The best part about Buddha bowls is their versatility. You do not need to stick to a cookie-cutter recipe. If you prefer some other type of vegetable, protein, or grain base, you can always swap it out. This also goes for the dressing. Just remember to keep it as plant based as possible.
Constructing your Buddha bowl is simple once you've got your prep down. Each ingredient for a buddha bowl can typically be prepped ahead of time. That is why they are great for meal prep too.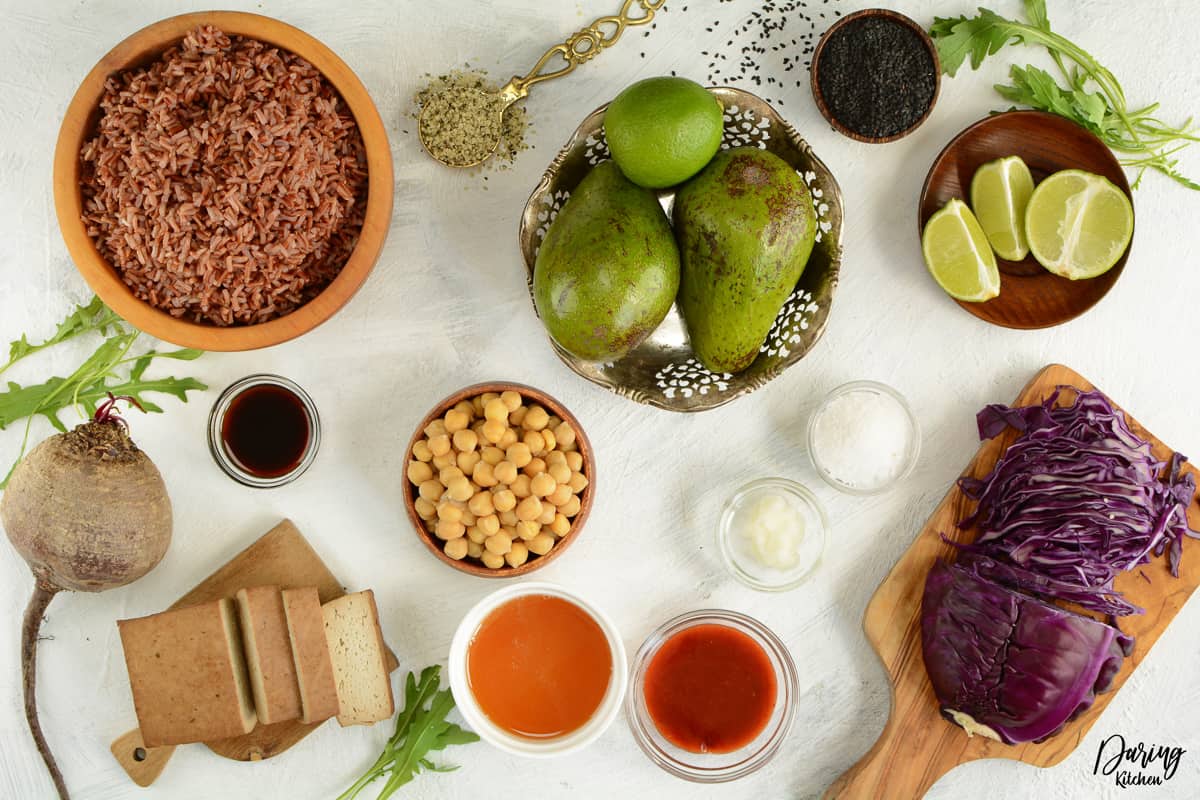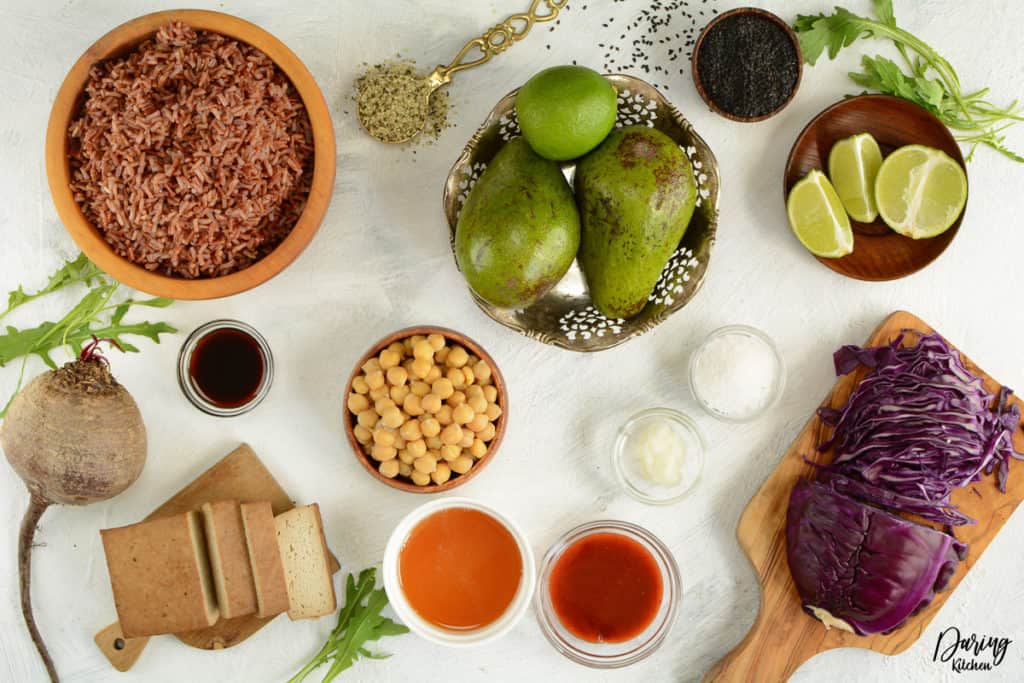 First, start with your base. I used red rice for this bowl. Red rice is abundant in antioxidants and is a little more flavorful than regular brown or white rice. This is easy to cook in a pot or rice cooker at home. While you have that rolling, you can start prepping your dressing. All the ingredients simply need to be whisked together. Depending on when everything else is ready, you can just store the dressing in the fridge until needed.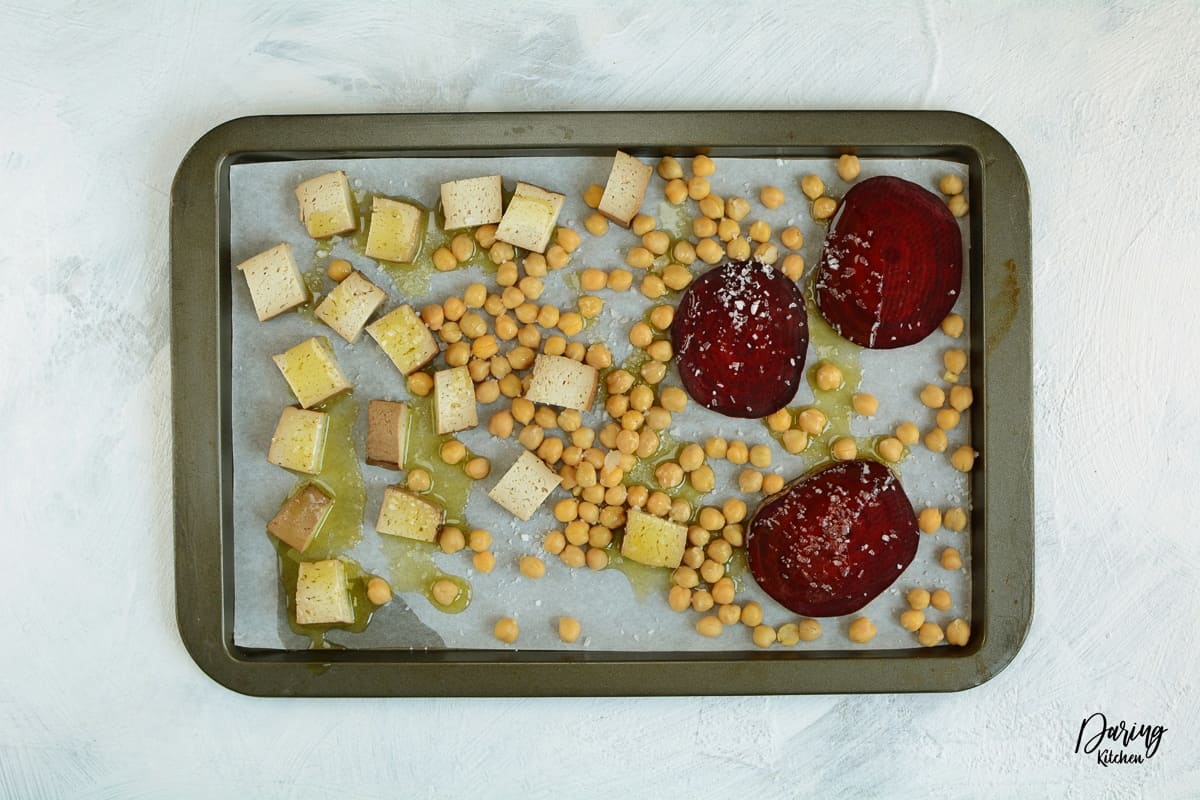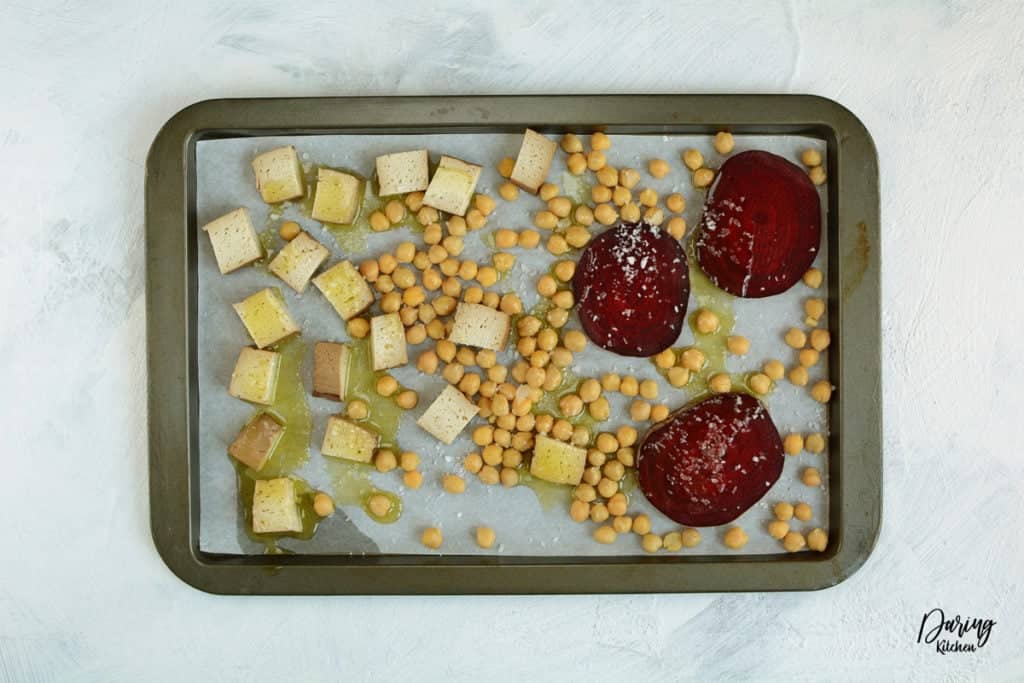 When it comes to most of the toppings, I minimize the prep time with a little trick. By using vegetables and proteins that can simple roasted together, you save time and spare yourself much kitchen clean up. Fortunately, tofu, chickpeas, and beets all require around the same cook time in the oven. 
As everything cooks, you can prep your raw vegetables. These are what will add all that vivid color to your Buddha bowl. Arugula and avocado make this bowl a little more green, while also giving you some fantastic nutrients. Then, a little red cabbage to pair perfectly with the zesty dressing. I couldn't help, but throw some cherry tomatoes in there. They taste so great on any bowl, especially one with arugula.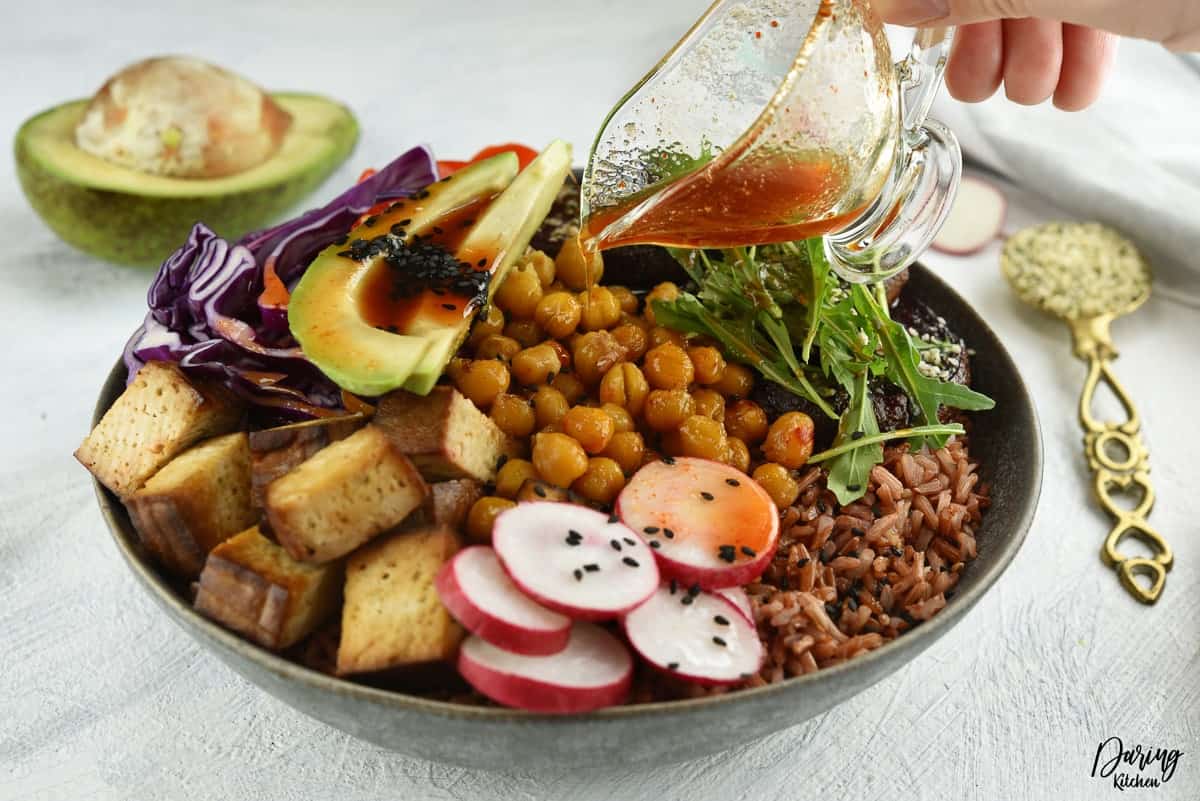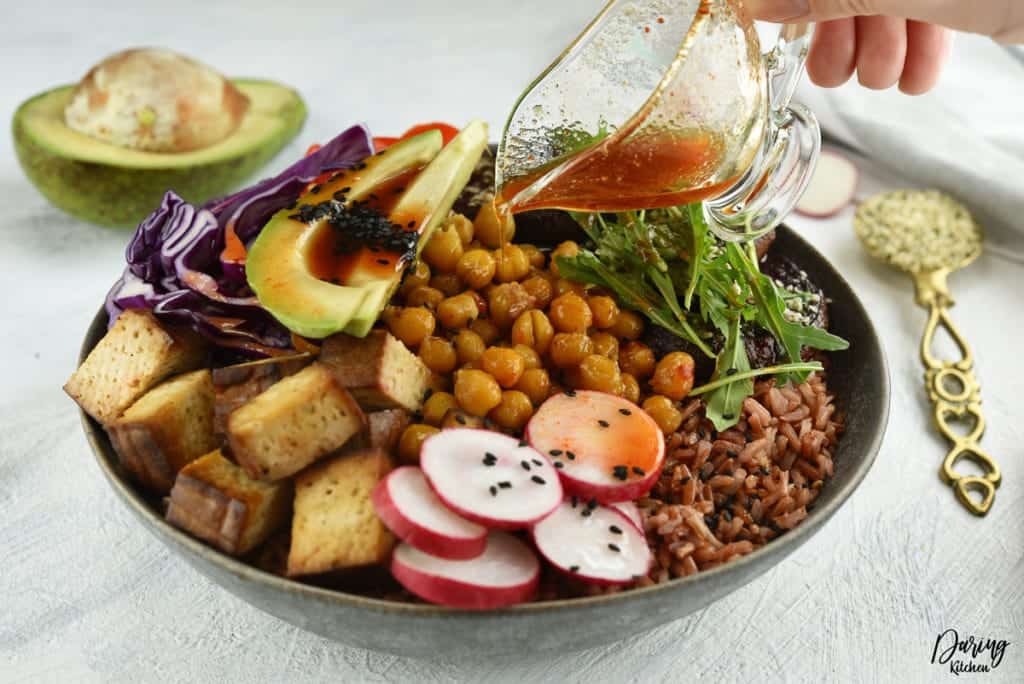 Don't forget to finish your plant based bowl off with your delicious dressing and a sprinkle of hemp seeds or sesame seeds. Both make a lovely decoration!
Let me know how your Buddha bowl came out in the comments below! I love to hear all about your experiences or new ideas.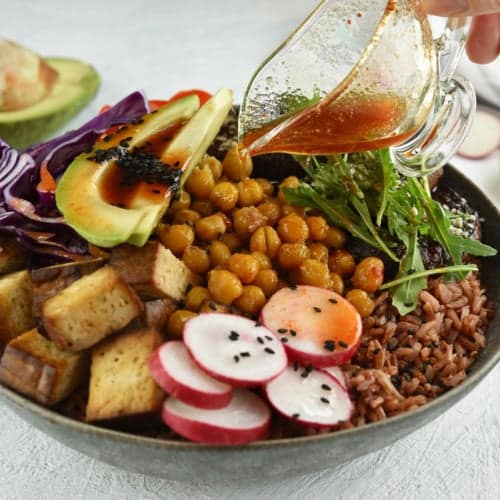 Ingredients
1

cup

Chickpeas

cooked

3 ½

oz

Tofu

cut into cubes

3

slices

Beets

Medium

Olive Oil

to taste

Sea Salt

to taste

½

cup

Agave Syrup

¼

cup

Hot Sauce

1

tbsp

Soy Sauce

low-sodium

¼

tsp

Sea Salt

2

tsp

Garlic Paste

Lime Juice

to taste

2

cups

Red rice

cooked

½

cup

Red Cabbage

Shredded

½

cup

Radishes

sliced

2

Cherry Tomatoes

sliced

¼

Avocado

sliced

handful

Arugula

chopped

hemp seeds, Sesame seeds

to taste
Instructions
Preheat the oven to 400°F.

Arrange tofu, beets, and chickpeas over a baking sheet lined with parchment paper. Drizzle with olive oil and sprinkle with some sea salt to taste. Roast for 20 minutes

Meanwhile, in a small bowl, combine agave syrup, hot sauce, soy sauce, sea salt, and garlic paste. Drizzle some lime juice to taste and mix well

Arrange the ingredients over a bowl with red rice and serve with the sweet chili sauce
Nutrition
Calories:
321
kcal
|
Carbohydrates:
60
g
|
Protein:
10
g
|
Fat:
5
g
|
Saturated Fat:
1
g
|
Sodium:
1104
mg
|
Potassium:
390
mg
|
Fiber:
6
g
|
Sugar:
23
g
|
Vitamin A:
958
IU
|
Vitamin C:
25
mg
|
Calcium:
74
mg
|
Iron:
2
mg