Maybe one of the best vegan hacks in history- this eggplant bacon recipe totally changes the plant based game. Thin slices of eggplant turn into crispy pieces of goodness that are great by themselves, on salads, sandwiches...the list goes on!
The Easiest Eggplant Bacon Recipe
This may all seem hard to believe still, but eggplant bacon is a real and delicious thing. It is the answer us vegan recipe connoisseurs have been searching for.
Bacon is an indulgent treat. Many have tried to recreate it in plant based forms, but most never quite get it. Trust me, I've tried a lot of vegan bacon. Some are excellent, some sadly leave me yearning for the real thing.
When I discovered eggplant bacon, I had an epiphany. How could eggplant slices turn into such goodness? It was crazy that a vegetable could taste just like meat. As a long-time regular bacon lover, I was so excited. Finally, I found one of the best bacon recipes yet!
Not only is eggplant bacon absolutely delicious, but incredibly simple to make at home! That means you can have vegan bacon whenever you want. No longer do I have to rush to the store to buy vegan bacon.
This eggplant bacon recipe is not only vegan but dairy free and gluten free. Instead of using regular soy sauce, I use tamari. This is a gluten free version of soy sauce. Yes - technically soy sauce isn't gluten free because it is often fermented with wheat. Thankfully, tamari makes a gluten free version so that everyone can enjoy delicious soy sauce!
Anyways, this eggplant bacon recipe takes just under an hour to make. This recipe is for 12 slices of 'bacon.' That is enough to meal prep for a week for 1-2 people. It all depends on your eggplant bacon needs!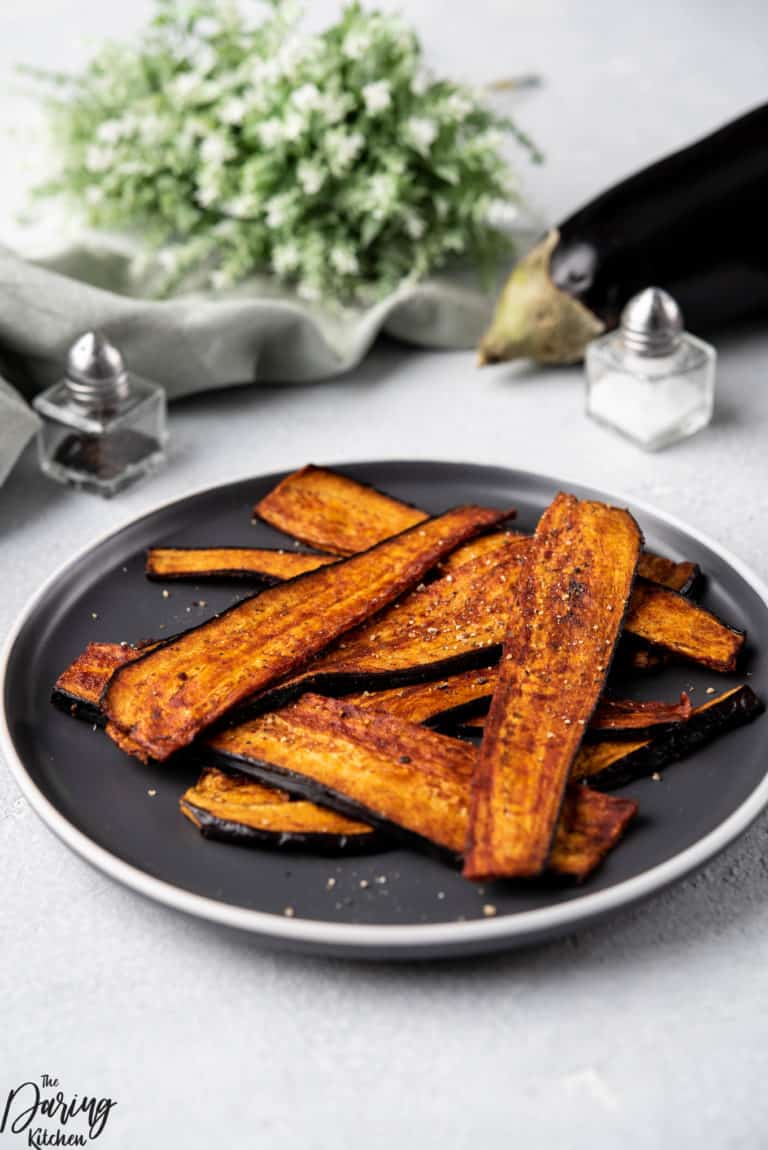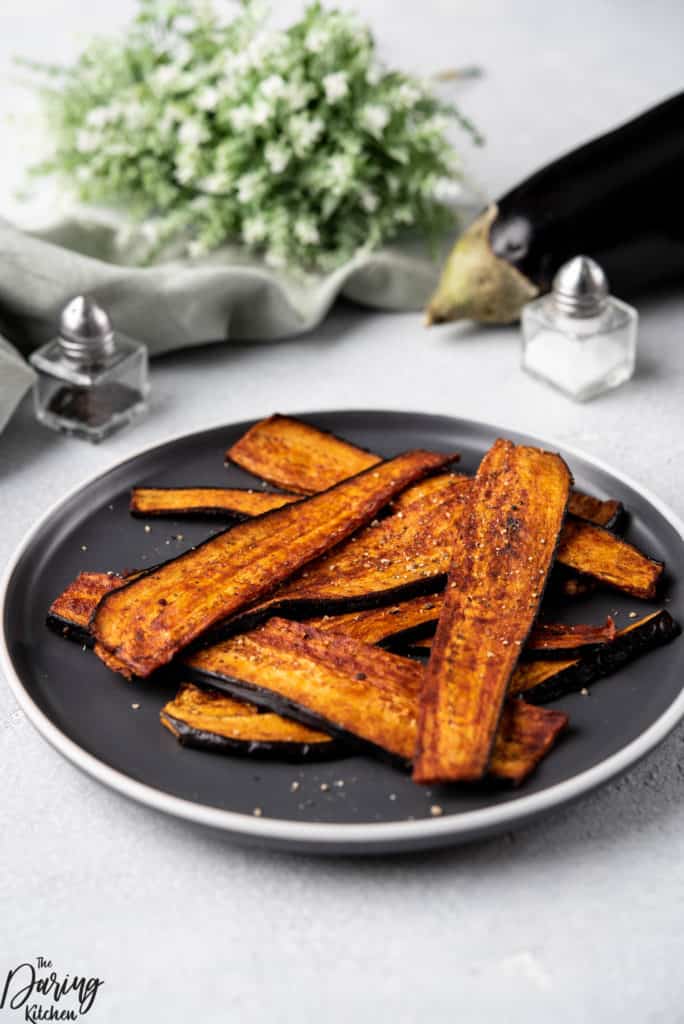 The Ingredients you Need for Eggplant Bacon
There are some special ingredients in this eggplant bacon recipe that transfer eggplant slices into glorious pieces of vegan bacon. Everything you can find at your local grocery store.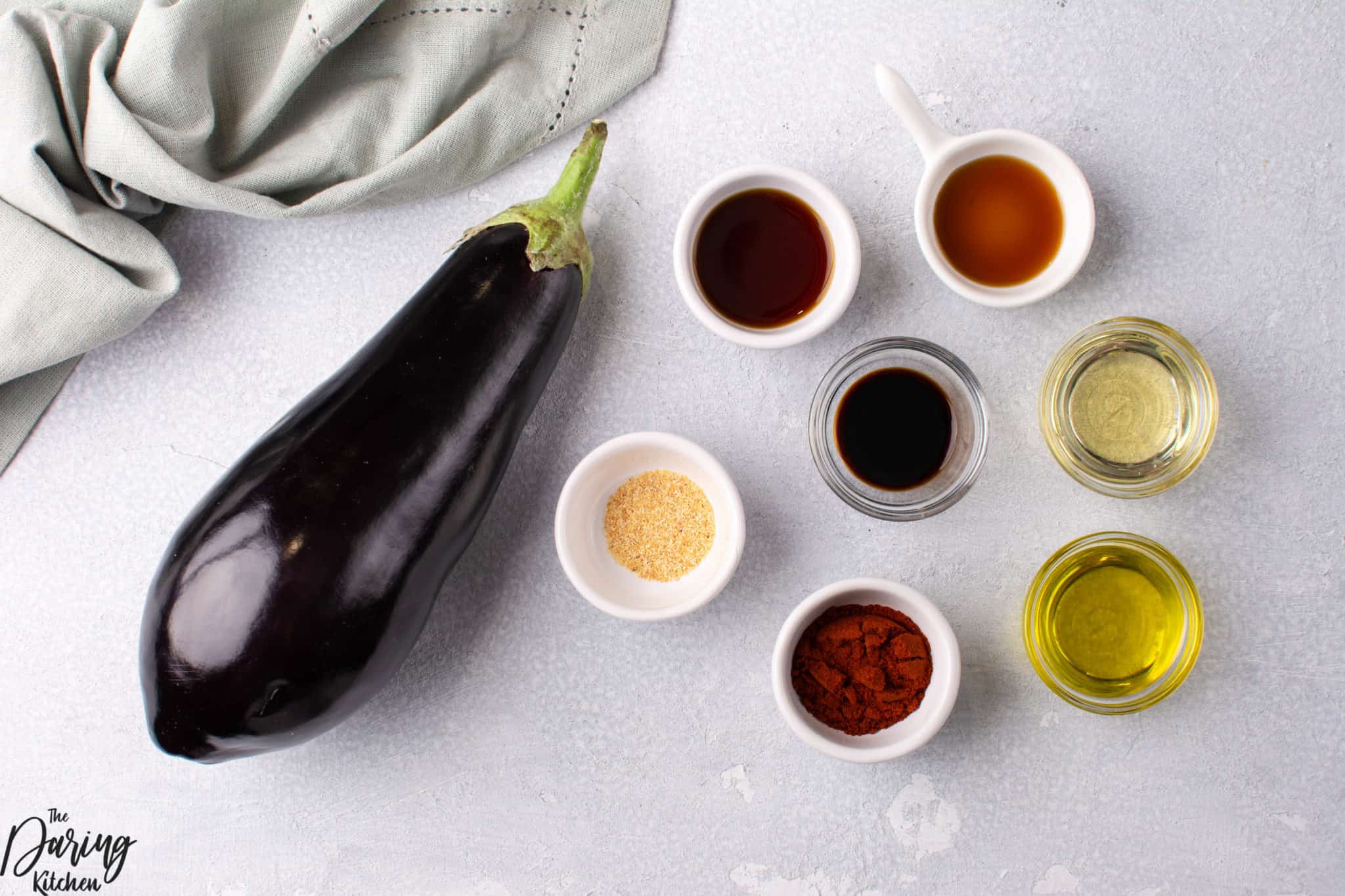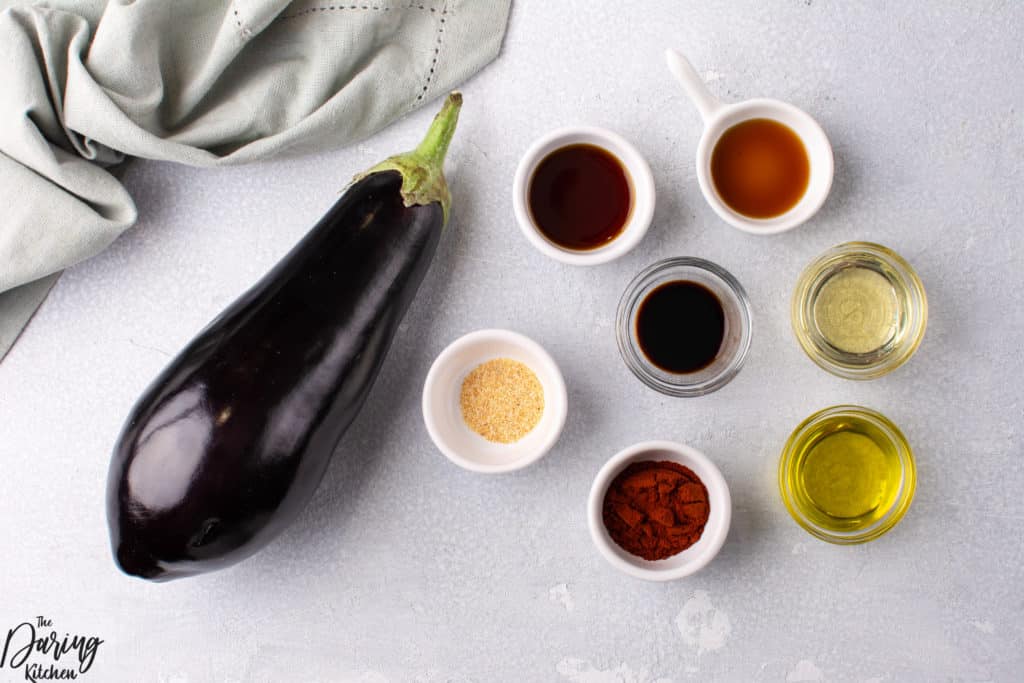 Ingredients you will need for Eggplant Bacon:
Medium sized eggplant
Olive oil
Sea salt
Black pepper
Agave (or maple syrup)
Tamari soy sauce
Smoked paprika
liquid smoke
garlic powder
When it comes to choosing eggplant, you just need a dark purple eggplant you can find in most grocery stores. These yield wider slices, giving just a little more bacon.
The agave, tamari, smoked paprika, and liquid smoke are key for achieving the bacon flavor in this recipe. First, you need to enhance the natural sweetness of the eggplant. That's where agave comes in. You can also use maple syrup if you love maple flavor in your bacon.
You will need to use olive oil, or another neutral oil, in this recipe. Olive oil will keep your eggplant bacon from sticking.
When it comes to the classic smoky flair of bacon, liquid smoke saves the day. It is a product that is actually made from smoke. It also can come in different flavors, from hickory to mesquite. If you have those options, we suggest going for applewood, as that lends some classic bacon character.
I also add in smoked paprika and garlic. I think these add in a little more bbq character to this bacon recipe.
Now, you can't forget your tamari. This gives saltiness to contrast the sweet eggplant and agave. It also adds a bit of umami - a flavor that makes your tastebuds super excited. Some people like to add Worcestershire sauce, but I prefer tamari.
These ingredients work together really well. I sometimes add ground black pepper to finish these pieces if I want more of a peppery kick. If you like things spicier, feel free to add in some chili pepper.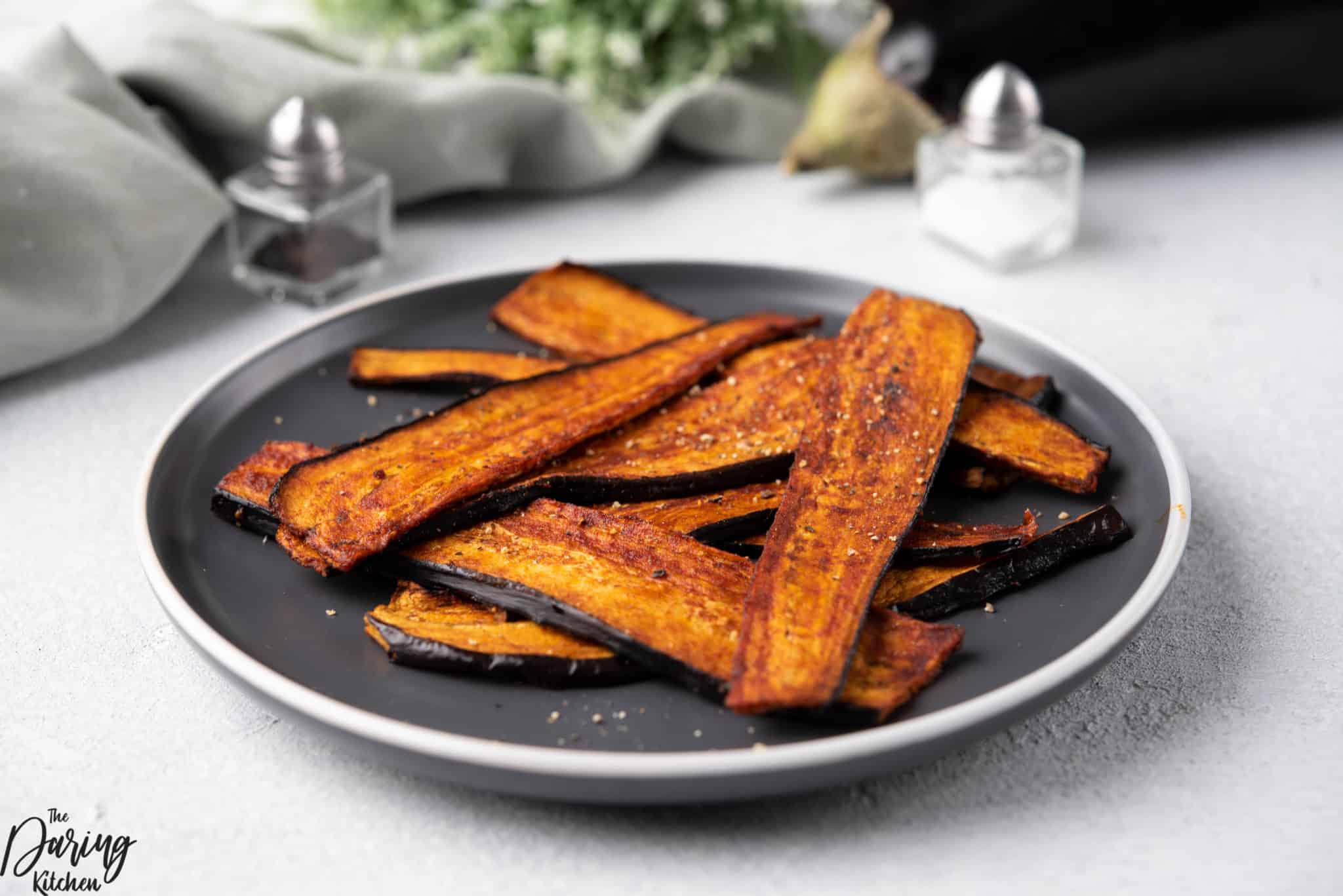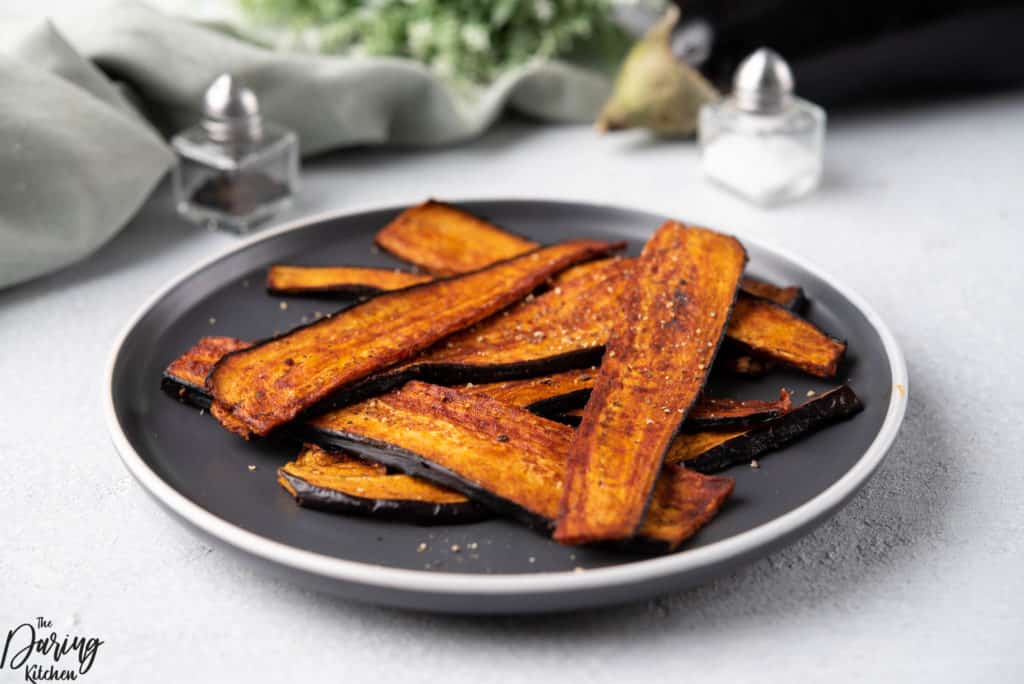 How to Make Eggplant Bacon
This eggplant bacon recipe has pretty simple steps. What I like to always start with are all your essential kitchen tools and appliances.
For this eggplant bacon recipe, you will need the following:
Once you have these (and all your ingredients!) you are ready to roll.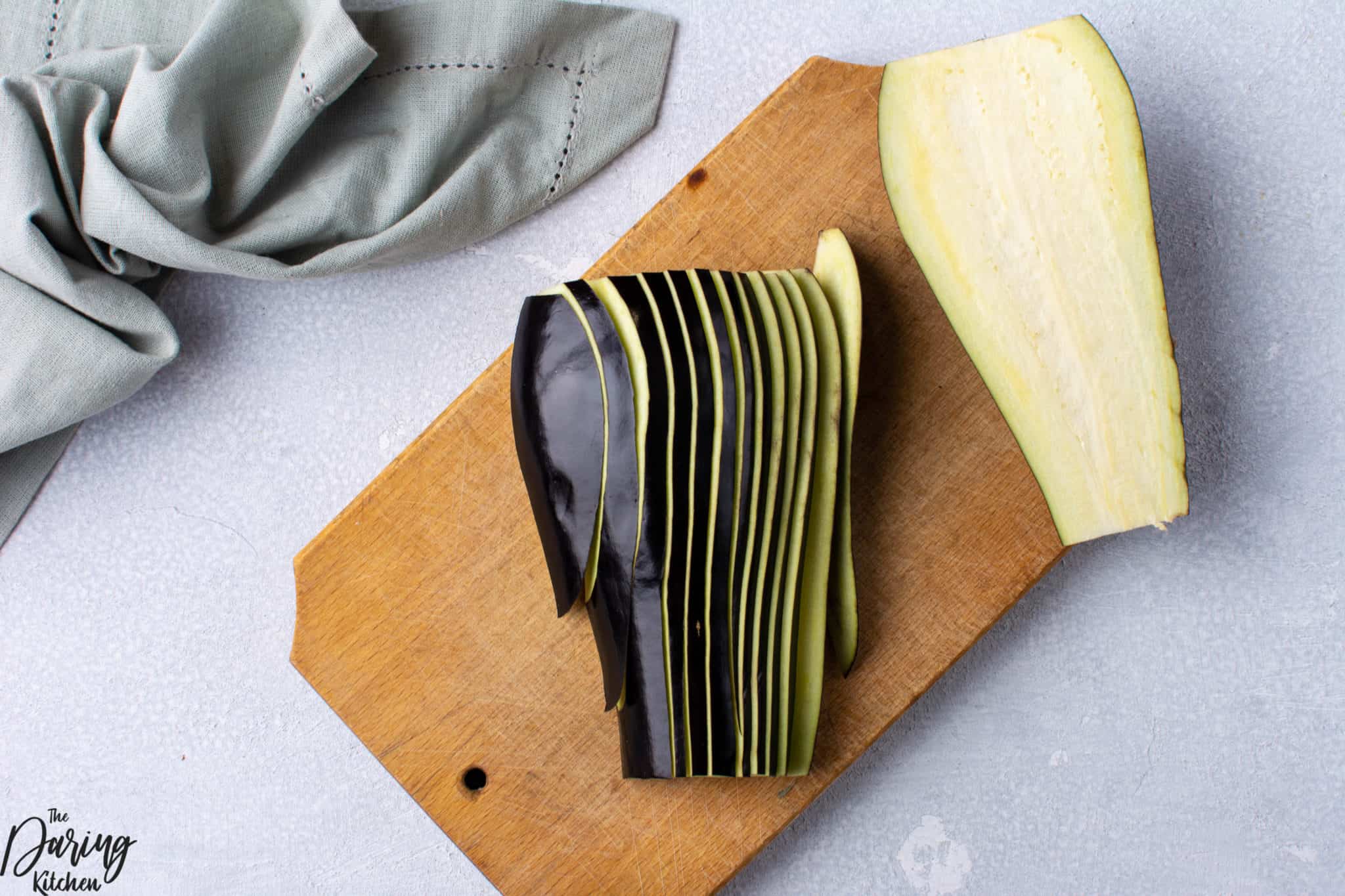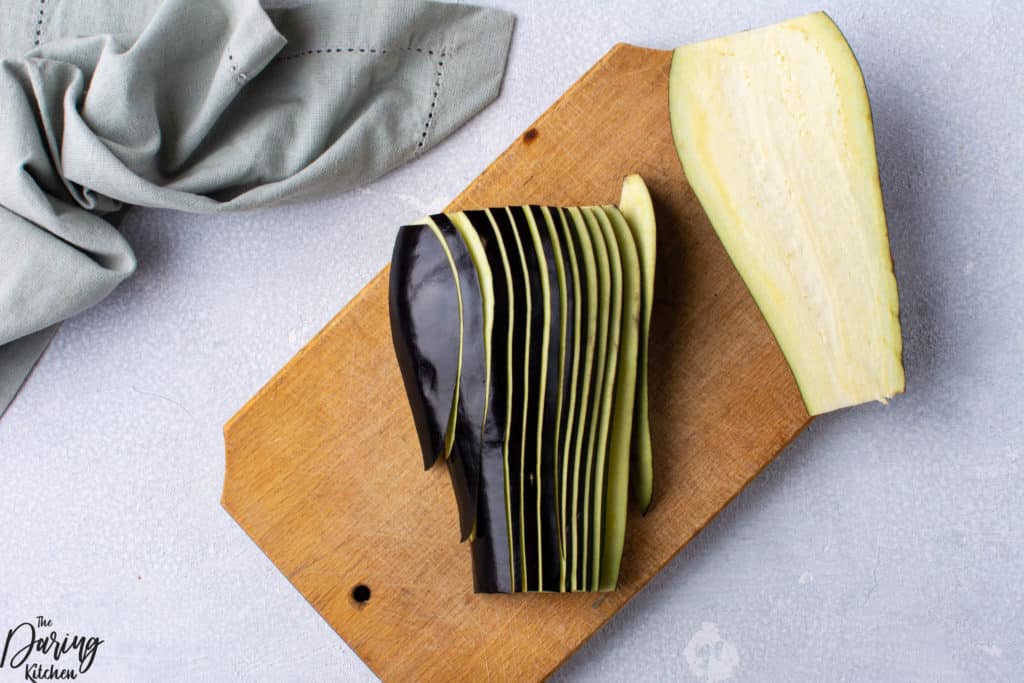 First, preheat your oven to 250 degrees Fahrenheit. As your oven preheats, start slicing your eggplant. It will be easiest to do this with a mandolin, as it will yield thin and even pieces. If you do not have a mandolin, then a sharp kitchen knife works. You will want 12 slices from your eggplant.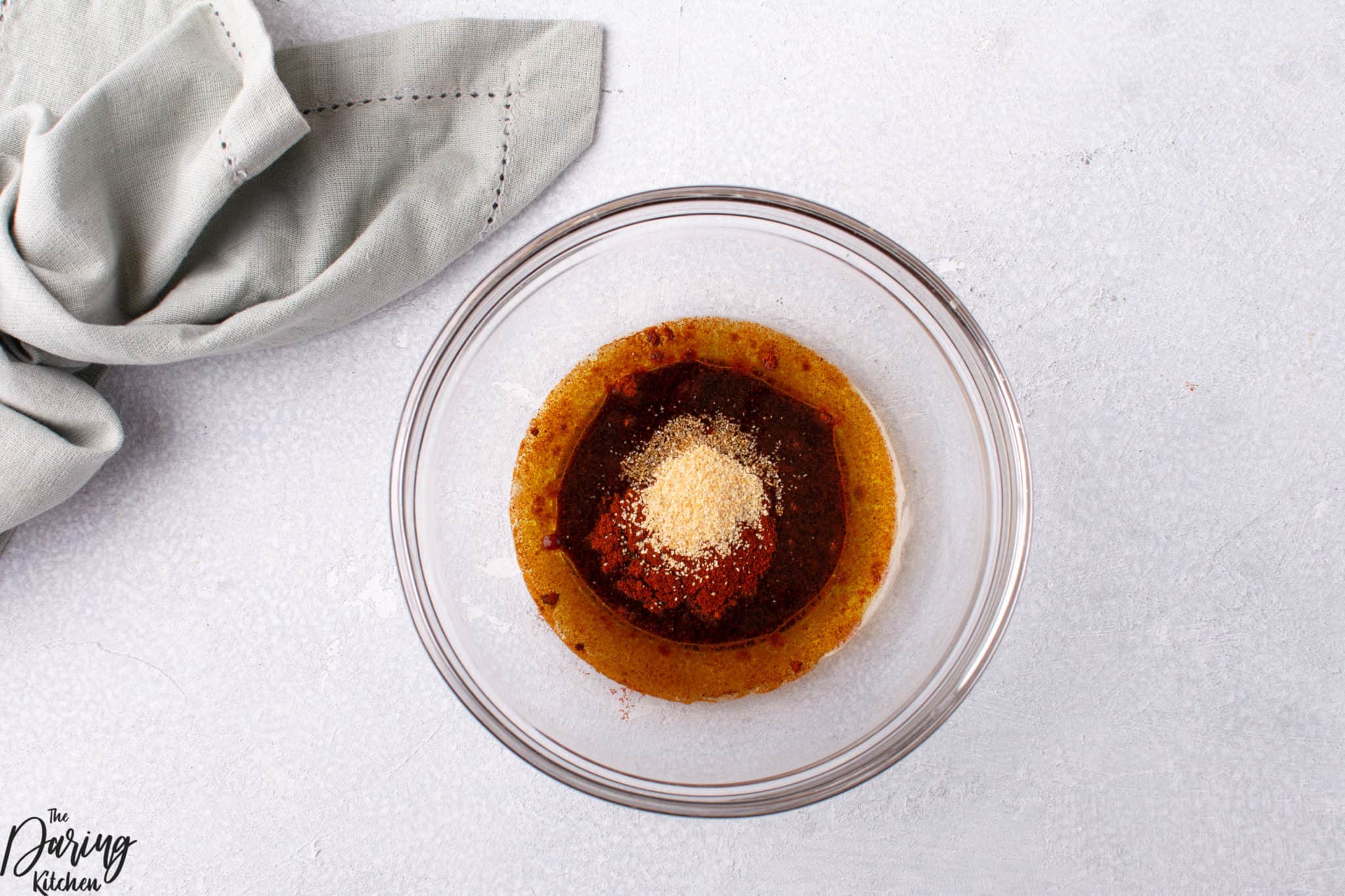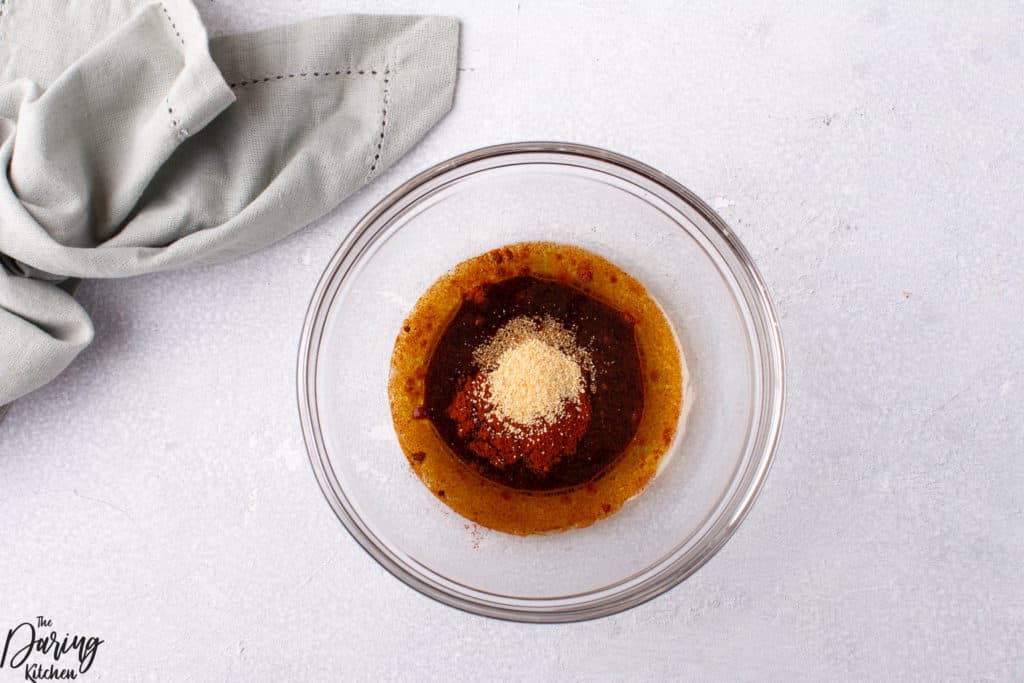 In a mixing bowl, mix in your agave (or maple syrup,) smoked paprika, tamari, liquid smoke, garlic powder, and olive oil. Add in salt and pepper to taste (remember: you are using soy sauce, so you will not need a ton of salt!) Mix the ingredients together until everything is fully emulsified into a sauce.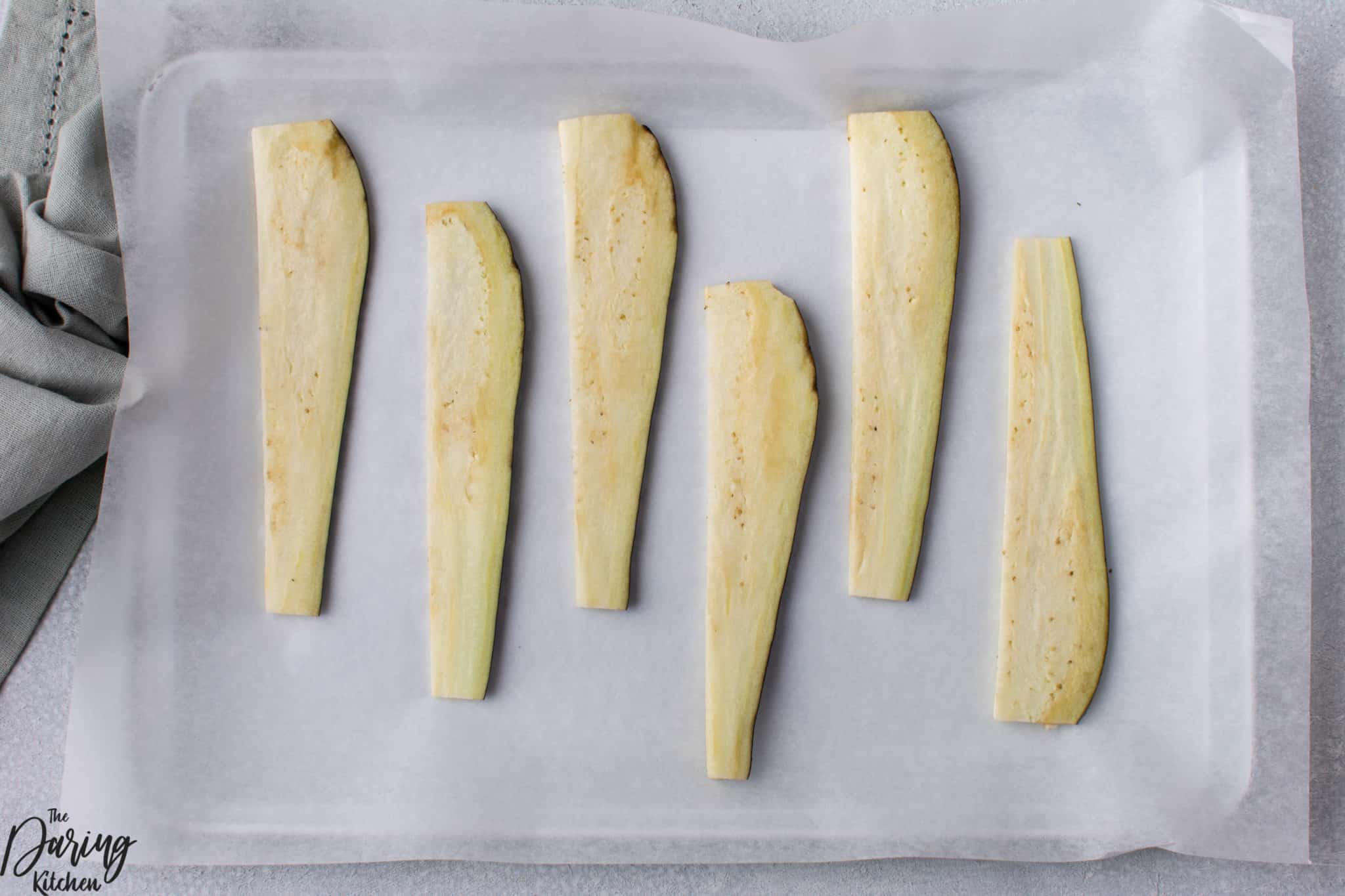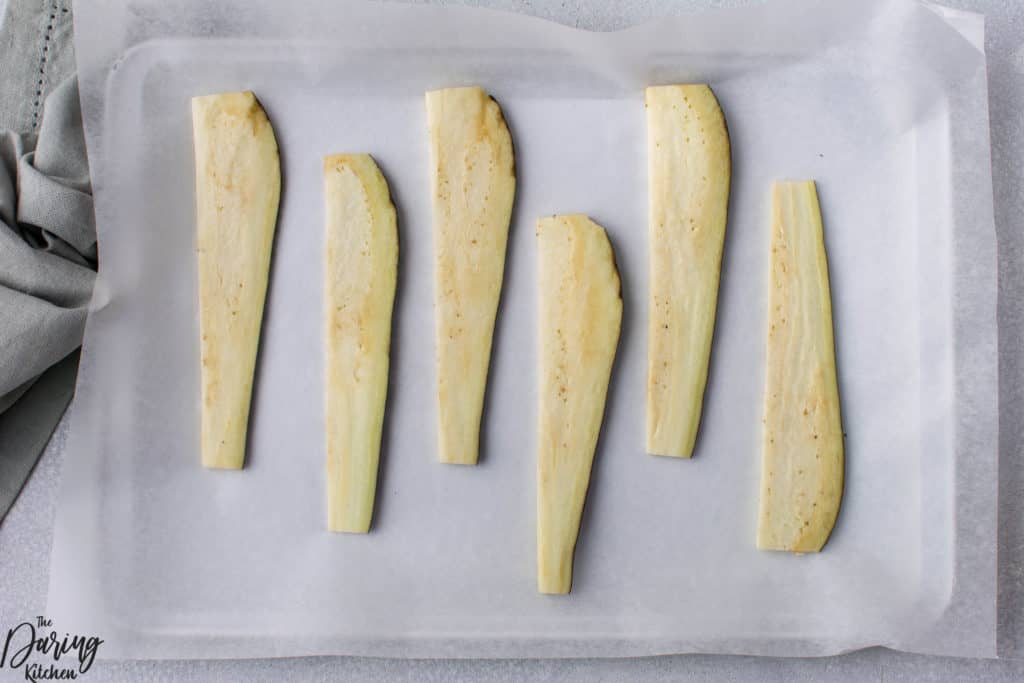 Line your baking sheet with parchment paper. Then, brush your eggplant slices with your sauce. You want the slices to be evenly coated on both sides. Place eggplant slices on the baking sheet, leaving a little room between the pieces.
Place your eggplant bacon in the oven for 20 minutes. When done, flip each piece and bake for another 10 minutes. Baking times can vary depending on the power of your oven. So, I always advise keeping an eye on your eggplant bacon so that it doesn't burn.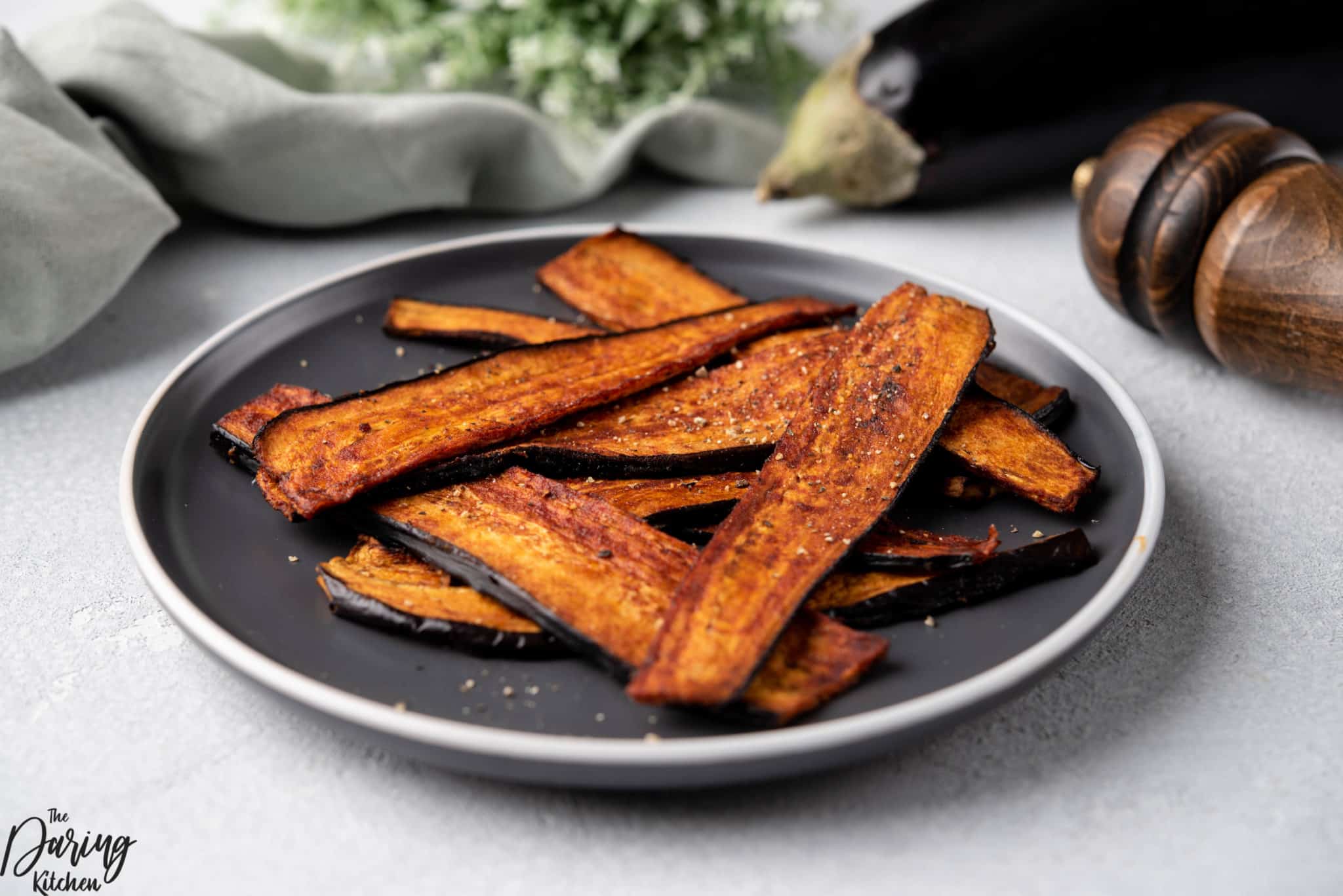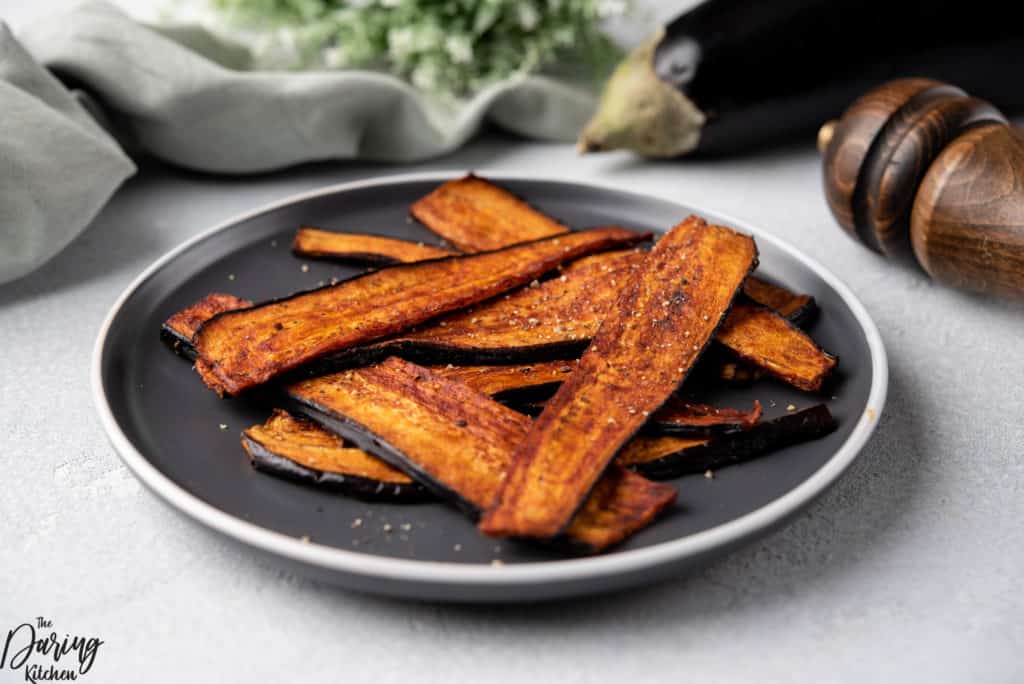 When done, your eggplant bacon should be crispy. They are ready to be enjoyed as is or served any way you like. It makes a great addition to most lunch or dinner recipes. It is a great addition to your sides for breakfast.
Whatever meals you choose to eat it with, I guarantee you will enjoy this eggplant bacon. I do not have the nutrition facts for this recipe yet. But, if you do, don't be shy to drop a comment below. I would love to see how your eggplant bacon turned out!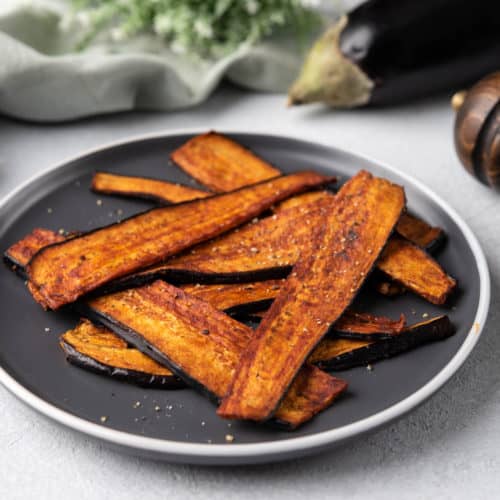 Bacon eggplant
You will be shocked how eggplant slices can turn into crispy bacon in this vegan recipe!
Print
Pin
Rate
Equipment
Knife or mandolin slicer

Baking sheet
Ingredients
1

medium eggplant

Salt, and pepper

to taste

1

tbsp

olive oil

1

tbsp

agave

1 ½

tbsp

tamari sauce

1 ½

tsp

smoked paprika

1 ½

tsp

liquid smoke

1

tsp

garlic powder
Instructions
Slice eggplant thin, using a sharp knife thin or a mandolin slicer. Line baking sheet with parchment paper or two smaller.

In a mixing bowl, whisk olive oil, agave, tamari, smoked paprika, liquid smoke, and a touch of salt and pepper.

Brush the eggplant slices with prepared mixture on both sides.

Bake the eggplant for 20 minutes. Flip and bake for additional 10 minutes.

Serve Vegan bacon as desired.