These vegan gingerbread pancakes have seasonal spice in every bite. They are vegan and free of highly processed sugars. They also are super quick to make!
The Best Holiday Morning Treat
On a chilly morning, there is nothing better than a warm stack of pancakes. Growing up, I loved to have pancakes on the weekends. I dreamed of seeing a pancake stack on my plate, covered with maple syrup and even whipped cream.
No matter how old I am, I still love pancakes! And, with time and experimentation, I discovered there much healthier (and delicious!) ways to enjoy pancakes. Pancakes do not need to laden with sugar, unhealthy fats, and mysterious ingredients. No doubt - pancake mix will still have my heart. But, I'd much rather make scrumptious vegan pancakes from scratch that take nearly the same amount of time to make!
With the holidays lingering in the air, my gingerbread cravings have reawakened. There is nothing better than the zesty bite anything gingerbread has. So, I thought, why not put my favorite things together? This resulted in soft and fluffy vegan gingerbread pancakes perfect for just yourself or to share with friends and family.
Delicious and Energizing
The most remarkable part about this recipe is its ingredients. Oftentimes, our favorite buttery and fluffy pancakes are high in carbs and sugar. This will weigh you down in the morning. You need a breakfast that will power you through the day!
This recipe does just that. With its simple and honest ingredients, these pancakes wake you up, fill you up, and fuel you through any hectic morning. And, they are crazy tasty too.
I must say - this recipe will definitely awaken your senses. It contains freshly grated ginger, a powerful and zesty ingredient. Ginger has a great natural 'kick' to it.  Combined with clove, cinnamon, and nutmeg, these spices gently warm up your senses and leave your kitchen smelling lovely. 
There's also a lot of sustenance in these pancakes. Instead of strange oils and fillers, this recipe contains both almond butter and almond milk. These two vegan ingredients are abundant in healthy fats and fiber. Most importantly, they energize you and will sustain your appetite for hours. This means less snacking and more wholesome eating habits. 
When it comes to sweeteners, this vegan gingerbread pancake recipe requires only coconut sugar and maple syrup.  These two are mighty and natural sugar alternatives. Coconut sugar is a great pantry staple. This sweetener comes from the sap of the coconut palm. But, don't worry - it does not impose any tropical flavors on this recipe! Instead, it is a neutral and more belly-friendly option.
When it comes to garnishing, maple syrup is classic! Not only does it offer nutty flavors and toasty aromas, but it also is abundant in health benefits. I also like a generous pinch of coconut flakes for extra texture and sweetness. Don't be afraid to even sprinkle a little more cinnamon on top too!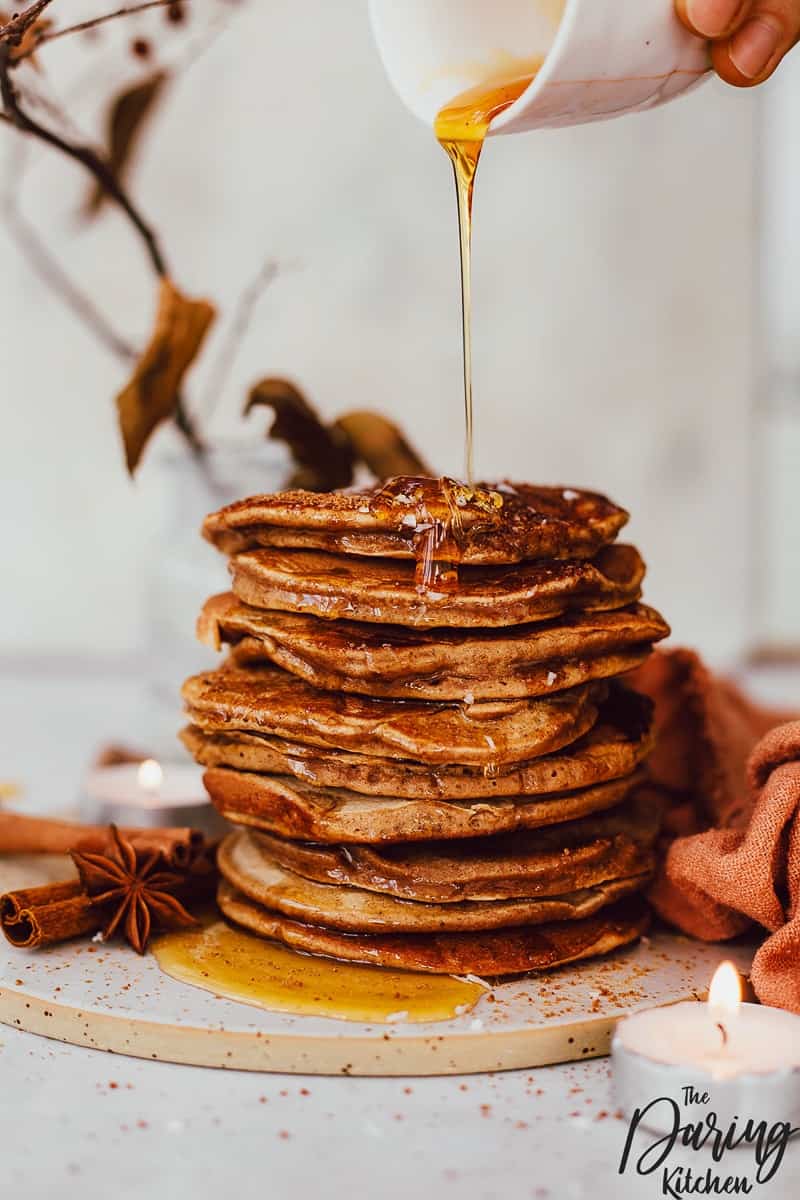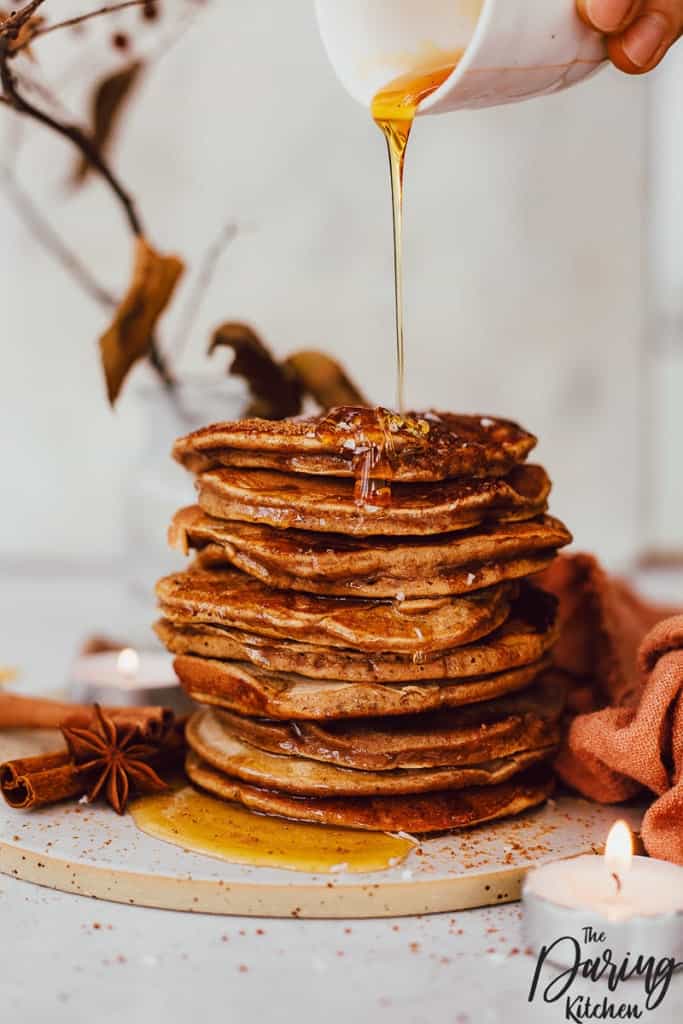 How to Make Vegan Gingerbread Pancakes
These vegan pancakes are simple to make. If you are often making vegan recipes, then many of these ingredients are probably already in your pantry!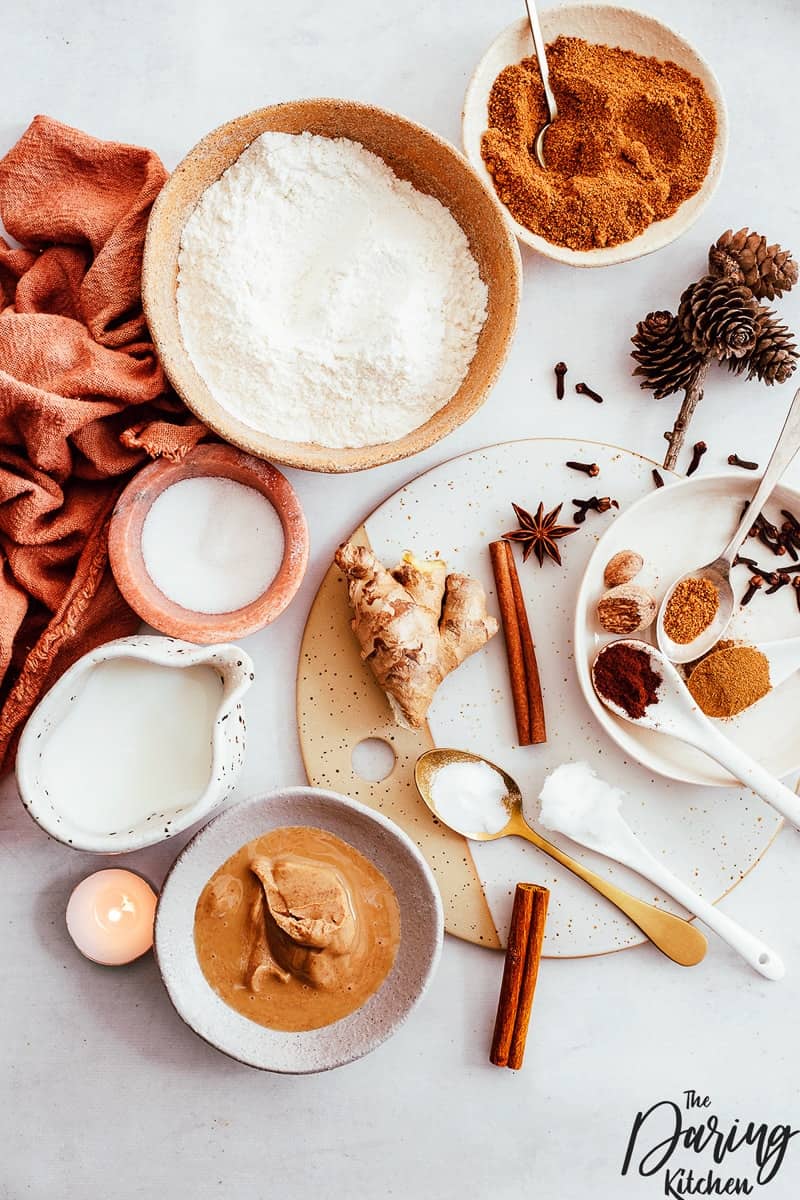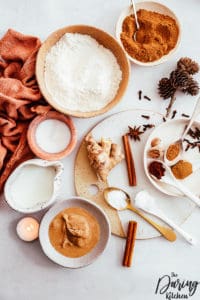 First, assemble all your ingredients. Measure out your dry ingredients, as you will need these first.  Using a handy mixing bowl, gently mix together your dry ingredients. Then, slowly incorporate your wet ingredients (which is only your almond butter and almond milk.) 
As you mix, make sure you get rid of any sneaky flour on the base or sides of your bowl. Once your mixture is even, you are ready to make your pancakes! With a nonstick pan or skillet, heat up the coconut oil over medium heat. Scoop the batter carefully into the pan. You can make these whatever size you like, but it's great to try to keep them equal in size. This way you can make the perfect stack!
When the pancakes begin to bubble, it's time to flip! The pancakes will only need just a minute on the other side. Then, place them on a towel-lined plate and continue to make pancakes until all the batter is used. 
Now, it's time to plate! Serve up these zesty pancakes in fun stacks, with ample coconut flakes and a drizzle of maple syrup. You can even add a cinnamon stick for extra decoration. 
Whatever decorations you choose, I'd love to see how your festive gingerbread pancakes turned out! Don't be shy to leave a comment below!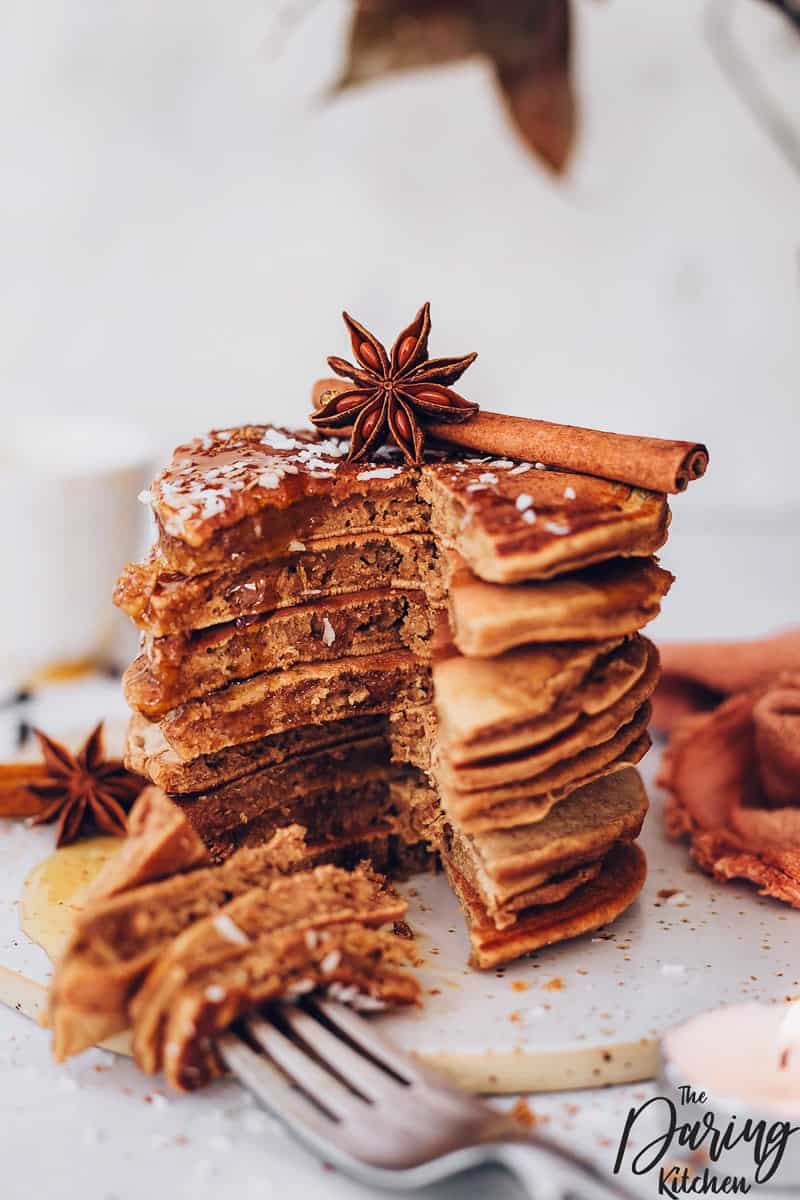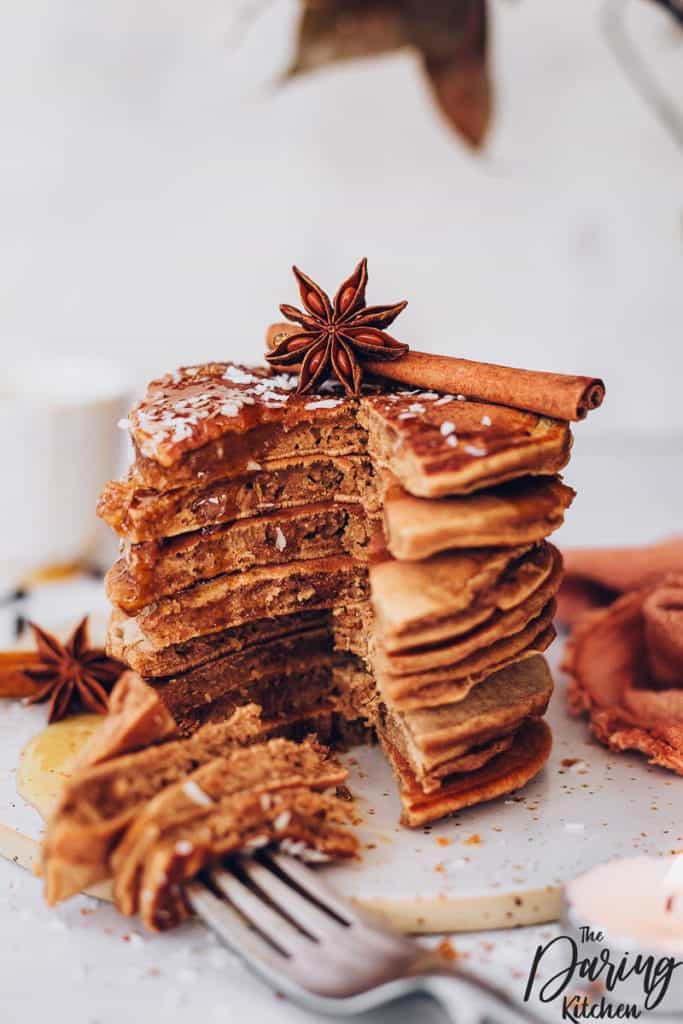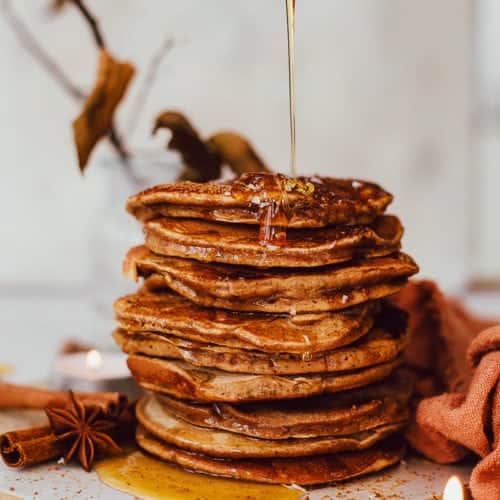 Vegan Gingerbread Pancakes
Full of fresh ginger and spices, these vegan pancakes will fuel you up and satisfy your morning sweet tooth.
Print
Pin
Ingredients
1

cup

Plain Flour

all-purpose

2

tbsp

Coconut Sugar

⅔

cup

Almond Milk

Unsweetened

2

tbsp

Almond Butter

1

tsp

Ginger

freshly grated

¼

tsp

Ground Cloves

1

tsp

Ground Cinnamon

¼

tsp

Ground Nutmeg

1 ½

tsp

Baking Soda

1

tbsp

Pure Maple Syrup

for drizzling

1

tbsp

Coconut Flakes

to garnish

Coconut Oil

for cooking
Instructions
In a large bowl mix the dry ingredients – flour, sugar, baking soda and spices.

Add the almond milk and almond butter, and mix well to incorporate, until a smooth, creamy batter is formed.

Grease a non-stick skillet with a bit of coconut oil and heat over medium heat.

Scoop the batter into pancakes and cook for two minutes until bubbles appear on top.

Flip over and cook 1 more minute.

Continue with the rest of the batter.

Drizzle the pancakes with maple syrup and garnish with coconut flakes.

Serve warm.
Nutrition
Calories:
856
kcal
|
Carbohydrates:
142
g
|
Protein:
21
g
|
Fat:
25
g
|
Saturated Fat:
5
g
|
Sodium:
2164
mg
|
Potassium:
418
mg
|
Fiber:
9
g
|
Sugar:
31
g
|
Calcium:
378
mg
|
Iron:
7
mg