Enjoy the warm and cozy flavors of winter with these fluffy gingerbread pancakes. Made with cinnamon, cloves, and ginger, they make for a comforting holiday breakfast treat in less than 30 minutes!
Why You'll Love Gingerbread Pancake Recipe
Flavorful- A stack of gingerbread pancakes is packed with spices like cinnamon, nutmeg, and ginger that make them so tasty.
Easy- This easy recipe can be whipped up in no time! All the ingredients are easily found in any grocery store and are simple enough for even novice bakers to tackle.
Fluffy- With a light and fluffy texture, these pancakes will make for an unforgettable breakfast experience!
What Are Gingerbread Pancakes?
Gingerbread pancakes are exactly what they sound like - a combination of the classic gingerbread cookie and fluffy pancake. The pancake batter is infused with warm spices, giving them the flavor of gingerbread cookies without all the hassle and mess. They also come out perfectly spiced and perfectly fluffy every time.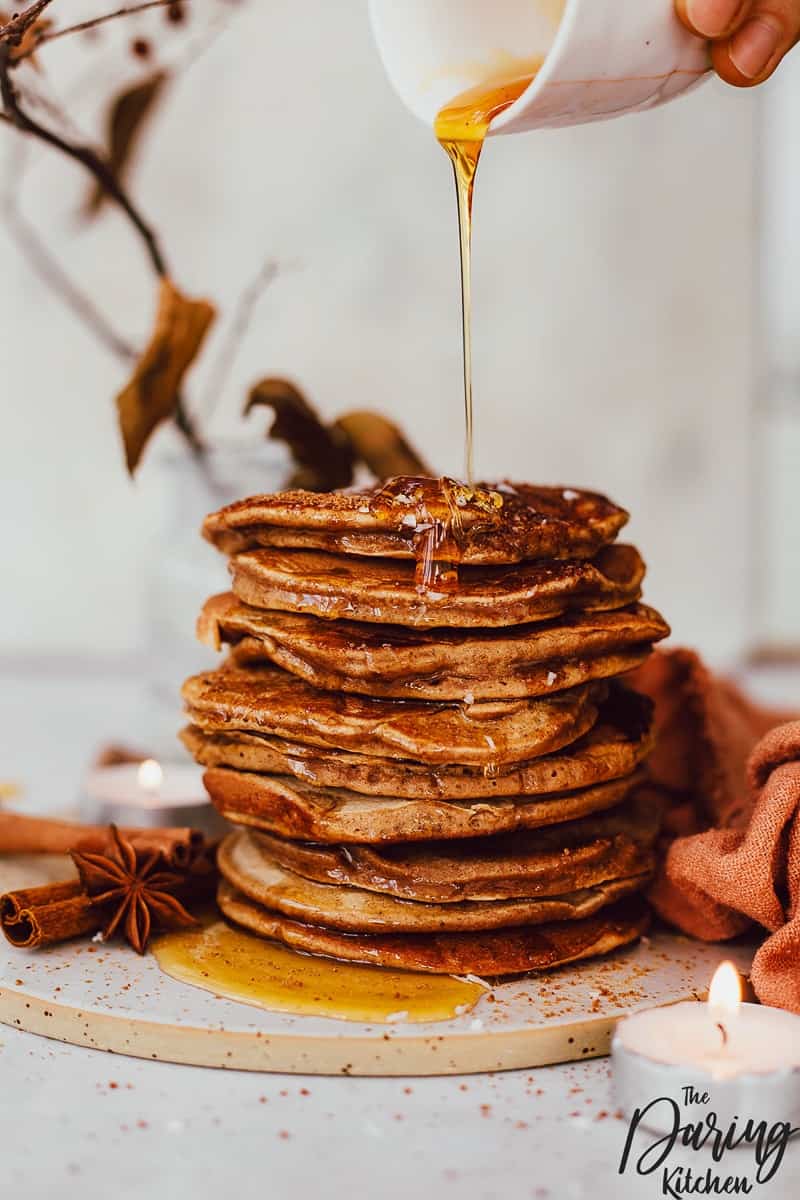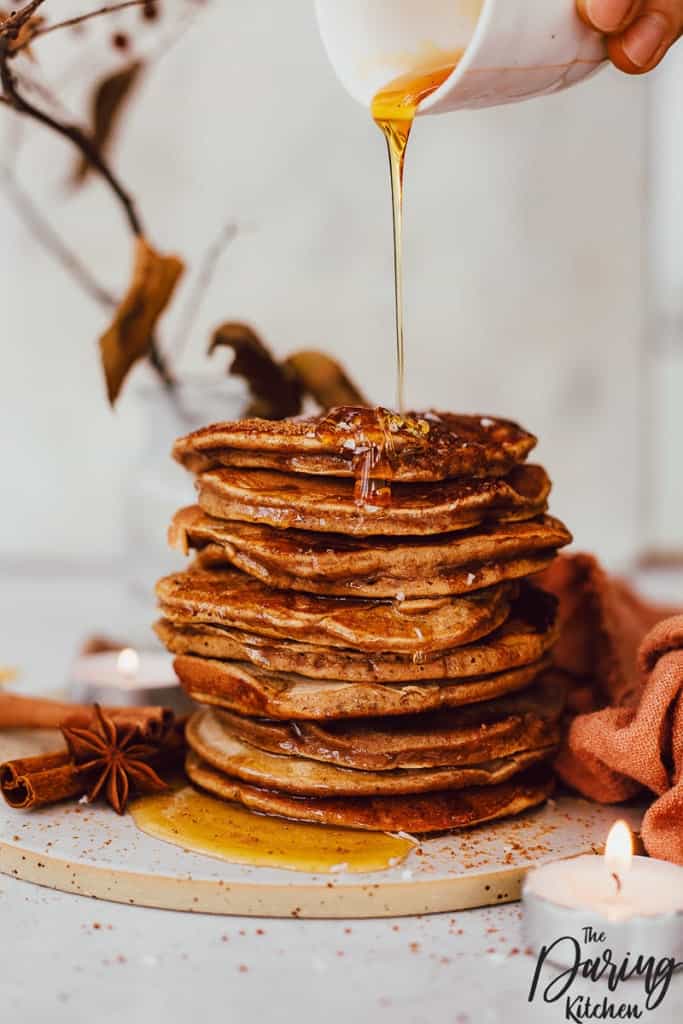 Equipment Needed
Large Mixing Bowl

Mixing Spoon

Non-Stick Skillet

Spoon or Cup to Measure Pancakes.

Spatula

Measuring Cups and Spoons
Ingredients
All Purpose Flour-

Provides the structure and texture of the gingerbread pancakes.

Coconut Sugar-

Adds sweetness to the pancake batter.

Almond Milk-

Helps to bind all the ingredients and adds moisture.

Almond Butter-

Melted butter adds a rich, nutty flavor and helps to keep the pancakes moist.

Ginger-

Gives these pancakes their delicious gingerbread flavor.

Ground Cloves-

Adds a hint of holiday warmth to the pancakes.

Cinnamon-

Enhances the flavor of the pancake mix.

Nutmeg-

Gives the pancake mix a spicy and warm taste.

Baking Soda-

Helps to create light and fluffy pancakes.

Pure Maple Syrup-

Adds a touch of sweetness and complements the spicy flavors.

Coconut Flakes-

Gives these gingerbread pancakes an extra crunchy texture.

Coconut Oil-

Helps to keep the pancakes from sticking to the skillet.

How To Make Gingerbread Pancakes
Making these vegan gingerbread pancakes is easy. Most ingredients are typical baking staples, so you should have them at home already.
To start, gather the wet and dry ingredients. Begin with the dry ingredients and mix them in a bowl. Afterward, slowly add the wet ingredients, which are only almond butter and almond milk, into the mixture.
Mix your ingredients and ensure no flour is left in the bowl. When ready, heat your nonstick pan or skillet over medium-low heat. Scoop the gingerbread pancake batter onto the pan to make pancakes. Make them all the same size so you can stack them nicely when they are done cooking.
Once bubbles form on the pancakes, flip them over. Cook for a minute on the other side before putting them on a plate lined with a towel. Repeat the process with the remaining batter.
It is time to serve the pancakes! Serve each stack of gingerbread pancakes warm, topped with coconut flakes and maple syrup. You can even add a cinnamon stick for decoration!
Popular Substitutions And Additions
Instead of almond milk, you can use any other type of plant-based milk.

You can also substitute coconut oil with any other vegetable oil.

Top your gingerbread pancakes with dairy-free melted butter or a dollop of coconut whipped cream.

You can add or substitute whatever you'd like for the spices, such as allspice or cardamom, for an extra flavor boost.

Add chocolate chips or chopped nuts to the batter to make these pancakes even more indulgent.

Swap out the coconut sugar for traditional brown sugar.

Baking Powder can be used in place of baking soda.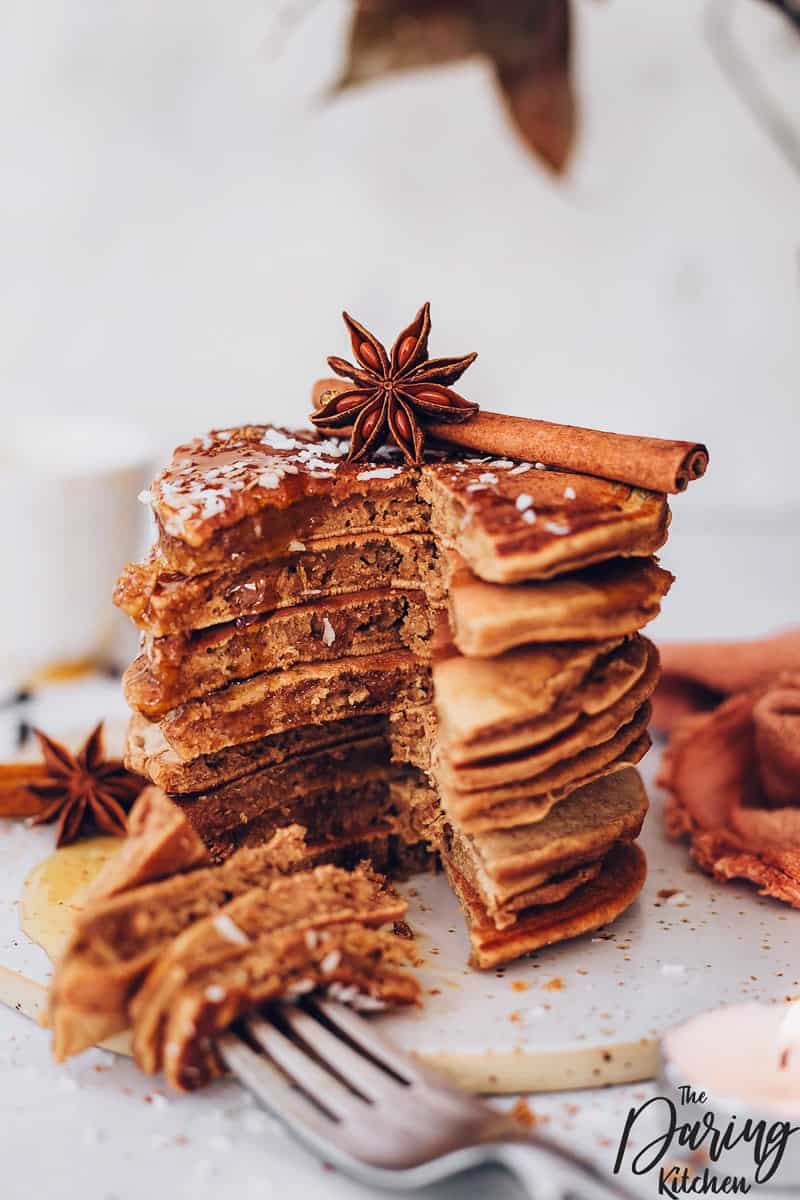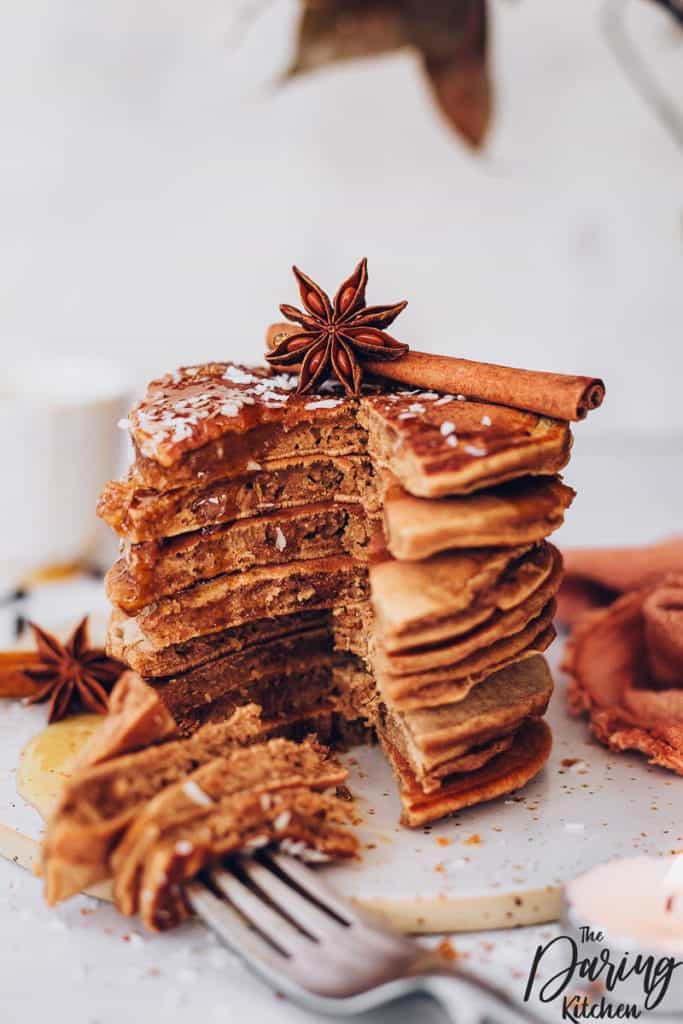 Can I Freeze Gingerbread Pancakes?
Yes, to store pancakes, first let them cool down completely. Then stack them with parchment paper in between and store them in an airtight container. They can be frozen for up to 3 months. When ready to eat, just pop the pancakes in a lightly greased skillet and cook until warm and golden brown.
Fluffy Gingerbread Pancakes FAQ
Do I have to use almond milk?
No, you can use any plant-based milk for this recipe, such as soy milk, coconut milk, or oat milk.
How should gingerbread pancakes be stored?
Gingerbread pancakes can be stored in an airtight container or zip-top bag in the fridge. They should last for about 5 days. You can also freeze them for up to three months.
Can I make this recipe gluten-free?
Yes, you can easily make this recipe gluten-free by swapping out the all-purpose flour for a gluten-free flour blend. You may also need to add more almond milk as some gluten-free flours absorb more liquid than traditional all-purpose flour.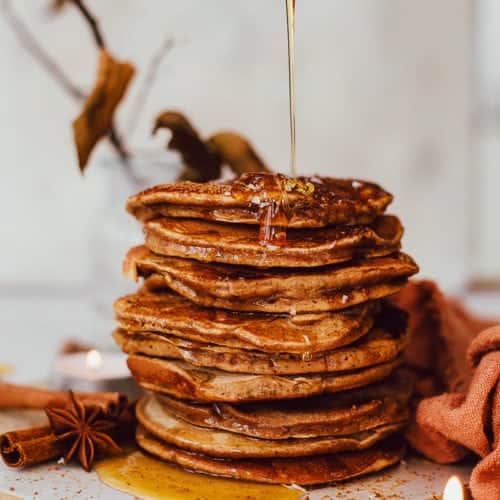 Fluffy Gingerbread Pancakes
Make mornings special during the holidays with these tasty and easy-to-make pancakes. With their amazing gingerbread cookie flavor, you won't be able to resist!
Print
Pin
Ingredients
1

cup

Plain Flour

all-purpose

2

tbsp

Coconut Sugar

⅔

cup

Almond Milk

Unsweetened

2

tbsp

Almond Butter

1

tsp

Ginger

freshly grated

¼

tsp

Ground Cloves

1

tsp

Ground Cinnamon

¼

tsp

Ground Nutmeg

1 ½

tsp

Baking Soda

1

tbsp

Pure Maple Syrup

for drizzling

1

tbsp

Coconut Flakes

to garnish

Coconut Oil

for cooking
Instructions
In a large bowl mix the dry ingredients – flour, sugar, baking soda and spices.

Add the almond milk and almond butter, and mix well to incorporate, until a smooth, creamy batter is formed.

Grease a non-stick skillet with a bit of coconut oil and heat over medium heat.

Scoop the batter into pancakes and cook for two minutes until bubbles appear on top.

Flip over and cook 1 more minute.

Continue with the rest of the batter.

Drizzle the pancakes with maple syrup and garnish with coconut flakes.

Serve warm.
Nutrition
Calories:
856
kcal
|
Carbohydrates:
142
g
|
Protein:
21
g
|
Fat:
25
g
|
Saturated Fat:
5
g
|
Sodium:
2164
mg
|
Potassium:
418
mg
|
Fiber:
9
g
|
Sugar:
31
g
|
Calcium:
378
mg
|
Iron:
7
mg