These hearty vegan meatballs are chock full of protein and flavor. Whether enjoyed alone or with your favorite pasta, they will definitely satisfy your Italian food cravings!
The Best Plant Based Meatballs
Meatballs are classic. But, doesn't mean they cannot be vegan! I've always loved digging into a bowl of meatballs and spaghetti at my grandmother's house. It was a dish that really warmed your soul.
Years later, I've definitely adopted a more plant based diet. But, doesn't mean I have to give up meatballs. With a little curiosity and kitchen fun, I developed a vegan recipe with just as much flavor. The secret ingredients? Green lentils and a ton of fabulous spices. Lentils are delicious legumes. They give these meatballs great texture and a protein punch. I really adore the golden-brown crust these lentil meatballs develop when pan-fried. It lends such a nice texture to the final product.
My grandmother would always add grated cheese to her meatballs. Luckily, nutritional yeast is a simple and easy replacement. It has a naturally cheesy and nutty flavor similar to the aged cheese my grandmother would use. And, it's 100 percent vegan!
What also shines in this recipe are the spices. These are secret weapons in the kitchen. The spice combination truly gives character to these meatballs. Smoked paprika, ginger, and garlic have the bold flavors meatballs needs. With a little dijon mustard, the lentil base transforms into something really tasty.
You don't need to worry about these meatballs falling apart. Simple rolled oats do just the trick. This fiber-rich cereal has enough starch to bind everything together. And, a little goes a long way. All you need is 2 tablespoons of rolled oats. That's it!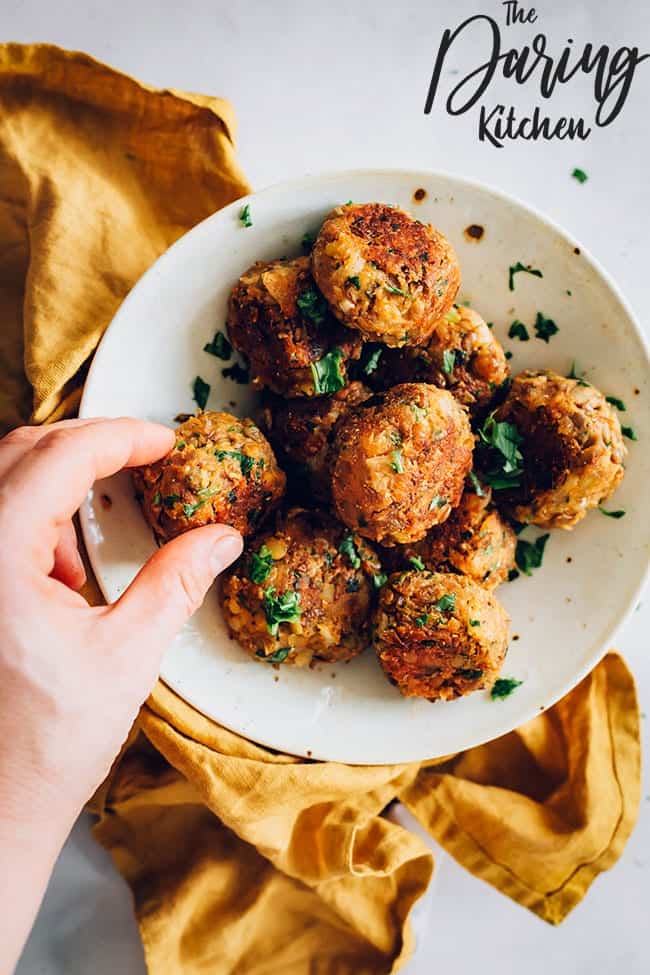 A Love of Lentils
Lentils are a fabulous addition to anyone's diet. They are an exceptional source of protein and fiber, especially for those following a strict vegan diet. Just one cup of lentils has 18 grams of protein. That is pretty incredible for a totally plant based ingredient!
These mighty legumes are also plentiful in powerful polyphenols. These boost your immune system and keep you protected from disease. I can go on and on about the remarkable health benefits of lentils. But, what really matters is how good they taste!
For this recipe, you can use canned, freshly made, or even leftover green lentils. Whatever you choose, make sure you have two cups.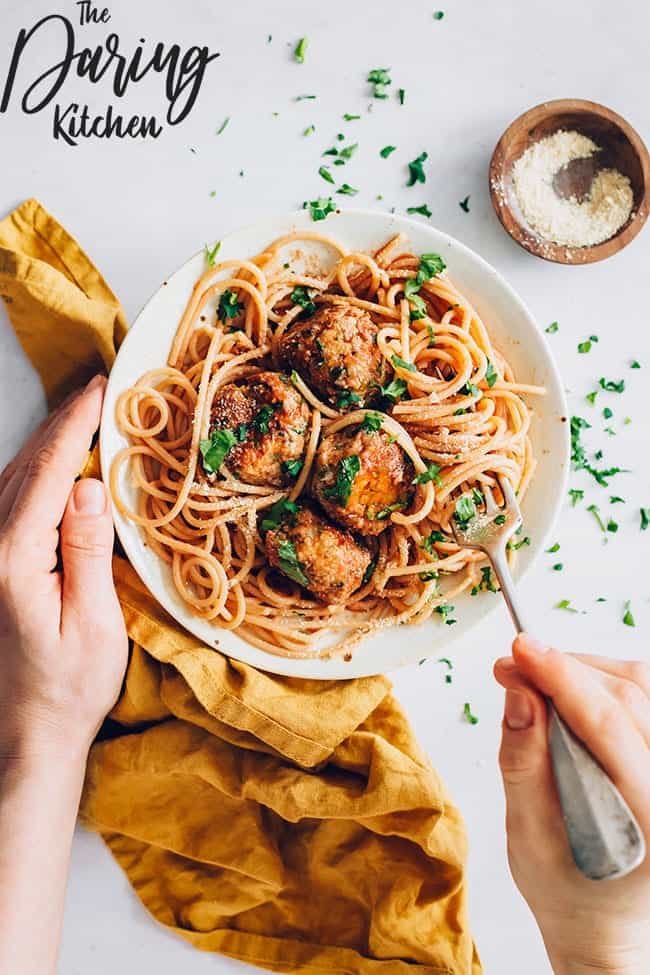 Ways to Serve your Lentil Meatballs
These lentil meatballs are great in many different ways. While you can simply eat them alone, there are few ways to serve them. Any of these ideas are great for a family meal or even a dinner party!
Spaghetti 'zoodles' and Meatballs
This spin on the classic pairs these lentil meatballs with delicious zucchini noodles. Paired with your favorite tomato sauce, this meal will put you in veggie heaven.
Meatballs with Vegan Pesto
A delicious and creamy pesto pairs easily with these meatballs. You can buy pesto at the store or make it fresh at home. Just don't forget to top the dish off with your favorite vegan cheese.
Lentil meatballs in curry sauce
Meatballs are also part of nonItalian cuisine. Lentil meatballs are a perfect protein for a curry. Accompanied with your favorite veggies, you will have a nourishing meal with all the protein you need.
How to Make Vegan Lentil Meatballs
This recipe is hands-on and fun. The only kitchen appliances you will need are a large mixing bowl, plate, and skillet.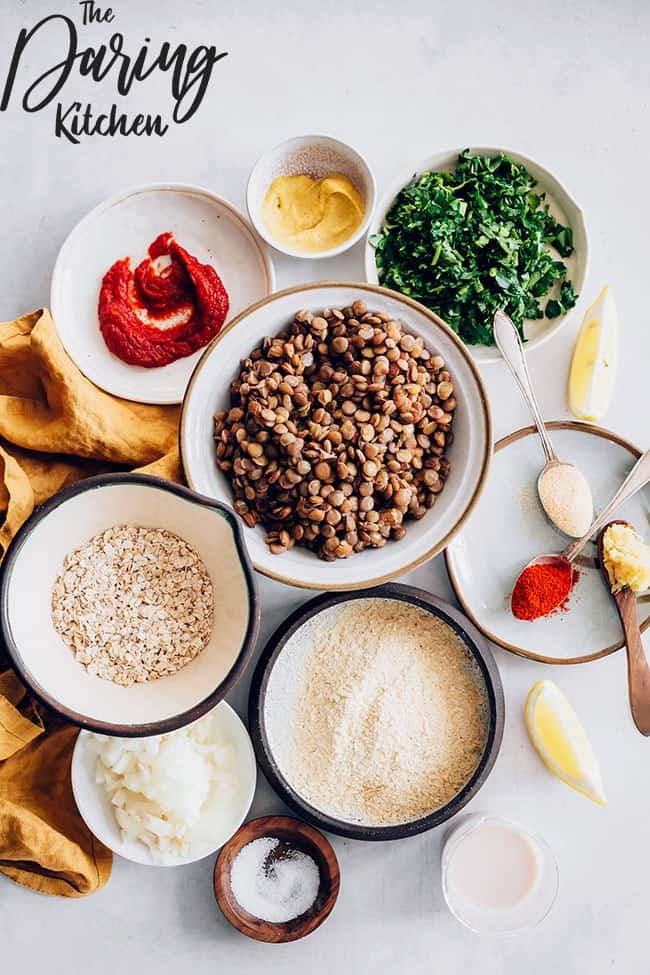 First, you will need to make your meatballs. With your mixing bowl, add all your ingredients together. Gently mash everything together, incorporating the seasonings into the lentils. You want to be left with a sticky mixture, just like any other meatball.
Now it's time to shape. Pull small pieces of the mixture and roll them between your hands to form a ball. You do not want the lentil meatballs too large - try to make them just a little larger than golf ball size.
Once all your meatballs are made, it's time to cook them. Using a skillet (I prefer a cast-iron,) heat the coconut oil over medium heat. When the oil is glistening, add meatballs to the skillet, leaving them enough space to cook. Depending on the size of your skillet, you will definitely cook these in more than one batch.
When the lentil meatballs are golden brown, flip them. Since the lentils are already cooked, you are not concerned with fully cooking the meatballs. You more want to ensure an even and crispy outer layer.
Once your meatballs are all cooked, they are ready to be served! You can dig into them alone or with your favorite sauce. Whatever you choose, these lentil meatballs will definitely become a staple in your household.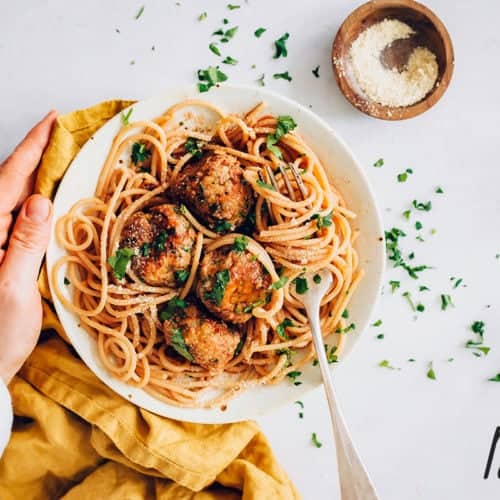 Vegan Lentil Meatballs Recipe
Super easy to make and totally plant-based, these vegan meatballs are a delicious compliment to any of your favorite Italian pasta recipes.
Print
Pin
Ingredients
2

cups

Green Lentils

cooked

2

tbsp

Quick Cooking Oats

1

Yellow Onion

finely diced

1

bunch

Fresh Parsley

finely chopped (save 1 tbsp chopped parsley for garnishing)

1

tsp

Tomato Paste

1

tsp

Smoked Paprika

1

tsp

Ginger

grated

1

tsp

Salt

1

tsp

Garlic Powder

1

tsp

Dijon Mustard

2

tbsp

Nutritional Yeast

2

tbsp

Almond Milk

1

tbsp

Coconut Oil

for frying

1

tbsp

Lemon Juice

freshly squeezed
Instructions
Add all the ingredients into a large bowl and use a fork to mash the lentils and mix everything together (you can also use a food processor, making sure to not over-process the ingredients – just pulse 3 or 4 times) to obtain a sticky and textured mixture.

Use your hand to shape the mixture into small balls and line them on a plate.

Heat the coconut oil into a non-stick skillet.

Add the balls into the skillet one by one, without overcrowding it.

Cook over medium heat flipping them with a wooden spoon, until crispy and golden.

Transfer into a bowl and garnish with fresh parsley.

Serve as they are or with your favorite pasta and sauce.
Nutrition
Calories:
419
kcal
|
Carbohydrates:
66
g
|
Protein:
28
g
|
Fat:
5
g
|
Saturated Fat:
3
g
|
Polyunsaturated Fat:
1
g
|
Monounsaturated Fat:
1
g
|
Sodium:
633
mg
|
Potassium:
1165
mg
|
Fiber:
32
g
|
Sugar:
4
g
|
Vitamin A:
1509
IU
|
Vitamin C:
27
mg
|
Calcium:
94
mg
|
Iron:
9
mg