This plant-powered Moroccan lentil soup features delicious lentils, along with a ton of veggies and bold spices. It's the perfect meal for any time of day - it fuels you up with vegan protein, keeping you energized for hours.
The Best Vegan Moroccan Lentil Soup Recipe
There are a lot of lentil soup recipes out there. This by far is my favorite one ever!
This Moroccan lentil soup is chock full of protein, vegetables, and delicious spices. I'm not kidding - you get every food group you need in this healthy, vegan recipe. Plus, it's so flavorful. Every bite is better than the next.
This recipe came to me through years of making basic lentil soup and lentil curries. I've worked with every lentil you could think of: red lentils, brown or green lentils...Suddenly, I'd have a little of each in my pantry. So, I thought: why can't I make something with all of them?
I adore soup. It's so easy to make with lentils. All you need is a little vegetable broth (or chicken broth if you aren't aiming to make this vegan,) oil (olive oil or avocado oil work well,) warm spices, and diced tomatoes or tomato sauce. Plus, you can add in all the delicious veggies you want!
What really makes this soup are the fragrant Moroccan spices. I really love Moroccan food. It features so many awesome spices. These spices are really what makes this soup absolutely delicious. From cumin to smoked paprika, each adds zest to this amazing soup.
Then, I decided to add a little coconut milk. This gives this Moroccan lentil soup a little extra creaminess, making it totally irresistible! You can even play with squashes, like sweet potato, to add more creaminess as well.
I made this soup on the stove in a dutch oven. But, you can easily make it in an instant pot or slow cooker. If you are short on time, pressure-cooked lentils are also a great option too. This lentil soup recipe is very flexible so do whatever works best for your time and/or kitchen!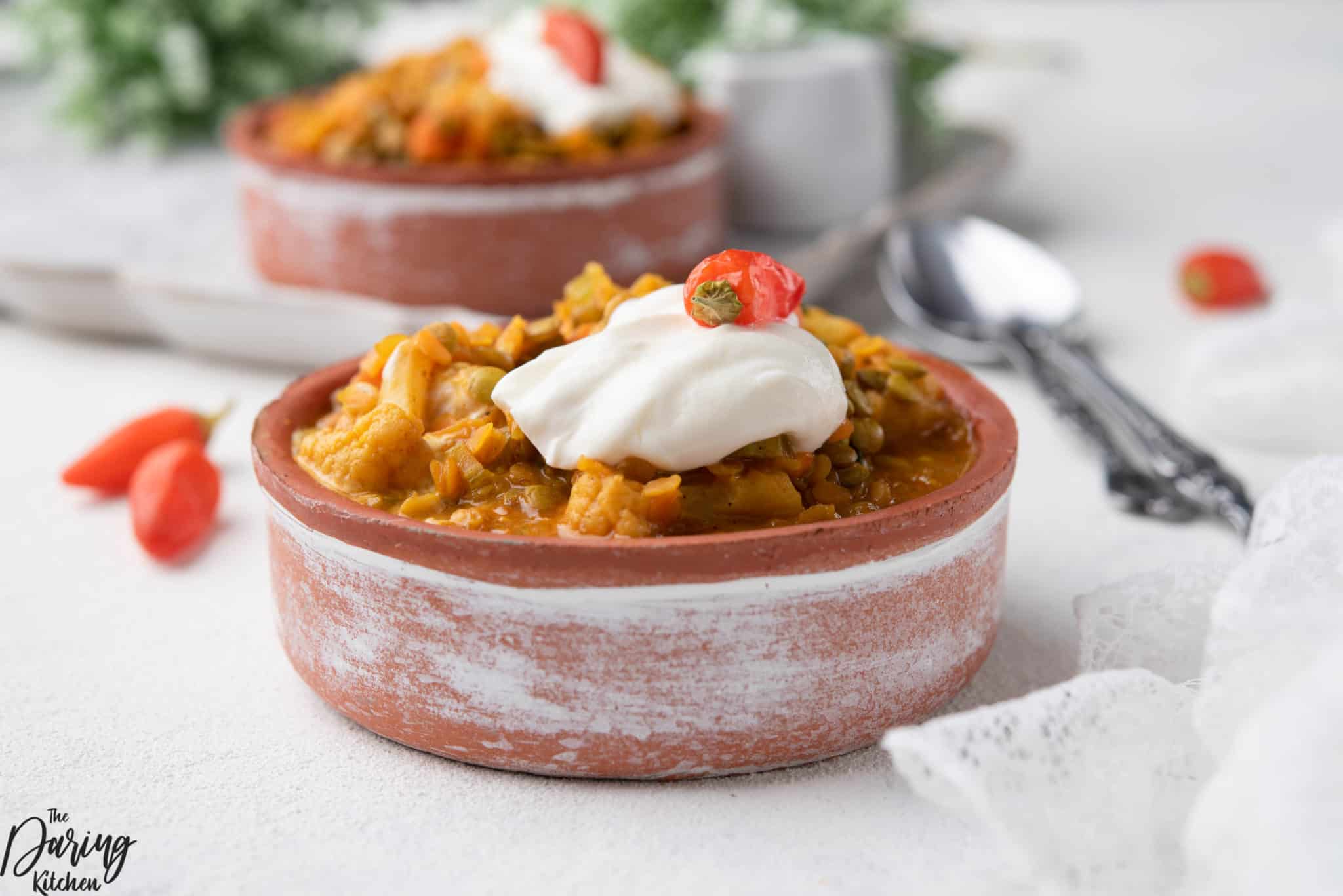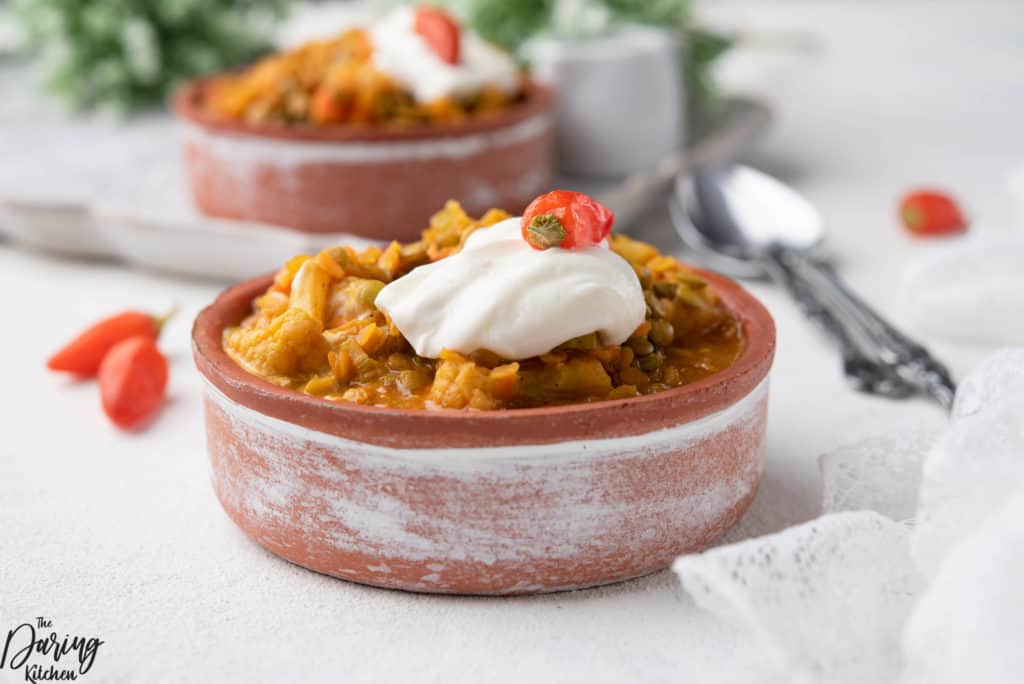 What is in Vegan Moroccan Lentil Soup?
The ingredient list for this Moroccan lentil soup recipe may seem long, but have no fear - it's not as much as you think. Once you go through all the ingredients, everything makes a lot more sense!
The Aromatics: onion, garlic, carrot, and celery - These create a delicious base for your soup (and many soups to come!)
Avocado oil - This is a super healthy oil I love to use. Olive oil works as well!
Green lentils and red lentils - A staple in Moroccan cuisine, these legumes are full of protein. You can use any lentils you want (red, brown or green lentils work.) It's really whatever you have on hand!
Vegetable broth - An essential ingredient for any vegan soup, the vegetable broth adds broth and salt to the soup
Tomato sauce - You can use diced tomatoes, a little tomato paste, or whatever you like. You simply want to add the tang and color of tomatoes to this recipe.
Coconut milk - This lends a silky creaminess to the soup.
Veggies - In this recipe, I added cauliflower and fresh spinach. These are my top favorite vegetables. You can also add in other leafy greens, like kale. Many love adding in sweet potato or even some fresh herbs like chopped cilantro!
Lemon juice - This adds freshness and lovely acidity to the soup.
Now, for the spices...
Tumeric powder
Ground cumin
Smoked paprika
ginger powder
Red pepper flakes (totally optional!)
All of these ingredients add something special to this soup. However, there are plenty of ingredients that can be swapped or even omitted. Change up the green lentils for red lentils...add sweet potatoes and olive oil instead of coconut milk and avocado oil...You can even just swap the spices with curry powder if you want to! The options are endless, so don't stress if you don't have the exact list. Cooking should be fun, not stressful!
How to Make Moroccan Lentil Soup
This absolutely delicious Moroccan lentil soup doesn't take as long as you think to make. I have just the steps you need to ensure you master this recipe quickly and easily.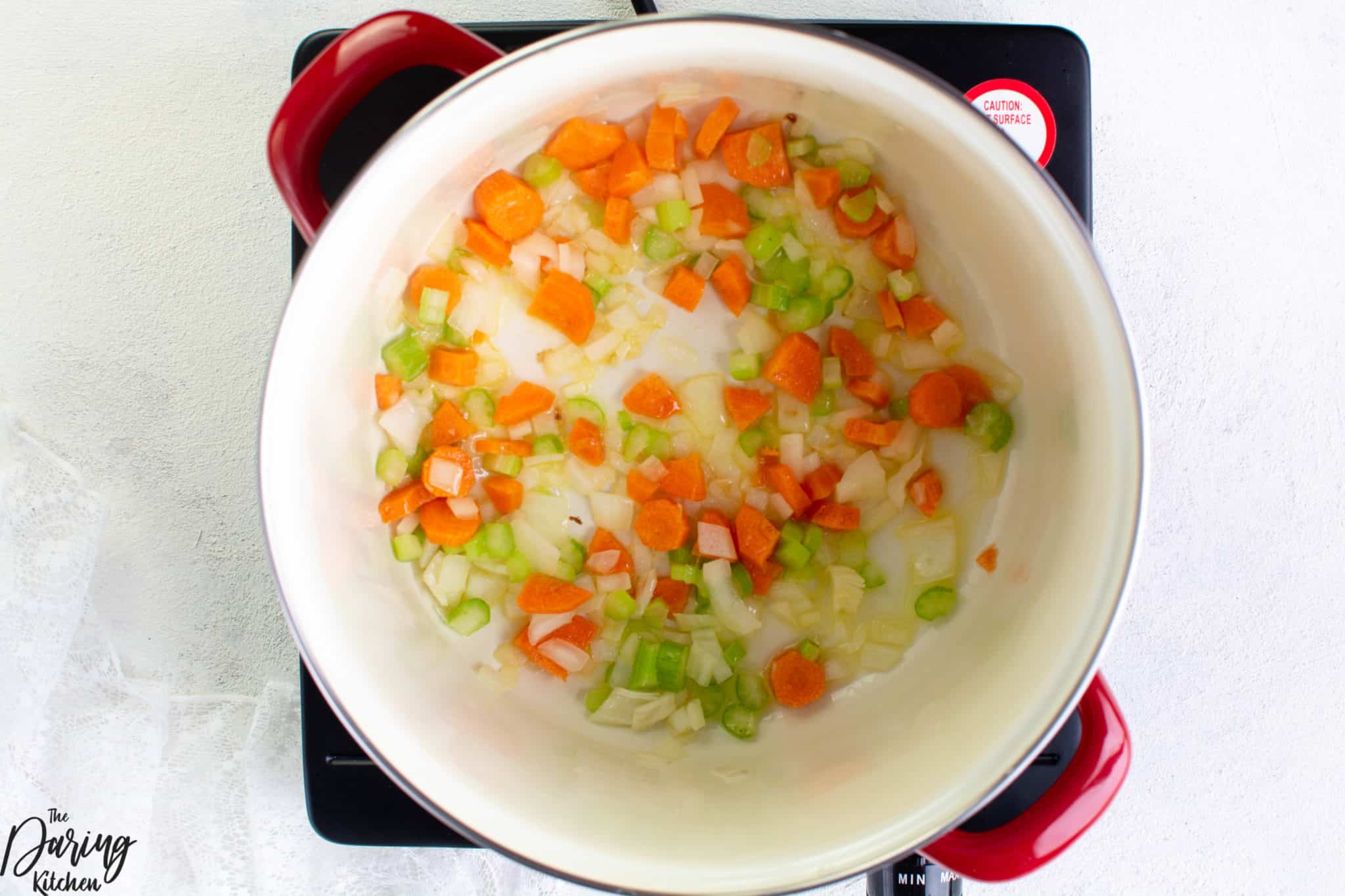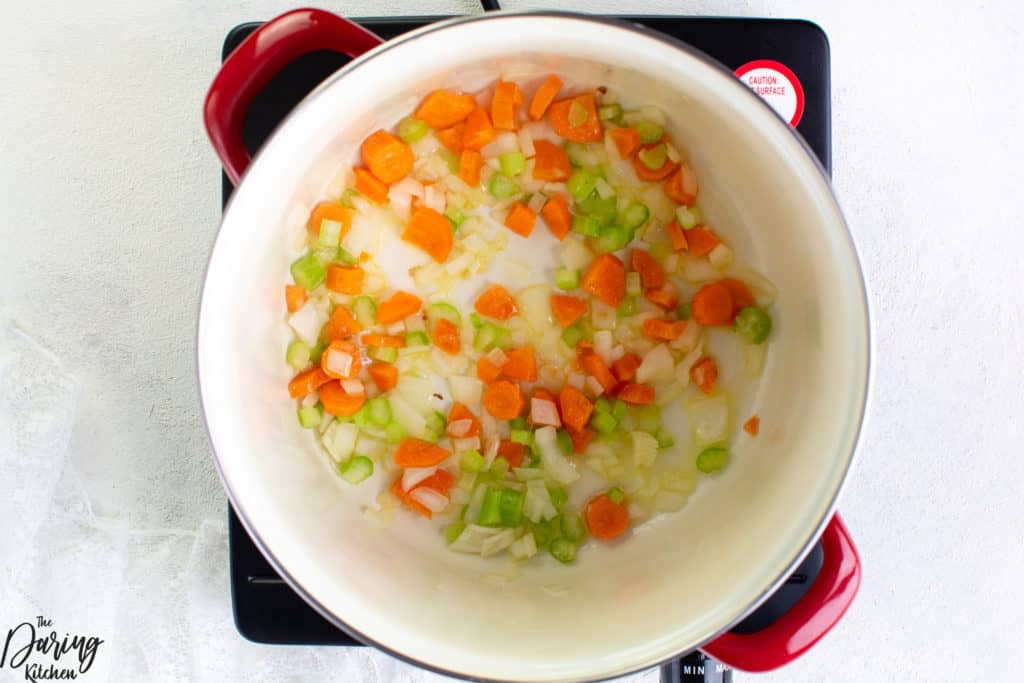 First, heat your avocado oil (or olive oil) in a saucepot over medium heat. (If you are using an instant pot or slow cooker, place your appliance on a sautè setting.) Add in your chopped garlic, celery, carrots, and onion. Allow the aromatics to cook all together for about 5 minutes.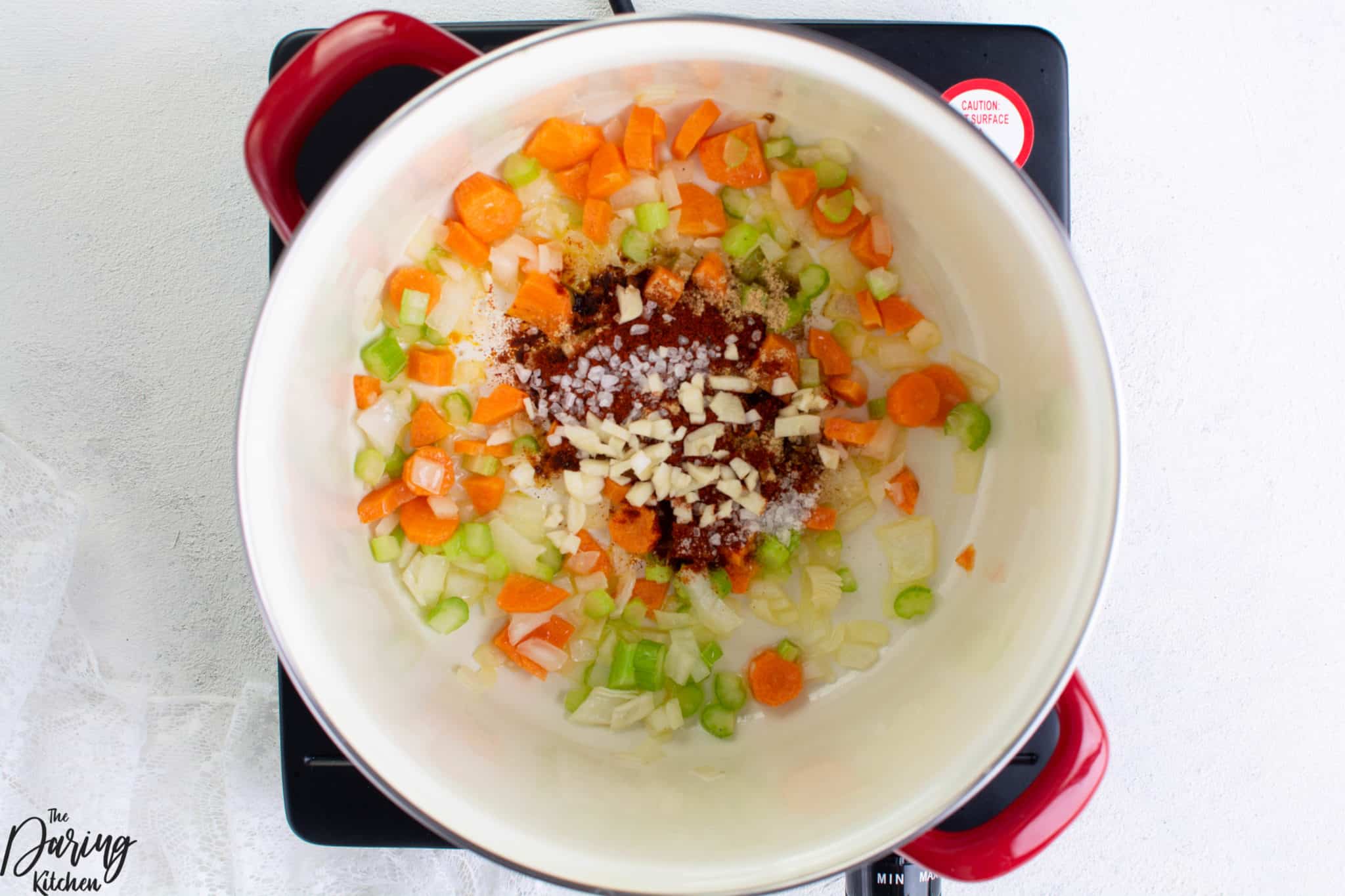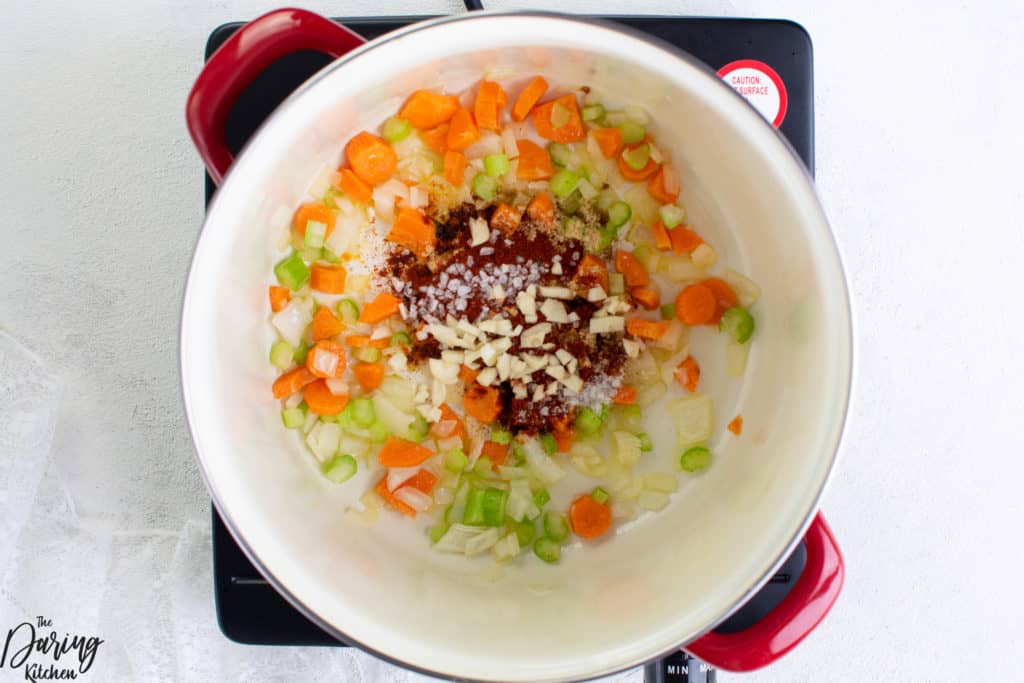 Then, add in all of your spices. Stir so that they mix in evenly with the aromatics. This mixture will only need around a minute to cook.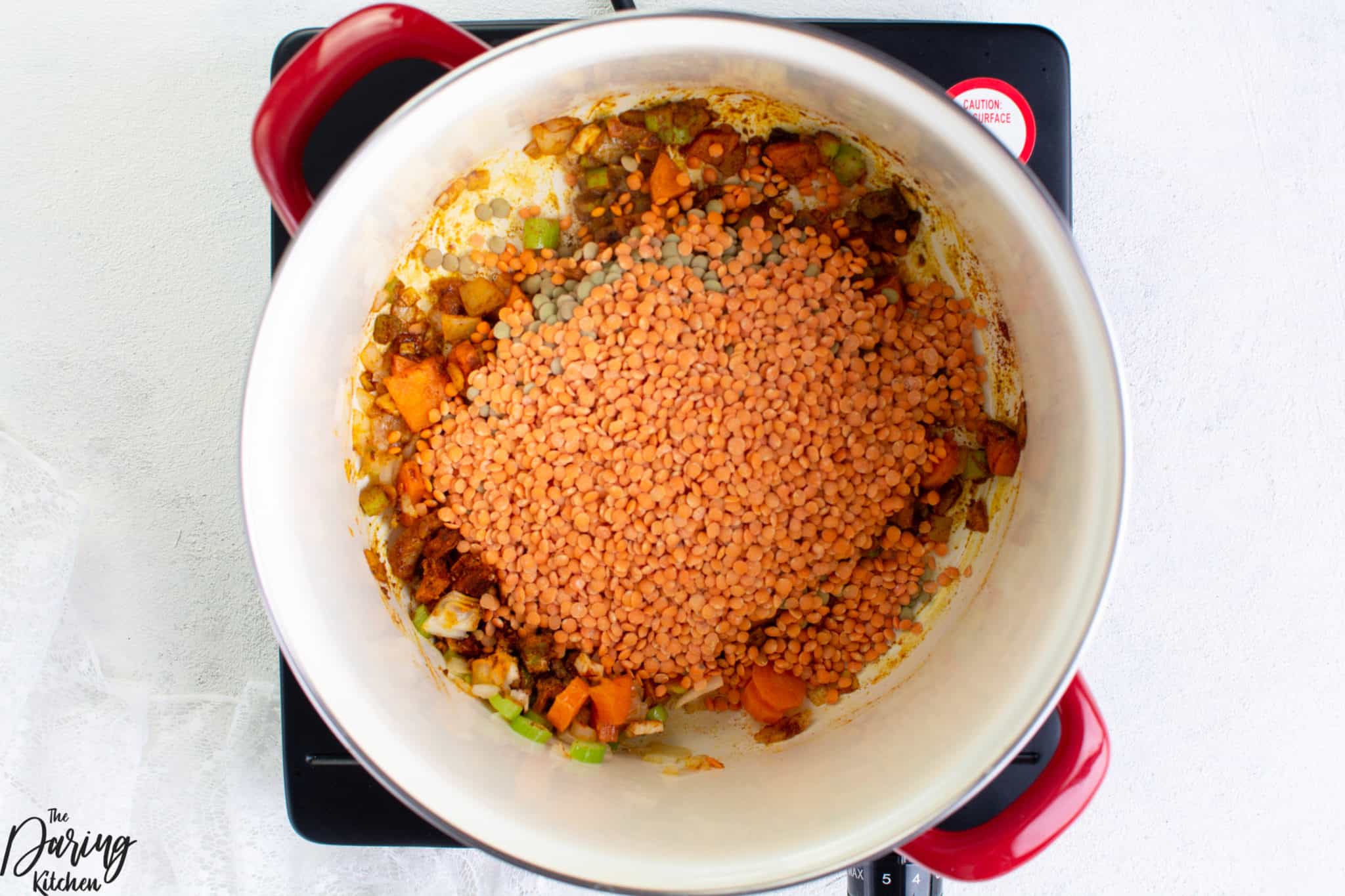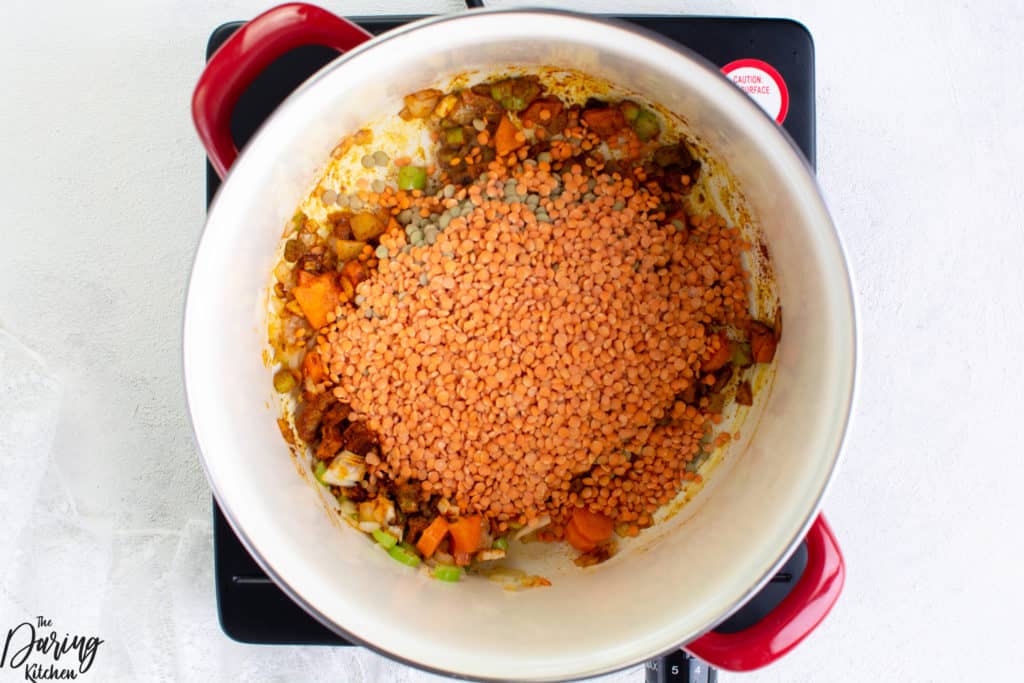 Now, add in your lentils. It is super important that these are adequately rinsed before cooking. You do not want to find a little pebble in your food! Combine everything with your vegetable broth (or chicken broth) and tomato sauce (or canned tomatoes with tomato paste.)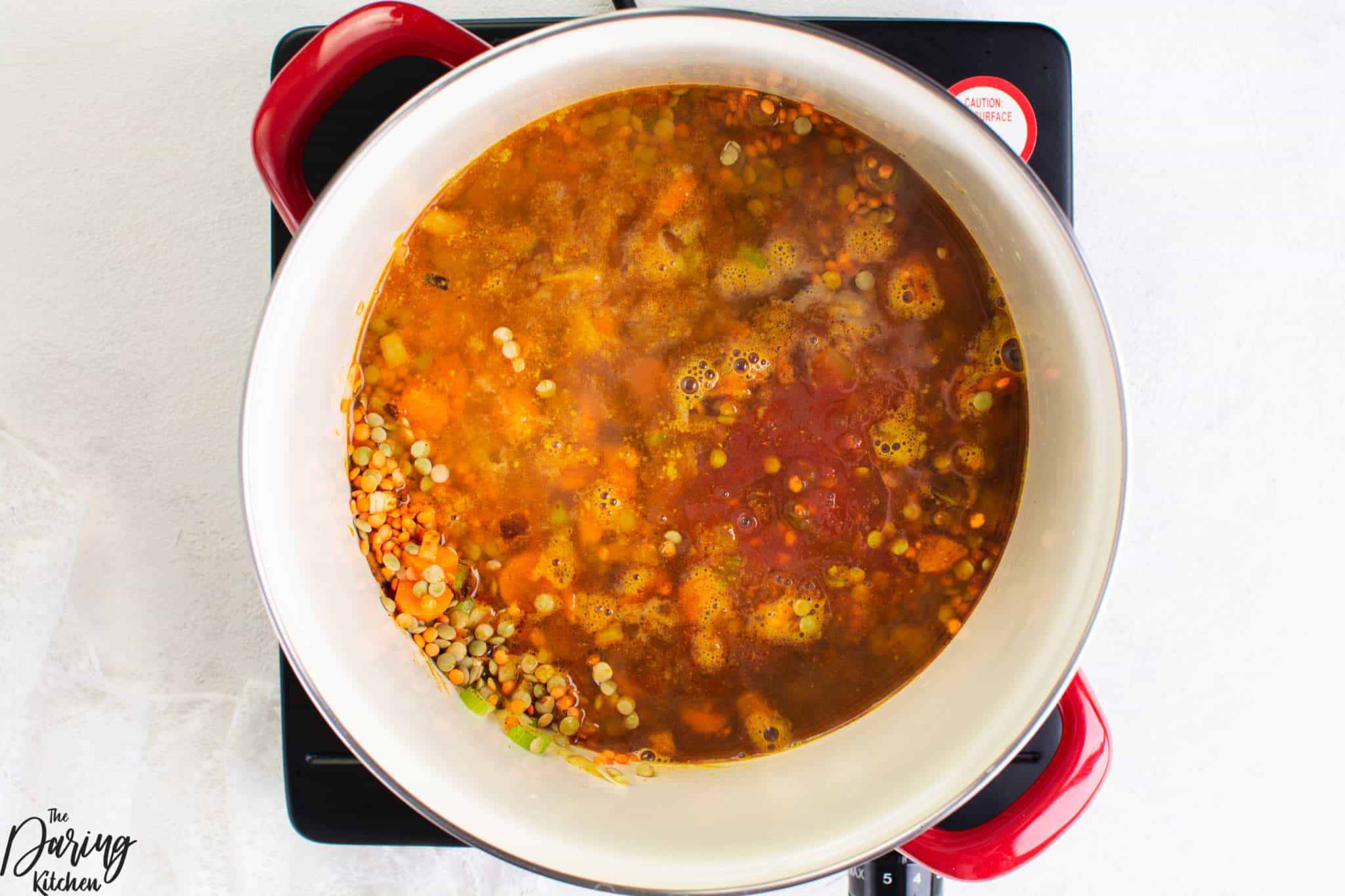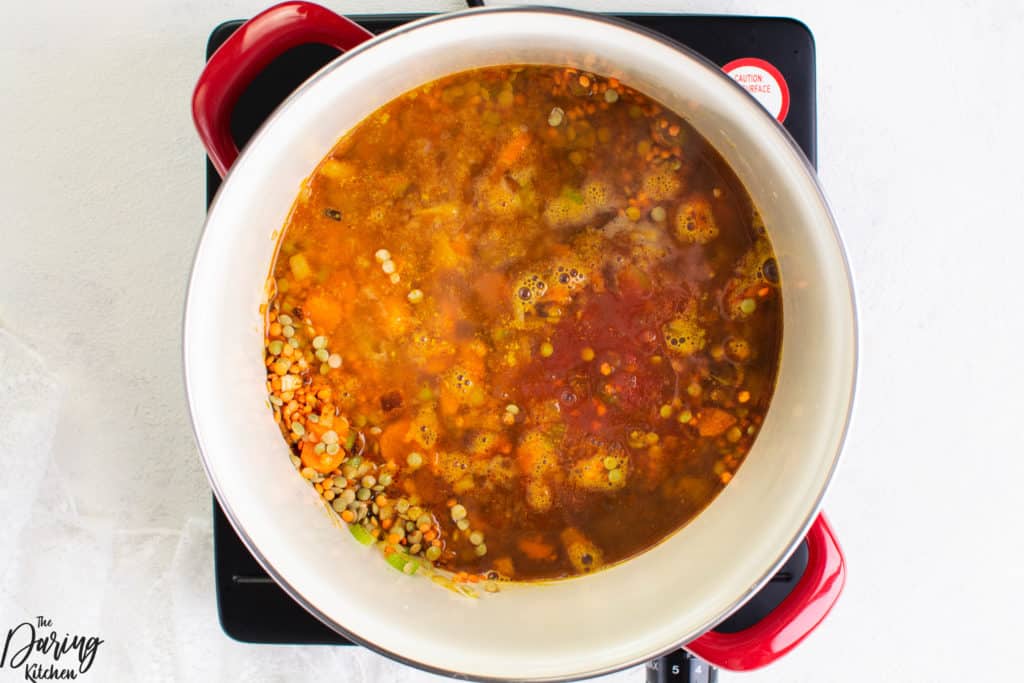 Bring everything to a boil and then reduce to a simmer, allowing it all to bubble for around 20 minutes. If using an instant pot, cover and allow to cook for 20 minutes.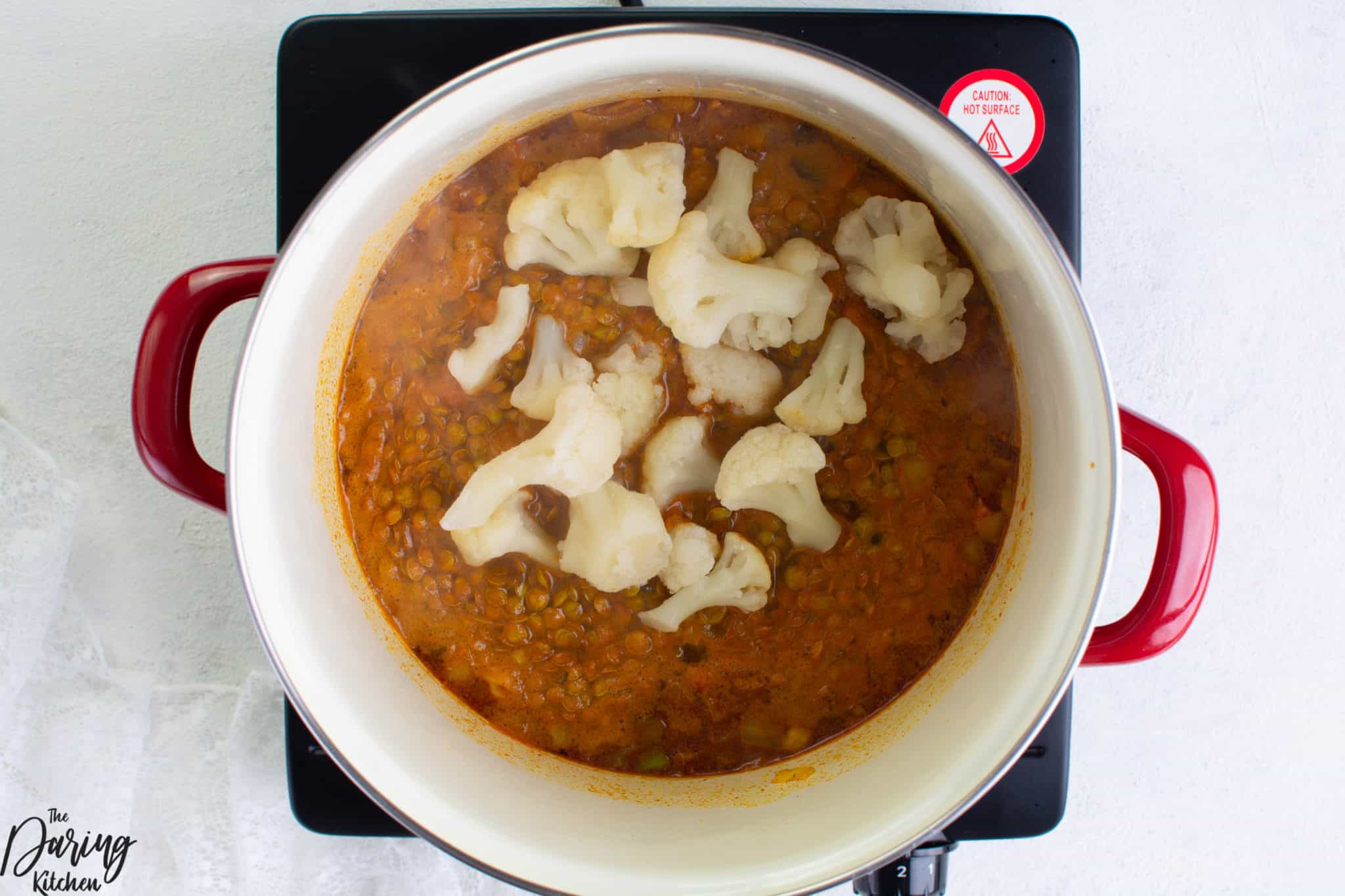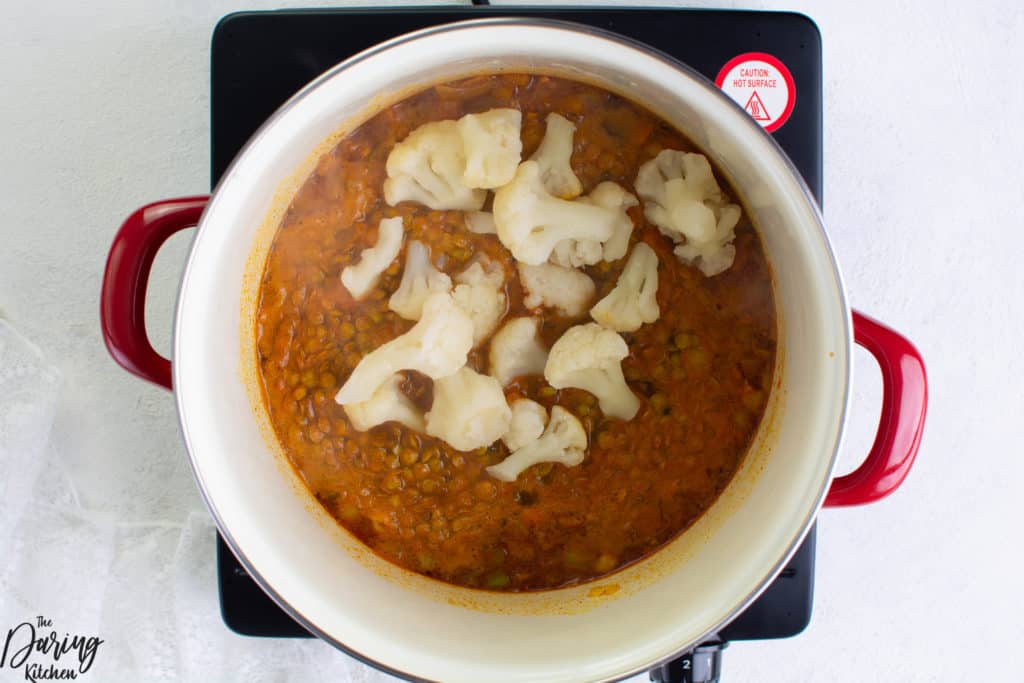 Once the 20 minutes are up, throw in your chopped cauliflower (or any hearty veggies.) Continue to simmer the soup for another 5 minutes.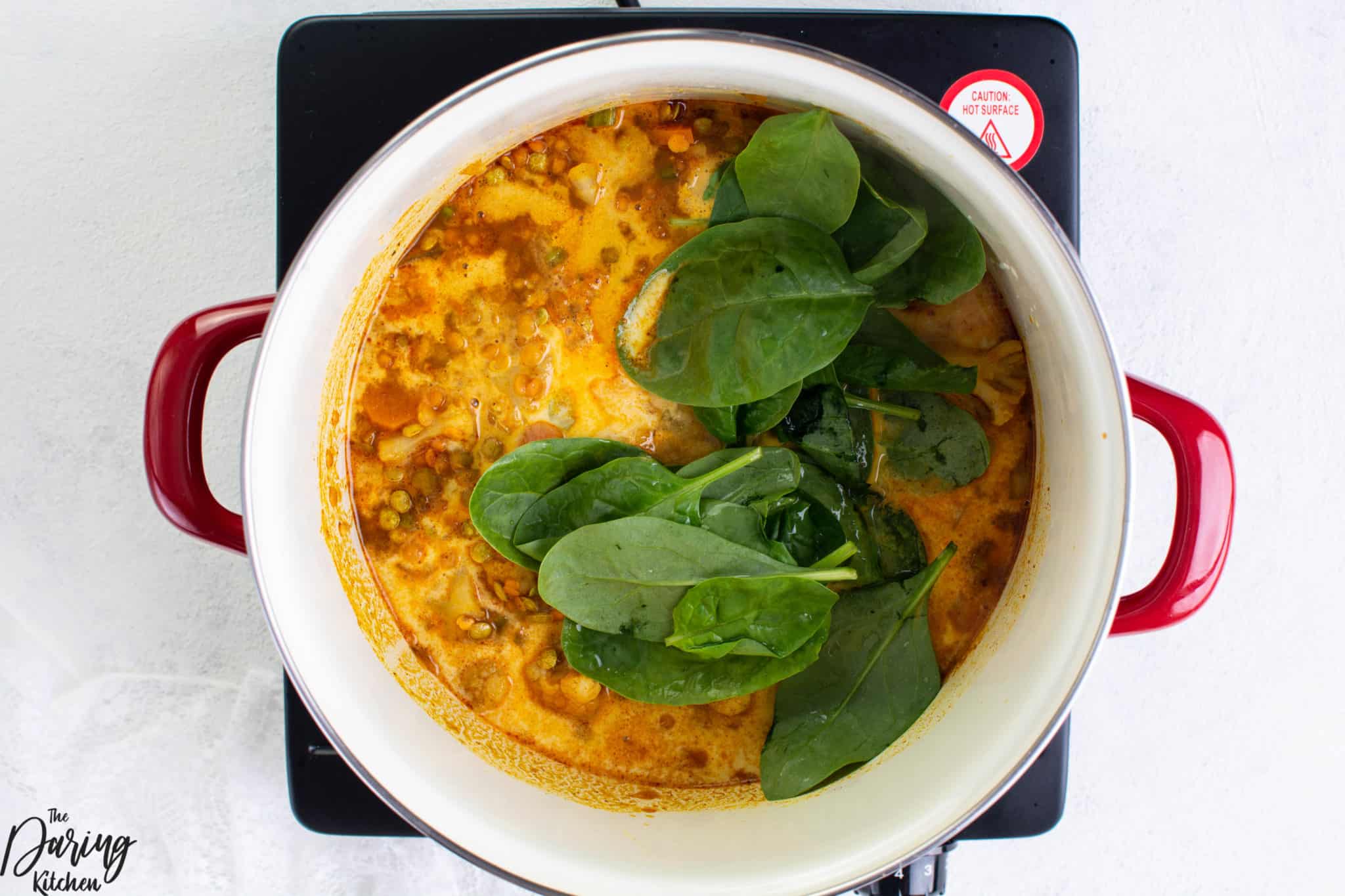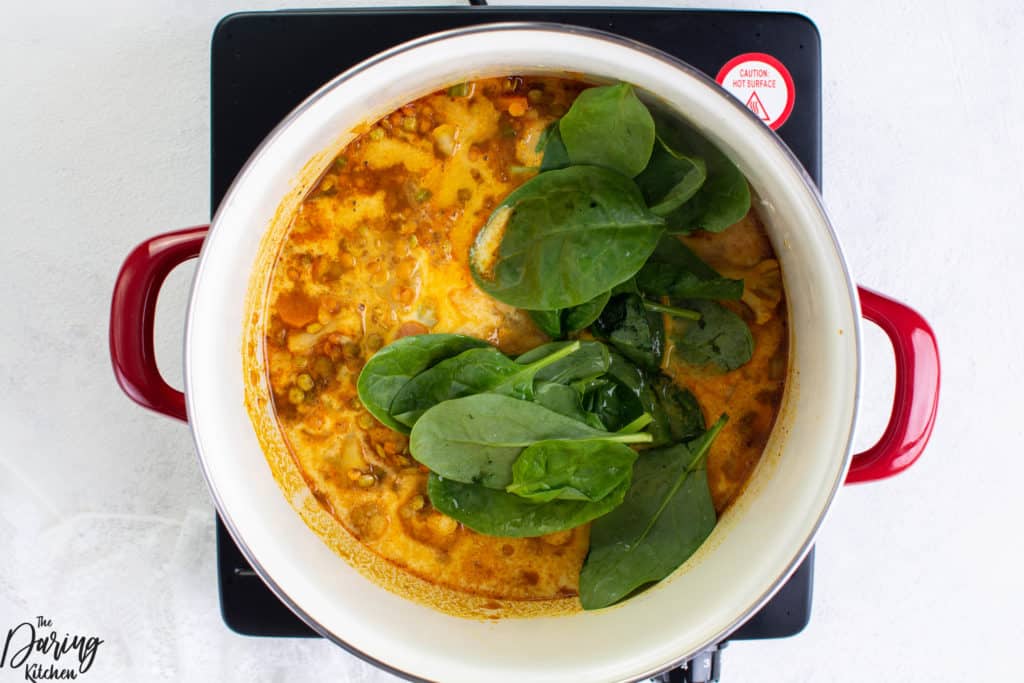 When your cauliflower is tender, add in your coconut milk, lemon juice, and chopped spinach. Once your spinach is wilted, your lentil soup is ready.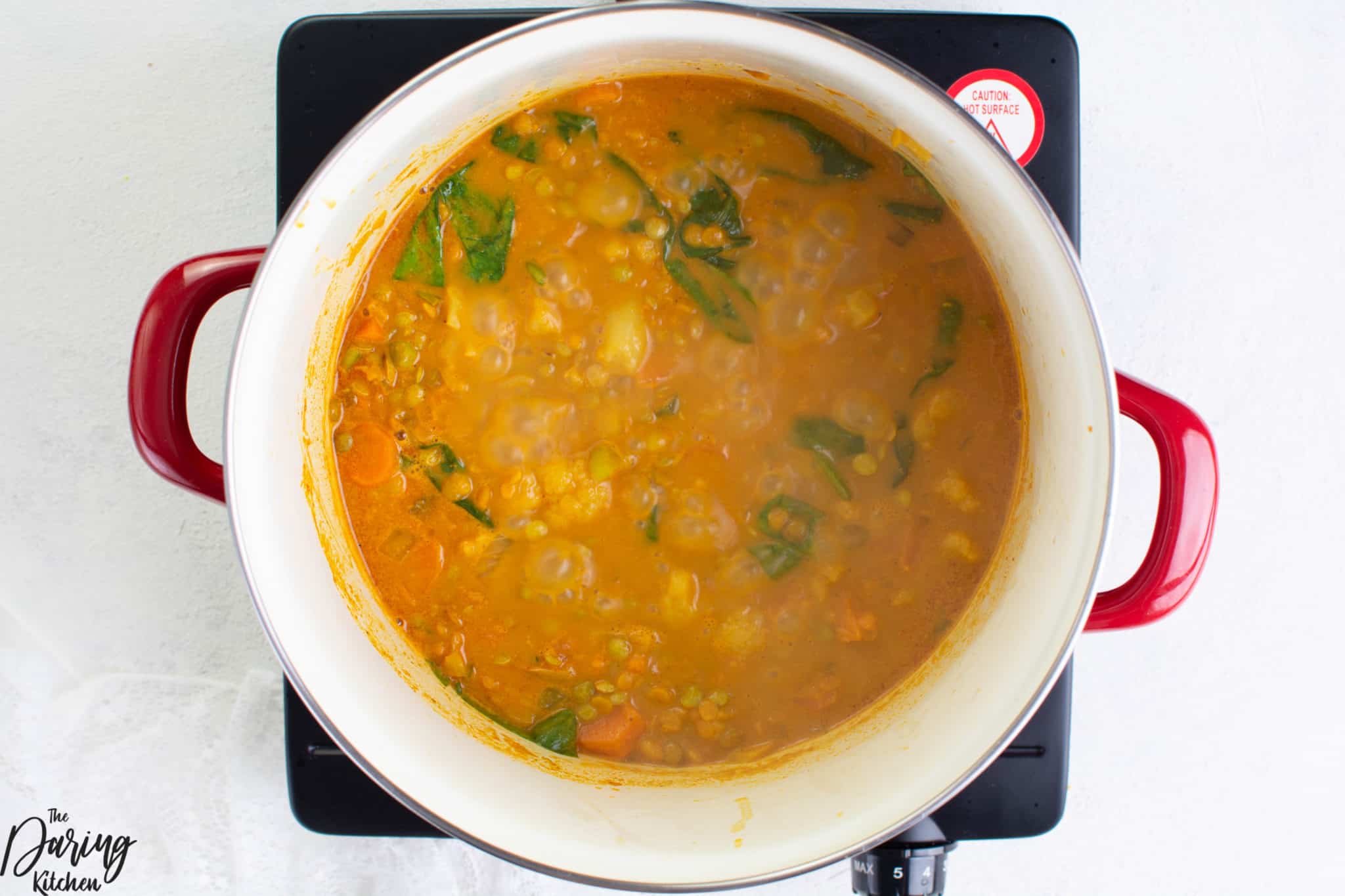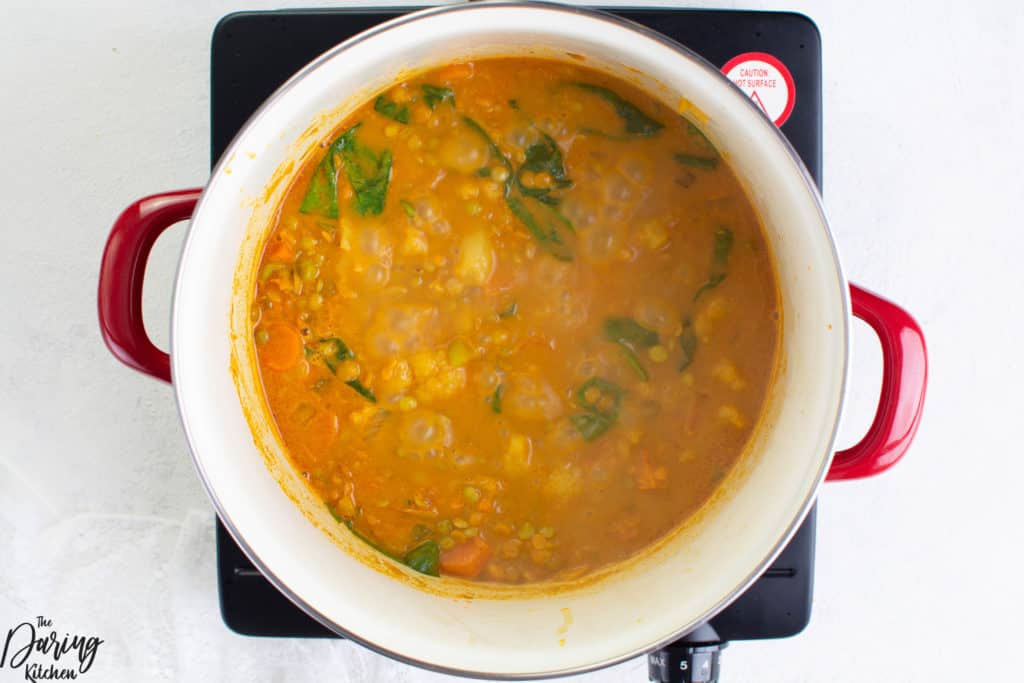 Serve your soup with some fresh whipped coconut cream and even a sprinkle of fresh cilantro. You can also add another squeeze of fresh lemon juice or a sprinkle of red pepper flakes. All of these will enhance the flavors of your Moroccan lentil soup!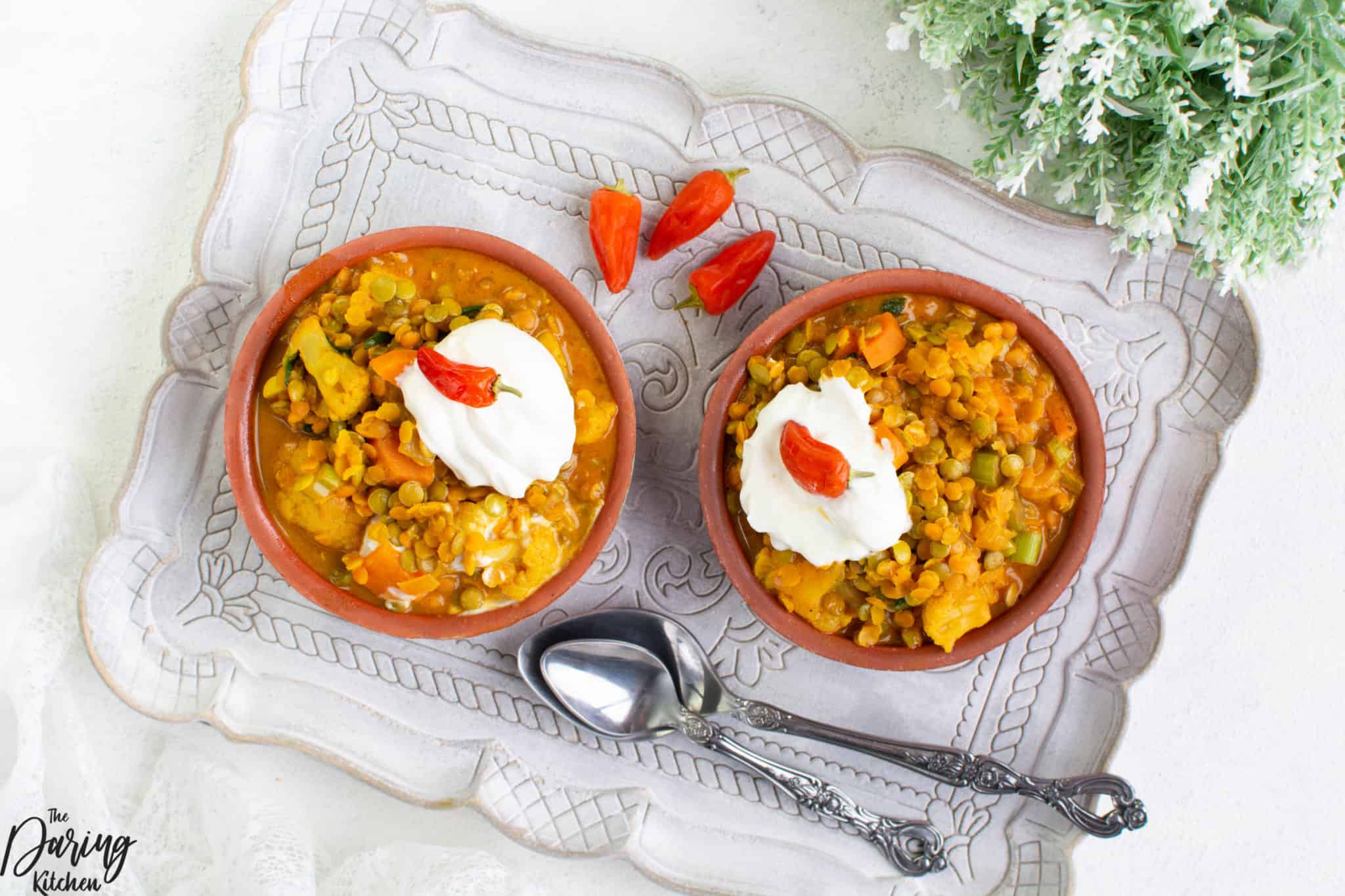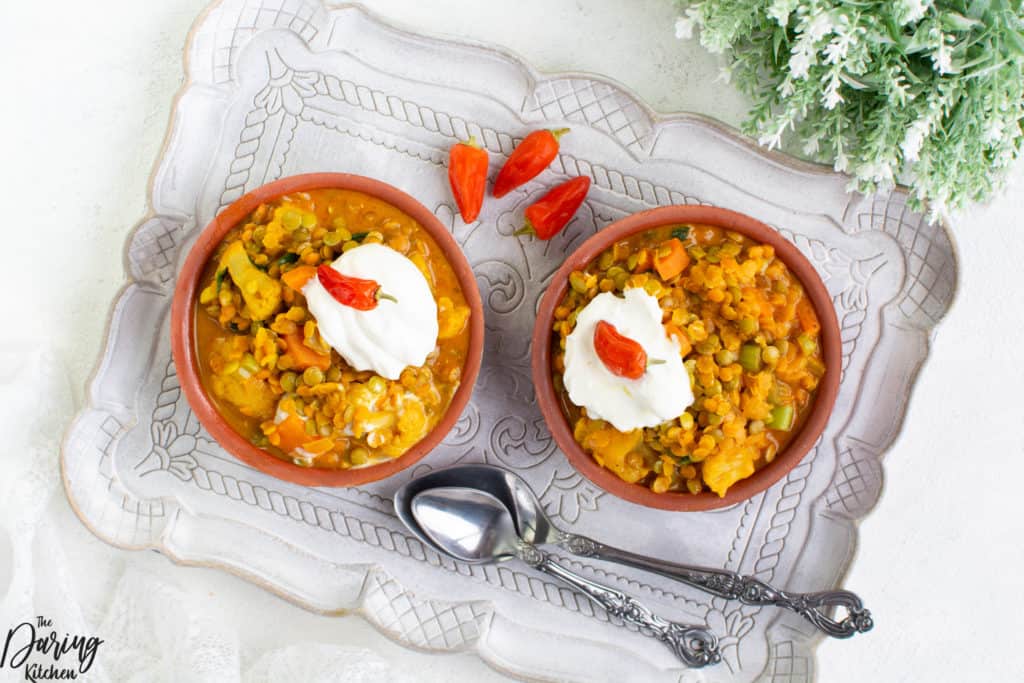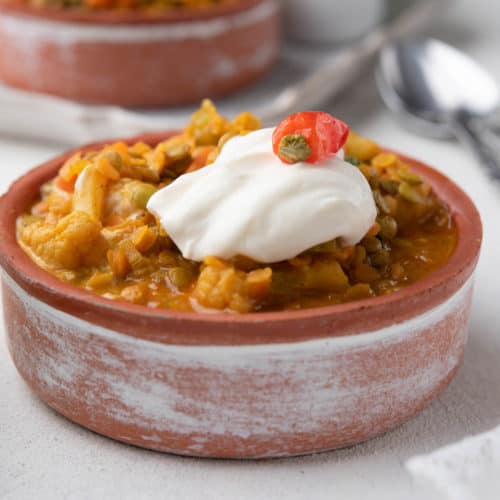 Moroccan lentil soup
Full of bold spices and protein packed lentils, this soup is hearty, delicious, and nutritious!
Print
Pin
Rate
Ingredients
1

tbsp

avocado oil

1

onion,

chopped

2

stalks celery,

chopped

1

carrot,

chopped

2

cloves garlic,

minced

2

tsp

turmeric powder

1

tsp

ground cumin

1

tsp

smoked paprika

1

tsp

sea salt

1

tsp

ginger powder

½

cup

green lentils,

rinsed

½

cup

red lentils,

rinsed

4

cups

vegetable stock

¼

cup

tomato sauce

1

cup

cauliflower florets

¾

cup

coconut milk

1

cup

spinach

1

tbsp

lemon juice
Instructions
Heat avocado oil in a saucepot over medium-high heat.

Add onion, celery, carrots, and garlic. Cook stirring for 5 minutes.

Add spices and cook for 1 minute.

Add lentils, green and red and stir to coat with the spices.

Add vegetable stock and tomato sauce.

Bring to a boil. Reduce heat and simmer for 20 minutes.

Add cauliflower and simmer for another 5 minutes.

Pour in coconut milk add spinach and lemon juice.

Cook until the spinach is wilted.

Serve soup with a dollop of whipped coconut cream.
Nutrition
Calories:
251
kcal
|
Carbohydrates:
27
g
|
Protein:
9
g
|
Fat:
13
g
|
Saturated Fat:
9
g
|
Polyunsaturated Fat:
1
g
|
Monounsaturated Fat:
3
g
|
Sodium:
1636
mg
|
Potassium:
641
mg
|
Fiber:
10
g
|
Sugar:
6
g
|
Vitamin A:
4081
IU
|
Vitamin C:
22
mg
|
Calcium:
59
mg
|
Iron:
5
mg